February, 20, 2014
2/20/14
11:00
AM ET
So far, only three Pac-12 teams retained their 2013 offensive and defensive coordinators: Arizona, Colorado and Washington State.
Here's a look at who's in, who's out and what it means in the South Division. You can review the
North Division here
.

Arizona Wildcats
No change
: Rich Rodriguez has proven coordinators on both sides of the ball, with the offensive humming under co-coordinators Calvin Magee and Rod Smith and the 2013 defense being the Pac-12's most improved unit under Jeff Casteel.

Arizona State Sun Devils
Out
: Cornerbacks coach and special teams coordinator Joe Lorig left for Utah State, which allowed coach Todd Graham to rejigger his defensive coaching staff. Paul Randolph, a co-defensive coordinator the past two seasons, will serve as senior associate head coach and defensive ends coach.
In
: Keith Patterson left West Virginia to co-coordinate the defense with Chris Ball. Patterson will coach linebackers and be the Sun Devils' defensive special teams coach. Ball will continue to serve as the safeties and defensive passing game coach.
Thoughts
: A lot of these moves emerged from Graham's concern about special teams, as well as his wish to reunite with an old friend. He and Patterson, according to the press release announcing the hiring, "have a professional and personal relationship that goes back to East Central University where they were college roommates." That same press release noted that "Patterson will oversee the defense, but Graham will be heavily involved in the planning." Graham also will have a "major" role with the special teams coaching and will assist Ball with the cornerbacks. It was also announced that Chip Long, the Sun Devils tight ends coach and recruiting coordinator, will become the offensive special teams coach. As for Patterson's track record, it was a lot better at Pittsburgh than at West Virginia, where the Mountaineers allowed 33.3 and 38.0 points per game over the past two seasons.

Colorado Buffaloes
No change
: Colorado's second-year coach Mike MacIntyre retained both defensive coordinator Kent Baer and offensive coordinator Brian Lindgren. Compared to 2012, the Buffaloes scored 7.6 more points per game and allowed 7.8 points fewer per game last season. The overall numbers weren't good, but it was clearly a step in the right direction on both sides of the ball.

UCLA Bruins
Out
: Defensive coordinator Lou Spanos left to become the LBs coach for the Tennessee Titans
In
: Jeff Ulbrich was promoted from LBs coach and special teams coordinator.
Thoughts
: Ulbrich has coached perhaps the Bruins most improved position over the past two years -- linebackers -- and he deserves credit for players like
Anthony Barr
,
Jordan Zumwalt
,
Myles Jack
and
Eric Kendricks
developing into stars. He also ensures the Bruins improved defense retains schematic continuity. Named the 2013 FootballScoop Special Teams Coordinator of the Year, Ulbrich has guided the Bruins special teams unit to one of the top rankings in the country in each of the last two seasons. Ulbrich also won't have to work too hard to have credibility with his players as he was a LB San Francisco 49ers from 2000-2009.

USC Trojans
Out
: Defensive coordinator Clancy Pendergast
In
: Justin Wilcox, who followed new Trojans coach Steve Sarkisian from Washington to USC
Thoughts
: Sarkisian decided to retain USC offensive coordinator Clay Helton, though like his predecessor, Lane Kiffin, Sarkisian will call offensive plays. Pendergast did a great job last year with his hybrid 3-4, which he termed a 5-2. Wilcox is widely seen as one of the nation's top defensive coordinators and a future head coaching candidate. His scheme won't be too much different than what the Trojans ran last year, though the Huskies officially ran a 4-3.

Utah Utes
Out
: Co-offensive coordinators Dennis Erickson and Brian Johnson were demoted to running backs and quarterbacks coaches, respectively. Johnson then left Utah to become Mississippi State's quarterbacks coach.
In
: Former Wyoming head coach Dave Christensen was hired to be the Utes' single offensive coordinator
Thoughts
: Will Christensen bring the Utes offense stability?
He's their sixth different play caller in six years
. The good news is he's highly regarded, getting hired at Wyoming because of the work he did with Missouri's offense. Johnson's departure probably helps reduce the feeling that there are too many cooks in the kitchen, seeing that he, Erickson and Aaron Roderick, now the Utes QBs coach after coaching receivers since 2005, have each been in the coordinator carousel at Utah. Head coach Kyle Whittingham also hired former Purdue All-American Taylor Stubblefield to coach receivers. Christensen, an offensive line specialist, will oversee tight ends.
March, 1, 2012
3/01/12
6:30
PM ET
By
ESPN.com staff
| ESPN.com
TUCSON, Ariz. -- Mike Stoops was fired as Arizona's coach on Oct. 9. It appears that many of his players decided at that point to take a vacation, most notably from conditioning and weight-room work.
At least, that's new coach Rich Rodriguez's initial impression. He likes his players' enthusiasm. He sees some intriguing talent. But he's not really happy with the Wildcats' overall conditioning.
"We've got to get a whole lot faster and a whole lot stronger," he said during a news conference Thursday in advance of the first day of spring practices Monday.
Rodriguez fretted that his team was "weak, really weak."
[+] Enlarge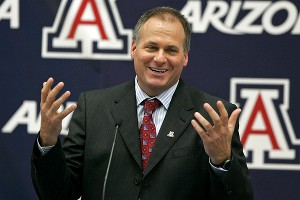 AP Photo/ Arizona Daily Star/Benjie SandersRich Rodriguez already has had to deal with a lack of fitness as well as immaturity from his Arizona players.
Weak is not good, and how fast it transforms into adequately strong will be a part of the primary focus this spring: Evaluation. Yes, the Wildcats need to learn Rodriguez's spread-option system -- offensive coordinator Calvin Magee laughed at a reporter trying to get him to give the scheme a name -- and defensive coordinator Jeff Casteel's 3-3-5, but the ultimate goal for the new coaches is figuring out what sort of talent they have and how to best use it.
In terms of executing scheme, things might be a bit ugly in the early going, starting with getting accustomed to an increased pace. Rodriguez's offense is not unlike Chip Kelly's at Oregon. Neither is a fan of the huddle. (And, by the way, new Arizona State coach Todd Graham is the same way.)
"The first spring is always the ugliest," Rodriguez said.
Rodriguez's admittedly superficial take Thursday was interesting, as areas that seemed questionable -- running back, receiver and the defensive front seven -- he rated as "OK," while he questioned the offensive line and secondary, which on paper look fairly solid. While the line welcomes back five starters, Rodriguez said, "I don't know how athletic we are." He called a secondary that welcomes back several talented, experienced players "a concern."
"There are a lot more questions than answers," he said. "Hopefully, I will have some pleasant surprises once we start."
One mostly known quantity is QB
Matt Scott
. Scott, a senior, redshirted last year, but he's seen plenty of action, including a pair of impressive starts in 2010 in relief of an injured
Nick Foles
. While Rodriguez is not typically a believer in protecting his QBs with yellow no-contact jerseys, the fact that Scott is the only scholarship QB on the roster is forcing his hand.
Still, it's also clear that Rodriguez doesn't want Scott to feel too comfortable, even though his winning the starting job is a near-certainty.
"He's like me; he sat out last year," Rodriguez said. "I think he's hungry. I'd like to get him some competition."
That competition this spring will be provided by junior
Richard Morrison
, who was signed as a QB, converted to receiver -- he's caught 41 passes over the past two seasons -- and now moves back behind center.
Ultimately, Rodriguez mostly wants to put together a rough outline of something that is uncertain at present.
"We don't have a depth chart," he said.
Some notes:
News on the injury front, which was a huge reason the Wildcats defense was lousy in 2011, is pretty good. LB Jake Fischer, safety Adam Hall, defensive tackle Willie Mobley and running back Greg Nwoko range from full-go to practically full-go. CB Jonathan McKnight, the Wildcats' best cover corner before blowing out his knee, will be limited. OT Mickey Baucus (back) and his brother, Jack (knee), also an offensive lineman, will be limited.
Sophomore defensive linemen Sani Fuimaono and Aiulua Fanene are on two-year church missions. Fuimaono started two games last year and had seven tackles. Fanene started one and had eight.
The Wildcats will hold a scrimmage in the Phoenix area on March 24. The spring game is scheduled for April 14 and will be played off campus due to construction on a new football facility. The site for both scrimmages is not yet official.
Rodriguez said his family arrived permanently in Tucson on Wednesday but he has yet to settle into a home.
January, 13, 2012
1/13/12
5:33
PM ET
By
ESPN.com staff
| ESPN.com
They held a family reunion in Tucson on Friday, as new Arizona coach Rich Rodriguez introduced his coordinators Calvin Magee and Jeff Casteel, both of whom coached with Rodriguez at West Virginia.

Casteel, 49, the Wildcats' new defensive coordinator, said the "time was right" to leave West Virginia. He also came at a good price for Arizona -- see this from the
Arizona Daily Star
:
Defensive coordinator Jeff Casteel will make $425,000 annually at the UA with bonuses for making a bowl game, less than he was set to make at West Virginia in 2012. Casteel was paid $400,000 at the school last season, when the Mountaineers defeated Clemson in the Orange Bowl. He was due for a $50,000 raise in 2012, 2013 and 2014 as part of a multi-year deal.
Casteel, like Rodriguez, is a native of West Virginia. He coached at West Virginia 11 years -- nine as defensive coordinator -- and seven working with Rodriguez.
"I thought the opportunity to leave West Virginia, this was the right time to do it and embark on another challenge," Casteel said during a press conference Friday with Rodriguez and Magee.
Casteel not only will bring his 3-3-5 defense, he also will bring much of the staff who coached it for him at West Virginia: defensive line coach Bill Kirelawich (who had been at West Virginia for 32 years) and secondary coach David Lockwood. Secondary coach Tony Gibson, another West Virginia native who was at Pittsburgh last year, was at West Virginia from 2001-07. Gibson followed Rodriguez to Michigan while the others didn't.
"We're back together as a family," Magee said.
More here from the
Tucson Citizen
.
Some nice perspective here from the West Virginia
side of things
.