Pac-12:

Cardinal-Cowboys-120102
January, 3, 2012
1/03/12
3:10
AM ET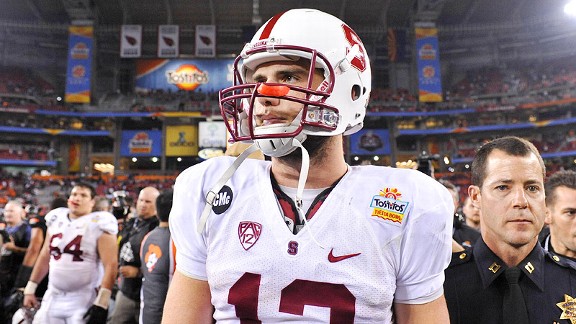 Chris Morrison/US PresswireAndrew Luck's Stanford career ends in a disappointing overtime loss to Oklahoma State.
This one is going to sting for a long,
long
time. There is no 24-hour rule here, no chance to put this one behind you and focus on the next opponent. All there is is time to think, stew, marinate in a myriad of how-did-it-all-go-wrongs.
There are two ways the
Stanford Cardinal
can move on from a
41-38 overtime loss
to Oklahoma State in the Fiesta Bowl. They can slide back into Pac-12 mediocrity now that quarterback
Andrew Luck
and an amazing cast of seniors are leaving. Or they can learn from this loss and come back with a chip on their Luck-less, shoulder.
"We're going to be back," said a choked up defensive end Ben Gardner. "We're going to be just fine. We're going to be back next year with a vengeance and we're going to be a strong program for years to come."
That's what the big boys do -- the established programs that season after season are in the top-10 conversation. They learn to take the sweet with the sour. And this group hasn't had to swallow much sour over the past few years. A loss like this can numb the taste buds or accelerate the desire to get back to the sweet.
"If you dwell on the loss, you never get better," said nose tackle Terrence Stephens. "If you keep dwelling on what went wrong, you'll never be able to focus on what to do right."
There will be questions. In the immediate future, most of them will swirl around a redshirt freshman kicker. Jordan Williamson missed three field goals, including a 35-yarder as time expired that would have given the Cardinal their second straight BCS bowl victory. He also missed a 41-yard field goal on Stanford's opening possession and a 43-yard kick in overtime. Williamson did not address the media after the game.
There will be questions that head coach David Shaw played it too conservative on the final drive in regulation that set up Williamson's miss – a straight shot up the middle that hooked left. Maybe. It's worth noting, however, that Williamson was 6-of-7 this season on kicks between 30 and 39 yards.
But bigger questions loom after the missed-kicks fallout settles. Like finding Luck's replacement; like filling holes on the offensive line for the NFL-bound Jonathan Martin and David DeCastro; like replacing veteran safeties Michael Thomas and Delano Howell; whether outside linebacker Chase Thomas leaves school or returns for another season.
Whatever the answers, Stephens believes the Cardinal will be just fine.
"That's the best part of our program," Stephens said. "We hold the word resilient very high. You have to be resilient in everything you do. You come back and you fight and you get better. That's been the attitude since I got here and it will be the attitude far after I leave. I think that's something the players instill in the other players."
There's no doubt that the departing players leave the program in much better shape than when they came in -- several of whom committed following (even during) Stanford's 1-11 season.
Luck thinks the future of the program is in good hands.
"I think just keep getting better, put your head down and keep working," he said. "A lot has been written about the seniors and the senior class and regardless of which guys stay and which guys leave, there are really good football players here. Obviously, you want to improve every year. But I think a very solid foundation has been laid with coach Shaw at the helm. I see a very bright future for the program."
Still, it's tough to see that through the haze of missed field goals, missed opportunities, missed tackles and
Justin Blackmon
's jet wash. The Oklahoma State wide receiver torched the Cardinal for 186 yards and three touchdowns on eight catches.
"He took advantage of our mistakes and that's something that any good player will do," said Michael Thomas. "You can't afford to make mistakes against that guy. One missed tackle and he takes it to the house. Missed communication in coverage and you leave the best player on the team wide open. Just guys not taking advantage of the opportunities they had, but give credit to him. He made the plays and he exposed us when we made mistakes."
Lost in the mix will be an amazing performance by Luck -- who was 27-of-31 for 347 yards, two touchdowns and an interception -- and a fantastic performance by the rushing attack.
Stepfan Taylor
pounded out 186 yards on 35 carries and two touchdowns.
"There's an old saying that adversity reveals character," Shaw said. "… Two real good teams come down to a few plays, not just that one (the field goal at the end of regulation) but a few plays that we could have all done something a little bit better.
"I have a lot of confidence in the guys we have in our locker room as individuals, but also what we're capable of together; get through this together and coming back, fighting back strong and hard."
Shaw and his players are saying all of the right things. Now the ball is in their court for the next seven months to back it up.
January, 3, 2012
1/03/12
12:38
AM ET
SCOTTSDALE, Ariz. -- The offenses fizzled early, exploded late and the two marquee playmakers in the this game, Stanford quarterback
Andrew Luck
and Oklahoma State wide receiver
Justin Blackmon
, shined on the brightest stage. It was so good, 60 minutes couldn't contain it. Here's how it all went down, with Oklahoma State winning
41-38 over Stanford in overtime
in the desert:


How the game was won
: In the first overtime, after Stanford kicker Jordan Williamson missed a 43-yard field goal attempt (he previously missed a 35-yard attempt for the win as time expired in regulation),
Brandon Weeden
connected with
Colton Chelf
on a 24-yard pass down to the Stanford 1-yard line. Weeden took a knee to center the ball, setting up a 22-yard field goal that Quinn Sharp nailed.
Second guessing
: Trailing 28-21, an interesting decision by OSU coach Mike Gundy to kick a 19-yard field goal rather than going for it on fourth-and-goal at the Stanford 1-yard line. Not saying it was the wrong call, but clearly it was the conservative one. Hey, they won.
Stanford player of the game
: As good as Luck was, running back
Stepfan Taylor
was fantastic, carrying 35 times for 177 yards and two touchdowns. He made holes when they weren't there and exploded through the ones that were.
Oklahoma State player of the game
: Blackmon was everything the Cardinal thought he would be -- and a whole lot more. The wide receiver caught eight balls for 186 yards and three touchdowns. He was clearly the most athletic player on the field.
What it means
: For two teams feeling more than a little disrespected for being left out of the national championship game, both showed why they there were among the nation's elite this season. Oklahoma State was the benefactor of a couple of missed field goals, but fought their way back all game and proved to be the more clutch team in overtime. For the Cardinal, it's a disappointing end to the Luck era -- one of the most successful stretches in school history.
January, 2, 2012
1/02/12
11:30
PM ET
GLENDALE, Ariz. -- Momentum, she is a swinging.
The Cardinal stopped OSU on its first drive of the second half, then a 26-yard punt return from
Drew Terrell
gave the Cardinal solid field position at their own 41. They marched down to the OSU 15 where
Andrew Luck
connected with
Zach Ertz
on a 16-yard scoring strike.
Momentum swing.
After stopping OSU again, Quinn Sharp pinned the Cardinal at their own 3-yard line, and fullback
Geoff Meinken
fumbled at the Stanford 4, which OSU recovered.
Momentum swing.
But OSU failed to get in after three tries and opted for a 19-yard Sharp field goal.
Momentum swing?
Plus,
Coby Fleener
came out with a lower leg injury.
Momentum swing?
Maybe. Stay tuned...
January, 2, 2012
1/02/12
10:24
PM ET
GLENDALE, Ariz. -- Some first-half thoughts from the Fiesta Bowl.


Turning point
: On fourth-and-4 at the Stanford 32,
Brandon Weeden
hit
Justin Blackmon
for 23 yards with less than a minute in the half, setting up first-and-goal. On third-and-goal at the 2, Weeden took it in himself to knot the score at 21-21. It was Weeden's first career rushing touchdown.
Stat of the half
: After only 13 three-and-out drives all season, the Cardinal already have two in the first half.
Best player for Stanford
: Linebacker Jarek Lancaster is having a fantastic game. He's made several open-field tackles -- including two on critical third downs -- and been in on several others.
Best player for Oklahoma State
: Blackmon became the first wide receiver to gain more than 100 yards on the Cardinal this season. Through the first 30 minutes, he has four catches for 139 yards and two touchdowns.
Best tackle of a teammate
:
Jeremy Stewart
taking down
Ty Montgomery
on a kickoff that Montgomery thought about taking 5 yards deep out of the end zone. As Montgomery approached the line, Stewart brought him down. The form was questionable and it might have been helmet-to-helmet, but no flag was thrown.
Best fan-made sign in the stands
: "Superman wears
Andrew Luck
socks."
January, 2, 2012
1/02/12
10:02
PM ET
GLENDALE, Ariz. -- That's a little more like it. Both teams put together scoring drives that match their personalities.
The Cardinal went 87 yards on seven plays, using 4 minutes, 30 seconds of clock to cap the drive with a 24-yard touchdown run by
Jeremy Stewart
.
Oklahoma State answered with a four-play, 84-yard drive that took up just 1:11, ending with a 43-yard touchdown pass to
Justin Blackmon
.
The pair teamed up again on a 67-yard touchdown pass to tie the score.
Blackmon already has 110 receiving yards -- marking the first time this season the Cardinal has allowed a receiver to gain more than 100 yards.
About six minutes left in the quarter and OSU has regained the momentum after falling behind by two scores.
January, 2, 2012
1/02/12
9:37
PM ET
GLENDALE, Ariz. -- A little different start than the Rose Bowl.
The lone touchdown was a 53-yard, play-action touchdown pass from
Andrew Luck
to
Ty Montgomery
.
Outside of that, we haven't seen too many offensive highlights (though Stanford running back
Stepfan Taylor
already has 61 yards on six carries).
This was the first time all season OSU had been held scoreless in the first quarter.
However, we've had plenty of
defensive
highlights from both teams.
Among the top defensive plays of the quarter:
Terrence Brown picking off Brandon Weeden on his first pass attempt of the game. Justin Gilbert also grabbed his fifth interception of the year off of Luck at the end of the quarter. Though neither team could turn the interceptions into points.
OSU's Richetti Jones sacking Luck on a crucial third down (just the 10th sack the Cardinal have allowed this season).
Stanford linebacker Jarek Lancaster making an outstanding open-field tackle on Isaiah Anderson -- also on third down.
January, 2, 2012
1/02/12
8:52
PM ET
GLENDALE, Ariz. -- A couple of more observations from the sideline as we get ready to kickoff.
First, wide receiver
Chris Owusu
is dressed in full pads and went through the full warm up session -- but more than likely it's just so he can be part of the team experience -- similar to what happened against Notre Dame in the regular season finale. Owusu did not run any plays with either the first- or second-team offenses.
If there is a change to his status, I'll let you know.
Next, 100-yard American flags are very cool. Bald eagles trained to fly over them during the national anthem are even cooler. Might be better than the jet flyovers.
Enjoy the game. Going to be a good one.
January, 2, 2012
1/02/12
6:48
PM ET
By
ESPN.com staff
| ESPN.com