Pac-12:

Cardinal-Ducks-111712
November, 18, 2012
11/18/12
8:00
AM ET
By
ESPN.com staff
| ESPN.com
Stanford linebacker
Shayne Skov
talks about the defensive effort in the win over Oregon and getting ready for UCLA.
November, 18, 2012
11/18/12
2:09
AM ET
EUGENE, Ore. -- Words don't win football games, but Stanford coach David Shaw delivered some effective ones during the Cardinal's
17-14 overtime win
over No. 2 Oregon, a game that dashed the Ducks' national title hopes. No, words don't make plays, but well-conceived and delivered communication, even in the heat of battle, can motivate and inspire the guys who do. And Shaw's team was clearly motivated and inspired.
Start with kicker
Jordan Williamson
, the goat of Stanford's Fiesta Bowl loss last season. After he missed a 43-yard fourth quarter field goal in a game in which every point was dear, Shaw pulled his kicker aside and gently delivered some tough love.
Said Shaw: "I went up to him, I put my arms around him, and told him, 'It's time to grow up. I don't want to talk about how talented you are anymore. Make the kicks.' And for the first time I saw him look me in the eye and say, 'I got you, Coach.'"
Williamson, who has struggled this season since his Fiesta Bowl flop, booted a 37-yard field goal in overtime that provided the winning margin.
"I was thinking I was going to make it," Williamson told reporters when asked about his pre-kick thoughts.
[+] Enlarge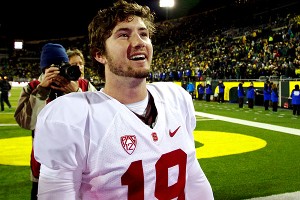 Scott Olmos/US PRESSWIRE"I went up to him, I put my arms around him, and told him, 'It's time to grow up. I don't want to talk about how talented you are anymore. Make the kicks,'" David Shaw said of kicker Jordan Williamson, who nailed the game winner in OT.
Running back
Stepfan Taylor
is Stanford's best offensive player, but he fumbled late in the third quarter after an 18-yard run in a game in which every mistake seemed potentially catastrophic. Taylor was not happy about it. Shaw didn't see that as a bad thing.
"No question about it," Shaw said. "After he fumbled, I gave him a little time because I know what kind of competitor he is. And I came up to him and told him, 'I need your best quarter right now, because we are going to ride you. We're going to give you the rock.'"
Taylor ran for 51 of his 161 yards in the fourth quarter and overtime.
Finally, Stanford's victory was perfectly described by the word Shaw said he ascribed to his team's week of preparation.
"Our word of the week was 'resolve,'" he said.
Oregon, the team that has owned Stanford the past two season, was beaten by Stanford's resolve. The 13th-ranked Cardinal improved to 9-2 overall and 7-1 in the Pac-12. If it wins at UCLA next weekend, the Cardinal would win the North Division and play host to the Pac-12 title game. If it loses to the Bruins and Oregon beats Oregon State, then the Ducks would win the North.
"I told our guys we don't get a trophy for this win," Shaw said.
The Ducks went down for the first time this year because a redshirt freshman quarterback making his first road start,
Kevin Hogan
, apparently failed to notice he was playing in Autzen Stadium, the Pac-12's most inhospitable venue.
"I've never, ever seen him be rattled," Shaw said.
In his first two starts this season after replacing
Josh Nunes
, Hogan has defeated Oregon State and Oregon, the conference's two highest ranked teams much of the season. Against the Ducks, he wasn't perfect -- he fumbled and threw an interception -- but he also accounted for the Cardinal's two touchdowns, one passing and one running. He completed 25 of 36 passes for 211 yards and rushed for 37 yards on eight carries, frequently using his athleticism to avoid an aggressive Ducks pass rush.
But, really, this one belongs to Stanford's defense. The Ducks had scored at least 42 points in 13 consecutive games. Heck, the Ducks were averaging one point every 30.8 seconds of possession, best in FBS and more than twice the rate of the average FBS team (66.0 seconds per point).
And the Oregon offense had made Stanford's defense look bad the previous two seasons while delivering the Cardinal's only two conference defeats. The feeling was Stanford, stout against everyone else, wasn't fast enough to keep up with the Ducks.
Yet the speed question was answered in the first quarter in a surprising way. When
Marcus Mariota
, Oregon's lightning fast QB, found a crease and was seemingly headed for a 92-yard touchdown run, he was caught from behind by backup safety
Devon Carrington
.
That tackle proved critical when the Ducks were stopped on fourth-and-2 on the Cardinal 7-yard line four plays later. That one Oregon run, which produced no points, made up a significant portion of the Ducks' 198 yards rushing yards, 127 yards below their season average of 325.
The Ducks had no other run of more than 16 yards. Their longest pass went for 28 yards. In the previous two Stanford-Oregon games, the Ducks had seven touchdowns of 25 yards or more.
"We are faster in the backend," Shaw explained.
Oregon has won nine of the past 10 against Stanford. The Ducks had scored 105 points combined in the previous two matchups while winning each by more than 20 points.
But those are now just words. Stanford's "Oregon Problem" has been solved with resolve and numbers, most notably a scoreboard that reads 17-14.
November, 18, 2012
11/18/12
1:59
AM ET
By
ESPN.com staff
| ESPN.com
Stanford running back
Stepfan Taylor
talks about the Cardinal's 17-14 overtime win over Oregon.
November, 17, 2012
11/17/12
11:40
PM ET
It was an overtime, defensive-minded thriller with No. 13 Stanford pulling off the upset of No. 2 Oregon,
17-14
. Here's our take.
It was over when
: It was over when Stanford kicker
Jordan Williamson
, the goat of the Fiesta Bowl last year, booted a 37-yard field goal in overtime.


Game ball goes to
: The Stanford defense. Just brilliant. Kudos to coordinator Derek Mason and his crew.
Stat of the game
: 14. The Ducks had scored at least 42 points in 13 consecutive games.
Unsung hero of the game
: Stanford's redshirt freshman QB
Kevin Hogan
was making his first career road start, and he turned in a solid performance. He completed 25 of 36 passes for 211 yards with a TD and an INT. He also rushed for 37 yards on eight carries with a TD.
Second guessing
: Chip Kelly might be the best offensive mind in all of college football. I can't recall any time you'd think, "Those weren't good play calls." But on the Ducks last possession in regulation and first possession of overtime, the Ducks offense seemed completely befuddled and directionless.
What it means
: It means Oregon's national title hopes are over, and Stanford controls its own destiny. If Stanford wins at UCLA next weekend, it wins the Pac-12 North title, meaning the Ducks wouldn't have the Rose Bowl as a consolation prize, though they can still be a BCS bowl at-large selection. And it means, after two years of frustration, Stanford has solved its Oregon problem.
November, 17, 2012
11/17/12
9:42
PM ET
EUGENE, Ore. -- The first half of Oregon-Stanford was mostly about defense, which feels like a win for the Cardinal.
The Ducks and Cardinal are knotted at
7-7 in the first half
, with both teams making plays and making mistakes.


Stanford's redshirt freshman QB
Kevin Hogan
didn't seem overwhelmed by the atmosphere in Autzen Stadium when he started off 9-for-9 passing and ran for a TD, but he was 6-for-14 thereafter with a bad interception.
The Ducks failed to convert on a pair of fourth-down plays in Stanford territory, including a fourth-and-1 on the Cardinal 7-yard line.
Stanford mostly slowed the Ducks rushing game, but did yield a couple of big plays. A 77-yard run from
Marcus Mariota
didn't lead to any points, and the Ducks finished with 116 yards rushing in the half.
Oregon is notoriously good at halftime adjustments. The past two years, Stanford also was close at halftime before getting blown out.
The Ducks get the third quarter kick. That might be a good early measure of where this one might be headed.
November, 17, 2012
11/17/12
5:45
PM ET
EUGENE, Ore. -- It's going to be cold and rainy at Autzen Stadium for No. 13 Stanford's visit to No. 2 Oregon, so maybe that will rattle the Ducks' seemingly unrattleable quarterback,
Marcus Mariota
, a redshirt freshman from warm, sunny Hawaii.
It's unlikely Mariota has played a game on a rainy day when temperatures are in the 40s.
Hey, it's something. Media sorts have spent much of the season wondering what might go wrong for Oregon as it hunts for a fourth consecutive Pac-12 title and a second chance in three seasons to play for a national title. So far, the potential pratfalls have been mirages.
For the past two seasons, Stanford has been a dominant team. Until it played Oregon. Then it got dominated. The basic story was the same, if the execution of those two losses were different: The Cardinal couldn't handle the Ducks' superior speed on both sides of the ball.
Has that changed? It would appear that the Ducks, again, are the faster team. Moreover, Stanford isn't sending Andrew Luck out to face the Autzen Stadium crowd. It is turning to
Kevin Hogan
, who was installed as the starter last weekend against Oregon State. This will be his first road game, and it's inside the Pac-12's toughest venue.
But Oregon doesn't arrive here without questions. Its defense is banged up. Safety
Avery Patterson
is out for the year with a knee injury. Defensive tackle
Wade Keliikipi
also is almost certainly out with a leg injury.
Also questionable: defensive end/defensive tackle
Taylor Hart
(foot), defensive end/outside linebacker
Dion Jordan
(shoulder), defensive tackle
Isaac Remington
(ankle) and nose tackle
Ricky Heimuli
(knee). Cornerback
Troy Hill
and
Dior Mathis
didn't play last weekend against California, which is why word coming out of practice this week was that
De'Anthony Thomas
was taking reps on defense.
Those are a lot of good players who might not be on the field. That might allow the Cardinal power running game to mount long drives that keep the ball out of the hands of the Ducks offense. A few Oregon miscues, and things might get interesting.
There's a lot at stake, as both teams vie for control in the Pac-12 North race.
A Stanford upset not only would change that national picture, it also could end Oregon's three-year run atop the Pac-12.