May, 23, 2014
May 23
12:00
PM ET
Over the last two weeks
we've been taking a look at some players who had big springs for their respective teams. Some are upperclassmen finally coming into their own, some are younger guys taking advantage of open spots on the depth chart, while others are leap frogging some older players and making a name for themselves. Regardless, there were plenty of impressive performances in the Pac-12 this spring. All of these players are going to play a big part for their teams this fall, but which player do you think will be the most crucial to his team's success in 2014?
Rank them 1-12 here
.
Here's a breakdown of the players we've profiled over the past two weeks:
Arizona: WR Cayleb Jones
-- The Wildcats might have the deepest wide receiver group in the entire conference, but could a Texas transfer become the most important one of the bunch? With a year spent studying the offense and learning from the sideline, Jones could be a major factor.
Arizona State: LB D.J. Calhoun
-- The early enrollee ended the spring listed as a starter with
Antonio Longino
at the weakside linebacker position. With the Sun Devils trying to replace three starting linebackers, could Calhoun become a significant contributor as a true freshman? Seems likely.
Cal: RB Daniel Lasco
-- Lasco found himself taking some extra reps this spring as
Khalfani Muhammad
(last season's leading rusher) split time between the Cal track and football teams this spring. During his career he has been slowed by injury, but now that he's finally healthy and taking more reps, could he battle Muhammad for the lead spot this fall?
Colorado: WR Bryce Bobo
-- Colorado fans should feel encouraged by Bobo's spring game performance (five catches, 132 yards) as they head into the summer wondering who can replace
Paul Richardson
's yardage. It's highly unlikely that it'll be one single player, but could Bobo carry a large part of it?
Oregon: WR Devon Allen
-- When he wasn't running for the Oregon track team this spring he was running circles around some Ducks defensive backs. The redshirt freshman could prove to be a huge player for Oregon as they look to replace last season's top-three receivers as well as injured
Bralon Addison
's production.
Oregon State: WR Victor Bolden
-- Could Bolden be a possible replacement for some of the yardage lost by Biletnikoff Award winner
Brandin Cooks
? He has seen most of his time on special teams, but could step up as a big contributor in the fall as QB
Sean Mannion
looks to have another very big season for the Beavers.
Stanford: DL Aziz Shittu
-- The sophomore, who can play every spot on the defensive line for the Cardinal, has received high praise this spring. Coach David Shaw said Shittu was, "probably the player of spring for us." If it's good enough for Shaw, is that good enough for you?
[+] Enlarge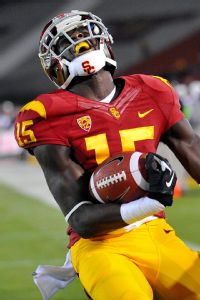 Gary A. Vasquez/USA TODAY SportsHow will USC wideout Nelson Agholor follow up his stellar 2013 season and excellent spring?
UCLA: CB Fabian Moreau
-- He was a big contributor to the Bruins last season but during this spring season Moreau became a better leader for UCLA. Coach Jim Mora has given Moreau high praise and if the Bruins are able to take the South Division title next season, a bit part could be because of the breakout year Moreau could have.
USC: WR Nelson Agholor
-- Chances are if you're a USC fan, you know who Agholor is. If you're not -- then he was the guy who played opposite
Marqise Lee
. But this spring Agholor took the steps to go from good WR to great WR, and next fall, the fruits of his labor could be on display for the entire conference to see.
Utah: RB Devontae Booker
-- Booker is right on the heels of RB
Bubba Poole
, as displayed by his spring game performance (2 touchdowns, 19 carries, 103 yards). But between Booker, Poole and
Troy McCormick
, the Utes could have a three-headed monster at running back that Pac-12 teams would not enjoy having to face.
Washington: LB/RB Shaq Thompson
-- He was the second-leading tackler for the Huskies last season so it wasn't a defensive breakout spring for him. But considering he started getting offensive reps, it was a breakout spring for him as a running back. UW needs to replace
Bishop Sankey
's yardage, could Thompson's spring give him a jump start to do so?
Washington State: WR Vince Mayle
-- The converted running back had a big spring for the Cougars. This spring Mayle got close to becoming quarterback
Connor Halliday
's safety net. Considering Halliday threw for more than 4,500 yards last season, being his safety net would mean major, major yardage next fall.
May, 12, 2014
May 12
12:00
PM ET
Over the next two weeks, the Pac-12 blog will be be looking around the conference at several players who really stood out during spring ball. It's only 15 practices, but it's enough time to catch the eyes of coaches and gain momentum going into the season.
Today, we start with
Arizona
.
[+] Enlarge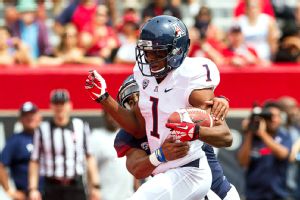 Courtesy of Arizona AthleticsWide receiver Cayleb Jones had a strong showing in his first spring at Arizona after sitting out last season following his transfer from Texas.
Breakout player:
WR
Cayleb Jones
2013 statistics:
Redshirted as transfer rules required him to sit out
The case for Jones:
Jones
transferred to Arizona
last summer to get a fresh start after his freshman year at Texas. He appeared in 10 games for the Longhorns in 2012 but didn't gain significant game experience. Last season, he worked on the Wildcats' scout team while sitting out.
However, even though Jones isn't the most veteran player in the room, he had a big spring for Arizona. The redshirt sophomore not only gives the Wildcats another weapon in their wide receiver arsenal but could also find himself fighting for a starting role.
Arizona returns six of its seven top wideouts from last season, and between Jones,
Austin Hill
,
Trey Griffey
,
Samajie Grant
,
Nate Phillips
and
Davonte' Neal
, head coach Rich Rodriguez is really going to have his pick of receivers. Because Jones sat out last season and saw limited action at Texas the year before, he was very much an unknown quantity coming into spring. But with the way coaches have talked about him, it sounds like he'll factor in to the wide receiver battle at Arizona.
Jones comes from a football lineage -- his father,
Robert Jones
, was a 10-year NFL veteran after being a Butkus Award finalist in college, and his uncle,
Jeff Blake
, played in the NFL for 14 years. With those genes and a year to get into the playbook and ease his way into the Arizona offense, Jones could eventually show up his dad and uncle.
May, 2, 2014
May 2
11:00
AM ET
Three things we learned this spring about the Arizona Wildcats:
The wide receivers are good: How good? Well, that probably depends on the quarterback situation (see below). But Austin Hill is back from injury after being a Biletnikoff Award semifinalist in 2012 and transfer Cayleb Jones is an awards candidate. Davonte' Neal also adds an intriguing element that could make Arizona's corps one of the best in the country.
Secondary leadership: Key players, such as Jared Tevis, Jonathan McKnight and Jourdon Grandon impressed the coaching staff this spring. However the Wildcats have lost a few defensive backs here and there. So look for a safety -- or even a wide receiver or two -- to get some work at corner in the fall while that trio holds the group together.
Solid line: Mickey Baucus and Fabbians Ebbele bring a lot of experience to a group that will have to make holes for a new running back and protect a new quarterback. The addition of Jim Michalczik as offensive line coach last season was a boost to the unit, which showed steady improvement throughout last season and is blossoming into one of the better lines in the league.
Three questions for fall:
QB of the O: Arizona has one of the most intriguing quarterback competitions in the country. The winner will likely have strong numbers running Rich Rodriguez's offense. And with a group of wide receivers that stacks up with just about any other in the country, whoever runs the show will not be lacking in talented targets. As for settling on one guy…
QB of the D: The departure of linebacker Jake Fischer leaves a defensive void as well as one in the locker room. Fisher was quietly one of the top linebackers in the league the last few years. Scooby Wright has the talent and will have to grow into a leadership role despite being a sophomore. Hank Hobson has dealt with injuries, but is capable.
Something special: The Wildcats ranked in the bottom half of the league last year in kick and punt returns, though significant progress could be on the way with T.J. Johnson and Neal in the return game. Last year the Wildcats were ninth in kick returns (20.5 average) and seventh in punt returns (7.2 average).
One way-too-early prediction
: After back-to-back eight-win seasons in Rodriguez's first two years, the Wildcats will surpass that win total and get to nine wins – which includes a third consecutive bowl win. The nonconference slate sets up for a 3-0 start. Then it's a matter of finding five conference wins plus a bowl victory. In the third year of RichRod's system – and with that WR stable – the Wildcats are capable of doing a lot of damage.
April, 25, 2014
Apr 25
5:45
PM ET
Happy Friday. Welcome to the Mailbag.
Following the Pac-12 blog on Twitter
is the equivalent of eating a perfectly cooked bone-in ribeye, only with the caloric burn of a P90X workout.
To the notes.
Bellingham Duck from Bellingham, Wash., writes:
I remember as kid sitting on my back porch listening to my Ducks get blown out by perennial powerhouse Oklahoma 62-7. I dreamed of what it what it would be like to ever be that good. Too ashamed to ask God to intervene, I accepted what seemed to be our fate. What Pac-12 program that is currently down is most unlikely but still destined to reach the top and stay a while?
Ted Miller
: This question interested me because of my initial reaction: I see reasons for optimism for EVERY SINGLE PAC-12 TEAM.
That reaction made me grumpy. That much optimism doesn't sit well with me. The Pac-12 blog is not "Oprah." We aren't about uplifting folks. We aren't about fairy tales and happy endings. We are about being realistic. Objective. We want to tell it like it is. We're like Marlo Stanfield in "The Wire" whispering with understated but ineluctable menace, "You want it to be one way… but it's the other way."
And we are not embarrassed to admit we enjoy a bit of snark.
Yet here's what I see with the Pac-12 heading into the 2014 season: Oregon, Stanford, UCLA, USC, Arizona State and Washington look like potential top-25 teams to me. Oregon State, Arizona, Washington State and Utah look like teams that could be dark horses if a couple of things fall into place and they stay healthy. And California and Colorado look like they will be much better in 2014 than they were last season.
The biggest potential backward step? Arizona State, because it's rebuilding its defense. But I see the Sun Devils as a team that could win nine games, so we're not talking about a tumble.
But none of this answers your question.
Part of that nonanswer is only Utah, Colorado and California could qualify as "down" after the 2013 season. Everyone else seemed to be maintaining a solid status or trending up.
So if you are asking me which program among those three should most decisively reverse course in the next five years, I'd go with Cal, mostly because of its recently -- and dramatically -- upgraded facilities and recruiting base.
If you're asking me which Pac-12 team is on the midst of making a major leap as a program, I'd go with UCLA in the South Division -- as long the Bruins retain Jim Mora -- and Washington in the North.
I also think the Arizona-Arizona State rivalry is going to get very interesting if both retain their present coaching staffs.
---

Brandon from Seattle writes:
This isn't a new topic and relates more to my recent discovery of
cfbstats.com
(and my loss of productivity). I'm a die-hard Coug fan and after looking into some rushing statistics, I've got a small bone to pick with college football analysts. The last two seasons, much has been made about WSU's ineffectiveness running the football. This viewpoint comes around because of two archaic "truths" of college football: 1. Balance means a team is 50-50 rushing and passing; and 2. Sacks are counted as rush attempts. Without getting into why I believe those "truths" are archaic, I'll just state my point that WSU's rushing game isn't nearly as bad as it's made out to be. In fact, if you look just at rushes by running backs, WSU ranks sixth in yards per attempt at 4.97. That's better than Stanford at 4.96 and UCLA at 4.72. I?m definitely not downplaying those teams' abilities to run the ball, but instead I'd like to bring to light the fact that WSU's O-line and running backs are significantly more efficient in the run game than what we're led to believe by many media members. Just food for thought and a hope that analysts might eventually take a deeper dive than rushing and passing totals.
Ted Miller
: This gets a yes and no.
Yes, Washington State was better running the ball than its paltry 53.4 yards per game suggests. Each of its top four running backs averaged 4.5 yards per carry or better. The poor rushing stats were mostly due to a lack of attempts and, as you note, losing 244 yards on 32 sacks. Further, as coach Mike Leach often points out, his short passing game using running backs isn't much different than handing off.
Yet, just as you've gone inside the numbers, you also can go a bit deeper.
Two stats stand out: Third-down conversions and red-zone offense. Both tend to be better for teams with reliable running games.
The Cougars ranked seventh in the Pac-12 in third-down conversions and 10th in red-zone offense. They were eighth in red-zone TD percentage (though it's a curiosity that said TD percentage was better than both Arizona State and Stanford, two good running teams).
Most notable: The Cougars turned the ball over in the red zone a conference-worst seven times. Hard to believe part of that isn't about the challenge of throwing the ball in a compressed space when defenses aren't worried about the run.
All this said, it's really about results. The Cougars ranked eighth in the Pac-12 in scoring last year -- ninth in conference games -- and finished 6-7. If they finished in the top three in scoring and won eight or more games, nobody would care about the rushing statistics.
---

Mitch from Tucson writes:
Hey Ted, longtime reader, first-time writer. What was your reasoning for leaving
Austin Hill
off
the "2014 challengers" list
? If I remember correctly, that guy was pretty good. ... Maybe even All-American good: "The sophomore looked like a potential All-American in 2013 after catching 81 passes for 1,364 yards -- 16.8 yards per reception -- with 11 touchdowns. " - Ted Miller
Ted Miller
: Considering the receiving depth in the Pac-12 next year, if I listed all the potential challengers to lead the Pac-12 in receiving yards, there would be 20 names.
There are two reasons I left out Hill. First, he's coming back from a knee injury that killed his 2013 season and he wasn't 100 percent himself this spring. I want to see how he reacts when the lights come on and the games are for real. I do suspect we're going to see a guy who is even better than he was in 2012.
But the biggest reason is this: Arizona is as deep as any team in the country at receiver. It's much deeper than it was in 2012, when Hill put up huge numbers, and 2013, when Hill was out. I could see multiple 1,000-yard receivers for Arizona -- or four guys with over 800 yards -- but not one guy with, say, 1,500 yards.
Also, based on how Texas transfer
Cayleb Jones
looked this spring, he might actually be the favorite to lead the Wildcats in receiving yards.
---
Kurt from Corvallis writes:
Naming the starting QB? Simple:
When the coach knows, he announces
.
Ted Miller
: Maybe for some, but plenty of coaches subscribe to the notion that they want to prolong the competition as long as possible.
For example, it was pretty obvious that
B.J. Denker
was going to be Arizona's starting quarterback early in fall camp last year, but Rich Rodriguez opted
not to announce it until the week of the first game
. Why? He didn't want Denker to become comfortable. He told me specifically that he wanted to cultivate as much mental toughness as possible in Denker because he knew Denker's lackluster arm would not be widely celebrated among the Wildcats' fan base and there would be growing pains. As there were -- see his game at Washington.
Chip Kelly also wasn't a big fan of showing his cards early. Think about what we know about
Marcus Mariota
now. But he wasn't revealed as the Ducks starter as a freshman until after 22 fall camp practices, one week before the opener.
Again, some coaches like to anoint a QB as soon as possible in order to allow him to take up a defined leadership role. Others like to wait as long as possible, believing a lengthy, stressful competition creates mental toughness.
---
Matt from Carrollton, Texas, writes:
Hi, Ted. I'm a longtime fan of USC and the Pac-12 blog, which means it would take something I consider especially momentous to write in (given that I value Kevin and your opinions so much). Anyways, I also happen to be an avid NCAA football gamer on Xbox 360 (read in: nerd), and I hit a milestone this past weekend with a resounding 252-0 win as USC over Wazzu (the first game in my 21st Dynasty season, and first over 250 points). I figured I'd send you this in the hopes that it warrants some space on your next mailbag, especially since it probably took me roughly 340-plus hours of gameplay to accomplish this. P.S.: Before you ask, those 340 hours took place over the course of the past 21 months, and yes, this was on "freshman" difficulty, but in my defense I do play only six-minute quarters and use an accelerated play clock. That's gotta count for something right?
Ted Miller
: The Nobel committee has been alerted.
Now, Matt, please go read a book.
April, 14, 2014
Apr 14
5:30
PM ET
By
ESPN.com staff
| ESPN.com
Texas transfer
Cayleb Jones
talks about spring practice, the Wildcats' QB competition and what he brings to the deep corps of receivers.
March, 5, 2014
Mar 5
5:30
PM ET
While some football players love to practice, most just tolerate it while recognizing its importance for winning on Saturday. Spring practices, with no game looming ahead operating as a reward for weeks of hard work, can feel like even more of a drudgery.
But for Arizona receiver
Austin Hill
, spring practice feels like he's standing in front of a spectacular buffet dinner. And he's really, really hungry.
[+] Enlarge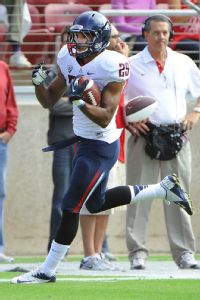 AP Photo/Rob HoltAustin Hill missed all of the 2013 season with a torn ACL.
"I'm actually starving," he said. "I haven't eaten in a whole year."
Hill was a second-team All-Pac-12 selection following the 2012 season after ranking second in the conference in receiving yards. The sophomore looked like a potential All-American in 2013 after catching 81 passes for 1,364 yards -- 16.8 yards per reception -- with 11 touchdowns.
But his 2013 season ended before it began on April 10 after he tore his ACL during the second-to-last session of spring practice.
Poof -- just like that, football was taken away,
replaced by uncertainty and the daily burden -- and boredom -- of rehabilitation
. That's why even a no-pads practice to start spring drills this week was invigorating.
Hill practiced with the Wildcats in a limited fashion during the final weeks of the 2013 season, but he's still not 100 percent healthy. While he's officially full-speed this spring, he's still wearing a knee brace and his explosiveness and speed are not fully back.
"That's basically the last step of ACL recovery," he said. "I'm still in those processes."
Hill said he's significantly stronger than before the injury. While he's the biggest name among the Wildcats receivers, it's an impressively deep unit. Not only do six of the seven top receivers from 2013 return, a crew topped by impressive sophomore
Nate Phillips
, the Wildcats also added a pair of A-list transfers in
DaVonte' Neal
(Notre Dame) and
Cayleb Jones
(Texas).
Neal and Jones both sat out last season, so Hill knows they share his hunger, while the returning starters and contributors don't want to yield repetitions. While it's a collegial atmosphere among the receivers at practice, it's also a competition for touches and position in the pecking order.
"Everyone is helping each other out on the field," Hill said. "It's fun to see athletes compete. It's always fun."
Of course, the competition at receiver figures to yield certainty -- an outstanding and deep crew of four or five guys in a regular rotation with one or two leading the way. The bigger issue is who is going to deliver the ball.
Hill laughs at the inevitable quarterback competition question, for an answer behind center probably won't be delivered until fall camp. Perhaps even late in fall camp, as it was last year.
Hill, for one, admits he'd prefer to get some clarity much sooner.
"Right now ... who knows? I just hope it doesn't end up like it was last year, where even in the first couple of games we really didn't know who the quarterback was," he said. "I want it to be a QB we know is going to start. That's the most important thing for your passing game, that receiver-QB sync. It's hard to get that sync when you don't know who your quarterback is and it's getting switched up every day."
"

I just hope it doesn't end up like it was last year, where even in the first couple of games we really didn't know who the quarterback was. I want it to be a QB we know is going to start. That's the most important thing for your passing game, that receiver-QB sync. It's hard to get that sync when you don't know who your quarterback is and it's getting switched up every day.

"

Arizona receiver Austin Hill on the Wildcats' quarterback competition.
Of course, that's up to the QBs -- senior
Jesse Scroggins
, sophomore
Connor Brewer
, junior
Jerrard Randall
and redshirt freshman
Anu Solomon
-- and coach Rich Rodriguez, who has said repeatedly about QB competitions that he would prefer that one guy quickly and decisively wins the job.
Just don't expect it to happen this spring.
As for Hill's take, he often doesn't even know who's delivering the ball.
"The quarterbacks are getting switched around so much, sometimes it's even hard to tell which quarterback even went with my group when I went," he said. "We move so fast, I don't get to pay attention to what quarterback is throwing me the ball."
While the QBs work through their competition, Hill will be a veteran leader for the offense, back in action after a year of observing the team from the outside. When he looks around at practice at the improved personnel on both sides of the ball, he senses that the Wildcats are going to surprise some folks this season.
"I'm ready to help this team to a BCS bowl," he said. "I feel like that's where we're headed."
As Hill missed last season and is still not 100 percent, he, of course, can be forgiven for forgetting 2013 was the last season of the BCS era. His point is clear. He believes Arizona is going to be a threat in the Pac-12's South Division in 2014.
February, 18, 2014
Feb 18
11:00
AM ET
We're taking a look at a player from each Pac-12 team who could step into the spotlight in 2014.
Spotlight:
Arizona WR
Cayleb Jones
, 6-3, 210, R-So.
[+] Enlarge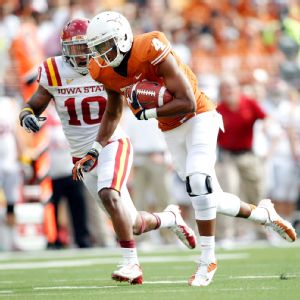 Brett Davis/USA TODAY SportsTexas transfer Cayleb Jones has the size and speed to be a playmaker at wide receiver for Arizona.
2013 summary:
Jones transferred from Texas, so he practiced but couldn't play last season because of transfer rules.
The skinny:
You surely have heard about Arizona's depth at receiver. Not only are six of the top seven WRs from 2013 coming back, the unit also will be bolstered by the return of
Austin Hill
, the Pac-12's second-leading receiver in 2012. Toss in Notre Dame transfer
Davonte' Neal
and you have quite a crowd. But guess what? There are more than a few folks who say Jones might turn out to be 1B to Hill's 1A. Jones is big and fast and played as a true freshman at Texas. He opted to transfer after running into some off-field trouble -- felony aggravated assault charges, which were later dismissed and reduced to a misdemeanor -- and followed former Texas QB
Connor Brewer
to Arizona, turning down a host of suitors. Jones was an Under Armour All-American and ESPN 150 recruit coming out of Austin, Texas, and Jones and Brewer were considered two of the leaders of Texas' No. 3 ranked 2012 recruiting class. The big question for Arizona is who will throw the ball to Hill, Jones and company. The good news is whoever wins the QB job, he will have plenty of targets capable of making him look good.
December, 31, 2013
12/31/13
5:30
PM ET
First off, a great, big thank you to everyone who sent Merry Christmas notes to the mailbag. They were received ... and appreciated.
To the notes!

Alex in Las Vegas writes
: Hi Kevin: What is it that causes Pac 12 teams to lay eggs repeatedly at the Holiday Bowl? The Big 12 teams always seem to show up.
Kevin Gemmell
: Though no one actually comes out and says it, there seems to be a vibe around the Pac-12 team at the National University Holiday Bowl the last few years that it somehow feel slighted or miffed to be there. Consider ASU this season. Technically speaking, it was the runner-up in the Pac-12 after losing to Stanford in the title game. But the Valero Alamo Bowl, which has the first pick of Pac-12 teams after the BCS, opted for an Oregon team that lost two conference games.
Same thing last year with UCLA -- which was the league runner-up and won its division. But it was passed over for Oregon State.
There is also something to be said for the delay between the end of the season and the actual bowl game. A lot happens to teams in three weeks. Some teams come in prepared. Other don't. And a lot of times it's a crap shoot on what you're going to get. I'm pretty confident that if Arizona State played Texas Tech in early November, the Sun Devils would have rolled the Red Raiders.
But Texas Tech had that us-vs.-the-world mentality that they rallied around when no one gave them a chance. This game is a built-in trap game for the Pac-12, because the Pac-12 team is usually perceived to be the "better" of the two teams so the Big 12 team has nothing to lose.
It hasn't been totally one-sided. Washington topped Nebraska in 2009. Oregon beat OSU in 2008 and Cal beat Texas A&M in 2006. Washington State's last bowl appearance -- prior to this season -- was a 28-20 win over Texas in 2003.
But I've said many times that motivation plays a huge role in the postseason. One team looked motivated to be there last night. The other didn't.
Dave in Bend, Ore. writes
: Wilcox or Pendergast? Which one can stop run-first spread offenses with mobile QBs? USC made improvements in its defensive stats overall. While USC showed it can handle the pro style of pass-centric offenses (Stanford, BC & Fresno State) the Trojans had horrible defensive games against ASU and UCLA. The defense was also fortunate to miss both [Keith] Price and [Marcus] Mariota. Perhaps this helped the stats. Don't get me wrong if Pendergast stays (stayed), I think he might be fine but it is far from a slam dunk considering the road back to the top of the Pac 12 goes through schools with mobile QBs.
Gemmell
: Well, it's official that Justin Wilcox is headed to USC, which means an extremely good coordinator in Clancy Pendergast is going to be on the market. And I'm willing to bet Mark Helfrich has already made that phone call.
I'm guessing you're referring to
last week's mailbag
where I broke down the improvements Wilcox and Pendergast brought to their respective programs. But you raise an interesting point about the mobile QBs/spread offenses. So I took a look at how USC and Washington both faired against ASU and UCLA -- two of the schools you brought up. And the numbers are actually pretty similar.
Against both of those teams, USC gave up an average of 48.5 points, 504 total yards, 279.5 passing yards, 224.5 rushing yards, 79.5 quarterback rushing yards and two QB rushing touchdowns. Washington gave up an average of 47 points, 495.5 total yards, 227.5 passing yards, 268 rushing yards, 49.5 QB rushing yards and two QB rushing touchdowns.
So both USC and Washington struggled against those teams. And when you factor in Oregon, which Washington played but USC didn't, the Huskies gave up 45 points, 631 total yards, 366 in the air, 265 on the ground and 88 yards and a touchdown to Mariota.
Both are outstanding coordinators and coaches and both know how to scheme. But sometimes the guys on the other side of the field are just better at what they do. And in the case of Washington and USC this season, they didn't have the answers. It doesn't mean one coordinator is "better" than the other. Most teams in the country struggled against UCLA, Oregon and Arizona State.
USC is getting an outstanding coordinator. Whomever gets Pendergast is going to get an outstanding coordinator. And my hope is that he stays in the Pac-12 because the league is better off with him in it.
Pac-12 fan in Reno writes
: Kevin - I'm disappointed that you have allowed yourself to be duped into believing that AU is going to be scary good next season. Yes, the Wildcats have some good WRs and 8 or 9 scholarship QBs (he-he), but it takes more than that to win in the Pac-12. A defense and an O-line can come in handy in our conference. I don't see how some me-first transfers and malcontents are going to change the outlook. They will win 7 games with their SEC-like nonconference schedule, but will find the going awfully tough in the Pac-12 without
Ka'Deem [Carey]
. AU is a basketball school that has reached its football ceiling. Go Dawgs!!
Kevin Gemmell
: I agree. It does take more than wide receivers. And I certainly don't ever remember saying that Arizona was going to win the Pac-12. I believe the quote I used in last week's mailbag was: "But Arizona does indeed have some scary potential next year."
Potential being the operative word.

I still think the balance of power lies in the North Division until proven otherwise. There have been three Pac-12 championship games, and the North has won all three. Until that changes, it is still the dominant division.
However, I do think Arizona has a bunch of talented players coming off the scout team who could make them more competitive in the South Division -- which is pretty wide open.
Cayleb Jones
,
Davonte' Neal
and
Austin Hill
coming back from injuries certainly are a massive boost.
But the question with Arizona is still going to be quarterback.
B.J. Denker
did a better job as the season progressed in the passing game, but his greatest asset was as a runner. Whomever is the starter in 2014 will likely have more a down-the-field presence than Denker did. And with that amazing wide receiver corps, they are going to do some damage offensively.
As for Rich Rodriguez, well, I think it's just silly to say Arizona has reached its football ceiling. Just as I think it's silly to classify the Wildcats as just a basketball school. They have spent plenty of time through the years as a ranked team. And yes, I am a RichRod fan. Not because his name is fun to say. But because he's an offensive innovator, and his teams are fun to watch. And the fact that he's had them in back-to-back bowl games speaks to the potential of the program.
If you really want to know what went on at Michigan, read Three and Out: Rich Rodriguez and the Michigan Wolverines in the Crucible of College Football by John U. Bacon. That'll tell you all you need to know.
Arizona might not win the Pac-12 South next season, but I can promise you the Wildcats are a team no one is looking forward to playing.
Caleb in Spokane, Wash. writes:
Hi Kevin. Do you think that the Cougs losing that bowl game will hurt the quality of the players they get in the offseason? I am a die-hard Coug but seeing the worst "Couging it" of all-time, I am worried about the players for next year. Also, do you think the Cougs should stick with
Connor Halliday
?
Kevin Gemmell:
I think Mike Leach will open up the competition, but I'd be surprised if Halliday doesn't retain the job. There is no substitute for experience, and when you look at his numbers over the final five games, you can see a pretty clear improvement in his efficiency with 16 touchdowns to five interceptions. Even taking away the Gildan New Mexico Bowl, it's still 10 touchdowns to four interceptions.
Then again, Leach has been known to play fast and loose with his quarterbacks, so who knows?
As for how the bowl loss impacts recruiting, I don't think it's going to be significant. You can
check out their recruiting page here
, and as you can see, there are some pretty good prospects coming in -- including a couple of highly-rated running backs.
If you're Leach and his staff, you sell the immediate progress the program has made in just two seasons. This was supposed to be the final rebuilding year before a push to the postseason in 2014. But Leach had his own agenda, and you look back at games like USC, Arizona and Utah as the difference-makers.
The Cougars took a very big step forward, and despite the bowl loss, momentum is on their side. I think they keep it rolling into recruiting and into next year. A couple more seasons under Leach, and the Cougars could be in that eight-nine win range.
Adam in Los Angeles writes
:
Brett Hundley
staying or going. Discuss.
Kevin Gemmell
: I'm of the opinion that if Jim Mora would have gone elsewhere, then Hundley certainly would have gone. It wouldn't have made sense for him to stick around one more season with a third head coach, a third coordinator and a third offensive system. As I previously wrote somewhere else (it all blurs, might have been a column or a story or a chat), if he's going to learn a third system, it might as well be in the NFL.
But the fact that UCLA ponied up and extended Mora -- and more specifically gave more money to his assistants -- bodes well for his chances of staying for another season. The draft landscape is interesting next year with Mariota and Bryce Petty and maybe Jameis Winston all in the mix.
In 2013, Hundley upped his completion percentage and his raw and adjusted QBR. He took fewer sacks and threw fewer interceptions. If he can refine that raw talent just a little bit more, he could play himself into possibly being a top-five NFL pick.
December, 24, 2013
12/24/13
5:30
PM ET
T'was the night before Christmas and the Pac-12 blog crew;
Was still smarting and miffed at the fall of Wazzu.

Dressed in an opulent red and green sweater;
Ted furiously hoped that the Beavs would do better.
The Trojans exploded and won one for 'O;'
Only to learn
Dion Bailey
would go.
Utes, Bears and Buffs are home for the bowls;
Leaving their fans little reason to troll.
Two teams from the desert are still yet to play;
With RichRod and Graham hoping things go their way.
One last run for Price in his prime;
Plus he gets to Fight Hunger at the same time.
The Alamo will be Mack Brown's last stand;
Even if the year didn't go as the Ducks planned.
Barr's last game will be played in The Sun;
We're also wondering: Is
Brett Hundley
done?
Last but not least is the Tree vs. Sparty;
In the backfield the Cardinal hope they will party.
So enjoy Christmas Eve with your best pint of ale;
Sit back and relax to this bag of mail.
(I know, it's not as good as Chongo's).
Dylan in Boston writes
: Hi Kevin, In all the reporting/speculation about Justin Wilcox following Sarkisian to Troy, it seems like everybody's overlooking the fact that the Trojans already have an A-list coordinator in Clancy Pendergast. Am I the only one confused by this? In the years Pendergast was at Cal, he did more with less than Wilcox has had at Washington (at the least the talent was comparable), particularly against my Ducks. Has Wilcox really shown enough for people to assume that he has the advantage over Pendergast?
Kevin Gemmell
: Has he shown enough? I think so. I think Wilcox is an outstanding coordinator and defensive-minded coach. But you're right, you can't overlook the job that Pendergast did at USC this year.
The move to an odd front was a fantastic one for the Trojans. Say this for Lane Kiffin, he recognized that the Trojans needed a scheme that was going to be able to account for all of the edge speed in the league and he adjusted accordingly by bringing in Pendergast. Obviously, things didn't work out so well on the offensive side of the ball for Kiffin. But let's give the credit where credit is due.
The numbers for both coaches suggest major improvements since their arrival. First, Washington:
In the two seasons since Wilcox arrived, the Huskies have improved in scoring defense each year. They were giving up 35.9 points per game in 2011, followed by 24.2 in 2012 and 23.4 in 2011. They have also improved turnover margin and rushing yards allowed each of the last two years.
For USC, in one season under Pendergast, the Trojans cut their points allowed by more than a field goal, made huge strides in rush defense (167 yards allowed in 2012 compared to 120.3 in 2013) and were on the plus side of turnover margin after going minus-2 in 2012 and minus-1 in 2011 (they were plus-6 this year).
So the morale of the story is this: If you're a Washington fan, you want Wilcox to stay in Washington. If you're a USC fan, you're going to be happy either way.
Peter in NorCal writes
: One thing that Sark going to SC won't hurt: The Stanford-USC rivalry. It seems like David and Steve get along about as well as Jim and Pete did. Fair statement? What are your observations about the two of them (both generally, and specifically the snippiness that ensued after the Stanford/Washington game this year).
Kevin Gemmell
: It's funny that you bring that up. Every year Ted and I go to the Pac-12 spring meetings in Arizona. Basically, it's Ted and I sitting outside of meeting rooms, waiting for the coaches to emerge, and then grabbing them for interviews. Then we sit outside, watch the coaches eat lunch, and then grab them again for more interviews.
One thing Ted and I were commenting on this year was how well all of the Pac-12 coaches get along. The Big 12 coaches meeting was going on at the same time and there was little to no interaction between those guys. But the Pac-12 coaches were all sitting together and chatting each other up after meetings.
Now, we're not in the meetings with the coaches, so I can't speak to how they interact. But from what I've seen, Sarkisian and David Shaw got along just fine.
Of course, that was last May and a lot has happened since then, including the aforementioned post-game war of words.
We don't need to rehash all of the details, but I know Shaw objected to having his assistant and his players called out by name. And whether you agree with him retaliating with a Tuesday tirade is your personal business. Sark was ticked and probably broke a couple of unwritten rules. It happens. Shaw kept the story alive an extra couple of days by using the coaches' teleconference and his Tuesday roundtable as a pulpit to respond.
Neither coach "won" the public relations battle. And I don't think either cares. But it certainly spices things up for when the Cardinal and Trojans meet again. That -- and the fact that it's come down to the last play three of the last four meetings.
Curt in Las Vegas writes
: Hey Kevin, Chip Kelly left the
Oregon Ducks
firmly entrenched with quality players. In 2013 going 10 and 2 and playing in the Alamo bowl to us Duck fans is a letdown! Do you think Mark Helfrich is planted at Oregon with the year he had?
Kevin Gemmell:
Did Chip Kelly hurt
Marcus Mariota
's knee? I think we can all agree that things took a turn for the worst for Oregon when he started coming up gimpy.
I think Helfrich is a very good coach who encountered a lot of the Year 1 obstacles every coach faces. But because it's Oregon, a perennial top-5 program, those obstacles are magnified. When you've sat in a coordinator's chair for so long and then make the jump, there is some transition and self-evaluation that is required. Ted and I took a lot of guff
for picking Stanford to win the conference
over Oregon for this very reason.
The Alamo Bowl is a letdown, sure. A 10-2 team playing in the deepest conference in college football deserves a shot at a BCS bowl game. But as the players have said, they need only look at themselves for where they are at.
Helfrich is going to be just fine, and Oregon is going to be just fine. He has a chance to get an 11th win -- something Kelly didn't do in his first year. And win a bowl game. Also something Kelly didn't accomplish. We have to see how the new College Football Playoff pans out, but I don't see any reason why a Helfrich-led Oregon won't be in the hunt annually.
Scott in London, England writes
: Hi Kevin, I've read twice in the blog today about you mentioning how scary Arizona can be next year and it got me thinking. I know we have a lot of great transfers and recruits coming in, but I'm a bit unsure as to who exactly are supposed to be immediate impact players and how many returning starters there wil be, etc.I was wondering if you and Ted plan on doing a run down of next year's potential for each Pac team that consolidates all this into one easy blog post per team:* Transfers/JuCos and why they are good/meh* Recruits and why they are good/meh* Returners and why they are good/meh* Coaching changes and why they are good/meh (assistants too)* Schedule goods and bads* Will there be an El Nino, etc...I would say I'm an above-avg fan but I really don't have the Google-Fu skills or time to compile all this and I think every Pac fan would appreciate it a series like that.Maybe you guys already do that during the offseason or preseason, but I think it could also be good after bowl season.You can think of it as your first chance to be the, "We told you so" guys. Thanks for reading, always enjoy your stuff. Keep up the good work.
Kevin Gemmell:
I can assure you there will be plenty of time in the offseason for all sorts of schedule analysis, roster breakdowns etc. etc. Ted and I are happy to fill the void during the offseason, as we do every year.
Just a heads up on Arizona. Among some of the key players who will be coming off the scout team are
Cayleb Jones
,
Davonte' Neal
and
Connor Brewer
. They will all be eligible in 2014 after transferring.
Jones is a wide receiver who is transferring from Texas, and he's reunited with Brewer, a former Longhorns quarterback. Neal, from Scottsdale, is a transfer receiver from Notre Dame who made a push to become eligible in 2013, but the NCAA denied his hardship waiver. You put him in with
Austin Hill
, who should be fully recovered from his knee injury and should be high on the Belitnikoff watchlist, along with
David Richards
,
Nate Phillips
and
Samajie Grant
and you have a receiver corps that is as good as any in the conference -- probably the country.
Quarterback will be an issue and
Anu Solomon
is one to watch. I had this in Lunch Links today. It's a good read from Anthony Gimino
breaking down Arizona's QB prospects for next year
.
Essentially, the Wildcats have a bunch of really exciting skill players that will make the South that much more exciting. They do lose three seniors on the defensive line, so guys like
Luca Bruno
,
Calvin Allen
and
Jack Banda
will have to step up.
But Arizona does indeed have some scary potential next year.
Mike in Maple Valley, Wash. writes
: Your definition of "Coug" was pretty spot on. You said it has been an effective term since 2005. The origin may actually go back to the 1975 Apple Cup. To "Coug it" is a ceremonial act hand down from one generation to another.
Kevin Gemmell
: First off, Maple Valley sounds like the most delicious place on earth.
Second, that was a phrase pulled straight from the Urban Dictionary, and the submission was entered in 2005, so unfortunately I can't take credit for it. I didn't put the link in though because Urban Dictionary has a lot of non-blog-friendly expressions and sayings. You're free to Google it yourself.
I called no joy in writing that piece. But I do think Washington State is moving in the right direction under Mike Leach. Speaking of that column ...
Andy in Fort Collins Colo. writes
: You're Washington State take
was so one-sided and arrogant
. How about giving the Rams a little credit instead of making excuses. (And Merry Christmas).
Kevin Gemmell
: Ah, thanks Andy. Merry Christmas to you.
It was a Washington State-centric story because I'm the Pac-12 reporter and I cover the Pac-12 and Washington State is a Pac-12 team and it appeared on the Pac-12 blog. See the trend?
Did you email all of the beat writers in Pullman and Spokane and the surrounding areas and chastise them for their coverage? The folks at
CougCenter
do a heck of a job. And their stuff was a bit one-sided.
I don't think it's arrogant to say the Pac-12 is a better conference. I've covered both, so I feel like I'm qualified to weigh in on this. In the 12 games the two conferences have played so far, the Pac-12 has gone 11-1 and outscored the Mountain West, on average, 38.5 to 20.
Arizona should beat UNLV. And it did. Colorado should beat Colorado State. And it did. Oregon State and USC should beat Hawaii. And they did. Oregon State should beat San Diego State. And it did. UCLA should beat Nevada. And it did. Stanford should beat San Jose State. And it did. USC and Utah should beat Utah State. And they did. USC should beat Fresno State and Washington should beat Boise State. And they did.
For what it's worth, I did include in the piece that Colorado State deserved the win for not quitting. And anything is possible (especially in Albuquerque, it seems) when you have two weeks to prepare.
That goes for tonight's matchup between Oregon State and Boise State. The Broncos certainly aren't the same team they were a month ago. And I'm not totally sure which Oregon State team we're going to get. If it's the explosive
Sean Mannion
-to-
Brandin Cooks
connection, the Beavs should be fine. If it's not, then Boise State certainly could win.
Such is the nature of bowl season.
Merry Christmas from the Pac-12 blog.
August, 15, 2013
8/15/13
1:00
PM ET
The Pac-12 has a chance to gain two big commitments over the coming days, but those won't be the only eventual newcomers who will make an impact. And one of the conference's heavyweights could have plenty to sell this fall.

Another Saturday commitment