March, 10, 2011
3/10/11
12:04
PM ET
By
ESPN.com staff
| ESPN.com
Only Oregon and Washington
didn't experience any staff turnover
this offseason, so we're running through the staff changes for the other 10 Pac-12 teams.
Next up is Utah, which brought in a big name to run its offense
Team in parenthesis is where the departing coach ended up.
Out

Dave Schramm, co-offensive coordinator/tight ends (now running backs coach)
Aaron Roderick, co-offensive coordinator (now receivers coach)
In

Norm Chow, offensive coordinator/tight ends
Out

Blake Miller, Offensive line (Memphis)
In

Tim Davis, offensive line
Out

Aaron Alford, running backs (now Director of High School Relations)
In

Schramm, running backs
Out

John Pease, defensive line (retired)
In

Chad Kauha'aha'a, defensive line
Reaction
: Obviously, the big news is Chow. He's one of the all-time greats, but he's coming off an unsuccessful tenure at UCLA. It's interesting that he's not coaching quarterbacks, which continues to be Brian Johnson's post. That will allow Chow to play a more supervisory role, which might be a good thing as he gets a feel for his personnel and transitions the Utes from a spread to a more West Coast attack. Johnson, who turned 24 in February and is the Pac-12's youngest full-time assistant, has a great opportunity to learn from Chow and put his career in the fast lane. An obvious question is how Schramm and Roderick handle what functions as a demotion. You'd suspect that head coach Kyle Whittingham is pretty confident both will be good soldiers, because it falls on him if they are disgruntled. Davis, a former line coach at USC, was a Ute offensive tackle from 1978-80 and a Utah offensive line coach from 1990-96. Kauha'aha'a was Utah State's defensive line coach for the past two seasons. He's a former second-team All-WAC player for the Utes in 1996. Whittingham was the defensive coordinator during Kauha'aha'a's last three years at Utah.
February, 4, 2011
2/04/11
10:32
AM ET
Norm Chow: Utah tight ends coach.
Sorry. Just wanted to type that.
Here's how Utah coach Kyle Whittingham has reshuffled his staff after hiring Chow away from UCLA, per a press release:
[O]ffensive coordinator Norm Chow will also coach the tight ends, while Dave Schramm takes over at running back -- a position he managed during his first four years at Utah (2005-08). Aaron Alford, a Ute assistant since 2007 and the running backs coach for the last two seasons, moves into an administrative role as the director of high school relations. The rest of Utah's offensive staff has Aaron Roderick beginning his seventh year with the receivers, Brian Johnson coaching the quarterbacks for the second year, and Tim Davis taking over the offensive line.
[+] Enlarge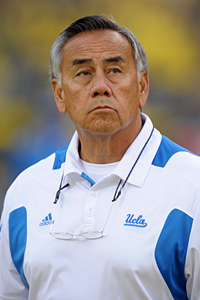 Kirby Lee/Image of Sport - US PresswireNew Utah offensive coordinator Norm Chow will bring a lot of experience to the staff.
Utah also announced that Chad Kauha'aha'a will take over as defensive line coach. He replaces John Pease, who retired after the season. Kauha'aha'a was Utah State's defensive line coach for the past two seasons. He's a former second-team all WAC player for the Utes in 1996. Whittingham was the defensive coordinator during Kauha'aha'a's last three years at Utah.
But back to the offensive shakeup. Here's how Whittingham explained it:
"We took our time re-positioning the offensive staff and made sure that we got everybody into the roles we felt were best for the program. Aaron Alford did a nice job with our running backs, and the cornerbacks before that, but as the director of high school relations, he will fill a critical role for us in our move to the Pac-12."
It seems like Whittingham tried to limit the shock to his staff's system as best he could, seeing that Schramm and Roderick shared the coordinating duties last year and are functionally getting a demotion because of the arrival of Chow.
Most interesting: Chow is not coaching quarterbacks. That's been his specialty since his BYU days in the 1970s. That decision feels like tip of the cap to Brian Johnson, as well as a way to allow Chow to serve in a more supervisory role. A graduate assistant can put tight ends through drills. Coaching quarterbacks is far more involved.
Further, Chow turns 65 in May. It seems unlikely he'll be Utah's offensive coordinator for the next decade, though you never know. You'd think the rest of the offensive staff, even if they are grumpy at present about the changes, could absorb plenty of knowledge from Chow over the next few years that will benefit them down the road.
While Chow's tenure at UCLA wasn't successful, he's still on a short list of the best offensive minds in college football history. You'd also think he'll be plenty motivated to wash the bad taste out of his mouth over how things went in Westwood.
And who isn't excited about UCLA's visit on Nov. 12?