July, 12, 2013
7/12/13
12:00
PM ET
Todd Graham had a plan. He'd go to a coaching clinic, give his spiel and shake a few hands. Afterwards the recruiting would start. Afterwards he'd extend an invitation. Anyone who wants to go get a beer and talk football, follow me.
"That's when you'd find out who is passionate," said Graham, now in his second season as ASU's head coach. "If you want to have a beer, I'll have a beer with you. But be ready to talk some football. The guys that came out afterwards and wanted to learn and wanted to talk, those are the guys I that I knew had a passion for this game. Those are the guys I kept my eyes on."
And it's pretty clear that Graham has an eye for coaching talent. In just his eighth year as a head coach, he's given rise to an impressive coaching tree that includes several of college football's most well-known coaches and coordinators.
For example:
Gus Malzahn: The head coach at Auburn (formerly the head coach at Arkansas State) won a national championship with the Tigers as their offensive coordinator. Before that, he was Graham's coordinator at Tulsa.

Chad Morris: The offensive coordinator at Clemson had zero college experience before Graham hired him.

Bill Blankenship: The head coach at Tulsa had zero college experience when Graham hired him at Tulsa to be a receivers coach.

Keith Patterson: West Virginia's defensive coordinator was a graduate assistant for one year but worked with Graham at Allen High School in Texas before Graham brought him to Tulsa.

David Beaty: Texas A&M's receivers coach had zero college experience when Graham hired him at Rice.

Major Applewhite: The Texas co-offensive coordinator had one season as a quarterbacks coach at Syracuse when Graham hired him at Rice.
[+] Enlarge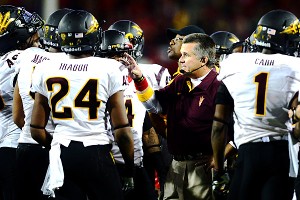 Mark J. Rebilas/USA TODAY SportsTodd Graham has unearthed several successful assistants who had little to no prior college experience.
There's a trend here. And it should be obvious.
"Teachers," Graham said. "All of them are outstanding teachers who just needed the opportunity. Chad turned me down three times because he didn't think he could do it. Now he's the highest paid offensive coordinator in the country after four years. I got hammered in the media when I hired Chad Morris. They said 'How can you hire someone without any college experience.' Same with Bill. Same with David at Rice."
And Graham already has his eye on the next up-and-comer. It's his current offensive coordinator, Mike Norvell, who reportedly passed on the same job at Auburn to stay with Graham. It's not every day a guy turns down a coordinator gig in the SEC. Norvell has his reasons.
"He's someone you want to believe in," Norvell said of working for Graham. "He's been a great mentor and someone I've learned a ton from. When you look at his coaching tree, the guys he's helped in such a short amount of time is really impressive."
Graham said Norvell might be the brightest of the bunch, and it's going to be a struggle to keep him around.
That's the fun thing about coaching trees. You could actually trace Graham's origins to the coach of ASU's biggest rival -- Arizona's Rich Rodriguez. It was RichRod who gave Graham his first Division I college coaching job at West Virginia. Other trees have multiple branches. Stanford's David Shaw comes from the Jim Harbaugh coaching tree -- but his roots are inspired by Bill Walsh, Jon Gruden and Bill Callahan. Sonny Dykes comes from the Mike Leach coaching tree. Others have bounced around and taken bits and pieces from various coaches.
But one thing they all have in common is that someone gave them their first opportunity. And so far Graham has been pretty good at spotting guys ready for their opportunity.
"I've been fortunate to identify some great teachers," he said. "I get credit when things go well and I take heat when things go wrong. But the most important thing is those nine guys I hire. I spend more time with those nine guys. I want the best pay and the best contracts for them. We want to be conference champions and Rose Bowl champions and national champions. To do that, we have to keep a staff together and that's a challenge."
In his first year at ASU, the fruits of his teachings were obvious. The Sun Devils went 8-5 and many have them as the favorites to win the Pac-12 South this season. One particular point of pride for Graham was ASU's reduction in penalties. They went from being one of the most penalized teams in the country to the least penalized team in the league.
"People think it's because I'm a hardcore disciplinarian," Graham said. "It's because we are teachers. We taught them the rules."
It is obviously a transition to go from being a high school coach to a college coach. The schemes are more complex. There are different social issues with the players -- many of whom are away from home for the first time. But if you can teach, Graham will give you a look.
"We're adaptive," he said. "When you coach in high school you have to learn how to teach fundamentals and develop fundamentals. But you have to be adaptive to the skills and talents of the players that you have year in and year out. That's what's served me and those guys well."
November, 20, 2012
11/20/12
3:00
PM ET
For much of the past two seasons, as Jeff Tedford sat firmly on the proverbial hot seat, the question was whether California could afford to fire its winningest coach. There was no buyout in Tedford's contract, so it would cost nearly $7 million to dispatch him, and that didn't include paying off his coaching staff.
And, of course, there were issues of loyalty. Tedford transformed a program that went 1-10 and played in a crumbling, half-empty stadium the season before he arrived, building it into a consistent winner that could afford massive facility upgrades.
On Tuesday, Cal administrators concluded that
they couldn't afford not to fire Tedford
, who completes the longest continuous, and current, tenure in the Pac-12 with an 82-57 record in 11 seasons in Berkeley.
The reasons for the not-unexpected firing are obvious. Tedford is 15-22 overall and 9-18 in Pac-12 play since going 8-5 in 2009. The Bears went 3-9 this year, the worst record of Tedford's tenure, including a five-game losing streak to end the season. Crowds at newly remodeled Memorial Stadium were dwindling, threatening Cal's Endowment Seating Program, which was supposed to play a central role for financing the stadium renovation.
Over the past four seasons, California lost 16 games by at least 17 points, and it is riding a three-game losing streak in the Big Game to Bay Area rival Stanford, which could end up in its third consecutive BCS bowl game this January.
[+] Enlarge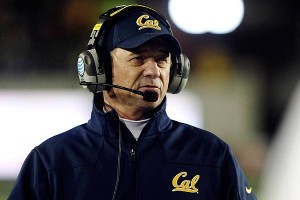 Kelley L Cox/US PresswireJeff Tedford's Bears lost their final five games to finish 3-9 -- the head coach's worst season at Cal.
The program has been in a downward trend and showed no signs this season of reversing that negative momentum. Fans were turning away just when they -- and their money -- were needed most. So, it was decided, a coaching change was critical to reverse the tide.
"This was an extraordinarily difficult decision, one that required a thorough and thoughtful analysis of a complex set of factors," Cal athletic director Sandy Barbour said in a statement. "Ultimately, I believed that we needed a change in direction to get our program back on the right track. Cal football is integral to our department and our university, and its influence can be felt well beyond the walls of Memorial Stadium."
So what's next? Well, Cal first has to decide how much it's willing to pay.
Tedford's 2012 salary is $2.3 million, which is a lot to most of us but not that much among elite coaches, particularly when you adjust for the Bay Area's cost of living. That's like making $1.6 million if you lived in Tuscaloosa, Ala. If Cal wants to pursue, say, Cincinnati's Butch Jones, they'd have to pay him $2.3 million just to match the value of Jones' current $1.6 million salary.
A front-line head coach likely will cost at least $2.5 million to $3 million. And then you have to hire his staff. Top coordinator salaries have risen to between $500,000 and $1 million. Washington is paying defensive coordinator Justin Wilcox $750,000 this year.
So this could get expensive.
Of course, the Bears also could do what they did when they hired Tedford away from Oregon: Find a hot coordinator.
Names you likely will hear: Wilcox, Oregon offensive coordinator Mark Helfrich, Stanford offensive coordinator Pep Hamilton and Stanford defensive coordinator Derek Mason.
Bears fans have been frustrated by Cal's QB play since Aaron Rodgers went to the NFL. Well, UCLA offensive coordinator Noel Mazzone rebuilt two offenses -- and two QBs -- in the past two seasons (at Arizona State and now with the Bruins).
Then you could trot out some other hot names in no particular order: Charlie Strong, Louisville; Art Briles, Baylor; Sonny Dykes, Louisiana Tech; Willie Taggart, Western Kentucky; and Gary Andersen, Utah State.
And coordinators: Kirby Smart, Alabama; Chad Morris, Clemson; Todd Monken, Oklahoma State; Brent Venables, Clemson; Lorenzo Ward, South Carolina; Kalani Sitake, Utah; Pat Narduzzi, Michigan State.
Or Cal could look to the NFL.
From the Cal statement: "Barbour said that a national search for a new head coach, which will be aided by the firm of DHR International, will begin immediately. She did not indicate a timetable for hiring a replacement, adding that Cal Athletics will have no further comment on the search until a new coach has been selected."
Tedford will land on his feet. He is plenty respected among other coaches. Don't be surprised if he lands another job in a major conference. Or the NFL.
He has proved he can build a program. As we've previously noted, in 24 seasons before he arrived in Berkeley -- 1978 to 2004 -- Cal won three or fewer games 10 times while winning seven or more games four times. Tedford suffered just two losing seasons in 11 years and has won 10 games twice and nine games once. Before he took over, Cal's last winning season came in 1993.
But football is a zero-sum game. You either win or you lose. Tedford set an early pattern of winning, but losing was the recent trend. The program seemed to plateau, then slide.
Further, Stanford's fortunes were rising, as were other Pac-12 teams with new coaches, such as UCLA, Arizona and Arizona State.
In the big business of college football, losing isn't accepted, particularly when rivals are winning.
March, 13, 2012
3/13/12
11:00
AM ET
TEMPE, Ariz. -- On Jan. 6,
Mike Bercovici
was chilling with some friends when he got a call from Arizona State receiver
Aaron Pflugrad
. There, it seemed, was some big news for the Sun Devils' backup quarterback.
In a surprise to many, junior
Brock Osweiler
, the Sun Devils' starting quarterback, had decided to enter the NFL draft.
"My mindset changed immediately," Bercovici said. "I was really excited when I heard the news."
Of course he was. It's natural that the backup becomes the favorite to win the job when the starter leaves. Osweiler's decision meant Bercovici was suddenly in line to become No. 1 on the depth chart a year earlier than expected -- as a true sophomore.
But, as everyone also knows, Osweiler also wasn't the only person who bolted the Sun Devils. When coach Dennis Erickson was fired, offensive coordinator Noel Mazzone and his spread passing attack moved on to UCLA. Enter Todd Graham and his spread-option, Oregon-esque offense, which asks the quarterback to be a running threat.
[+] Enlarge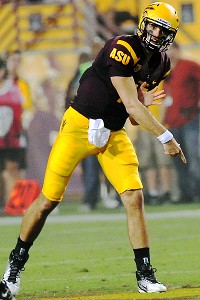 Jennifer Hilderbrand/US PresswireMike Bercovici was last season's backup at Arizona State, but might not be the best quarterback for new coach Todd Graham.
Bercovici has a big arm but isn't really known for his ability to run the ball.
"I'm not as familiar with the zone read," he said.
The guy who lost out on the backup job to Bercovici last preseason, sophomore
Taylor Kelly
, however, does have experience running the spread option. And, oh by the way, redshirt freshman
Michael Eubank
, an impressive athlete at 6-foot-5, 235 pounds, was recruited by Graham to play quarterback at Pittsburgh.
"He tells me he knows me. He's told me that numerous times since he's been here," Eubank said. "But I'm fighting for the job like the rest of the guys. I don't feel like I have any advantage just because I know him."
What we do know: This feels like an honest-to-goodness battle. This offense seems to fit Kelly's and Eubank's comfort zone better than Bercovici's, but Graham's offense also emphasizes throwing the ball downfield -- much more so than Mazzone's quick-hit passing attack. Bercovici can hurl the rock downfield, there is absolutely no doubt about that.
But Graham isn't talking so much about the different skill sets of his signal-callers. For one, spring practices only start Tuesday, so he hasn't seen them in action. But he makes clear that there's a lot more to playing the position than passing and running.
"We spend a lot more time focusing on the intangibles, the mental part of it," he said. "The guy who will win this job will be the guy who can lead our team."
That said, becoming proficient with the spread option is a key component of the competition. But it's not all about athletic ability and blazing speed, either.
"The read zone is a part of what we do," Graham said. "We want to hurt them with our legs but slay them with our arm. Most of the guys in this system have been between 4.8 and 5-flat [in the 40-yard-dash], but if you have great technique you can be very deceptive in the option game."
(Graham said his offense best compares to what Chad Morris runs at Clemson and what new Arkansas State coach Gus Malzahn ran as Auburn's offensive coordinator).
None of the three has any real college experience. And all three are young, so whoever wins could be in line to be a three- or (in Eubank's case) four-year starter. Graham and offensive coordinator Mike Norvell said each will get equal time with the first-team offense until a pecking order establishes itself.
"I don't have a timeline for when we're going to cut it to a two-man race or when we're going to name a starter," Norvell said. "It's a process and it's going to take its course. We're going to see how the guys compete."
And the competition is almost certain to extend well into fall camp.
Said Norvell, "I think I'll find it hard to name a starter after just 15 practices."