April, 25, 2014
4/25/14
12:00
PM ET
Three more Pac-12 spring games are slated for Saturday. Here's a look at what to watch in all three.
California

Where
: Memorial Stadium
Kickoff
: 11 a.m. PT
TV
: Pac-12 Network (Replays throughout the week)
What to watch
: The Bears have a new defensive coordinator … again …
so watching them adjust
to Art Kaufman's 4-3 vs. Andy Buh's 4-3 will be of note. Though a
depth chart
was recently released, there are still a few positions up for grabs. There are some questions about the right side of the offensive line and backup quarterbacks can usually make an impression in the spring. The depth chart lists an "or" between
Austin Hinder
and
Kyle Boehm
, so expect those two to jockey for position behind incumbent starter
Jared Goff
. The event is free and there will be giveaways and kids' activities.
Click here for details
.
UCLA

Where
: StubHub Center, Carson, Calif.
Kickoff
: 5 p.m. PT
TV
: Pac-12 Network (Replays throughout the week)
What to watch:
As has been the case with UCLA the last couple of years, youth and injuries make for some mixing and matching on the offensive line. This spring has proven no different, so look for the right tackle spot to be highly competitive beyond Saturday's game. The running backs are intriguing as well. Offensive coordinator Noel Mazzone said
Jordon James
has evolved into the one-cut runner that he wants him to be, but
Paul Perkins
,
Steven Manfro
and touted redshirt freshman
Craig Lee
will push for carries. Finding a suitable backup for
Brett Hundley
, be it
Asiantii Woulard
or
Jerry Neuheisel
, is also a top priority, and the spring game could create some separation. Note, tickets are $5 in advance, $10 day of (free for UCLA students and children 2 and younger). Parking is $15. Players will be available for autographs between 3 and 3:45.
Click here for details
.
Washington State

Where
: Joe Albi Stadium, Spokane, Wash.
Kickoff
: 1 p.m. PT
TV
: Pac-12 Network (Replays throughout the week)
What to watch
: This is the fourth year the Cougars will be holding their spring game in Spokane. All reports are that quarterback
Connor Halliday
has shown a strong command of the offense and wide receiver
Vince Mayle
has been outstanding
. However, the big question mark still lies in the secondary, where definitely three -- maybe four -- positions are still up for grabs. The spring depth chart has
Charleston White
and
Daquawn Brown
at the corner spots and
Isaac Dotson
and
Taylor Taliulu
as the safeties. But those won't be set in stone for a while. There are other position groups of interest, naturally. But defensive coordinator Mike Breske
told the Pac-12 blog
, while he likes his front seven, the back end of the defense, without question, has been the biggest point of emphasis this spring.
March, 27, 2014
3/27/14
12:00
PM ET
As Washington State kicks off spring ball Thursday, head coach Mike Leach isn't focusing on one particular theme or message. In his mind, the message should be universal: get better every day, regardless of the calendar. And if he has to remind his guys of that, then, well, they aren't his guys.
"We don't have a lot of guys looking for ways to get out of work," Leach said. "They are all collectively working pretty hard. Those looking for the easy way are quickly getting outnumbered."
As Leach enters his third spring as the Cougars' head coach, the team has taken on more of a "his guys" personality. Gone are the days of whiny receivers and bellyaching over workouts. He believes everyone on his roster is committed to his way of thinking … at least, he hopes so.
And his guys know that heading into spring, nothing is certain.
"Everything is a competition," Leach said. "People have the opportunity to beat one another out and you earn your job every day. The reps will be split up. The guys who are ahead or performing better will get more reps to try and further develop their skills. How you perform will impact the number of reps you get. But that won't declare anything necessarily. Once you get to camp you have to do it all over again."
[+] Enlarge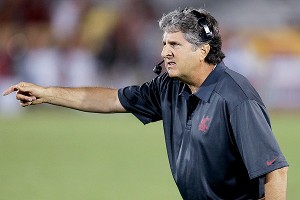 AP Photo/Chris CarlsonMike Leach is stressing competition this spring.
That shines an extremely bright spotlight on a few position groups: the secondary, the offensive line and possibly running back. The Cougars have to replace All-American safety
Deone Bucannon
and both corners,
Damante Horton
and
Nolan Washington
. Several spots on the line are up for grabs -- returning starters included. And even the running back position, where
Marcus Mason
returns as the team's leading rusher, isn't a sure bet. Leach praised the potential of
Theron West
and
Jamal Morrow
.
"That whole position is chopping at his heels," Leach said. "Mason was a steady guy last year. He did some good things. At the end of last year, the hottest running back we had was West. A lot of that took place in the bowl workouts and he had a pretty good game in the bowl game. Then Morrow has looked pretty good. He redshirted and did a lot of good things there. It will be a very competitive position."
The spring depth chart -- the very definition of a living document -- lists a lot of youth in the secondary, including redshirt freshman
Charleston White
and sophomore
Daquawn Brown
as the corners and sophomore
Isaac Dotson
and junior
Taylor Taliulu
as the safeties.
"There are plenty of jobs open there," Leach said. "The corner positions are open. The safety positions are open. It will be interesting to see. It's a bunch of people who haven't played a lot so they'll be fighting it out to see who gets more playing time."
Notes
Leach said he believes backup quarterbacks Tyler Bruggman and Luke Falk will get enough work to put some pressure on incumbent starter Connor Halliday: "I think Bruggman and Falk are both capable of pushing him. Both have a really good skill sets. Connor has the advantage in experience. We're going to have the opportunity to rep a lot of them. We'll run two pass skills throughout spring and rotate guys around. They'll all have a lot of reps."
The depth in the secondary might be complicated by the recent legal trouble of Brown. While he's still officially listed on the depth chart, Leach said they are taking a wait-and-see approach with him: "We're going to have to wait and see how everything unfolds. Right now what's come out has been greatly embellished so we'll have to see how all of that comes out."
Leach was asked his thoughts on the news Wednesday that Northwestern football players qualify as employees and could unionize: "If these guys are professionals and they want everything to be like it is in the NFL, that means that shortly we're going to be having a draft and I for one would be pretty excited about having a whole nation full of quality athletes to draft from. So I'm looking forward to that … That means if somebody doesn't perform well, you pay them less. If somebody performs real well, you pay them more. Although obviously every team should have the same salary cap. In addition to that, you have the opportunity to draft anybody you want. And maybe I'm wrong, but it follows if we're going to professionalize this kind of stuff. It follows that you handle it like professionals do."