January, 22, 2015
Jan 22
11:00
PM ET
The shockwaves from Texas A&M quarterback commitment
Kyler Murray
's unofficial visit to Texas on Wednesday were still being felt Thursday because he's such an important target for both schools.
September, 11, 2014
9/11/14
11:00
AM ET
UCLA coach Jim Mora began his weekly spot on the Pac-12 coaches teleconference with a grumble and two harrumphs. Some might say there also was a dismissive snap or two. This was Grumpy Jim.
He was asked about his Bruins appearing on the Pac-12 Network series, "The Drive."
"I've never said the words, 'The Drive,' to our team," he said. "I've never heard our players talk about it. They've never asked me a question about it. It's a complete nonentity to us."
He was asked about his team not playing up to expectations.
"How do you know we haven't played up to our own expectations?" Mora said, adding that he's not going to "talk about what he talks to the team about."
He was asked about Texas' pursuit of him last year before he re-upped with UCLA and the Longhorns hired Charlie Strong.
[+] Enlarge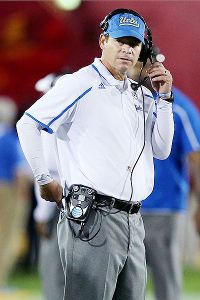 Stephen Dunn/Getty Images"It's up to us to prove that we are a competitive, good football team to be reckoned with," Jim Mora said. "In the first two weeks, we haven't necessarily done that."
"You'll have to ask them if they considered me," he said. "I'm just excited to the coach at UCLA."
That's all he would say, even though a day later a story would appear on ESPN.com in which
he provides great detail about the interview with Texas representatives
.
A grumpy football coach isn't unusual, just as a coach who doesn't want to talk about his team's struggles or his flirtation with an other job isn't either. Yet after these tense initial three minutes, Mora transformed. He loosened up and became pleasant and expansive. His 10 minutes of allotted time stretched to 15. When he fielded a last question about changing a program's culture, you got the distinct feeling he was smiling while answering.
Call the analogy facile, but Mora showed that a quick turnaround is possible, and that's what he's hoping he gets from his team as it prepares to play Texas on Saturday in AT&T Stadium in Arlington, Texas. That transformation with reporters included significantly more insight about his and his team's thinking after some folks turned up their noses following unimpressive UCLA wins over Virginia and Memphis.
"We enjoy the role of underdog," he said. "We feel like we're kind of back to where we want to be, which is people are doubting us. There's a reason for that and we're OK with that. It's up to us to prove that we are a competitive, good football team to be reckoned with. In the first two weeks, we haven't necessarily done that."
Then Insightful Jim apologized for his insightful answer, "I hope you can get something out of that."
We can. Mora is even more aware than critical reporters that the Bruins first two games haven't yet matched reasonable expectations for his depth chart. The good news is his team is 2-0. It's entirely valid to question, however, whether his team will prove to be the national title contender it was projected to be in the preseason. The early returns suggest not.
Mora went even further with his beat reporters Tuesday, admitting his players were "tight" the first two weeks. "I think we let the outside expectations become a little bit of a burden to us," he said.
In Game 1, the offensive line looked over-burdened by Virginia, yielding five sacks and producing little running room. In Game 2, that line surrendered four sacks, but the running game was better and the Bruins scored 42 points and gained 540 yards. Yet the defense yielded 35 points and 469 yards.
While it would be easy to say that if you combine the defense from Game 1 and the offense from Game 2, UCLA would be fine, the real issue is improvement on the offensive line, the team's most questionable area. This is not a new thing.
UCLA has surrendered 97 sacks since the beginning of the 2012 season, tied for second-most in the FBS, according to ESPN Stats & Information. It's particularly concerning that this isn't about blitzes. QB
Brett Hundley
has been sacked 51 times in his career on plays in which opponents have sent four or fewer pass-rushers, the most for any Power 5 quarterback in the last three seasons. Bruins QBs have been pressured (hurried or knocked down) on a Pac-12-high 24 percent of their dropbacks the last two seasons, including 24 percent this season.
And it's not just about pass blocking. UCLA is averaging 71.0 yards before contact per game this season, second-worst in the Pac-12 behind Washington State. The Bruins produced 130 plays the last two seasons that lost yards, third-most in the FBS.
Despite these worrisome numbers, Hundley and the Bruins have managed to score a lot of points, as they've averaged 36.7 points per game the past two seasons. But unreliability up front is where UCLA's 2014 great expectations might get the Miss Havisham treatment.
As for Mora and the Bruins, who have tumbled from No. 7 to No. 12 in the AP poll, the reality is being grumpy at 2-0 isn't such a bad thing. He noted that the worst thing that can happen to a team is its locker room becoming permeated with self-satisfaction.
So while a few gritty harrumphs for Texas on Saturday and Arizona State on Sept. 25 might quell the doubters, that grumpiness shouldn't ever completely go away.
September, 8, 2014
9/08/14
10:30
AM ET
Each college football season is a whodunit. Or, more accurately, it's a "who-will-do-it." It contains plot twists and turns, false leads and subtle clues about how things will play out. It's basically a 14-chapter potboiler, so if we seemed to have a couple of big reveals in Chapter 2, we should greet them with equanimity. Even skepticism.
No. 3 Oregon made the biggest national statement so far this season with a 46-27 victory against No. 7 Michigan State. The Ducks answered questions about their ability to match up with an elite physical defense and established their legitimacy. That quarterback
Marcus Mariota
turned in a tour de force for the Ducks further validates the preseason feeling that he was the Heisman Trophy front-runner. Also getting a hole punched in their validation cards were Ducks coach Mark Helfrich and new defensive coordinator Don Pellum.
[+] Enlarge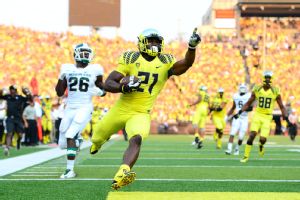 Phil Ellsworth/ESPN ImagesWe shouldn't punch Oregon's ticket to the College Football Playoff just yet.
Meanwhile, USC and new coach Steve Sarkisian also answered questions, though the Trojans' 13-10 triumph at Stanford was pretty much a quasi-comic thriller unto itself. For one, there's USC athletic director Pat Haden, who has never previously merited a rating on the wacko scale, apparently deciding there was some wisdom in his engaging the officials for all to see. Yes, a former USC quarterback, Rhodes Scholar and 61-year-old member of the College Football Playoff selection committee apparently didn't think making a spectacle of himself would turn out badly.
As for football, the Trojans won a second consecutive nail-biter over the Cardinal, propelling themselves into the top 10, They won in large part because Stanford couldn't get out of its own way. The Cardinal had nine drives inside the Trojans' 35-yard line but scored just 10 points, which almost seems mathematically impossible. That red zone ineptitude would be notable for any team, but it's even more stunning when you consider Stanford's well-established reputation for disciplined, bruising, efficient play.
Nonetheless, the victory made the Trojans the second-highest rated team in the Pac-12 in both major polls. Two weeks into the season, one might call them the South Division favorite and most likely team to challenge the Ducks.
But what of USC's friends from Westwood, UCLA, the previous holder of both those designations? The Bruins improved to 2-0, but only after an unimpressive performance in an anxious 42-35 victory against lightly regarded Memphis. They continued a tumble in national estimation, falling from a preseason ranking of No. 7 to No. 12 in the latest AP poll. In Week 1 at Virginia, the Bruins' offense, particularly the line, appeared hapless. In Week 2, the defense took the day off.
UCLA is a cipher. The Bruins look good on paper -- the depth chart suggests no obvious deficiencies -- but have not looked good on turf, at least thus far. They remain unbeaten but are presently the most deserving owner of the dreaded "overrated" label. They could turn out to be the Chapter 1 good guys who end up as heels. Or the opposite. They could be lying in wait, bland and unimpressive, before leaping out of the shadows to make their heroic flourish. Feel free, by the way, to put your own spin on coach Jim Mora's brief postgame interview in which he said he liked his defense "a lot," before frumping off, leaving reporter and audience hanging.
In the preseason, there was some hope that UCLA's game with Texas on Saturday in Cowboys Stadium would be revealing. While expectations weren't terribly high for the Longhorns under first-year coach Charlie Strong, there were reasonable projections this game at least would be a matchup of ranked teams. But Texas is battling growing pains, as well as injuries and suspensions, under Strong. It just got whipped for a second consecutive season by BYU, so the Longhorns look like more of a banana peel than a national stepping-stone for the Bruins.
If UCLA loses, it probably will fall out of the Top 25, going from vogue pick for CFP semifinalist to unranked within three weeks. If it wins, most will shrug and point to the Sept. 25 date at Arizona State, a Thursday night showdown between South Division contenders, as a true measuring stick for whether the Bruins merit our preseason gushing.
This skepticism, however, carries little more authority than everyone's present approbation of Oregon. It's just fickle words, really. Fodder for the daily grind of sports fandom, this week's topic. In December, Oregon's 2-0 might not end up being any more meaningful than UCLA's 2-0. Further, UCLA at 4-0, no matter how it got there, would probably rework its popular descriptive term from "overrated" to "opportunistic."
In other words, our present takes are no more than hunches. These are educated hunches based on tangible evidence, but we all know tangible evidence often has a brief shelf life in college football. Oregon, USC and UCLA have made statements about themselves through Week 2, and it's inevitable that we react to what has been said.
That doesn't mean we won't be breaking down a rematch between Arizona State and Stanford in the Pac-12 championship game when the regular season ends.
June, 10, 2014
6/10/14
1:30
PM ET
The Pac-12 typically plays a rugged nonconference schedule, but the 2014 slate is, well, only fair to middling.
There's a true marque national game -- Michigan State at Oregon -- and there are three matchups with Notre Dame. But there aren't a whole lot of ranked foes from other areas of the country on the slate.
Here's how we'd rank the Pac-12's best nonconference games in 2014.


1. Michigan State at Oregon (Sept. 6)
: It's a top-10 -- perhaps even top-five -- matchup that looks like a Rose Bowl. Or a College Football Playoff semifinal. The Spartans shut down Stanford in the Rose Bowl in January and are eyeballing even bigger things this fall. Like the Ducks.


2. Stanford at Notre Dame (Oct. 4)
: This has become a strong, national rivalry. The last time the Cardinal was in South Bend, the ending was highly controversial -- the Fighting Irish wouldn't have played for the 2012 national title without a boost from the officials. This game likely reveals if one or the other is a CFP candidate.


3. Notre Dame at USC (Nov. 29)
: It remains the greatest intersectional rivalry in college sports. It would be a good idea for first-year USC coach Steve Sarkisian to win this one. A good way to win over his fan base.


4. Notre Dame at Arizona State (Nov. 8)
: The Fighting Irish tried to get out of this game. They also beat the Sun Devils last year. Arizona State should be plenty motivated in front of what is certain to be a packed house.


5. UCLA vs. Texas (Sept. 13, Cowboys Stadium in Arlington, Texas)
: Texas is breaking in new coach Charlie Strong in what is really a glorified home game. UCLA is only trying to announce itself as a national title contender. While the Longhorns are down, they won't lack talent.


6. Utah at Michigan (Sept. 20)
: Here's a good way for the Utes to announce their return to relevance -- a trip to the Big House. Utah certainly won't be intimidated. It won in Ann Arbor 25-23 in 2008 on its way to an undefeated season. It also lost 10-7 in 2002.


7. California at Northwestern (Aug. 30)
: Sonny Dykes wants to get his second season off with a bang. This is a good -- and winnable -- opportunity to do just that.


8. Rutgers vs. Washington State (Aug. 28, CenturyLink Field, Seattle)
: The Cougars are eyeballing a breakthrough season. It will be hard to do that with an opening loss to a Big Ten team. Yes, Rutgers is now a Big Ten team.


9. Illinois at Washington (Sept. 13)
: The Illini don't seem too scary, but they are a Big Ten team. They didn't make things too easy on the Huskies last year, either.


10. BYU at California (Nov. 29
): We've already noted how nice it would be for Dykes to get his second season off to a fast start. What about a strong finish?
January, 3, 2014
1/03/14
10:30
AM ET
Texas wants to interview UCLA coach Jim Mora for its head coaching vacancy,
according to multiple reports
, including ESPN's NFL Insider Adam Schefter and Brett McMurphy.
Chip Brown of OrangeBloods Tweeted
that Mora will interview "in the next few days." Texas has already reportedly interviewed Louisville's Charlie Strong and Vanderbilt's James Franklin. Baylor coach Art Briles also is thought to be in the mix.
Mora already turned down his alma mater Washington, thereby earning a raise for himself and his coaches along with certain guarantees about upgrades to UCLA's lagging facilities.
No question Mora would be a great hire for Texas. And he and his staff would move up a tax bracket in Austin. Or two.
Things could get interesting.
November, 27, 2012
11/27/12
4:00
PM ET
California, a week past the 11-year Jeff Tedford Era, is presently a program in limbo. It has a skeleton staff of five coaches trying to maintain a recruiting presence, while athletic director Sandy Barbour hopes she can manage a coaching search in total secrecy.
Even if she succeeds, that won't stop the blather. Media folks -- yes, that includes me -- will trot out lists of the usual suspects, and then the Internet will go wild with rumors, many of which will begin with, "I just talked to a guy [a big booster, someone in the athletic department, random insider, etc.] who said that Coach X is on his way to Berkeley to sign a contract!"
And "Coach X" is surely to be Boise State's Chris Petersen.
Cal has retained DHR International to lead the search. Typically, I'd slap my forehead over that because these search firms charge a lot of money for very little. But,
as Jon Wilner reported
, Glenn Sugiyama is handling Cal's account, and his track record includes former Stanford coach Jim Harbaugh and San Jose State head coach Mike MacIntyre, who figures to get a look from Cal.
(Still, I bet Wilner, Kevin and I -- and a bottle of Lagavulin 16yr -- could give Cal just as good a list of candidates, with far more first-hand insight, for a Amazon.com gift certificate and a table at Chez Panisse on a Friday night).
[+] Enlarge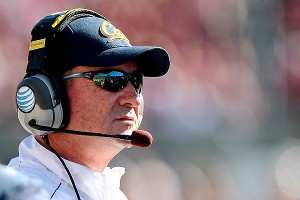 Kelley L Cox/US PRESSWIRECal's hefty buyout of Jeff Tedford could make finding his replacement more of a challenge.
It will be interesting to see how Cal plays this. It is unlikely it will be able to afford to lure away a "big-name" coach, which would be expensive and subsequently would inspire many, many frowns on upper campus.
For example, Louisville coach Charlie Strong was essentially a runner-up to Tedford 11 years ago. He makes $2.3 million coaching a Big East team. Making that much in Louisville is equivalent to making $3.4 million in Oakland. Further, he has been connected to the vacancy at Arkansas, where he surely would take a substantial leap across the $3 million line.
The next tier is made up of up-and-coming college head coaches, top coordinators or perhaps an NFL coach looking to jump back to the college ranks for whatever reason.
Cost, again, is a big issue, and it's not just about the head coach. In fact, Cal administrators need to pay as much attention to the assistant coaches as the head coach. It should be one of the first interview questions: "We like your stuff. Give me 10 or 15 coaches you'd want to hire, starting with your coordinators."
Yet emphasizing a quality staff means budgeting about $1 million for offensive and defensive coordinators, and at least $1.4 million for the other seven positions. And these are conservative numbers, folks.
If you pay the head coach between $2.5 and $3 million, then you're talking about $5 million-plus annually for a quality staff, top-to-bottom. Meanwhile, Cal is paying off Tedford -- nearly $7 million -- and his former staff.
Doing this right ain't going to be cheap.
Still, there's plenty to sell California.
Brand new facilities that are outstanding. Among the best in the conference.

The program is on solid ground. There's enough talent on hand to make a quick turnaround, see UCLA.

Good recruiting area. The Bay Area isn't as rich as Southern California, but it's darn good.

A national brand as the nation's best public university. That means a chance to recruit nationally.

There is good fan support, and it isn't crazy-nutso, expecting every season to end with a BCS bowl victory.

And, of course, becoming Cal's coach means a chance to chat regularly with the Pac-12 blog. (Sandy, you can't undersell that!).
So now we trot out a list.
It's just a list. Barbour didn't email it to me. It might be useful/entertaining for Colorado fans, too.
Head coaches
Chris Petersen, Boise State
: We couldn't leave him out! If I were a betting man, I'd say the only place that could lure him away from the comfort of Boise is Oregon.
I do love this, though
, a wonderful mix of journalism and unabashed fandom. Great effort guys.
Charlie Strong, Louisville
: He's done a great job at Louisville, but the general feeling is he wants an SEC job.
Mike MacIntyre, San Jose State
: He went 10-2 with a San Jose State program that was left for dead. It gave Stanford a better game than Cal did. The scuttlebutt on him is very good.
Sonny Dykes, Louisiana Tech
: Dykes' team is 9-3 after losing to San Jose State -- score one for MacIntyre. He's a former Arizona offensive coordinator who learned offense from Mike Leach. Just a matter of time before he gets a big job.
Tim DeRuyter, Fresno State
: He's done a really nice job turning Fresno State (9-3) back around in one year. Just ask Colorado.
Art Briles, Baylor
: Briles makes $2.5 million and seems to love Baylor. Defense not a selling point.
Gary Andersen, Utah State
: Not only did Utah State go 10-2 this year -- beating Utah -- it lost to BYU and Wisconsin by a combined five points. Also something to be said for a guy who's been around for a while. He spent five seasons as the assistant head coach, defensive coordinator and defensive line coach at Utah, where he worked under Urban Meyer and Kyle Whittingham.
Dave Doeren, Northern Illinois
: He took over a MAC power and is 22-4 in two seasons. Colorado also might be interested, but Doeren is a guy who is probably eyeballing a Big Ten job.
Darrell Hazell, Kent State
: If you're going to list Doeren as a hot coaching candidate, as lots of folks do, how can you not list Hazell, who is a former Ohio State assistant in his second year leading a program that plays Northern Illinois for the MAC title on Friday? The Golden Flashes' last league title came in 1972. That 6-5-1 team, by the way, featured Pro Football Hall of Famer Jack Lambert, Alabama coach Nick Saban and Missouri coach Gary Pinkel.
Willie Taggart, Western Kentucky
: A former Stanford assistant, he's done a great job building a respectable program at Western Kentucky.
Coordinators
Mark Helfrich, offensive coordinator, Oregon
: How highly respected is Helfrich? He might be the top candidate to replace Chip Kelly if Kelly bolts for the NFL.
Noel Mazzone, offensive coordinator, UCLA
: He's coached everywhere, but really has found his offensive legs the past few years. Made Brock Osweiler into an NFL QB at Arizona State, and appears to be doing the same with
Brett Hundley
at UCLA.
Pep Hamilton, offensive coordinator, Stanford
: He was part of the Jim Harbaugh transformation at Stanford, which included building an offense that emphasized a physical, downhill running game. He's worked with Andrew Luck, but his best selling point may be the midseason transition to redshirt freshman QB
Kevin Hogan
.
Derek Mason, defensive coordinator, Stanford
: A frontrunner for the Broyles Award given annually to the nation's top assistant coach. He's built the Cardinal into a defensive power -- see the upset at Oregon on Nov. 17.
Justin Wilcox, defensive coordinator, Washington
: Highly respected coordinator who rebuilt the Huskies defense from abysmal to pretty good this fall. Played at Oregon and coached at Cal, Boise State and Tennessee, so he knows the national landscape. It's only a matter of time before he gets a head coaching job.
Bob Diaco, defensive coordinator, Notre Dame
: Have you seen the Notre Dame defense? 'Nuff said. Other than he seems like a guy who'll end up in the Big Ten.
Kirby Smart, defensive coordinator, Alabama
: See Diaco. It also helps that he's coached under Nick Saban, so he knows how a national power conducts business.
Todd Monken, offensive coordinator, Oklahoma State
: You want offense? The Cowboys are the answer to Oregon in the Big 12.
Lorenzo Ward, defensive coordinator, South Carolina
: Steve Spurrier arrived at South Carolina as an offensive genius, but Ward is a big reason the Gamecocks are now known for defense.
A great recruiter with a lot of charisma
. Likely a guy who wants to stay in the SEC.
NFL
Ron Rivera, head coach, Carolina Panthers
: My mailbox suggests a lot of Cal fans are hoping this former Bear is done with the Panthers and wants to come back to Berkeley. Could be the latest incarnation of Pete Carroll/Jim Mora.
Greg Roman, offensive coordinator, San Francisco 49ers
: What Chip Kelly is to the spread, Roman is to the Harbaugh-ian creativity of power football. You know: All those tight ends shifting around everywhere. He probably will be a top NFL candidate, too, which is a problem.
Hue Jackson, defensive backs, Cincinnati Bengals
: Lots of college and NFL experience. He served one year as the Bears offensive coordinator under Steve Mariucci, and is a former Oakland Raiders head coach, so he knows the Bay Area.
November, 20, 2012
11/20/12
3:00
PM ET
For much of the past two seasons, as Jeff Tedford sat firmly on the proverbial hot seat, the question was whether California could afford to fire its winningest coach. There was no buyout in Tedford's contract, so it would cost nearly $7 million to dispatch him, and that didn't include paying off his coaching staff.
And, of course, there were issues of loyalty. Tedford transformed a program that went 1-10 and played in a crumbling, half-empty stadium the season before he arrived, building it into a consistent winner that could afford massive facility upgrades.
On Tuesday, Cal administrators concluded that
they couldn't afford not to fire Tedford
, who completes the longest continuous, and current, tenure in the Pac-12 with an 82-57 record in 11 seasons in Berkeley.
The reasons for the not-unexpected firing are obvious. Tedford is 15-22 overall and 9-18 in Pac-12 play since going 8-5 in 2009. The Bears went 3-9 this year, the worst record of Tedford's tenure, including a five-game losing streak to end the season. Crowds at newly remodeled Memorial Stadium were dwindling, threatening Cal's Endowment Seating Program, which was supposed to play a central role for financing the stadium renovation.
Over the past four seasons, California lost 16 games by at least 17 points, and it is riding a three-game losing streak in the Big Game to Bay Area rival Stanford, which could end up in its third consecutive BCS bowl game this January.
[+] Enlarge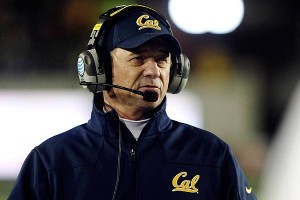 Kelley L Cox/US PresswireJeff Tedford's Bears lost their final five games to finish 3-9 -- the head coach's worst season at Cal.
The program has been in a downward trend and showed no signs this season of reversing that negative momentum. Fans were turning away just when they -- and their money -- were needed most. So, it was decided, a coaching change was critical to reverse the tide.
"This was an extraordinarily difficult decision, one that required a thorough and thoughtful analysis of a complex set of factors," Cal athletic director Sandy Barbour said in a statement. "Ultimately, I believed that we needed a change in direction to get our program back on the right track. Cal football is integral to our department and our university, and its influence can be felt well beyond the walls of Memorial Stadium."
So what's next? Well, Cal first has to decide how much it's willing to pay.
Tedford's 2012 salary is $2.3 million, which is a lot to most of us but not that much among elite coaches, particularly when you adjust for the Bay Area's cost of living. That's like making $1.6 million if you lived in Tuscaloosa, Ala. If Cal wants to pursue, say, Cincinnati's Butch Jones, they'd have to pay him $2.3 million just to match the value of Jones' current $1.6 million salary.
A front-line head coach likely will cost at least $2.5 million to $3 million. And then you have to hire his staff. Top coordinator salaries have risen to between $500,000 and $1 million. Washington is paying defensive coordinator Justin Wilcox $750,000 this year.
So this could get expensive.
Of course, the Bears also could do what they did when they hired Tedford away from Oregon: Find a hot coordinator.
Names you likely will hear: Wilcox, Oregon offensive coordinator Mark Helfrich, Stanford offensive coordinator Pep Hamilton and Stanford defensive coordinator Derek Mason.
Bears fans have been frustrated by Cal's QB play since Aaron Rodgers went to the NFL. Well, UCLA offensive coordinator Noel Mazzone rebuilt two offenses -- and two QBs -- in the past two seasons (at Arizona State and now with the Bruins).
Then you could trot out some other hot names in no particular order: Charlie Strong, Louisville; Art Briles, Baylor; Sonny Dykes, Louisiana Tech; Willie Taggart, Western Kentucky; and Gary Andersen, Utah State.
And coordinators: Kirby Smart, Alabama; Chad Morris, Clemson; Todd Monken, Oklahoma State; Brent Venables, Clemson; Lorenzo Ward, South Carolina; Kalani Sitake, Utah; Pat Narduzzi, Michigan State.
Or Cal could look to the NFL.
From the Cal statement: "Barbour said that a national search for a new head coach, which will be aided by the firm of DHR International, will begin immediately. She did not indicate a timetable for hiring a replacement, adding that Cal Athletics will have no further comment on the search until a new coach has been selected."
Tedford will land on his feet. He is plenty respected among other coaches. Don't be surprised if he lands another job in a major conference. Or the NFL.
He has proved he can build a program. As we've previously noted, in 24 seasons before he arrived in Berkeley -- 1978 to 2004 -- Cal won three or fewer games 10 times while winning seven or more games four times. Tedford suffered just two losing seasons in 11 years and has won 10 games twice and nine games once. Before he took over, Cal's last winning season came in 1993.
But football is a zero-sum game. You either win or you lose. Tedford set an early pattern of winning, but losing was the recent trend. The program seemed to plateau, then slide.
Further, Stanford's fortunes were rising, as were other Pac-12 teams with new coaches, such as UCLA, Arizona and Arizona State.
In the big business of college football, losing isn't accepted, particularly when rivals are winning.
May, 3, 2010
5/03/10
4:47
PM ET
By
ESPN.com staff
| ESPN.com
The
post-spring power rankings
are out, which means it's a good time to see where the A-list Pac-10 nonconference foes rank.
Arizona
Sept. 18 vs. Iowa
Adam Rittenberg ranks the Hawkeyes second in the Big Ten. He writes: "A very good defensive line got better, players stepped up at linebacker, quarterback
Ricky Stanzi
worked on his interceptions and the offensive line saw some separation occur."
Arizona State
Sept. 18 at Wisconsin
Boy, Sept. 18 will be a Big Ten vs. state of Arizona challenge, eh? Rittenberg has the Badgers third in the Big Ten. Interesting note from Rittenberg here: "Injuries prevented the offensive line from truly coming together." Might this be a low scoring game because the Sun Devils should be pretty salty up front on D?
California
Sept. 11 vs. Colorado
Big 12 blogger David Ubben ranks the Buffaloes last in the Big 12, writing "... the defense gave up the second-most points in the conference last season, and there's little reason to think they'll be a lot better in 2010."
Sept. 17 at Nevada
The Bears better take the Wolf Pack seriously. First, it's not easy to win anywhere on the road. Second, Graham Watson ranks Nevada as the 10th-best non-AQ team in the nation. She writes, "... the defense still has a ways to go, but if the Wolf Pack can catch its defense up with its offense, it will be a tough team to beat this year."
Oregon
Sept. 11 at Tennessee
This isn't your father's Volunteers. Chris Low dumps Tennessee into the 10th spot in the SEC, concluding "even getting to .500 next season will be a challenge for the Vols, who will have five new starters on the offensive line, a first-year starter at quarterback and no depth at defensive tackle."
Oregon State
Sept. 4 vs. TCU (Dallas Cowboys Stadium)
Welcome to the nation's toughest nonconference schedule. The Horned Frogs rank second in the non-AQ power rankings and
sixth overall in the nation
, according to Mark Schlabach, who writes, "Quarterback
Andy Dalton
and running backs
Matthew Tucker
and
Ed Wesley
lead what should be a very potent running attack."
Sept. 11 vs. Louisville
Brian Bennett dumps Louisville into the cellar of the Big East: "The team got better and tougher this spring under Charlie Strong but still has a long way to go," he writes.
Sept. 25 at Boise State
Boise State is this season's likely BCS buster but on a grander scale than previous versions, considering they almost certainly will start the season ranked among the top-five. Schlabach has the Broncos second and notes, "Boise State could very well be in the BCS title game hunt at season's end. The Broncos return 23 of 24 players who started against TCU in the Fiesta Bowl."
Stanford*
Sept. 18 vs. Wake Forest
The Cardinal will want to take revenge for their loss at Wake Forest a year ago. Heather Dinich has the Demon Deacons ranked ninth in the ACC, noting "The Deacs will reveal a more run-based, option offense under their new quarterback. The interior defensive line remains a concern. "
*The Cardinal also play at Notre Dame, which wasn't ranked by Schlabach.
UCLA
Sept. 4 at Kansas State
Another "what were they thinking?" nonconference schedule. Ubben has the improving Wildcats sixth in the Big 12. He writes, "The Wildcats aren't built to win 10 games just yet, but if Nebraska and Missouri stumble, they'll be there to slip into the North conversation just like last season."
Sept. 18 vs. Houston
Watson has the Cougars seventh among non-AQ schools. She writes, "[New defensive coordinator Brian] Stewart's work paid dividends during the spring game when his defense had 12 sacks, three interceptions and one fumble recovery."
Sept. 25 at Texas
Schlabach ranks the Longhorns No. 4 in the nation. He writes, "The Longhorns have several pieces to replace from the team that lost to Alabama in the BCS Championship Game, but replacing quarterback Colt McCoy doesn't seem as daunting after
Garrett Gilbert
's performance this spring."
USC
Sept. 11 vs. Virginia
This shouldn't be much of a challenge for the Trojans, but it figures to be more of a challenge than it was in 2008, when they rolled 52-7 in Charlottesville. Dinich has the Cavaliers 12th in the ACC: "This will be a transition year with a new staff, new philosophies and possibly a new quarterback."
Sept. 18 at Minnesota
Rittenberg rates the Golden Gophers ninth in the Big Ten, and he suggests that
Matt Barkley
should be eager for this road game: "The Gophers had some setbacks on defense, including safety Kim Royston's broken leg, and still have to replace a whopping nine starters."
Washington
Sept. 4 at BYU
Is BYU rebuilding? That seems to be what Watson thinks, writing, "The Cougars had a lot of questions to answer this spring and they seemed to come out with more questions."
Sept. 11 vs. Syracuse
Huskies quarterback
Jake Locker
made an impressive debut three years ago at Syracuse. Bennett ranks the Orange seventh in the Big East, and his praise is faint: "Syracuse still should show improvement based simply on having more healthy bodies.
"
Sept. 18 vs. Nebraska
This should be a great matchup of Locker and a talented Huskies offense vs. a rugged Nebraska defense. Ubben ranks the Cornhuskers third in the Big 12, though with one reservation, "... don't count on another 10-win season if the offense doesn't improve."
Washington State
Sept. 4 at Oklahoma State
The Cowboys lose a lot of key pieces from their 2009 team, which is why they are rated eighth in the Big 12. Writes Ubben, "Oklahoma State should have an impact player at each level of the defense in defensive end Ugo Chinasa, safety Markelle Martin and linebacker Orie Lemon, but they'll need the rest of the D to solidify for the Cowboys to climb to a higher rung of the South ladder."
Sept. 18 at SMU
The Mustangs are on the rise under coach June Jones, even though they gave -- literally, gave, see
four interceptions
, two of which were returned for TDs -- Washington State its only win last year. Watson rates SMU fourth among non-AQ teams: "The Mustangs will be young for the second consecutive season, but a lot of that youth has experience."