May, 17, 2012
5/17/12
11:00
AM ET
Every spring, players break out. Here are a few that stood out in the Pac-12.

Ka'Deem Carey, RB, Arizona
: Carey was a hyped recruit from Tucson -- Canyon del Oro High -- and the local boy seems likely to make good this year after rushing for 425 yards as a freshman. He led a solid crew of backs this spring.
Brice Schwab, OT, Arizona State
: It's been a long time coming for Schwab, who has gone from heralded junior-college transfer to bust to likely starting right tackle. Schwab's problem when he arrived was conditioning: He was huge but it wasn't good weight. And he was way too weak. He started four games in 2010 and struggled, then redshirted last season in order to get in better shape. Once a 340-pounder, he's now 6-foot-7, 295. And he's a better player.
Deandre Coleman, DE, California
: Said coach Jeff Tedford of the 6-5, 311-pound junior: "He may be one of the best that we've ever had." That about sums it up. Coleman dominated this spring, looking like an all-conference candidate.
Tony Jones, RB, Colorado
: Replacing the highly productive Rodney Stewart was a spring priority and Jones, a sophomore, answered the bell. Jones is built a little like the diminutive "Speedy" -- 5-7, 175 pounds -- and he has a versatile range of skills, just like Stewart. With questions at quarterback, he will be asked to do a lot. Just like Stewart.
Colt Lyerla, TE, Oregon
: Lyerla should be a big weapon for whomever wins the Ducks' quarterback job. The 6-5, 238 pound sophomore should step in for the departed David Paulson and could end up as one of the Ducks' leading receivers. He caught just seven passes last year, but five went for touchdowns. He's a special athlete with a year of seasoning, which often is the foundation for a breakout.
Brandin Cooks, WR, Oregon State
: Cooks has speed and quickness and will play opposite one of the best receivers in the conference in
Markus Wheaton
. He caught 31 passes for 391 yards and three TDs last year while being extremely raw. He's less raw now and has good upside. And it will help that defenses will obsess over Wheaton.
James Vaughters, LB, Stanford
: The coaches have said they are going to let the leash off of this aggressive, physically imposing linebacker and see what happens. We know he'll be at middle linebacker (as opposed to just a third-down specialist last year) where he's expected to wreak havoc.
Steven Manfro, RB, UCLA
: Speed and quickness. There is a difference, but Manfro has both. He excelled in the spring sessions and though he sits third on the UCLA depth chart, he might work his way into carries if he continues to show explosive breakaway ability.
Isiah Wiley, CB, USC
: Wiley quietly started the final six games in 2011 and played fairly well. While he's a senior, this is only the JC transfer's second year in the program. This spring, he took a step forward and seems likely to start opposite
Nickell Robey
.
V.J. Fehoko, LB, Utah
: With possibly the best defensive line in the conference in front of him and offenses keying in on
Trevor Reilly
, Fehoko could be in position to be extremely productive filling the shoes of
Chaz Walker
. Similar build as Walker, who tallied 118 tackles last year.
James Johnson, WR, Washington
: After an injury-plagued career, Johnson is finally healthy and in the starting lineup. The physical tools are all there and the quarterback is in place for him to put up some solid numbers -- if he can stay on the field.
Andrei Lintz, WR, Washington State
: This converted tight end was the talk of WSU's spring session. He has the hands and size to be effective over the middle and he showed great chemistry with
Jeff Tuel
during the 15 practices. The more attention
Marquess Wilson
draws, the more opportunities there will be for Lintz to excel.
May, 14, 2012
5/14/12
7:00
AM ET
2011 overall record
: 8-5
2011 conference record
: 4-5 (T 3rd, South)
Returning starters:
Offense: 9; defense: 7; punter/kicker: 2

Top returners
QB
Jordan Wynn
, DT
Star Lotulelei
, RB
John White
, WR
DeVonte Christopher
, S
Brian Blechen
, OL
Sam Brenner
.
Key losses
OL Tony Bergstrom, DE Derrick Shelby; LB
Chaz Walker
, OL John Cullen.
2011 statistical leaders (*returning)
Rushing:
John White* (1,519 yards)
Passing:
Jon Hays
* (1,459 yards)
Receiving:
DeVonte Christopher* (663 yards)
Tackles:
Chaz Walker (118)
Sacks:
Derrick Shelby,
Trevor Reilly
* (5)
Interceptions:
Conroy Black (4)
Spring answers
1. High hopes:
Quarterback Jordan Wynn is healthy -- hopefully for more than just a few weeks at a time. After a fantastic true freshman year, Wynn's career has been hijacked by multiple injuries that have limited his time. He's put on more weight (up to about 210) and if he stays healthy, should have great success with Brian Johnson running the offense.
2. LB answers:
The Utes had some holes to fill at the linebacker spot with the departures of Chaz Walker and
Matt Martinez
, leaving Trevor Reilly as the only returning starter. But
V.J. Fehoko
appears to have won the job at the middle linebacker spot and either
Jacoby Hale
or LT Filiaga will fill the rover spot.
3. RB depth:
John White had more carries than any other running back in the conference last season. That's a lot of wear and tear, so developing some guys behind him was crucial.
Harvey Langi
and
Kelvin York
established themselves as the guys behind White. Both are bigger -- Langi is 228 and York is 225 -- so they'll be a nice change of pace from the speedier White.
Fall questions
1. Who has Wynn's back?
Developing a guy behind Wynn -- giving his history of injury -- is pretty crucial. It looks like Jon Hays would probably be the guy if Wynn goes down again -- which makes sense -- because the Utes probably don't want to burn a redshirt year on
Travis Wilson
or
Chase Hansen
. But on his latest depth chart, head coach Kyle Whittingham left an "OR" between Hays and Wilson, leaving the door open that maybe he has a little more faith in Wilson.
2. Who has Wynn's backside?
The Utes have to fill two substantial holes left by departed tackles John Cullen and Tony Bergstrom. As of now,
Percy Taumoelau
is penciled in at left tackle and
Daniel Nielson
is slotted for the right tackle. But Whittingham has said those aren't set in stone. Cullen and Bergstrom were two of the best in the conference. No easy job stepping in for those guys.
3. DL depth:
Up front, Utah is probably as good as anyone in the conference with Lotulelei, Joe and
Dave Kruger
and
Nate Fakahafua
. But behind them, there are questions. Converted running back
Thretton Palamo
,
Hunter Dimick
and junior-college transfer
Niasi Leota
figure to be in the mix. But like the offensive-line spots, nothing is written in ink. Junior Salt and
Tenny Palepoi
could also see time in the rotation.
March, 20, 2012
3/20/12
1:00
PM ET
By
ESPN.com staff
| ESPN.com
Utah begins spring practices Tuesday, and most of the
focus will be on the offense
, with new 25-year-old coordinator Brian Johnson installing his scheme and quarterback
Jordan Wynn
returning from injury.

Some are theorizing Johnson will bring back many spread elements after a year with Norm Chow's pro-style scheme, so it will be a bit of a challenge for the media to figure out specific and identifiable tweaks that represent Johnson's renovation.
Don't expect anything radical, particularly with Wynn being asked to run the football.
Here are the big issues to be addressed before the spring game on April 21.
Who replaces Tony Bergstrom and John Cullen at the offensive tackle spots? Bergstrom was first-team All-Pac-12, and Cullen was second-team. Further, Wynn and his shoulders need to be protected, so this is a top priority. The pre-spring depth chart has Percy Taumoelau No. 1 at left tackle and Daniel Nielson at right tackle, but an influx of four JC transfers this fall could lead to some shuffling on the offensive line, even with three interior starters returning.
The defense should be potent, but it has some key guys to replace: End Derrick Shelby, cornerback Conroy Black, and linebackers Chaz Walker and Matt Martinez need to be replaced. Shelby led the team in tackles for a loss, and tied for the lead in sacks. Black led the Utes in interceptions, and Walker and Martinez were the top two tacklers in 2011, so these are significant holes. The pre-spring depth chart has Joe Kruger moving from right end to Shelby's left end spot, with Nate Fakahafua stepping in on the right side. Dave Fagergren and Victor Spikes are competing for Martinez' rover linebacker spot, while V.J. Fehoko steps in at Walker's spot at middle linebacker.
Who will back up Wynn? Wynn, if healthy, is the Utes' best option at quarterback, but health has been his main issue, and that makes the backup job even more important. Based on the spring depth chart, which doesn't list Jon Hays, who started nine games last season after Wynn got hurt, it will fall to one of the two true freshmen on hand this spring: Travis Wilson or Chase Hansen.
A couple links:
Four keys
for Utah this spring. And here's a
look at the offense
.
September, 14, 2011
9/14/11
1:00
PM ET
The Pac-12 blog is worried about Utah.
Now that Utah is in the Pac-12, a member of the privileged class, is it going to forget how to properly dislike BYU? Is it going to eyeball the Cougars on Saturday and think, "You know, blue really brings out their eyes!"
This thought vexes the Pac-12 blog, which feeds on the often irrational passion of college football.
[+] Enlarge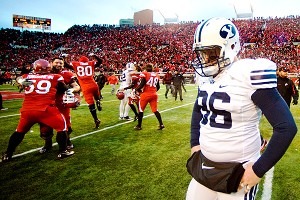 Douglas C. Pizac/US PresswireUtah rallied back from a large fourth-quarter deficit last season to beat BYU.
So, Utah, we've brought back a friend to remind you how you should feel about BYU because this is how BYU feels about you.
"I don't like Utah," former BYU quarterback Max Hall said after the Cougars beat the Utes in 2009. "In fact, I hate them. I hate everything about them. I hate their program, I hate their fans, I hate everything ... I think the whole university, their fans and their organization, is classless. They threw beer on my family and stuff last year, and they did a whole bunch of nasty things, and I don't respect them, and they deserve to lose."
Utes, the Cougars are going to be gunning for you hard Saturday. There's the natural state rivalry, sure, but there's a third, highly-motivating color involved other than red and blue: green.
Green as in the money Utah is soon going to be making in the Pac-12. And green as in the green-eyed monster of jealousy: BYU isn't happy the Utes jumped to the Pac-12 and it wasn't invited.
And, by the way, BYU is pretty darn good, having won at Ole Miss and falling just short at Texas. Ten starters are back on offense, including quarterback
Jake Heaps
, from a team that went 7-6 in 2010.
Further, this game has been highly competitive in recent years. Five of the past six have been decided by a touchdown or less. Two of those went into overtime. Last year, Utah rallied from a 16-point fourth-quarter deficit to win 17-16. The game was decided when the Utes blocked a 42-yard field goal attempt as time expired.
Utes linebacker Chaz Walker didn't seem too concerned that BYU and Utah fans and players will start palling around. When asked if the so-called "Holy War" was a bitter or friendly rivalry, he spoke carefully but without much ambiguity.
"Probably a little bit on the dislike side," he said. "There's not many BYU players you see hanging out with Utah players."
The feel of the game will be different, though. For one, it no longer counts in the conference standings. In previous seasons, the matchup often had significant Mountain West Conference ramifications. Further, instead of the chill of a season-finale in late November, this one will feature the pleasant weather of mid-September.
For Utah, it also brings the grind of the new Pac-12 schedule front-and-center. The Utes must regroup and refocus after a tough, physical loss at USC. It's likely the bye week that follows will feel pretty good.
Perhaps the Pac-12 blog shouldn't worry. After talking to a few folks on the Utah end of things, it seems clear BYU has the Utes' attention. And always will when they go nose-to-nose.
Said coach Kyle Whittingham, "It's the biggest single sporting event in the course of a year. It's the biggest thing that happens in this state."
August, 26, 2011
8/26/11
2:30
PM ET
By
ESPN.com staff
| ESPN.com
Happy Friday, the last before a game-less weekend!
August, 19, 2011
8/19/11
8:16
PM ET
By
ESPN.com staff
| ESPN.com
Happy Friday.
Anyone else eager to end the worst offseason in the history of college football and start talking about games again?
Thought so.
Follow me on Twitter
.
To the notes.
Roger from Oregon writes
: I am a high school student in Oregon. It has really been bothering me how many columnists are calling out
Darron Thomas
and his leadership. I know that he has been in the car on three separate occasions were citations, as well as marijuana were involved. How does this make him a bad leader? At my school, a high school not a university, smoking weed is commonplace. While I don't smoke, most of my friends and about 75% of male athletes do, yet they are still able to be leaders on the football field, basketball court, etc. Maybe weed is taboo for all these old journalists, but in my opinion Darron Thomas is a leader (have you seen him stay in the pocket and take a big hit). His toughness and incredible play make him a leader on the field, I honestly don't care how he spends his time off the field (as long as nobody gets hurt).
Ted Miller
: Here's the chief problem with marijuana and high-profile people smoking it: It's against the law, so getting caught with it brings bad publicity.
For a sports team, that could mean said team loses a player to suspension, which would make the team worse than before the player passed the dutchie on the left hand side. So players on a team that smoke the wacky weed, put their team at risk of being less good. Some, including me, would call that selfish.
Does it makes sense that one can legally purchase grain alcohol but not marijuana? Do people lose arguments when they are asked to explain why marijuana is illegal? These are questions the Pac-12 blog will not answer because they lead us on tangents away from the football field.
But I will write on leadership. It's more than taking charge of the huddle. It's more than showing infectious poise when the pressure is on. Or popping up with a confident smirk after a hard hit. We've seen all that from Thomas and we surely will see more of it.
But let's imagine a couple of scenarios.
We are in a car with Thomas and safety Eddie Pleasant in 2008. Pleasant
decides to race his car with someone
. Instead of what actually happened, this happens.
Thomas: Slow down. This is stupid.
Pleasant: Don't be lame!
Thomas: Being lame is us getting arrested and letting our teammates, coaches and fans down. And racing a car on public roads is a stupid thing immature people do. It's low-rent. So cut the crap before I whup you.
Now we are watching Thomas as he's about to get into a car with cornerback Cliff Harris in June.
Thomas: Cliff. Cliff, look at me.
Harris: Whaaa?
Thomas: Cliff, you do a lot of stupid things. When I am with you, you will not do stupid things. I am not demented enough to think of all the potential stupid things you might do on our drive back to Eugene. But my singular task at this moment in time is to make sure you don't get us in trouble. That means: No speeding. That means: No substances that could get us in trouble will pass within 25 feet of this car.
Harris: Whaaa?
Thomas: Cliff. Cliff, look at me. I am not asking you. I am not presenting an opinion. I am telling you how this ride will be. Nothing means more to me than beating LSU and making Coach Kelly and the Duck nation proud. I particularly want to do more interviews with the Pac-12 blog.
Harris: Yeah, he's cool!
Thomas: Yes, he is. But focus Cliff. Focus. Do you hear me? Speed limit, no illicit substances. Right?
Harris: Gosh, good idea. I can't wait to pick off Jordan Jefferson.
Thomas: Yes, I can't believe Les Miles thought he would be a great quarterback but saw me as just an athlete. Going make that fool eat grass.
Harris: Yeah! By the way, I just finished "Gravity's Rainbow." You were right. It was Pynchon's densest novel, but very rewarding to a patient read.
Now, if Thomas, however he might have accomplished it, had convinced Harris not to drive 118 mph nor allowed anyone to smoke weed in that car, would Ducks fans be celebrating his leadership?
No, because they wouldn't know about it. This embarrassing
story wouldn't exist
.
And Oregon's chances of beating LSU and winning a national title would be better.
---
Nick from San Luis Obispo, Calif., writes
: Whats your take on the whole players being paid idea? All the ex coaches were on today saying how its a wonderful idea to give players a cost of living expense of $3,000 to $4,000 depending on the school. They also said that this should only be for sports that bring in the money. (men's football and basketball)My reaction is how is this far? Not all schools can afford to give scholarship athletes extra $ giving the ones who can an unfair advantage in recruiting. Also what about all the other sports? Isn't the whole idea of giving extra money to a athlete is so they can live comfortably? (extra spending money for clothes and other food then the cafe) Why is it that only football and basketball players need extra money?
Ted Miller
: I agree with
a lot of athletic directors
: Scholarships should cover full cost of attendance. And I also believe they should be given to every scholarship athlete. Why? Because you can't do it any other way and still be in compliance with Title IX.
You are correct, though. Most schools outside of AQ conferences would be hard-pressed to pay that added expense. That's an issue.
As for why football and men's basketball players believe they should be paid and other college athletes should not? Well, that reasoning is simple. Football and men's basketball make millions every year. And every other sport runs a deficit, many substantial deficits.
---
Pat from So. Cal writes:
In my effort to get any type of response Teddy I've decided to ask you one question everyday until I make the mailbag. For my SECOND question, on this inaugural day of questioning: do you think the university presidents at the largest, most influential schools, across conferences, will get together at some point and begin the process of detaching themselves from the NCAA??? The system doesn't work and we can all yell until we're red in the face but the simple fact remains, there needs to be some sort of governance going on in college REVENUE PRODUCING SPORTS, and it's clear the NCAA has failed its member institutions and that they aren't the right organization.
Ted Miller
: There is an undercurrent of feeling that the big football conferences might break away from the NCAA, particularly when we get further consolidation in "super-conferences," which seems inevitable.
That's one reason the NCAA is talking massive reform. We shall see.
What should the NCAA do? Here are a few ideas:
Full cost of attendance scholarships.
Assigning an NCAA staffer -- not a university employee -- to each school to act as a head of compliance. If something happens that doesn't cross his desk, it's a major violation.
A rule that the NCAA's marketing budget shall not exceed what it spends on enforcement. More investigators with good salaries, fewer "We're the NCAA and we're awesome!" commercials.
An outside team of legal experts -- unaffiliated with universities -- to man an Infractions Committee.
A streamlining of rules, eliminating many of the piddly, secondary violations.
An outline of specific consequences for breaking specific rules.
An understanding that relying on precedent is critical to fairness (that you can't just randomly, say, hammer USC because you're tired of reading about how dominant it is).
---
Ben from Salt Lake City writes
: Can we think about a possible future for a minute? Let's pretend that Utah somehow goes undefeated this year and wins the BCS National Championship game. Then let's assume that next year, both Utah and TCU go undefeated and play each other in the BCS National Championship game. If that ridiculously crazy scenario were to happen, do you think that the media that clings to the idea that the "week in and week out of Non-AQ's is too weak to get them to the NC Game" would go out the window? Do you think it would validate other top Non-AQ teams that have proven themselves like Boise State or BYU? Or do you think that the 100+ year old bias of college football is protected no matter what happens?
Ted Miller
: Are you asking if a pattern is established of non-AQ teams going undefeated and winning national championships, will that win over the media?
Yes.
That said: This is
Boise State's schedule
. This is
LSU's schedule
.
Anyone saying that an unbeaten Boise State team in 2011 should play for the national championship over a once-beaten LSU team would -- and should -- get laughed out of the room.
Let's not give Boise State or TCU a free pass, either. Both programs are outstanding and worthy of elite rankings, but they also both work the angles to manufacture great records. Neither has adopted the old Bobby Bowden at Florida State "anywhere, anytime" scheduling philosophy.
If either said "we'll go anywhere to play and won't insist on a home-and-home series," we'd see them be able to schedule two or three high-quality games with AQ conferences foes every year.
And, I suspect, we'd see fewer undefeated seasons.
By the way, Utah is now a member of the Pac-12 family. It's in the club, drinking single malt in the beach-front penthouse with UCLA Oregon, Stanford and the rest of the gang.
---
Rob from San Jose writes
: I am wondering how I missed your
Post-spring Power Rankings
. I thought for sure Cal would be ahead of UCLA; Cal beat UCLA in 2010 and it was not close. Cal has a proven defense (even with three good starters gone), but you think UCLA's defense "will arrive". Could you do a pre-season opener power rankings to see what has changed. ASU has had some bad luck with injuries and some schools have had academic ineligibility concerns. Since Cal's Maynard is QB, Sofele and Deboskie-Johnson have established 1-2 at RB; I am wondering where Cal would rank now?
Ted Miller
: And UCLA beat Oregon State, which beat Cal 35-7. Those same Beavers also beat USC 36-7 and USC beat Cal 48-14.
So Cal gets crushed by UCLA if you selectively use the transitive property.
I got to watch UCLA practice this spring and came away impressed, at least with the defense. Cal had closed practices, so I didn't get to see the Bears. Further, most of what I read wasn't terribly good about the Bears in the spring -- injuries and poor execution.
You do make a good point: Cal fans should feel better today about quarterback and running back.
Still, I sort of have a hunch about the Bruins -- one that, if they lose at Houston to open the season, I will quickly disavow.
---
Peter from Salt Lake City writes
: A little disappointed in your
all pro pac-12 team
to see an exclusion of Utes other than Jordan Gross. Steve Smith, Paul Soliai(franchise tag), Sean Smith, Eric Weddle(highest paid safety in the league), and Sione Pouha certainly could have been considered. However, Weddle and Soliai definitely should have been on the list.
Ted Miller
: Peter, my honest answer is that I am not as familiar with Utah's past players as I am with the old Pac-10 guys.
Further, as I wrote: "... I racked my brain for exactly 17 minutes and came up with an All-Pac-12 NFL team (Pac-12 fans, I did this quickly, so feel free to chime in your opinions)."
I was being slack and didn't want to spend hours researching the "perfect" guy at every position. But you are correct: Weddle and Soliai would have been good names on the list.
---
Ben from Centerville, Utah writes
: As a lifelong fan of the Utes, I have greatly enjoyed your blog and anticipate reading it from here on out. Question for you: I can't take the suspense. I anticipate that no Utes will make the top 25 list. Is that right? Are there REALLY no Utes in the top 25? I find it difficult to believe.
Ted Miller
: No, no player from Utah nor Oregon State made the top-25. From Utah, I considered offensive tackle Tony Bergstrom, quarterback
Jordan Wynn
and linebacker Chaz Walker.
With 12 teams, a 25-player list is pretty select. My typical reply to a query like this -- and there are lots of them -- is not to ask who from Utah you believe should be on the list but who you would knock off.
And, yes, there probably is some bias against Utah due to playing a Mountain West schedule last season. Wynn's numbers are comparable to Washington State quarterback
Jeff Tuel
, but Tuel put up his numbers against a far tougher schedule (nonconference game with Oklahoma State, too). And the 6-foot-3, 220-pound Tuel is probably a better NFL prospect due to superior arm strength.
Put it this way: Pac-10 defensive freshman of the year Junior Onyeali is not on the list. Two players who had five interceptions last season, safeties Nate Fellner of Washington and John Boyett of Oregon, are not on the list. Colorado guard Ryan Miller, a potential first-round NFL draft pick, is not on the list.
A lot of really good players are not on the list. Just the way one person's opinion worked out.
And, by the way, the list almost certainly will be much different when we re-do it after the season.
---
Huy Tran from Eugene writes
: If you ever compile a list of your favorite "pump-up" videos throughout the Pac-12 this season, please consider ours. I know there's a million out there, but we've worked long and tirelessly and
thought you'd might enjoy it
(from an unbiased view, of course).
Ted Miller
: Does anyone at Oregon not make football videos?
May, 9, 2011
5/09/11
7:00
AM ET
By
ESPN.com staff
| ESPN.com
UTAH
2010 Overall record:
10-3

2010 conference record
: 7-1 (Mountain West)
Returning starters
Offense
: 6, Defense: 5, punter/kicker: punter
Top returners
QB
Jordan Wynn
, WR DeVonte Christopoher, OT Tony Bergstrom, LB Brian Blechen, LB Chaz Walker
Key losses
RB
Matt Asiata
, RB
Eddie Wide
, WR Shakey Smithson, OG Caleb Schlauderaff, DT Sealver Siliga, CB Brandon Burton
2010 statistical leaders (*returning starter)
Rushing
: Eddie Wide (717)
Passing
: Jordan Wynn* (2,334)
Receiving
:
DeVonte Christopher
* (660)
Tackles
: Chaz Walker* (74)
Sacks
: Lamar Chapman (6.5)
Interceptions
: Brian Blechen* (4)
Schedule

Sept. 1 Montana State
Sept. 10 at USC
Sept. 17 at BYU
Oct. 1 Washington
Oct. 8 Arizona State
Oct. 15 at Pittsburgh
Oct. 22 at California
Oct. 29 Oregon State
Nov. 5 at Arizona
Nov. 12 UCLA
Nov. 19 at Washington State
Nov. 26 COlorado
Spring answers
1.
D-line looks deep
: The Utes lost two starters on their defensive line, but by the end of spring it nonetheless looked like a position of strength (tackle Sealver Siliga probably wishes he didn't enter the draft a year early after going undrafted, too). Tackle Star Lotulelei is living up to his name inside, while the Kruger brothers, Dave and Joe, made moves on the outside. Ten players are in the mix for playing time.
2.
CBs are OK
: The biggest concern entering spring was replacing all four starters in the secondary, but that's not nearly as much of a worry exiting spring. The safeties are young but athletic, while Ryan Lacy and Conroy Black solidified themselves as the starting corners.
3.
Good at receiving
: The passing game sputtered at times without quarterback Jordan Wynn, but the receiving corps looks solid, led by DeVonte Christopher and
Reggie Dunn
. Further,
Luke Matthews
moves back to receiver after playing running back and fullback in the spring. He scored three touchdowns on 18 receptions last year.
Fall questions
1.
Who's Wynn's backup
? Considering Wynn is coming back from shoulder surgery, the backup QB could -- knock on wood -- become a key player. True freshman Tyler Shreve outplayed sophomore
Griff Robles
much of spring but neither showed consistency, so the competition is ongoing, and newcomer Jon Hays joins the fray in the fall.
2.
What's the pecking order at RB
? The Utes are going to be able to replace the one-two punch of Matt Asiata and Eddie Wide with quality runners because Harvey Langi, John White and Thretton Palamo each turned in strong springs. But what's the pecking order? None has played a down of NCAA football. Palamo, a rugby star, was the most intriguing, but he's also the greenest.
3.
Chow down
? Offensive coordinator Norm Chow bolted UCLA for Salt Lake City and brought a new, pro style offense to replace the Utes traditional spread. It didn't click much this spring, but Wynn's absence is a fair excuse. Still, how long will it take for Wynn to get into the swing of things and for the entire offense to get into sync?
May, 2, 2011
5/02/11
5:35
PM ET
By
ESPN.com staff
| ESPN.com
The 2011 NFL draft is over, which means it's time to look at who the Pac-12's top senior prospects in 2012 likely will be.
First of all, plenty of top non-seniors from the conference might -- or are likely to -- enter the draft, including Stanford QB
Andrew Luck
, Oregon RB
LaMichael James
, Arizona State LB Vontaze Burfict and USC QB
Matt Barkley
. Those four range from sure to likely first-round draft picks.
But this list includes only players in their final year of eligibility. And some might rate a bit of a reach as NFL prospects.
Arizona
: QB
Nick Foles
, WR
Juron Criner
, CB Trevin Wade
Arizona State
: CB Omar Bolden, DE James Brooks, C Garth Gerhart
California
: S Sean Cattouse, TE
Anthony Miller
, LB Mychal Kendricks, LB D.J. Holt, OT Mitchell Schwartz, P Bryan Anger
Colorado
: OG Ryan Miller, RB
Rodney Stewart
, DT Conrad Obi, TE
Ryan Deehan
Oregon
: TE
David Paulson
, SS Eddie Pleasant, OT Mark Asper, LB Josh Kaddu
Oregon State
: S Lance Mitchell, WR
James Rodgers
, FB-TE
Joe Halahuni
Stanford
: WR
Chris Owusu
, TE Coby Fleenor, S Delano Howell
UCLA
: S Tony Dye, FB
Derrick Coleman
, TE
Cory Harkey
USC
: LB Chris Galippo, DE Armond Armstead, TE
Rhett Ellison
, RB
Marc Tyler
Utah
: OT Tony Bergstrom, LB Chaz Walker, OT John Cullen
Washington
: DT Alameda Ta'amu, WR
Jermaine Kearse
, OT Senio Kelemete, K Erik Folk
Washington State
: DT Brandon Rankin, OG B.J. Guerra, WR
Jared Karstetter
April, 20, 2011
4/20/11
12:04
PM ET
By
ESPN.com staff
| ESPN.com
Tackling is important in football. We can all agree on that, right?
The top three tackles in the Pac-10 last season -- and four of the top five -- won't be back for Pac-12 play in 2011.
[+] Enlarge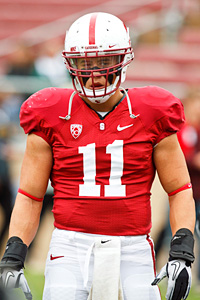 Jason O. Watson/US PresswireStanford linebacker Shayne Skov figures to be one of the Pac-12's top tacklers next season.
So who has their top tackler back?
UCLA
: Strong safety Tony Dye led the Bruins and ranked fourth in the conference with 96 tackles -- 8.0 per game -- last season.
Arizona
: Linebacker Paul Vassallo led the Wildcats and ranked sixth in the conference with 102 tackles -- 7.8 per game -- in 2010.
Stanford
: Linebacker Shayne Skov led the Cardinal and ranked eighth in the conference with 84 tackles -- 7.6 per game.
Arizona State
: Linebacker Vontaze Burfict led the Sun Devils and ranked ninth in the conference with 90 tackles -- 7.5 per game.
USC
: Safety T.J. McDonald led the Trojans and ranked 11th in the conference with 89 tackles -- 7.4 per game.
Washington State
: Strong safety Deone Bucannon led the Cougars and ranked 15th in the conference with 83 tackles -- 6.9 per game.
Utah
: Linebacker Chaz Walker led the Utes with 74 tackles or 5.7 per game.
So who is the leading returning tackler for the other five teams and who might lead in 2011?
California
: Inside linebacker D.J. Holt is the Bears leading returning tackler with 7.2 tackles per game, but don't be surprised if a move inside for Mychal Kendricks makes him the Bears' leading tackler.
Colorad
o: Safety Ray Polk was the Buffaloes' second-leading tackler in 2010 with 6.0 per game, but if linebacker Jon Major is healthy all season -- he was the leading tackler through seven games before going down with a knee injury -- he could become a 100-tackle guy.
Oregon
: Safety John Boyett ranked 23rd in the conference and second to Casey Matthews for the Ducks last season with 6.0 tackles per game (his 78 tackles were just one fewer than Matthews). Matthews' replacement at middle linebacker, Kiko Alonso, probably finishes with the most tackles for the Ducks, though.
Oregon State
: Safety Lance Mitchell was the Beavers' third-leading tackler behind linebacker Dwight Roberson and fellow safety Suaesi Tuimaunei. The Beavers would prefer that a leader emerge from the on-going competition at middle linebacker, but weakside linebacker Michael Doctor, who's stepping in for Roberson, looks like a good candidate to lead.
Washington
: Middle linebacker Cort Dennison ranked third on the Huskies and seventh in the conference with 7.7 tackles per game in 2010 behind linebacker Mason Foster, the Pac-10's leading tackler -- No. 2 in the nation -- with 12.5 stops per game and safety Nate Williams (8.1). If he stays healthy, it's likely he'll lead the Huskies in tackles, particularly with the lack of experience surrounding him at linebacker.
March, 28, 2011
3/28/11
9:00
AM ET
On Friday, we looked at offensive three-headed monsters --
the best quarterback, running back, wide receiver troikas
-- so it also makes sense to also look at their defensive counterparts, the best threesomes from each of the three levels of defense: defensive line, linebacker and defensive back.
Here's the
tally from last season
, if you are interested.

1.
Arizona State
DE Junior Onyeali, LB Vontaze Burfict, CB Omar Bolden
The Skinny:
No question on No. 1 here. Onyeali was the Pac-10 Defensive Freshman of the Year. Burfict is the nation's best inside linebacker. Bolden was unanimous first-team All-Pac-10.

2.
Stanford
DE Matt Masifilo, LB Shayne Skov, SS Delano Howell
The Skinny:
Masifilo, the lone returning starter on the Cardinal defensive line, was honorable mention All-Pac-10, as was Skov, who was playing as well as any linebacker in the conference over the final third of the season. Howell was second-team All-Pac-10.

3.
California
DE Trevor Guyton, LB Mychal Kendricks, S Sean Cattouse
The Skinny:
Guyton had 8.5 tackles for a loss and 4.5 sacks despite being a part-time starter. Kendricks was second-team All-Pac-10. Cattouse earned honorable mention.

4.
Oregon
DE Terrell Turner, LB Josh Kaddu, CB Cliff Harris
The Skinny:
Two solid returning starters and a second-team All-Pac-10 cornerback who figures to be a preseason All-American after earning second-team honors from the Associated Press and Walter Camp Football Foundation in 2010.

5.
Washington
:
DT Alameda Ta'amu, LB Cort Dennison, FS Nate Fellner
The Skinny:
Ta'amu earned honorable mention All-Conference honors and seemed to find himself over the latter half of the season. Dennison had 93 tackles, 8.5 tackles for a loss and two interceptions. Fellner tied for second in the conference with five interceptions.

6.
Arizona
DT Justin Washington, LB Paul Vassallo, CB Trevin Wade
The Skinny:
Washington's numbers fell off when he got banged up, but he still had 11.5 tackles for a loss and six sacks as a redshirt freshman. Vassallo was honorable mention All-Conference. Wade had an off year last fall, but was second-team All-Pac-10 in 2009.

7.
USC
DE Armond Armstead, LB Chris Galippo, FS T.J. McDonald
The Skinny:
This actually could be one of the best threesomes in the conference, but Armstead and Galippo have injury issues and only put up middling numbers last fall. McDonald was second-team All-Pac-10 in 2010.

8.
Washington State
DE Travis Long, LB Alex Hoffman-Ellis, SS Deone Bucannon
The Skinny:
Long was honorable mention All-Conference, Bucannon, who started as a true freshman, and Hoffman-Ellis were the Cougars' top two tackles in 2010.

9.
UCLA
DE Datone Jones, LB Patrick Larimore, SS Tony Dye
The Skinny:
A solid threesome that is down here more because it gets an "incomplete." Jones missed all of last season with a foot injury, but, if healthy, he's an All-Conference sort. Larimore was solid in seven games before suffering a shoulder injury. Dye led the Bruins in tackles and earned honorable mention All-Pac-10.

10.
Colorado
NG Will Pericak, LB Jon Major, FS Ray Polk
The Skinny:
Pericak earned honorable mention All-Big 12. Major was the Buffaloes leading tackler before he blew out his knee in Game 7 (a knee injury also killed the junior's true freshman season). Polk was the second-leading tackler.

11.
Utah
DE Derrick Shelby, LB Chaz Walker, CB Conroy Black
The Skinny:
Honestly don't know how to rank the Utes here. Shelby and Walker are returning starters -- Walker earned second-team All-Mountain West honors. Black was the top backup cornerback last season.
But
Star Lotulelei might be the Utes' best defensive lineman, and Brian Blechen has moved from strong safety, where he was very good, to linebacker. How highly do the Utes think of him? They list him as an All-American candidate.

12.
Oregon State
DE Dominic Glover, LB Rueben Robinson, S Lance Mitchell
The Skinny:
Three returning starters, but none of them even earned honorable mention All-Pac-10 honors. Mitchell was the Beavers' third-leading tackler, Glover had 2.5 sacks, and Robinson split time with Tony Wilson.