January, 1, 2013
1/01/13
10:14
AM ET
Three keys for Wisconsin in today's Rose Bowl Game presented by Vizio:
1. Open it up:
Wisconsin is Wisconsin, so of course the Badgers are going to do everything they can to run the ball. But even their offensive line is going to have trouble simply lining up and ramming the ball down Stanford's throat. The Cardinal are one of the most physical, fundamentally sound teams in the country and had the third-best run defense in the FBS. Wisconsin does not want to get into third-and-long situations in this game, because that's when Stanford -- which led the nation in sacks and tackles for loss -- can really wreak havoc. Offensive coordinator Matt Canada drew up a dynamic, diverse game plan for the Big Ten championship game and will need to do so again to keep the Cardinal guessing. Is there anything left in the playbook after that Nebraska game? "There's always more left," Canada said last week. "We can draw up plays for days and days." It's quite likely that quarterback
Curt Phillips
will have to make more plays and probably will have to throw more than the eight pass attempts he had against the Huskers. And
Joel Stave
, now healthy, could factor in as well. Wisconsin's bread and butter remains the running game, with
Montee Ball
,
James White
and X factor
Melvin Gordon
. But the Badgers will likely need more than that to solve the Stanford defense.
2. Stop Stepfan:
Stanford's offense is more than just running back
Stepfan Taylor
. The emergence of
Kevin Hogan
at quarterback late in the season made the Cardinal more multidimensional, and you have to always watch out for their tight ends, especially
Zach Ertz
. But Taylor is still the engine that drives the offense, and Wisconsin would much rather see Hogan throw the ball around than deal with Stanford's powerful running game all day. The good news: The Badgers were very good against the run this year as well, ranking 22nd in the nation in stopping the rush. They are stout in the middle of the defensive line, though star linebackers
Mike Taylor
and
Chris Borland
will have their hands full with those tight ends. Wisconsin also does a good job of making opponents earn every yard down the field; in Big Ten play, opponents had only four total plays of 30 or more yards versus Chris Ash's defense. In Stanford's two losses, Taylor averaged just 3.6 yards per carry, more than a yard below his average. If the Badgers can make him work that hard for yards today, they will have a great chance.
3. Finish:
Wisconsin knows all about coming up a play short in the Rose Bowl. A failed two-point conversion made the difference in a 21-19 loss to TCU two years ago, while last year's 45-38 setback against Oregon ended with
Russell Wilson
begging for another second on the Ducks' 25. But the Badgers don't even have to remember that far back to know close-game heartache. Of course, they lost four games by exactly three points, five by a total of 19 points and three in overtime. They probably would have lost every meaningful close game had Utah State made an easy field goal. It's highly unlikely that Wisconsin will blow out Stanford like it did against Nebraska, so any victory will probably have to include finishing off a close game for the first time since September. It doesn't help that the team's kicking game has been pretty bad; the Badgers were a Big Ten-worst 10-of-18 on field goals this year, and
Kyle French
missed key tries in the overtime losses to Ohio State and Penn State to end the regular season. But here is why Wisconsin fans have hope that a close game might finally go their way in Pasadena: Barry Alvarez will be making the late-game decisions.
January, 1, 2012
1/01/12
8:30
AM ET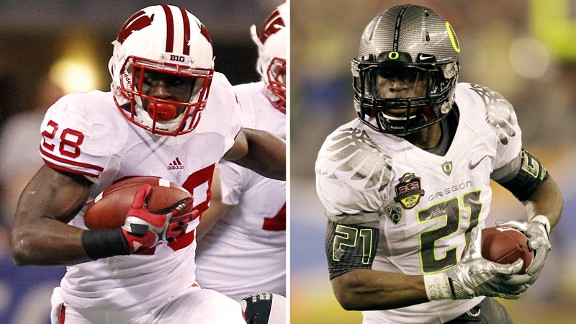 AP PhotoMontee Ball, left, and LaMichael James have put up stunning numbers in very different offenses.
LOS ANGELES --
Montee Ball
had hoped to meet
LaMichael James
at "The Home Depot College Football Awards" show on Dec. 8. Alas, James had finals and couldn't attend.
It's no wonder Ball wanted to size up maybe the only running back in the country with numbers as impressive as his own. The two will save their meeting for Monday at the Rose Bowl, which seems like a worthy summit for these two stars.
Oregon's James leads the nation in rushing yards per game (149.6) and yards per carry (7.4). Meanwhile, Wisconsin's Ball has the most total rushing yards (1,759) and has scored more touchdowns in a season than every FBS player not named Barry Sanders (38).
They're both juniors who will likely jump to the NFL after this game. The similarities pretty much end there, however, as each is a different kind of runner, playing in a vastly different type of offense from his counterpart.
"What he brings to the table is speed, and I believe what I bring to the table is obviously a lot of power, strength and a little bit of speed as well," Ball said.
"You know, he's probably 215 pounds and I'm like 190," James said. "He runs in the I [formation]. I run in the spread. I don't really think there's a comparison between the two."
But they will be compared, both this week and beyond. When both are poked and prodded during the NFL evaluation process, scouts and others are likely to ask whether they succeeded because of the systems they play in.
In Ball's case, such questions are inevitable. Badgers running backs benefit from the program's traditionally strong offensive line and a run-first mentality. Few Wisconsin running backs have made a dent in the pros. This year, Ball became the first Badgers' Heisman Trophy finalist since Ron Dayne won the award in 1999, and Dayne -- who was inducted into the Rose Bowl Hall of Fame this week -- is often held up as an example of a college star who was an NFL bust.
Of course, Ball isn't built anything like the rumbling Dayne. You'd be hard-pressed to find many flaws in his game right now.
"He's a bigger guy, but he has really great feet," James said. "And the physicality is pretty nifty, too."
James will face a different set of skepticism. He's a smaller back at 5-foot-9. He also plays in a spread offense and gets a lot of his yards out of the zone option, though Oregon has run that less this year than in the past. But he doesn't average nearly 7.5 yards per carry on the system alone.
"He's tough for a littler guy," Wisconsin defensive coordinator Chris Ash said. "He'll run between the tackles, and people will not get him down. He'll run through you, around you, beat you with speed, whatever he's got to do. Very rarely do you see one individual getting him down on the tape."
Which back is better? It's nearly impossible to say since they play such different styles. But it would be fun to imagine how each would do in the other's shoes.
Ball grew up outside of St. Louis but wasn't interested in going to Missouri because of the spread offense there. He wanted to play for a power-run team, which is why he looked hardest at Iowa and Wisconsin.
"I've thought about it a couple times, taking a lot of carries from the [shot]gun and stuff like that," Ball said. "It would be a lot of fun, obviously, getting the ball into open space."
Wisconsin has usually liked big backs. But can you imagine James hiding behind the Badgers' enormous front wall before exploding through the gaps?
"I know I would be successful in their offense," James said. "No. 67 [Wisconsin left tackle Josh Oglesby], I can just sit behind him all day."
Are James and Ball "system guys"? Well, aren't all football players indebted to the type of players and play calling that surround them?
"I think with any team, the running back obviously is a product of the system," Ball said. "But they do a great job of staying on his strengths, basically putting him in open space with the football. And the same with us. We do a great job of keeping me protected behind the big offensive linemen so I can weave my way around them and score a touchdown."
How much the system contributes to each player's success really doesn't matter. All we know is, no one has developed a defensive system to stop them yet.
"I think Montee Ball would flourish in a spread offense," Oregon coach Chip Kelly said. "He'd flourish in an I-offense. He'd flourish in a Wildcat offense. And I think LaMichael would be the same way."