December, 23, 2010
12/23/10
2:30
PM ET
By
ESPN.com staff
| ESPN.com
Scrooge was better than his word. He did it all, and infinitely more; and to Tiny Tim, who did not die, he was a second father. He became as good a friend, as good a master, and as good a man, as the good old city knew, or any other good old city, town, or borough, in the good old world.
December, 22, 2010
12/22/10
5:10
PM ET
By
ESPN.com staff
| ESPN.com
Junior tight end
Chris Izbicki
, a once-touted recruit whose career never really got on track, has left Washington just over a week before the Huskies face Nebraska in the Bridgepoint Education Holiday Bowl.
Though listed on the depth chart as a starter, Izbicki officially started just one game this year. He has five receptions over the past two years, with two producing touchdowns.
The Seattle Times
on the matter
. And the
Tacoma News Tribune
.
August, 11, 2010
8/11/10
2:40
PM ET
By
ESPN.com staff
| ESPN.com
I object, your honor! This trial is a travesty. It's a travesty of a mockery of a sham of a mockery of a travesty of two mockeries of a sham.
August, 9, 2010
8/09/10
4:52
PM ET
By
ESPN.com staff
| ESPN.com
Washington opens preseason camp today. Here's a quick look.
Who's back
: Nine starters on offense, eight on defense, both specialists.
Big names
: Quarterback
Jake Locker
, running back
Chris Polk
, receiver
Jermaine Kearse
, linebacker Mason Foster.
What's new
: The Huskies staff returns intact in Steve Sarkisian's second year.
Key competition
: With 17 position players back, most of the competition is for backup roles. The biggest question is how things will stack up at defensive end, with Kalani Aldrich and Everrette Thompson trying to regain their form after injuries. The pecking order at free safety is still in question. Backup quarterback behind Locker is unresolved.
Breaking out
:
Chris Izbicki
needs to step up at ight end after
Kavario Middleton
was kicked off the team. Receiver
James Johnson
figures to take another step forward after a strong true freshman season. There's a sense that junior tackle Senio Kelemete has All-Conference potential, as does sophomore cornerback Desmond Trufant.
Quote
: Sarkisian on the value of having Locker back for his senior year: "Historically in this conference, the teams that have won Pac-10 championships or have been in that race at the end have had veteran leadership at that position. Ultimately, if you really want to win a Pac-10 championship, you have to find a way to win on the road. We will take the advantage of having that senior quarterback who has been in those environments."
Notes
: Defensive end Andru Pulu, a potential starter, was kicked off the team after he was sentenced to six months in jail for breaking a man's nose in an off-campus fight in March ... The Huskies added touted linebacker Josh Shirley to their recruiting class after he was booted from UCLA for allegedly participating in a purse theft with three other freshmen ... Locker made two East Coast trips in support of a Heisman Trophy campaign. You can keep up with Locker
on his website
... Two members of the 2010 recruiting class will grayshirt: defensive back John Timu and defensive end Brent Williams
...
Safety Justin Glenn, who broke his leg at Notre Dame last season, is still not ready for contact.
July, 28, 2010
7/28/10
9:00
AM ET
By
ESPN.com staff
| ESPN.com
Welcome to the review of the weakest position in the Pac-10. And that was going to be the case even before Washington gave
Kavario Middleton
the boot
.
Middleton, by the way, was named preseason first-team All-Pac-10 by Phil Steele, even though he only caught 26 passes last year and was being challenged for the starting job by
Chris Izbicki
.
Only four teams welcome back their starting tight end, and only one -- California's
Anthony Miller
-- even earned honorable mention all-conference honors.
Why is the position down? Attrition after an "up" season. Consider the departed: Arizona's Rob Gronkowski, Oregon's Ed Dickson, Stanford's Jim Dray, UCLA's Logan Paulsen and Ryan Moya and USC's Anthony McCoy. Those guys are now stocking NFL rosters.
So where do things stand? Well, you might say we graded the position on a curve, though there is plenty of potential here.
Great shape
California: Miller was the Bears' third-leading receiver last year. Six-foot-7 sophomore backup Spencer Ladner saw action in seven games.
Good shape
We'll see
USC: Attrition and injuries make this a questionable position for the Trojans. If Blake Ayles and Rhett Ellison stay healthy, things should be OK. The incoming freshman class is strong, starting with Xavier Grimble, who ranked No. 1 at the position, according to ESPN Recruiting.
Washington: With Middleton, the Huskies would have been in great shape. Izbicki had a good spring, but he only caught three passes for 7 yards in 2009 and the depth is questionable.
Arizona State: Jovon Williams is gone and Dan Knapp is a tackle, but the Sun Devils could move up here just because the position figures to be more involved in the offense in 2010. Trevor Kohl and Christopher Coyle top the depth chart.
July, 20, 2010
7/20/10
9:55
PM ET
By
ESPN.com staff
| ESPN.com
Washington has dismissed starting tight end
Kavario Middleton
for a violation of team rules less than
two weeks before fall camp begins
.
Middleton, a 2008 Parade All-American, had fallen behind junior
Chris Izbicki
on the depth chart during spring practices, but he was nonetheless considered one of the Pac-10's top returning tight ends. He caught 26 passes for 257 yards with three TDs in 2009.
The school didn't supply a reason for the dismissal, but Bob Condotta
reported this on his blog
:
One source (not Miller) confirmed that there is truth to rumors that a recent failed drug test was the last straw for Middleton. While UW cannot randomly drug test its athletes due to state laws, it can test specific athletes if it has reasonable suspicion.

Miller said only that Middleton had already been given "several chances'' to get back in good standing with the team.
You can
read more here
. And
here
. And
here
.
Middleton is the second key contributor dismissed from the team. Defensive end Andru Pulu was suspended indefinitely and is not expected to return to the team after he pleaded guilty to
felony second-degree assault
in April.
June, 1, 2010
6/01/10
7:36
PM ET
By
ESPN.com staff
| ESPN.com
At what position is the Pac-10 deep? At what position in the Pac-10 thin? Here's the first of three parts taking a look at just that.
Deep: Center
Why is it deep
? Start with the fact that nine starting centers are back from 2009, though Washington's Ryan Tolar has moved to guard and former starting tackle Drew Schaefer has moved inside to center. Then consider that of those nine, six earned a spot on the 37-man watch list for the
Rimington Trophy
, which is given annually to the nation's best center. Even Washington State, which lost Kenny Alfred, probably feels pretty good about Andrew Roxas, who's started nine career games.
The big names
: Six players are legitimate all-conference candidates: USC's Kristofer O'Dowd (he could be the top center in the 2011 NFL draft), Arizona's Colin Baxter and Stanford's Chase Beeler (both were second-team All-Pac-10 in 2010), Oregon State's Alex Linnenkohl (who has 26 career starts), Oregon's Jordan Holmes and UCLA's Kai Maiava.
Thin: Tight end
Why is it thin?
Only four teams welcome back a starting tight end, none of whom earned all-conference honors. In fact, only one returning tight end, California's
Anthony Miller
, earned honorable mention. And consider the list of departed players from 2009: Arizona's Rob Gronkowski, Oregon's Ed Dickson, Stanford's Jim Dray, UCLA's Logan Paulsen and Ryan Moya and USC's Anthony McCoy. Phil Steele recently named his four
All-Pac-10 teams
, and he made Washington's
Kavario Middleton
the first-team tight end. Middleton caught 26 passes last year and he's fighting with
Chris Izbicki
for the starting job.
Fill the void
? Miller and Middleton (Izbicki?) could be breakthrough players. UCLA is excited about the Joseph Fauria-
Cory Harkey
combination.
Joe Halahuni
, though a hybrid, H-back sort, is a threat for Oregon State. Stanford's
Konrad Reuland
, a Notre Dame transfer, is promising. It appears that
David Paulson
, Dickson's backup last year, and JC transfer Brandon Williams will be solid for Oregon. Perhaps
Blake Ayles
finally stays healthy for USC.
April, 12, 2010
4/12/10
11:16
AM ET
By
ESPN.com staff
| ESPN.com
SEATTLE -- Washington defensive tackle Cameron Elisara has just introduced Jesse Callier to Pac-10 football, running through the freshman running back's pass-block attempt like a knife through soft butter, and now he's breathing into quarterback
Jake Locker
's ear hole.
[+] Enlarge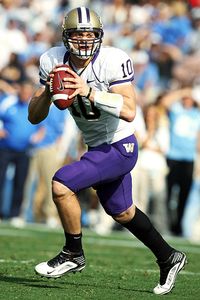 Charles Baus/Icon SMIJake Locker returned for his senior season in hopes of leading the Huskies to a bowl game.
But wait. Locker, at the last moment, scoots to his left with a move that's equal parts casual and lickity split. Then he flicks his right hand. If you performed a similar motion, your penny might fall short of the wishing well. But when Locker flicks a football, oftentimes it flies 40 yards down field, as this one does.
And there it finds receiver
Devin Aguilar
.
Even a jaded onlooker who's watched plenty football practices finds himself glancing side-to-side to confirm the appropriate reaction: "Golly."
Most quarterbacks would have been sacked. The Locker of 2007 or 2008 probably would have used his 4.4 speed to run for a short -- or perhaps not so short -- gain. But this is Locker 4.0, who bypassed an opportunity to be a top-10 NFL draft pick on April 22 and returned to the Huskies for his senior season. Once seen as just an athlete playing quarterback, now he can play well within a pro-style system while reserving the right to riff a bit of improvisation when the feeling strikes.
"A lot of times when plays break down is when you get your biggest plays," he said. "It's about a good balance of both; of understanding when it's going to be productive to get outside the pocket and try to make a play and when you need to stand in there and make a throw."
This Locker, who accounted for 28 touchdowns in 2009, is expecting to refine his considerable skills in Year 2 under coach Steve Sarkisian and lead the Huskies to their first bowl game since 2002.
"In my opinion, the real strides, the real improvement, occur from Year 1 to Year 2," Sarkisian said. "That's historically what we've seen."
That expectation is shared by more than a few folks. It's why many draft experts are projecting Locker to go No. 1 overall in 2011 -- ESPN's Mel Kiper told reporters it was "
etched in stone
."
But first things first: Locker has yet to experience a winning season or go to a bowl game in his career. He can't do it alone. What's ignited the buzz in Seattle, however, is that he won't need to. His supporting cast on offense is the match of any in the Pac-10, particularly at the skill positions.
March, 29, 2010
3/29/10
5:44
PM ET
By
ESPN.com staff
| ESPN.com
Some highlights from
Washington Huskies
coach Steve Sarkisian's presser with reporters on Monday.
Quarterback Jake Locker may play some baseball with the Los Angeles Angels of Anaheim this summer but a schedule has not been set. Sarkisian said it won't interfere with his football work.
Players who won't practice due to injury include running back Chris Polk (shoulder), offensive tackle Cody Habben (shoulder), defensive end Kalani Aldrich (knee), Everrette Thompson (Achilles), safety Victor Aiyewa (shoulder).
Running back Brandon Yakaboski (knee), cornerback Desmond Trufant (groin) and Justin Glenn (leg) will be limited.
Defensive end Andru Pulu is still suspended indefinitely and is not on the roster.
Tight end Dorson Boyce has moved to fullback.
Marquis Persley has moved from cornerback to safety.
Drew Schaefer has moved from tackle to center. Ryan Tolar from center to guard.
The starting offensive line as of Monday: Schaefer, Senio Kelemete at left tackle, Tolar at left guard, Mykenna Ikehara at right guard and Skyler Fancher at right tackle
Linebacker Alvin Logan could see action as a defensive end. Sarkisian said the lack of depth at end due to injuries and suspensions means that some other players, including defensive tackles, could see time at end.
Players who have left the program: quarterback Ronnie Fouch, running backs Willie Griffin and Curtis Shaw, linebacker Kurt Mangum, cornerback Matt Mosley and receiver Vince Taylor.
Four freshmen will participate this spring: linebacker Victor Burnett, running back Jesse Callier, running back Deontae Cooper and quarterback Nick Montana.
The priority is adding depth on the offensive and defensive line.
Sarkisian said he's interested to see how receiver D'Andre Goodwin and tight end Chris Izbicki perform. Goodwin was the Huskies best receiver in 2008 but fell behind other players in 2009. Izbicki is fighting for touches behind Kavario Middleton.
He also said that there should be plenty of competition in the secondary between cornerbacks Desmond Trufant, Adam Long, Quinton Richardson, Vonzell McDowell and converted receiver Anthony Boyles.
May, 22, 2009
5/22/09
11:09
AM ET
By
ESPN.com staff
| ESPN.com
Posted by ESPN.com's Ted Miller
Every team enters spring practices with at least a couple of personnel questions, even those with their starting lineup returning nearly intact.
Sometimes those questions don't get answered. Other times they do.
Such as ...
Arizona: The Wildcats lost two of their three starting linebackers, but coach Mike Stoops said he believes they will be better at the position in 2009, with junior Vuna Tuihalamaka making a special impression in the middle this spring.
Arizona State: The Sun Devils lost middle linebacker Morris Wooten, but the LB position looks like it could run six-deep in 2009, particularly with the expected arrival of super-recruit Vontaze Burfict in the fall. The return of former starter Gerald Munns, who left the team for personal reasons, helps as does the emergence of young players whose speed upgrades are intriguing.
California: Not to get stuck on a linebacker theme, but most previews of the Bears will raise questions about them losing three longtime starters at linebacker. Hanging around this spring, however, you get the feeling this position will be fine. In fact, a couple of touted incoming JC transfers will make the fall competition intense. Look for Mike Mohamed and Mychal Kendricks to make a play for All-Conference honors.
Oregon: The Ducks lost three of four starting defensive linemen, including end Nick Reed, so this seemed like as big a question mark as the offensive line entering spring. Apparently not, at least according to coach Chip Kelly. Will Tukuafu should emerge from Reed's shadow as one of the conference's best ends, and tackle Brandon Bair and end Kenny Rowe stepped up. There's still competition at one tackle, but the Ducks' recruiting class included six defensive linemen, at least a couple of whom figure to see action.
Oregon State: The Beavers lost receivers Sammie Stroughter and Shane Morales, but by the end of spring that didn't seem like a problem, even with James Rodgers sitting out with a shoulder injury. Junior Darrell Catchings broke through and redshirt freshman Jordan Bishop lived up to high expectations and others flashed potential.
Stanford: The passing game -- on offense and defense -- has been a problem for Stanford. For the offense, redshirt freshman quarterback Andrew Luck was just short of spectacular this spring. For the defense, the insertion of Delano Howell at strong safety and Michael Thomas at cornerback upgrades the secondary's athleticism.
UCLA: The secondary began spring needing two new starters, but a handful of guys stepped up to complement cornerback Alterraun Verner and free safety Rahim Moore. While Aaron Hester and Glenn Love are the favorites to start at corner and strong safety, respectively, sophomores Courtney Viney and Tony Dye and redshirt freshman E.J. Woods will get extended looks in the fall.
USC: Lose three elite linebackers? Find three more. Malcolm Smith, Chris Galippo and Michael Morgan might not have the experience or pedigree of their predecessors, but they are faster and may end up being nearly as good.
Washington: A lot was made of how well quarterback Jake Locker adjusted to a pro-style offense this spring -- and rightfully so -- but that pro-style passing attack needs targets, so perhaps that part of the pass-catch equation is being undersold. D'Andre Goodwin, Jermaine Kearse and Devin Aguilar give the Huskies three respectable receivers, and tight ends Kavario Middleton and Chris Izbicki are solid.
Washington State: One area where the Cougars have quality starters and quality depth is running back, with Dwight Tardy stepping up to the challenge of California transfer James Montgomery this spring, and Logwone Mitz and 220-pound Marcus Richmond adding depth.
March, 3, 2009
3/03/09
10:00
AM ET
By
ESPN.com staff
| ESPN.com
Posted by ESPN.com's Ted Miller
It's not completely accurate to call it feast or famine at the tight end this spring in the Pac-10.
Washington, California, Stanford, etc. will insist they've got a wealth of talent at the position, despite the lack of returning production.
But in trying to evaluate a position, it seems best to stick with what is proved over what is potential. So there doesn't seem to be much middle ground here.
Great shape
| | |
| --- | --- |
| | |
| | AP Photo/Elaine Thompson |
| | Rob Gronkowski hauled in 47 receptions for 672 yards and 10 touchdowns in 2008. |
Good shape
Oregon State: The good news is all five names on the 2008 depth chart at tight end and H-back are back. The less excited news is those guys combined for 29 receptions. Can the combination of Howard Croom and Brady Camp become more than just solid?
We'll see
August, 28, 2008
8/28/08
8:08
PM ET
By
ESPN.com staff
| ESPN.com
Posted by ESPN.com's Ted Miller
Quick hits before Oregon State and Stanford kick off:
Finally, here's a list of the teams with the most players who already have obtained the undergraduate degrees.
10 -- ­ Boston College, Virginia Tech
8 ­ -- Auburn, Clemson, Maryland
7 ­ -- Arizona State, Memphis, Ohio State, Penn State
6 ­ -- Northwestern
5 ­ -- Baylor, Louisiana Tech, Ole Miss, UCF
4 ­ -- Kentucky, Northern Illinois, Texas Tech
3 ­ -- Georgia Tech, Louisville, Notre Dame, Virginia
2 ­ -- Colorado, FAU, Troy, Utah
1 -- ­ Wake Forest, Western Michigan
August, 4, 2008
8/04/08
5:44
PM ET
By
ESPN.com staff
| ESPN.com
Posted by ESPN.com's Ted Miller
The early news at Washington isn't good.
The campaign to rebuild the defense took a hit Monday when it was announced that linebacker E.J. Savannah, who broke his arm over the summer, has been suspended. Savannah isn't listed on the current roster, though coach Tyrone Willingham left open the option of him returning this season. The first-team LBs are Donald Butler, Mason Foster and Josh Gage.
Four freshmen didn't report due to academic issues: DL Craig Noble, RB Demitrius Bronson, DL Senio Kelemete and DB Vince Taylor.
The Huskies fairly long run without an off-field incident also came to an end with redshirt freshman TE Chris Izbicki being charged with "criminal trespass in the second degree and minor in possession of liquor after an incident on July 20," according to the Seattle Times.

Savannah is a big loss. He was one of the conference's best LB, ranking sixth in tackles with 111 in 2007 (8.5 for a loss). Moreover, Noble was an incoming freshman expected to immediately push for playing time, while Izbicki, the most touted recruit from 2007, was expected to challenge Michael Gottlieb for the starting job.