May, 2, 2012
5/02/12
1:00
PM ET
The Heisman Pundit has released its official 2012
Heisman Trophy Watch List
, and as you'd expect, it's the usual suspects from the Pac-12 on the list.
Though in alphabetical order, it's widely assumed that USC quarterback
Matt Barkley
is the front-runner with all others playing catch-up before the first snap has been taken. Here's the list.
Tavon Austin, Sr., AP, West Virginia
Montee Ball, Sr., RB, Wisconsin
Matt Barkley, Sr., QB, USC
Tajh Boyd, Jr., QB, Clemson
Tyler Bray, Jr., QB, Tennessee
Knile Davis, Jr., RB, Arkansas
James Franklin, Jr., QB, Missouri
Landry Jones, Sr., QB, Oklahoma
Collin Klein, Sr., QB, Kansas State
Marcus Lattimore, Jr., RB, South Carolina
Aaron Murray, Jr., QB, Georgia
Keith Price, Jr., QB, Washington
Denard Robinson, Sr., QB, Michigan
Geno Smith, Sr., QB, West Virginia
De'Anthony Thomas, So., RB, Oregon
Sammy Watkins, So, WR, Clemson
Tyler Wilson, Sr., QB, Arkansas
Cierre Wood, Sr., RB, Notre Dame
The Pac-12 blog entertained which player from the conference we thought would emerge as the Heisman winner in a
Take 2
back in March. Watch lists are always subject to change, and until we actually see some games, it's only fun speculation at this point.
No question that Barkley is the early leader in the minds of many. Given his statistics last season, the receivers he has around him and the lofty preseason ranking the Trojans are expected to enjoy, he's looking down on the pack – at least for now.
Thomas is going to have big play after big play this season, which makes him a very strong Heisman candidate. His exploits can be packaged into an explosive highlight reel that is easily digestible for East Coast voters. No one ever gets tired of seeing 85-yard touchdown runs (unless you're safeties chasing Thomas).
Price lacks the national brand at this point, but that could all change in Week 2 in Baton Rouge. A strong showing against LSU is certain to boost his exposure and could catapult him from dark horse contender to major candidate. And then he's got Stanford, Oregon and USC all in the first six games. He could be the leader at the turn ... or slip out of the running all together.
March, 28, 2012
3/28/12
11:00
AM ET
We've given you our thoughts recently on which Pac-12 player
has the best shot at winning the Heisman
. You've given
your thoughts
(an extremely tight poll) and now the folks at HeismanPundit.com have offered up
their darkhorse candidates for 2012
.
They looked at 12 not-as-mainstream candidates who could contend for the Heisman Trophy, and four of them are from the Pac-12.
First, the list:
Eddie Lacy, Alabama
Curtis McNeal, USC
Fitzgerald Toussaint, Michigan
Kenjon Barner, Oregon
James Franklin, Missouri
Braxton Miller, Ohio State
Kiehl Frazier, Auburn
Le'Veon Bell, Michigan State
Cierre Wood, Notre Dame
Christine Michael, Texas A&M
Jesse Callier, Washington
De'Anthony Thomas, Oregon
Their thoughts on each of the Pac-12 players:
On McNeal: A total of 150 carries have departed the program and there is little depth behind the senior, who will benefit from defenses focusing on USC's strong passing attack. Give McNeal at least half of those departed carries and you are looking at a possible 1,500 yard season, if not more.

On Barner: There were times the rest of the year when he looked as good as, if not better than, James. This year, the Ducks lose not only James' 247 carries, but also the 45 of freshman Tra Carson and the 56 of quarterback Darron Thomas, for a total of 347 carries to be redistributed.

On Callier: I actually think there is a good chance that Washington experiences no dropoff at this position and that Callier establishes himself as one of the top backs in the Pac-12 with a season exceeding 1,300 yards on the ground.

On Thomas: Thomas is obviously an interesting case since he is such an all-around dynamo. Last year, he had just 140 touches, with 39 of them coming in the return game. This was a wise move by Oregon, as keeping the rather slight Thomas fresh and healthy is the key to his effectiveness. It worked, as he had 18 touchdowns and 2,235 total yards. In that vein, Oregon might be tempted to put a huge workload on him in 2012, but I don't foresee it unless there is a desperate need.
Fun list. With frontrunner
Matt Barkley
out there, along with Washington quarterback
Keith Price
, a couple of USC wide receivers and A-list running backs like
John White IV
and
Stepfan Taylor
, there is certainly no wanting for offensive talent in the conference. Per usual.
Which players emerge will definitely be one of the more fascinating stories to follow in 2012.
November, 22, 2011
11/22/11
6:24
PM ET
Notre Dame enters Saturday's regular-season finale at Stanford as an underdog for the first time this season. But Brian Kelly is not quite playing the us-against-the-world card this week.
"I don't know that I see ourselves as a spoiler, to be quite honest with you," Kelly said Tuesday. "We have a great deal of respect for Stanford, and they've earned everything. They're a darn good football team. We see this as just another opportunity to play our last regular-season game. I know our guys are excited. It's a relevant game in November and it's on national television. That gets 18-21-year-olds' attention more than being a spoiler so to speak."
[+] Enlarge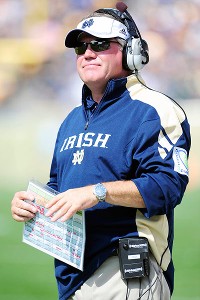 Jeanine Leech/Icon SMI"It's a relevant game in November and it's on national television," Brian Kelly said. "That gets 18-21-year-olds' attention more than being a spoiler so to speak."
The stakes are high, but they are also unclear. The No. 6 Cardinal (10-1) are likely playing for a spot in a BCS-bowl game. The No. 22 Irish? At 8-3, there is a very remote chance they could jump eight spots and become BCS-bowl eligible themselves with a win -- with an emphasis on the
very remote
part.
More pressing, however, is the validation that would come with a road win over a top-10 opponent in the second year of a new regime, which would also give the Irish a chance at a 10-win season.
They finished last season on a four-game winning streak to go 8-5.
"Well, it's still about, for us, you know, preparing the right way and then performing on Saturdays," Kelly said. "I've said this a number of times. I like the way we've prepared. We haven't performed on Saturdays the way we need to consistently. We're showing that at times.
"This is just another one of those — it's not a referendum on our season, but it's another step towards where we want to be in consistency in November. We have done very well in November, and we want to continue to build on that in this game against Stanford."
Notre Dame has won all six of its November games since Kelly took over. The second-year Irish coach has actually won 16 straight regular-season contests in November and December, dating back to 2007, when he coached Cincinnati.
He has already faced quarterback
Andrew Luck
, the likely top NFL draft pick and a strong Heisman Trophy contender.
Luck has completed more than 70 percent of his passes this season, throwing for 2,937 yards, 31 touchdowns and just eight interceptions, and he will likely be playing the final home game of his career.
In a 37-14 win at Notre Dame last season, Luck was 19-for-32 for 238 yards, with one touchdown and two interceptions.
"Boy's under pressure more than anything else," Kelly said. "Some of the throws that he made against us last year. We brought an allout blitz inside the 15-yard line, and we had a freeblitzer and he just kept back-pedalling and hit a tight end on a choice route in the end zone.
"That's poise under pressure. He has the ability to make the throws when he's under duress as well. And to have that, you've got to have the skill, but also the utmost confidence in your ability. He has all this intrinsic things necessary to be a great quarterback."
The onus on Notre Dame's quarterback,
Tommy Rees
, may be heavier this week. Starting running back
Jonas Gray
's season is over after tearing the anterior cruciate ligament in his right knee Saturday, and a pair of unproven freshmen —
George Atkinson III
and
Cam McDaniel
— will back-up junior
Cierre Wood
.
Freshman end Stephon Tuitt's status is uncertain after missing the last game with an illness as well.
"It's huge," Rees said after Saturday's game. "To go finish November strong, finish the season strong against a good opponent, and I think it would just give us some momentum heading into a bowl, and we look forward to it just like any other opponent. We can't focus too much on everything that's going around us. We're ready to play another football game."
November, 22, 2011
11/22/11
11:00
AM ET
A few questions kicking around my head as we look to the final regular-season game.
Can the Cardinal finish what they started? Anything less than a BCS bowl game at the end of the year would be a letdown -- based on the expectations this team had going into the season. We always knew the national championship would be a difficult achievement -- it's supposed to be hard, and it's supposed to separate the very elite teams. Whether Stanford is an elite team, several notches below or somewhere in the middle remains to be seen. But a win over a ranked Notre Dame team can restore a lot of the national confidence lost against Oregon.
Will the Tree Amigos reunite? It's questionable, at this point. Tight end Zach Ertz might return this week after going down with a knee injury on the opening kickoff of the USC game. Stanford's offense -- though getting by with the versatile Ryan Hewitt, is far more explosive with Ertz. If he can get a few snaps in and get some live work, Stanford's chances of moving the ball successfully against a pretty stingy Notre Dame defense (20.3 points per game) increase significantly.
Is the pressure on Stanford's equipment/grounds-keeping staff? I understand that when it rains, footing becomes less stable. But we're not talking about one or two slip-ups over the last two games. There have been a lot of Cardinal players struggling for traction when it seems to only have a minor impact on opposing teams. Longer cleats? Shorter grass? Longer grass? Had it not been for a penalty, one of those slips would have cost the Cardinal a pick-six (though Cal scored anyway). It's something to keep an eye on Saturday.
Is the kickoff situation set? Despite kicker Jordan Williamson's return after missing three games with an injury, it was Ben Rhyne who handled the kickoff duties last week against Cal. With 58 kicks on the year (66.3 average) Williamson has been the primary kicker. Though in his absence, Eric Whitaker (57.9 average) filled in. Rhyne has 13 kicks on the year for an average of 62.4 with one touchback. It will be interesting to see if Williamson returns to kickoffs or if this is a permanent change for the remainder of the season.
How much emotion can these teams handle? The loss of Notre Dame running back Jonas Gray hurts from a team morale standpoint. Though Cierre Wood is the primary back, Gray was an emotional leader for the Irish -- who barely squeaked by Boston College last week. The Irish could rally -- or the lack of running back depth could hurt them against an aggressive Stanford front seven. Stanford has its own emotional issues at work. Already coming off back-to-back games rife with emotion, Saturday will be senior day -- and more than likely (pending the outcome of Oregon-Oregon State) -- the final home game for Andrew Luck and a cast of fourth- and -fifth-year seniors who turned the program around.
October, 23, 2011
10/23/11
1:25
AM ET
SOUTH BEND, Ind. — They tailgated all day and they waved blue towels and they bounced up and down to seemingly every possible sports pump-up song imaginable. They enjoyed the bright lights and marveled at the shiny new helmets and saw Saturday's matchup build into more than just another game on their schedule.
And though it wasn't exactly clear what Notre Dame fans could have expected when looking back at a USC squad that ran through the home team and slowed its ground game to a halt, it was certainly more than this:
A
31-17 loss
to the arch-rival, its ninth defeat in the past 10 meetings. A turnover-plagued performance that brought to mind the adventures of the season's first two weeks. And, most of all, the harsh reality that the BCS-bowl dreams that began before the season are all but officially over just seven games into 2011.
"I think from a player's standpoint, maybe we didn't stay true to who we were," fifth-year safety and captain Harrison Smith said. "Maybe we did buy into the hype, and we can't do that again. We didn't play with poise and there were penalties that you just can't have if you wanna win."
The five penalties will sting but not as much as the three turnovers, particularly after consecutive games without any. An early and surprising 17-0 deficit gave the Irish no margin for error in attemping their comeback, one made easier by — who would have thunk it? — special teams.
George Atkinson's 96-yard kick return for a touchdown brought the Irish to life in the second quarter, and they managed to tack on a field goal before the break to somehow make a seven-point game out of a half that saw them outgained by nearly a 2-to-1 margin.
[+] Enlarge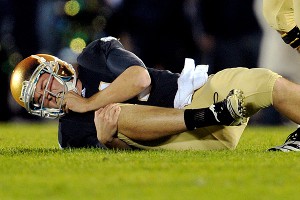 Matt Cashore/US PRESSWIRETommy Rees hyperextended his knee during a painful evening for the Irish.
Tommy Rees
went down with a hyperextended right knee midway through the third quarter and
Dayne Crist
stepped in — and this looked like redemption for the California kid against USC, first hitting
Cierre Wood
for 4 yards, then hitting
Tyler Eifert
two plays later on a crucial fourth down, the ball moving and Notre Dame closing in on the Trojans after being outplayed for a majority of the game before that point.
Three plays later, third-and-goal at the 1, Crist fumbled the snap. Eighty yards later and Jawanza Starling was in the end zone with the ball and a 14-point Trojans lead, one that looked so big yet so familiar given Crist's last third-and-goal-from-the-1 play this season, even if he wasn't to blame for the opening-drive gaffe against South Florida in Week 1.
"Losing stinks. For me, it's hard for me to put a stink-meter on losing. They all stink," coach Brian Kelly said. "You know what I'm disappointed in? This is the first time that I've leaned on my guys pretty hard in the locker room. I was not happy. Because we're better than that. We're better than that. And, to turn the ball over in the ridiculous fashion that we have, I just, just makes me crazy. In terms of, I just don't understand how something so easy can come out the way it does.
"So I told our guys, 'Listen, every time we try to take a step forward, we seem to wanna take one step back.' I'm not gonna tolerate it. It's not gonna be pretty this week in practice. If we gotta go back and tackle every day, we'll tackle every day, because they know how I feel about the way we played."
The hypothetical playoffs that Notre Dame talked about so much have come to an unceremonious end, and now comes the more challenging part, re-focusing on the next-best-thing with plenty of season remaining, five games to prove to all that this is not a lost cause after its record fell to 4-3 with a return of similar frustration.
Perhaps the normal 3:30 p.m. start next week against Navy will spark what had become a familiarity with this team in its previous four games, moving the ball efficiently while eliminating the bad mistakes.
For now, rebounding from this letdown and controlling emotions is the next step, one Notre Dame received a hard lesson in Saturday night from its rival out West.
"You're trying to get at something that I think is real, and we talked about this," Kelly said when asked if his players could have been too excited going into Saturday. "We had some guys that didn't play with poise that need to play with poise. Championship football teams play with competitive greatness, which means when the stakes are high and the stage is great, they raise their game.
"Today, in that same situation, some of our players didn't raise their level of play. That to me is poise, and we're still building that. That's a hard thing to dig at. But we're still building that."