November, 21, 2014
Nov 21
10:00
AM ET
After two weeks on a diet, a jam-packed Pac-12 slate is back Saturday. Here's the rundown:
10 a.m.
Washington State at Arizona State, Pac-12 Network
One word: early. This game kicks off at 11 a.m. local time, but keep in mind that the Cougars' body clocks will still be set to the Pacific time zone.
Mike Leach
said that Washington State's hotel pregame routine will start between 5 and 6 a.m. It'll be a chance for fans to watch the Pac-12 while munching on pancakes, French toast, or -- my favorite -- crab Benedict. And it'll be a chance for ASU to wash away the horrible memory of last week's 35-27 loss at Oregon State as quickly as possible.
12:30 p.m.
Arizona at Utah, ESPN
By lunchtime, there should be a craving for a good dose of backfield pressure. #SackLackCity should be a fun place for the Wildcats' Scooby Wright to visit:
He's ranked in the top three
nationally in sacks and tackles for loss, so why not put him on the same field as the Utes'
Nate Orchard
, who's currently at the top of the sack heap? Defensive star power is the name of the game here, but keep an eye on Arizona's
Anu Solomon
: He must step up to the challenge of the Rice-Eccles crowd.
1 p.m.
Stanford at Cal, Fox Sports 1
Stanford's offense has been bad, but the Cardinal have found a way to score against shaky defenses this season (they've been terrible in games against ranked teams, averaging only 11.4 points per regulation in those contests). Well, good news for the Cardinal: The Golden Bears are worse than shaky on defense (39.2 points, 518 yards per game). Bad news for Stanford: Cal is at home, and it is
smelling blood
. Let's see what gives in the 117th Big Game. Oh, and that matchup between
Jared Goff
and Lance Anderson's top-ranked Cardinal defense isn't too shabby, either.
1:30 p.m.
Colorado at Oregon, Pac-12 Network
The best team in the conference meets the worst team in the conference. Prediction-wise, that's about all that needs to be said about this one. Some extra, slightly unrelated food for thought: Colorado coach Mike MacIntyre asserted that
the Pac-12 South was the best division in college football
, better than even the SEC West. Imagine how absurdly strong the South would be if Oregon were in it, too (I bring this up only because the SEC's top team, Alabama, happens to reside in the powerful West).
5 p.m.
USC at UCLA, ABC
Statues have been vandalized, airports have received
photogenic lighting
decorations, and
statues have been arguably vandalized some more by duct tape
(intended to protect them, but still, that's going to be a pain to remove, right?). The pregame rituals of rivalry week were fun, but it's time for some actual football with Pac-12 championship hopes on the line. The
matchup
of
Brett Hundley
and
Cody Kessler
is fascinating one, as is the battle between USC's frontline explosiveness and a UCLA machine that appears to be peaking at the right time.
7:30 p.m.
Oregon State at Washington, ESPN
The Beavers need one more win to earn bowl eligibility for
Sean Mannion
in his senior season. It's amazing what one good week (paired with a bad one) can do: Both of these teams have lost four of their past five games, but the feeling surrounding Oregon State is much more positive than the one in Seattle. The Beavers notched a huge 35-27 upset win over ASU last weekend, while the Huskies dropped a bitter 27-26 decision to Arizona. Both have a chance to finish forgettable seasons on a high note.
May, 24, 2012
5/24/12
9:00
AM ET
Natural rivalries breed natural animosity toward opposing coaches. Unnatural rivalries breed unnatural animosity. And it seems like Oregon has been developing a lot of unnatural rivalries over the past couple of years. So continuing with ESPN.com's "Love to Hate" series this week, today's theme is all about the coach in the Pac-12 you love to hate because he wins so much.
And since the guy in Eugene has won the Pac-12 championship three consecutive years, well, it takes a lot of the guess work out of the selection process.
Lots of teams have plenty of reasons to hold, shall we say, certain frustrations toward Chip Kelly. For starters, he embarrasses your team and gets paid a lot of money in the process. His career average margin of victory is 21 points. He makes you fake injuries and laughs at you when you don't cut the grass on your field in a feeble effort to slow down his thoroughbreds.
He challenges you to
games in parking lots
. He flirts with the NFL, does the wine and dine thing, then says: "Gosh, you're great. But it's not you, it's me. It's what I'm going through. I hope we can still be friends."
[+] Enlarge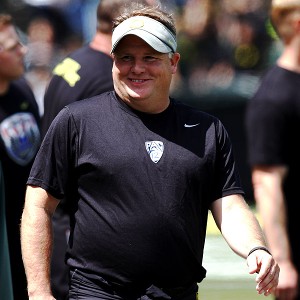 AP Photo/Don RyanWinning isn't the only thing Chip Kelly has done to rub opposing fans the wrong way.
He's as conventional as square wheels.
Oh, how you love to hate Chip Kelly if you're a Stanford fan. After all, he single-handedly cost Andrew Luck the Heisman two years in a row. Right? All his fault.
And what about you, Washington fan? How you love to hate him eight-fold. (OK, he wasn't there for all eight. But does that really make it easier?)
And the Civil War? He's been Sherman to Oregon State's Atlanta. Burn, baby, burn.
Kelly is a winner. In just three seasons he's amassed a 34-6 overall record and a 25-2 mark in the Pac-12. He's gone to two Rose Bowls and the national championship game. He doesn't come from blue-blood coaching pedigree or a rich NFL background. He wasn't a "big name" when he came to the conference. But his teams get it done with swagger and an unforgiving confidence. Doesn't it just make you want to
jump up and down
.
He can even get away with
telling his own fans to shut up
one second and then he goes and
issues one of them a refund
another.
He closes practices -- a big point of contention with the media. As the saying goes, don't ever get into an argument with someone who buys ink by the barrel. Amendment to that: unless you win the Rose Bowl. Then do whatever the heck you want.
And you know what really irks about him? He's a nice guy (unless you're a reporter covering his team). He even gave Mike Riley a ride home in the Oregon jet a couple of years ago after media day.
He's big into the military. The spring games are annual tributes and he's even
gone overseas
to visit and speak to troops in Germany, Iraq and Afghanistan.
And then there are the Chipisms. The
catchy one-liners
that Oregon fans love oh so much.
Folks are anti-Kelly because his teams are everything that you want yours to be. Kelly knows that you love to hate him. And it just burns you up that he couldn't care less.