January, 14, 2011
1/14/11
11:00
AM ET
Who distinguished themselves during the bowl season? Here's our All-Bowl Team.
Offense
[+] Enlarge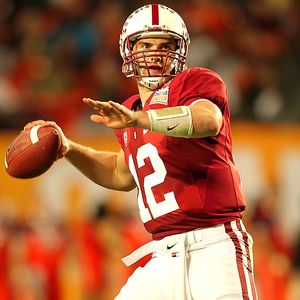 Mike Ehrmann/Getty ImagesAndrew Luck's performance helped key Stanford's blowout win against Virginia Tech.
QB Andrew Luck, Stanford
: Luck completed 18 of 23 passes for 289 yards and four touchdowns in the Cardinal's 40-12 win over Virginia Tech in the Discover Orange Bowl. He also rushed for 15 yards and was sacked just once.
RB Chris Polk, Washington
: Polk rushed for 177 yards on 34 carries with a touchdown in the Huskies win over Nebraska in the Bridgepoint Education Holiday Bowl.
RB Jeremy Stewart, Stanford
: Sophomore
Stepfan Taylor
actually rushed for more yards, but Stewart, a senior who's battled injuries throughout his career, had 99 yards on just five carries, including a 60-yard touchdown against Virginia Tech.
WR Jeff Maehl, Oregon
: Maehl caught nine passes for 133 yards with a long reception of 81 yards in the Tostitos BCS National Championship Game.
WR David Douglas, Arizona
: Douglas caught six passes for 91 yards in the Valero Alamo Bowl.
TE Coby Fleener, Stanford
: Fleenor had a career night in the Orange Bowl, catching six passes for 173 yards and three touchdowns.
OL Jonathan Martin, Stanford
: Stanford rushed for 247 yards and allowed just one sack. Martin will be an All-American candidate in 2011.
OL Chase Beeler, Stanford
: Beeler, the consensus All-American center, is the brains behind the bullies, leading one of the nation's best lines.
OL David DeCastro, Stanford
: The first-team All-Pac-10 performer had a number of key blocks against the Hokies.
OL Senio Kelemete, Washington
: Kelemete has a chance at All-Conference honors as a senior.
OL Cody Habben, Washington
: The Huskies rushed for 268 yards and allowed no sacks versus Nebraska. A nice way for the senior right tackle to go out.
Defense
LB Mason Foster, Washington
: Foster had a game-high 12 tackles, including two sacks in the Huskies win over Nebraska.
LB Shayne Skov, Stanford
: Skov had a game-high 12 tackles, with three sacks and another tackle for a loss against the Hokies. He also broke up a pass.
LB Casey Matthews, Oregon
: Matthews had six tackles, split a tackle for a loss and, most important, forced the late fumble from
Cameron Newton
that set up the Ducks touchdown that tied the count 19-19 late against Auburn.
LB Victor Aiyewa, Washington
: Aiyewa had three tackles for a loss and two forced fumbles in the Holiday Bowl.
DT Alameda Ta'amu, Washington
: Ta'amu dominated inside, recording a sack and recovering a fumble against the Cornhuskers.
DE Hau'oli Jamora, Washington
: The true freshman had three tackles for a loss and a sack versus Nebraska.
DE Kenny Rowe, Oregon
: Rowe was second on the Ducks with nine tackles, four of which came for a loss. He also had a sack and a forced fumble.
CB Cliff Harris, Oregon
: Harris had three tackles, two pass breakups and an interception. A second interception was not upheld by replay officials.
CB Richard Sherman, Stanford
: Sherman had just one tackle against Virginia Tech. It appears that the Hokies, who completed just 16 of 31 passes, decided not to throw his way.
S Delano Howell, Stanford
: Howell had an interception, a sack and four tackles in the Orange Bowl.
S Nate Felner, Washington
: Felner had four tackles and an interception in the Huskies win over Nebraska.
Special teams
K Rob Beard, Oregon
: There wasn't a lot of great kicking this bowl season in the Pac-10, but Beard connected on a 26-yard field goal against Auburn and scored a 2-point play on an option pitch.
P David Green, Stanford
: Green didn't punt much in the Orange Bowl, but he did average 46 yards when he did (three times).
KR Travis Cobb, Arizona
: Cobb returned five kickoffs for 179 yards, with a long of 64 yards.
March, 29, 2010
3/29/10
5:44
PM ET
Some highlights from
Washington Huskies
coach Steve Sarkisian's presser with reporters on Monday.
Quarterback Jake Locker may play some baseball with the Los Angeles Angels of Anaheim this summer but a schedule has not been set. Sarkisian said it won't interfere with his football work.
Players who won't practice due to injury include running back Chris Polk (shoulder), offensive tackle Cody Habben (shoulder), defensive end Kalani Aldrich (knee), Everrette Thompson (Achilles), safety Victor Aiyewa (shoulder).
Running back Brandon Yakaboski (knee), cornerback Desmond Trufant (groin) and Justin Glenn (leg) will be limited.
Defensive end Andru Pulu is still suspended indefinitely and is not on the roster.
Tight end Dorson Boyce has moved to fullback.
Marquis Persley has moved from cornerback to safety.
Drew Schaefer has moved from tackle to center. Ryan Tolar from center to guard.
The starting offensive line as of Monday: Schaefer, Senio Kelemete at left tackle, Tolar at left guard, Mykenna Ikehara at right guard and Skyler Fancher at right tackle
Linebacker Alvin Logan could see action as a defensive end. Sarkisian said the lack of depth at end due to injuries and suspensions means that some other players, including defensive tackles, could see time at end.
Players who have left the program: quarterback Ronnie Fouch, running backs Willie Griffin and Curtis Shaw, linebacker Kurt Mangum, cornerback Matt Mosley and receiver Vince Taylor.
Four freshmen will participate this spring: linebacker Victor Burnett, running back Jesse Callier, running back Deontae Cooper and quarterback Nick Montana.
The priority is adding depth on the offensive and defensive line.
Sarkisian said he's interested to see how receiver D'Andre Goodwin and tight end Chris Izbicki perform. Goodwin was the Huskies best receiver in 2008 but fell behind other players in 2009. Izbicki is fighting for touches behind Kavario Middleton.
He also said that there should be plenty of competition in the secondary between cornerbacks Desmond Trufant, Adam Long, Quinton Richardson, Vonzell McDowell and converted receiver Anthony Boyles.
July, 20, 2009
7/20/09
8:01
PM ET
Posted by ESPN.com's Ted Miller
The 2006 recruiting class members are either seniors or redshirt juniors this fall, so they should be the backbones of most Pac-10 team's starting lineups.
Therefore, it seems like a reasonable moment to look back and review some recruiting hits and misses.
In the big picture, USC ranked No. 2 in the nation, according to ESPN.com's Scouts Inc., behind No. 1 Florida (sorta makes sense, eh?). UCLA, at No. 19, was the only other Pac-10 team in the Scouts Inc., top-25.
Scout.com ranked USC No. 1 in the nation, Arizona 19th, UCLA 20th and California 23rd. The rest of the Pac-10 went, in order, Arizona State (32nd in nation), Washington (35th), Stanford (38), Oregon State (41), Washington State (45) and Oregon (52).
Oregon last? Hmm.
Anyway... here's an overview
Arizona
Class: 24
How many are expected to start in 2009: Nine (CB Devin Ross, DT Earl Mitchell, FS Cam Nelson, WR Terrell Turner, DE Brooks Reed, DE Ricky Elmore, WR Delashaun Dean, OG Conan Amituanai, C Colin Baxter)
Misses: QB Tyler Lyon, RB Derke Robinson
Verdict: This is an underrated class -- even guys who aren't listed as starters are projected to contribute in 2009. It's also notable that the few who didn't pan out -- or were problems, such as DE Louis Holmes -- were the big names.
Arizona State
Class: 24
How many are expected to start in 2009: Seven (SS Ryan McFoy, RB Dimitri Nance, OG Jon Hargis, WR Kyle Williams, DT Saia Falahola, QB Danny Sullivan, LB Travis Goethel OR LB Gerald Munns)
Misses: DE Jermaine Williams, RB Rodney Glass
Verdict: A solid class when you consider that nine of the 24 signees were JC players who have already moved on -- a group that included RB Ryan Torain and S Troy Nolan, who were the class's most elite performers.
California
Class: 20
How many are expected to start in 2009: Six (CB Darian Hagan, DT Derrick Hill, QB Kevin Riley, C Chris Guarnero, DE Tyson Alualu, LB Mike Mohamed)
Misses: RB James Montgomery, RB Tracy Slocum, DT Justin Prueitt
Verdict: Ratings, smatings. Montgomery, Slocum and Prueitt were highly rated, Alualu and Mohamed barely registered. Overall, a solid class.
Oregon
Class: 20
How many are expected to start in 2009: Five (C Jordan Holmes, LT Bo Thran, RT C.E. Kaiser, DT Brandon Bair, LB Spenser Paysinger)
Misses: The class included three quarterbacks: Cody Kempt, Justin Roper and Nate Costa. Kempt and Roper have transferred, Costa has been riddled by injuries.
Verdict: Decidedly mixed. One thing is for sure: This class bolstered the Ducks offensive line. Also interesting, Bair and Paysinger transitioned to their current positions from tight end and receiver, respectively.