May, 8, 2013
5/08/13
6:30
AM ET
WASHINGTON HUSKIES
2012 record
: 7-6
2012 conference record
: 5-4 (Fourth in North Division)
Returning starters
: Offense 10; Defense 8; Kicker/punter: 2

Top returners
: QB
Keith Price
, RB
Bishop Sankey
, WR
Kasen Williams
, TE
Austin Seferian-Jenkins
, DB
Sean Parker
, LB
John Timu
, DE
Josh Shirley
, LB
Shaq Thompson
.
Key losses
: CB Desmond Trufant, DB
Justin Glenn
, C
Drew Schaefer
, FB
Jonathan Amosa
.
2012 statistical leaders (*returners)
Rushing
: Bishop Sankey* (1,439)
Passing
: Keith Price* (2,726)
Receiving
: Kasen Williams* (878)
Tackles
: John Timu* (91)
Sacks
: Josh Shirley*;
Andrew Hudson
* (6.5)
Interceptions
: Justin Glenn, Shaq Thompson*,
Marcus Peters
* (3)
Spring answers
Picking up the pace: We know the Huskies spent the spring installing a new up-tempo offense. How much of it was installed and how comfortable the players are running it remains to be seen. But Steve Sarkisian has made a point that his team needs to 1) do a better job keeping up with the up-tempo offenses in the league and 2) do a better job keeping teams on their heels. This philosophical switch seems to address both since the defense has been practicing against an up-tempo offense.
Starting five: Many believe this is the best team Sarkisian has had since coming to Washington. And part of that might be that he finally has a healthy offensive line with quality depth behind the starters. The group of Micah Hatchie (LT), Dexter Charles (LG), Mike Criste (C), James Atoe (RG) and Ben Riva (RT) worked as the first-team starting five all spring. And former starters Erik Kohler and Colin Tanigawa, along with experienced backup Shane Brostek, give the Huskies quantity and quality up front.
Progress of Price: The breakout player of 2011 and embattled starter of 2012, Keith Price, quickly shook off whispers of a quarterback competition with a strong spring that left Sarkisian feeling good about his third-year starter. He distanced himself from would-be challengers and, if he can return to that 2011 form, could have Washington in the top 25.
Fall questions
After Price: It looks like Cyler Miles has established himself as No. 2 in the quarterback hierarchy, but the battle to be Price's understudy will continue into the fall with Derrick Brown and Jeff Lindquist still in the mix. The Huskies were one of only four teams in the conference last year to have the same quarterback start every game. So Price has proven his durability. But having a clear pecking order behind the starter can be equally important.
Replacing Trufant: No easy task to replace Desmond Trufant, a staple in the Washington defensive backfield who at one point started 45 straight games. Marcus Peters is all but locked in on one side, leaving Greg Ducre and Travell Dixon battling it out on the other side. Tre Watson will also be in the mix.
ASJ MIA: How long will Austin Seferian-Jenkins, the Pac-12's top tight end, be out? Will he miss any games? He's been suspended indefinitely stemming from his DUI arrest and many are wondering if he'll miss at least the season opener against Boise State. Sarkisian pointed to the silver lining of the situation -- noting that his absence has allowed others at the position to get extensive work this spring. He also said Seferian-Jenkins is taking all of the proper steps to rejoin the team. There is little doubt he'll be the most dominant tight end in the league in 2013, and probably the country. The timetable for his return will be of great interest in the coming months.
April, 29, 2013
4/29/13
5:30
PM ET
With spring ball in the books, Washington head coach Steve Sarkisian took some time to chat with the Pac-12 blog about his impressions over the 15 practices, moving on without
Austin Seferian-Jenkins
and what it's like to actually have a healthy offensive line.
I know every coach has a laundry list of things that they want to get done in spring. But was there one particular thing you felt like you wanted to address?
[+] Enlarge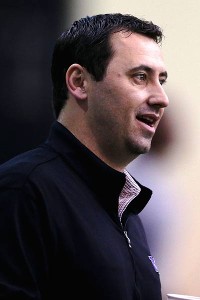 Elaine Thompson/AP PhotoCoach Steve Sarkisian says the Washington Huskies had a successful spring season, despite some distractions along the way.
Steve Sarkisian
: There's always more than one. When you come out of a season and you assess your football team and the things you have to work on and the needs you have -- whether it's from a team standpoint, personnel, development -- there were numerous things I felt like we had to address. I feel like we addressed the majority of those things by design. Some of those we found out couldn't be addressed until some of the players we signed arrived on campus. But I felt good about having a purpose going into spring on a variety of fronts and then addressing those things of purpose and feeling good about them coming out.
Where's your confidence level with [quarterback] Keith [Price]?
SS
: I felt great about Keith coming out of spring, quite honestly. Of the 15 practices we had, he might have had one that wasn't his best and another where he was just OK. But outside of that I thought he was fantastic. Bringing Marques Tuiasosopo back on board as a quarterbacks coach -- he's a guy I coached in the NFL at Oakland and he was with us here for two years when we first came on board -- bringing him back has been good and the style of coaching he has is what I'm looking for and it's consistent with myself. Keith has really responded to that. He came out and had a really good spring. He's upbeat about what we're doing offensively. I think he feels good about what we're doing up front with the offensive line and also with the wideouts and the running back situation. That genuine confidence that he has in himself, as well as his confidence in what's going on around him, is as high as it's been.
You talked about the offensive line. It seems like you guys finally have healthy depth. How nice has it been to have the same five working with the offense and then knowing you've still got Erik [Kohler] and Colin [Tanigawa] waiting in the wings?
SS
: It's been huge. For myself and Dan Cozzetto, our offensive line coach, just the continuity up front of having those five guys communicate with one another, playing with one another, making decisions with one another on the fly has been big. But also for us, having depth -- and not just depth in number -- but depth in experience. You look at
Colin Tanigawa
. You look at
Erik Kohler
.
Shane Brostek
is a backup who has a lot of game experience as well. Really, we have eight offensive linemen who have a lot of game experience against some top-level talent who could step in and play, as well as some younger guys who are really developing. We feel really good about that position group as long as we can stay healthy.
I talked with Bishop [Sankey] a couple of weeks ago and all he wanted to talk about was how he needs to get better at everything -- very little about what he's already accomplished. What's the next step for him?
SS
: Bishop is a great kid. Everyone sees what he did on the field and they see how he progressed and got better and better as the year went on and the maturity he exuded -- not only through the tough times early on -- but also in the good times late in the year for himself. The beauty of it all is you turn around and look at our GPA -- he had the highest on the team with a 3.8.
He didn't mention that when we talked.
SS
: He'd be the first not to tell you that. He's such a humble kid. But it's everything he does. And it's not just on the field. It's in the classroom, it's in the community. We're seeing now more than ever the leadership he possesses, and I'm really proud of what he's been able to accomplish. I think his best days are ahead of him. There's a lot he can improve on and he's working hard at improving and we're working hard to make him better.
How much of a distraction has the situation with Austin [Seferian-Jenkins] been this spring?
SS
: It really wasn't bad. Especially internally. At the end of the day, we touched on this with the team, guys are going to make mistakes. I deal with 18-to-22-year-old males and I've got 105 sons on this roster. To think that all 105 aren't going to make mistakes in a four-to-five year span isn't reality. What I do know, and what our team knows, is that Austin is a really good guy. He's done a great deal for our community. He's a good student. He just got over a 3.0 as well. He's been working hard and was having a good offseason. But
he made a mistake
. Is that mistake truly indicative of Austin's character? No, it's not. We all understand that. We all have to learn from the mistake he made, unfortunately. But we're moving on. We practiced 12 times without Austin. It was actually good for us. It allowed some of the other guys in his position group to develop and improve. And when the time is right for him to re-join us, he'll re-join us and we'll move on.
You guys were really two different teams when you were at home versus on the road last year. I know there is no magic-bullet answer, but what do you need to do to improve the road play?
SS
: We have to continually try to expand our comfort zone. We're obviously a very good team when we're in the friendly confines -- whether it's CenturyLink Field or Husky Stadium -- I think what's key for us is no matter where we go, who we play, what time the game is, what the weather is that we go play Husky football. That's something we've talked about since the locker room of the Las Vegas Bowl, quite honestly, and we continue to talk about it every single day. That won't change.
Speaking of Husky Stadium, what are you expecting from the fans, and what's the game day experience going to be like for them?
SS
: I would rival the game day experience with any other school in the country. I had a chance to go through it [last week] and I'm still blown away every time I go in there. I think the proximity to the fans and how close they'll be to the field is going to enhance the game day experience for the fans and for our players. From a crowd noise standpoint. From an energy standpoint they'll provide, it will be a great environment. To go along with the setting of Lake Washington and Montlake Boulevard, I don't know what's better out there in college football.
The defense was much better last year. What's the next step for them as a unit?
SS
: I think we have to continue to be an opportunistic defense -- one that creates turnovers. We did a great job of that last year. Continue being really sticky in pass defense. You have to be in our conference with so many people throwing the football. And play really good red-zone defense. Those are three areas we drastically improved last season. To continue to build upon that; our ability to defend the up-tempo offense is going to be big for us; and our ability to disrupt quarterbacks -- whether that's sacks or knockdowns, things of that nature -- playing in the offensive backfield more than we had last season are two areas we're very focused on. We focused on that this spring and we'll continue to focus on it in the fall. Defending the up-tempo offense and then wreaking havoc in the offensive backfield.
Whose name are we going to be hearing in 2013 that we didn't hear about in 2012?
SS
: I think a name to keep an eye on is a kid who redshirted for us last year and I think can be a playmaker for us in the defensive backfield and in the return game is
Cleveland Wallace
. He's a guy that possess a really high football IQ. He has a knack for being around the football. He really improved this spring. I think he's a guy to keep an eye on.
March, 15, 2013
3/15/13
6:00
PM ET
Looks like the gang has started up
a bracket challenge
. Count me in.
As always,
follow the Pac-12 blog on Twitter.
To the notes!
Lucas in Tempe, Ariz., writes
: Kevin, I noticed today that in your replacing impact players
in the north poll
you included two players from one team? This is partly my Coug bias bristling at the fact that there was no Coug on the list (
Travis Long
) but honestly two players from one team? Where's the logic!?
Kevin Gemmell
: The polls are limited to five spots -- so that hamstrings us a bit and someone was going to get left out. Ted and I usually discuss all the polls and poll options before they publish and we picked the five "biggest names" from the North Division. I stipulated this
in the South post
-- that these players didn't necessarily represent our choices for the "
Biggest Shoes
" series. I should have stipulated that in the North post as well.
No doubt, Long was a special player for Washington State,
as Ted notes here
. And
I talked with Travis
several times throughout the year and enjoyed each conversation. I actually shared an airport shuttle ride with his dad once, which was random, but he seemed like a great guy too in those five minutes from the airport to long-term parking.
But given Washington State's record and the fact that they allowed 33.7 points per game (10th in the conference) he was ruled out. As were players from Cal. That left us with 1) a unanimous All-America tight end; 2) a top-10 draft pick; 3) the league leader in interceptions; 4) Stanford's all-time leading rusher; 5) a lockdown corner who could also go in the first round. Which one would you replace for Long?
---
Barton in Palo Alto writes
: Can you please stop saying that Stanford defense is losing 3 starters?
Terrence Stephens
did not play at all in the last 3 games at all, and Parry has played in all games for the past 2 seasons. Stanford returns 9 of 11 starters, as I think one usually considers who started at the end of the year as the starter (regardless of the reason). Speaking of which, if you know what the housing rule that Stephens violated was, it would be nice to know. I hope that it was just a mistake on his part, and I really hope Stanford acted as soon as they knew (which seems to be the indication, but is not clear either b/c of how secretive they've been).
Kevin Gemmell
: Of Stanford's 14 games last year, they started 10 of them in their base 3-4. The other four they started with a nickelback and the nose tackle was off the field. Stephens started seven of those 10. As you note, Parry started the other three because of Stephens' violations. You can get into semantics if you want -- but we both know Stephens would have started those final three games. He wasn't beaten out for the job. So I feel comfortable saying Stanford is losing three starters.
Kyle Murphy
started the conference championship game at tight end. I wouldn't call him the starting tight end in 2013 just because he "started" a game at the end of the season.
I've heard rumors about the violations from people I trust -- but nothing I'd publish without firm confirmation from David Shaw. And even then, I'm not sure it's really anybody's business. No laws were broken. No DUI or assault.
As for how Stanford reacted -- they sat an extremely talented defensive lineman for the season finale, the conference championship game and the Rose Bowl. I'd say they acted appropriately and Stephens paid the price.
With all that said, I'm going to miss covering Stephens. Great personality, great quote and a very under-appreciated football player to those who don't follow the league closely.
---
James in Corvallis, Ore., writes
: Hey Kevin, why is it that the pac 12 isn't represented very well in the NFL at wide receiver? It seems like a pass heavy conference would draw more talent at the position than other conferences. When you look at NFL rosters you see a lot of quarterbacks that played in the pac, but not a lot of the receivers they were throwing to. What's the deal?
Kevin Gemmell
: I actually don't follow the NFL as closely as I used to -- especially during the college football season since my Sundays are spent on those bowl projections you all love so much. So I didn't have any idea what the number was.
So last night I went through every NFL roster and found that there are 27 Pac-12 wide receivers (by my count) in the league. I didn't go through every single NFL wide receiver and start marking conferences (though I did learn there is a California University of Pennsylvania). But it's interesting that more than half of the NFL teams (18) have at least one Pac-12 receiver on the roster, seven have two or more and the Cincinnati Bengals and Tennessee Titans share the lead with three each.
Note: I'm not counting Carolina's
Steve Smith
since he played at Utah well before they joined the league.
Doing some quick math in my head -- you figure the average NFL career is about three years. Each year there are anywhere from five to eight receivers from the league that land on active rosters. So, at any one time, there are approximately 25-30 in the league, give or take. So I guess that number seems about right.
I found
this story from 2011
and 28 was the high then. The Pac-12 has since added four wide receivers since the last draft cycle. When you factor in the amount of guys who actually make the league, 27 doesn't seem like all that bad of a number. I might be totally off on this, but it's the best answer I can give on short notice.
---
Kenny in Portland writes
: Kevin, Curious on your thoughts about
Brandin Cooks
as a Heisman dark horse? Personally, I don't think we'll see anyone other than a QB or RB win it unless they have an out of this world season, but I also don't think it's any less likely for a WR to win than a LB (
Anthony Barr
) or DT (
Will Sutton
). Accidental omission on your part or do you not believe him to be up there?
Kevin Gemmell
: I've been a big Brandin Cooks
fan for a while
. And no doubt, he has the potential to be a special player. But there are some things I need to see from him this year before I elevate him into elite wide receiver status. First, he obviously benefited from
Markus Wheaton
playing opposite him. Wheaton drew most of the safety help over the top which allowed more one-on-one opportunities for Cooks. This year, he's going to be the target of all those double-teams and bracket coverages.
Next, who is going to be throwing him the football? The wide receiver position goes hand-in-hand with the success of the quarterback. And until Oregon State picks one, that's going to be a sticking point.
And for Cooks to truly emerge as a Heisman dark horse, he first has to prove that he's the best wide receiver in the conference. No easy task with the reigning Biletnikoff winner catching passes in the South Division. Then, he has to prove he's the best player in the conference. Again, not easy with guys like
Marcus Mariota
,
De'Anthony Thomas
,
Brett Hundley
,
Marqise Lee
and
Ka'Deem Carey
lurking.
Then, he has to prove he's the best player in the country. So no, Cooks wasn't an accidental omission. And given his position, coupled with all of the players he'll have to leapfrog within the conference and nationally, it seems like a stretch.
---
Eric in Sammamish, Wash., writes
: What are the chances this is the year UW beats the University of Nike Ducks? The Huskies should have a breakout year with so much talent coming back and the offensive line getting
Erik Kohler
and
Colin Tanigawa
, plus they will playing them at home in the new Husky Stadium, where the fans should be fully primed to deafen those clowns in the neon clad uniforms.
Kevin Gemmell
: For those of you in need of a translator, allow me.
Eric is writing in code. Here is the actual translation:
It's the offseason. I'm annoyed that my team has lost nine straight times to Oregon. There has been too much solidarity of late on the Pac-12 blog with the readers banding together to fight off SEC fans. We once again need to turn against each other. And I'm going to stir the pot.
Eric, don't make me pull out the Ed Rooney youtube clip again.
However, what you say is true -- though calling them clowns really only makes your team look worse for having lost to said clowns. Folks have always pointed to 2013 as the potential breakout year for Washington. The offensive line should be better, they have a stud running back, good wide receivers, an elite tight end (presumably) and a much-improved defense. Is that enough to beat Oregon? The truth is, I don't know. A lot can happen between now and Oct. 12.
How long will
Austin Seferian-Jenkins
be suspended? I doubt it will be half a season, but you never know. The week before, Washington travels to Stanford. What will their mood be after that game? Will they be riding high as spoilers? Or get thrashed like they did in their last trip to The Farm? Is
Keith Price
going to return to his 2011 form?
Right now -- based on what we know on March 15 -- I'd be an Oregon lean, simply because of history and trends. But the Ducks have their own set of questions that need answering. We need to see how the defense comes together with two new middle linebackers and how the team comes together under a new head coach.
I will say I do think this might be Washington's best chance in a while. But chances don't equal wins.
Speaking of neon uniforms: Anyone get a look at Notre Dame's hoops unis last night? Looks like the team took
a guacamole bath
before taking the court.
January, 15, 2013
1/15/13
2:30
PM ET
Before we focus forward, we're going to look back with team-by-team season reviews.
We continue today in reverse alphabetical order.

WASHINGTON
Grade:
C
MVP
: Running back
Bishop Sankey
transformed from a by-committee guy to a primary back when
Jesse Callier
was hurt in the first game of the season. As he grew into the role, he went from serviceable, to good, to elite right before our eyes. He finished with 1,434 yards -- fourth best in the conference -- with 16 touchdowns. In any other league in college football, he'd be a first- or second-team all-conference player with those credentials. But three All-Americans happened to be in the Pac-12, making him,
in one blogger's opinion
, the most underrated player in the conference. He was one of the few bright spots on an offense that took a major step backwards in 2012.
What went right
: For starters, the defense showed a drastic improvement from the 2011 edition that was, well, epically bad. New defensive coordinator Justin Wilcox has a lot to do with that. Consider: In 2011, Washington ranked 106th in total defense nationally and 108th in scoring defense -- allowing an average of 35 points per game. In 2012, the defense shaved off an average of nine points per game, checking in nationally at 39th in scoring defense and allowing 24 points per game. They were also 31st in total defense. That's legitimate improvement with the numbers to back it up.
What went wrong
: All those numbers cited above about the defense, well, flip them around and that's what happened to the offense in 2012. After averaging 33 points per game in 2011 and ranking 25th in scoring offense, the Huskies dropped to 88th in 2012, posting only 24 points per game. In total offense, they slipped from 38th nationally to 97th in 2012. A lot of that had to do with injuries to the offensive line. Already short heading into the season, they lost
Colin Tanigawa
and
Erik Kohler
early in the year and that forced younger players like
Shane Brostek
(who also had to play some defense) into action sooner -- and the depth just wasn't there to absorb those kinds of losses.
Keith Price
also took a big step backwards as a quarterback -- completing just 61 percent of his throws with 19 touchdowns and 13 interceptions, down from 67 percent and 33 touchdowns in 2011, where he had 11 interceptions. It didn't help that he was sacked 37 times (Washington ranked 102nd nationally in sacks allowed). If the offseason project last year was fixing the defense, this year's priority has to be getting the offense back on track. Oh yeah, they choked up the Apple Cup (in case anyone forgot).
2013 Outlook
: The good news is there are plenty of key players coming back. Washington
welcomes back 10 starters on offense and eight starters on defense
. The talk was always that Washington would make its big push in 2013. Price, Sankey, tight end
Austin Seferian-Jenkins
(who has to be the preseason front-runner for the Mackey Award) and wide receiver
Kasen Williams
are all back. The hope is that the continuity will help the offense return to its 2011 form. The schedule isn't nearly as tough as it was last season, but they still play in the Pac-12 North, which will arguably be the toughest division in all of college football next season with Stanford and Oregon expected to be ranked in the top 10 and Oregon State in the Top 25. The new facility upgrades should provide a nice emotional boost -- especially in that season opener against Boise State.
May, 14, 2012
5/14/12
6:30
AM ET
2011 overall record:
7-6
2011 conference record:
5-4 (3rd, North)
Returning starters:
Offense: 8; defense: 7; kicker/punter: 0

Top returners
QB
Keith Price
, TE
Austin Seferian-Jenkins
, WR
Kasen Williams
, S
Sean Parker
, CB
Desmond Trufant
, DT
Danny Shelton
, DE
Josh Shirley
Key losses
RB Chris Polk, OT Senio Kelemete, WR Jermaine Kearse, DT Alameda Ta'amu, LB
Cort Dennison
2011 statistical leaders (*returner)
Rushing
: Chris Polk (1,488 yards)
Passing
: Keith Price* (3,063 yards)
Receiving
: Jermaine Kearse (699 yards)
Tackles
: Cort Dennison (128)
Sacks
: Josh Shirley* (8.5)
Interceptions:
Sean Parker* (4)
Spring answers
1. For the defense
: Coach Steve Sarkisian rebuilt his defensive staff around star coordinator Justin Wilcox, and the early returns are promising. And not just because of the coaches. There's more talent on defense than the Huskies showed during a terrible 2011 campaign. The chief task this spring, however, was blending in the new coaches -- five of them, including offensive coordinator Eric Kiesau -- with the players and Sarkisian's ways.
2.
Secondary not an issue
: The Huskies have some folks who can play -- and have played -- in the secondary, starting with cornerback Desmond Trufant and safety Sean Parker. There's also
Justin Glenn
, Greg Ducre, Will Shamburger and
Tre Watson
, a transfer from Central Washington. Plus, touted safety
Shaq Thompson
arrives in the fall, and redshirt freshman
Travis Feeney
is promising.
3. Not unskilled
: There was reason entering spring to fret about the skill positions, other than quarterback. The Huskies lost running back Chris Polk as well as receivers Jermaine Kearse and Devin Aguilar. But, after spring, things seem at least solid. At tailback, it's probably going to be by committee with
Jesse Callier
and
Bishop Sankey
, as well as junior-college transfer
Antavius Sims
and redshirt freshman
Dezden Petty
. And maybe
Deontae Cooper
comes back healthy? At receiver,
James Johnson
, Kasen Williams,
Cody Bruns
, who redshirted last season, and
Kevin Smith
(if healthy) give the Huskies a solid crew. Some redshirt freshmen and intriguing incoming players could also get into the mix.
Fall questions
1. Oooooo-Line?
The Huskies should be welcoming back four starters, but guard
Colin Porter
was forced to retire due to injuries, and other guys were beat up this spring. If
Colin Tanigawa
, who missed all of spring with a knee injury, tackle
Erik Kohler
and center
Drew Schaefer
all come back healthy, then things should be OK. But that remains to be seen.
2. LB woes?
It's still uncertain whether the Huskies will be primarily 3-4 of 4-3 on defense, so we don't know how things will shake out at linebacker. We do know that the Huskies were bad there last year. Three safeties --
Taz Stevenson
,
Nate Fellner
and Evan Zeger -- moved to LB to bolster things, while
John Timu
,
Princeton Fuimaono
-- both returning starters --
Thomas Tutogi
,
Garret Gilliland
and
Jamaal Kearse
are in the mix. Next to the offensive line, this is a position where fans should feel free to be concerned.
3. Backing up Price
? Redshirt freshman
Derrick Brown
is No. 2 at present, mostly by default. But two touted freshmen arrive in the fall:
Jeff Lindquist
and
Cyler Miles
. Brown improved over the course of the spring, but the freshmen are good enough to challenge him immediately. And, keep in mind, the No. 2 QB isn't important until he becomes your most important player.
April, 10, 2012
4/10/12
12:00
PM ET
Washington's offensive line took a big blow this week with the forced injury retirement of offensive guard
Colin Porter
, a two-year starter.

Here's the
Seattle Times report
, which notes "Porter is suffering from 'degenerative arthritis' in each of his shoulders." And, by the way, he played all last season, despite the condition. So, yeah, this is a tough guy here.
The Huskies were set up to have four returning starters on the line in 2012, losing only left tackle Senio Kelemete to graduation. Now that number is three, and there are other injury concerns, most particularly guard
Colin Tanigawa
, who tore his ACL at Oregon State on Nov. 19 and is questionable for the 2012 season. Further, right tackle
Erik Kohler
is nursing nagging injuries and is limited while playing second-team guard this spring.
That leaves just senior center
Drew Schaefer
manning his 2011 spot this spring.
When you add in the loss of RB
Chris Polk
, it's reasonable to wonder about the Huskies' running game in 2012.
Coach Steve Sarkisian is a big believer in a physical running game. The Huskies rushed 452 times last year, compared to 406 pass attempts. With junior QB
Keith Price
entering his second year as a starter, it's hard to believe those numbers won't at least reverse.
That, of course, means more exposure for Price to getting hit. The Huskies, despite a veteran line, gave up 34 sacks last year, which ranked 98th in the nation. You might recall that Price struggled with nagging injuries much of the 2011 season, in large part because of that spotty protection. Further, with the transfer of
Nick Montana
, the Huskies' backup QBs, which could end up being a true freshman, have no game experience.
So let's just say it would be a good thing for Washington for Tanigawa and Kohler to get healthy. And for some young guys to step up and show their stuff this spring.