June, 28, 2011
6/28/11
11:29
AM ET
The conventional wisdom is Oregon State's already formidable trip to Wisconsin on Sept. 10 became even more daunting Monday with the
Badgers' addition
of quarterback
Russell Wilson
, a transfer from NC State who passed for 8,545 yards and 76 touchdowns in his career with the Wolfpack.
Maybe. Makes sense. Wilson, who has one year of eligibility remaining and can play right away because he has already graduated, is a dual-threat quarterback who also has, by the way, played baseball in the Colorado Rockies' minor league system after being a fourth-round pick last year.
[+] Enlarge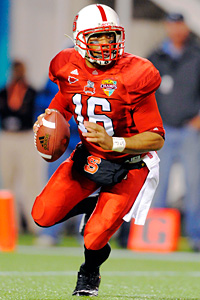 Scott A. Miller/US PresswireDoes the addition of Russell Wilson give Wisconsin a bigger advantage over Oregon State?
Further, the Badgers' play at quarterback was mediocre to bad this spring, with no one stepping to the fore to replace
Scott Tolzien
. Wilson, it would seem, is an instant upgrade, even over Tolzien. Wilson completed 58.4 percent of his passes for 3,563 yards with 28 touchdowns and 14 interceptions and rushed for 435 yards and nine touchdowns last season. Tolzien's 2010 numbers, though good enough to get the Badgers to the Rose Bowl, don't even compare.
The general feeling is this makes Wisconsin the Big Ten favorite. Which makes the Beavers look like road kill, right?
Again, maybe. But we live in a world of unintended consequences. There are no sure things, and the unexpected often happens.
For one, Wilson will be learning a new offense with new teammates with only a month or so this summer and fall practices to prepare. That's not easy. Sure, he's a veteran college QB. But he'll still be the new guy -- not unlike incoming freshmen.
His first order of business? Decisively beating out
Jon Budmayr
,
Joe Brennan
and Joel Stave. If Wilson is only marginally better, or if there's doubt within the team that he earned the starting job, then things could get prickly in the locker room.
The ideal situation for Oregon State would be for Wilson to not get a warm-up game before the Beavers come to town. That's not the case. Not only does Wisconsin open against UNLV, it also has a couple of extra days between that Thursday, Sept. 1 opener to iron out the kinks and get ready for the Beavers.
Oregon State opens its season against Sacramento State, giving it a preseason game in which to get in rhythm without revealing a lot. The Beavers certainly should be able to get more from the Badgers-Rebels game film than Wisconsin will from the Sac State film.
Wilson should make the Badgers better, but it's reasonable to believe he will be better as the season matures than he is early-on, when he's still figuring out the offense and his teammates. So Oregon State has that going for it.
With or without Wilson starting, the Badgers will be heavy favorites when Oregon State visits. The Beavers are coming off a 5-7 season with lots of questions and they do not own a distinguished record for starting fast. They've, in particular, suffered a few bad nonconference whippings on the road in the early-going -- see ill-fated trips to Louisville, Boise State, Cincinnati and Penn State.
The conventional wisdom will write this one into the Oregon State loss column before it's played, and the Badgers' addition of Wilson makes it less risky to do so in pen rather than pencil.
Right? Well, maybe. Let's just say lots more folks figure to tune into the Wisconsin-UNLV opener than before.
May, 6, 2011
5/06/11
10:31
AM ET
It's not often that NC State has something to offer the Pac-12, but more than a few of you apparently think the Wolfpack and coach Tom O'Brien have a gift for the Conference of Quarterbacks:
Russell Wilson
.
Some of you say, "Who?" Others exclaim, "Go west Russell! Go west!"
Wilson, as ESPN.com's Ryan McGee
points out

, is presently the second baseman for the Class A Asheville Tourists of the South Atlantic League. But in a previous incarnation he was a dual-threat quarterback for the Wolfpack, one who led the ACC in total offense (3,563 yards passing, 435 rushing).
[+] Enlarge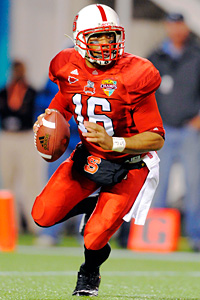 Scott A. Miller/US PRESSWIRERussell Wilson is free to join other football programs, but he is under contract with the Colorado Rockies.
And O'Brien has released him from his scholarship, which means he can play anywhere free-and-clear next fall (other than another ACC team or NC State nonconference foe).
Hey, California and UCLA: Is that something you might be interested in?
Sure, it might make sense for Wilson to remain in the region, which means the SEC. And South Carolina and Auburn are two schools that might be interested in Wilson. But what about a sense of adventure? Los Angeles or the Bay Area would broaden your horizons, Russell.
There is a catch: baseball. Wilson is under contract with the Colorado Rockies and, as McGee points out,
they don't seem terribly flexible
about allowing Wilson to skip off this summer for a preseason camp, on the East or West Coast.
[Rockies senior director of player development Marc] Gustafson said he had read the stories and the comments made by Wilson. Asked if he expected Wilson to play for the Tourists until the season ends Sept. 5, he said, "Absolutely."
Sept. 5, obviously, means that Wilson wouldn't be available for the opening of the season on Sept. 3. Would any team be willing to bring him to town, despite missing fall camp and the first game? Well, stranger things have happened but it's not a great formula for locker room chemistry.
Of course, desperate times at quarterback call for desperate measures. And there are always loopholes and politicking that could get Wilson aboard sooner. If Wilson
really
wants to play football, he will.
The odds, though, seem remote, particularly of him ending up in the Pac-12. But in January 2010, who would have thought that
Jeremiah Masoli
would end up the starting quarterback at Ole Miss and not Oregon?