October, 31, 2014
10/31/14
6:30
PM ET
Happy Halloween.
I will be Superman this Halloween. Why? I won't have time after work to change into a costume!
My wife loves that joke, even after 1,317 tellings!
To the notes! But not until one last sentence ends with an exclamation point!
Pat from Arlington, Virginia, writes:
I'm not overly worried about the initial playoff ranking, but doesn't it seem absurd that the SEC West gets such a huge boost when every one-loss team has looked flawed at times?
Blaine from Phoenix writes:
Hypothetical question: If a Pac-12 school were the reigning College Football national champs, would Arizona State (14), Utah (17) and Arizona (12), all one-loss teams, be ranked say... where Auburn (3), Ole Miss (4) and Alabama (6), also all one-loss teams, are currently located? Or would a national championship for the Pac-12 not change the league's perceived value that much? (Hypothetically speaking.)
Wes from Salt Lake City writes:
The playoff rankings are out. I disagree with the blatant SEC bias, but they are what they are. After thinking about it the thing that bothers me about the rankings the most is that the top teams in the SEC all play FCS schools. Is the selection committee really going to penalize those SEC teams for SOS for not losing at this point?
Eric Terrebonne, Oregon, writes:
I thought the playoffs and the committee were going to bring about a better system. ... Having Ole Miss in the top four is not a better system. Yes, I understand there is still a lot of football to be played, but this week sets a precedent. This week the committee told the world that playing in the SEC is more important than losing a game. LSU is a good team, but not a great one. Not this year. Ole Miss losing to them should have knocked them out of the top four. Everyone not an Ole Miss or SEC homer knows that. The argument that it was how they lost is fundamentally unsound as I would argue that Arizona is just as good a team as LSU (maybe better) and Oregon didn't make it. Is this what we can expect from the committee?
Ted Miller:
Is there a case to be made that the sports media's bias toward the SEC has infected the College Football Playoff selection committee? Yes. So there you go, frustrated non-SEC fans.
[+] Enlarge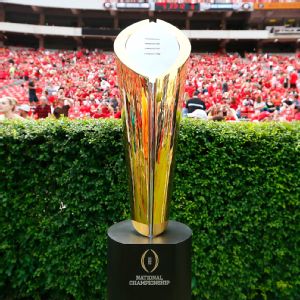 Kevin C. Cox/Getty ImagesThere's still a lot of games to be played before this trophy will be handed out for the first time.
But what are the grounds for that bias, which we can define here as an accumulation of preconceptions based on previous evidence? And is it defensible?
The grounds is the SEC winning seven of the last eight national titles, leading the nation in the production of NFL talent and leading the nation in recruiting rankings. None of those three SEC checkmarks are infallible. The merits of each can be debated. But if you were putting together a conference's resume, you'd like to be able to write those down.
Of course, the committee, via spokesperson Jeff Long, is insisting it will be looking at teams, not conferences. So let's do that with Ole Miss and Auburn compared to the four one-loss Pac-12 teams. We'll include preseason ranking, because that shows what the preseason perception was of a team. We're not including Alabama, because most of the Crimson Tide's heavy lifting is ahead and most of you seem to give 'Bama a pass out of respect.
Oregon was No. 3 in the preseason. It jumped to No. 2 after beating No. 7 Michigan State decisively at home. It fell eight spots to No. 10 after losing to unbeaten but previously unranked Arizona at home. After three wins, it presently ranks fifth in the CFP rankings and the AP poll.

Arizona was unranked in the preseason and wasn't ranked after a 4-0 start that included close wins over UTSA and Nevada, as well as a Hail Mary to beat California. After winning at Oregon, it jumped to No. 10. But the Wildcats fell six spots to 16th after losing the next weekend at home to USC, which already had lost twice and was unranked at the time. After winning at Washington State, the Wildcats are up to 12th in the CFP rankings and 14th with the AP.

Arizona State was No. 19 in the preseason and moved up to 15th after a 3-0 start against weak competition. On Oct. 25, it fell 62-27 to No. 11 UCLA and dropped out of the rankings (though it ended up 26th). After beating USC with a Hail Mary, Stanford and Washington, the Sun Devils moved up to 14th in the CFP rankings and 15th with the AP.

Utah was unranked in the preseason. The Utes started 3-0 but followed up a win at Michigan with a home loss to Washington State. However, after winning at No. 8 UCLA the following week, the Utes entered the rankings at No. 24. After tight wins over Oregon State and USC, the Utes moved up to No. 17 with the CFP rankings and 18th with the AP.

Mississippi began the season ranked 18th. It moved up to No. 11 at 4-0, though its best wins at the time were over Boise State and Memphis. It beat No. 3 Alabama at home to improve to 5-0, and that bounced the Rebels into a tie with Mississippi State at No. 3 in the AP poll (fourth in coaches). The Rebels remained at No. 3 until losing at No. 24 LSU, 10-7. They fell four spots to No. 7 in the AP poll, but ended up No. 4 in the initial CFP rankings, the No. 2 one-loss team, whereas the AP had the No. 7 Rebels as the No. 5 one-loss team.

Auburn began the season ranked No. 6 and moved up to No. 2 after recording quality wins at Kansas State and against LSU. It then fell to No. 6 after losing 38-23 at then-No. 3 Mississippi State, which made it the No. 1 one-loss team. After a bye week and win over South Carolina, it climbed to No. 3 in the CFP rankings and No. 4 in the AP poll.
If you take all of this from point to point, you can see how the committee arrived at their first rankings. The two unbeaten teams, Mississippi State and Florida State, are Nos. 1 and 2. Auburn, with a high initial ranking, two quality wins and a loss to the No. 1 team, is the No. 1 one-loss team. Ole Miss, with the undeniably impressive win over Alabama and a tight loss at LSU, is a solid No. 4, if you don't get hung up on the timing of the LSU loss being just a week ago.
Remember: Hasn't everyone been asking the pollsters to not react -- overreact? -- so dramatically to one week's results but to see the season as a totality?
So, Pat, I mostly agree with the committee's staggering thus far for the one-loss teams, which I honestly view as pretty irrelevant with so many quality games ahead. Do I think Oregon would beat the Mississippi schools? Yes. But I also thought Oregon was going to beat the pooh out of Auburn in the 2010 BCS national title game, so what the heck do I know?
And, Blaine, do I think if Oregon or Stanford had won the national title last year, it would have buoyed Arizona, Arizona State and Utah? Maybe. Maybe the Pac-12 should win a national title and see if that happens.
And, Wes, yes, I do think Mississippi and Mississippi State fans should be worried about their nonconference schedules. If one or the other ends up with the same record as, say, Pac-12 champion Oregon, they will lose out. I'm not so confident that would be the case with Auburn, which won impressively at K-State.
But let me conclude with something.
Alabama fans... I think there's a Texas booster whispering in Nick Saban's ear again. And is that an Auburn fan about to paint the Bear Bryant statue blue? Yeah, you better run over there.
OK. Pac-12 fans, you'd much rather have the Pac-12 champion play one of the Mississippi schools in the College Football Playoff than Alabama. Trust me on this.
---
Matt from Washington, D.C., writes:
Ted -- pretty harsh words for Mr. Bowden regarding his thoughts on Former Secretary Rice's
credentials to serve on the College Football Playoff Selection Committee
. In your view, what makes her well qualified to serve on the committee? Agree she is a very accomplished person, but aside from being a fan and occasionally assisting with Stanford recruiting, what makes her especially well qualified to determine who should be in the playoff?
[+] Enlarge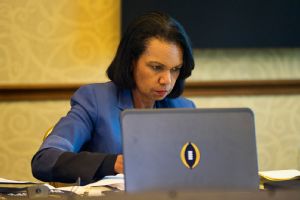 Kevin Jairaj/CFP ImagesCondoleezza Rice is among the 12 people that will decide which teams will play in the College Football Playoff.
Ted Miller:
First off, let's stop acting like evaluating the quality of football teams is only possible for those who possess some sort of super-secret wisdom that arrives via a mystical unicorn made of rainbows and taffeta only after you have played or coached the sport. Those wild, heroic stories of fraternal dances of players and coaches, dressed only in leather loin cloths, bathed in coconut oil, frolicking in fields of tulips, pounding bongos, man-hugging and singing odes to the smell of grass and linebacker theory are unproven myths, no matter what Pat Dye says.
What makes Condoleezza Rice qualify to sit on the committee is she is smart and she cares and she loves football. Further, with a committee of 12, it's important to have a diversity of skill sets. If you had 12 Nick Sabans in the room, it would be a disaster. Rice likely will challenge preconceived notions, offer a different perspective and she won't be afraid to challenge conventional wisdom.
Finally, it's also valuable to have someone who can facilitate negotiations, interpret a vast array of often conflicting reports and keep a group of bickering jocks surfeited with testosterone on task.
Now, if she were trying to write about Pac-12 football, well, that requires a batch of superhuman qualities available only to those who have passed through black holes and read the Dark Matter Scrolls of Pacitwelvitus.
---
Tom from Seattle writes:
Shaq Thompson
went from being more than a sometimes running back on Saturday. He had 21 carries for 98 yards and only played defense a handful of times. Should Coach Pete be reprimanded for taking a first-round pick off the field or lauded for trying something different?
Ted Miller:
I think Chris Petersen is doing what most coaches do: He is scratching and clawing and racking his his brain trying to win. He apparently believes, at present, playing Shaq Thompson at running back instead of linebacker gives him his best chance to win.
How should we measure Petersen's decisions? Winning.
If the Huskies' defense sags and the running game only improves marginally, then the move probably wasn't a good one. If the defense continues to play at a high level and Thompson solves the running-game woes, then the move is a good one.
Am I surprised by the move? Yes. But keep in mind I have not been visited by the mystical unicorn made of rainbows and taffeta. At least not since 1986, when the Westminster Wildcats captured Georgia's Region 5-AAA title by beating Marist senseless.
---
Tim from Atlanta writes:
I know rooting doesn't affect the outcome, but it makes the games more fun -- so, who should Ducks fans be rooting for this weekend in the South division showdowns? The team that beat Oregon (Arizona) or the Ducks' second-best win (UCLA)? The team the Ducks play in barely a week (Utah), or the team they hope to play in about a month (ASU)? (Obviously understanding that the most important rooting is to be done in favor of our own team.) Basically, what's better for the Ducks if we project to a scenario where the committee is debating one-loss teams down the road?
Ted Miller: Two ways to look at this.
1. You either root, as an Oregon fan, for the team you'd prefer to play for the Pac-12 championship.
2. You root for the highest-ranked teams to win in order to potentially bolster the Ducks' national resume.
I think it's best for the Ducks to play a South Division champion that is highly ranked. So it's not really about rooting this weekend. It's about rooting for the winners this weekend to keep doing so going forward (of course, other than against the Ducks).
Your ultimate enemy is extreme cannibalism, with the South becoming a welter of teams with three defeats.
October, 28, 2014
10/28/14
8:30
AM ET
Welcome to terrific Tuesday. Or terrible Tuesday. All depends on your perspective.
The College Football Playoff selection committee began deliberations on Monday in Grapevine, Texas. Tonight at 7:30 p.m. ET, Arkansas Athletic Director Jeff Long will unveil to a most curious audience the first-ever CFP rankings.
It's a historic time -- and surely chaotic.
Marc Tracy of the New York Times, in
assessing the moment
, writes that "historians will most likely date the end of the era of good feelings to 7:31."
With that in mind, some advice for fans from the Big Ten to the SEC:
August, 14, 2014
8/14/14
3:40
PM ET
USC athletic director Pat Haden and Stanford professor Condoleezza Rice, both members of the College Football Playoff selection committee, have been
recused from voting for their respective schools
, the committee announced Thursday.
Seven other members of the 13-member selection committee will be barred from voting or discussing schools they are affiliated with. They will, however, be permitted to answer factual questions relating to their respective schools.
Former Stanford, Washington and Notre Dame coach Tyrone Willingham was not recused. Willingham recently served as a volunteer assistant coach with the Stanford women's golf team, but has not done so the past two seasons.
When the selection committee was named last year, Stanford coach David Shaw spoke to both Willingham's and Rice's objectivity and character.
"No offense to either one of those, [but] if I was going to pack the jury, I wouldn't pick them because they're going to be unbelievably unbiased," Shaw said. "I would love to have some biased people on there, but those are two people that I don't think you can question their integrity. They're going to do and fight for what they believe is right."
Rice and Willingham aren't the only two with Stanford ties. West Virginia athletic director Oliver Luck has a daughter attending Stanford, and his two older children are former Stanford student-athletes and graduates. Luck is permitted to discuss and vote on Stanford, but not West Virginia.
The committee will be responsible for ranking 25 teams throughout the season and is ultimately responsible for selecting the four teams to take part in the first College Football Playoff in addition to the six bowl games on New Year's Day. The committee met for three days this week in Colorado Springs, but won't convene again in person until Oct. 27-28. From there, they will meet every Monday and Tuesday for the rest of the year.
The first rankings for the playoff will be revealed Oct. 28 on ESPN.
August, 28, 2012
8/28/12
7:00
PM ET
This is the 10th in a series looking at potential dream and nightmare scenarios for all Pac-12 teams.
Understand:
These are not predictions.
They are extreme scenarios and pieces of fiction. You can read
last year's versions here
.
We're going in reverse order of my
post-spring power rankings
(which might not be identical to my preseason power rankings).
You can see previous
best case-worst case posts here
.
Up next
: Stanford

Best case
Stanford gathers in the team hotel on the Friday night before its opener against San Jose State.
"Guys,
Sam Schwartzstein
has a slide show for you," Shaw says. "I believe you will find it most illuminating."
The lights dim, the Cardinal center picks up a remote control and clicks on an old-style slide projector.
Schwartzstein
: [click] Peyton Manning, quarterback, Tennessee. Do you see? [Click] Peyton Manning, quarterback, Indianapolis Colts, [Click] Andrew Luck, quarterback, Stanford. [Click] Andrew Luck, quarterback, Indianapolis Colts. Do you see?
Tee Martin, quarterback, Tennessee? Do you see? Tennessee reborn. Tennessee national champions. Do you see?
Josh Nunes
, quarterback, Stanford? Do you see? Do you see? We are privy to a great becoming!
Chase Thomas
whispers to fellow linebacker
Shayne Skov
, "I thought you were supposed to be the biggest loon on this team."
Replies Skov, "No way, man. Schwartzy is completely unhinged."
Stanford whips San Jose State and Duke by a combined count of 80-3. Nunes throws three touchdown passes, and
Stepfan Taylor
rolls up for 305 of the Cardinal's 452 rushing yards.
Up next is No. 1 USC.
Stanford leads 24-20 in the fourth quarter, but quarterback
Matt Barkley
leads the Trojans to a first-and-goal on the Stanford 9-yard line with 45 seconds left. Barkley connects with
Robert Woods
at the 1-yard line, but
Curtis McNeal
is stopped cold on second and third down. The Trojans call their final time out.
Barkley lines up in shotgun. He rolls to his right, looking for
Marqise Lee
, then pumps at
Xavier Grimble
. No one is open. He sprints and dives at the flag.
"I don't think he got in!" the announcer says. "Stanford is on the brink of upsetting the No. 1 team in the country, the mighty Trojans of USC."
The play is reviewed. "After further review," the official says. "The runner did cross the goal line. Touchdown."
"What do I think of the call?" Stanford coach David Shaw says after the game. "I think it was the right call. I think Barkley got in. A hardnosed play from him. And even if it was a bad call, we had plenty of chances to win that game. They just came down the field and took it from us. We'll see what we're made of over the next few weeks. If we keep our heads down and keep getting better, we'll get another shot at them."
After a bye, the Cardinal rushes for 275 yards at Washington, winning 33-21. They whip Arizona 51-24 and shut out Notre Dame 33-0. So Stanford, ranked 10th at 5-1, heads to Berkeley for an odd, midseason Big Game.
Schwartzstein
: Please turn to page 100 in your dossier. You see a picture of
Henry Kissinger
. And you see a picture of
Oski
. Kissinger. Oski. Oski, Kissinger. Curious that neither is ever seen together, don't you think? And on page 245:
Jeff Tedford
. And then
Nikita Khrushchev
. Yes, I know. Very strange. What does it mean? Maybe nothing. But there is an unmistakable whiff of communism. Or maybe it means that if we fail on Saturday against Berkeley, everything we know and love just freaking blows up and nothing is left other than the ashes of humanity's grandest hopes and dreams.
A goal line stand preserves a 20-14 win over the Bears.
Stanford rolls over Washington State, Colorado and Oregon State, which means it takes a seven-game winning streak to No. 1 Oregon, which is two weeks removed from an overtime win at USC.
Ted Miller
: Stanford doesn't have enough speed to keep up with Oregon. I'm sure of that.
Kevin Gemmell
: Weren't you sure that USC would beat Oregon?
Ted Miller
: Grrrr. Your round.
Stanford rushes for 245 yards and Nunes throws two touchdown passes in a 30-24 victory.
After a 44-17 win over UCLA, Stanford finishes 11-1 and rises to No. 4 in the BCS standings. Due to its victory over Oregon, it wins the North Division tiebreaker and will visit No. 5 USC for the Pac-12 championship game.
Barkley, the Heisman Trophy frontrunner, passes for 330 yards and three touchdowns, but Taylor rushes for 230 yards and three scores. Taylor becomes the fourth conference running back to eclipse 2,000 yards rushing and his 28 touchdowns tie former Cardinal running back Toby Gerhart for the conference record.
Oh, and his third touchdown comes with 14 seconds left to give Stanford a 31-24 victory.
Oklahoma and LSU, both undefeated, will meet for the national title. Stanford will play undefeated Michigan in the Rose Bowl.
Gemmell
: We could have a split national title. No team has two better wins than Stanford, and Michigan whipped Alabama in the season-opener.
Miller
: Yep.
In the closest Heisman Trophy vote in history, Taylor nips Barkley for the bronze statue.
In the Rose Bowl, a final Stanford drive is stymied at the Michigan 40-yard line with three seconds left. The Wolverines lead 23-21.
Out walks Cardinal kicker
Jordan Williamson
. He lines up for the 57-yard field goal.
"The goat of last year's Fiesta Bowl," the announcer says. "What must this young man be thinking? Wait ... he appears to be smiling."
Right down the middle with room to spare. Stanford wins 24-23.
The Cardinal finishes ranked second. Largely on the strength of the linemen it signs, Stanford's recruiting class is ranked fifth in the nation.
On the heels of former Secretary of State Condoleezza Rice, presently a Stanford professor, becoming one of the first two female members at August National Golf Club, the storied and exclusive golf club decides that every Stanford graduate should get a membership.
Explains Billy Payne, chairman of Augusta National, "Really, it's just based on the fact that if you go to Stanford you're pretty darn awesome."
Worst case
Nunes gets his "welcome to the Pac-12" moment against USC.
While he gets sacked four times and throws two interceptions, he watches as Barkley posts a masterful effort in a 40-17 USC victory.
Washington gangs up against the Stanford running game two weeks later, and Nunes and his still-middling receivers can't take advantage, as the Huskies end a four-game run of futility in the series, 27-24. Shaw announces that
Brett Nottingham
will start the following weekend.
With Nottingham behind center, the Cardinal bounce back with wins over Arizona and Notre Dame, as the defense steps up its effort and holds the both the Wildcats and Fighting Irish to fewer than 10 points.
Things seem to be righting themselves in advance of the Big Game, an oddly timed midseason affair. But, as players are vigilantly studying their playbooks on team-issued iPads, the screens become pixilated and blurry. Then they dissolve into the Cal logo.
"You've been hacked by Oski!" it scrolls across the screen over a laughing, dancing Oski. "Tell Schwartzstein to never compare Kissinger to anything at Cal ever again!"
Ten minutes later, Stanford's entire playbook is on Wiki Leaks.
The Big Game belongs to California, 28-21, as
Zach Maynard
throws two touchdown passes and the Bears roll up 210 yards on the ground against a rugged Stanford defense. Nottingham throws two interceptions, and Nunes takes over in the fourth quarter.
Relying on its defense and playing two quarterbacks, Stanford wins its next three over Washington State, Colorado and Oregon State. But Oregon ends all intrigue early, with
De'Anthony Thomas
rushing for 120 yards and a touchdown and catching four passes for 105 yards and two touchdowns in a 40-21 Ducks victory.
Stanford looks deflated in a season-ending 24-17 loss to UCLA. The Cardinal finishes the regular season 7-5.
Boise State whips Stanford 30-21 in the Las Vegas Bowl.
Playing in its first Rose Bowl since the 1958 season, Cal beats Michigan 30-28. It's the Golden Bears' first Rose Bowl win since 1938.
The Bears finish ranked sixth.
Lisa Simpson is admitted to rehab. TMZ reports that her life started falling apart when
she was forced to attend Stanford
.
June, 9, 2011
6/09/11
2:30
PM ET
By
ESPN.com staff
| ESPN.com
He was waiting until the officer reached the sunlit place where the first trees of the pine forest joined the green slope of the meadow. He could feel his heart beating against the pine needle floor of the forest.
October, 7, 2009
10/07/09
2:30
PM ET
By
ESPN.com staff
| ESPN.com

Posted by ESPN.com's Ted Miller
Though his mind is not for rent,
Don't put him down as arrogant.
His reserve, a quiet defense,
Riding out the days events.
The river.
February, 3, 2009
2/03/09
3:09
PM ET
By
ESPN.com staff
| ESPN.com
Posted by ESPN.com's Ted Miller
It was, er, interesting while it lasted, but former secretary of state Condoleezza Rice won't be the next Pac-10 commissioner.
My reaction? Good.
Why?
Would Brad Pitt be a good Pac-10 commissioner? How about Al Gore? Or perhaps Stephen King?
Each are bright, successful people. And each would be clueless running a BCS conference.
Rice's experiences could be better used elsewhere and the Pac-10 needs someone with at least a basic knowledge of college sports -- most particularly the business of college sports.
January, 30, 2009
1/30/09
2:30
PM ET
By
ESPN.com staff
| ESPN.com
Posted by ESPN.com's Ted Miller
These links are the product of a bizarre gardening accident.