August, 16, 2011
8/16/11
9:30
AM ET
Five Pac-12 players on are the 31-member watch list for the Manning Award, which is given annually to the nation's best quarterback.
The winner will be announced after the bowls in January and will be honored at a ceremony in New Orleans.
Conference USA and the Big 12 also had five players on the list, while the Big East, the Big Ten and the SEC each have three quarterbacks recognized.
The Pac-12 QBs are:
Matt Barkley
, USC
Nick Foles
, Arizona
Andrew Luck
, Stanford
Darron Thomas
, Oregon
Jordan Wynn
, Utah
You can view the
entire watch list here
.
August, 9, 2011
8/09/11
12:00
PM ET
The Pac-12 is popularly known as the conference of quarterbacks, mostly because it has better quarterbacks than everyone else, at least in terms of NFL potential.
That is again the case in 2011. The conference boasts Stanford's
Andrew Luck
, USC's
Matt Barkley
and Arizona's
Nick Foles
, who each could become first-round NFL draft picks next spring. Then there's Oregon's
Darron Thomas
, who beat out Barkley and Foles for second-team All-Conference honors in 2010, and talented youngsters such as Washington State's
Jeff Tuel
, Oregon State's
Ryan Katz
and Utah's
Jordan Wynn
.
Oh, but across the country in Conference USA, there's a crew of quarterbacks that offers something that bests the Pac-12 signal-callers: huge numbers. Four Conference USA passers threw for more than 3,000 yards; just two did in the old Pac-10. Also, three threw 31 or more touchdown passes versus just one in the Pac-10 -- Luck with 32.
[+] Enlarge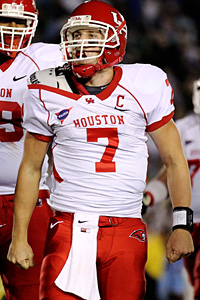 Stephen Dunn/Getty ImagesCase Keenum is one of only two players in Division I history to have thrown for over 5,000 yards more than once.
And that doesn't even include the return of Houston's
Case Keenum
, who passed for over 5,000 yards in both 2008 and 2009 and 44 touchdowns each season. Keenum was lost for the 2010 season in Game 3 after suffering a knee injury at UCLA.
So while the Pac-12 may think of itself as the conference of quarterbacks, Conference USA might be able to counter as the conference of passers.
Sounds like a blog debate! Bring on Andrea Adelson!
Ted Miller
: Andrea, you have me and many of my Pac-12 blog readers at a loss. You know all about the Pac-12 quarterbacks because they are on TV all the time.
While most are familiar with Keenum's eye-popping numbers for the Cougars, some of these other names draw blanks. Educate our poorly informed West Coast brains, please!
Andrea Adelson
: Yes, Ted, there is a reason C-USA has a Wild, Wild West Division. It is there you will find some of the most prolific passers in the nation -- Keenum,
G.J. Kinne
of Tulsa, and
Kyle Padron
of SMU.
Keenum was just picked as the C-USA preseason offensive player of the year for obvious reasons. Your Pac-12 brethren only got a small glimpse of what he could do last season against UCLA -- the game in which he tore his ACL and was lost for the season. Keenum got a sixth season and has a slew of NCAA records he is chasing down -- total offense, passing yards, touchdowns, pass attempts and completions. He is in an offensive system that suits his strengths, and he really came onto the scene in 2008 under a certain coach named Dana Holgorsen.
With Keenum out last season, Kinne picked up the torch and was named C-USA Offensive Player of the Year. Kinne actually began his career at Texas before transferring to the Golden Hurricane. Last season he truly blossomed, but he is a different style quarterback than Keenum and Padron. Kinne can run -- he led the team in passing (3,650 yards) and rushing (561). It should come as no surprise that Padron is a gunslinger -- he plays for June Jones after all. And Jones is a master of the run 'n' shoot. But there are quarterbacks in the East who aren't slouches, either.
Dominique Davis
transferred from Boston College to East Carolina and flourished last season, leading the nation in passing.
Austin Davis
, one of the most underrated quarterbacks in the nation can run and pass, too. We all know the Big 12 is known for its passers, but C-USA equaled that conference with three players ranked in the top 11 in the nation in yards passing with Davis, Padron and Kinne. The Pac-12 might have the most "quarterback ready" players, but C-USA has guys who know how to put the ball in the air, that is for sure. And who doesn't love offensive fireworks?
[+] Enlarge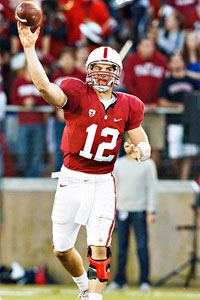 Jason O. Watson/US PresswireA number of analysts project Stanford's Andrew Luck will be the No. 1 overal pick in the 2012 NFL draft.
Ted Miller
: Andrea, those are impressive -- and sometimes HUGE -- numbers. Keenum got knocked out against UCLA, so the Bruins didn't really get a full taste of him, which they figure to on Sept. 3 in Houston. But that's the only time Pac-12 fans will get to see any of these guys. In the Pac-12, I'd rate Luck No. 1, Barkley No. 2, Foles No. 3 and Thomas No. 4 in terms of NFL prospects. Luck and Thomas are both outstanding athletes who are capable running the ball. Most folks don't realize that Luck rushed for 453 yards last year. Barkley and Foles are prototypical drop-back passers.
So how do you see your guys' NFL prospects stacking up?
Andrea Adelson
: None of these guys are first-round prospects, but that does not make them any less impressive as college quarterbacks. All of them are going to carry the "system quarterback" label with them when their careers end. Keenum already gets that when his name comes up in Heisman chatter. Interestingly, he is after the NCAA career passing mark of Timmy Chang -- coached at Hawaii by June Jones. And Jones has a guy in Padron who can sling it, too. Davis is in a system that Ruffin McNeill picked up from his "Air Raid" days at Texas Tech -- a school that has produced prolific passers such as Graham Harrell and Kliff Kingsbury but nobody who tore it up in the NFL. If you want to rank them as college quarterbacks, then Keenum deserves to be in the conversation as one of the best playing today. He is, after all, one of only two players in Division I history to have thrown for over 5,000 yards more than once.
Ted Miller
: That's the rub, I think, Andrea. While the Pac-12 prides itself on producing NFL quarterbacks, I think we can all appreciate guys who produce thrilling performances in the college game, the game by the way we love most, apologies to the NFL.
So as excited as I am to see Luck this year -- and others -- I also am eager to see what a healthy Keenum does in Round 2 with UCLA. And perhaps we on the West Coast need to branch out a bit in our quarterback appreciation and catch a few Conference USA games this season.
We do, you know, like our passing out West.
September, 16, 2010
9/16/10
10:15
AM ET
Ten issues to consider heading into the third week of games.
1.
Cal's defense will be tested at Nevada
: California presently ranks No. 1 in the nation in total defense, giving up a scant 160 yards per game. So kudos to new coordinator Clancy Pendergast. But Nevada ranks No. 1 in total offense, rolling up a monstrous 592 yards per game. So who wins: The irresistible force or the immovable object?
2.
Arizona's O-line vs. Iowa's D-line
: The Wildcats have a good offensive line, probably among the top three or four units in the Pac-10. But Iowa probably has the best defensive line in the country, led by end Adrian Clayborn. All four starters are back from 2009's stingy unit that combined for 27 sacks and allowed just 3.5 yards per rush. The first question is can the Wildcats line do enough to create any sort of run threat or occasional creases for
Nic Grigsby
? The second is, failing that, will the line give QB
Nick Foles
enough time to throw the ball?
[+] Enlarge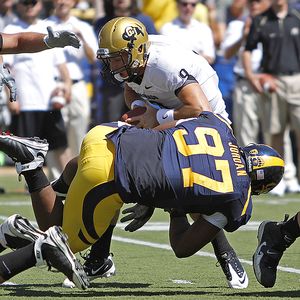 AP Photo/Ben MargotCal has the nation's No. 1 defense through two games, allowing just 160 yards per game.
3.
Locker on the big stage
: There is a bizarre crew that haunts the Pac-10 blog and constantly calls Washington QB
Jake Locker
"overrated," meaning they disagree with Mike Bellotti, Pete Carroll, every Pac-10 coach, every NFL scout, LSU's players (who called Locker the best player they saw in 2009) and just about everyone who makes a living around football. Of course, they have the right to call the world flat. But guess what? If Locker doesn't turn in an impressive performance vs. Nebraska, his Heisman Trophy candidacy will end before it gets started. So this is his big moment to either lead an upset or take a step back in national stature.
4.
Vontaze Burfict vs. John Clay
: Arizona State's 245-pound linebacker Vontaze Burfict is one of the most talented and aggressive LBs in the country. Wisconsin's 248-pound running back John Clay is one of the best power runners in the country. When these two meet, the violence of the impact should be dynamic. But who knocks the other backwards? Burfict and the ASU defense is looking to make a national statement. To do so, it needs to contain Clay.
5.
Can USC put it together
? USC's offense looked great in the opener at Hawaii. The defense looked terrible. The offense looked terrible vs. Virginia. The defense looked pretty good. The cumulative affect is we really don't know who these Trojans are. Will they put it all together at Minnesota's expense? Or will it be another piddling effort?
6.
Luck through the air
: Stanford QB
Andrew Luck
looked great running, but, despite two TD passes, didn't throw terribly well at UCLA. He completed just 11 of 24 passes for 151 yards. Wake Forest's secondary didn't look great while giving up 358 passing yards and four touchdowns to Duke in a wild 54-48 victory. You'd think Luck would feast on that at home and revert back to his accurate, playmaking self.
7.
How will UCLA's offense bounce back
? Stanford shut out the Bruins and held them to 233 total yards last weekend. That had many screaming for QB
Kevin Prince
's head. But Prince's biggest problem is he's barely seen practice time due to a back injury and then a shoulder injury. He's practiced all this week. Moreover, Houston's defense isn't anything like its offense. The Cougars are surrendering 26 points and 393 yards per game. Expect the Bruins to be much better on offense Saturday.
8.
Jacquizz should break out vs. Louisville
: Dating back to last season, Oregon State RB
Jacquizz Rodgers
hasn't eclipsed 100 yards rushing in three games. That's a
mini-slump for him
. Louisville gave up 230 yards rushing to a mediocre Kentucky team in week one. So expect for Rodgers to get his 100 yards. And also expect him to get some touches in the passing game, which he didn't vs. TCU.
9.
Cougs stepping forward
? Does the comeback win vs. Montana State turn a page for Washington State? Sure, it was just an FCS opponent, but showing some backbone feels meaningful. SMU has a high-powered, balanced offense and is one of the favorites in Conference USA. Moreover, the Mustangs will be plenty motivated after losing at Washington State last year. But if the Cougars pull the upset, the entire tenor of their season could change.
10.
How did the Pac-10 measure up
? It wasn't the most creative name or anything, but "
Measuring Stick Saturday
" is real. The Pac-10's place in the pecking order among BCS conferences largely will be based -- at least during the regular season -- on what happens Saturday. A winning weekend will earn it consideration with the Big Ten, SEC and Big 12. A losing one? It falls to the bottom half of the six. Considering the Pac-10 is an underdog in five of the nine games, the conference needs for all its favorites to prevail and at least one underdog to come through with an upset.
September, 15, 2009
9/15/09
9:43
AM ET

Posted by ESPN.com's Ted Miller
Lining up this week's action.
No. 3 USC (2-0) at Washington (1-1)
USC beat the Huskies 56-0 last year ... USC leads the all-time series 49-26-4 ... USC is riding a 12-game winning streak ... Washington ended a 15-game losing streak vs. Idaho last weekend ... Washington coach Steve Sarkisian spent seven years on the USC staff, while Huskies defensive coordinator Nick Holt also held the same post at USC before being hired by Sarkisian ... USC ranks 14th in the nation in scoring defense (9 points per game) ... Huskies quarterback
Jake Locker
is 14th in the nation in total offense (321.5 yards per game).
No. 8 California (2-0) at Minnesota (2-0
)
California leads the all-time series 3-2, last beating the Golden Gophers 42-17 in 2006 ... Minnesota welcomes back 17 starters from a team that went 7-5 in 2008 ... Cal is riding a five-game winning streak, but the Bears have lost four in a row on the road ... Minnesota is showcasing a brand new stadium, and the Bears will be the first BCS conference foe to play there ... The Bears have yet to turn the ball over ... Cal leads the Pac-10 in sacks with 10 ... Gophers receiver
Eric Decker
ranks third in the nation with 296 receiving yards in two games ... Running back
Jahvid Best
ranks sixth in the nation with 140.5 ypg and is averaging 10.4 yards per carry ... Linebacker Mychal Kendricks leads the conference with 13 tackles per game.
No. 18 Utah (2-0) at Oregon (1-1)
Oregon leads the all-time series 17-8, but Utah won the last meeting 17-13 in 2003 ... Utah owns the nation's longest winning streak at 16 games ... Ducks linebacker Casey Matthews ranks second in the conference with 11 tackles per game ... Utah welcomes back 12 starters from last year's 13-0 team ... Oregon ranks last in the conference in rushing offense, passing offense, total offense and is ninth in scoring offense ... Utah has rushed for 242 yards per game ... Ducks DE Kenny Rowe leads the conference with 2.5 sacks.
No. 17 Cincinnati (2-0) at Oregon State (2-0)
They've met only once, with Cincinnati rolling 34-3 in 2007 ... Oregon State has won 26 consecutive nonconference home games dating back to 1996, and coach Mike Riley has never lost a nonconference home game ... The Beavers have not turned the ball over ... Cincinnati is fifth in the nation with 571 yards per game ... Quarterback
Sean Canfield
ranks 14th in the nation in passing efficiency. He has completed 79 percent of his passes so far ... Bearcats quarterback
Tony Pike
is fourth in the nation in passing efficiency. He's completed 77 percent of his passes with six touchdowns and one interception ... Jacquizz and
James Rodgers
have combined for 597 rushing/receiving yards and six touchdowns ... Cincinnati has only one returning starter on defense ... The Beavers have only one sack this year, while they have surrendered five. In 2008, they ranked second in the conference and fifth in the nation with 39 sacks, while they yielded only 21 sacks.
Arizona (2-0) at Iowa (2-0)
Arizona leads the all-time series 6-5 and last beat Iowa 35-11 in 1998 ... Wildcats running back
Nic Grigsby
is No. 2 in the nation in rushing with 162.5 yards per game ... The Hawkeyes welcome back 16 starters from last year's 9-4 team ... Both head coach Mike Stoops and defensive coordinator Mark Stoops played safety at Iowa and started their coaching careers with the Hawkeyes ... Arizona's four-game winning streak is its longest since 2000 ... Iowa has give up five sacks in its first two games ... The Wildcats rank first in the conference and fifth in the nation with 305.5 yards rushing per game.
Louisiana-Monroe (1-1) at Arizona State (1-0)
This is their first meeting ... Arizona State had a bye last weekend and now plays 11 consecutive Saturdays ... After dominating Idaho State in the opener, the Sun Devils rank first in the conference is rushing, passing, total and scoring defense ... Louisiana-Monroe beat Alabama 21-14 in 2007.
Kansas State (1-1) at UCLA (2-0)
This is there first meeting ... UCLA's win at Tennessee was the Bruins fourth consecutive victory vs. the SEC ... Kansas State welcomes back 14 starters from a team that went 5-7 last year ... Bruins QB
Kevin Prince
is out 3-4 weeks with a broken jaw ... The Wildcats lost at Louisiana-Lafayette last weekend ... Bruins safety Rahim Moore is No. 1 in the nation with five interceptions ... The Wildcats have recorded only one sack this season ... Bruins defensive tackle Brian Price leads the conference with five tackles for a loss ... The Wildcats have totaled 36 points against UMASS and ULL.
San Jose State (0-2) at Stanford (1-1)
Stanford leads the all-time series 48-14-1, last winning 23-10 in 2008 ... San Jose State lost to USC 56-3 and Utah 24-14 .... The Cardinal has not allowed a first-half touchdown in two games ... The Spartans rank last --120th -- in the nation in total defense ... Stanford's redshirt freshman quarterback
Andrew Luck
is fourth in the conference in pass efficiency ... Stanford ranks ninth in the Pac-10 in rush defense.
SMU (2-0) at Washington State (0-2
)
This is their first meeting ... Washington State ranks last in the conference in total, scoring, rushing and passing defense as well as scoring offense ... SMU broke a 17-game Conference USA losing streak with a win at UAB last weekend ... Cougars punter Reid Forest leads the Pac-10 with a 47-yard average ... SMU, which is 2-0, welcomes back 16 starters from a team that went 1-11 last year ... The Cougars are second in the conference with just 38 penalty yards per game.