August, 15, 2014
8/15/14
1:00
PM ET
TUCSON, Ariz. -- Arizona coach Rich Rodriguez is mad. And by mad, we mean in both senses of the word -- angry and crazed. He was vexed when practice began Wednesday and he was volcanic when it ended. With each, er, colorful verbal explosion, the collective shoulders of reporters a football field or so away from the closed practice slumped just a little bit more.
There would be no affable exchange of pleasantries about his quarterback competition or any breezy banter on sundry topics that typically are covered during a post-practice media session. While many coaches' calculated fits of pique during practices are pure motivational theater -- and there was some comic element to Rodriguez's stomping around like vintage Earl Weaver hounding an umpire -- there is no question his cataclysmic frustration is genuine. He expects more from his players than they are giving him and he can't stand it that they are not responding to his challenge.
"I'm allowed to be mad," he harrumphed to reporters. "It's my right."
[+] Enlarge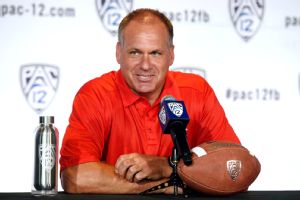 Kelvin Kuo/USA TODAY Sports"You have no chance to win unless you get good quarterback play. You can't win a championship," Rich Rodriguez said. "I don't think you can have a winning season unless your quarterback play is pretty good."
He was then asked -- carefully, softly -- if this was just one bad practice among many great days of growth during preseason camp.
"I ain't seen enough growth anywhere. Nowhere," he groused.
So, yeah, don't expect much of a revelation about the Wildcats' quarterback competition, which officially remains a wide-open race between four guys, though most observers see redshirt freshman
Anu Solomon
as the leader at present. That conclusion is based on Solomon getting the most reps with the first-team offense. Senior
Jesse Scroggins
, the consensus leader after spring practices, missed a lot of offseason work because of injuries suffered after a automobile accident.
Jerrard Randall
, the most physically talented of the four, continues to struggle with the mental side of the Wildcats' scheme, while
Connor Brewer
is steady but brings the least to the table athletically.
Rodriguez is on edge because the winnowing is coming. Must come. With a scrimmage Saturday, he and offensive coordinator Rod Smith both said they want to narrow the field heading into next week. That means tightening the screws in practice, and that process often means delivering an earful and seeing how the recipient of said verbal projectiles reacts. As Rich Rod often says: He wants his guys to become comfortable being uncomfortable.
"I've never been one to treat [a quarterback] with kid gloves," he said a few hours before said practice. "I don't worry about their confidence. Hell, I'm worried about my confidence."
Rodriguez has an interesting team, one that has some holes but also has enough returning talent to become a factor in the Pac-12's South Division -- if it gets solid play behind center. With a deep and talented crew of receivers and one of the nation's most experienced offensive lines, the guy who ends up winning the job will have a lot to work with.
Rodriguez knows why reporters are obsessed with his quarterback competition. For one, the Pac-12 has 10 returning starters at quarterback and
Cyler Miles
is the front-runner at Washington, so Rodriguez's situation is the most wide-open and intriguing. He also doesn't resist the notion that fans and media
should
be obsessed because he readily admits you can't compete in the Pac-12 without a good QB.
"You have no chance to win unless you get good quarterback play. You can't win a championship," he said. "I don't think you can have a winning season unless your quarterback play is pretty good."
Solomon's apparent rise, though not yet decisive, comes with a notable advantage over Scroggins: It would mean that for the first time in Tucson, Rodriguez and Smith would have a returning starter for the following season (when Solomon becomes a redshirt sophomore). That's not a present concern, Smith said, but he acknowledges the future benefit.
Rodriguez's and Smith's track record with first-year starters at Arizona so far has been outstanding.
Matt Scott
, the 2012 starter, earned second-team All-Pac-12 honors and is playing for the
Cincinnati Bengals
. B.J. Denker might have been the conference's most improved player from Week 1 to the end of the 2013 season, transforming from a liability to a QB who outplayed Oregon's
Marcus Mariota
in the Wildcats' upset victory over the Ducks.
Solomon was a touted recruit after a spectacular career at Bishop Gorman High School in Las Vegas. His team went 57-3 and won four state titles with Solomon as a four-year starter. He
passed for 10,112 yards and 138 touchdowns with just 17 interceptions. Yet he seemed overwhelmed as a true freshman, and his naturally mellow demeanor sometimes didn't mesh with the high-strung Rodriguez, who wants his QB to be a take-charge sort. Solomon also had a tendency to mix a few forehead-slapping plays into practices.
"He's not making as many of those 'oh no' moments. He's been more steady," Smith said. "He's made some progress. He's starting to get comfortable with what we are doing. He's more in control now. He's trying to be more vocal -- that's what he wasn't doing in the spring. He's got some talent. He can make some plays. He can do some things with his mind and arm."
While Solomon was
made available to the media for the first time this week
, that was the exception for the QBs. It's also clear that Wildcats players have been well-schooled on keeping their evaluations of the QB competition to themselves.
Rodriguez rated the odds as pretty good that he'll play more than one guy early in the season, though he won't pull a starter who's playing well. It also wouldn't be surprising if Randall, an LSU transfer who has two years of eligibility remaining, gets a package of plays because his talent has intrigued coaches.
If Rodriguez's mood doesn't improve, it's also possible we won't know his mind until just before UNLV visits on Aug. 29. Such a thought actually make him grin, though. He recalls how his hiring was announced by athletic director Greg Byrne.
"I might pull a Greg Byrne and tweet it two hours before kickoff," he said.
June, 25, 2014
6/25/14
9:00
AM ET
It's time to start our preseason position reviews. Please, hold your applause until we are finished.
Here's how we do this: We provide three evaluative categories: "Great shape," "Good shape" and "We'll see."
Hint: You'd prefer your team to be in "Great shape."
"We'll see" doesn't mean you're going to stink at said position. It means just what it says -- we'll see because there's no way at present to know.
You can
review last year's rankings here
.
And away we go ... starting, of course, with quarterback.
GREAT SHAPE

Oregon
: Junior
Marcus Mariota
is -- again -- a leading Heisman Trophy candidate and a two-time first-team All-Pac-12 performer. He would have been an early-round NFL draft pick this spring if he'd opted not to return. The Ducks have some questions at receiver though.

UCLA
: Junior
Brett Hundley
is the conference's No. 2 Heisman Trophy candidate. While Arizona State's
Taylor Kelly
eclipsed him for second-team All-Pac-12 last fall, Hundley's tremendous upside is why he has NFL scouts eagerly awaiting his entering the draft.

Arizona State
: As noted, Kelly was the Pac-12's No. 2 QB last season, which means he was one of the nation's best at the position. It also helps his cause that he's got WR
Jaelen Strong
, an All-American candidate. However, Kelly does need to take fewer sacks -- you could say the same for Hundley -- and throw fewer interceptions.

Oregon State
:
Sean Mannion
ranked second in the nation with 358.6 yards passing per game in 2013 and is also an NFL prospect. Life might be just a bit harder in the passing game without
Brandin Cooks
.
GOOD SHAPE

Stanford
:
Kevin Hogan
, a third-year starter, had a good but not great sophomore season while leading the Cardinal to the Pac-12 championship. He was mostly efficient and showed a good touch downfield, but he made some surprisingly bad decisions and needs work with his intermediate passing game. He's got a good crew of veteran receivers coming back, which bodes well for him.

Washington State
:
Connor Halliday
threw for a bunch of yards (4,597) and TDs (34) last season, but he also tossed way too many interceptions (22). Part of that was an inconsistent O-line and a neglected running game. The good news is he's in his third year under Mike Leach and has a strong crew of returning receivers. Of all the Pac-12 QBs, he might make the biggest climb this season.

USC
:
Cody Kessler
didn't put up big numbers last season and didn't beat Notre Dame or UCLA but significantly improved after Lane Kiffin was fired. Like Kelly, he's got an A-list target coming back in WR
Nelson Agholor
. We expect Kessler to thrive with a new, up-tempo scheme under Steve Sarkisian.

Utah
: Utah received good news yesterday when 16-game starter
Travis Wilson
was medically cleared to play. When healthy, Wilson has been a solid performer with good upside. He'll have to fight off a challenge this preseason from Oklahoma transfer
Kendal Thompson
though.

California
:
Jared Goff
averaged 292 yards passing per game as a true freshman. That's good. But the Cal offense struggled to do much else but throw the ball between the 20s -- hence a conference-worst 23 points per game. He had just 18 TD passes on 531 attempts. Still, he flashed potential and has a very good crew of receivers coming back.

Colorado
:
Sefo Liufau
became the Buffaloes' starter at midseason and often played like the true freshman he was. Furthermore, he won't have
Paul Richardson
serving as a safety blanket and making big plays for him. Still, Liufau's baptism by Pac-12 fire provided some seasoning that was evident this spring. The Buffs feel pretty good about having a returning starter behind center.
WE'LL SEE

Washington
: While
Cyler Miles
flashed potential last season coming of the bench for Keith Price, logging a road victory at Oregon State in his first start, he also had
an off-field issue that has muddied the waters at QB for the Huskies
. It remains to be seen how quickly Miles emerges from Chris Petersen's doghouse, and if he can beat out
Jeff Lindquist
and
Troy Williams
.

Arizona
: The Wildcats have
no clear frontrunner in their QB competition
. That's the bad news. The good news is the performances this spring were generally solid. Rich Rodriguez believes he's got a couple of guys who can win games for him. He's just not sure which guy is No. 1 between
Jesse Scroggins
,
Connor Brewer
,
Anu Solomon
and
Jerrard Randall
.
April, 11, 2014
4/11/14
7:00
PM ET
The first round of spring games in the Pac-12 kicks off Saturday with Colorado, Arizona and Stanford. All three games are free to the public. Here's a primer on what you need to know.

Arizona
Where
: Arizona Stadium
Kickoff
: 1 p.m. MST
TV
: Pac-12 Network (replays throughout the week)
What to watch
: The Wildcats are in the hunt for a new quarterback to replace
B.J. Denker
and a new running back to replace
Ka'Deem Carey
. Rich Rodriguez
hasn't said much on the quarterback front
, with
Anu Solomon
,
Connor Brewer
,
Jesse Scroggins
,
Jerrard Randall
and
Nick Isham
. Per Rodriguez, "one through five is pretty much bunched up." You read that right --- one through five! How those reps all get divided will be very telling if Rodriguez is leaning one way. Or you could just crush some tea leaves and check the planetary alignment. Because right now, those make as much sense as any guesswork. One note about returning wide receiver
Austin Hill
, a 2012 Biletnikoff Award semifinalist who missed all of last season with a knee injury: "He won't play a whole lot," Rodriguez said. "He played a lot in spring. We will give him a couple series. He is a proven veteran and we know what we have in him. He's slowly getting his confidence back. He's 100 percent, but there's a transition period in getting your confidence back." … There will also be a celebrity/alumni flag football game kicking off at 11:15 a.m.

Colorado
Where
: Folsom Field
Kickoff
: Noon MST
TV
: Pac-12 Network (replays throughout the week)
What to watch
: Obviously, there is going to be a lot of attention at wide receiver to see who steps in for the departed
Paul Richardson
. The Buffs are eyeballing a rotation/committee of
D.D. Goodson
,
Devin Ross
,
Bryce Bobo
and
Elijah Dunston
. There is no Richardson out there. So, as Colorado wide receivers coach Troy Walters
recently said
: "We're going to have to do it collectively … if we get two or three guys to do with P-Rich did, then we'll be in good shape." Richardson caught 83 passes for 1,343 yards and 10 touchdowns last season. On the other side of the ball, guarding those receivers has been an interesting power struggle. The Buffs look set at their two starting cornerback spots with
Greg Henderson
and
Kenneth Crawley
. But developing depth has sparked a pretty good competition with
Chidobe Awuzie
and juco transfer
Ahkello Witherspoon
. (Colorado is quickly making a push to contend for the Pac-12 blog's
all-scrabble team
.) … After the game, Colorado will host a Healthy Kids Day. Children can go through fitness stations with athletes from all of Colorado's sports programs and get a free T-shirt.
Stanford
Where
: Stanford Stadium
Kickoff
: 1 p.m. PST (fan activities begin at 12:15)
TV
: Pac-12 Network (replays throughout the week)
What to watch
: How will the running back carries be divided? With
Remound Wright
suspended for the second half of spring practice, that opens the door for
Kelsey Young
,
Barry Sanders
and
Ricky Seale
to get some extra work. The Cardinal are trying to replace
Tyler Gaffney
, who carried 330 times for 1,709 yards and 21 touchdowns last season. Recall a year earlier, they were trying to replace Stepfan Taylor and his 322 carries, 1,530 yards and 13 touchdowns. The Cardinal have used bell cows the last couple of seasons, though head coach David Shaw
told the Pac-12 blog
he'd prefer to have multiple guys working in a committee – similar to the stable of the 2011 group. Keep an eye on the offensive line as well. All five projected starters are from the much-heralded 2012 recruiting class. … All players will be available after the game to sign autographs.
April, 2, 2014
4/02/14
12:00
PM ET
Arizona coach Rich Rodriguez probably has a pretty good idea of a loose pecking order this spring for his seven competing quarterbacks, a number that will jump to nine in the fall, but it appears increasingly unlikely he will provide reporters too many clues to his thinking, even after the spring game on April 12.
The best estimate is the Wildcats QB competition comes down to no more than five guys:
Anu Solomon
,
Connor Brewer
,
Jesse Scroggins
,
Jerrard Randall
and
Nick Isham
.
[+] Enlarge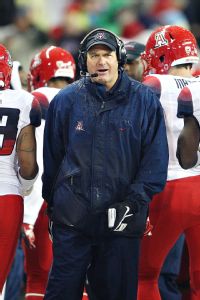 Kevin Casey/Getty ImagesRich Rodriguez is sifting through a horde of QBs, with no front runner at this point.
That order might be how the Pac-12 blog is handicapping the competition. Or it might not. Why does Rodriguez get to be the only mysterious guy on the question?
"I would say one through five is pretty bunched up right now," Rodriguez
told reporters after Monday's practice
. "I have tried to rotate them through there like that. I thought by now there would be a little more separation, but there really hasn't been."
Rodriguez was happy how his QBs played in a closed scrimmage on Saturday, and he seems satisfied with how the group is performing. You might recall that last spring, in the competition that
B.J. Denker
would eventually win, Rodriguez looked like he was sucking on lemons when asked to talk about his QBs.
So perhaps we can assume things are better than last year and at least on schedule.
"They're a very conscientious group," Rodriguez said. "When I ask them questions, they give the right answers. It's five practices and I'm going to continue putting them under the gun. I'm repping seven now and have nine scheduled for the fall. I can't rep nine equally in the fall. I'll pare it down as much as I can. If I don't know the top three or four, I'll keep repping them until I have that order."
Meanwhile, the competition to replace running back
Ka'Deem Carey
seems to be meandering a bit.
Pierre Cormier
,
Zach Green
and
Terris Jones-Grigsby
have been participating in spring practices, but Rodriguez isn't throwing out any bouquets just yet.
"They're OK," Rodriguez said. "They're getting a lot of reps. From
Daniel Jenkins
and Ka'Deem Carey, two of the best guys that we had and veterans, they're not going to be at that level yet. There's some talent there. Coach [Calvin] Magee is pushing them through to get them to play at a higher level, so I think they've gotten better."
Rodriguez isn't so shy, however, about expressing frustration with the NCAA, which has yet to clear early-enrolling true freshman running back
Jonathan Haden
to practice.
"It's really frustrating because the information is in and has been into the NCAA for a week and a half now," Rodriguez said.
March, 7, 2014
3/07/14
9:00
AM ET
There are plenty of issues Pac-12 teams will be addressing this spring. Here are some that are front and center for your Pac-12 insiders.
Ted Miller
: Spring practice is the official transition from taking stock of the 2013 season, including recruiting, to looking ahead to next fall. The 2013 season was all about top-to-bottom depth for the Pac-12 -- and the lack of an elite national-title contender. That might be the case again in 2014, but if the conference is going to be nationally relevant in Year 1 of the four-team College Football Playoff, I think it will be because of the depth and quality of the quarterbacks.
If
Travis Wilson
is cleared to play at Utah, 10 Pac-12 teams welcome back their 2013 starters, and many of these guys are All-American candidates, most notably Oregon's
Marcus Mariota
, UCLA's
Brett Hundley
, Arizona State's
Taylor Kelly
and Oregon State's
Sean Mannion
.
[+] Enlarge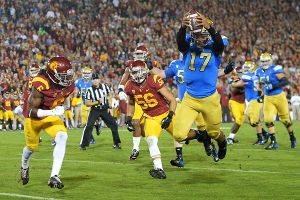 Kirby Lee/USA TODAY SportsHaving Brett Hundley back makes UCLA the favorite in the Pac-12 South.
The big question for these guys is if they can be better this season than last. If that happens -- for the above four and the six other returning starters -- then it should be a high-flying season with lots of offense. And perhaps a team emerges as a candidate for the playoff.
What most interests you this spring with the Pac-12?
Kyle Bonagura
: As a result of the continuity at quarterback, offenses should be in line for a collective step forward. How far could be determined by how quickly the conference's seven new defensive coordinators acclimate to -- and perform at -- their new jobs.
We won't get a great read on how that process is going during the spring, but it'll be interesting to see in what ways defenses evolve moving forward.
For Arizona State, Oregon, Stanford and UCLA, the change will be minimal. Todd Graham will remain heavily involved in how ASU plays defense, and the other three promoted staff members will use the framework and schemes already in place. USC might have a new staff, but considering coach Steve Sarkisian and defensive coordinator Justin Wilcox were in the conference last season, it should be an easy transition.
I'm more interested to see how things play out at California and Washington.
Washington is set up for success with the much-anticipated arrival of longtime Boise State coach Chris Petersen, who brought his defensive coordinator for the past four seasons, Pete Kwiatkowski. They have a talented front seven to work with and a favorable early schedule that will allow the staff to iron out any kinks: at Hawaii, Eastern Washington, Illinois, Georgia State.
Art Kaufman's job taking over the Cal defense won't be as easy. The Golden Bears should be in better shape than last season from a health and experience standpoint -- the latter partially a result of 2013's injury woes -- but there's a lot of ground to cover between where they were and being competitive.
Ted Miller
: One team that had coaching continuity at both coordinator spots is Arizona, and I think the Wildcats are setting up to be a dark horse in the Pac-12 South, though I do see UCLA as a strong favorite at this point. The intrigue with Arizona, though, is at quarterback. It seems like the most wide-open competition in the conference.
If
Cyler Miles
gets back in Petersen's good graces, he's got a significant lead for the Washington QB vacancy. At USC, I think that
Cody Kessler
is likely to retain his starting job over touted redshirt freshman
Max Browne
. Kessler steadily improved as a difficult season went on, and he still has his 2013 offensive coordinator/position coach in Clay Helton. At Utah, a healthy Wilson starts for the Utes.
But Arizona has four guys with a legitimate shot at winning the starting QB job this fall: Redshirt freshman
Anu Solomon
, senior
Jesse Scroggins
, sophomore
Connor Brewer
and junior Jerrard Randall. Solomon was one of the jewels of the 2013 recruiting class, while the other three are transfers from A-list programs -- Scroggins from USC, Brewer from Texas and Randall from LSU.
The first big question will be whether Rich Rodriguez narrows the field at the end of spring practices. How much does he want to establish a clear pecking order? You'd think at least one of these guys is going to be relegated to fourth place because there are only so many practice reps to go around.
The good news is the guy who wins the job is going to have an outstanding crew of receivers. He won't have running back
Ka'Deem Carey
lining up as a security blanket behind him, but Rodriguez's offenses almost always run the ball well. The Wildcats will average more than 200 yards rushing again next season, I feel confident saying that.
The million-dollar question -- the difference between competing for the South title and winning eight games again -- is how efficient the guy behind center is.
Any position battles particularly intrigue you this spring?
Kyle Bonagura
: Like you, I'm really intrigued to see how the quarterback competition at Arizona progresses. That's a lot of pressure for the three guys who already transferred from big-time programs. All of them clearly want to play, and it makes you wonder if one of them will end up at an FCS school before the season starts.
The most high-profile battle outside of quarterback has to be at Stanford, where four guys are competing to replace
Tyler Gaffney
at running back. I was out at the Cardinal's first open practice of the spring last week -- and will be out there again on Saturday -- and what stood out immediately was how balanced the reps were. If
Remound Wright
,
Ricky Seale
,
Barry Sanders
and
Kelsey Young
didn't have equal reps with the first team, it was close.
However it plays out, it's unlikely Stanford will feature one back like it has the past six years with Gaffney, Stepfan Taylor and Toby Gerhart.
Wright probably holds a slight edge in terms of the overall package -- largely because of his capabilities in pass protection -- but there are more similarities than differences in comparing each guy. A lot of people ask about Sanders because of his famous father (my favorite football player as a kid), but the reality with him is that expectations were probably too high when he arrived. His name and recruiting profile are to blame, and the coaching staff isn't going to force his development.
Young, who switched back to running back from receiver, might be the most dangerous with the ball in his hands and Seale, a fifth-year senior, might have the best grasp of the offense.
March, 5, 2014
3/05/14
5:30
PM ET
While some football players love to practice, most just tolerate it while recognizing its importance for winning on Saturday. Spring practices, with no game looming ahead operating as a reward for weeks of hard work, can feel like even more of a drudgery.
But for Arizona receiver
Austin Hill
, spring practice feels like he's standing in front of a spectacular buffet dinner. And he's really, really hungry.
[+] Enlarge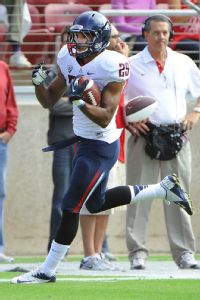 AP Photo/Rob HoltAustin Hill missed all of the 2013 season with a torn ACL.
"I'm actually starving," he said. "I haven't eaten in a whole year."
Hill was a second-team All-Pac-12 selection following the 2012 season after ranking second in the conference in receiving yards. The sophomore looked like a potential All-American in 2013 after catching 81 passes for 1,364 yards -- 16.8 yards per reception -- with 11 touchdowns.
But his 2013 season ended before it began on April 10 after he tore his ACL during the second-to-last session of spring practice.
Poof -- just like that, football was taken away,
replaced by uncertainty and the daily burden -- and boredom -- of rehabilitation
. That's why even a no-pads practice to start spring drills this week was invigorating.
Hill practiced with the Wildcats in a limited fashion during the final weeks of the 2013 season, but he's still not 100 percent healthy. While he's officially full-speed this spring, he's still wearing a knee brace and his explosiveness and speed are not fully back.
"That's basically the last step of ACL recovery," he said. "I'm still in those processes."
Hill said he's significantly stronger than before the injury. While he's the biggest name among the Wildcats receivers, it's an impressively deep unit. Not only do six of the seven top receivers from 2013 return, a crew topped by impressive sophomore
Nate Phillips
, the Wildcats also added a pair of A-list transfers in
DaVonte' Neal
(Notre Dame) and
Cayleb Jones
(Texas).
Neal and Jones both sat out last season, so Hill knows they share his hunger, while the returning starters and contributors don't want to yield repetitions. While it's a collegial atmosphere among the receivers at practice, it's also a competition for touches and position in the pecking order.
"Everyone is helping each other out on the field," Hill said. "It's fun to see athletes compete. It's always fun."
Of course, the competition at receiver figures to yield certainty -- an outstanding and deep crew of four or five guys in a regular rotation with one or two leading the way. The bigger issue is who is going to deliver the ball.
Hill laughs at the inevitable quarterback competition question, for an answer behind center probably won't be delivered until fall camp. Perhaps even late in fall camp, as it was last year.
Hill, for one, admits he'd prefer to get some clarity much sooner.
"Right now ... who knows? I just hope it doesn't end up like it was last year, where even in the first couple of games we really didn't know who the quarterback was," he said. "I want it to be a QB we know is going to start. That's the most important thing for your passing game, that receiver-QB sync. It's hard to get that sync when you don't know who your quarterback is and it's getting switched up every day."
"

I just hope it doesn't end up like it was last year, where even in the first couple of games we really didn't know who the quarterback was. I want it to be a QB we know is going to start. That's the most important thing for your passing game, that receiver-QB sync. It's hard to get that sync when you don't know who your quarterback is and it's getting switched up every day.

"

Arizona receiver Austin Hill on the Wildcats' quarterback competition.
Of course, that's up to the QBs -- senior
Jesse Scroggins
, sophomore
Connor Brewer
, junior
Jerrard Randall
and redshirt freshman
Anu Solomon
-- and coach Rich Rodriguez, who has said repeatedly about QB competitions that he would prefer that one guy quickly and decisively wins the job.
Just don't expect it to happen this spring.
As for Hill's take, he often doesn't even know who's delivering the ball.
"The quarterbacks are getting switched around so much, sometimes it's even hard to tell which quarterback even went with my group when I went," he said. "We move so fast, I don't get to pay attention to what quarterback is throwing me the ball."
While the QBs work through their competition, Hill will be a veteran leader for the offense, back in action after a year of observing the team from the outside. When he looks around at practice at the improved personnel on both sides of the ball, he senses that the Wildcats are going to surprise some folks this season.
"I'm ready to help this team to a BCS bowl," he said. "I feel like that's where we're headed."
As Hill missed last season and is still not 100 percent, he, of course, can be forgiven for forgetting 2013 was the last season of the BCS era. His point is clear. He believes Arizona is going to be a threat in the Pac-12's South Division in 2014.
February, 24, 2014
2/24/14
7:00
PM ET
Spring has sprung in the Pac-12
, with Stanford starting spring practices this week and several schools following suit next week.
Ergo, we break down where teams stand with each position group, starting with quarterbacks.

Arizona
: The Wildcats probably have the most wide-open QB competition, with four guys having a legitimate chance to replace the departed
B.J. Denker
. Three are transfers from big-time programs: senior
Jesse Scroggins
(USC), sophomore
Connor Brewer
(Texas) and junior
Jerrard Randall
(LSU). The fourth, redshirt freshman
Anu Solomon
, was one of the biggest stars in the 2013 recruiting class. Don't expect much to be settled by the end of spring, though coach Rich Rodriguez might at least allude to some sort of pecking order. Or a top three.

Arizona State
: The Sun Devils are strong at QB with senior
Taylor Kelly
, a third-year starter who has put up big numbers the past two seasons, and junior
Mike Bercovici
, a big-armed backup -- perhaps, in fact, the best backup in the Pac-12. That's why
Michael Eubank
opted to transfer to Samford in Birmingham, Ala. It will be interesting to see which of the youngsters on the roster emerge as a No.3, a guy who might challenge Bercovici in 2015.

California
: It seems unlikely that sophomore
Jared Goff
will be unseated, particularly after
Zach Kline
opted to transfer. Goff was uneven last season -- his entire team was -- but flashed plenty of potential. He and a talented crew of receivers should get better this spring. The big question might be whether anyone challenges senior
Austin Hinder
for the backup job.

Colorado
: Sophomore
Sefo Liufau
is solid as the returning starter. He took some lumps last season but also flashed plenty of promise -- as both a player and leader. After him, there's junior college transfer
Jordan Gehrke
, a redshirt sophomore, the likely backup. Depth is a problem, at least this spring. As the
Boulder Daily Camera noted
, "Five quarterbacks have left the CU program either to transfer to other schools or give up the sport entirely since the start of spring football last year. A sixth completed his eligibility last season." That's why the Buffs added walk-on Trent Sessions to the roster. He worked with the equipment staff last year.

Oregon
: The Ducks probably feel pretty good about their third-year starter, junior
Marcus Mariota
, a leading 2014 Heisman Trophy candidate who would have been a first-round pick if he'd entered the 2014 NFL draft. The competition for the backup spot, however, will be interesting because Mariota is almost certain to enter the NFL draft after the season. Sophomores
Jeff Lockie
and
Jake Rodrigues
are 2A and 2B, with Lockie first off the bench as the backup in 2013, but Rodrigues the more physically talented player as a runner and passer.

Oregon State
: Like their friends to the south, Oregon State is fortunate its 2013 starter,
Sean Mannion
, decided to return instead of entering the NFL draft. Mannion's chief focus will be finding some receivers to replace the production of the departed
Brandin Cooks
. The battle for the backup job also will be interesting between sophomore
Brent VanderVeen
and redshirt freshman
Kyle Kempt
. Of course, their battle might not resolve things much for 2015, with incoming Alabama transfer
Luke Del Rio
joining the fray after sitting out a season.

Stanford
: It seems unlikely that two-year starter
Kevin Hogan
will be challenged for the starting job this spring, even though he had some ups and downs in 2013, but there is no lack of talent battling for the backup job. Junior
Evan Crower
was the backup in 2013, but redshirt freshman
Ryan Burns
is a big-time talent. As is incoming freshman
Keller Chryst
, who officially will arrive in the fall but, as a Palo Alto resident, figures to hang around spring practices.

UCLA
: Heading into his third season running the offense,
Brett Hundley
gives the Bruins one of the best starting quarterbacks in the nation. He's a proven dual threat and leader who will be refining his game this spring and building chemistry with his receivers. After him, however, things are a bit iffy, in large part because of the 2013 preseason transfer of
T.J. Millweard
to Kansas. The chief competitors for the backup job are
Jerry Neuheisel
, the 2013 backup, and redshirt freshman
Asiantii Woulard
, with Woulard being the guy with the most future upside. Of course,
there is another QB out there
some UCLA fans might be thinking about.

USC
: The returning starter facing the most formidable challenge to his starting job this spring is probably
Cody Kessler
, even though Kessler played well in the second half of the 2013 season. With the transfer of
Max Wittek
, touted redshirt freshman
Max Browne
, at the very least, sets up to be a high-quality backup next season. But plenty of folks think Browne has a legitimate shot to unseat Kessler, particularly with new coach Steve Sarkisian taking over.

Utah
: There's still no final word on the long-term health issue that might end QB
Travis Wilson
's career, and anything decisive might not come for weeks. If Wilson gets cleared, the good bet is on him returning to the starting job. If not, a spring competition will begin between
Adam Schulz
, who stepped in when Wilson went down, and redshirt freshmen
Conner Manning
and
Brandon Cox
. In the fall, dual-threat QB
Donovan Isom
arrives.

Washington
:
Keith Price
, a three-year starter, is gone, but the Huskies seemed fairly set at QB with sophomore backup
Cyler Miles
appearing plenty capable of stepping into the cockpit this spring. In limited action last season, Miles completed 61 percent of his throws for 418 yards with four TDs and two picks, and he also showed good mobility, rushing for 200 yards. The pecking order at least seemed set, that is, until Miles got into some
off-field trouble that threatens his status for spring practice
and perhaps beyond. If Miles is still suspended, that means opportunity comes knocking for sophomore
Jeff Lindquist
or redshirt freshman
Troy Williams
to make an impression.

Washington State
:
Connor Halliday
will be a senior, three-year starter and the Cougars' top leader in the third season running Mike Leach's "Air Raid" offense. He figures to put up huge numbers this fall with a strong crew of receivers. His 2013 backup, sophomore
Austin Apodaca
, opted to transfer, perhaps believing that redshirt freshman
Tyler Bruggman
had the inside track to the starting job in 2015. Depth is a bit of a question, with the No. 3 this fall likely being true freshman
Peyton Bender
.
December, 24, 2013
12/24/13
5:30
PM ET
T'was the night before Christmas and the Pac-12 blog crew;
Was still smarting and miffed at the fall of Wazzu.

Dressed in an opulent red and green sweater;
Ted furiously hoped that the Beavs would do better.
The Trojans exploded and won one for 'O;'
Only to learn
Dion Bailey
would go.
Utes, Bears and Buffs are home for the bowls;
Leaving their fans little reason to troll.
Two teams from the desert are still yet to play;
With RichRod and Graham hoping things go their way.
One last run for Price in his prime;
Plus he gets to Fight Hunger at the same time.
The Alamo will be Mack Brown's last stand;
Even if the year didn't go as the Ducks planned.
Barr's last game will be played in The Sun;
We're also wondering: Is
Brett Hundley
done?
Last but not least is the Tree vs. Sparty;
In the backfield the Cardinal hope they will party.
So enjoy Christmas Eve with your best pint of ale;
Sit back and relax to this bag of mail.
(I know, it's not as good as Chongo's).
Dylan in Boston writes
: Hi Kevin, In all the reporting/speculation about Justin Wilcox following Sarkisian to Troy, it seems like everybody's overlooking the fact that the Trojans already have an A-list coordinator in Clancy Pendergast. Am I the only one confused by this? In the years Pendergast was at Cal, he did more with less than Wilcox has had at Washington (at the least the talent was comparable), particularly against my Ducks. Has Wilcox really shown enough for people to assume that he has the advantage over Pendergast?
Kevin Gemmell
: Has he shown enough? I think so. I think Wilcox is an outstanding coordinator and defensive-minded coach. But you're right, you can't overlook the job that Pendergast did at USC this year.
The move to an odd front was a fantastic one for the Trojans. Say this for Lane Kiffin, he recognized that the Trojans needed a scheme that was going to be able to account for all of the edge speed in the league and he adjusted accordingly by bringing in Pendergast. Obviously, things didn't work out so well on the offensive side of the ball for Kiffin. But let's give the credit where credit is due.
The numbers for both coaches suggest major improvements since their arrival. First, Washington:
In the two seasons since Wilcox arrived, the Huskies have improved in scoring defense each year. They were giving up 35.9 points per game in 2011, followed by 24.2 in 2012 and 23.4 in 2011. They have also improved turnover margin and rushing yards allowed each of the last two years.
For USC, in one season under Pendergast, the Trojans cut their points allowed by more than a field goal, made huge strides in rush defense (167 yards allowed in 2012 compared to 120.3 in 2013) and were on the plus side of turnover margin after going minus-2 in 2012 and minus-1 in 2011 (they were plus-6 this year).
So the morale of the story is this: If you're a Washington fan, you want Wilcox to stay in Washington. If you're a USC fan, you're going to be happy either way.
Peter in NorCal writes
: One thing that Sark going to SC won't hurt: The Stanford-USC rivalry. It seems like David and Steve get along about as well as Jim and Pete did. Fair statement? What are your observations about the two of them (both generally, and specifically the snippiness that ensued after the Stanford/Washington game this year).
Kevin Gemmell
: It's funny that you bring that up. Every year Ted and I go to the Pac-12 spring meetings in Arizona. Basically, it's Ted and I sitting outside of meeting rooms, waiting for the coaches to emerge, and then grabbing them for interviews. Then we sit outside, watch the coaches eat lunch, and then grab them again for more interviews.
One thing Ted and I were commenting on this year was how well all of the Pac-12 coaches get along. The Big 12 coaches meeting was going on at the same time and there was little to no interaction between those guys. But the Pac-12 coaches were all sitting together and chatting each other up after meetings.
Now, we're not in the meetings with the coaches, so I can't speak to how they interact. But from what I've seen, Sarkisian and David Shaw got along just fine.
Of course, that was last May and a lot has happened since then, including the aforementioned post-game war of words.
We don't need to rehash all of the details, but I know Shaw objected to having his assistant and his players called out by name. And whether you agree with him retaliating with a Tuesday tirade is your personal business. Sark was ticked and probably broke a couple of unwritten rules. It happens. Shaw kept the story alive an extra couple of days by using the coaches' teleconference and his Tuesday roundtable as a pulpit to respond.
Neither coach "won" the public relations battle. And I don't think either cares. But it certainly spices things up for when the Cardinal and Trojans meet again. That -- and the fact that it's come down to the last play three of the last four meetings.
Curt in Las Vegas writes
: Hey Kevin, Chip Kelly left the
Oregon Ducks
firmly entrenched with quality players. In 2013 going 10 and 2 and playing in the Alamo bowl to us Duck fans is a letdown! Do you think Mark Helfrich is planted at Oregon with the year he had?
Kevin Gemmell:
Did Chip Kelly hurt
Marcus Mariota
's knee? I think we can all agree that things took a turn for the worst for Oregon when he started coming up gimpy.
I think Helfrich is a very good coach who encountered a lot of the Year 1 obstacles every coach faces. But because it's Oregon, a perennial top-5 program, those obstacles are magnified. When you've sat in a coordinator's chair for so long and then make the jump, there is some transition and self-evaluation that is required. Ted and I took a lot of guff
for picking Stanford to win the conference
over Oregon for this very reason.
The Alamo Bowl is a letdown, sure. A 10-2 team playing in the deepest conference in college football deserves a shot at a BCS bowl game. But as the players have said, they need only look at themselves for where they are at.
Helfrich is going to be just fine, and Oregon is going to be just fine. He has a chance to get an 11th win -- something Kelly didn't do in his first year. And win a bowl game. Also something Kelly didn't accomplish. We have to see how the new College Football Playoff pans out, but I don't see any reason why a Helfrich-led Oregon won't be in the hunt annually.
Scott in London, England writes
: Hi Kevin, I've read twice in the blog today about you mentioning how scary Arizona can be next year and it got me thinking. I know we have a lot of great transfers and recruits coming in, but I'm a bit unsure as to who exactly are supposed to be immediate impact players and how many returning starters there wil be, etc.I was wondering if you and Ted plan on doing a run down of next year's potential for each Pac team that consolidates all this into one easy blog post per team:* Transfers/JuCos and why they are good/meh* Recruits and why they are good/meh* Returners and why they are good/meh* Coaching changes and why they are good/meh (assistants too)* Schedule goods and bads* Will there be an El Nino, etc...I would say I'm an above-avg fan but I really don't have the Google-Fu skills or time to compile all this and I think every Pac fan would appreciate it a series like that.Maybe you guys already do that during the offseason or preseason, but I think it could also be good after bowl season.You can think of it as your first chance to be the, "We told you so" guys. Thanks for reading, always enjoy your stuff. Keep up the good work.
Kevin Gemmell:
I can assure you there will be plenty of time in the offseason for all sorts of schedule analysis, roster breakdowns etc. etc. Ted and I are happy to fill the void during the offseason, as we do every year.
Just a heads up on Arizona. Among some of the key players who will be coming off the scout team are
Cayleb Jones
,
Davonte' Neal
and
Connor Brewer
. They will all be eligible in 2014 after transferring.
Jones is a wide receiver who is transferring from Texas, and he's reunited with Brewer, a former Longhorns quarterback. Neal, from Scottsdale, is a transfer receiver from Notre Dame who made a push to become eligible in 2013, but the NCAA denied his hardship waiver. You put him in with
Austin Hill
, who should be fully recovered from his knee injury and should be high on the Belitnikoff watchlist, along with
David Richards
,
Nate Phillips
and
Samajie Grant
and you have a receiver corps that is as good as any in the conference -- probably the country.
Quarterback will be an issue and
Anu Solomon
is one to watch. I had this in Lunch Links today. It's a good read from Anthony Gimino
breaking down Arizona's QB prospects for next year
.
Essentially, the Wildcats have a bunch of really exciting skill players that will make the South that much more exciting. They do lose three seniors on the defensive line, so guys like
Luca Bruno
,
Calvin Allen
and
Jack Banda
will have to step up.
But Arizona does indeed have some scary potential next year.
Mike in Maple Valley, Wash. writes
: Your definition of "Coug" was pretty spot on. You said it has been an effective term since 2005. The origin may actually go back to the 1975 Apple Cup. To "Coug it" is a ceremonial act hand down from one generation to another.
Kevin Gemmell
: First off, Maple Valley sounds like the most delicious place on earth.
Second, that was a phrase pulled straight from the Urban Dictionary, and the submission was entered in 2005, so unfortunately I can't take credit for it. I didn't put the link in though because Urban Dictionary has a lot of non-blog-friendly expressions and sayings. You're free to Google it yourself.
I called no joy in writing that piece. But I do think Washington State is moving in the right direction under Mike Leach. Speaking of that column ...
Andy in Fort Collins Colo. writes
: You're Washington State take
was so one-sided and arrogant
. How about giving the Rams a little credit instead of making excuses. (And Merry Christmas).
Kevin Gemmell
: Ah, thanks Andy. Merry Christmas to you.
It was a Washington State-centric story because I'm the Pac-12 reporter and I cover the Pac-12 and Washington State is a Pac-12 team and it appeared on the Pac-12 blog. See the trend?
Did you email all of the beat writers in Pullman and Spokane and the surrounding areas and chastise them for their coverage? The folks at
CougCenter
do a heck of a job. And their stuff was a bit one-sided.
I don't think it's arrogant to say the Pac-12 is a better conference. I've covered both, so I feel like I'm qualified to weigh in on this. In the 12 games the two conferences have played so far, the Pac-12 has gone 11-1 and outscored the Mountain West, on average, 38.5 to 20.
Arizona should beat UNLV. And it did. Colorado should beat Colorado State. And it did. Oregon State and USC should beat Hawaii. And they did. Oregon State should beat San Diego State. And it did. UCLA should beat Nevada. And it did. Stanford should beat San Jose State. And it did. USC and Utah should beat Utah State. And they did. USC should beat Fresno State and Washington should beat Boise State. And they did.
For what it's worth, I did include in the piece that Colorado State deserved the win for not quitting. And anything is possible (especially in Albuquerque, it seems) when you have two weeks to prepare.
That goes for tonight's matchup between Oregon State and Boise State. The Broncos certainly aren't the same team they were a month ago. And I'm not totally sure which Oregon State team we're going to get. If it's the explosive
Sean Mannion
-to-
Brandin Cooks
connection, the Beavs should be fine. If it's not, then Boise State certainly could win.
Such is the nature of bowl season.
Merry Christmas from the Pac-12 blog.
July, 30, 2013
7/30/13
10:45
AM ET
Arizona's quarterback competition is really heating up. But it's the 2014 edition -- not the 2013 competition -- that we're talking about.
With the news that former Texas quarterback
Connor Brewer
is
transferring to Tucson
, head coach Rich Rodriguez now finds himself with an abundance of quarterbacks for 2014.
Brewer, who is from Scottsdale, led Chaparral High to three state championships and was the No. 7-rated quarterback in the 2012 class by ESPN. At the time, he had received Pac-12 offers from Arizona, ASU, Stanford, UCLA, USC and Washington. He was also offered by Alabama, Notre Dame and Michigan, among others.
Per NCAA transfer rules, he'll have to sit out 2013, but he'll join a quarterback class in 2014 that includes Anu Solomon, former USC quarterback
Jesse Scroggins
,
Javelle Allen
and possibly
Brandon Dawkins
, who committed to the Wildcats last week out of Westlake Village (Calif.) Oaks Christian.
Brewer tweeted his decision last night that he was headed back to his home state. He'll be reunited with former Chaparral teammate
Davonte Neal
, a wide receiver transfer from Notre Dame whose
eligibility for 2013
is still up in the air.
Per Anthony Gimino of the
Tucson Citizen
:
Brewer's commitment gives Arizona four of the top 10 in-state players from the 2012 class , as ranked by Rivals.com.

If Neal and Brewer -- who have been friends since the eighth grade — had signed with Arizona in February of 2012, excitement would have been off the charts. Neal was No. 3 in the state, Brewer No. 5, offensive lineman Zach Hemmila was No. 6 and defensive lineman Dwight Melvin was No. 10.
August, 29, 2011
8/29/11
7:00
PM ET
By
ESPN.com staff
| ESPN.com
Tenth in a series looking at potential dream and nightmare scenarios for all Pac-12 teams.
Understand: These are not predictions. They are extreme scenarios and pieces of fiction. You can read
last season's versions here
.

We're going in reverse order of my
post-spring power rankings
(which might not be identical to my preseason power rankings).
Up next
: Arizona State
Best case
Linebacker Vontaze Burfict collects 11 tackles, including two sacks and an interception, and quarterback
Brock Osweiler
throws two touchdown passes as Arizona State announces itself as a national contender with a 33-17 drubbing of No. 21 Missouri.
And Burfict shows up for post-game interviews.
"I want to read a statement," Burfict begins. But then he tosses the piece of paper aside. "No. I'm not going to be managed. That's part of my problem. The effort to manage me, which includes using my so-called shyness to justify my refusal to talk to reporters, has hurt me and this program. I am not a great talker. Probably never will be. But being a man is sometimes doing things you don't like to do. Being a man is also admitting mistakes and not looking for excuses. If an Internet report about me gets details wrong about something that still is mostly true, I shouldn't get mad about those incorrect details if I won't show up to correct the record and say what happened. And when I get in a
locker room fight with a teammate
, well, while I appreciate the rationalization and blind support from so many Sun Devils fans, the absolute bottom line is this: No excuses. It's on me. 100 percent. I need to grow up. Talk is cheap, but it's even cheaper that I haven't taken responsibility. Today, I am. I owe that to my coaches, teammates and our great fans."
Arizona State rolls over Illinois 42-10, then nips USC 24-21 after Burfict stuffs
Matt Barkley
on a fourth-and-inches quarterback sneak on the Trojans final drive. After beating Oregon State 30-17, the 5-0 Sun Devils move up to ninth in the national rankings.
"Utah and Arizona State are the two South Division front-runners after both beat USC," says ESPN's Chris Fowler. "But is this a bigger game for the Sun Devils because the Utes don't play Oregon or Stanford?"
Osweiler connects with
Gerell Robinson
for the game-winning tally in overtime. Up next: The No. 6 Sun Devils visit No. 1 Oregon.
"Did I fake an injury against the Ducks last year?" says Burfict. "You guys! I could answer that, but then you'd have to promise to let me smack you."
The reporters laugh nervously and then get quiet as Burfict glowers at them.
"You guys need to lighten up!" says Burfict. "Just messing with y'all!"
The Ducks prevail 30-27 on a late field goal.
"Look, the Ducks look like they are going to steamroll into their showdown with Stanford on Nov. 12," Fowler says. "But, wow, Vontaze Burfict. Should he at least get invited to New York for the Heisman ceremony?"
"An absolute beast on the field," Kirk Herbstreit replies. "But, really, we've gotten to know him off the field this year. Just a big Teddy bear. If your Teddy bear is 6-foot-3, 250 pounds and really, really fast and aggressive."
The Sun Devils roll over Colorado, UCLA and Washington State. Two weeks after beating Utah, Arizona arrives in Tempe. The Wildcats' only two defeats came against Oregon and Stanford, so beating the Sun Devils would win them the South title.
"I respect the hell out of them," Burfict says. "But respect isn't what I'm going to spend a lot of time thinking about when they stand across the field from me."
Coach Dennis Erickson announces that cornerback Omar Bolden is "100 percent and ready to go."
Osweiler throws four touchdown passes in a 40-24 victory. Burfict terrorizes the Wildcats with 12 tackles, four coming for a loss, and Bolden picks off
Nick Foles
twice. A week later, the Sun Devils survive a flat performance against California, winning 20-17, thereby earning the South Division title and another shot at the Ducks.
"Hey guys," says Erickson in the pregame locker room at Autzen Stadium. "Vontaze wants to say something."
"I'm not much of a talker. Unless it's trash talking." The Sun Devils laugh. "But here's what I can say, and I hope you know it's from the heart. This is about us, not them. I love you guys and I'm going to give this team -- all of you -- everything I've got tonight. Everything. My plan is to to look them in the eye and let them know I am here to take this game from them and I will send that message every play. If we all do that, together, we are going to win this game. And, brothers, what we do in life... echoes in eternity."
A diving Burfict tips away a
Darron Thomas
pass intended for tight end
David Paulson
. The Ducks' 2-point conversion fails in the third overtime. The Sun Devils earn a berth in the Rose Bowl.
The Sun Devils beat Wisconsin 28-17 and finish 13-1 and ranked third.
Burfict announces he's returning for his senior season, "to complete the growing up process and get my degree. And to terrorize the Wildcats another season."
Andrus Peat
,
Davonte Neal
, D.J. Foster and
Reggie Daniels
commit to Arizona State. That convinces quarterback
Connor Brewer
to decommit from Texas and sign with the Sun Devils, whose recruiting class ranks ninth in the country.
"I've got great news," says athletic director Lisa Love. "Now that the economy is rallying and local housing prices are soaring, we are pleased to announced a $100 million anonymous donation that will help finance a $200 million renovation of Sun Devil Stadium."
Worst case
Missouri tight end
Michael Egnew
couldn't haul in the fourth-and-8 pass late at Arizona State, but he gets a second chance, and he's not the sort to waste one of those.
When a unsportsmanlike conduct penalty against Burfict gives the Tigers new life -- a first down on the ASU 14 with 25 seconds left --
James Franklin
finds his All-American tight end in the corner of the end zone for the winning score in 31-28 victory.
The Sun Devils bounce back and win at Illinois, but a rejuvenated USC secondary picks off Osweiler three times in a 24-21 Trojans win in Tempe. The Sun Devils nip Oregon State, but fall at Utah in overtime. Things go haywire at Oregon in a 44-20 defeat, with Burfict getting benched after a late hit on Ducks quarterback Thomas.
"We were down 10 in the third quarter and we get a third-down stop," Erickson says. "That penalty killed us."
Headline in the Arizona Republic: "Are Erickson's days numbered?"
The Sun Devils even their record with a 27-24 win at Colorado, but fall at resurgent UCLA. A win at Washington State, however, leaves the Sun Devils just one win short of bowl eligibility.
Arizona comes to town needing a win to sew up the South Division title.
"Our first priority is beating Arizona," Erickson says. "Bowl eligibility, my future, that will take care of itself."
Late in the fourth quarter, with the score 21-21 and the Wildcats on their 33,
Keola Antolin
takes a handoff and sees no room on the right side. He reverses course, yields five yards in the Wildcats backfield and tries to sprint to the left sideline, hoping that he can out-run the over-pursuit. Burfict recovers quickly and takes a beeline for him.
Shhhhhmackkk!
That is until Arizona quarterback Nick Foles comes from nowhere to flatten Burfict.
Antolin goes the distance. The Wildcats win the Territorial Cup back. And they win the South. In the Pac-12 title game, Arizona shocks No. 1 Stanford and earns the program's first-ever trip to the Rose Bowl, where it beats No. 8 Nebraska, 33-28.
The Wildcats finish 11-3 and ranked sixth.
While most frustrated Sun Devils fans are done with their team, Sun Devil Jose demands a game with California. Cal wins 10-3.
The Sun Devils finish 5-7, their fourth consecutive losing season under Erickson.
Erickson resigns. "Hey, we gave it a run and it didn't work out," he says. "I'm headed up to Coeur d'Alene to play golf, go fishing and drink a few cold ones."
"I'm pleased to announce the coach who I feel strongly will take us to the next level," athletic director Lisa Love tells a gathered media throng.
"Ladies and gentlemen... John Mackovic!"
Andrus Peat
,
Davonte Neal
, D.J. Foster and
Reggie Daniels
commit to Arizona. That convinces quarterback
Connor Brewer
to decommit from Texas and sign with the Wildcats, whose recruiting class ranks 12th in the country.
"I don't care about recruiting rankings!" Mackovic says of a class that ranked 10th in the Pac-12. "I know what I know and that is a lot."