December, 2, 2013
Dec 2
3:50
PM ET
The Pac-12 has announced its first- and second-team all-conference squads and postseason awards for 2013.
[+] Enlarge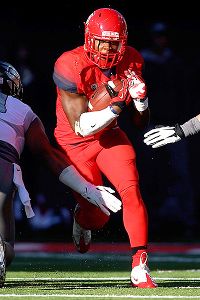 Mark J. Rebilas/USA TODAY SportsPac-12 Offensive Player of the Year Ka'Deem Carey was the only unanimous first-team pick.
Arizona running back
Ka'Deem Carey
has been named the league's offensive player of the year. Arizona State defensive lineman
Will Sutton
joins an elite fraternity, earning his second straight Pat Tillman Defensive Player of the Year award. Washington's Steve Emtman is the only other player to win the league's defensive player of the year award in back to back years (1990-1991).
UCLA's
Myles Jack
earned freshman of the year for both offense and defense with his 70 tackles as a linebacker and seven touchdowns as a running back. This is the first time since the awards were introduced in 2008 that the same player has won both sides.
Arizona State coach Todd Graham is the league's coach of the year for guiding the Sun Devils to a conference record of 8-1 and winning the South Division. The Sun Devils host Stanford this weekend in the Pac-12 championship game.
The team is selected by the Pac-12 head coaches.
Offensive player of the year:
Ka'Deem Carey, RB, Arizona
Pat Tillman Defensive Player of the Year:
Will Sutton, DE Arizona State
Freshman Offense and Defensive Player of the Year:
Myles Jack, RB/LB, UCLA
Coach of the Year:
Todd Graham, Arizona State
First team offense
QB
Marcus Mariota
, So., Oregon (2)
RB
Ka'Deem Carey, Jr., Arizona (2)
RB
Bishop Sankey
, Jr., Washington
WR
Brandin Cooks
, Jr., Oregon State
WR
Paul Richardson
, Jr., Colorado
TE
Chris Coyle
, Grad., Arizona State
OL
Evan Finkenberg
, Grad., Arizona State
OL
Hroniss Grasu
, Jr., Oregon (2)
OL
Marcus Martin
, Jr., USC
OL
Xavier Su'a-Filo
, Jr., UCLA (2)
OL
David Yankey
, Sr, Stanford (2)
First team defense
DL
Ben Gardner
, Sr., Stanford
DL
Trevor Reilly
, Sr., Utah
DL
Will Sutton, Sr., Arizona State
DL
Leonard Williams
, So., USC
LB
Anthony Barr
, Sr., UCLA (2)
LB
Trent Murphy
, Sr., Stanford (2)
LB
Shayne Skov
, Sr., Stanford
DB
Deone Bucannon
, Sr., Washington State
DB
Alden Darby
, Sr., Arizona State
DB
Ifo Ekpre-Olomu
, Jr., Oregon
DB
Robert Nelson
, Sr., Arizona State
DB
Ed Reynolds
, Sr., Stanford (2)
First team specialists
PK
Zane Gonzalez
, Fr., Arizona State
P
Tom Hackett
, So. Utah
RS
Ty Montgomery
, Jr., Stanford
ST
Soma Vainuku
, So. USC
Second team offense
QB
Taylor Kelly
, Jr., Arizona State
RB
Tyler Gaffney
, Sr., Stanford
RB
Marion Grice
, Sr. Arizona State
WR
Ty Montgomery, Jr., Stanford
WR
Jaelen Strong
, So., Arizona State
TE
Austin Seferian-Jenkins
, Jr., Washington
OL
Jamil Douglas
, Jr., Arizona State
OL
Cameron Fleming
, Sr., Stanford
OL
Andrus Peat
, So., Stanford
OL
Isaac Seumalo
, So., Oregon State
OL
Khalil Wilkes
, Sr. Stanford
Second team defense
DL
Scott Crichton
, Jr., Oregon State
DL
Taylor Hart
, Sr., Oregon
DL
Devon Kennard
, Sr., USC
DL
Hau'oli Kikaha
, Jr., Washington
DL
Tenny Palepoi
, Sr., Utah
LB
Carl Bradford
, Jr., Arizona State
LB
Myles Jack, Fr., UCLA
LB
Hayes Pullard
, Jr., USC
LB
Chris Young
, Sr., Arizona State
DB
Dion Bailey
, Jr., USC
DB
Osahon Irabor
, Grad., Arizona State
DB
Marcus Peters
, So., Washington
DB
Rashaad Reynolds
, Sr., Oregon State
Second team specialists
PK
Vincenzo D'Amato
, Sr., California
P
Travis Coons
, Sr., Washington
RS
Nelson Agholor
, So., USC
ST
Erick Dargan
, Jr., Oregon
ST
Joe Hemschoot
, Sr., Stanford
ST
Ryan Hofmeister
, Jr., UCLA
RS: Return Specialist
ST: special teams player (not a kicker or returner)
(2): Two-time first-team selection
Honorable mention
Arizona:
LB
Marquis Flowers
, Sr.; DL
Tevin Hood
, Sr.; WR
Nate Phillips
, Fr.; DB
Jared Tevis
, Jr.; LB
Scooby Wright
, Fr.
Arizona State:
DL
Davon Coleman
, Grad.;
Gannon Conway
, Sr.; ST
D.J. Foster
, So.; ST
De'Marieya Nelson
, Jr.
California:
DL
Deandre Coleman
, Sr.; QB
Jared Goff
, Fr.; WR
Bryce Treggs
, So.
Colorado:
RB
Mike Adkins
, Fr.; LB
Addison Gillam
, Fr.; PK
Will Oliver
, Jr.
Oregon:
WR/RS
Bralon Addison
, So.; WR
Josh Huff
, Sr.; OL
Tyler Johnstone
, So.; DL
Wade Keliikipi
, Sr.; LB
Derrick Malone
, Jr.; RB
Byron Marshall
, So.; DL
Tony Washington
, Jr.
Oregon State:
OL
Grant Enger
, Sr.; TE
Connor Hamlett
, JR.; QB
Sean Mannion
, Jr.; DB
Ryan Murphy
, Jr.; DB
Steven Nelson
, Jr.; ST
Terron Ward
, Jr.
Stanford:
DL
Henry Anderson
, Sr.; DB
Alex Carter
, So.; OL
Kevin Danser
, Sr.; DL
Josh Mauro
, Sr.; P
Ben Rhyne
, Sr.; DB
Jordan Richards
, Jr.; LB
A.J. Tarpley
, Sr.
UCLA:
OL
Jake Brendel
, So.; ST
Jayon Brown
, Fr.; P
Sean Covington
, Fr.; TE
Thomas Duarte
, Fr.; WR
Shaq Evans
, Sr.; WR
Devin Fuller
, So.; DB
Randall Goforth
, So.; QB
Brett Hundley
, So.; DB
Anthony Jefferson
, Jr.; LB
Eric Kendricks
, Jr.; DL
Cassius Marsh
, Sr.; DL
Ellis McCarthy
, So.; DB
Fabian Moreau
, So.; OL
Alex Redmond
, Fr.; DL
Eddie Vanderdoes
, Fr.; LB
Jordan Zumwalt
, Sr.
USC:
P
Kris Albarado
, So.; RB
Javorius Allen
, So.; WR Nelson Agholor, So.; DB
Su'a Cravens
, Fr.; OL
Kevin Graf
, Sr.; TE
Xavier Grimble
, Jr.; QB
Cody Kessler
, So.; WR
Marqise Lee
, Jr.; DB
Josh Shaw
, Jr.; DL
J.R. Tavai
, Jr.; OL Max Turek, So.; DL
George Uko
, Jr.
Utah:
WR
Dres Anderson
, Jr.; OL
Vyncent Jones
, Sr.; DB
Keith McGill
, Sr.; PK
Andy Phillips
, Fr.; LB
Jason Whittingham
, So.
Washington:
OL
Dexter Charles
, So.; PK
Travis Coons
, Sr.; OL
Mike Criste
, Jr.; OL
Micah Hatchie
, Jr.; DB
Sean Parker
, Sr.; QB
Keith Price
, Sr.; DL
Danny Shelton
, Jr.; LB
Shaq Thompson
, So.
Washington State:
OL
Elliott Bosch
, Sr.; WR
River Cracraft
, Fr.; PK
Andrew Furney
, Sr.; DB
Damante Horton
, Sr.;
Some notes on the teams:
By School:
Arizona State and Stanford placed the most players on the first team with six selections each.
By Class:
Of the 27 first-team selections, two are graduate students, 11 are seniors, nine are juniors, four are sophomores and one freshman.
Unanimous:
Only one player was named on the first-team ballot of all 12 head coaches -- RB Ka'Deem Carey of Arizona.
Two-time Selections:
Ten players are repeat first-team selections from last year.
All-Academic:
Two first team All-Pac-12 performers also were named to the Pac-12 All Academic second team -- RB Bishop Sankey of Washington and DB Ed Reynolds of Stanford, while Washington defensive lineman Hau'oli Kikaha was named to the All-Pac-12 second team and Pac-12 All-Academic first team. Arizona State QB Taylor Kelly earned second-team honors on both the Pac-12 All-Conference and All-Academic teams.
October, 18, 2013
Oct 18
2:30
PM ET
July, 18, 2013
Jul 18
7:00
PM ET
It's not unusual that tight end is a strong position in the conference. What's unusual is that Stanford doesn't lead the way in 2013.
At least, not from a preseason perspective.
So how do things stack up?
GREAT SHAPE
[+] Enlarge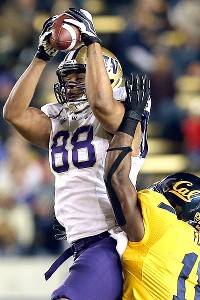 Ezra Shaw/Getty ImagesAustin Seferian-Jenkins could be the first tight end taken in the NFL draft next year.
Washington
:
Austin Seferian-Jenkins
is a consensus preseason All-American and the junior is likely to be the first tight end selected in this spring's NFL draft. He ranked eighth in the Pac-12 last year with 77 receptions for 878 yards and six touchdowns. Backup
Michael Hartvigson
is solid.
Oregon
:
Colt Lyerla
is a versatile weapon for the Ducks' offense, one we expect to get more use this fall. His backup,
Pharaoh Brown
, was one of the stars of spring practices.
USC
:
Xavier Grimble
caught 29 passes for 316 yards with five touchdowns, and
Randall Telfer
caught 12 passes for 100 yards and four scores. Both are NFL prospects. It would be wise to get them the ball more this season.
Arizona State
:
Chris Coyle
, officially an H-back, led the Sun Devils with 57 receptions for 696 yards and five touchdowns last season. The depth behind him is questionable.
Darwin Rogers
, who plays tight end, is almost exclusively a blocker.
GOOD SHAPE
Oregon State
: 6-foot-7
Connor Hamlett
, an H-back, caught 32 passes last season for 403 yards.
Tyler Perry
is competing with
Caleb Smith
for the starting spot at tight end. The promising
Kellen Clute
is Hamlett's backup. Lots of big bodies that can catch here.
Utah
:
Jake Murphy
caught 33 passes for 349 yards and four touchdowns, and earned honorable mention All-Pac-12 honors.
Westlee Tonga
will also see plenty of action. Coach Kyle Whittingham has said he wants his tight ends to play a bigger role this fall.
California
: Sonny Dykes offense uses a "Y" receiver, which can be a tight end or another receiver.
Richard Rodgers
is an impressive athlete who looks like a prototypical tight end. He caught 20 passes for 288 yards and a score last season. It will be interesting to see how he is used this fall.
WE'LL SEE
Stanford
: 6-foot-7
Luke Kaumatule
and
Davis Dudchock
might become the next great Cardinal tight end combination, but neither caught a pass last season. It's tempting to throw fullback and former tight end
Ryan Hewitt
in here and boost Stanford up to good shape.
UCLA
: The Bruins are another team that use a "Y" receiver instead of a tight end, and the departure of Joseph Fauria probably means that position will be more like a receiver than a tight end this fall -- see 5-foot-11
Darius Bell
being a first option here after spring practices. That said,
Ian Taubler
and touted freshman
Thomas Duarte
have traditional tight end builds and could be in the offensive mix.
Colorado
: Nick Kasa was one of Colorado's best players last year but he's gone and anyway he caught just 25 passes. Kyle Slavin, who topped the spring depth chart, caught 14 balls last season. It will be interesting to see how Mike MacIntyre's "pistol" offense incorporates some of the young tight ends -- redshirt freshmen Sean Irwin and Austin Ray -- into its offense going forward.
Arizona
: Drew Robinson was listed as the Wildcats starting tight end last season, and he didn't catch a pass. The 2013 roster only lists two tight ends, though big receiver
Terrence Miller
, at 6-foot-4, 234 pounds, looks like a tight end. It's not a priority position in Rich Rodriguez's spread offense.
Washington State
: Mike Leach is not a tight end guy.
You can see previous previews here:
Quarterback
Running back
Receiver
May, 17, 2013
May 17
6:00
PM ET
Another healthy mailbag. Settle in.
As always,
follow the Pac-12 blog on Twitter
.
To the notes!
Ex-Buff fan in Pac-12 dungeon writes
: I am so sick of Colorado being the loser on the block. We were two points away from having ZERO wins last year. I was pumped about our new coach until I hear that he can't even hang on to the few good players we have. Not to mention we have? you guessed it ZERO quality recruits for 2014. Give it to me straight doc: how bad will this year be in terms of win total? Because last year, besides Southern Miss, we were the absolute laughing stock of college football. A retirement home football team could have beaten us.
Kevin Gemmell:
Whoa, whoa, whoa. Buck up little camper. Step away from the ledge, inhale deeply, take a cleansing breath and settle down.
I tend to lean more on the glass-half-full side of life. How about this ... you were only 14 points away from having four wins last year -- three more games were decided by a touchdown or less. If you want to make the argument for the lone win, then you also have to concede that they were competitive in those other games.
As for recruiting, it's May. Relax. Yes, we post the
recruiting roundup
every few weeks. But that's simply to inform. Mike MacIntyre knows how to recruit -- and more importantly he knows how to recruit California. That's going to pay huge dividends in the future.
Players who have left -- meh. Do you need them? If they aren't on board with what Mac's trying to do, so be it. See ya. Make room for someone who is. Of those who left, how many were all-conference?
Win total this year, well, that's going to take a leap of faith on the part of the fans. Remember, San Jose State lost more games in MacIntyre's first year than the year before. But in Year 2 there was progress and by Year 3 they were a Top 25 team. So, and I know Colorado fans are tired of hearing this, you're going to have to be patient and let him do what he does. You probably won't see the results in the win/loss column this year -- although I do think Colorado can do better than 1-11. My best advice is don't lose faith. I think you guys have a good thing going with MacIntyre. It's just going to take time.
---
BHollandz next to Burrito Stadium writes
: I used to be a Coach Riley supporter until I witnessed the horrific season of 2011 and the blunders of the 2012 season. Alamo Bowl game anyone????People say that Oregon State has the best coach it will ever get and that us fans should just be satisfied with that. Well, I'm not satisfied. I want a Rose Bowl and eventually a shot a Championship. Do you think it's possible for OSU to attract a high profile coach to succeed Coach Riley and get the Beavers to the next level? This is big time Pac-12 football after all.
Kevin Gemmell
: This is a lot darker and more cynical from you than I expected. The grass always seems greener, but be aware Riley isn't going anywhere for a while. Which high-profile coach would you like?
Maybe a guy who has been a coach of the year? Perhaps someone with more than 80 career wins? Experience at the professional ranks would probably be good also. It's got to be someone who sells tickets and knows how to pack Reser Stadium and you'll want a veteran guy with almost 40 years of coaching experience.
You see where I'm going with this ... you've got him! Yes, he had two bad seasons. But in his 10 years since coming back, he's won at least eight games six times, led OSU to eight bowl games and consistently had the Beavers ranked in the Top 25. Last year was the hottest start in the history of the school. And you're already talking replacements?
Maybe I'm biased since I've known him since the Chargers days, but I know he shares the same goals as you. I do think that mistakes were made in the Alamo Bowl -- it had more to do with not adjusting offensively -- not getting more help to account for Alex Okafor -- but I'm not sold that a coach should be judged by one game. When you look at his body of work, it's outstanding. I don't know if he's the best coach you'll ever get. But he has more career wins at Oregon State than any other coach before him (81). That should be celebrated.
---
Ryan in New York writes
: I have to give you chaps credit. You know
how to make a point without being mean or hurtful
. Good point about for every Ryan, there's a UCLA guy screaming just the opposite. But remember there's one difference. Us Trojans love SC above all. UCLA fans hate SC more than they love themselves.......Also,
excellent point
on
Devon Kennard
too. He must stay healthy and play well. Pass the good word to your partner in crime -- Theodore. Peace.
Kevin Gemmell:
I won't get into which fan base loves itself or hates the other more. That's for the individual to decide through deep and meditative soul searching. I'm a big Kennard fan and think USC is going to experience a nice defensive boost by moving to the 3-4. Some guys are just better equipped for different schemes.
Now, I know I'm going to tick you off with this next point, but it's apt. UCLA's Datone Jones got into a 3-4 and absolutely exploded -- showing the potential that many believed he had but we'd rarely seen with him in the even front. Coming full circle, I see the same type of production from Kennard and Breslin,
Leonard Williams
and
George Uko
and even
Dion Bailey
moving back to safety. This is a good move for the Trojans. So says the clown.
---
Nameless in Escondido, Calif., writes
: When will Stanford let
Ricky Seale
play, had another great spring. One of the best backs from San Diego no way he cannot play at Stanford.
Kevin Gemmell
: Because Stanford closes its practices and is usually tight-lipped when it comes to position battles, all I can say is I don't know. Obviously there is something going on behind the scenes that is holding Seale back -- either he's not performing in practice or others are simply performing better.
And I'm a big Seale fan, having covered him since he was as sophomore in high school. I spent many a Friday night in Wilson Stadium watching him tear up defenses.
But I'm not in the position group meetings so I don't know what's being discussed. It's a deep group and the return of
Tyler Gaffney
(another San Diego great) makes it even deeper. From a coach's perspective, though, this is the proverbial great problem to have.
---
Darin in Monterey, Calif., writes
:
Good video with Mike Riley
, My question is now that the Beavers have a pretty solid O-line, do you think that Storm will top 1,000 yards this year on the ground? It seems Oregon State has been lacking on thousand yard rushers like Simonton, Jackson, and jacquizz. I do like what i saw last year in Woods and Ward.
Kevin Gemmell
: Yes, assuming he stays healthy, I have no problem going out on a very easy limb to go out on and say Woods is going to be a 1,000-yard rusher in 2013.
When you consider the receivers they had last year -- and the quietly efficient season of
Connor Hamlett
-- it made sense that the passing game was the stronger element of the offense. But with Markus Wheaton gone and question marks on exactly who is going to step up at the other receiver spot opposite
Brandin Cooks
, I think we're going to see an even bigger commitment to the run game -- which will take some of the pressure off the receiving corps. As noted in the video, the running game improved from 2011 to 2012. I think we're going to see it take an even bigger step in 2013 behind Woods.
---
Andy in Phoenix writes:
Right now we only play one game back east the Alamo Bowl and not to many games against other Power 5 conferences except Big 12. Any word on what the bowl line up will look like in 2014?
Kevin Gemmell
: I don't. The Pac-12 is heading into the final year of a four-year agreement with its current bowl lineup. Whenever I ask about it, I get the company line that they are very pleased with their bowl partners and look forward to continuing to work with them.
I agree: I'd love to see a Pac-12/SEC bowl game. But at the same time, let's remember that the Pac-12 hasn't exactly dominated the postseason of late -- so there isn't a lot of room for chest-thumping. Outside of the 2-0 mark in BCS bowl games last year, the Pac-12 went 0-3 against other BCS conferences and 2-1 against non-BCS conferences.
Had they gone 8-0, 7-1 or even 6-2, then I'd say it's time to bump up the competition level and get some more competitive games. But 4-4 isn't blowing anyone's socks off. And the Pac-12 is 40-41 in bowl games since 1999. I think it'd be more beneficial to dominate the current bowl lineup before worrying about bigger, badder competition.
---
Uh oh Chongo in Danger Island writes
: Colorado and Utah are still having a bit of a rough go in the new conference. Two questions - which of those two gets to the Pac-12 title game first, and what do those programs need to do to get there?
Kevin Gemmell
: Yikes, the crystal ball just melted down. So much of which team gets to the title game first depends a lot on what happens with other teams in the division. And it doesn't look like Jim Mora, Rich Rodriguez or Todd Graham are going anywhere quickly. And regardless of what happens with Lane Kiffin at the end of this year, USC is still going to be USC.
Utah is in a stronger position right now simply because it has continuity among the coaching staff. The new facilities will be open this summer and I think the addition of Dennis Erickson to the staff is going to pay dividends in years to come. That's probably not a hire the Utes could have made had they still been in the Mountain West -- financially or from a high-profile perspective.
Colorado, well, see the above answer. They are a long ways off from being in the mix for the league title game.
They keys for both of these teams -- and really every other team in the conference -- is depth and player development. Everyone can put a solid 22 on the field. But what does your next 22 look like? When that star player goes down, who can step in so you barely miss a beat? Who can turn that borderline recruit into an all-conference player?
ASU had injuries on the defensive line last year and they went into a skid. Washington battled offensive line injuries last year and were inconsistent. Utah's quarterback carousel last year was unfortunate -- but you've got to have that depth to be able to handle the losses.
The teams that can handle that --
Bryan Bennett
stepping up for Darren Thomas;
A.J. Tarpley
and
Jarek Lancaster
stepping in for
Shayne Skov
; Oregon's safeties stepping up when they lost John Boyett -- these are the teams that are ultimately the most successful.
---
William Shatner at Priceline HQ writes:
Hey Kevin, you've been doing a lot more work than Ted these past two weeks. Looks like you could use a vacation. I'll take care of airfare if you tell me what your ideal vacation would be?
Kevin Gemmell
: Ted has been hitting the lecture circuit hard the last couple of weeks, appearing at several Ivy League schools to deliver his motivational speeches: "Who else besides Pitt hates freedom?" "Please note that you are wrong," and "Boy, I could sure use a me-tini."
He'll be back Monday.
As for me, every trip through the comments section is a daily vacation. By the way, I loved you as General Mortars in Loaded Weapon 1.
May, 9, 2013
May 9
7:00
PM ET
All players are equal, but some players are more equal than others. That's the basis of our Most Important Player series.
First off, quarterbacks are excluded to make things more interesting. It goes without saying, for example, that Oregon's
Marcus Mariota
is the Ducks' most important player.

And most important doesn't necessarily have to be "best." An All-American's backup can be pretty darn good, too.
Our most important guys are players who could swing a win total one way or the other, based on their living up to expectations. Or their absence.
Oregon State
: WR
Brandin Cooks
2012 production
: Caught 67 balls for 1,151 yards (one of only four Pac-12 receivers to break 1,000 yards) with five touchdowns.
Why Cooks is so important
: My initial thought here was
Michael Doctor
-- an extremely underrated linebacker who always seems to be near the ball and is highly productive. One of the best plays from 2012 that sticks out in my mind is him chasing down
Brett Hundley
from behind. Very impressive.
Then I thought about
Storm Woods
-- an up-and-coming running back with just the right balance of humility and swagger. No doubt, both of these players will be key in 2013.
But speaking with someone close to the program, they convinced me to go with Cooks. Not only because he's one of the most explosive wide receivers in the country -- but simply because there isn't a ton of game experience behind him.
For Oregon State to continue building on the momentum of 2012, the Beavers need him to be great.
Here's the caveat with Cooks, however. He was one of the nation's greatest benefactors of being a No. 2 receiver. Defenses were split last season because of Markus Wheaton lining up on the opposite side. Double Wheaton? Cooks will burn you. Double Cooks? It's Wheaton for miles.
That's not going to be the case in 2013. Behind Cooks is talent, but also inexperience.
Obum Gwacham
(two catches, 12 yards, one touchdown) and
Richard Mullaney
(13-156-1) missed the spring with injuries, and
Malik Gilmore
(RS) and
Kevin Cummings
(18-208-1) round out the top of the corps behind Cooks. Each has their own talents -- Gwacham is a big target. Mullaney catches everything and is a move-the-chains kind of receiver. Cummings is a veteran and a good slot receiver, but only has four starts in his career. Gilmore is also a big target, but inexperienced.
Worth noting too that the Beavers will probably lean more on tight end
Connor Hamlett
(32, 403-3), who had a nice breakout year last season.
It's possible the Beavers might look at some freshmen coming in to immediately contribute. So while Cooks is one of the top receivers in the league, those behind him are mostly untested. Meaning Cooks is going to have to be better than he was last season and show that he can be a true No. 1 receiver.
I have little doubt he can. He's blazes and has Velcro fingers. Plus, if the offensive line is improved as advertised, that will also mean the quarterback-to-be will have more time to allow deeper routes to Cooks to develop.
Naturally, the outcome of the quarterback competition is of great interest. Cooks had success with both
Sean Mannion
and
Cody Vaz
. With Mannion, he caught 40 balls for 716 yards and four touchdowns. With Vaz, 27 balls for 435 yards and one touchdown. He had four 100-yard receiving games in 2012 -- two from Mannion and two from Vaz. So it bodes well that he can be productive with either guy throwing him the ball.
Coach Mike Riley has also stressed the greater need for balance. The running game showed solid progress in 2012, and with the improved line play and the continued maturation of Woods -- that should take some of the pressure off the receivers and allow the Beavers to get bang for their buck when they go down field. It will allow Cooks to show he's capable of being a bona fide No. 1.
October, 28, 2012
10/28/12
3:52
AM ET
It has to be unsettling for Steve Sarkisian, Justin Wilcox,
Bishop Sankey
and everyone else who rocks the purple and gold. Each game day they wake up and hope
that
team shows up; the one that is resilient, tough-minded, physical and plays with a bit of nastiness. But inconsistencies throughout Washington's 4-4 season have left all of the above questioning exactly which team would show up each week.
Eight games into the season, the personality of the 2012
Washington Huskies
is yet to be defined.
"The personality is we've been schizophrenic," said Wilcox, Washington's defensive coordinator. "Consistency on our part has to improve. We have to continue to find the reasons why. But that's something that's shown up every week. Speaking from our side of the ball, we've played better against certain styles of teams. But at the end of the day it's confidence in your technique and scheme and abilities."
Saturday night at CenturyLink Field --
that
team showed up; the one that punches first and asks questions later; the one that dictates and isn't dictated to. And for the second time this year the Huskies knocked off a top-10 team by topping the No. 7
Oregon State Beavers
20-17
-- prompting another field-storming from the fan base. In fact, it was one month ago to the day that the Huskies stunned No. 8 Stanford 17-13.
But that game also marked the last time they had picked up a victory. A three-game skid followed, including losses to ranked Oregon and USC and blowout loss last week at Arizona. On the south side of .500 and needing to inspire his team, Sarkisian got back to some basics in practice last week with some physical hitting drills usually reserved for fall camp.
"We needed [a victory] for our own well-being," he said. "It wasn't so much about the record, it was for what's inside of us. Pride is a powerful thing. You earn pride. It's not given. We earned it tonight."
Moving forward, slowly but surely, Sarkisian said his team's identity is starting to take shape. And Saturday night was a big step forward.
[+] Enlarge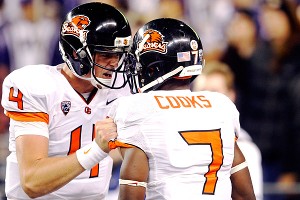 Joe Nicholson/US PresswireSean Mannion started OSU's comeback with a TD to Brandin Cooks, but his four picks were killer.
"I don't doubt our toughness," he said. "What I'm figuring out week after week is the maturity level. Which of our young players is growing up each week? A guy like
Jaydon Mickens
made a couple of plays and started to grow up. I've seen
Kendyl Taylor
start to grow up. Each week I feel like we're getting one more guy and one more guy. That's all going to help shape our personality. Until then, we're going to continue to be a blue-collar, lunch-pail, hard-hat kind of team. And that's OK. You can win that way. It just makes it a little harder."
And Saturday wasn't easy. Sankey rushed for 92 yards and a pair of touchdowns against one of the top rushing defenses in the country while the defense intercepted Oregon State quarterback
Sean Mannion
four times.
"I feel like we have our own personality," Sankey said. "We're continuing to develop that. This past week we had to get down to the nitty-gritty. We're making strides each day, each week. This past week was a big week for us in getting back to the basics -- working hard and hitting. It paid off tonight."
When points were at a premium, the Huskies held a 10-0 advantage at halftime following a 45-yard field goal from
Travis Coons
and a 1-yard touchdown run from Sankey. It was the first time this year that Oregon State (6-1, 4-1 Pac-12) had been blanked in the first half.
"We couldn't get anything going in the first half and we turned the ball over, so it was a two-fold problem," Oregon State coach Mike Riley said. "Then we moved the ball [in the second half] and we still turned it over."
This was Mannion's first game back since having minor knee surgery three weeks ago. And he didn't look good, completing 18 of 34 passes for 221 yards with one touchdown and four picks. Prior to this game, he had four interceptions for the season.
"I think [turnovers] probably will be the thing we regret the most," Riley said. "Having the ball with some opportunities and turning the ball back to them when we had scoring opportunities. As you can see in a game like that, even if one of those opportunities, if one or two would have turned into field goals, it makes a big difference."
It didn't help, either, that
Markus Wheaton
was knocked out of the game after taking a hard hit in the second quarter. Fellow receiver
Brandin Cooks
turned in another sensational performance, catching nine balls for 123 yards with a score.
Mannion was eventually replaced in the fourth quarter by
Cody Vaz
-- who had led the Beavers to a pair of victories during Mannion's rehabilitation. Vaz sparked the offense with a seven-play, 76-yard drive that ended with a 29-yard touchdown pass to
Connor Hamlett
that tied the game at 17-17.
But the Huskies moved the ball to the Oregon State 12 and Coons converted a 30-yard field goal with 1:20 left in the game.
Washington's offensive struggles also continued. The Huskies were outgained 427-293 in total yards. Quarterback
Keith Price
was 18-of-30 for 194 yards with an interception. But winning the turnover battle by a 4-to-1 margin helps.
"At the end of the day, I don't know how pretty it was," Sarkisian said. "We had some penalties and things; that's a good football team, obviously, in Oregon State. I was proud of the character our guys possessed, their ability to preserve with the game could have really started swaying in Oregon State's favor when they notched it up at 10-10. But our defense continually came up with stops."
With four consecutive games coming up against unranked teams, it stands to reason that the Huskies could probably end the year on a five-game win streak.
But then again, no one really knows for sure.

October, 1, 2012
10/01/12
4:00
PM ET
To gauge the improvement and maturity of Oregon State quarterback
Sean Mannion
, you need only to look at his numbers on the game-winning drive Saturday at Arizona. The second-year starter was 6 of 6 for 52 yards and capped the march with a 9-yard touchdown pass to
Connor Hamlett
with 1:09 left to secure a 38-35 win over the Wildcats.

It seems like every week, Mannion is re-establishing his career highs. He did it again on Saturday, throwing for 433 yards on 29 of 45 passing with three touchdowns and no interceptions. And his scoring strike to Hamlett at the goal line was a pretty pass that split two defenders.
There are a lot of different factors contributing to Mannion's improvement this year. For starters, the Beavers have a running game to take some of the pressure off of him.
Storm Woods
gave Oregon State 161 yards and a touchdown on the ground. That's opening up the play action downfield.
Markus Wheaton
and
Brandin Cooks
are making things happen when they get the ball. The duo has each gone for more than 100 yards in back-to-back games. Deep threats are nice -- but it takes good quarterbacking to get the ball to those deep threats and Mannion has certainly delivered. Saturday, he showed his ability to stretch the field, but also showed a great deal of touch. He can put something extra on the ball, and take it off when he has to.
With this latest victory, Mannion has his Beavers ranked in the top 15 for the first time since 2009.
September, 30, 2012
9/30/12
9:00
AM ET
With great performances come great rewards. And there is no greater reward than a helmet sticker from the Pac-12 blog. Here are this week's winners.
Bishop Sankey, RB, Washington: In a game without many offensive highlights, Sankey provided one of the contest's most exciting plays, taking a fourth-and-1 handoff at the Washington 39 and darting ahead for a 61-yard touchdown in an upset win over No. 8 Stanford. He finished with 144 yards on 20 carries.
Justin Wilcox, defensive coordinator, Washington: Beat a top-10 team, and you get a helmet sticker. Beat a top-10 team that has outscored you 140-35 in three previous meetings by not allowing an offensive touchdown, then your new defensive coordinator gets a helmet sticker. Most impressive was how the Huskies limited Stanford running back Stepfan Taylor to 75 yards on the ground on 21 carries.
Brett Hundley, QB, UCLA: The Bruins signal-caller accounted for four touchdowns -- throwing for two and running in another two. He was 25-of-38 (65.8 percent) for 281 yards through the air. He threw a 17-yard touchdown to Darius Bell, an 8-yard strike to Joseph Fauria and ran for scores of 12 yards and 1 yard.
Kenjon Barner, RB, Oregon: Time to start adding him to the Heisman tracker? Barner rushed for 195 yards and three touchdowns in the victory over Washington State. He averaged 9.8 yards per carry and ran for scores of 22, 10 and 80 yards.
Sean Mannion, QB, Oregon State: He continued his recent tear by tossing a career-high 433 yards and three touchdowns on 29-of-45 passing. Twice he connected for touchdowns with Markus Wheaton and he found Connor Hamlett for a 9-yard score in the closing minutes to seal a 38-35 win on the road at Arizona. He was interception-free and 6-of-6 for 52 yards on the game-winning drive.
Taylor Kelly, QB, Arizona State: Let the Kelly lovefest continue. He was 26-of-45 for 292 yards with three touchdown passes in ASU's road win over Cal. Twice he connected for scores with Kevin Ozier and once to Darwin Rogers. More importantly, another game with no interceptions.
September, 13, 2012
9/13/12
2:30
PM ET
In a way, all of us has an El Guapo to face. For some, shyness might be their El Guapo. For others, a lack of education might be their El Guapo. For us, El Guapo is a big, dangerous man who wants to kill us. But as sure as my name is Lucky Day, the people of Santa Poco can conquer their own personal El Guapo, who also happens to be
the actual
El Guapo!
August, 24, 2011
8/24/11
1:01
PM ET
Oregon State and Arizona State seem to be battling to become the Pac-12's biggest MASH unit.
Most folks already know about the uncertainty of receiver
James Rodgers
(knee) and tight end
Joe Halahuni
(shoulder), who are doubtful to play at Wisconsin on Sept. 10. But there are a couple of other injuries worth following that are also critical.
On the "fairly good," side of the injured list is DT Kevin Frahm. He had surgery on Monday to repair a torn meniscus. The hope is he will return to practice in time to play at Wisconsin.
The news is not so good for cornerback Brandon Hardin and his shoulder. He'll need surgery to fix a fracture, and the procedure could end his season. At the minimum, he'll be out six weeks. Sophomore Rashaad Reynolds will step into a starting role.
Defensive tackle Dominic Glover still hasn't been cleared academically. What once seemed like a minor issue is taking longer than expected to resolve, which is reason to be nervous.
Things are cloudy at tight end until Halahuni comes back. Freshman Kellen Clute hurt his knee in the scrimmage, and two redshirt freshmen, Tyler Perry and Connor Hamlett, will be suspended for a game, though it's unclear which game at this point.
Also, linebacker Cameron Collins continues to be limited by an abdominal issue. He had offseason surgery and has missed a lot of practice time.
Getting away from injuries, it appears that true freshman
Malcolm Agnew
is on the cusp of earning the starting spot at running back. The last true freshman to start at the position for the Beavers turned out OK, you might recall.
August, 15, 2011
8/15/11
9:12
PM ET
Four Oregon State players were charged with underage drinking on Saturday night and will be
suspended for a game
-- most likely the opener against Sacramento State -- though coach Mike Riley told reporters he was keeping his options open.
The players are redshirt freshman defensive tackle Joe Lopez, freshman safety Will Storey, redshirt freshman tight end
Connor Hamlett
and redshirt freshman tight end
Tyler Perry
.
From The Oregonian:
According to Lt. Cord Wood of the Corvallis Police Department, officers were called to the townhouse apartment shared by Hamlett, Lopez, and Storey around 1 a.m. after there were complaints about a loud party.

The officer who arrived on the scene said occupants inside the apartment locked the door, shut the lights off, and turned off the stereo. The officer applied for a search warrant and forced entry was required.

Wood said there were "about 40 people'' in the apartment and 36 of them were minors.
Holy Dragnet, a search warrant ... forced entry "required"... for a house party! Wonder if a "Turn the music off and keep it off" might have sufficed.
Still, not terribly smart for the players. Their poor decisions not only cost them, they cost their teammates.
May, 9, 2011
5/09/11
1:30
PM ET
Everyone loves "best of" lists. Here's one for the Pac-12 after spring practices concluded.
Best performance by an offense
: Noel Mazzone's crew saved its best for last. Arizona State's offense gained 601 yards in the spring game: 446 yards passing and 155 yards rushing. Junior quarterback
Brock Osweiler
completed 17 of 22 passes for 237 yards and five touchdowns.
Best performance by a defense
: Utah's "Red" defense held the "White" offense to 106 total yards in a 7-0 "Red" victory.
Best performance by a defense II
: The Oregon "Green" limited the "White" to 164 total yards, including only 63 rushing yards on 31 attempts, in a 16-0 Green win.
Best QB troika
: Arizona's three senior quarterbacks --
Nick Foles
,
Matt Scott
and
Bryson Beirne
-- combined to complete 31 of 42 passes for 380 yards and four touchdowns in the Wildcats' spring game. Foles (11-16-133), Scott (11-14-134) and Beirne (8-9-115) found a total of 13 different receivers in 60 plays.
Best QB-TE connection
: Stanford quarterback
Andrew Luck
and tight end
Zach Ertz
connected six times for 56 yards and three touchdowns in the spring game.
Best "Jake Locker-who?" moment
: In Washington's spring game, QB
Keith Price
completed 20 of 28 passes for 212 yards with three TDs and no INTs, while also rushing for 53 yards and a TD on just five carries.
Best catch
: In a scrimmage on April 14, UCLA WR
Nelson Rosario
made a leaping one-handed catch in the end zone over perfectly-positioned CB Sheldon Price for a 30-yard touchdown.
Best performance by a redshirt freshman tight end
: Oregon State's
Connor Hamlett
had 11 receptions for 153 yards in the spring game.
Best run
: In California's spring game, running back
Isi Sofele
dashed for a 65-yard TD run where he dove into the end zone just outracing safety Vachel Samuels.
Best run II
: Oregon RB
LaMichael James
sprinted for a 67-yard touchdown run on his third and final carry of the spring game.
Best run III
: Washington State RB
Logwone Mitz
broke off a 70-yard run down the left sideline for his first score of the Cougars spring game.
Best crowd
: Oregon played its spring game in front of a conference spring game record crowd of 43,468.
Best performance by a walk-on
: Colorado's sophomore walk-on running back
Josh Ford
rushed 17 times for 164 yards, including a 56-yard touchdown in the Buffaloes spring game.
Best performance by a backup QB
: While starter
Ryan Katz
was out with a wrist injury,
Cody Vaz
cemented his status as the backup with a consistent strong performance all spring.
Best newbies
: Arizona got a likely starter at receiver in Texas transfer
Dan Buckner
. Arizona State's big-armed trued freshman quarterback Mike Bercovici might end up as the Sun Devils backup QB. One of Cal's starting linebackers is likely to be grayshirt freshmen Cecil Whiteside and Chris McCain. Oregon freshman TE Colt Lyerla lived up to his recruiting hype and looks like he'll be in the rotation in 2011. JC transfer defensive end Rusty Fernando is on track to win a starting job at Oregon State. UCLA true freshman QB Brett Hundley is still in the race to start. Utah's three candidates to start at running back are newbies: JC transfer
John White
, freshman Harvey Langi and walk-on Thretton Palamo. Washington freshman TE Austin Seferian-Jenkins is listed as an "Or" for the starting spot with redshirt freshman Michael Hartvigson. Washington State JC transfer Ian Knight finished spring No. 1 at DE.
Most international interest
: Speaking of Utah's Thretton Palamo, he's best known as an international rugby star. A first-year sophomore who walked on this spring, he was the youngest player ever at age 19 to play in the Rugby World Cup. He played rugby for the Samoan national team in 2007 (his father captained Samoa's national team as a teenager) and then switched to the U.S. National Team. He also played professionally for the French team Biarritz Olympique.
Best "you've never heard of me but you will":
Colorado DT Conrad Obi had just four tackles last year and has played just 100 snaps in his career, but the 310-pound fifth-year senior was selected as the Buffaloes Most Improved Player this spring. In the three scrimmages, he had 20 tackles (17 solo, six for losses, two sacks), four third-down stops and four tackles for zero yards (so 10 of the 20 were at or behind the line of scrimmage). Oh, and he also forced fumble.
Best "graduate-a-semester-early-from-high-school-enroll-in-the-spring-earn-a-starting-job-by-default"
: USC fullback
Soma Vainuku
went from high school to Stanley Havili's replacement the first week of spring practices.
Best buzz, non-football division
: Arizona State's "
It's Time
" campaign created plenty of a national buzz in advance of the April 12 launch of the rebrand, which included a new logo. The Sun Devils joined Oregon as the most fashion-forward Pac-12 team.
Best "Thank you for Starbucks" decision
: USC starting all weekday spring practices at 7:25 a.m.
They said it (best quotes of spring)
Stanford offensive coordinator Pep Hamilton on QB Andrew Luck:

"He was able to complete 70 percent of his passes last year. Our goal is for him to complete 100 percent of his passes."
California coach Jeff Tedford on falling short of expectations in Berkeley:

"Eight wins is not what they want. And that's because that's where we put the standard. I get that now."
Washington State coach Paul Wulff on turning things around in Pullman:

"As those things start to grow and age -- like a fine wine -- your team is going to start winning football games. I think this team is going to win football games and I think we can compete for a bowl game, without question."
Arizona State receiver Gerell Robinson on the Sun Devils new logo
:
"It's different. I like it. It's more aggressive. Sparky had a smile on his face."
USC coach Lane Kiffin on where the Trojans stand
:
"There's too many questions. I think it would be a little tough to say this team is better than last year."
Arizona coach Mike Stoops on his receivers:

"I think he gives us the two best outside receivers maybe in the country. Having [Dan] Buckner and [Juron] Criner on opposite sides is going to create problems for people."
UCLA Rick Neuheisel on potentially being fired:

"If it were to happen that they were to replace me, I'm confident I would find another job. It wouldn't be the end of the world. I don't think my kids would starve. But I'm adamantly wanting to be here because this is my school and I believe we're closing in on where we want to go."
Utah coach Kyle Whittingham on whether he feels any sentiment for the Mountain West Conference:

"Not really. I'm not a sentimental guy so there's really no emotional ties or anything of that nature. I can say the Mountain West was very good for us. It was a good run."
Colorado coach Jon Embree on what his team needs to do to win:

"We've got to attack. We can't just sit back. I'm an honest person. We are not good enough to just line up and say we're going to beat you. From a talent standpoint, we're not at that elite level yet."
May, 4, 2011
5/04/11
3:56
PM ET

Oregon State tight end/H-back
Joe Halahuni
will have surgery
on his bothersome left shoulder this week, which means it's
unlikely he will be ready
for the Beavers' season opener against Sacramento State. He could miss several games.
Halahuni joins receivers
James Rodgers
(knee) and
Jordan Bishop
(ankle) as Beavers with uncertain health heading into the offseason.
The Beavers' options at tight end aren't extensive.
Colby Prince
is the only one on the roster with playing experience, with redshirt freshmen
Connor Hamlett
and
Tyler Perry
also options. Perry was listed as Halahuni's backup on the spring depth chart at H-back. Prince and Hamlett were listed as tight ends.