April, 3, 2012
4/03/12
12:00
PM ET
Stanford's secondary is going to be young next season. Not exactly breaking news, but that's the reality when four seniors, three of them starters, graduate. But the players returning also have some experience and quality playing time, which should help compensate for their youth.
In other words, there no excuses.
"I think [defensive coordinator Derek] Mason might have been a little more tolerant with us last year, a little more patient," said safety
Jordan Richards
. "Not anymore. We've all been here and have a full season under our belts. This is on us -- and coach Mason is making sure we know that."
[+] Enlarge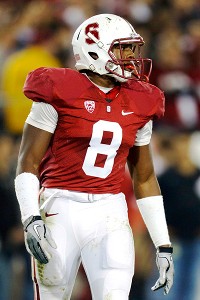 Jason O. Watson/US PresswireJordan Richards is one of many young Cardinal defensive backs that will have to replace three senior starters.
The back four -- two cornerbacks and two safeties -- have to be getting tired of hearing how good the front seven is going to be. They are so experienced. This guy is back and that guy is back. It gets old. And if the front seven is considered Stanford's defensive strength, by virtue of elimination, the back four can't be.
That perception is something the group is looking to alter. But first they'll need to settle some competition. Gone are safeties
Delano Howell
and
Michael Thomas
. Gone are cornerbacks
Johnson Bademosi
and
Corey Gatewood
.
Terrence Brown
and
Barry Browning
are back at cornerback, along with the highly-touted
Wayne Lyons
who is returning from a foot injury.
Usua Amanam
should also be in the mix and don't be surprised if Alex Carter makes an immediate impact when he arrives in the summer. Also returning are Richards and
Devon Carrington
at the safety spot along with
Ed Reynolds
, who is also returning from injury.
Kyle Olugbode
has also seen reps this spring.
Richards was one of the true freshman called into action when Howell went down for several games with a hand injury. He started three games for Stanford last year -- the most brutal stretch of the season that included at USC, at Oregon State and home to Oregon. Tough detail.
"It was, at times, a blur," Richards said. "And other times, I felt like I was in control and the game slowed."
The telling part of that quote is the "at times" portion. Richards notched eight tackles in his first start against USC. Then a couple of games later he watched Oregon run all over the Cardinal. Sometimes good, sometimes bad. In his second year, he's striving for more consistency. And having had the chance to learn behind Thomas and Howell, he thinks he's found it.
"I learned how to see the game from those guys," Richards said. "As a freshman, you come in with tunnel vision. You need to learn to see how things move around. Now it's a transition. You've been here for a year, you learn to read formational cues and the game slows down a lot more. You know what the offensive tendencies are. That's the biggest difference. You're not a deer in the headlights anymore. You just go out and play and try not to over think it."
Brown has the most experience at cornerback, followed by Browning who started three games last season. According to Richards, Brown and Reynolds have taken on the leadership roles vacated by the departed seniors.
"As a group, it's been TB and Ed," Richards said. "Those guys have been around. But we all know what's at stake, and we're all trying to be leaders and be on our game as a group because we know that we are going to be young and people are going to try to come after us."
Like in Week 3, when the Cardinal host USC -- a pass happy offense with the Heisman front-runner at quarterback, the top wide receiving duo in the country and possibly the No. 1-ranked team in the nation. So this group is going to have to find a way to come together quickly.
"That's what the spring is all about," Richards said. "We're working hard to be a cohesive group. Coach Mason is pushing us and I think we're going to come together."
November, 27, 2011
11/27/11
2:20
AM ET
STANFORD, Calif. -- On the volume meter, Stanford head coach David Shaw usually speaks at a three. On Tuesday, he spoke at an 11 (cue the "
This is Spinal Tap
" reference).
Shaw called for the national spotlight -- on his team, on his quarterback and on the entire Bowl Championship Series -- and, for better or worse, he got it.
The question, however, is whether
a 28-14 win
over Notre Dame on Saturday night at Stanford Stadium was enough to change anyone's mind -- either the BCS pollsters or the Heisman voters.
"I wasn't trying to change minds," Shaw said. "I wasn't bashing the BCS. I wasn't bashing any other teams. Just the explanations that I kept getting didn't make sense to me and I'm a common-sense person and I just don't understand the whys of where we were."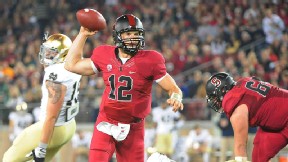 Kyle Terada/US Presswire"I've seen a lot of the other guys and there are a lot of really, really good football players," Stanford coach David Shaw said of quarterback Andrew Luck. "There's nobody like this guy."
As for the Heisman -- as expected --
Andrew Luck
said he doesn't care. You'd sooner get Condoleezza Rice to spill state secrets than to get Luck to talk about Heisman aspirations.
"I don't worry about what kind of impression I make on anybody," Luck said.
That's when tight end
Coby Fleener
interjected.
"Andrew Luck has my vote," Fleener said, raising his hand.
"Mine too," said safety Michael Thomas, raising his hand. "I think he's the best player in college football."
"Me too," said linebacker Chase Thomas, raising his hand.
Luck laughed off the moment, even though it encompassed everything that matters to the quarterback: the respect of his coaches and teammates.
"I don't have a vote," Shaw said. "We'll see what happens. I just know that he's one of a kind. He's one of a kind. It's apples and oranges in my opinion between him and everybody else and I've seen a lot of the other guys and there are a lot of really, really good football players. There's nobody like this guy."
Luck threw four touchdowns against the Irish -- three in the first half to help the Cardinal build a 21-0 lead at the break -- before closing out with a 55-yard touchdown to Fleener. The tight end finished with four catches for 97 yards and two touchdowns.
All three of Luck's touchdowns came against Notre Dame blitzes* and both of Fleener's scores came off of play-action. Against the blitz, Luck was 7-of-8 with three touchdowns, no interceptions and an average of 15.4 yards per completion. He finished the game 20-of-30 for 233 yards and an interception.
"I think, one loss, that's great," Luck said. "We've done a lot of good things. Someone just mentioned that we've been on a 23-2 run. I think that's very impressive. We put ourselves in position to be in a good bowl game and that's something we wanted to do."
Which bowl game remains to be seen. The Cardinal (11-1) needed this win to stay in the conversation for a BCS at-large bid. Stanford could climb into the top 4, assuring it a BCS berth.
"All we can do is play our butts off and prepare and let the voters or whoever else makes the stuff up choose," Fleener said. "All I know is you gotta win. That's all I understand. They want to see 12-0 and win out and that's how you go to the national championship. Other than that, I don't know how everyone else falls in the pecking order."
Speaking of pecking -- the defense spent most of the game pecking away at Notre Dame's quarterbacks. Chase Thomas led a relentless pass rush that sacked Notre Dame's quarterbacks five times. Thomas accounted for two while forcing a fumble and Ben Gardner, Josh Mauro and A.J. Tarpley all added one. In all, the Cardinal had eight tackles for a loss, holding Notre Dame to 57 yards on the ground. Michael Thomas and
Corey Gatewood
also logged interceptions.
"We went out and tried to play our game," Tarpley said. "Maybe [the voters] liked it. Maybe they didn't. You never really know what to think the way those things are. We played a good game. We could have played better. But we got the win. That's all that's important."
Stepfan Taylor
turned in his steady-as-always performance, rushing for 118 yards on 20 carries as the Cardinal accumulated 429 yards of offense.
Notre Dame mounted a minor second-half comeback -- cutting the score to 21-7 after getting a 6-yard touchdown strike from
Andrew Hendrix
to
Michael Floyd
. Notre Dame's big-game receiver had eight catches for 92 yards and the score.
Luck's first touchdown came on a 3-yard jump ball to 6-foot-8 tight end
Levine Toilolo
. The second was a 28-yarder to Fleener -- who pulled his defender into the end zone with him, and
Ty Montgomery
added an 11-yard touchdown reception with 10 seconds left in the first half.
Shaw's comments last week caused a national stir. The timing certainly seemed calculated. Whether his players' actions backed up the coach's words will linger until the BCS bowl games are announced.
"I'm behind coach Shaw 100 percent," offensive guard David DeCastro said. "He knows what he's doing. That's for sure. We don't care what anyone else thinks. We got the win. That's all we care about."
But was the win enough for the team and/or Luck? To be continued ...
*
Courtesy of ESPN Stats & Information.
August, 5, 2010
8/05/10
2:09
PM ET
The good news for all those big-name Pac-10 quarterbacks? Every conference team has questions at cornerback.
And, for the first time in Pac-10 blog history, no one earns a "Great shape" tag.
Only one cornerback who earned All-Pac-honors is back: Arizona's second-teamer Trevin Wade. Only one other returning corner, Washington's Desmond Trufant, even earned honorable mention.
Three teams welcome back both starting corners from 2009: Oregon, Stanford and Washington. But the Ducks have moved Javes Lewis to rover, and a pair of true freshmen -- Terrance Mitchell and Avery Patterson -- are battling for the starting job opposite Talmadge Jackson. Stanford and Washington? They ranked eighth and ninth in the conference in pass efficiency defense last season.
USC and Arizona State are replacing both starting cornerbacks, but both actually look fairly strong at the position with plenty of returning experience and athleticism.
A number of teams might end up pretty good at the position. But no one looks like a sure-thing during the preseason. (Heck, we thought California was
a sure thing in 2009
and things
didn't exactly go according to plan
).
So how do things stack up?
Great shape
Good shape
Arizona: Wade is an All-American candidate, and Marcus Benjamin showed he can play with a good performance against USC in 2009. And Mike Stoops always has good cornerbacks, so we won't dwell on the questionable depth.
Oregon: Probably not a lot of worry here for the Ducks. Injuries in 2009 earned young players experience, and Oregon did rank third in the Pac-10 in pass efficiency defense. Still, it remains uncertain who will start opposite Jackson, with the freshmen outplaying the more experienced Cliff Harris and Anthony Gildon during the spring.
Arizona State: On the one hand, both starters are gone from a unit that ranked second in the conference in pass efficiency defense. On the other, Omar Bolden would have been a starter if he didn't get hurt, and Deveron Carr, Osahon Irabor and LeQuan Lewis give the Sun Devils a nice mix of talent and experience.
USC: Shareece Wright was academically ineligible last season, but he might end up first-team All-Pac-10. He might, in fact, be the conference's best cover cornerback. Torin Harris and T.J. Bryant are battling for the other spot in a secondary replacing all four 2009 starters.
Washington: Trufant is an up-and-comer, Quinton Richardson is experienced, and backups Vonzell McDowell and Adam Long have starting experience, so the Huskies should be much improved here in 2010. The operative word, though, is "should."
UCLA: It isn't easy to replace an Alterraun Verner. Sheldon Price returns at left cornerback after a good freshman season as a starter, and Aaron Hester has potential on the opposite side. Undersized junior Courtney Viney is an experienced third option.
Oregon State: James Dockery is solid and new starter Brandon Hardin is big -- 6-2, 215 pounds. There's respectable depth. But the Beavers gave up 23 touchdown passes in 2009, tied for the most in the conference. Of course, the Beavers cornerbacks suffered last season because of an anemic pass rush. That might change in 2010.
We'll see
Stanford: If the Cardinal is going to take another step forward, it must get better in pass coverage. Three players who started last seaon are back: Richard Sherman (who's a sure-thing at left corner), Corey Gatewood and Johnson Bademosi. But opponents completed 63 percent of their passes with 23 touchdowns against those guys. Might redshirt freshman Terrence Brown make a move?
California: Syd'Quan Thompson is gone; is Darian Hagan back? As in the 2008 version, not the one who lost his job and got buried on the depth chart in 2009. After being touted as one of the best secondaries in the country, the Bears finished 111th in the nation in pass defense in 2009. Bryant Nnabufie, who started four games in 2009, is listed No. 1 opposite Hagan, but Josh Hill (a five-game starter) and Marc Anthony and redshirt freshman Steve Williams are in the mix.
Washington State: The Cougars feel pretty good about junior Aire Justin and sophomore Daniel Simmons, who was the defense's best cover corner before he got hurt midway through last season. But it's hard to ignore that the Cougars ranked 112th in the nation in pass efficiency defense with opponents completing nearly 67 percent -- 67 percent! -- of their passes.
July, 21, 2010
7/21/10
9:00
AM ET
The 2007 recruiting class members are either seniors or redshirt juniors this fall, so they should be the backbones of most Pac-10 team's starting lineups.
Therefore, it seems like a reasonable moment to look back and review some recruiting hits and misses. (And, yes, we did this last summer with the 2006 class, which you can
review here
-- Ducks fans should get a kick out of it).
As for the 2007 rankings, USC ranked
No. 1 in the nation
, according to ESPN.com's Scouts Inc. Oregon, at No. 23, was the only other Pac-10 team in the Scouts Inc., top-25.
Scout.com
ranked USC No. 2 in the nation, Oregon ninth, and California 12th. The rest of the Pac-10 went, in order, Washington (29th in nation), UCLA (36th), Arizona State (38), Oregon State (40), Stanford (43), Arizona (49) and Washington State (54).
Here's an overview.
Arizona
Class
: 17
ESPNU top 150 players
: 2 (DE
Apaiata Tuihalamaka
, TE
Rob Gronkowski
)
How many are expected to start in 2010
: Four (RB
Nic Grigsby
, CB Trevin Wade, WR
William Wright
, K Alex Zendejas)
Misses
: Tuihalamaka, QB
Bryson Beirne
,
Verdict
: Obviously, the biggest catch of this class, Gronkowski, is gone. Otherwise, a lot of these guys qualify for the "where are they now?" file.
Arizona State
Class
: 24
ESPNU top 150 players
: 0.
How many are expected to start in 2010
: Five (C Garth Gerhart, WR
Kerry Taylor
, CB Omar Bolden, DE James Brooks, OG Matt Hustad)
Misses
: OL
Po'u Palelei
, LB
Oliver Aaron
Verdict
: This is a decent class, particularly when you factor in the contribution of the since-departed JC signees, such as LB
Morris Wooten
and DE
Luis Vasquez
. And there are several non-starters who will contribute this year.
California
Class
: 27
ESPNU top 150 players
: 0
How many are expected to start in 2010
: 10 (OT Matt Summers-Gavin, P Bryan Anger, LB D.J. Holt, WR
Alex Lagemann
, OT Mitchell Schwartz, S Sean Cattouse, S
Chris Conte
, OG Justin Cheadle, DE Cameron Jordan, RB
Shane Vereen
).
Misses
: QB
Brock Mansion
, CB
D.J. Campbell
Verdict
: Obviously, ESPN.com's Scouts Inc., missed with its evaluation of this solid recruiting class, particularly when you consider RB Jahvid Best, WR
Nyan Boateng
and LB Devin Bishop were significant contributors before their tenures were done. Jordan and Vereen obviously were well underrated. And there were 21 running backs better than Best?
Oregon
Class
: 29
ESPNU top 150 players
: 1 (DE
Kenny Rowe
)
How many are expected to start in 2010
: 10 (Rowe, WR
D.J. Davis
, LB Casey Matthews, CB Talmadge Jackson, OG Carson York, TE
David Paulson
, OG Mark Asper, WR
Jeff Maehl
, S Eddie Pleasant, DE
Terrell Turner
).
Misses
: DT
Myles Wade
, S
Malachi Lewis
Verdict
: When you toss in DE Will Tukuafu, WR
Aaron Pflugrad
(a starter who transferred to Arizona State) and WR Terence Scott, this is a good, if not great, class. Three or four of these guys should be All-Conference players.
Oregon State
Class
: 35
ESPNU top 150 players
: 0
How many are expected to start in 2010
: Eight (HB
Joe Halahuni
, S Cameron Collins, WR
Darrell Catchings
, CB Brandon Hardin, FB
Will Darkins
, DE Taylor Henry, LB Keith Pankey, WR
James Rodgers
)
Misses
: CB
David Ross
, RB
Reggie Dunn
Verdict
: We don't have the time to go back and retrace the maneuvers that are part of managing a 35-man recruiting class (each class can only include a maximum of 25 members, but there are lots of ways to fudge numbers). Obviously, there are the Beavers typical crew of so-called diamonds in the rough -- hello, James Rodgers -- but here's a guess that coach Mike Riley winces over some of these names. Certainly not a lot of production from the six JC guys.
Stanford
Class
: 19
ESPNU top 150 players
: 0.
How many are expected to start in 2010
: Six (P David Green, CB Corey Gatewood, LB/FB
Owen Marecic
, TE Coby Fleenor, DE Thomas Keiser, DE Matt Masifilo)
Misses
: QB
L. D. Crow
, S
Sean Wiser
Verdict
: An interesting class considering that six of the eight lowest rated players are on the Cardinal's preseason two-deep depth chart, including three starters. In terms of skill positions -- see the two QBs -- this class doesn't measure up.
UCLA
Class
: 11
ESPNU top 150 players
: 2 (QB
Chris Forcier
, RB
Raymond Carter
)
How many are expected to start in 2010
: Five (LB Akeem Ayers, LB Glenn Love, LB Steve Sloan, DT
Nate Chandler
, OT Mike Harris)
Misses
: Forcier, Carter
Verdict
: This is a very small but highly productive class collected by former coach Karl Dorrell -- note that it includes DT Brian Price, who bolted early for the NFL. The only busts were the two highest rated players, Forcier and Carter, and JC LB Mike Schmitt. The other eight members are either on the two-deep or, in Price's case, already in the NFL.
USC
Class
: 20
ESPNU top 150 players
: 10 (RB
Joe McKnight
, LB
Chris Galippo
, RB
Marc Tyler
, S
Marshall Jones
, DE
Everson Griffen
, QB
Aaron Corp
, WR
Ronald Johnson
, OT
Martin Coleman
, DT
DaJohn Harris
, C
Kris O'Dowd
)
How many are expected to start in 2010
: Four (LB Chris Galippo, WR Ronald Johnson, C Kristofer O'Dowd, LB Malcolm Smith)
Misses
: S
Marshall Jones
, OT
Martin Coleman
Verdict
: Obviously, this class, ranked No. 1 in the nation, was overrated, even when you factor in that McKnight, Griffen and Damian Williams already are in the NFL, and NT Christian Tupou would be a second-year starter if he didn't blow out his knee this spring. Lots of guys who never contributed or left the program.
Washington
Class
: 27
ESPNU top 150 players
: 0
How many are expected to start in 2010
: Eight (WR
Devin Aguilar
, LB Alvin Logan, LB Cort Dennison, SS Nate Williams, LB Mason Foster, CB Quinton Richardson, DE Kalani Aldrich, K Erik Folk)
Misses
: DE
Emeka Iweka
, DT
Nick Wood
Verdict
: You read the names of the seven highest-rated players in this class and you have one reaction: Terrible. But then you see six defensive starters among the lower rated guys. Still, the Huskies defense is a huge question mark. How it performs this year will tell you how this class should be rated.
Washington State
Class
: 26
ESPNU top 150 players
: 0
How many are expected to start in 2010
: Five (CB Aire Justin, WR
Daniel Blackledge
, C Andrew Roxas, OG B.J. Guerra, SS Chima Nwachukwu)
Misses
: WR
Deon Ford
Verdict
: Not much should be expected from Bill Doba's final recruiting class, and this one doesn't deliver much sizzle. A couple of solid hits, though, including a couple of departed JC transfers.
October, 7, 2009
10/07/09
2:40
PM ET

Posted by ESPN.com's Ted Miller
Stanford's defense? Smart and slow. Just look at film from the second half at Wake Forest. The Demon Deacons started racing -- and beating -- the Cardinal to the perimeter and then gashed them with deep throws downfield, whipping one-on-one coverage.
Wake Forest piled up 311 of its 458 yards in the second half as it rumbled back from a 14-point halftime deficit to win 24-17.
What went wrong?
"Everything," Stanford's co-defensive coordinator Ron Lynn said. "We just didn't play well in the second half. We probably didn't coach as well in the second half as the first half."
Considering Washington State piled up 351 yards in the season-opener, early on it looked like the Cardinal defense would only aspire to mediocrity in 2009.
Smart. Slow. Average. Typical Stanford defense.
But a funny thing happened on the path to "just OK." Stanford took a detour.
None of the Cardinal's last three opponents -- San Jose State, Washington and UCLA -- gained more than 299 yards. And, after five games, only Wake Forest scored more than 17 points.
Stanford is on the cusp of earning a national ranking in large part because of a highly efficient, physical offense led by Heisman Trophy candidate
Toby Gerhart
, who ranks fourth in the nation with 130 yards rushing per game, and poised redshirt freshman quarterback
Andrew Luck
.
But the defense's improvement is nearly as notable. It is giving up 16.8 points and 324 yards per game, which is 10.6 points and 56 yards better than last year.
Of course, that improvement likely will be tested Saturday at Oregon State by the Rodgers brothers, James and Jacquizz, who rank Nos. 1 and 2 in the Pac-10 in all-purpose yards.
"It's Rodgers right and Rodgers left," Lynn said. "Those two are dynamic playmakers. If you were just a fan, it would be fun to watch them. But as an opposing coach, it's not a lot of fun to watch them."
Both are quick and fast. They dart between gaps looking for stress points. They tempt defenders to forget responsibilities. The makes plays on the perimeter and downfield in the passing game.
So slow Stanford better play smart. And with relentlessness.
By the way, asking about the defense's reputed lack of speed didn't go over that well.
"I didn't know that was the M.O. on us at this point," linebacker Clinton Snyder said. "I think we've showed we've got some speed out there."
Said Linn, "We have a little bit of sneaky speed. I'm not sure if on the clock we might be [fast]. I do know our guys care and fight their butt off to run to the ball and they are resilient. That relentlessness of staying after it covers up a lot of sins. I don't think we're slow by any stretch of the imagination but we may not be the fastest team in the nation."
Lynn, co-coordinator Andy Buh and head coach Jim Harbaugh actually made a number of moves between the 2008 season and fall camp in order to shore up a defense that was particularly weak against the pass.
While three of four 2008 starters returned in the secondary, only safety Bo McNally remains a starter. Delano Howell was moved from running back to strong safety. Richard Sherman switched from receiver to cornerback (his call). Corey Gatewood, who was injured in 2008, is the other corner.
It's a far more athletic, if less experienced, crew. The Cardinal surrendered 18 touchdown passes a year ago. Through five games in 2009, they've given up four.
"They're getting better every week," Snyder said. "In the first couple of games, there was some stuff we needed to get fixed -- some big-time plays were made on us."
Harbaugh said he's happy with the play of Snyder and the linebackers. Linn said defensive tackles Ukom Udofia and Sione Fua have played well, which is critical because starter Matt Masifilo and key backup Brian Bulcke are both out with injuries.
End Thomas Keiser is proving an impressive freshman season wasn't a fluke with 4.5 sacks and 7.5 tackles for a loss.
Oregon State coach Mike Riley sees a defense that will challenge his young offensive line with a variety of looks and zone blitzes.
"They are playing very sound," Riley said. "Their front -- they play hard, they get good edge pressure, they get good push in the middle."
It's a smart, relentless unit that's starting to play together.
And, maybe, they aren't really that slow.
September, 23, 2009
9/23/09
7:32
PM ET

Posted by ESPN.com's Ted Miller
Most already see Stanford's Jim Harbaugh as an up-and-coming coach, but consider this bit of coaching genius.
Harbaugh pulled receiver/return man
Chris Owusu
aside before the Cardinal played San Jose State last Saturday and gave him some simple instructions about what he wanted.
Yet, knowing that coaching instructions can sometimes bog a player down and cause him to think too much, Harbaugh made sure that Owusu's creativity as a playmaker wouldn't be stifled.
"I talked to Chris before the game and I said, 'Chris, we need three explosion plays in this game. You choose them. But we need three,' " Harbaugh said.
Owusu then went out and returned the opening kickoff 94 yards for a touchdown -- his second score on a kickoff return this season -- caught a 23-yard TD pass and turned a short pass into a 24-yard gain in the Cardinal's 42-17 win.
Brilliant.
But Harbaugh, a perfectionist, thinks he can coach even better.
"Maybe I should ask for more next time," he said.
Speaking of sparkling young coaches, heard anything about this Steve Sarkisian guy lately? How's he doing at Washington?
Count Harbaugh a fan after watching the Huskies 16-13 win over USC last weekend.
"Just really impressed with the job they've done," he said.
Stanford, which plays host to the resurgent Huskies on Saturday, made plays from every angle against San Jose State: Owusu's scores in the return game and through the air; a pair of
Toby Gerhart
rushing TDs; a 23-yard interception return from Corey Gatewood; and a 48-yard punt return for a TD from Richard Sherman.
While giving up 17 points might not sound impressive, Stanford's defense held the Spartans to just 228 total yards and 24 yards rushing. Cardinal end Thomas Keiser recorded three of the Cardinal's six sacks.
After the second-half defensive struggles at Wake Forest, it was a solid showing.
Now the Cardinal turn their attention to the Huskies, which means slowing down quarterback
Jake Locker
, who's switched from a spread-option offense to a pro-style scheme without a hitch.
"It's not surprise, but just how much he continues to elevate his game is great for Washington -- a little scary for all of us who've got to play him," Harbaugh said.
Both teams are entertaining bowl hopes and likely see this as a critical game for achieving bowl eligibility. Stanford probably saw this one as close to a gimme during the preseason. No so much now.
As for Washington, it must avoid the proverbial letdown game after a monumental win.
Sarkisian said he immediately broached the topic with his team, and he believes his players got the message.
"I don't think it's been very difficult at all,'' he said. "Our kids understand that was a great win Saturday and I think they loved the feeling after that game of what it felt like to win a tight ball game in the fourth quarter when you keep doing things right and I think they would like to recreate that. The way to recreate it is through a great week of preparation.''
Preparation is important.
But here's a guess Harbaugh also may chat with Owusu again.
August, 31, 2009
8/31/09
2:30
PM ET

Posted by ESPN.com's Ted Miller
As a UCLA observer wryly noted, ESPN.com has Bruins cornerback Alterraun Verner as a first-team
All-American
, while the Pac-10 blog had California's Syd'Quan Thompson and Oregon's Walter Thurmond III as the first-team
All-Pac-10
corners.
Yes, there were coin flips involved. There are a lot of good cornerbacks in this conference.
Fact is, the guy who deserves to gripe the most is Arizona's underrated Devin Ross, who was second-team All-Pac-10 a year ago yet seems to be operating in the shadows.
California: Might be the best pair in the nation. Two accomplished, full-time starting cornerbacks from 2008 -- senior Thompson (first-team All-Pac-10) and junior Darian Hagan -- return from a statistically impressive pass defense (24 Ints vs. 12 TD passes).
USC: There are questions here -- is Shareece Wright going to be: 1. healthy; 2. eligible -- but even if Josh Pinkard has to move from safety back to corner, the Trojans are strong here based on pure athleticism.
Arizona: We've mentioned Ross, but Trevin Wade, who steps in for the departed Marquis Hundley, tied Hundley for the team lead with four interceptions in 2008.
UCLA: Verner is as good as anybody in the country, and expectations are high for redshirt freshman Aaron Hester.
Oregon: Coach Chip Kelly tells anyone who will listen that Thurmond is the Ducks best player. Talmadge Jackson and Willie Glasper are 1A and 1B veterans on the opposite side.
Arizona State: Omar Bolden expects to bounce back after a sub-par 2008 season. A troublesome back has returning starter Terell Carr now listed as second-team, with former walk-on Pierre Singfield now No. 1. Safety Clint Floyd might even see action at corner.
Oregon State: The Beavers are replacing both cornerbacks but a strong preseason from Tim Clark and James Dockery ended a lot of hand-wringing over the issue. There's also solid depth.
Washington State: The Cougars pass defense wasn't that bad last year, but that might have been because the run defense was horrible. Things are not completely set here. Brandon Jones will start if his ankle is OK, while Aire Justin is the frontrunner opposite him.
Stanford: Richard Sherman and Corey Gatewood should upgrade the Cardinal's pass defense, but Sherman was a receiver in 2008 and Gatewood was injured. And Stanford was terrible against the pass last year.
Washington: Speaking of terrible against the pass... the Huskies allowed opponents to complete 67 percent of their passes and surrendered 24 TD passes with just seven interceptions in 2008. Quinton Richardson will man one side while the uncertain health of redshirt freshman Justin Glenn means true freshman Desmond Trufant or junior Vonzell McDowell will start on the other side.
February, 26, 2009
2/26/09
4:00
PM ET
Posted by ESPN.com's Ted Miller
If we are to believe the Pac-10 will continue to be a high-flying passing conference -- last year's downturn was clearly just an anomaly, right? -- teams will continue to need outstanding cornerbacks to slow down the track meet.
So where do things stand as we enter spring practices?
Great shape
California: The Bears are the only Pac-10 team that has two accomplished, full-time starting cornerbacks from 2008 -- senior Syd'Quan Thompson (first-team All-Pac-10) and junior Darian Hagan -- returning from a statistically impressive pass defense (24 Ints vs. 12 TD passes).
USC: While the Trojans defense lost starting cornerback Cary Harris, three players with starting experience at the position return, including, Shareece Wright, who was the best of the lot before he got hurt and sat out the season. Oh, and the Trojans had the best pass defense in the nation in 2008, see just six TD passes surrendered. [Ed. note: As folks pointed out below, I screwed up and forgot that Josh Pinkard was granted a sixth year of eligibility by the NCAA. My bad.]
Arizona State: The Sun Devils just make the cut here. They not only welcome back three corners with starting experience, they get all six players back from their season-ending three-deep depth chart. And ASU ranked fourth in the Pac-10 in pass efficiency defense. That said, Omar Bolden didn't play up to expectations last year, and this figures to be a competitive spot during spring.
Good shape
Arizona: The Wildcats are nearly in "great shape." They lose starter Marquis Hundley -- recall his endzone INT that iced the Las Vegas Bowl win over BYU -- but sophomore Robert Golden is a star talent who should start opposite Devin Ross, who was second-team All-Pac-10. The Wildcats ranked third in the conference in pass efficiency defense in 2008.
UCLA: Second-team All-Pac-10 cornerback Alterraun Verner is back, but Michael Norris is gone. Redshirt freshman Aaron Hester is the favorite to start, but the competition for the vacancy figures to endure into the fall when a number of touted athletes arrive.
Oregon: Jairus Byrd, first-team All-Pac-10, opted to enter the NFL draft a year early, but Walter Thurmond III is back and backups Willie Glasper, a senior, and junior Talmadge Jackson III saw significant action in 2008. A curiosity: The Ducks had a lot of talent in the secondary last year but gave up 270 yards passing per game and 25 total TD passes, both numbers being worst in the conference.
Washington State: This may seem charitable because the Cougars ranked ninth in the conference in pass efficiency defense last year, but both starters -- junior Romeo Pellum and sophomore Tyrone Justin -- are back, and California transfer Brandon Jones should challenge one or the other for a starting spot.
We'll see
Oregon State: The Beavers lose both starters, Brandon Hughes (second-team All-Pac-10) and Keenan Lewis (honorable mention), but they aren't desperate. Senior Tim Clark has started six games in his career, and junior James Dockery, who missed last season with a knee injury, figure to step in, though some young players, such as redshirt freshman Keynan Parker, might make a move.
Stanford: Wopamo Osaisai is gone, while Kris Evans returns, but competition is wide open, with Michael Thomas, Mark Mueller, Corey Gatewood and Quinn Evans each trying to earn a starting spot. The Cardinal needs to get more athletic in the back-half after intercepting just seven passes a year ago.
Washington: Both starters are back, but Washington ranked 115th in the nation in pass efficiency defense in 2008. Opponents completed 67 percent of their passes and threw 24 touchdown passes. The Huskies only grabbed seven interceptions. Of course, with little pass rush up front, corners Matt Mosely and Quinton Richardson often found themselves in coverage a long, long time.
September, 6, 2008
9/06/08
9:16
PM ET
Posted by ESPN.com's Ted Miller
TEMPE, Ariz. -- Driving to Sun Devils Stadium for Arizona State's tilt with Stanford tonight, my car thermometer read 110 degrees.


The front page of the Arizona Republic says it's presently (6:15 p.m. PT) 105.
I plugged that information into my supercomputer, and it deduced this: It's really, really hot.
Enjoy, Stanford.
Last year about this time -- and temperature -- Colorado came to Tempe and jumped ahead 14-0 in the first quarter.
Colorado then simply wilted, surrendering 33 consecutive points to the Sun Devils.
"I like it when it's hot," Arizona State QB Rudy Carpenter said this week. "It's good for us."
Yes, it is.
A hour before game time and the student section is mostly full with gold-shirted Sun Devil adherents, and these hardy souls -- the sort who always call it "a dry heat" -- are flicking fans back-and-forth trying not to slow roast.
Plugging the on-field variables into that ol' supercomputer again, and it's hard to imagine Stanford prevailing this evening.
ASU is more talented in the first place. Oregon State's flop today at Penn State also took some of the gleam off the Cardinal's opening win over the Beavers last week.
And this is a heck of a home-field advantage.
Normally, this is when a sports media sort would talk about how important it is that Stanford start fast and establish confidence and take the crowd out of the game.
And that's true in this case, to an extent.
It's just hard to believe Stanford, not the deepest team in any event, can start fast enough that when exhaustion inevitably sets in, they can hold on in the fourth quarter -- particularly against a veteran QB like Carpenter, who can run any defense ragged.
Sure, the Sun Devils' offensive line is questionable, but the Cardinal secondary is just as uncertain, particularly with CB Corey Gatewood hobbled with a sprained ankle and free safety Austin Yancy out with a hamstring injury.
Unless ASU wide receivers Michael Jones (Achilles) and Chris McGaha (toe) also can't finish -- both are probable but banged up -- the Sun Devil advantage here is striking.
And probably decisive.
July, 9, 2008
7/09/08
6:17
PM ET

Posted by ESPN.com's Ted Miller
The sixth of 10 quick hit updates of off-season Pac-10 goings on.
In a sentence:
With 16 position players returning -- most in the Pac-10 -- from a team that beat USC and California, Stanford has the experience to move out of the bottom third of the conference in coach Jim Harbaugh's second season.
The big question:
Sure, seven starters return on offense, but how can much be expected from a crew that ranked last in the conference in yards and points per game and is unsettled at quarterback?
Quick hit news:
It's questionable whether a pair of injured starters, offensive tackle Allen Smith (knee cap) and tight end Jim Dray (knee), will be able to suit up this season. The hopeful official word is Smith and Dray might be able to return at some point, though Thebootleg.com has reported that neither will be available in 2008.
The void left by Dray might be partially filled by Konrad Reuland, a Notre Dame transfer whose younger brother, Warren, signed with the Cardinal this winter. Konrad, one of the nation's top-rated tight ends in 2006 out of Mission Viejo, Calif., won't be eligible until the fourth game of the season, Sept. 27 at Washington.
Stanford is starting to resemble other programs that try to keep players on or near campus during the summer, according to a San Francisco Chronicle story, which reported 14 freshmen -- out of a class of 18 -- were enrolled in summer school. Two years ago, only one freshman took summer classes.
Sophomore Corey Gatewood's switch from receiver to cornerback is now permanent under first-year defensive coordinator Ron Lynn. He's competing with junior Kris Evans for the starting job.
Defensive lineman Sione Fua, a touted recruit from the 2006 class, returned early from a church mission at the end of spring practices and is expected to work his way into the rotation on the defensive line. Fua saw limited action as a true freshman.
If the three-man battle at quarterback between Tavita Prichard, Jason Forcier and Alex Loukas doesn't produce a clear winner, it's always possible that top-rated quarterback recruit Andrew Luck [Insider] could see action.