August, 22, 2011
8/22/11
7:27
PM ET
By
ESPN.com staff
| ESPN.com
Fifth in a series looking at potential dream and nightmare scenarios for all Pac-12 teams.
Understand: These are not predictions. They are extreme scenarios and pieces of fiction. You can read
last year's versions here
.
We're going in reverse order of my
post-spring power rankings
(which might not be identical to my preseason power rankings).

Up next
: UCLA
Best case
Someone forgot to tell Datone Jones UCLA's visit to Houston was supposed to be about the quarterbacks.
Jones provided three of the Bruins six sacks against
Case Keenum
, while Bruins starter
Kevin Prince
turned in a solid, unspectacular performance in UCLA's 28-24 win.
"I read in the Pac-12 blog that Jones was supposed to be good, but against my better judgment I chose to ignore the Pac-12 blog," Keenum says. "I have learned my lesson. Dude's a beast. Jones, not the Pac-12 blog, who I hear is very nice."
Prince and most of the other starters sit out the second half of a 55-10 win over San Jose State. Up next is Texas, which comes to town talking about revenge for the 34-12 whipping administered by the Bruins last year when the Longhorns were ranked seventh.
"We want revenge," Longhorns quarterback
Garrett Gilbert
says. "We're Texas. You're not supposed to mess with us, particularly if you wear pastels, though my mother thinks I look good in powder blue."
Prince passes for 250 yards and two scores and rushes for 85 in a 35-21 Bruins victory.
"Does that guy only play well against us?" queries Texas coach Mack Brown.
It's not an unfair question. But it's one Prince answers well at Oregon State, running for a score and passing for another in a 30-27 victory. UCLA, at 4-0, moves up to No. 15 in the national polls.
Headline in Los Angeles Times: "Neuheisel seat no longer so hot."
Headline in Seattle Times: "Miami scandal? Neuheisel's fault!"
Of course, Prince is no
Andrew Luck
. Luck, the Heisman Trophy favorite, throws three touchdown passes in a 35-24 Cardinal victory, though Jones does beat All-American tackle Jonathan Martin for a sack.
"Those two are going to be going at it 10 years from now," observes play-by-play man Brent Musburger.
The Bruins nip Washington State on a 55-yard field goal from Kip Smith, but they fall at Arizona in overtime. They beat California at home, which sets up a critical Pac-12 South showdown with Arizona State.
Down 28-21, Prince finds
Cory Harkey
, who hasn't dropped a pass all season, for a 17-yard TD with 38 seconds remaining.
"I'm going to tell you why we are going to go for two," coach Rick Neuheisel tells his gathered offense on the sideline during a time out. "It's because we need to show everyone who we are right now."
On a quarterback draw, Prince runs over Sun Devils linebacker Vontaze Burfict for the winning points.
UCLA, in a classic let-up scenario, goes down at Utah the following weekend. The Bruins bounce back with a 31-24 win over Colorado.
They head to the Coliseum to play arch-rival USC with the Pac-12 South Division title on the line. If the Trojans beat the Bruins for the 12th time in 13 years, they will be the South champions, even though they're not eligible for the postseason. If the Bruins win, they will be tied for first with Utah and Arizona State, which beat the Utes, but would win a tiebreaker for a spot in the inaugural Pac-12 championship game.
"Is it more motivating to win the first South division crown or to stop UCLA from doing it?" USC quarterback
Matt Barkley
says, repeating a reporter's question. "Well, I'd like to say us winning the division but really there's nothing better than making those guys miserable. Was I even alive the last time they beat us?"
Barkley recovers: "Oh, yeah, you're right. I was alive in 2006."
Jones sacks Barkley three times as the Bruins roll over the Trojans 33-17.
Before the Bruins play top-ranked Oregon in the Pac-12 championship game, Neuheisel is named conference Coach of the Year.
Says USC coach Lane Kiffin, "Yeah, I voted for him. He deserved it. He outcoached me."
"Vindicated?" says Neuheisel. "You know what? Tough times don't last, tough people do."
Whispers Prince to a nearby reporter: "He says that, like, five times a day."
Oregon nips the Bruins 33-31 on a 44-yard field goal at the end of regulation. The Bruins are invited to the Alamo Bowl, where they whip No. 10 Texas A&M 41-20 to finish 10-4 on the season and ranked 14th.
"We sort of own the state Texas, don't we?" Jones says.
Andrus Peat
,
Shaq Thompson
,
Kyle Murphy
and
Davonte Neal
announce commitments to the Bruins the night of the bowl game. The Bruins 31-player class -- six elite prospects are brought in early to count against the 2011 class -- ranks sixth in the nation.
"It was great to cherry-pick Southern California recruiting," says Neuheisel. "So much talent. Glad we had a full allotment of scholarships."
Worst case
UCLA coach Rick Neuheisel had pointed to the road trip to Houston as a game his Bruins needed to win in order to establish early-season momentum. If so, the season's momentum starts off flowing in the wrong direction.
Case Keenum, whose season ended in the 2010 game at UCLA, throws for 330 yards and three TDs in a 35-21 win, as the Bruins passing game again sputters with Kevin Prince under center.
Neuheisel repeatedly berates Prince as he walks off the field. "He has to play better," Neuheisel says after the game. "We've taught him what to do. He's just not doing it."
"So the coaching isn't working?" LA Times columnist T.J. Simers volunteers.
The Bruins beat San Jose State 24-10 but get humiliated at home by revenge-minded Texas, which keeps its starters in the game well into the fourth quarter of a 44-10 victory.
"
Richard Brehaut
will start at Oregon State," Neuheisel says. The Bruins lose 28-17 in Corvallis.
"Kevin Prince will start at Stanford," Neuheisel says. The Bruins lose 51-13 in Palo Alto.
Writes Simers, "I'm trying to figure out who is a worse coach, the Bruins head coach or its quarterbacks coach. It's hard to say who is more clueless."
Neuheisel began the 2011 season on the hotseat. It's clear he's pretty much sitting naked in a pool of lava after a 1-4 start.
"Tough times don't last, tough people do," Neuheisel says.
Neuheisel is fired after a home loss to Washington State. Offensive line coach Bob Palcic is named interim head coach.
The Bruins slog through the rest of the season with Prince and Brehaut sharing the QB duties. It works curiously to perfection in an upset of Arizona State, but the Bruins head to the Coliseum to play unbeaten arch-rival USC at 2-9.
"Do we hope AP voters rank us No. 1 if we finish unbeaten?" USC coach Lane Kiffin asks. "Well, sure. We're pretty good. We just beat No. 1-ranked Oregon. Stanford's only losses this year are to us and Oregon. Arizona State's only loss is to us and Oregon. Notre Dame's only loss is to us, though Stanford will probably beat them. "
It's pointed out to Kiffin that UCLA upset the Sun Devils. "Really?" he says. "How the hell did that happen?"
Matt Barkley throws four touchdown passes as USC rolls the Bruins 42-3. Barkley nips Stanford QB Andrew Luck for the Heisman Trophy. When Oregon beats Alabama in the BCS national championship game, the AP votes USC No. 1.
On Jan. 12, NCAA president Mark Emmert announces that after a double-secret meeting, all remaining sanctions against USC are revoked. Says Emmert: "It's easy. A Committee of Infractions hearing chaired by former Miami athletic director Paul Dee has zero credibility. I personally reviewed the case. Those penalties were exorbitant. So the Trojans get time served -- a two-year postseason ban. But they will get all their scholarships back."
Kiffin sweeps across the country, tearing away commitments from major powers in every AQ conference.
Says ESPN recruiting guru Tom Luginbill on national signing day, "It might be the best recruiting class in history."
Meanwhile, UCLA hires Paul Hackett as its head coach.
"He has a track record in Southern California," says athletic director Dan Guerrero.
May, 2, 2011
5/02/11
5:35
PM ET
By
ESPN.com staff
| ESPN.com
The 2011 NFL draft is over, which means it's time to look at who the Pac-12's top senior prospects in 2012 likely will be.
First of all, plenty of top non-seniors from the conference might -- or are likely to -- enter the draft, including Stanford QB
Andrew Luck
, Oregon RB
LaMichael James
, Arizona State LB Vontaze Burfict and USC QB
Matt Barkley
. Those four range from sure to likely first-round draft picks.
But this list includes only players in their final year of eligibility. And some might rate a bit of a reach as NFL prospects.
Arizona
: QB
Nick Foles
, WR
Juron Criner
, CB Trevin Wade
Arizona State
: CB Omar Bolden, DE James Brooks, C Garth Gerhart
California
: S Sean Cattouse, TE
Anthony Miller
, LB Mychal Kendricks, LB D.J. Holt, OT Mitchell Schwartz, P Bryan Anger
Colorado
: OG Ryan Miller, RB
Rodney Stewart
, DT Conrad Obi, TE
Ryan Deehan
Oregon
: TE
David Paulson
, SS Eddie Pleasant, OT Mark Asper, LB Josh Kaddu
Oregon State
: S Lance Mitchell, WR
James Rodgers
, FB-TE
Joe Halahuni
Stanford
: WR
Chris Owusu
, TE Coby Fleenor, S Delano Howell
UCLA
: S Tony Dye, FB
Derrick Coleman
, TE
Cory Harkey
USC
: LB Chris Galippo, DE Armond Armstead, TE
Rhett Ellison
, RB
Marc Tyler
Utah
: OT Tony Bergstrom, LB Chaz Walker, OT John Cullen
Washington
: DT Alameda Ta'amu, WR
Jermaine Kearse
, OT Senio Kelemete, K Erik Folk
Washington State
: DT Brandon Rankin, OG B.J. Guerra, WR
Jared Karstetter
October, 6, 2010
10/06/10
5:58
PM ET
As far as low points go, a 35-0 defeat at home is a pretty bad one, particularly when it comes after getting pushed around by a team you'd pushed around the previous season.
UCLA was 0-2 in a bad way four weeks ago after having lost to Kansas State and then being humiliated by Stanford in front of a stunned crowd at the Rose Bowl. The general feeling in the media and among much of the fanbase? The Bruins were doomed. There were a scattering of grumbles about the pace of the development under third-year coach Rick Neuheisel.
Ah, but inside the locker room it appears Neuheisel's oft-cited -- and sometimes mocked -- mantra of "relentless optimism" still echoed.
"Those two losses were a blessing in disguise because they brought us together," UCLA running back
Johnathan Franklin
said. "Through adversity, you build strength. I told everybody we have to play as a family. We weren't playing together."
At his moment, it seems appropriate to note that Franklin has aspirations to become a motivational speaker.
[+] Enlarge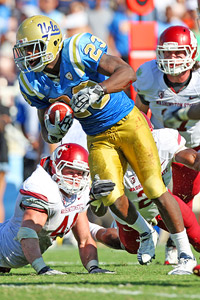 Charles Baus/Icon Sports MediaJonathan Franklin has rushed for 492 yards and five touchdowns in the past three games -- all wins.
Here comes an oversimplification: In the first two games, Franklin got the ball 24 times combined. Over the next three games, he got the ball 26, 19 and 30 times. In those games, he rushed for 492 yards and five TDs. And in those games, UCLA went 3-0 -- whipping a pair of ranked teams in the process -- and turned all those Bruins frowns upside down. He now ranks 10th in the nation with 125 yards rushing per game.
Franklin, however, admitted the transformation wasn't all rainbows, roses and red velvet valentines. There was some speaking truth to power. Franklin was careful about providing details, but he did say blue-collar players like center Ryan Taylor and tight end
Cory Harkey
provided some unflinching assessments to certain teammates (as well as of themselves).
"Sometimes you have to call people out and we did that. As a man, sometimes you have to call somebody out when they make mistakes," Franklin said. "We had people who took responsibility, who had made mistakes, who weren't playing to their potential. We all put our egos to the side."
Franklin and the Bruins figure to face a tough test Saturday at California, a team with plenty of talent that is reeling from consecutive defeats to Nevada and Arizona. UCLA hasn't won in Berkeley since 1998.
Moreover, the Bears have their own bit of adversity that could become a positive this weekend: They got sliced and diced by Nevada's pistol offense, 52-31, therefore they know exactly what not to do against UCLA's version. Further, the Bears faced the Wolf Pack on a short week; it was a Friday night road game. They face the Bruins after a bye.
In other words, Franklin and the Bruins pistol won't provide a shock to the Bears system.
"I think those are huge advantages," Neuheisel said. "Getting ready for a different kind of offense is difficult... It's not the way I would have drawn it up."
Neuheisel said he believes the pistol scheme has helped optimize Franklin's skills. The 5-foot-10, 198-pound redshirt sophomore has great vision and quickness and stresses a defender forced to make a one-on-one, open-field tackle. Further, Franklin's bigger backfield mates,
Derrick Coleman
and
Malcolm Jones
, tip the scales at 231 and 223 pounds. They add a power elements that softens things up for Franklin.
The only thing holding Franklin back? Ball security. It was an issue last year, and he's had one fumble in each of the past two games.
Franklin isn't claiming that he or his team has arrived. He noted it's been a long time since UCLA won four in a row (2005). They won three in a row to start the 2009 season and everyone was talking transformation. Then the Bruins opened Pac-10 play with five consecutive defeats.
The Bruins have admirably emerged from a low point. But they haven't climbed very high just yet.
"We won't turn this program around until we have a Pac-10 championship," Franklin said. "Right now, we're just an average team. We're nobodies. We haven't done anything yet."
July, 28, 2010
7/28/10
9:00
AM ET
By
ESPN.com staff
| ESPN.com
Welcome to the review of the weakest position in the Pac-10. And that was going to be the case even before Washington gave
Kavario Middleton
the boot
.
Middleton, by the way, was named preseason first-team All-Pac-10 by Phil Steele, even though he only caught 26 passes last year and was being challenged for the starting job by
Chris Izbicki
.
Only four teams welcome back their starting tight end, and only one -- California's
Anthony Miller
-- even earned honorable mention all-conference honors.
Why is the position down? Attrition after an "up" season. Consider the departed: Arizona's Rob Gronkowski, Oregon's Ed Dickson, Stanford's Jim Dray, UCLA's Logan Paulsen and Ryan Moya and USC's Anthony McCoy. Those guys are now stocking NFL rosters.
So where do things stand? Well, you might say we graded the position on a curve, though there is plenty of potential here.
Great shape
California: Miller was the Bears' third-leading receiver last year. Six-foot-7 sophomore backup Spencer Ladner saw action in seven games.
Good shape
We'll see
USC: Attrition and injuries make this a questionable position for the Trojans. If Blake Ayles and Rhett Ellison stay healthy, things should be OK. The incoming freshman class is strong, starting with Xavier Grimble, who ranked No. 1 at the position, according to ESPN Recruiting.
Washington: With Middleton, the Huskies would have been in great shape. Izbicki had a good spring, but he only caught three passes for 7 yards in 2009 and the depth is questionable.
Arizona State: Jovon Williams is gone and Dan Knapp is a tackle, but the Sun Devils could move up here just because the position figures to be more involved in the offense in 2010. Trevor Kohl and Christopher Coyle top the depth chart.
June, 1, 2010
6/01/10
7:36
PM ET
By
ESPN.com staff
| ESPN.com
At what position is the Pac-10 deep? At what position in the Pac-10 thin? Here's the first of three parts taking a look at just that.
Deep: Center
Why is it deep
? Start with the fact that nine starting centers are back from 2009, though Washington's Ryan Tolar has moved to guard and former starting tackle Drew Schaefer has moved inside to center. Then consider that of those nine, six earned a spot on the 37-man watch list for the
Rimington Trophy
, which is given annually to the nation's best center. Even Washington State, which lost Kenny Alfred, probably feels pretty good about Andrew Roxas, who's started nine career games.
The big names
: Six players are legitimate all-conference candidates: USC's Kristofer O'Dowd (he could be the top center in the 2011 NFL draft), Arizona's Colin Baxter and Stanford's Chase Beeler (both were second-team All-Pac-10 in 2010), Oregon State's Alex Linnenkohl (who has 26 career starts), Oregon's Jordan Holmes and UCLA's Kai Maiava.
Thin: Tight end
Why is it thin?
Only four teams welcome back a starting tight end, none of whom earned all-conference honors. In fact, only one returning tight end, California's
Anthony Miller
, earned honorable mention. And consider the list of departed players from 2009: Arizona's Rob Gronkowski, Oregon's Ed Dickson, Stanford's Jim Dray, UCLA's Logan Paulsen and Ryan Moya and USC's Anthony McCoy. Phil Steele recently named his four
All-Pac-10 teams
, and he made Washington's
Kavario Middleton
the first-team tight end. Middleton caught 26 passes last year and he's fighting with
Chris Izbicki
for the starting job.
Fill the void
? Miller and Middleton (Izbicki?) could be breakthrough players. UCLA is excited about the Joseph Fauria-
Cory Harkey
combination.
Joe Halahuni
, though a hybrid, H-back sort, is a threat for Oregon State. Stanford's
Konrad Reuland
, a Notre Dame transfer, is promising. It appears that
David Paulson
, Dickson's backup last year, and JC transfer Brandon Williams will be solid for Oregon. Perhaps
Blake Ayles
finally stays healthy for USC.
April, 9, 2010
4/09/10
8:01
PM ET
By
ESPN.com staff
| ESPN.com
Hustling to post from my airplane seat.
Kory from San Mateo, Calif., writes
: What are the chances that
Andrew Luck
leaves for the NFL after this 2010 season?
Ted Miller
: That will be an interesting call for the redshirt sophomore.
Mel Kiper thinks he could be a
top-10 or even top-five pick
in the 2011 draft. (Kiper already has projected Washington's
Jake Locker
as the "etched in stone" No. 1 overall pick.)
On the other hand, Luck is an extremely bright guy from a family that is financially secure and he is attending one of the nation's finest institutions. Like Matt Leinart,
Sam Bradford
and Locker, he might not be in that much of a hurry to start adult life. My guess is it's not such a bad thing being the quarterback at Stanford, particularly with the program being on the rise.
As a junior in 2011, Luck could be in position to be a serious Heisman Trophy candidate and then the top-overall pick in the 2012 draft. As he reviews his decision next winter, he'll also likely take note how a season-ending injury didn't exactly send Bradford spiraling down in the estimation of NFL scouts and draft experts.
In other words, I don't know what Luck will do, and my guess is he is far from certain himself.
---
Brett from New York writes
: What are you hearing out of UCLA regarding
Morrell Presley
? He came in last year with a lot of hype but didn't seem to make much of impact. Do they plan on using him as a tight end or wr?
Ted Miller
: Presley is listed third at tight end behind
Cory Harkey
and Joseph Fauria and is expected to see significant action this season. Those two guys are 262 and 259 pounds respectively, while Presley only carries 220 pounds on his 6-foot-4 frame. That suggests that Presley, mostly a receiver last year, will be a hybrid sort of tight end/H-back. For example, not the sort who takes the field on a double-tight, third-and-1 play but, rather, is a guy coaches want to get the ball in space and be a weapon in the red zone.
Presley is clearly a bust because he didn't do amazing things as a true freshman.
Kidding, of course. Give him time. There's little to suggest that Presley won't become a dynamic player as he matures.
---
Carlos from Burbank, Calif., writes
: Regarding USC's competition at MLB between Devon Kennard and Chris Galippo, do you think USC's defense would be better (and tougher) if USC kept Galippo in the middle and lined up Kennard on the strong-side?
Ted Miller
: This is one of the most interesting competitions in the Pac-10 this spring. I'm going to visit USC on Thursday, so I'll get a better idea then where this one stands.
I have two feelings here: 1. USC coaches want to push Galippo to get better; 2. Kennard will see plenty of action -- somewhere -- this fall. He's too good to sit.
Are you asking me if it would be better to have both Galippo and Kennard in the lineup and drop strong-side backer Michael Morgan? Don't know. It appears that Galippo must fend off Kennard before Morgan has to face a similar challenge.
---
Kevin from San Jose writes
: Do you mind putting more stuff up about Stanford... It seems like half the time the lunch links don't have any Stanford stuff.
Ted Miller
: I try hard to find Stanford links. The problem is it doesn't appear that any newspaper, including the Stanford
student paper
, consistently covers the team.
The only consistent source is
Dave Fowkes' Examiner sight
, and I'd rather use him a secondary guy because he's -- obviously -- a Stanford fan.
Please, understand the nature of the lunch links post. It's entirely dependent on what stories are posted that day by reputable Web sites. I spend way more time on a daily basis searching for stuff from the teams that don't get much coverage than the ones that do -- such as USC, Washington and the Oregon schools.
Stanford fans, if you want more coverage, call your local papers and ask for it. Tell them the Pac-10 blog sent ya!
And, oh by the way, Cal fans: Your team is the only one in the conference with closed practices. That's my guess why there's been such a dearth of stories this spring.
---
Will from Eugene, Ore., writes
: Recently a we had a bracket pool for the NCAA tournament, and one of the prizes was an Oregon visor, similar to the one Chip Kelly is known for wearing. The guy who won it requested that Chip Kelly sign it and then sell the visor and donate 100% of the proceeds to the Children's Brittle Bone Foundation (
cbbf.org
). This came about because one of the guys on our blog (
addictedtoquack.com
) recently had a child with the disease who was given a very small chance of survival, but he not only is surviving, he's thriving and went home a couple weeks ago. Here is
the link to the story
about that child. Chip Kelly was nice enough to not only sign it, but he also included a football (which he signed too) for us to include in the auction for the charity.
Ted Miller
: Good show by Kelly. Doesn't surprise me a bit, though.
Will from Eugene also included a link for a charity auction that I couldn't make work. Perhaps our friends at ATQ can post it so it's accessible through the above link?
---
Ryan from Atherton, Calif., writes
: How are you liking your new computer? Is it true that once you go Mac, you never go back?
Ted Miller
: I loved the Mac when I bought it. But the nature of my job -- including a fast-paced trip to the Northwest three days after buying a new laptop -- didn't allow me to show the necessary patience to learn how to use it.
I've been using PCs my entire adult life and, at 40, it's hard to teach an old dog to close a web page from the left side.
So, with a degree of regret, I traded in the Mac for a Toshiba.
By the way, the Geek Squad was great. Some of you took shots at them in the comments section. I'd give them high marks for customer service and helpfulness.
February, 25, 2010
2/25/10
10:53
AM ET
By
ESPN.com staff
| ESPN.com
Athlon has a
nice list of college football transfers
who may have a significant impact this fall, including a number who transferred to -- and from -- Pac-10 programs.
Here's our take.
Incoming Pac-10 transfers
:
QB Steven Threet, Arizona State (from Michigan)
-- Threet finally has found a system that works for him with the Sun Devils after his previous schools -- Georgia Tech and Michigan -- changed coaches and adopted option offenses that didn't fit his skill set. He'll compete with
Brock Osweiler
for the starting job this spring (
Samson Szakacsy
will be limited because of a continuing elbow problem).
WR Aaron Pflugrad, Arizona State (from Oregon):
Go ahead and pencil in Pflugrad as a starter at a position of need for the Sun Devils, who lost their top-two receivers,
Chris McGaha
and
Kyle Williams
.
WR Josh Smith, UCLA (from Colorado):
The Bruins have a lot of guys back at receiver, but those guys weren't terribly explosive last year. The hope is that Smith will add some big-play capability.
TE Joseph Fauria, UCLA (from Notre Dame):
While the Bruins lost
Logan Paulsen
and
Ryan Moya
, Fauria will combine with junior
Cory Harkey
-- and perhaps hybrid receiver
Morrell Presley
-- to give the offense plenty of punch at the position.
Outgoing Pac-10 transfers
:
QB L.D. Crow, UCF (from Stanford)
-- Crow was stuck behind
Andrew Luck
. 'Nuff said.
QB Chris Harper, Kansas State (from Oregon)
-- Harper never seemed comfortable at Oregon and said upon transferring that he wanted to be closer to home. He's a talented athlete but raw as a QB.
RB Raymond Carter, Colorado State (from UCLA)
-- Couldn't break through in Bruins' crowded backfield.
RB Aundre Dean, TCU (from UCLA
) -- See Carter.
WR Vidal Hazelton, Cincinnati (from USC)
-- Big things were expected out of him at USC -- he was the Trojans' leading receiver in 2007 -- but he got hurt early in 2008 and decided to transfer over an
apparent conflict
with coaches over whether he could redshirt or not. Trojans could have used him in 2009.
DT Kaniela Tuipulotu, Hawaii (from Arizona):
He started seven games in 2008 but slid down the depth chart -- injuries were an issue -- and opted to transfer to his home state.
February, 11, 2010
2/11/10
11:00
AM ET
By
ESPN.com staff
| ESPN.com
Who will breakout and make a move toward stardom this season?
Most of these guys aren't "new," but they could make the next step up in their careers this spring.
Arizona
Juron Criner, WR, Jr
: Criner (6-foot-4, 210 pounds) is already a familiar name to Wildcats fans. Heck, he led the team with nine touchdown receptions in 2009. The reason he makes this list is this: It would be a surprise if he's not first-team All-Pac-10 at season's end.
Arizona State
Aaron Pflugrad, WR, Jr
: Hmm. Name seems familiar? Pflugrad is a transfer from Oregon, who left the Ducks after his father, Robin, was fired as receivers coach. He was expected to start for the Ducks in 2009, and he should be in the same position with the Sun Devils, who need help at receiver.
California
Ernest Owusu, DE, Jr
: Owusu looked like a budding star early last season when he recorded two sacks and three tackles for a loss against Maryland, but that was about it for his production in 2009. Still, he combines good intelligence and speed with special power -- he's the Bears' strongest player -- and that could all come together as he fights to break into the starting lineup.
Oregon
Diante Jackson, WR, RFr
: Many thought Jackson would offer immediate help to the Ducks' receiving corps as a true freshman, but, instead, he was a scout team star last year. The Ducks are looking for a dynamic, play-making presence at wideout and Jackson might be the guy.
Oregon State
The Unga brothers
: The Beavers lost Keaton Kristick to graduation and Keith Pankey may miss 2010 with an Achilles injury, so there are opportunities at linebacker. These twin brothers -- Kevin "Feti" Unga and Devin "Uani" Unga -- could fight their way into the mix.
Stanford
Shayne Skov, LB, So
: Skov started seven games last year as a true freshman and ended up third on the Cardinal with 62 tackles. The early returns are Skov will be first-team All-Pac-10 before he's done.
UCLA
Cory Harkey, TE, Jr
: With the departure of
Logan Paulsen
and
Ryan Moya
, Harkey will finally get his chance to take center stage. He caught eight passes for 41 yards and a touchdown in 2009. His production will be many times that in 2010.
USC
T.J. McDonald, S, So
: First off, the son of former USC legend Tim McDonald is listed at 205 pounds. Really? He looks bigger -- in a good way. And he's a hitter. He had seven tackles as a backup to strong safety Will Harris last year, but he could play either free or strong.
Washington
Talia Crichton, DE, So
: Crichton was forced into action last year as a true freshman -- he started four games -- because the Huskies lacked depth on the defensive line. With the departure of both starting ends -- and the questionable status of Kalani Aldrich's knee -- Crichton is almost certain to ascend to a first-team spot. Here's a guess he's better prepared in 2010.
Washington State
Travis Long, DE, So
: Back in the Cougars' glory days -- folks, it wasn't really that long ago, either -- they always had ends who were disruptive. Long led the Cougars with 6.5 tackles for a loss and two sacks as a true freshman in 2009. Those numbers will more than double in 2010.
February, 5, 2010
2/05/10
6:34
PM ET
By
ESPN.com staff
| ESPN.com
Happy Friday.
To the notes.
Amalgam from the College Football Cosmos writes
: I don't get recruiting rankings. Why do so many five-star guys fail and low-star guys succeed? And why is there so much variety about final team rankings?
Ted Miller:
Obviously, Amalgam's question is a blend of the many recruiting questions that inundated the mailbag this week.
As far as critiquing team rankings, I'm not going to do that. I know the fellows from Scouts Inc. that do
recruiting rankings
for ESPN.com bust their butts poring over film and trying to legitimately rate individuals and classes.
The differences between recruiting services? How could you expect anything else in a business that involves the always inexact science of evaluating and projecting of human potential?
One thing, however, I do think gets under-represented to the public are the fairly straight-forward reasons that star-ratings often don't hold true in college.
First, there's
basic math
: The huge pool of low-rated players vs. the small pool of highly rated players skews things a bit when a former two-star guy becomes a No. 1 NFL draft choice and everyone starts going, "SEE! Recruiting rankings are meaningless."
But there's another issue: Physical maturity.
When you meet a five-star recruit in person, you immediately see the same thing the recruiting services saw on film: A full-grown man.
You typically -- not always but typically -- see a guy with a full-beard who's filled out his frame and is buffed up. You see an 18-year-old who could pass for 25.
You see a man who has been dominating a bunch of boys. It's impossible not to rate this guy highly because he looks better on film than anyone else.
But when he gets to college a couple of things sometimes happen.
First, he stops being dominant. A lot of the five-star guys have been dominant their entire lives. They've never been knocked on the rears. How they react to that is often telling.
Second, he may turn out to be a finished product who's already physically peaked. Often guys like this become solid but never dominant college players and they fall short of the NFL. You see this with a lot of with linemen who arrive as 6-foot-6, 310-pound freshmen already bench pressing over 400 pounds. By their senior years, they are... 6-foot-6, 315-pound seniors bench pressing over 450 pounds. And their feet never really got any quicker.
Meanwhile, there are those baby-faced guys who are 6-foot-4 and 230 pounds as high school seniors for whom college operates as a phone booth did for Superman.
One of the things you see when you hang around super-elite programs -- USC, Florida, Texas, Ohio State, Alabama, Oklahoma, etc. -- is they look different. At the Rose Bowl, it was impossible to ignore that the Buckeyes just looked bigger than the Ducks -- not really the starters but the 85-man team as a whole.
You go to a USC practice and you can't help but go, "Golly, who's that dude? He's a monster!"
Then you learn he's a senior and former five-star recruit who doesn't play much.
Coaches like Mike Riley often get praised -- and rightly so -- for finding diamonds in the rough, but know that there's also a certain amount of freedom involved in operating outside the high expectations of recruiting rankings and being able to evaluate an athlete and analyze what sort of football player might be inside.
It's balderdash when top-25 coaches say they're not influenced by star-ratings and recruiting rankings. I've been told by a couple of coaches that they've signed highly-rated players they didn't particularly like because of recruiting rankings.
The ideal situation -- and Pete Carroll always insisted that this is how the Trojans operated -- is to be an elite school staffed with outstanding talent evaluators who don't get fooled by the "finished products" who won't pan out.
---
Ryan from New York writes
: UCLA signed no TEs and lost two to graduation. And only one WR, with both starters being juniors. Not sure how you missed that. It's amazing to me how you guys fall for Slick Rick's spin. He has a Svengali effect on you media types that cracks me up. You'll do or say anything for a quote.
Ted Miller
: UCLA signed
John Young
, who is a tight end. The Bruins actually seem pretty solid at the position with
Cory Harkey
and
Nate Chandler
, both juniors, while sophomore
Morrell Presley
is a hybrid tight end/receiver.
Neuheisel said he wished he'd signed another receiver, but the only real issue with the Bruins class is the lack of a quarterback, which happened when
Brett Nottingham
decommitted and went with Stanford.
One of the problems with recruiting is folks put too much value on assigned positions. When I was doing write-ups on each class this week, one of the things I noticed was how often a coach called a player one thing while recruiting lists had him at another position.
But, really, it doesn't matter in the least. There are only four positions: quarterback, specialists (kicker, punter), linemen and athletes. Good coaches aren't slaves to high school positions.
UCLA's class is loaded with athletes. These are guys who could end up as running backs, receivers, defensive backs, tight ends or even linebackers and rush ends.
Here's a guess that Neuheisel is salivating over the possibilities with guys like
Anthony Barr
.
And I was fairly disappointed with the quotes I got from Neuheisel on signing day. He was far more happy than colorful.
---
Kenny from Corvallis writes
: Regarding your article about recruiting and kids changing their mind.. These coaches have nothing to complain about. A verbal commitment means nothing. Sure, for the kids that absolutely know where they want to play and want to end their recruitment, great. But all an early signing period does is allows coaches to force the hands of players who may honestly not know where they want to go, rather just committed after an awesome weekend away at college where they most certainly were treated like stars.
Ted Miller
: You make a fair point. An early signing period would give leverage to coaches.
But it also would allow a young man to opt out of the process -- which can be a pain for the entire family -- as well as allow a player to grab an opportunity quickly. Decommitments make headlines, but pulled scholarship offers are more frequent. Moreover, an early signing period is a nice insurance policy should an athlete get injured his senior season.
An early signing period would allow a player to know if a program really wants him. Also, coaches would be less casual about making offers they don't fully intend to honor.
Elite players can do anything they want. Do you think Lane Kiffin got mouthy with offensive tackle
Seantrel Henderson
when Henderson decided to wait until USC meets with the NCAA before signing? Absolutely not.
Finally, an early signing period works in favor of school's that aren't perennial powers, which I think is a good thing. For one, it might reduce the number of last-minute raids of recruiting classes.
---
Scott from Yakima, Wash., writes
: I saw something in the news reports about
Josh Shirley
having a secret commitment to UCLA for a few weeks. Why keep it secret? My question is ... do you think Neuheisel used that secret to try to hurt USC? Imagine that a few weeks ago, they look at each other and wink and say, lets keep this quiet but give out the appearance of being a lock to go to USC. That will trick USC into not pursuing other LBs as much, and then late in the process when Josh goes elsewhere, they will not have enough time to scramble to get another LB in there.
Ted Miller
: Scott, I am shocked -- SHOCKED! -- that the UCLA coach would do anything sneaky during recruiting that might hurt USC.
Neuheisel was open about Shirley's "secret" commitment to the Bruins on signing day, saying it was Shirley's idea.
Moreover, a Bruins booster might counter that it would be impossible for a UCLA recruit to keep a secret from USC coach Lane Kiffin. After all, Kiffin said on signing day that he knows which recruits want to go to USC and which will end up at UCLA almost immediately. Said Kiffin: "I think, I've been gone three years but much hasn't changed. As you meet the kids there is a sense and I was reminded of the kids that go to UCLA and the kids that come to USC, and to be back here, I watched it over the weekend just to see if it's the same, and it's really still the same. I guess we waste time continuing to recruit them, we know within the first 10 minutes whether they're the type of guys that want to play here or there."
---
Mike from Lacey, Wash., writes
: The [University of Washington]
Daily has an article
"It's time to legitimize the UW-Oregon rivalry" which calls for awarding a "Columbia Cup" to the winner of the Ducks-Huskies matchup each year. It says it could become something like Michigan-Ohio State or Texas-Oklahoma. Interesting idea. With all the recruiting frenzy that is going on right now, this is what recruits play for. I like it, it has GAMEDAY potential.
Ted Miller
: Sounds cool to me. Oregon-Washington is an underrated rivalry, and it should return to the national picture as the Huskies return to respectability under Steve Sarkisian.
---
Drake from Los Angeles writes
: Have you ever considered putting out team by team analyses in reverse alphabetical order? I'm a UCLA student and fan, and along with the Washington and Washington State (and, ahem USC) fans, I'm sure we are all tired of having to wait all day for our recruiting rankings or whatever just because we land at the end of the alphabet.
Ted Miller
: And risk the wrath of the "A" and "C" schools! No way!
The "W" and "U" folks are tough, but those "A" and "C" people... they're just crazy.
May, 28, 2009
5/28/09
10:00
AM ET
By
ESPN.com staff
| ESPN.com
Posted by ESPN.com's Ted Miller
We've discussed positions of concern a lot. But where are teams (almost) worry-free?
Here are some spots.
USC's offensive line: The Trojans welcome back all five starters, including the nation's best center, Kristofer O'Dowd. And, oh by the way, super-sophomore Tyron Smith might displace returning starter Butch Lewis at tackle. The Trojans averaged 195 yards rushing per game last year and surrendered only 18 sacks, fewest in the conference.
California's secondary: All four starters are back, including first-team All-Pac-10 cornerback Syd'Quan Thompson, from a unit that finished third in the nation with 24 interceptions and ranked sixth in pass efficiency defense. And the backups are so good that a couple of returning starters are hearing footsteps.
USC's secondary: Start with Taylor Mays and Josh Pinkard, the best safety combination in the nation -- though Pinkard played corner last year. Sure, two starters -- Kevin Ellison and Cary Harris -- are gone. But three players -- safety Will Harris and corners Shareece Wright and Kevin Thomas -- have starting experience. And a couple of the youngsters turned in impressive springs.
Oregon State's quarterbacks: The Beavers have two successful starting quarterbacks in Sean Canfield and Lyle Moevao, though Moevao is coming back from shoulder surgery. They also have an impressive No. 3 in redshirt freshman Ryan Katz, and Virginia transfer Peter Lalich is a wildcard who had disappeared before coming up big in the spring game. His questionable attitude won't help him climb the depth chart, though.
UCLA's tight ends: Ryan Moya earned second-team All-Pac-10 honors last year, and he was Logan Paulsen's backup until Paulsen's season ended with a foot injury in the opener against Tennessee. The Bruins also like sophomore Cory Harkey, and then there's touted freshman Morrell Presley, who's more a hybrid receiver-tight end. Lots of options here. Just got to get them the ball.
March, 3, 2009
3/03/09
10:00
AM ET
By
ESPN.com staff
| ESPN.com
Posted by ESPN.com's Ted Miller
It's not completely accurate to call it feast or famine at the tight end this spring in the Pac-10.
Washington, California, Stanford, etc. will insist they've got a wealth of talent at the position, despite the lack of returning production.
But in trying to evaluate a position, it seems best to stick with what is proved over what is potential. So there doesn't seem to be much middle ground here.
Great shape
| | |
| --- | --- |
| | |
| | AP Photo/Elaine Thompson |
| | Rob Gronkowski hauled in 47 receptions for 672 yards and 10 touchdowns in 2008. |
Good shape
Oregon State: The good news is all five names on the 2008 depth chart at tight end and H-back are back. The less excited news is those guys combined for 29 receptions. Can the combination of Howard Croom and Brady Camp become more than just solid?
We'll see