June, 26, 2014
6/26/14
9:00
AM ET
It's time to start our preseason position reviews. Please, hold your applause until we are finished.
Here's how we do this. We provide three evaluative categories: "Great shape," "Good shape" and "We'll see."
Hint: You'd prefer your team to be in "Great shape."
"We'll see" doesn't mean you're going to stink at said position. It means just what it says -- we'll see because there's no way at present to know.
You can review
last year's rankings here
.
We continue the series with running backs.
GREAT SHAPE

Oregon:
The combination of
Byron Marshall
and
Thomas Tyner
should be as dangerous as ever. De'Anthony Thomas never really grew into the role as an every-down back, but Marshall carried 168 times for 1,038 yards and 14 touchdowns. Tyner slowly picked up more carries and finished with 115 for 711 yards and nine touchdowns. Folks are also excited to see what incoming freshman Royce Freeman brings to the table. This is a scary corps, even before you realize that
Marcus Mariota
also carried 96 times for 715 yards and nine touchdowns last year.

USC:
The emergence of Buck Allen was a pleasant surprise after he spent much time in Lane Kiffin purgatory. He boasted 5.8 yards per carry to go with 785 yards and 14 touchdowns. He'll be pushed by
Tre Madden
,
Justin Davis
and
D.J. Morgan
, who is back after missing all of 2013 with a knee injury. This is a group that could do damage in Steve Sarkisian's up-tempo offense. Think about what Bishop Sankey did last year.

Arizona State:
Marion Grice was a touchdown machine. But
D.J. Foster
is no slouch after rushing for 501 yards and catching 63 passes for 653 yards in a dual-threat role. The local product is explosive and has big-play speed.
Deantre Lewis
and
Kyle Middlebrooks
, back from injury, provide depth since Mike Norvell won't want to pass up the opportunity to use Foster in the slot at times. The depth has ASU teetering on the Great Shape/Good Shape fence, but Foster's experience and explosiveness give ASU a perfect replacement for Grice. So we're confident saying ASU is in great shape with him at the helm.
GOOD SHAPE

UCLA:
No, we're not going to list
Myles Jack
as a running back. Get over it. Offensive coordinator Noel Mazzone told the Pac-12 blog he's been looking for
Jordon James
to make strides as a "one-cut" runner. He believes he has. And
Paul Perkins
and
Steven Manfro
will press for carries with the intriguing
Craig Lee
waiting in the wings. Keep in mind it was quarterback
Brett Hundley
who led the Bruins in carries (160), yards (748) and touchdowns (11). Maybe ... just
maybe
... we'll see Jack also pick up a few carries. The Bruins are dedicated to the run (only Oregon has more carries over the last three seasons) and they have the depth to deliver.

Stanford:
No Tyler Gaffney. Four of five starters on the line are gone. Surely this is the year Stanford's running game takes a step backward, right? Probably not. The line will feature five members of the heralded 2012 recruiting class and a committee approach with
Remound Wright
,
Ricky Seale
,
Barry Sanders
and
Kelsey Young
seems likely. Only Oregon and UCLA have attempted more rushes over the last three seasons, so the Cardinal are going to continue to be dedicated to the ground game. There is a lot of untapped potential with this group and they have a coach who loves to run the football. There are a lot of unknowns, but Stanford's recent history of success running the football warrants the benefit of the doubt to put them in the "Good Shape" column.

Utah:
For now, it looks like
Bubba Poole
will be the primary back. But Kyle Whittingham and Co. are excited about the emergence of JC transfer Davontae Booker and the complementary role
Troy McCormick
might play. They aren't married to the idea of a single back. In fact, Whittingham told the Pac-12 blog he'd like to have situational flexibility. This trio provides that at Utah for the first time in a while. Spreading things out is a priority for new offensive coordinator Dave Christensen. But don't be surprised to see a balanced attack if these three see success.

Colorado
: The Buffs are surprisingly deep in the running backs department, with seasoned players like
Christian Powell
,
Michael Adkins II
,
Tony Jones
and
Donta Abron
returning. Powell (562 yards, three touchdowns) provided the power while Adkins emerged as a fine complement with 5.2 yards per carry (103 carries, 535 yards and six touchdowns). Look for the coaching staff to keep using those two in unison as a thunder-and-lightning tandem.

Oregon State:
The running game, or lack thereof, has been a sore spot for Mike Riley the last couple of seasons. However, with last year's combination of
Sean Mannion
and Brandin Cooks the personnel dictated 603 passing attempts. With Cooks gone, the staff will look to
Terron Ward
and
Storm Woods
(who combined for 240 carries, 998 yards and 11 touchdowns) to build off of last year's showing of 94.4 yards per game -- which was 11th in the conference. This tandem has the potential to be very good. It just has to go out and show it.

Washington State:
That the Cougars return their top two rushers from last season,
Marcus Mason
and
Teondray Caldwell
, bodes well -- even in an offense in which the running back serves more to keep the opposition in check than to run the football. However, it might be
Theron West
and redshirt freshman
Jamal Morrow
who get the majority of the carries. The coaching staff was high on Morrow in the spring and if the Cougs can do just enough to keep the safeties guessing, it might open things up more for the Air Raid's primary objective.
WE'LL SEE

Arizona:
The Wildcats have to replace Ka'Deem Carey. No easy task. And it was made worse
by the recent news
that
Pierre Cormier
's won't be returning. That leaves carries to be divided among Nick Wilson,
Zach Green
and
Terris Jones-Grigsby
. Jonathan Haden is still waiting to get cleared and
Jared Baker
missed the spring with an injury from last year's ASU game. Look for special packages with DaVonte' Neal as well. The Wildcats are silly with wide receivers, which could help open things up in the running game.

California:
The Bears averaged just 122.2 rushing yards per game last year -- ninth in the league. Despite the reputation for being a pass-happy team, the coaches would actually prefer more balance, so they'll need better production out of oft-injured
Daniel Lasco
and
Khalfani Muhammad
. The departed Brendan Bigelow had the most carries (105) last year, but Muhammad and Lasco combined for 141 totes for 762 yards and six touchdowns. Muhammad is the burner at 175 pounds while Lasco has the bigger frame at 200 and change. Incoming freshman
Tre Watson
is also an intriguing prospect.

Washington:
Like Arizona, the Huskies must replace a phenomenal back in Sankey. But there are options.
Dwayne Washington
was the No. 2 behind Sankey last year, rushing for 332 yards and four touchdowns on 47 carries. Behind him are
Jesse Callier
, who was the original starter in 2012 before his injury gave rise to Sankey, and
Deontae Cooper
. Both have a history of knee injuries. Jomon Dotson and
Lavon Coleman
could see time. We'll see isn't necessarily a bad thing. It just means, we'll see.
OTHER POSITION REVIEWS
Quarterback
May, 2, 2014
5/02/14
7:30
AM ET
Three things we learned this spring
Raising the (next) Barr: All indications are that Kenny Orjioke probably has the inside track at outside linebacker to replace the departed Anthony Barr. Aaron Wallace (dealing with grade issues) and Deon Hollins are still very much in the mix. Several members of the staff said they were pleased with what they saw from Orjioke -- though it's worth noting he didn't play in the spring game for reasons not revealed.
Welcome back, Owa: After missing last season with a hip injury, defensive end Owamagbe Odighizuwa (aka the scourge of spellcheck), returned with a very strong spring session that included a pair of sacks in the spring game. His return bolsters a pass rush that has to replace Barr and Cassius Marsh.
Back depth: The staff has been very pleased with the progress of running back Jordon James. But they feel equally solid about Paul Perkins, Steven Manfro and redshirt freshman Craig Lee. Combined with the scrambling ability of quarterback Brett Hundley, the Bruins should build upon last year's average of 196.6 yards per game.
Three questions for the fall
Line-up: While the coaching staff feels pretty good about its offensive line, finding the right replacement for Xavier Su'a-Filo is still paramount. They think they might have it in graduate transfer Malcolm Bunche from Miami. But a couple of starting spots should still be up for grabs when the Bruins return for fall camp.
Backup plan: A lot rests on the legs and arm of Hundley – a Heisman trophy candidate and presumptive top 10 pick in 2015. Whether it's Jerry Neuheisel or Asiantii Woulard backing him up remains to be seen. Neither were particularly sharp in the spring game, with Neuheisel throwing two interceptions and Woulard completing just 4 of 13 passes.
More D-to-O coming? We know about Myles Jack and the impact he made on offense for the Bruins last season. He didn't get any carries in the spring, though Jim Mora said they'll likely have some packages for him. Will we see others? Eddie Vanderdoes? Ishmael Adams? Not that they'll give it away in the spring, but it will be fun to watch this fall to see how many defensive players see offensive time.
Way-too-early prediction
: The Bruins will win the Pac-12 South for the third time in four years. With Hundley at the helm and an experienced defense, the Bruins not only have the fewest question marks among their Southern brethren, but they have plenty of talent to match on both sides of the ball. Staying healthy will be key, as will gaining some early momentum with critical conference games against ASU, Utah and Oregon in the first half of the season.
April, 25, 2014
4/25/14
12:00
PM ET
Three more Pac-12 spring games are slated for Saturday. Here's a look at what to watch in all three.
California

Where
: Memorial Stadium
Kickoff
: 11 a.m. PT
TV
: Pac-12 Network (Replays throughout the week)
What to watch
: The Bears have a new defensive coordinator … again …
so watching them adjust
to Art Kaufman's 4-3 vs. Andy Buh's 4-3 will be of note. Though a
depth chart
was recently released, there are still a few positions up for grabs. There are some questions about the right side of the offensive line and backup quarterbacks can usually make an impression in the spring. The depth chart lists an "or" between
Austin Hinder
and
Kyle Boehm
, so expect those two to jockey for position behind incumbent starter
Jared Goff
. The event is free and there will be giveaways and kids' activities.
Click here for details
.
UCLA

Where
: StubHub Center, Carson, Calif.
Kickoff
: 5 p.m. PT
TV
: Pac-12 Network (Replays throughout the week)
What to watch:
As has been the case with UCLA the last couple of years, youth and injuries make for some mixing and matching on the offensive line. This spring has proven no different, so look for the right tackle spot to be highly competitive beyond Saturday's game. The running backs are intriguing as well. Offensive coordinator Noel Mazzone said
Jordon James
has evolved into the one-cut runner that he wants him to be, but
Paul Perkins
,
Steven Manfro
and touted redshirt freshman
Craig Lee
will push for carries. Finding a suitable backup for
Brett Hundley
, be it
Asiantii Woulard
or
Jerry Neuheisel
, is also a top priority, and the spring game could create some separation. Note, tickets are $5 in advance, $10 day of (free for UCLA students and children 2 and younger). Parking is $15. Players will be available for autographs between 3 and 3:45.
Click here for details
.
Washington State

Where
: Joe Albi Stadium, Spokane, Wash.
Kickoff
: 1 p.m. PT
TV
: Pac-12 Network (Replays throughout the week)
What to watch
: This is the fourth year the Cougars will be holding their spring game in Spokane. All reports are that quarterback
Connor Halliday
has shown a strong command of the offense and wide receiver
Vince Mayle
has been outstanding
. However, the big question mark still lies in the secondary, where definitely three -- maybe four -- positions are still up for grabs. The spring depth chart has
Charleston White
and
Daquawn Brown
at the corner spots and
Isaac Dotson
and
Taylor Taliulu
as the safeties. But those won't be set in stone for a while. There are other position groups of interest, naturally. But defensive coordinator Mike Breske
told the Pac-12 blog
, while he likes his front seven, the back end of the defense, without question, has been the biggest point of emphasis this spring.
April, 2, 2014
4/02/14
5:30
PM ET
One of the ways a football team transitions from a group of wishful maybes to a sense of near-ontological certainty is when its collection of spring practice questions becomes mostly an array of appealing potential options.
So we have
UCLA
as it transitions from an underachieving program (1999-2011) to a good one (2012-2013) to one that has the makings of a national contender in 2014.
[+] Enlarge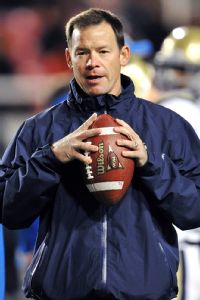 Gene Sweeney Jr/Getty ImagesWith few questions to answer this spring, Jim Mora has the makings of a special 2014 season with UCLA.
While the Bruins have questions on their depth chart, there isn't any particular area of vexing concern. The five positions where starters need to be replaced seem likely to be filled by promising athletes with playing experience. If those more veteran players don't rise to the fore during spring practices, that mostly speaks to the program's strong recruiting under Jim Mora.
Further, it's reasonable to project that those 20 or so freshmen and sophomores who saw significant playing time last year will physically and mentally mature into their primes.
There simply aren't any worrisome voids on this team.
As in:
There are, of course, important questions.
Is defensive end
Owamagbe Odighizuwa
fully healthy? He told reporters Tuesday that he is. So then is the former A-list recruit ready to break through as a senior?
What does LB/RB
Myles Jack
do for an encore after one of the best true freshman seasons in recent memory?
And speaking of what's next, is it reasonable to project Hundley taking a strong step forward as a third-year starter? Of course, that's why the program has already launched a Heisman Trophy campaign.
A lot of variables beyond personnel go into a special season -- a Rose Bowl-, College Football Playoff-type season. A team needs a great offseason. It needs positive chemistry and leadership. It needs to avoid injuries. It needs to stay hungry. It needs laser-like focus every week.
Returning starters do not guarantee anything. National champion Florida State only had 11 of them last year.
But on paper, UCLA appears to be the most likely candidate to break the five-year Stanford-Oregon Pac-12 hegemony atop the Pac-12. The Bruins might even be a team that catches the notice of the CFP selection committee in December.
February, 25, 2014
2/25/14
7:15
PM ET
Our look at position groups in the Pac-12 continues.
Arizona:
With
Ka'Deem Carey
off to the NFL, figuring out Arizona's running back situation requires a bit of guesswork. Backups
Daniel Jenkins
and
Kylan Butler
are out of eligibility and rising junior
Jared Baker
tore his ACL in the regular-season finale. That leaves no running backs who had a carry last season. Those competing for carries will be redshirt freshmen
Pierre Cormier
and
Zach Green
, and true freshmen
Jonathan Haden
, an early enrollee, and
Nick Wilson
.
[+] Enlarge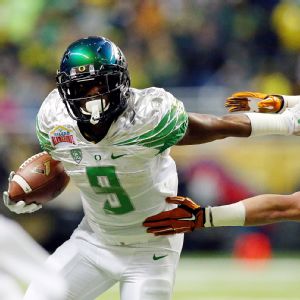 Ronald Martinez/Getty ImagesByron Marshall will be the Pac-12's leading returning rusher in 2014.
Arizona State
: The torch was passed from
Marion Grice
to
D.J. Foster
toward the end of last season, and Foster will have a full offseason to prepare to be the No. 1 guy. He showed impressive flashes in spot playing time in the past two seasons, and ran for 318 yards (6.2 yards per carry) in three starts after Grice was lost to injury.
California:
Much was made about
Brendan Bigelow
's talent during his career in Berkeley, but it never materialized the way many expected it would. He was beaten out by true freshman
Khalfani Muhammad
a year ago, then opted out of his final year of eligibility for a shot at the NFL -- and subsequently was not invited to the combine. Getting a feel for how coach Sonny Dykes would like to use his running backs is tough considering the lopsided nature of most of the games last year, but Muhammad showed all the signs that he would develop into a good Pac-12 running back.
Colorado:
Christian Powell
and
Michael Adkins II
will both be back after combining for 1,097 yards rushing in 2013. With receiver
Paul Richardson
off to the NFL, there's the need for added production on offense, and while coach Mike MacIntyre showed at San Jose State he'd prefer that to come through the air, it could add up to more opportunities for Powell and Adkins.
Oregon
: Does it even matter who the Ducks hand the ball to? Sometimes it doesn't seem like it, but, regardless, Oregon remains loaded with speed and talent at running back.
Byron Marshall
(1,038 yards rushing) and
Thomas Tyner
(711 yards) will both see plenty of carries when quarterback
Marcus Mariota
(715 yards) isn't running on his own. The team does lose
De'Anthony Thomas
, who opted to leave early for the NFL, but Thomas turned into a relative afterthought last season anyway.
Oregon State:
It shouldn't be hard to improve the Beavers' running game after they ranked 115th in the country in rushing yards per game last season. Their top two backs --
Terron Ward
and
Storm Woods
-- return and figure to see more use under new offensive coordinator John Garrett. There was a glimpse of what could be against Boise State in the Sheraton Hawai'i Bowl as the Beavers unleashed a more balanced approach. Woods ran for 107 yards on 16 carries and Ward added 54 yards on nine carries in a comfortable 38-23 victory.
Stanford:
The Cardinal's running back situation is
outlined here in more detail
, but it should be noted that the competition between
Remound Wright
,
Barry J. Sanders
and
Ricky Seale
-- competing to replace
Tyler Gaffney
-- will also include
Kelsey Young
. Young was recruited to Stanford to play running back, but was switched to receiver and is now back at running back. Sanders has the name recognition, but all signs point to Wright getting the first crack at being the primary back. However it plays out, it would be a complete shock if one back was used as much as Gaffney was in 2013 and Stepfan Taylor the two seasons before that.
UCLA
: If things play out the way UCLA coach Jim Mora hopes they will, linebacker
Myles Jack
will be just that … a linebacker. After winning Pac-12 Offensive and Defensive Freshman of the Year, the Bruins would ideally keep him on defense. For that to happen, someone needs to step up. That conversation still includes
Jordon James
and
Paul Perkins
, while
Craig Lee
, a four-star recruit who redshirted last year, also factors into the equation.
[+] Enlarge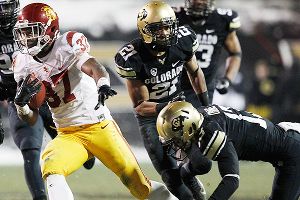 AP Photo/David ZalubowskiBuck Allen will likely head up USC's running back committee next season.
USC
: After watching Bishop Sankey turn into one of the nation's premier backs under the tutelage of new coach Steve Sarkisian, USC's deep stable of running backs has to be intrigued. The Trojans will return four of their top five leading rushers from a year ago --
Javorius "Buck" Allen
,
Tre Madden
,
Justin Davis
,
Ty Isaac
-- when they were predominantly a run-first team. Allen, who was named the team MVP in 2013, figures to get the first crack at being the starter, but that could be just in name only as a
running-back-by-committee scenario seems likely
.
Utah
: Another season, another new offensive coordinator for the Utes. This time it's
Dave Christensen's job
to invoke life in the Utah offense, which will return leading rusher
Bubba Poole
(607 yards) and
Lucky Radley
(284 yards). The Utes averaged just 4.1 yards a carry as a team last year, which is partially to blame for the change from Dennis Erickson to Christensen after just one year.
Washington:
The NFL combine taught us that
Bishop Sankey
might have been the most physically gifted running back in the country last year. It's not as simple as plugging in another guy to replace him, but the Huskies are still in good shape. Senior
Jesse Callier
(48 carries, 213 yards in 2013), who was slated to be the starter before an ACL tear in the season opener in 2012, is intriguing and will compete with fellow senior
Deontae Cooper
(43 carries, 270 yards) and sophomore
Dwayne Washington
(27 carries, 332 yards).
Washington State:
Considering quarterback
Connor Halliday
had three single-game passing totals that were more than leading rusher
Marcus Mason
ran for in entire season (429), any discussion about the Cougars' running game is tough to take seriously. Yes, there will still be running backs on the roster. No, they probably won't combine to run for 1,000 yards as a team.
Previous positions
Quarterback
August, 12, 2013
8/12/13
10:30
AM ET
We continue our day-by-day snapshots of each Pac-12 team heading into the 2013 season in reverse alphabetical order with the
UCLA Bruins
.
UCLA
Coach
: Jim Mora: (9-5)
2012 record
: 9-5 (6-3 Pac-12 South)
Key losses
: RB Johnathan Franklin, OL Jeff Baca, TE Joseph Fauria, DE Datone Jones, LB Damien Holmes.
[+] Enlarge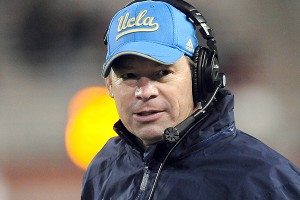 James Snook/US PresswireCoach Jim Mora's Bruins have a brutal two-game stretch in late October.
Key returnees
: QB
Brett Hundley
, OL
Xavier Su'a-Filo
, LB
Anthony Barr
, WR Shaq Evans, LB
Eric Kendricks
, LB
Jordan Zumwalt
.
Newcomer to watch
: Now that the NCAA has signed off on his Irish exodus, five-star defensive lineman
Eddie Vanderdoes
might be able to jump in immediately and help restore some depth to UCLA's defensive front, which has suffered some attrition through injury and graduation.
Biggest games in 2013
: There are plenty of them, as the Bruins' schedule figures to be tougher than last season. At Nebraska (Sept. 14) highlights the nonconference slate and the back-to-back games at Stanford (Oct. 19) and at Oregon (Oct. 26) is a vicious two-week stretch. They close with ASU (Nov. 23) and at USC (Nov. 30) in a span that will likely decide the South Division.
Biggest question mark heading into 2013
: There are more than most fans would prefer to see -- like a youthful secondary that's without
Tevin McDonald
(dismissed from team) and
Dietrich Riley
(medical retirement) and gaps across the defensive front. But replacing Franklin -- or at least replicating most of his production through a committee -- has to be a top priority. The Doak Walker finalist departs as the school's all-time leading rusher and was a comforting and stabilizing presence for Hundley in his first season as a starter.
Jordon James
,
Paul Perkins
,
Craig Lee
,
Malcolm Jones
and
Steven Manfro
make up the crowded committee – which will get even more crowded when
Damien Thigpen
returns from injury sometime in October.
Forecast
:
Picked by the media
to take the Pac-12 South for the third straight year, the Bruins aren't going to sneak up on anybody this season. Mora had a fantastic first season as a collegiate head coach and Hundley proved to be as advertised -- if not better. But he loses his favorite red zone target in Fauria, the aforementioned Franklin, and there are still holes on the offensive line that need to be sorted out.
The defense, as noted above, also has holes, but there are some exciting young players in the secondary eager to make a name for themselves. And, of course, Anthony Barr returns as one of the nation's premier defensive players and a probable first-round draft pick -- possibly even top 10.
The schedule ramps up significantly in 2013. The Bruins go to Stanford for a rematch of the 2012 Pac-12 title game and also face Oregon for the first time in the Mora era. Almost all of their toughest games are on the road, including Nebraska, Stanford, Oregon and USC. With some of the previously mentioned offensive stars gone, Hundley will be asked to do more with the offense than he did last year -- which includes better decision-making and command of the offense.
Yet despite all of their success in 2012, the blowout loss to Baylor in the Holiday Bowl lingers. As does the fact that the Bruins were the most-penalized team in the country last year and they gave up an unhealthy amount of sacks. Mora is making sure his players know they haven't arrived yet.
The Bruins are a fascinating balancing act of proven playmakers and untested youth. If their youth matures quickly, it wouldn't be shocking to see them in the title game for the third straight year.
August, 8, 2013
8/08/13
2:30
PM ET
Memory believes before knowing remembers. Believes longer than recollects, longer than knowing even wonders.
February, 7, 2013
2/07/13
9:00
AM ET
We're reviewing hits and misses in Pac-12 recruiting, starting with the South Divison.
ARIZONA

Needs filled
: The Wildcats have two incoming quarterbacks -- USC transfer
Jesse Scroggins
, who's already in school, and
Anu Solomon
-- who will be in competition to replace the departing
Matt Scott
. The class includes five linebackers, a need position. Don't be surprised if running back
Pierre Cormier
gets touches behind
Ka'Deem Carey
. It seems that coach Rich Rodriguez stocked up on athletes -- receivers and defensive backs.
Holes remaining
: The Wildcats' biggest weakness in 2012 was the defensive line -- they ranked last in the Pac-12 in sacks and gave up more than 200 yards rushing per game -- and this class of 23 includes just two defensive linemen. Who's going to rush the passer in 2013?
ARIZONA STATE

Needs filled
: The Sun Devils needed receivers and defensive backs. They signed five receivers and and five defensive backs -- and one athlete, who could play either. Defensive tackle
Marcus Hardison
, the nation's No. 5 junior college player, should help bolster a poor run defense.
Holes remaining
: The Sun Devils lost QB
Joshua Dobbs
to Tennessee on signing day, which means they haven't signed a quarterback in two consecutive classes. Nine JC transfers means the Sun Devils are counting on immediate impact rather than long-term development. That approach can be a gamble, though four of the juco recruits have three years of eligibility instead of two.
COLORADO

Needs filled
: The Buffs have a lot of needs, as they were last in the Pac-12 in scoring offense and scoring defense in 2012. The class includes six offensive linemen, and quarterback
Sefo Liufau
, 6-foot-4, 215-pound product of Bellarmine Prep in Tacoma, Wash., is a guy Buffs fans should be excited about. Considering the poor production at the position last season and the fact that there's a new scheme, he might get into the mix this fall.
Holes remaining
: This is a fairly balanced class but there isn't a single interior defensive lineman. The Buffs gave up 226 yards rushing per game last season. The Buffs did, however, sign nine defensive linemen last year. While Liufau is the star of the class, this crew is lacking pizzazz and will rank last in the Pac-12, which is not surprising for a 1-11 team that fired its coach.
UCLA

Needs filled
: Jim Mora said his top needs were offensive line, defensive back and linebacker. He signed seven offensive linemen, four defensive backs -- highly rated safety
Priest Willis
is still pending -- and three linebackers. As for the offensive line, two are ESPN 300 prospects and a third is a four-star lineman. Including Willis, who is expected to sign with the Bruins, two defensive backs are ESPN 150 players, a third is an ESPN 300 recruit and the fourth is rated with four stars. As for linebacker, two are ESPN 150 players.
Holes remaining
: The Bruins signed the Pac-12's top-rated class and had a great final week. There is little not to celebrate, other than defensive tackle
Eddie Vanderdoes
picking Notre Dame. The most obvious hole is running back, where there's no obvious replacement for
Johnathan Franklin
.
Craig Lee
had committed to the Bruins but hasn't signed, so there's no true RB in this class.
USC

Needs filled
: USC lost three of four starters from a secondary that underperformed last year, so signing two of the top three safeties in the nation --
Su'a Cravens
and
Leon McQuay
-- as well as the No. 11 cornerback in
Chris Hawkins
is a pretty nice haul. The Trojans also added a pair of elite running backs in
Ty Isaac
and
Justin Davis
, the nation's No. 3 DT in
Kenny Bigelow
and the No. 2 quarterback in
Max Browne
. All three spots were need areas.
Holes remaining
: The story of this class, as good as it is, is the handful of decommitments. In November, this was the No. 1 class but fell out of the top 10. Bigelow is the only defensive lineman; there are only two offensive linemen. In November, the question was how was USC going to finagle its way to just 75 scholarships, per NCAA sanctions. That's no longer an issue.
UTAH

Needs filled
: With the graduation of RB
John White
and three voids on the defensive line, those were two need spots addressed by this class of 23. The Utes signed five defensive linemen, including three defensive tackles. They also signed four running backs, including JC transfer
Devontae Booker
.
Holes remaining
: One bit of bad news for the defensive line is that DT
Lowell Lotulelei
, younger brother of Star and the Utes' highest-rated player, didn't sign because he's going on a Mormon mission right out of high school. This is a balanced class but it includes just two offensive linemen. The Utes also didn't get great linebacker play last season and this class only includes one,
Uaea Masina
.