February, 21, 2014
Feb 21
9:00
AM ET
We're taking a look at a player from each Pac-12 team who could step into the spotlight in 2014.
Spotlight:
WR
D.D. Goodson
, 5-foot-6, 170 pounds, Sr.

2013 summary:
Goodson caught 22 passes for 306 yards and a pair of touchdowns.
The skinny:
Stability isn't something D.D. Goodson has been privileged to during his time at Colorado. He started at defensive back under former coach John Embree, switched to running back as a sophomore and then to wide receiver, at his request, when Mike MacIntyre's new staff arrived in 2012.
With
Paul Richardson
on the team, there wasn't necessarily the need for immediate production from Goodson, but now that Richardson -- and his 83 catches for 1,343 yards -- is off to the NFL, he is expected to play a much bigger role.
It's an opportunity Goodson is highly anticipating.
"I want to chase records set by receivers in school history," he said. "And I want to be more of a vocal leader rather than just leading by example."
The second part is something he's already got down, according to receivers coach Troy Walters, who won the Fred Biletnikoff Award as a senior at Stanford in 1999.
"He's probably the hardest worker on the team," Walters said. "When other guys are winded and bending over [during conditioning], he's the one holding them up, getting them to the next station. He's at the front of the line in gassers.
"He just has that chip on his shoulder to prove he can be a great player."
Walters said Goodson's strengths are his hands, finding open zones in the defense and what he can do after the catch, which he attributed to his background at running back.
Previous spotlights
February, 20, 2014
Feb 20
5:30
PM ET
Playing quarterback is in the Pac-12 is never easy. On the West Coast, a lot is expected out of the position. It's not typically about simple game management. It's not about handing the ball off, getting out of the way and leaning on your defense.
Playing quarterback in the Pac-12 as a true freshman is even more difficult. And, finally, playing quarterback in the Pac-12 for a team that is outmanned most Saturdays is most challenging.
[+] Enlarge
Russ Isabella/USA TODAY SportsSefo Liufau threw for 1,779 yards with 12 touchdowns and eight interceptions in 2013.
That was the situation for Colorado QB
Sefo Liufau
last fall. He came off the bench against a rugged Arizona State team in Week 6, replacing a struggling
Connor Wood
and was the Buffaloes' starter thereafter. He took plenty of lumps from Pac-12 defenses, which eagerly schemed with the express purpose of stressing out the youngster.
It certainly was a bit more difficult than things had been at Bellarmine Prep in Tacoma, Wash., just a year before.
"I would say it was pretty overwhelming," Liufau admitted. "The whole experience is a a lot different from high school. But as the season progressed, things seemed to slow down and become a lot more natural to me."
When the smoke cleared, the numbers weren't too shabby. He completed 59.4 percent of his passes for 1,779 yards -- 222.4 yards per game -- with 12 touchdowns and eight interceptions. While he didn't see enough action to rate on the Pac-12's official statistics, his pass efficiency rating of 128.3 would have ranked ninth in the conference, ahead of Arizona's
B.J. Denker
, Washington State's
Connor Halliday
and California's
Jared Goff
, a fellow freshman.
With Liufau at the controls, the Buffs improved from 1-11 and woebegone in 2012 -- arguably the nation's worst AQ conference team -- to 4-8 and fairly competitive. They weren't throwing a parade in his honor in Boulder, but Liufau's potential upside hinted that it was not unreasonable for Colorado fans to again be hopeful.
While Liufau felt he progressed steadily throughout the season, he also knows there were plenty of missed plays, missed opportunities and what-might-have-been moments that revealed themselves in the postgame film room.
"Key moments in the game, me trying to come up with a big play -- there were a couple of games when I felt like I let the team down, either by making a bad read or throwing an interception at a costly time," he said. "Turnovers were the main things for me."
The good news is the 6-foot-4, 215 pound signal-caller will be bigger, stronger, smarter and more experienced heading into spring practices on March 7. The same will be true for his team, which has been one of the youngest in the conference the past two seasons.
The bad news is dynamic receiver
Paul Richardson
is off to the NFL. Richardson accounted for 1,343 of the Buffaloes 2,989 receiving yards and 10 of the Buffs 21 TD passes. He will be missed, and one of the chief tasks on offense this spring is discovering playmakers to make up for his departed production.
"We can't place the burden of replacing Paul on one guy's shoulders," Liufau said.
"

We expect to win. We believe we can beat every team we play next year.

"

Colorado quarterback Sefo Liufau on expectations in 2014.
Colorado's next three leading receivers from 2012 are back in
Nelson Spruce
(650 yards),
D.D. Goodson
(262 yards) and
Tyler McCulloch
(138 yards). Liufau said he believes true sophomore
Devin Ross
, who caught six passes a year ago, and redshirt freshman
Brice Bobo
are ready to step up.
It will be interesting to see how the screws tighten this spring as Colorado tries to rise in the tough South Division. Last fall, coach Mike MacIntyre was in the getting-to-know you phase with a team that didn't have much confidence. He was more focused on bucking guys up than challenging them with tough love. That approach held true during the season. Mostly.
"There were definitely times during the season when [MacIntyre] yelled at me during practice, just for little things, [such as] not throwing ball out of bounds during the 2-minute minutes drill," Liufau said.
While MacIntyre is a coach who leans more toward positive reinforcement, one would expect him to be more demanding of his players in Year 2. After all, new athletic director Rick George is
on record with expectations for a bowl game
.
Liufau is fine with that. He has high expectations, too.
"We expect to win," he said. "We believe we can beat every team we play next year."
Coming from a freshman, that would sound naive. But coming from a second-year starter, it sounds more like a mature competitor who isn't willing to give any ground, no matter what outsiders might think of his team's chances.
January, 24, 2014
Jan 24
9:00
AM ET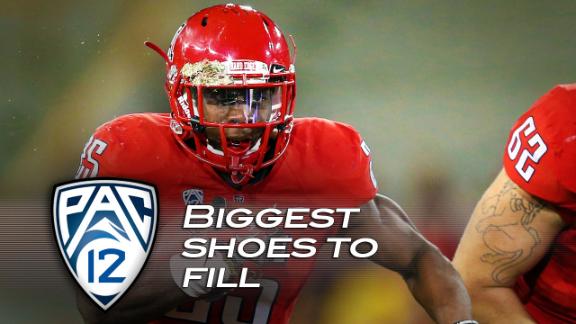 The Pac-12 has 26 of the 98 early entrants in the NFL draft. That's impressive. Some players are locks to get drafted. Others might have jumped the gun a bit and find themselves on practice squads or brushing up on their Canadian. We'll see.
What we're more concerned about here is who is going to replace them. Some answers are clearer than others. Some teams might have to alter their schemes just to account for a departed player.
Here's a look at the possible replacement players in the Pac-12 South. We'll look at the North later this morning.
Leaving:
Ka'Deem Carey
, RB, Arizona.
The replacement:
Jared Baker
should be in the mix, though an injury will keep him out of spring ball. He's expected to return in time for fall camp.
Pierre Cormier
and
Zach Green
will also get looks. Speaking with folks at Arizona, the word right now is that it's wide open. One player could emerge, or it could end up being a by-committee approach. Nothing is off the table at this point.
Leaving:
Carl Bradford
, LB, Arizona State
The replacement:
There really isn't anyone who has Bradford's skill set in the program yet, so the position is wide open.
Viliami Latu
has potential. So does
Chans Cox
, who was hurt a lot last season. They are also excited about incoming freshman
Ismael Murphy-Richardson
. He might not be ready to jump in immediately, but he could be the Devil backer by 2015.
[+] Enlarge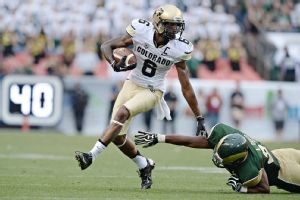 Ron Chenoy/USA TODAY SportsColorado will have a hard time replacing the explosive plays that Paul Richardson provided.
Leaving:
Paul Richardson
, WR, Colorado
The replacement:
It was probably going to be
Jeff Thomas
before he transferred. Now it's probably going to be a rotation of
D.D. Goodson
,
Devin Ross
, or redshirt freshmen
Bryce Bobo
or
Elijah Dunston
.
Nelson Spruce
has been solid, but he's not the breakaway threat Richardson was. This will be a key spring battle to watch.
Leaving:
Xavier Su'a-Filo
, OL, UCLA
The replacement:
Simon Goines
should be back after starting six games at left tackle before an injury forced him out.
Scott Quessenberry
stepped in and played five games at left guard, which is where he'll likely be next season with Goines back at tackle.
Leaving:
Dion Bailey
, LB, USC
The replacement:
Leon McQuay III
saw some playing time and is very highly regarded by the coaching staff. His contributions last season were mostly on special teams, but he'll take on a larger role with Bailey's departure.
Leaving:
Marqise Lee
, WR, USC
The replacement:
Remember
George Farmer
? He's still around and could be in for a big season if healthy.
Darreus Rogers
and
Steven Mitchell
both are promising, but both have missed time with injury. You never truly replace a Biletnikoff winner, but playing opposite a surging
Nelson Agholor
could help boost the production of whoever gets in the regular rotation.
Leaving:
George Uko
, DT, USC
The replacement:
Transfer
Delvon Simmons
is coming off a redshirt season, as is freshman
Kenny Bigelow
. Both should get some serious looks, as this will be one of the hot position battles this spring. Someone will ultimately win the job, but expect a rotation with both next season.
Leaving:
Marcus Martin
, C, USC
The replacement:
Lots of ifs here. It could be
Max Tuerk
moving over from guard, but he'll also be in the mix for right tackle to replace
Kevin Graf
.
Khaliel Rodgers
redshirted and is an option at guard or center.
Giovanni Di Poalo
could also get a look.
Leaving:
Xavier Grimble
, TE, USC
The replacement:
Grimble and
Randall Telfer
were basically co-starters, so all this probably means is Telfer's workload increases as he becomes the clear No. 1.
Jalen Cope-Fitzpatrick
is the only other scholarship tight end on the roster.
Leaving:
Jake Murphy
, TE, Utah
The replacement:
Westlee Tonga
seems like the logical fit. He has been around for a few years and has some experience, but was injured most of last year. He'll get another opportunity to be the lead tight end in the newest installment of Utah's offense.
May, 8, 2013
5/08/13
10:00
AM ET
COLORADO BUFFALOES
2012 record
: 1-11
2012 conference record
: 1-8 (Last in South Division)
Returning starters
: Offense 9; Defense 7; Kick/punt 2

Top returners:
WR
Paul Richardson
, WR
Nelson Spruce
, LB
Derrick Webb
, RB
Christian Powell
, C
Gus Handler
, DE
Chidera Uzo-Diribe
, CB
Kenneth Crawley
.
Key losses
: TE Nick Kasa, OL David Bakhtiari, LB
Jon Major
, DB Ray Polk.
2012 statistical leaders (*returners)
Rushing
: Christian Powell* (691)
Passing
:
Jordan Webb
* (1,434, out indefinitely with knee injury)
Receiving
: Nelson Spruce* (446)
Tackles
: Derrick Webb* (88)
Sacks
: Chidera Uzo-Diribe (7)
Interceptions
:
Jered Bell
*, Jon Major,
Marques Mosley
* (1)
Spring answers
1.
He's back
: After missing all of 2012 with a torn ACL, wide receiver Paul Richardson is back and healthy. This is a huge boost for an offense that was lacking an explosive playmaker. In four Colorado scrimmages this spring, he had eight catches for 294 yards and three touchdowns. It's not the greatest barometer, but the fact he's on the field and running by defenders is a very positive sign.
2.
Starting from scratch
: Colorado has an entirely new coaching staff for the first time since 1979. So a good chunk of spring was spent reading name tags. It was also spent getting the team used to running a no-huddle offense. New coach Mike MacIntyre noted that the 15 practices were simply about introducing concepts -- which was accomplished. Translating those concepts into progress on the field will be a bigger task this fall.
3.
Filling holes
: Obviously, nothing is set in stone. A new coaching staff means a complete evaluation of every position. But there were some names that jumped out as candidates.
D.D. Goodson
made the move from tailback to wide receiver -- giving them a little more speed and depth at the position. January enrollee Addison Gillam jumped to the top of the depth chart at linebacker and cornerback
John Walker
made a big push in the secondary -- probably Colorado's deepest and most hotly contested position group.
Fall questions
1.
QB questions
: Last year there were three -- Jordan Webb,
Nick Hirschman
and
Connor Wood
. This year there are three -- Wood,
Shane Dillon
and incoming freshman Sefo Liufau. There are rumblings Webb might make it back by October -- but even then you have to wonder if he'll be close to 100 percent. Still, there are lots and lots of question about who will be running the new offense.
2.
Sorting out the line:
Just when it seems like the Buffs are starting to get a little continuity on the offensive line, right guard
Daniel Munyer
breaks his fibula during a fumble drill. It's not all completely up in the air -- and they do have a solid returning center in Gus Handler -- who should again be on the Rimington Trophy watch list. But there is still a lot of evaluation to be done.
3.
Time to grow up
: By now we all know about Colorado's youth in the secondary. A lot of freshmen played last year (1,476 snaps between a trio of freshmen defenders) and they learned the hard way what it's like to guard Pac-12 receivers. The maturation of this group is critical because improved secondary play will trickle down and take some of the pressure off of the front seven. This group has the athleticism and potential to be very good. The question is, will they?
April, 9, 2013
4/09/13
2:30
PM ET
So I was sitting in my cubicle today, and I realized, ever since I started working, every single day of my life has been worse than the day before it. So that means that every single day that you see me, that's on the worst day of my life.
June, 26, 2012
6/26/12
7:55
PM ET
The Pac-12 features another strong crop of running backs -- seven return after compiling more than 900 yards rushing in 2011 -- but there are also a few teams facing uncertainty at the position.
Evaluations aren't easy here. A number of teams have an A-list leading rusher back but uncertain depth. Others have plenty of experience returning but no proven A-lister. So stars and depth matter here.
A general impression: Running back is strong position in the conference. No team has a sense of desperation here.
So how does it stack up?
Great shape
Stanford:
Stepfan Taylor
was second-team All-Pac-12 last year after rushing for 1,330 yards and 10 touchdowns. But the Cardinal also welcomes back its second- and third-leading rushers,
Tyler Gaffney
and
Anthony Wilkerson
, as well as
Ricky Seale
, who was impressive this spring. And, of course, there's a guy called
BARRY SANDERS
arriving in the fall.
[+] Enlarge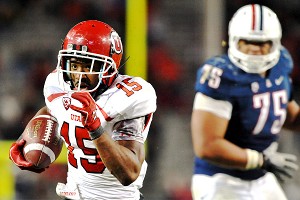 Chris Morrison/US PresswireJohn White is the Pac-12's leading returning rusher -- and could get help in the Utah backfield.
Utah
:
John White
, also second-team All-Pac-12 in 2011, is the conference's leading returning rusher with 1,519 yards last year. He was mostly a one-man show -- he led the conference in carries -- but that won't be the case this fall.
Harvey Langi
and
Kelvin York
, both over 220 pounds, showed they are ready to contribute quality reps this spring.
California
:
Isi Sofele
ranked fifth in the conference with 1,322 yards rushing in 2011, but he'll have to old off a challenge from
C.J. Anderson
-- 345 yards and eight TDs in 2011 -- to retain his starting job this fall. The depth is strong with
Brendan Bigelow
,
Daniel Lasco
and
Darren Ervin
.
Arizona State:
The Sun Devils have both a star in
Cameron Marshall
and good depth. Marshall rushed for 1,050 and 18 touchdowns last season. Depth?
Kyle Middlebrooks
,
James Morrison
,
Deantre Lewis
,
Marion Grice
and incoming freshman
D.J. Foster
will be battling for touches.
Oregon:
The Ducks are difficult to rate. If everything falls into place -- and it's reasonable to believe they will --
Kenjon Barner
, LaMichael James' longtime backup, will become a star, spectacular hybrid RB/WR
De'Anthony Thomas
will make a bunch of big plays in a change-of-pace role and touted incoming freshman
Byron Marshall
will become the third option. Nonetheless, one injury here would be a major blow.
USC:
The Trojans are just like the Ducks: Top-heavy with questionable depth. The underrated
Curtis McNeal
-- the 1,000-yard rusher averaged 6.9 yards per carry in 2011 -- is back, and so is
D.J. Morgan
, who rushed for 163 yards last year. If redshirt freshman
Javorious "Buck" Allen
and incoming freshman
Nelson Agholor
step up, things should be fine. But depth here is one of the Trojans' few question marks.
Good shape
UCLA
:
Johnathan Franklin
is back, and he's been highly productive -- if fumble-prone -- for a while.
Malcolm Jones
, who rushed for 103 yards in 2011, is back, and
Steven Manfro
was a spring standout. While the position isn't spectacular for the Bruins, it's certainly not a chief worry heading into the season.
Arizona
: Is promising sophomore
Ka'Deem Carey
ready to become a star? He rushed for 425 yards last year and looked good this spring. There's also good depth behind him:
Daniel Jenkins
,
Taimi Tutogi
,
Kylan Butler
,
Greg Nwoko
and
Jared Baker
.
Washington State
: The two leading rushers from 2011,
Rickey Galvin
and
Carl Winston
, are back, and they combined for more than 1,000 yards. But sophomore
Marcus Mason
was with the No. 1 offense during the spring game, and
Leon Brooks
also is in the mix. Catching the ball well will be almost as important as taking a handoff under new coach Mike Leach.
Washington
: Workhorse Chris Polk is gone, but
Jesse Callier
and
Bishop Sankey
both saw plenty of action in 2011. Might
Deontae Cooper
get healthy -- finally -- and work his way into the picture? Like a lot of teams, the Huskies have the potential to be fine here. But it's reasonable to expect the running game to take a step back this fall, particularly with issues on the O-line.
We'll see
Oregon State
: Everybody is back, but no Beaver rushed for more than 423 yards last year. And, of course, Oregon State was one of the nation's worst rushing teams. The pecking order also didn't seem to completely work itself out, though redshirt freshman
Storm Woods
had a strong spring.
Colorado
: The good news is
Tony Jones
had a good spring and looks capable of replacing the departed Rodney Stewart. Still, he averaged 3.8 yards per rush in 2011.
Josh Ford
rushed for 128 yards last season. Depth is a bit uncertain also, with
D.D. Goodson
and
Malcolm Creer
, who is coming back from a knee injury.