June, 4, 2013
6/04/13
2:30
PM ET
The wicked are wicked, no doubt, and they go astray and they fall, and they come by their deserts; but who can tell the mischief which the very virtuous do?
August, 1, 2011
8/01/11
2:00
PM ET
By
ESPN.com staff
| ESPN.com
A football field is 100 yards long, and each yard marker has produced immortal memories in college football.
Take 97 yards. Does that number ring a bell for any Oregon fans?
ESPN.com is looking at some of the most famous touchdowns in college football history for each and every yard marker, and Kenny Wheaton's interception return against Washington -- "The Pick" -- is the choice at 97 yards.
You can
check out "Yards to Glory" here
.
And here's what I wrote about Wheaton's dash to glory.
97. The Pick
Kenny Wheaton's interception return seals win for Oregon
Oct. 22, 1994: Washington and Oregon have long disliked each other, but the rivalry was wildly lopsided in the Huskies' favor -- at least until Kenny Wheaton went 97 yards for a TD on an interception return, which capped a 31-20 Ducks win over the No. 9 Huskies. The play happened just as the Huskies looked to be driving for a go-ahead score. But with Washington on Oregon's 9-yard line, Wheaton picked off Damon Huard and dashed into Ducks history. Oregon had lost five in a row and 17 of 21 to the Huskies, but "The Pick" was the key moment in Oregon's run to its first Rose Bowl in 37 years
November, 4, 2010
11/04/10
6:24
PM ET
Woody Hayes was a rivalry guy. When he was Ohio State's head coach, he wouldn't even say "Michigan." He said, "that team up north." He famously refused to fill up his gas tank while on a recruiting trip in Michigan. When Jim Tressel was hired to fill that legacy, he immediately endeared himself to Buckeyes' fans by promising something special "in 310 days in Ann Arbor, Mich., on the football field."
Oregon coach Chip Kelly is not a rivalry guy. The hated
Washington Huskies
visiting Kelly's Ducks on Saturday? Pffft.
"We have 12 rivalries," Kelly said.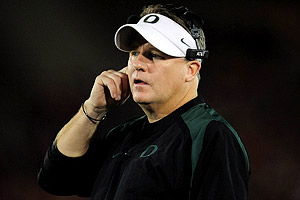 Gary A. Vasquez/US PresswireDon't tell Oregon coach Chip Kelly that Washington is a rival. Kelly contends the Ducks have 12 rivals.
Kelly previously said the Ducks play "12 Super Bowls," so his "every game is critical" philosophy is at least consistent.
Fact is, the Huskies-Ducks rivalry, long one of the nastiest and most underrated in the nation, has dramatically shifted. Washington was once the power that barely even noticed Oregon, which hated the Huskies sense of entitlement -- and winning -- in the Northwest (and a certain UW
vote in 1948 on who goes to the Rose Bowl
was a bit of an issue, too). But in the mid-1990s, things started to change. Oregon became competitive, and Huskies' fans didn't like that. The rivalry may have peaked when Rick Neuheisel became Washington's coach in 1999. Ducks fans already disliked Neuheisel from his days of Colorado, so it was a perfect stir to an already boiling pot.
Those were fun times
because both programs were national powers. The rivalry mattered.
Now? Not so much. Oregon has won six in a row in the series, each by at least 20 points. The Huskies appear to be headed toward an eighth-consecutive non-winning season. They are coming off an embarrassing 41-zip loss to Stanford inside a stunned Husky Stadium. Moreover, struggling quarterback
Jake Locker
, the unquestioned face of the program, will be out Saturday due to a broken rib, and redshirt freshman
Keith Price
will make his first career start in boisterous Autzen Stadium.
Uh-oh
.
Huskies coach Steve Sarkisian, therefore, fielded no questions about the glorious rivalry with the Ducks during a lengthy news conference Monday.
"I think more important for our program right now is focusing on us and not necessarily on the
Oregon Ducks
," Sarkisian said.
Meanwhile, Oregon, after finishing ranked in the top-11 the previous two seasons, is a national title contender. It's got bigger things going on than trash-talking a team that it's favored to beat by five touchdowns.
"Every game in this league is a challenge for everybody," Kelly droned. "Our concentration is solely on next week's game and that's playing Washington."
Oh, but the Huskies-Ducks hatred is still there among the fans.
Guess what's being celebrated -- again -- at Autzen on Saturday? Yep, "The Pick," the 1994 pick-six interception by Ducks cornerback Kenny Wheaton of Huskies QB Damon Huard, which is widely considered the most important play in school history. Wheaton will be at the game, appearing at PK Park from 10:30 a.m. to noon (PDT), signing autographs, including a T-shirt commemorating the play.
By the way, guess who is the new color guy on Huskies broadcasts? Huard. And guess who's an analyst for the ABC telecast? Damon's younger brother, Brock, also a former Washington QB. And guess who's going to be Brock Huard's co-analyst? Former Oregon coach Mike Bellotti.
How fun is that? How can you not smile about all that!
Said Kelly, "Harrumph." (We just made that up, but that's a fair translation of whatever he would say).
So do the Huskies have a chance? The short -- and practical -- answer is, no. But, folks, in college football, everyone has a chance, even when a team is missing its starting QB and brings one of the nation's worst defenses into the nation's most hostile venue to face the nation's best offense.
Said Kelly, "They've got really good athletes."
He then spit and let out an mocking laugh.
No, he didn't, but wouldn't it have been fun if he did?
April, 20, 2010
4/20/10
7:30
PM ET
By
ESPN.com staff
| ESPN.com
Damon Huard wants your money, Washington fans.
The former Huskies and NFL quarterback has been hired as a "major gifts officer" for his former school's booster club, the "Tyee Club."
A 1995 UW graduate, Huard was a three-year starter for the Huskies. He amassed 5,692 passing yards, a mark that ranks third on the program's all-time list. He retired last year after a 13-year run in the NFL, most notably with the Kansas City Chiefs and New England Patriots, where he earned a pair of Super Bowl rings.
Prior to his professional career taking off in the NFL in 1997, the Puyallup, Wash., native worked for Vulcan Inc. -- billionaire Paul Allen's company -- for nine months. He helped raise awareness for the Seattle Seahawks' new stadium initiative. Now he'll continue in a similar line of work, assisting the development team's external relations within the Puget Sound community. According to assistant athletic director Jennifer Cohen, this will provide the department with a stronger presence in the region.
"He gives our efforts a lot of credibility," Cohen said in a statement. "People know him. They believe in him. They relate to him. They understand that he's one of them. He's a very respected person."
The program's biggest fundraising need: Raising money for a major renovation of dilapidated Husky Stadium.
For more information,
click here
.
PAC-12 SCOREBOARD
Saturday, 12/20
Monday, 12/22
Tuesday, 12/23
Wednesday, 12/24
Friday, 12/26
Saturday, 12/27
Monday, 12/29
Tuesday, 12/30
Wednesday, 12/31
Thursday, 1/1
Friday, 1/2
Saturday, 1/3
Sunday, 1/4
Monday, 1/12
Tweets from https://twitter.com/ESPNCFB/lists/pac12