Pac-12:

Damore'ea Stringfellow
June, 13, 2014
6/13/14
7:00
PM ET
By
ESPN.com staff
| ESPN.com
Welcome to the mailbag.
You can follow me on Twitter by clicking here
. One word: Nirvana. And I'm not talking about the band, though they would sound pretty good just about now.
To the notes!
Grant from Seattle writes:
Ted, what are the odds that someone other than
Cyler Miles
starts a game at QB for the Huskies this year? And who would it be -- Lindquist or Williams? I've heard some really good things about Lindquist.

Ted Miller
: The Huskies QB situation will be intriguing to watch this August.
While the overwhelming sentiment is Miles is the most ready to take over for Keith Price, there are no guarantees. You, of course, start with
his off-field incident
after the Super Bowl. While Miles wasn't charged, there is no question that he didn't conduct himself well. Even if it was all on wide receiver
Damore'ea Stringfellow
, which I find dubious, Miles' proper response would have been to grab his enraged teammate by his collar and say, "You need to shut up and chill out."
(Funny fact: I have a good buddy who might be reading this who was the captain of my high school football team and did that exact thing to me when I was acting like an imbecile. Perhaps more than once. Gemmell now has that job).
The reason I bring that up is that coach Chris Petersen has made a big deal out of OKGs -- "Our Kind of Guys." When I say big deal, I mean it's actually written in big letters beside his picture on the
Huskies official website
.
It's fair to ask how quickly Miles might earn OKG status, whether he's the most game-ready guy or not. My feeling with Petersen is he probably isn't going to make things easy for Miles, at least in the early going.
As for a pecking order between
Jeff Lindquist
and
Troy Williams
, I haven't noted an appreciable separation, at least nothing that can't be quickly overcome in fall camp.
So, to answer your question, I'd rate it a 39-percent chance that someone other than Miles starts a game at QB for the Huskies this year.
---
0006shy from Los Angeles writes:
hey ted, do you think the lack of conference championship games for the Big 12 and Notre Dame will hurt them when it comes to being selected for the playoff? Generally speaking won't teams that play thirteen games have stronger schedules?
Ted Miller
: Yes and no.
A strong 12-game schedule will trump a weak 13-game one. An undefeated Notre Dame or undefeated Big 12 team is a very good bet for the four-team College Football Playoff because they will, more often than not, play a strong schedule.
On the other hand, it could hurt if the selection committee is comparing an array of one-loss teams, including Notre Dame and the Big 12 champion, and the SEC, Big Ten, ACC and Pac-12's one-loss champs are coming off impressive victories over ranked teams just days before. There is an unavoidable what-have-you-done-for-me-lately psychology there that might be difficult to overlook.
And an "extra" quality game would bolster a team's strength of schedule of metrics.
On the other hand, Notre Dame and the Big 12 also know that a conference title game means said conference's lead team is vulnerable to a season-ruining upset.
In the end, you are hitting on a point -- one of many -- that folks will be paying attention to when the committee starts making tough distinctions.
---


Ed from Placentia, Calif., writes:
Why is your
non-important article
on kendricks on a Trojan website? As a Trojan fan, I don't care what he thinks or does to prepare for this season. Write and publish articles that are important to Trojan fans? Was this an error? I really don't want to read any more bRUIN articles. I paid money to read info regarding USC.
Ted Miller
: I've received more of these sorts of notes from USC fans over the past year than any previous season. The meaning is simple. USC fans are officially concerned about UCLA's rise under Jim Mora.
In 2008, this was the sort of note a UCLA fan would write.
One of the unmistakable fan psychoses I've witnessed over the years is RUNT -- Rivalry Ululation from Niggling Team -- the often irrational petulance of fans whose team is struggling while their rival is thriving. (Kevin and I have been talking about this, and Chantel may take over the Pac-12 Blog's Department of Complaints this fall).
Ed, you are a fan of USC, perhaps college football's preeminent program. Act accordingly.
But feel free to worry privately about the Bruins' rise. That is completely rational.
---
Matt from Oakland writes:
After losing one of the Robinson twins and
Jake Rodriguez
recently, should Oregon be concerned at the number of good players transferring away from the program?
Ted Miller
: Absolutely. You should panic. That should be your perpetual state.
It sure seems as though a gaggle of Ducks fans love to cuddle with anxiety, obsessively wringing their hands over every single negative blip for the program.
Matt, you and Keith Dennis, who also asked this question, should band together for a trip to consult with the Oracle at Delphi. Only she can provide you the knowledge you seek!
Obviously, we've been here before
.
Short answer: No.
Remember all the other sorts of offseason tribulations you've been through during the Ducks greatest run in program history? The departure of a few nonstarters is not something that should ruffle your feathers.
A loss to Michigan State, now that would be time to really panic.
---
Jake from MTL writes:
Hey Ted. Whats your prediction for Arizona starting QB?
Ted Miller
: Prediction? Paaaaaaaaainnnn.
Sorry, Clubber Lang took over the mailbag for a moment. He said to tell you he "pities the fool who thinks he knows what Rich Rodriguez is thinking."
Before spring practices began, I saw senior
Jesse Scroggins
as a long shot. Though I'd probably still take the field over him, I'd rate him a slight frontrunner, at least based on spring practices.
---
Tom from Portland writes:
Inexperience
. Reminds me of a secondary textbook I had in Economics 201: "Lying With Numbers".Having most of your lettermen back can sometimes be a very bad thing if, for example, those same guys went 1-8 in your own conference the year before.
Ted Miller
: Yes, if your returning players are uninterested bloated zombies who drank beer and played video games all summer then their experience doesn't matter.
Another thing I've learned through the years -- so much wisdom today! -- is that folks who uproot Benjamin Disraeli's quote, "Lies, damned lies and statistics," often are having an emotional reaction to statistics that don't fall in their favor.
Getting a lot of this from Arizona State fans at present. Their offseason story is to judge it irrelevant that their team lost nine defensive starters and will be relying on a bevy of players on that side of the ball this season who haven't seen a Pac-12 snap.
Leaps of faith are great. Heroic even. But the available evidence suggests reasonable people should be skeptical about the Sun Devils defense this fall. Or any other unit on any other team in which inexperienced or generally unknown players will be taking over starting roles.
Folks, returning starters is simply one way we judge teams in the preseason. It's a straightforward measure of the known. It also takes the not unreasonable position that a freshman will be better as a sophomore and sophomore will advance as a junior, etc. Doesn't always work that way, but it's perfectly logical as a predictive model.
Consider this before/after photo of Washington State safety
Deone Bucannon
.
& gets you paid. RT @WSUCougars: This is what commitment to weight room looks like. @deonebucannon20 #GoCougs pic.twitter.com/5v1LjBut6G - Ted Miller (@TedMillerRK) June 10, 2014
He kept getting better as a returning starter, no?
Sure, some teams seem to operate in a realm where returning experience doesn't matter, most notably during dynastic runs when top recruiting rankings are piling on top of each other -- see Alabama at present and USC from 2002 to 2008.
Again, noting returning starters and lettermen isn't the end-all of analysis, but it unquestionably is a useful piece of information.
---
Eric from Somerset, via Boulder writes:
Ted, the best-case/worst-case cannot die. Not only are they hilarious, and well written -- even the ones you probably don't like after writing them, but more importantly, What will happen to Jon Embree's daughter's bike? I have a solution. Don't worry that it may mean more work for you. You no doubt have ample free time to fill anyway, writing and rewriting pieces you don't like. Have us -- we humble Pac 12 Blog fans -- submit them. Your time "could" be cut in half, just reviewing, editing and posting, vs. writing, reviewing, editing and posting. It might even end up not sucking. Just an idea. ... Long live the Pac-12 Blog, and hopefully the best-case/worst-case scenarios. Go Buffs.
Andy from Austin, Texas writes:
Ted, I have a suggestion to appease folks asking for the best/worst case series to continue, hopefully without adding to your work load too much: Why not ask for fan submissions? As an avid UW fan I would love to spend a few days perfecting a 1000-word piece about my beloved Huskies going 12-1, dropping one on the road to the frequently pesky Arizona, followed by winning the Pac-12 championship game before losing a heartbreaker to FSU in the first round of the playoffs. Similarly, I'd relish the chance to craft a couple submissions about Oregon crashing and burning to 7-6 post-Mariota injury with Phil Knight having a crisis of conscience and deciding to refocus all of his financial resources on tackling child labor laws in southeast Asia, as well as WSU flaming out to 3-9 with Mike Leach jumping ship in favor of using his law background to defend actual Somali pirates in legal proceedings. It might take some time for you and your team to read through a lot of these submissions, but that may be more amenable (and hopefully more entertaining) than to have to actually create all of these yourself. Just a thought. Love the blog.
Brian from Cincinnati writes:
Hi Ted, I read your comment about the Best Case/Worst Case piece and have an idea to keep it going. Launch a reader contest and have them submit their takes -- you select and publish the best or most relevant? I'd take a crack at Oregon's if you opened it up to us readers. Thanks for what you do. Keep it going!
Ted Miller
: Did you guys get together and talk about this? Lots of notes suggesting this course of action.
First of all, thanks for the kind words. Gratifying to know some folks enjoyed the pieces.
I am intrigued. Let me give this some thought. Maybe I can set up an email box for folks to send in their work/ideas.
Going on vacation next week, so I can let this marinate.
May, 30, 2014
5/30/14
5:45
PM ET
Welcome to the Friday mailbag. At the very least, reading it informs you which day of the week it is.
You can follow the Pac-12 blog on Twitter
.
And you can follow
my personal Twitter account
, which is updated when I'm procrastinating -- which is, like, constantly --
by clicking here
.
If you click follow, you can give your team an imaginary national title,
just like Auburn wants to do
.
To the notes!

Todd Graham's Nephew from Phoenix writes:
Ted,
In your article about the [Todd]Graham/[Rich] Rodriguez extensions
, you stated that Rodriguez had "a lot less talent" than Graham over the past two years. You've stated this before in other articles. I'm curious what you're basing that on.
Ted Miller
: Coach Graham's nephew wrote a much longer note with supporting points, but we cut those out due to a severe case of cherry picking.
You could, however, make a case that the talent at Arizona and Arizona State was at least comparable in 2012. Arizona had
Matt Scott
at quarterback and
Taylor Kelly
was a complete unknown. Heading into the season, we didn't know that DT
Will Sutton
was going to become a monster. It's also accurate to view the 2012 Territorial Cup as a
huge collapse for Arizona in the fourth quarter
-- at home, no less -- and that certainly wasn't a shining moment for Rodriguez and his staff.
Still, the Sun Devils ended up with four All-Pac-12 performers in 2012 compared to three for the Wildcats. Further, what Arizona State had coming back in 2013 was decisively superior to the Wildcats, which is why Kevin and I both picked the
Sun Devils to win the Pac-12 South
before the season and ranked them third in the
preseason power rankings
compared to eighth for the Wildcats.
As for more talent this past fall, the Sun Devils finished with -- cough, cough -- 13 first- or second-team All-Pac-12 players. Arizona? One -- RB
Ka'Deem Carey
.
To me, the biggest difference between the talent Rich Rodriguez inherited compared to Todd Graham was on defense, particularly on the front seven. The unit that played against the Sun Devils in the 2012 Territorial Cup was pretty much a slight blip above FCS-level talent.
As for the
recruiting rankings
that preceded Graham and Rodriguez, Arizona State ranked ahead of Arizona in 2009, 2010 and 2012 (year of both's hiring), while the vote was split in 2011.
---


Victor from Eugene, Ore., writes:
I was thinking about the Oregon-Stanford rivalry that has emerged in the last few years and one game particularly came to mind, the 2010 edition. It was the fifth game of the season for both teams in early October, and I wonder why the conference does not keep it scheduled like that? It is generally accepted that these teams are top of the conference, and if they keep playing late November games, that can potentially knock out one of these teams from a more prestigious bowl game (or even now a second spot in playoffs). I understand high records going in to the game make it easier to build up for TV, but this is a marquee matchup no matter when (it's) played during the season, so people are going to watch. If anything, they play early and both teams go on to keep winning, so the conference could possibly have two playoff contenders and 13-0 and 11-1. The selection committee could look past one team's loss if against a strong opponent regardless of when played, but I think a loss has less of a decisive impact if it was from an early season game.
Ted Miller
: You do know, Victor, that Oregon and Stanford were not always atop the Pac-12, right? Stanford, in fact, had a losing record way, way back in 2008. And there was this team called "USC" that had a pretty good run for a bit.
Scheduling, I am told, is more complicated than you think. Heck, witness the struggle to keep rivalry games set for the final weekend of the season. Schedule rotations, TV as well as each university's own quirks make it challenging to organize the conference slate. Further, showing favoritism for a certain budding rivalry probably wouldn't roll well in 10 other athletic departments.
While I understand -- and often espouse -- the realpolitik of your thinking, I also sort of like having an A-list Pac-12 game with national implications in November. It attracts a lot of eyeballs.
As coaches say, "The games you remember are played in November."
---
Tom from Portland writes:
In your
Pac-12 power rankings blog
you imply that the return of
Cyler Miles
is a big boost to UW. Why is that?
Keith Price
was the starter for the last three years, so what do you see in Miles, who has not been a starter and I don't recall him even playing very much last year?
Ted Miller
: Miles saw
significant action last year and played well
. His competition, sophomore
Jeff Lindquist
and redshirt freshman
Troy Williams
, haven't thrown a pass for the Huskies.
Miles came off the bench against UCLA and acquitted himself well, then led the Huskies to a win at Oregon State in his lone career start. In total, he appeared in eight games, completing 61 percent of his throws for 418 yards with four touchdowns and two interceptions. He also ran for 200 yards on 23 carries. His passer rating would have ranked 61st in the nation.
Further, the scuttlebutt on his playing abilities and upside has been almost entirely positive. Of course, then there's our next question.
---

Rob from Seattle writes:
Ted -- I'm struggling to reconcile Chris Petersen's reputation of integrity with the decision to reinstate Cyler Miles. Granted -- he knows more than me as a fan and has done his own investigation. Here's what I do know: the police report said he and
[Damore'ea] Stringfellow
were involved in beating up a woman during a Super Bowl celebration. Am I wrong in thinking Petersen should explain this to us, why Miles deserves to be the leader of our football team after being involved in an attack on a defenseless woman?
Ted Miller
: First off, I'm not one of those guys who dons shining armor to act like I'm a paragon of virtue as I differentiate between a man and a "defenseless woman." I know plenty of women who can play defense. And offense. I think acting as though women are made out of porcelain does them a disservice.
What I do abhor is someone bullying anyone. I equate that to attacking an innocent, non-aggressive, typically smaller person, be it a man or woman. This case allegedly fell within those criteria. It was both reprehensible and shockingly stupid.
I've commented on this a couple of times,
first here
and
then here
, the latter effort describing how I might hypothetically handle punishment if I were Chris Petersen.
As repeatedly noted, I'm a big second-chance guy. Not a big fan of zero-tolerance policies in most cases.
Further, Miles wasn't charged with a crime. Receiver
Damore'ea Stringfellow
, another likely starter, was charged with two counts of fourth-degree assault and one count of malicious mischief and he has opted to transfer, which I assume he was encouraged to do.
Petersen's chief task is winning football games. Educating and building the character of young men is part of the job, but it is secondary, despite what some might disingenuously claim. Petersen does, by the way, have a better chance of teaching Miles life lessons with him on the team than off it. I think the idea of "making an example out of someone" mostly works in organizations like the Mafia, where nuanced thinking isn't part of the culture.
But I do agree with something you wrote: "Am I wrong in thinking Petersen should explain this to us why Miles deserves to be the leader of our football team...?"
No, you are not. And this willful silence on the matter is the unfortunate course Washington appears to be taking, at least at present, as neither Petersen nor Miles have talked to reporters since making a
brief statement on May 14
. The correct course would have been to hold a news conference -- I'd have suggested Friday, May 16 at 4 p.m. -- just after the announcement of Miles' reinstatement.
Over-managing the response to an off-field incident like this is typically a mistake. Over-managing acts as a preservative instead of a neutralizer. It, in fact, makes things seem worse, as if there is something to hide about the process. The lead story for the 2014 Huskies should be the nationally esteemed Petersen beginning his first year at Washington, not what Miles did and how Petersen handled the incident.
Washington's goal should be to have the Miles incident watered down enough over the coming weeks that it is not the lead question for Petersen at Pac-12 media days in July. As it stands now, it will be. And if Petersen is standoffish, he will be peppered with questions, and then words like "bristled" and "evasive" will describe him in subsequent stories.
Just about every off-field incident in college football is a story with chapters -- incident, arrests or not, charges or not, punishment, aftermath and redemption or not. At present, Petersen and Washington are creating a limbo between punishment and aftermath that is unnecessary.
---
Rajesh K from San Carlos, Calif., writes:
I think you should make custom 12-sided dice with each Pac-12 team on it for internal use at ESPN.
Ted Miller
: We already have one. We roll it twice each day to see: 1. Which Pac-12 team we will be biased for that day; 2. Which Pac-12 team we will be biased against that day.
May, 2, 2014
5/02/14
6:00
AM ET
Three things we learned in the spring:
1. Despite losing so much, Washington's offense will be OK. It's hard to lose a 3,000-yard passer (Keith Price), a Mackey Award winner (Austin Seferian-Jenkins) and a 1,800-yard rusher (Bishop Sankey) and imagine the offense will be anything other than catastrophic. Since those three players took most of the game reps at their positions, there will certainly be growing pains. But with the depth and players who learned from Price, Seferian-Jenkins and Sankey, there is a lot of potential for this team.
2. Shaq Thompson could be a two-way player for the Huskies. The inside linebacker made tons of huge plays for Washington throughout the spring and did enough on the offensive side of the ball to have the coaches consider him as a RB. The Huskies will need a few guys to tote the ball, so having the ILB jump to offense a bit as well doesn't seem too crazy.
3. Chris Petersen likes a good joke, too. The new coach decided to prank his team on April Fool's Day by bringing in hideous uniforms and telling the Huskies that these were somehow representative of the team's attitude and play. Players were less than impressed before realizing that the coach was pulling a fast one over on them.
Three questions for the fall:
1. What will Petersen do about suspended players? Damore'ea Stringfellow was sentenced to five days on a work crew after pleading guilty to three misdemeanors and ordered to pay restitution following a post-Super Bowl assault. Cyler Miles was also connected to the event but not charged. Petersen already dismissed one player from the team, freshman cornerback Patrick Enewally, for punching a teammate. Could more dismissals be coming? Or will Miles and Stringfellow be reinstated?
2. Who will be the starting QB? Petersen spent the spring evaluating Jeff Lindquist and Troy Williams and following the spring game, Lindquist seemed to be the front runner for the job. But that doesn't factor Miles in and it's a long way off until the Huskies' season opener. If this is a three-man race, who starts against Hawaii?
3. How big will the learning curve be for the offense? The Huskies have four games to get it together before Stanford comes to Seattle on Sept. 27. The offense needs to be running smoothly by then. Can Petersen turn the potential into efficient talent by then? Last season the Huskies were No. 2 in the Pac-12 in total offense (499.3 yards per game). But will they even finish in the top half of the Pac-12 this upcoming season with the yardage Washington can put on the field?
One way-too-early prediction:
Washington goes 5-2 at home. The three nonconference games should go Washington's way, leaving the Huskies to go 2-2 against Stanford, Arizona State, UCLA and Oregon State. Best guess? The two wins come over ASU and OSU while the losses will be to Stanford and UCLA (this one will be close though). Give the offense time to gel and there's a chance they could pick up a third win in that conference group over UCLA in November.
April, 18, 2014
4/18/14
5:30
PM ET
Happy Friday.
Follow the Pac-12 blog on Twitter
.
To the notes.

Jake from Spokane writes
: What do you think Chris Petersen should do with
Cyler Miles
and
Damore'ea Stringfellow
? I know Miles wasn't charged and Stringfellow
got off easy
, but don't you think he should make an example out of them?
Ted Miller
: Yes. And no.
As many of you know, I typically side with second chances. I think zero-tolerance is bad policy. Everything should be a case-by-case basis. For one, there's typically two sides to every story, with the less public, after-the-big-headlines side often being closer to the truth -- see past assault accusations against former Arizona running back
Ka'Deem Carey
and Oregon running back LaMichael James. Or Duke lacrosse, for that matter.
I know the self-righteous out there love to tell everyone about their inflexible absolutes with behavior and Puritan standards for character. My experience with people like that is they almost always are full of pooh.
And yet a line I often do draw is at bullying, which the two incidents involving Miles and Stringfellow approximate. A bigger person pushing around a smaller person just because he can is abhorrent. That, to me, does reveal a deep-seated character flaw. The fact that alcohol apparently wasn't involved actually almost makes it worse. When you can't blame the booze, what can you blame, other than a flawed moral compass?
Based on what I know typing this today, here's what I would do if I were Petersen.
First, I would meet with a crew of Huskies seniors who command respect in the locker room and ask their positions on the situation and why they feel that way. I would ask if there were details of the incidents that they knew of or had heard of from reasonably reliable sources that differed from public accounts. I wouldn't ask what they thought I should do, but I would take the measures of their feelings toward both, including whether those feelings were different between the pair.
[+] Enlarge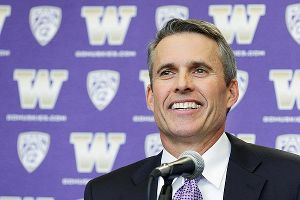 AP Photo/Ted S. WarrenChris Petersen hasn't announced the punishment for Washington players Cyler Miles and Damore'ea Stringfellow.
Barring any major surprises, I'd then meet with Miles and tell him he was being conditionally reinstated, though he would be suspended for the first game (at Hawaii, so he'd truly be missing a fun trip). I'd provide him a list of in-house punishments, which would include a generous amount of extra quality time with strength coach Tim Socha.
And I would tell him that this was his second chance. There won't be a third. A quarterback, in particular, is supposed to set a standard in the locker room.
Then, I'd meet with Stringfellow. He too would be conditionally reinstated, though he would be suspended for the first three games. I'd provide him a list of in-house punishments, which would include a generous amount of extra quality time with Socha.
And I would tell him that this was his second chance. There won't be a third.
I'd publicly announce my decision in May or June so it wasn't a big, distracting story right before the beginning of preseason practices. I'd also have both of them meet with the media, though only after a stern session with myself and sports information director Jeff Bechthold, where we'd hammer home talking points about being humble, regretful and accountable while not reviewing too many details of the incidents. Something like, "I know I won't do this again because of how horrible I felt and still feel for hurting someone and embarrassing my family, my school and my team."
I'd also minimize the "put it behind me" talk, which always comes off as lacking regret while suggesting impatience with a justifiable inquisition. Want to win a news conference? Say, "No, I'm not going to put this behind me. I'm going to think about it every day to remind myself of what it feels like to be a bad person, which I never want to feel again."
These situations typically involve a complicated calculus, particularly when the players are key contributors, as both of these guys are. Petersen has a duty to his players, fans, administrators and himself to do what he was truly hired to do: Win. Yes, he should aim to build character and help young men grow into quality adults, but the reality is that comes in second place to winning. Sorry if that bursts your idealistic bubble, but there's a reason why even the greatest teachers aren't paid $3 million a year.
That said, bad apples in a locker room don't help the cause. Sometimes temporary pain -- suspensions or giving players the boot -- helps a program, helps it win over the long term.
My impression of Petersen is he's the clearest of thinkers. While most of us view this as the first big test of his administration, I suspect it feels fairly routine for him.
---
Tim from Portland writes:
Hey Ted, I wonder if I'm the only one thinking that the loss of the Ducks' top four receivers could actually be a good thing. I know we lose a lot of numbers with those four out, but isn't it possible Oregon could go back to the blue-collar attitude they had in Chip [Kelly's] first couple years as head coach? I mean, in those years at least we met or exceeded the expectations for the season.
Ted Miller
: Yes, Tim, you are the only one thinking that.
Are you saying that
Bralon Addison
's blowing out his knee this spring is a good thing? My answer to that: No. One thousand times no. Have you seen Addison play? Before he got hurt, I saw him as a legitimate All-Pac-12 candidate.
And, no, losing your top four receivers is never a good thing, either. Never. Well, unless they all ran 5.0 40s and were locker room cancers.
Also, I'm not sure if I've ever viewed Oregon as a "blue-collar" team. I see Oregon as a cutting edge, fancy-pants team that has the best facilities in the nation and gets to go behind the velvet rope at all the cool clubs.
I'd also like to point out that the Ducks' horribly disappointing season included 11 wins, a dominant bowl victory over Texas and a top-10 final ranking.
Now, if you're saying the Ducks might run the ball more next fall with four returning starting O-linemen, a good crew of tight ends and what should be a dynamic RB combination in
Byron Marshall
and
Thomas Tyner
, I could get on board with that.
That said, quarterback
Marcus Mariota
is an A-list passer. While there are unknowns at receiver, I suspect the cupboard isn't empty. I'd be surprised if Mariota doesn't throw for at least 250 yards per game.
---

Dave from Tucson writes:
Ted,
thanks for some good, informative articles on football
. Just a minor reporting point on this: "...Not when you consider what Rodriguez and Smith have done with their past two first-year starters in
Matt Scott
and
B.J. Denker
." Actually, Matt Scott had beaten out Nick Foles to start the 2009 season and started two games before being benched for Foles. Denker also started a game and played the entire game against Colorado in the 2012 season when Matt Scott was down with a concussion. Matt Scott was not a first-year starter in 2012 and Denker was not a first-year starter in 2013.
Ted Miller
: I think you're mixing up "first-time" and "first-year."
Both Scott and Denker had started games and seen action before ascending officially to the starting job, but neither was a returning starter, which is typically defined as starting at least five games during the previous season. Nick Foles preceded Scott as the 2012 starter, and Scott preceded Denker as the 2013 starter.
And, just as Washington QB Cyler Miles, despite starting at Oregon State, was not the Huskies' starting QB in 2013. That was
Keith Price
.
---
Mr. Elizabeth Bennet from Salt Lake City writes:
I enjoyed the quote you added to your lunch links from April 16
. I wonder what your thoughts are on how Jane Austen would have commented on the state of college football, given all the clamoring for change that has happened and the widening gap of aristocracy between the conferences? Also, which "Pride & Prejudice" character best describes each Pac-12 football coach/team? It seems like the Pac-12 blog does a good job as the Elizabeth Bennet of the college football world, offering witty, but insightful commentary on the society within college football.
Ted Miller
: I think it's a universally acknowledged truth that Jane Austen would have been a heck of a sportswriter, full of sense and sensibility as well as persuasion. While some -- mostly those who haven't read her -- probably see her as some sort of "chick-lit," the reality is she's a wonderfully biting observer of how folks behave, not to mention underrated when it comes to humor.
As for Austen and college football, she's already commented. You may not know this, but Lady Bertram in "Mansfield Park" is the personification of the NCAA, a novel, by the way, that includes these two felicitous quotes:
Selfishness must always be forgiven you know, because there is no hope of a cure.

A large income is the best recipe for happiness I ever heard of.
As for the "Pride and Prejudice" request, I'm not going to wander down that road -- who wants to be Wickham or Collins or Lydia? -- but I will say Chip Kelly had plenty of "Darcy" in him.
February, 7, 2014
2/07/14
12:30
PM ET
There are many things that can derail a college football team. Poor to middling talent. Poor to middling coaching. Complacency. Inexperience. A lack of focus. Poor conditioning. A couple of bad apples in the locker room.
And knuckleheaded behavior.
[+] Enlarge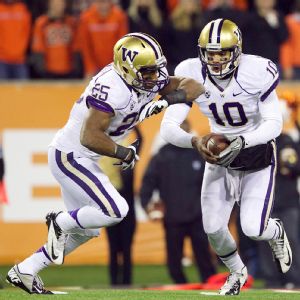 Jaime Valdez/USA TODAY SportsLeadership would be needed from Cyler Miles (10) next season, but that is now in question.
That, of course, comes in many varieties, but a couple of Washington players
allegedly have tried to win
the "College Football Knuckleheads of the Year Award" before we're much more than a month into 2014.
According to police reports, two Huskies -- likely 2014 starters, in fact -- apparently were unhappy the Denver Broncos went rear end over tea-kettle in the Super Bowl against the Seattle Seahawks. So they, allegedly, beat up a Seattle Seahawks fan.
Yes, players from Seattle's major college football team allegedly beat up someone because he was a fan of Seattle's NFL team.
Further, the two players being investigated in connection to the incident are Washington quarterback
Cyler Miles
and wide receiver
Damore'ea Stringfellow
. We know this because both have been suspended indefinitely by new coach Chris Petersen. Neither player has been arrested or charged, at this point.
Let us first welcome Petersen back from his UW honeymoon, which ended upon his getting the phone call about this one.
Now before we delve too deeply into the meaning here, both for the team and in the bigger, societal picture, it's important to acknowledge that the story is incomplete. We have not heard Miles' and Stringfellow's side of things. Every time we engage the early reports of an incident such as this it's imperative we use two words to give us pause:
Duke lacrosse
.
That said, there's only one way this becomes a substantial issue for the Huskies in 2014: If Miles and Stringfellow are kicked off the team.
Washington is going to start the 2014 season 4-0 --
see the schedule here
-- whether these two play or not. The only potential early pratfall is a visit from Illinois, a team the Huskies beat by 10 on the road last year and that finished 1-7 in Big Ten play.
So Petersen could suspend both for a third of the season, look tough on discipline, and then get his guys back in time for the rugged Pac-12 slate. He also could suspend them for three games and then play them against Georgia State, a glorified FCS team, in order to help them shake the rust off. Or, perhaps,
Jeff Lindquist
plays so well that Miles doesn't get his job back.
In any event, Husky fans probably don't need to panic yet about the prospects for 2014, though it now becomes more critical for talented receiver
Kasen Williams
to hasten a healthy return from
a major leg injury
.
Beyond practical matters, however, this story also combines two awful things, which makes it particularly notable: 1. Athletes behaving badly; 2. Fans behaving badly.
We start with the sense of entitlement many college athletes have -- "I can do whatever I want because I'm a star football player" -- and then move on to the irrationality of the most buffoonish fans -- "Those who root against my team should be punched in the face."
Sportswriters know all about this. We cover the entitled athletes and are constantly excoriated by the buffoonish fans, who will fill our inboxes with profane and garbled tirades because we didn't pick their team to win. Don't feel sorry for us, though. Without either, it would be more difficult to pay our bills.
From the
Seattle Times
:
According to a police report, a man told police he was assaulted around 8:30 p.m. Sunday on the 2300 block of NE 55th Street after the Seahawks' Super Bowl victory over the Denver Broncos. The man said two suspects jumped out of a car and asked the man if he was a Seahawks fan. According to the police report, the man said "something like yeah of course, are you Broncos fans?"

The suspects then "came at" the man and "started punching (him) in the face," according to the report. The man and a friend identified the two suspects by looking at the UW football roster online.
Again, if true, this is worse for Miles, who, yes, hails from just outside of Denver. He's supposed to take the keys to the offense and be a leader, replacing
Keith Price
as the Huskies quarterback. Price was rock-solid as a person and leader, just like the guy before him (Jake Locker) and the guy before him (Isaiah Stanback).
Miles would have a ways to go before anyone refers to him as "rock solid." He's got talent and has already hinted that he can be an A-list quarterback with limited play stepping in for an injured Price. But how many good quarterbacks have this sort of thing on their resume?
This figures to be the first test of Petersen as a disciplinarian. It will be interesting to see how he handles it.
As for this fall, it's way premature to start downgrading Washington's stock, which potentially was headed for a preseason ranking. But it's fair to say it won't regain a "buy" rating until this incident is resolved.
August, 7, 2013
8/07/13
10:30
AM ET
We continue our day-by-day snapshots of each Pac-12 team heading into the 2013 season in reverse alphabetical order with the
Washington Huskies
.
Washington
Coach
: Steve Sarkisian (26-25 overall, 19-17 Pac-12)
2012 record
: 7-6, 5-4 (Fourth in North Division)
Key losses
: CB Desmond Trufant, DB
Justin Glenn
, DE Talia Crichton, C
Drew Schaefer
,
[+] Enlarge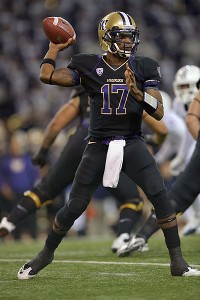 Steven Bisig/US PresswireTrigger-man Keith Price is the key to the Husky offense.
Key returnees
: QB
Keith Price
, RB
Bishop Sankey
, WR
Kasen Williams
, TE
Austin Seferian-Jenkins
, DB
Sean Parker
, LB
John Timu
, DE
Josh Shirley
, LB
Shaq Thompson
.
Newcomer to watch
: WR
Damore'ea Stringfellow
is the highest-rated player in a strong incoming freshman class at receiver, a position where there should be opportunities for young players to see action.
Biggest games in 2013
: After three consecutive 7-6 seasons playing in the rugged Pac-12 North, the Huskies are trying to take a step forward this fall as they open renovated Husky Stadium. So the season opener against Boise State takes on huge significance. A win provides momentum and hope. A loss casts doubt on the season.
Biggest question mark heading into 2013
: The parts are here for the Huskies to move into the top 25. But that chiefly hinges on quarterback Keith Price getting back to his 2011 form after a poor-to-middling 2012 season.
Forecast
: Sarkisian rebuilt a program that went winless in 2008, but now Huskies fans want more. They want to move up in the Pac-12 pecking order and become nationally relevant again.
As noted, Price is the key. He needs to protect the football in terms of interceptions and fumbles. If he does that, and he becomes the calm and efficient leader who ranked seventh in the nation in passing efficiency in 2011, the Huskies should thrive because they have talent on both sides of the ball.
The offense will be led by Sankey, Williams and Seferian-Jenkins. That's as good a troika of weapons as any team in the conference. The offensive line, beaten up last year, should be far more stout, particularly if a couple of players who were injured come back at 100 percent.
As for the defense, it starts with Shaq Thompson leading a speedy crew of linebackers who are a match for any team in the conference not playing in Palo Alto. The defensive line needs to be more stout against the run, and the ends need to get more pressure on the quarterback, but the biggest question is replacing Trufant, an NFL first-round draft pick.
If things go according to plan, the Huskies could be 4-0 and ranked when they hit a rugged midseason stretch: at Stanford, Oregon and at Arizona State. If they can manage to win two of those three -- Huskies fans really, really want to beat the Ducks -- it could become a special season.
But lose the opener and falter against the Pac-12's best at midseason, and folks in Seattle might be grumbling about Sarkisian by season's end.
February, 7, 2013
2/07/13
10:00
AM ET
Continuing with the hits and misses from Pac-12 recruiting.
CALIFORNIA

Needs filled
: The Bears added nice depth to the offensive line with tackles
Aaron Cochran
and
Erik Bunte
. Junior-college transfer
Sione Sina
can also be a nice stopgap at defensive end. They went heavy in the trenches with five offensive linemen and seven defensive linemen.
Holes remaining:
Cal is looking for a quarterback to run the new-look offense under new head coach Sonny Dykes. Could be
Zach Kline
of the 2012 recruiting class. Could be
Jared Goff
of this year's class, an early enrollee. The Bears addressed a lot of positions, but whether some youngsters can step up remains to be seen. The 11th-hour flip of offensive guard
Cameron Hunt
to Oregon has to sting.
OREGON

Needs filled
: The Ducks went heavy on offense, and running back
Thomas Tyner
highlights a group that is loaded with speed (what did you expect, it's Oregon). They added two stellar offensive guards in Hunt and
Evan Voeller
and a premier defensive end in
Torrodney Prevot
, previously a USC commit. There are speedy receivers down the line like
Darren Carrington
. And they added kicker
Matt Wogan
. The Ducks were 11th in the conference in field goals made in 2012.
Holes remaining:
The Ducks still have holes to fill at linebacker. Junior-college transfer
Joe Walker
, an outside linebacker, could step in to help immediately. But with the losses of inside linebackers
Michael Clay
and
Kiko Alonso
, the Ducks have mostly untested talent at the position and this year's class didn't add much depth to a position that is already a question mark.
OREGON STATE

Needs filled
: When you look at the top two players the Beavers lost --
Jordan Poyer
and
Markus Wheaton
-- it's nice to look at their recruiting class and see a cornerback and wide receiver as the two highest-rated players.
Dashon Hunt
and
Hunter Jarmon
might never develop into a Poyer or a Wheaton, but the Beavers saw the holes and addressed them. JC defensive tackles
Kyle Peko
and
Edwin Delva
should help immediately and
Kyle Kempt
could develop into the quarterback of the future in a couple of years. a href="http://espn.go.com/college-sports/football/recruiting/player/_/id/136903/jordan-villamin">Jordan Villamin, 6-foot-4 wide receiver, might also develop into a nice red zone target.
Holes remaining:
The JC transfers help with the defensive line in the immediate future, but the Beavers signed only two high school defensive linemen, leaving some questions about depth in the future. It's likely a position they'll address heavily next season.
STANFORD

Needs filled
: This is a class low on numbers, but extremely high on potential. If quarterback
Ryan Burns
is as advertised, it's possible he could challenge for the starting job as early as 2014.
Francis Owusu
has tremendous upside as a receiver and
Peter Kalambayi
adds depth to one of the best front sevens in the nation. Plus, three tight ends (
Austin Hooper
,
Greg Taboada
and
Eric Cotton Jr.
). How very Stanfordish of them.
Holes remaining:
The Cardinal loaded up on defensive linemen with five last year and there is plenty of depth, albeit untested, at running back. The Cardinal didn't sign any running backs or defensive linemen this year. It's not a bad thing -- for now. But if a couple of guys get injured or if there is any attrition, it could bite them. For now, the Cardinal seem to be in good shape across all positions.
WASHINGTON

Needs filled
: The Huskies added some much-needed depth on the defensive line with five linemen -- headlined by ESPN 150 defensive tackle
Elijah Qualls
.
Damore'ea Stringfellow
and
Darrell Daniels
-- both ESPN 150 wide receivers -- provide a nice one-two offensive punch.
Troy Williams
, the nation's No. 3-rated dual-threat quarterback -- could potentially be the heir apparent to
Keith Price
. It was a good class that fills a lot of needs.
Holes remaining:
For solid as the defensive line class was, the Huskies signed only three offensive linemen -- though one of them is
Dane Crane
, the nation's No. 4-rated center. If you recall, however, the Huskies were decimated with offensive line injuries this year and coach Steve Sarkisian made it a point to talk about the team needing more depth to be able to absorb that kind of injury hit. Three more guys helps; but is it enough to sustain them if another injury bug ravishes the line?
WASHINGTON STATE

Needs filled
: This was quietly a very good encore recruiting class for Mike Leach in his second season at the helm. It's heavy on linemen, heavy in the secondary and it's headlined by a four-star wide receiver in
Vince Mayle
-- a JC transfer from Rocklin, Calif. Interestingly enough, it also has two fairly highly rated running backs. We know Leach isn't going to be a run-first guy -- but the Cougars could certainly use the help after rushing for 29.1 yards per game last season.
Holes remaining:
Who is going to run the offense? It could be
Connor Halliday
. But it's also possible Leach pulls the trigger on
Tyler Bruggman
, the No. 22-rated pocket passer in the country from Phoenix. That remains the No. 1 priority for the Cougars in the offseason. Otherwise, this recruiting class plugged a lot of holes. The question is whether they are the right guys to help immediately.
February, 6, 2013
2/06/13
7:00
AM ET
ESPN RecruitingNation
has signing day covered. Follow ESPNU's coverage, chat with analysts and get breaking news on our
Signing Day Live
page beginning at 7:30 a.m. ET through 7 p.m. ET. For more on what to expect on signing day, check out the
Pac-12 conference breakdown

.
Bold prediction for the Pac-12:
UCLA is in a position to shock the conference and perhaps the country on signing day. Already in possession of a top-12 class, the Bruins have a chance to close with a bang, as UCLA is in a good position with ESPN 150 prospects
Eddie Vanderdoes
,
Isaac Savaiinaea
and
Asiantii Woulard
. If all goes well in Westwood on signing day, Jim Mora could finish the day with a top-five recruiting class.
Arizona
Biggest need:
Linebacker. Arizona's defense is in need of some immediate help in all three levels, but the Wildcats will add some serious depth at linebacker with five commitments at the position.
Biggest recruit:
QB
Jesse Scroggins
. A case could be made for either quarterback commitment --
Anu Solomon
is the other -- but with Scroggins' experience at USC and his status as an early enrollee, he could have an advantage when it comes to battling for the vacated starting quarterback spot.
Arizona State
Biggest need:
Secondary. Arizona State is set to add plenty of help at the offensive skill positions, but the Sun Devils needed to add depth on the defensive side of the ball, and they did so. Safeties
James Johnson
and
Jayme Otomewo
are strong additions, as are cornerbacks
Damarious Randall
and
Will Earley
.
Biggest recruit:
DT
Marcus Hardison
. Getting defensive tackle Will Sutton back for another year was a big win for Arizona State's defense. Getting the No. 5 junior college player in Hardison, a 6-foot-4, 275-pound defensive tackle who can help Sutton inside this year, is another big win.
California
Biggest need:
Offensive line. With head coach Sonny Dykes and offensive coordinator Tony Franklin, Cal is looking to take off offensively, but that can't happen without a dominant front. Six offensive line commitments, including four-star tackles
Aaron Cochran
and
Erik Bunte
, are a good way to continue building up front.
Biggest recruit:
OT Aaron Cochran. This is true figuratively and literally. Cochran, at 6-foot-8 and 364 pounds, is an important recruit for Cal, as the offensive tackle plays a position of need. He is the younger brother of Cal lineman Matt Cochran. Honorable mention here to
Cameron Hunt
, who committed to Cal last summer but opened his recruitment after the coaching change and now appears to be headed to Oregon.
Colorado
Biggest need:
Offensive line. The Buffaloes need help everywhere, but solidifying the offensive line is step one for the new regime. Colorado holds commitments from five offensive linemen as it looks to take a step forward in the Pac-12.
Biggest recruit:
QB
Sefo Liufau
. While building along the lines is important, Colorado needs to add playmakers at every position, and Liufau is definitely that at quarterback. He understands and appreciates the challenge at Colorado and is the kind of player the Buffs need to bring in and build around.
Oregon
Biggest need:
Running back. While the Ducks have been blessed with an embarrassment of riches at tailback, it's important that they continue to stock the cupboard in order to keep finding those gems and running the blur offense. Three tailbacks were a possibility in this class, as there will be an opportunity for playing time.
Biggest recruit:
RB
Thomas Tyner
. This was big on two fronts as Tyner has an opportunity to contribute as a freshman, and the Ducks were able to keep Oregon's top recruit from leaving the state. Tyner's commitment became even more important when
Dontre Wilson
flipped from Oregon to Ohio State on Monday.
Oregon State
Biggest need:
Defensive line. The Beavers looked to get bigger and better up front and did so in a big way. Six defensive linemen are headed to Corvallis, including four junior college defensive tackles capable of playing as soon as they arrive on campus.
Biggest recruit:
CB
Dashon Hunt
. Oregon State needed to add talent in the secondary as well and Hunt -- the Beavers' lone ESPN 300 commitment -- will help there. Hunt's commitment also helped Oregon State continue its presence in Southern California, which it recruited extremely well with this class.
Stanford
Biggest need:
Wide receiver. The Cardinal needed to add receiving threats in this class, and adding wide receivers
Francis Owusu
and
Taijuan Thomas
did that. Of course, at Stanford, no position poses more of an offensive threat than tight end, and the Cardinal have commitments from three high school standouts who will suit up there.
Biggest recruit:
WR
Jordan Cunningham
. As the Cardinal continue to hunt for pass-catchers in this class, snagging Cunningham -- an ESPN 150 wide receiver -- on signing day would nicely cap an undermanned but still impressive recruiting class. It would also carry over Stanford's terrific signing-day success from last year.
UCLA
Biggest need:
Offensive line. While it might not be the most immediate need for the roster, the UCLA coaches saw a need to infuse the offensive line with young talent and they went out and did just that. There are offensive line recruits, including two ESPN 300 prospects and a third four-star lineman.
Biggest recruit:
DT Eddie Vanderdoes. The country's top defensive tackle will announce at 5 p.m. PT and the Bruins are thought to be in good position. Landing Vanderdoes -- a former USC commitment -- would be another positive sign for the Bruins in their quest to tip the rivalry in their favor.
USC
Biggest need:
Secondary. The Trojans have been shaky in the secondary for several years now and are in need of players capable of adding depth and perhaps playing as freshmen. Signing day could offer a disappointment if cornerback
Jalen Ramsey
goes elsewhere, but the early enrollee group of safeties
Su'a Cravens
and
Leon McQuay
and cornerback
Chris Hawkins
, gives the Trojans three players capable of stepping in and offering a solution to the pass defense troubles.
Biggest recruit:
S Su'a Cravens. USC is set to add plenty of impact players in this recruiting class, but landing Cravens as an early enrollee was huge. A local player who plays a position of need and has the talent to make an impact as a freshman, Cravens was as close to a must-get recruit as the Trojans had in this class.
Utah
Biggest need:
Running back. With
John White
finished at Utah, the Utes have just one player returning in 2013 who logged more than 25 carries last season. While there are several tailbacks on the roster, Utah looked to add talent at the tailback position in this class and did so with four commitments from running backs, including junior college back
Devontae Booker
.
Biggest recruit:
DT
Lowell Lotulelei
. There is no guarantee that the defensive tackle will turn into his older brother, Star Lotulelei, a likely top-five pick in the upcoming NFL draft. But getting a commitment from Lowell Lotulelei was arguably the most important piece of Utah's recruiting puzzle. The four-star defensive tackle is Utah's top-ranked commitment and will look to take over where his brother left off.
Washington
Biggest need:
Offensive line. The Huskies hoped to find several big bodies to position as the future of the offensive line in this class and have commitments from three high school linemen, including four-star center
Dane Crane
. While the Huskies lost a commitment from
Sean Harlow
, who flipped to Oregon State, they could make up for it in a big way by grabbing ESPN 300 tackle
Nico Falah
away from USC on signing day.
Biggest recruit:
WR
Damore'ea Stringfellow
. The highest-ranked player in the class, the ESPN 150 wide receiver is a playmaker capable of providing an immediate spark for Washington's offense. He also gives the Huskies a big recruiting win in Southern California, as he was sought after by UCLA and USC.
Washington State
Biggest need:
Offensive line. While much of the attention with Mike Leach's offense goes to the offensive skill players, it can't take off without an effective offensive line. Six offensive linemen, including junior college tackle
Jacob Seydel
, are headed to Pullman in this class.
Biggest recruit:
QB
Tyler Bruggman
. The Cougars won a big recruiting battle for Bruggman, as they were able to pull him away from hometown Arizona State. He was someone Washington State targeted early on as a player who could fit into and succeed in the offense.