April, 29, 2013
4/29/13
5:30
PM ET
With spring ball in the books, Washington head coach Steve Sarkisian took some time to chat with the Pac-12 blog about his impressions over the 15 practices, moving on without
Austin Seferian-Jenkins
and what it's like to actually have a healthy offensive line.
I know every coach has a laundry list of things that they want to get done in spring. But was there one particular thing you felt like you wanted to address?
[+] Enlarge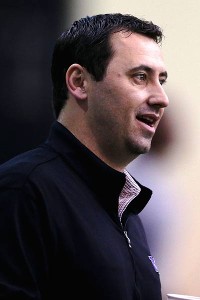 Elaine Thompson/AP PhotoCoach Steve Sarkisian says the Washington Huskies had a successful spring season, despite some distractions along the way.
Steve Sarkisian
: There's always more than one. When you come out of a season and you assess your football team and the things you have to work on and the needs you have -- whether it's from a team standpoint, personnel, development -- there were numerous things I felt like we had to address. I feel like we addressed the majority of those things by design. Some of those we found out couldn't be addressed until some of the players we signed arrived on campus. But I felt good about having a purpose going into spring on a variety of fronts and then addressing those things of purpose and feeling good about them coming out.
Where's your confidence level with [quarterback] Keith [Price]?
SS
: I felt great about Keith coming out of spring, quite honestly. Of the 15 practices we had, he might have had one that wasn't his best and another where he was just OK. But outside of that I thought he was fantastic. Bringing Marques Tuiasosopo back on board as a quarterbacks coach -- he's a guy I coached in the NFL at Oakland and he was with us here for two years when we first came on board -- bringing him back has been good and the style of coaching he has is what I'm looking for and it's consistent with myself. Keith has really responded to that. He came out and had a really good spring. He's upbeat about what we're doing offensively. I think he feels good about what we're doing up front with the offensive line and also with the wideouts and the running back situation. That genuine confidence that he has in himself, as well as his confidence in what's going on around him, is as high as it's been.
You talked about the offensive line. It seems like you guys finally have healthy depth. How nice has it been to have the same five working with the offense and then knowing you've still got Erik [Kohler] and Colin [Tanigawa] waiting in the wings?
SS
: It's been huge. For myself and Dan Cozzetto, our offensive line coach, just the continuity up front of having those five guys communicate with one another, playing with one another, making decisions with one another on the fly has been big. But also for us, having depth -- and not just depth in number -- but depth in experience. You look at
Colin Tanigawa
. You look at
Erik Kohler
.
Shane Brostek
is a backup who has a lot of game experience as well. Really, we have eight offensive linemen who have a lot of game experience against some top-level talent who could step in and play, as well as some younger guys who are really developing. We feel really good about that position group as long as we can stay healthy.
I talked with Bishop [Sankey] a couple of weeks ago and all he wanted to talk about was how he needs to get better at everything -- very little about what he's already accomplished. What's the next step for him?
SS
: Bishop is a great kid. Everyone sees what he did on the field and they see how he progressed and got better and better as the year went on and the maturity he exuded -- not only through the tough times early on -- but also in the good times late in the year for himself. The beauty of it all is you turn around and look at our GPA -- he had the highest on the team with a 3.8.
He didn't mention that when we talked.
SS
: He'd be the first not to tell you that. He's such a humble kid. But it's everything he does. And it's not just on the field. It's in the classroom, it's in the community. We're seeing now more than ever the leadership he possesses, and I'm really proud of what he's been able to accomplish. I think his best days are ahead of him. There's a lot he can improve on and he's working hard at improving and we're working hard to make him better.
How much of a distraction has the situation with Austin [Seferian-Jenkins] been this spring?
SS
: It really wasn't bad. Especially internally. At the end of the day, we touched on this with the team, guys are going to make mistakes. I deal with 18-to-22-year-old males and I've got 105 sons on this roster. To think that all 105 aren't going to make mistakes in a four-to-five year span isn't reality. What I do know, and what our team knows, is that Austin is a really good guy. He's done a great deal for our community. He's a good student. He just got over a 3.0 as well. He's been working hard and was having a good offseason. But
he made a mistake
. Is that mistake truly indicative of Austin's character? No, it's not. We all understand that. We all have to learn from the mistake he made, unfortunately. But we're moving on. We practiced 12 times without Austin. It was actually good for us. It allowed some of the other guys in his position group to develop and improve. And when the time is right for him to re-join us, he'll re-join us and we'll move on.
You guys were really two different teams when you were at home versus on the road last year. I know there is no magic-bullet answer, but what do you need to do to improve the road play?
SS
: We have to continually try to expand our comfort zone. We're obviously a very good team when we're in the friendly confines -- whether it's CenturyLink Field or Husky Stadium -- I think what's key for us is no matter where we go, who we play, what time the game is, what the weather is that we go play Husky football. That's something we've talked about since the locker room of the Las Vegas Bowl, quite honestly, and we continue to talk about it every single day. That won't change.
Speaking of Husky Stadium, what are you expecting from the fans, and what's the game day experience going to be like for them?
SS
: I would rival the game day experience with any other school in the country. I had a chance to go through it [last week] and I'm still blown away every time I go in there. I think the proximity to the fans and how close they'll be to the field is going to enhance the game day experience for the fans and for our players. From a crowd noise standpoint. From an energy standpoint they'll provide, it will be a great environment. To go along with the setting of Lake Washington and Montlake Boulevard, I don't know what's better out there in college football.
The defense was much better last year. What's the next step for them as a unit?
SS
: I think we have to continue to be an opportunistic defense -- one that creates turnovers. We did a great job of that last year. Continue being really sticky in pass defense. You have to be in our conference with so many people throwing the football. And play really good red-zone defense. Those are three areas we drastically improved last season. To continue to build upon that; our ability to defend the up-tempo offense is going to be big for us; and our ability to disrupt quarterbacks -- whether that's sacks or knockdowns, things of that nature -- playing in the offensive backfield more than we had last season are two areas we're very focused on. We focused on that this spring and we'll continue to focus on it in the fall. Defending the up-tempo offense and then wreaking havoc in the offensive backfield.
Whose name are we going to be hearing in 2013 that we didn't hear about in 2012?
SS
: I think a name to keep an eye on is a kid who redshirted for us last year and I think can be a playmaker for us in the defensive backfield and in the return game is
Cleveland Wallace
. He's a guy that possess a really high football IQ. He has a knack for being around the football. He really improved this spring. I think he's a guy to keep an eye on.
January, 23, 2012
1/23/12
9:00
AM ET
By
ESPN.com staff
| ESPN.com
Washington's rebuilt football staff is in the money, but perhaps not as in the money as some speculated in would be during a flurry of postseason hires.
Tosh Lupoi, the recruiting ace who bolted California to be the Huskies defensive line coach, won't get $500,000 as speculated. Lupoi's memorandum of understanding -- the figures
released by the school
have not yet become signed contracts -- calls for guaranteed $350,000 per year from 2012 through February 6, 2015. It includes one-time payment of $100,000 and an additional $100,000 if he remains on the Huskies' staff through the agreement's end date.
Including a $51,000 supplement on top of a base salary of $164,000 Lupoi made $215,000 in 2011 at Cal.
New defensive coordinator Justin Wilcox will be paid $750,000 in 2012, with $350,000 in base pay and $400,000 in supplemental pay. He will get $800,000 guaranteed in 2013 and $850,000 in 2014.
Wilcox is essentially taking a pay cut to move back to the Northwest from Tennessee. While he was scheduled to make $700,000 in 2012 with the Volunteers, Seattle has a substantially higher cost of living than Knoxville -- making $750,000 in Seattle is the equivalent of making $552,000 in Knoxville.
In total, the Huskies staff, which includes five new members, will be paid $2.73 million in 2012, which is more than any Pac-12 staff was paid in 2011 (though USC's and Stanford's figures are not public records because both are private schools).
New offensive coordinator Eric Kiesau will be paid $375,000 this year, $400,000 in 2013 and $425,000 in 2014. His first-year pay is $10,000 more than what the man he replaced -- Doug Nussmeier -- earned last year. Nussmeier left for Alabama. Huskies head coach Steve Sarkisian will still call offensive plays.
Linebackers coach Peter Sirmon, who came with Wilcox from Tennessee, is getting a two-year contract that will pay him $225,000 in 2012 and $250,000 next year. New secondary coach Keith Heyward, who came from Oregon State, will get $150,000 this year and $160,000 in 2013
Also, according to the release, "All the new assistants can earn incentive pay for reaching the Pac-12 championship game, for winning it, for appearing in a bowl game and for appearing in a Bowl Championship Series game or the BCS title game."
Former defensive line coach, Johnny Nansen, got a raise with his new title as assistant head coach, special teams coordinator and recruiting coordinator. His salary of $165,000 in 2011 will increase to $200,000 in 2012 and $225,000 in 2013.
Jimmie Dougherty, the 2011 wide receivers coach, is now also the pass game coordinator. His salary of $135,000 in 2011 will increase to $190,000 this year and $205,000 next year.
Running backs coach Joel Thomas has added the title of associate head coach for offense. His pay goes from $160,008 to $190,000 in 2012 and $205,000 in '13.
Offensive line coach and running game coordinator Dan Cozzetto's salary remains $300,000 per year.
The Huskies staff was paid up from $2,305,028 in 2011. It is scheduled to be $2,895,000 in 2013.
You can read more here
.
February, 20, 2009
2/20/09
6:21
PM ET
By
ESPN.com staff
| ESPN.com
Posted by ESPN.com's Ted Miller
While most college coaches typically refuse to acknowledge anything surprises them, Washington's Steve Sarkisian said Friday that he didn't expect freshly hired offensive coordinator Jim Michalczik to bolt before he'd even overseen a practice.
"I was caught off guard by it," Sarkisian said of Michalczik leaving for a post with the Oakland Raiders.
"I knew Jimmy was a really good football coach. I thought in time that we'd have to deal with it. I wasn't quite ready to deal with it this first year."
That necessitated Sarkisian's recent moves: hiring Dan Cozzetto away from Arizona State to be offensive line coach/running game coordinator and promoting Doug Nussmeier from quarterbacks coach to offensive coordinator.
"Every coach on our offensive staff at one time or another has been a coordinator," Sarkisian said. "So there are a lot of guys who can think outside the box and not just their position group. They get the game. They have a feel for the game and an understanding that it's more than just their position group
Sarkisian also made it clear that he knew and approved of Cozzetto's reputation as a hard-driving, old-school coach.
"He brings a hard-nosed mentality to our guys up front," Sarkisian said.
Sarkisian confirmed that graduate assistant Klayton Adams, a former assistant coach at Western Washington, which has dropped football, will oversee the tight ends.
He also waved away rumors that some players were struggling with a new, more intense off-season conditioning program.
"Our kids are working their tails off," he said. ""They've bought into Coach [Ivan] Lewis' strength and conditioning program."
February, 20, 2009
2/20/09
2:30
PM ET
By
ESPN.com staff
| ESPN.com
Posted by ESPN.com's Ted Miller
It's going to be 76 in Scottsdale today. Just thought you'd like to know.
February, 12, 2009
2/12/09
11:04
AM ET
By
ESPN.com staff
| ESPN.com
Posted by ESPN.com's Ted Miller
Washington may have a new offensive line coach, though nothing is official yet.
Dan Cozzetto, presently Arizona State's tight ends coach, has been reported as the replacement for Jim Michalczik, who held the post for only a few weeks before bolting for the Oakland Raiders. It's unclear if Cozzetto also will be the Huskies offensive coordinator, like Michalczik was (though head coach Steve Sarkisian will have play-calling responsibilities).
Cozzetto has coached with Dennis Erickson at Oregon State, the San Francisco 49ers, Idaho and Arizona State.
But he previously coached offensive line at Washington in 2003.
Let's just guess that pleasant memories from that season aren't why he's coming back (he's surely leaving the desert for the Northwest because of a fat raise and a multi-year contract).
Washington fans probably remember 2003 as the year when Rick Neuheisel was fired for participating in an NCAA tournament pool with some buddies, leaving Keith Gilbertson the horrible job of captaining the resulting burning ship.
That was Point A in the conflagration of badness that still engulfs the program, which Sarkisian has been charged with dousing.
I remember chatting with Cozzetto a few times during (he was totally baffled by the hullabaloo) and after the Neuheisel debacle (he clearly knew the situation wasn't good). Funny guy.
Of course, Cozzetto is old school. He's tough and demanding on players. That, of course, may be what the Huskies need now, though it didn't always connect with them back in 2003.