April, 22, 2013
4/22/13
9:00
AM ET
We'll be hitting the two other spring games and weekend practice reports throughout the day.
Last week Ted talked about how important it would be for Utah quarterback
Travis Wilson
, the presumptive starter,
to put some separation
between himself and the pack. He may have done that Saturday with more than 8,500 fans watching.
Wilson was a crisp 13 of 17 for 210 yards with three touchdowns and zero interceptions. He played for one half and directed five scoring drives during that stretch.
"I was comfortable out there," Wilson
told the Salt Lake Tribune
. "I feel like I made the right plays and guys made plays for me."
Adam Schulz
was 9 of 20 for 245 yards with a pair of touchdowns, and the game's lone interception. He was also sacked four times. Logan Bateman (working with both teams at times), was a combined 3 of 5 for 77 yards.
"I thought he put some separation between himself and Adam today," head coach Kyle Whittingham said in the same report from the Tribune's
Tony Jones
. "The competition to be the starter is by no means over. But it's obvious that Travis has improved significantly from the end of the season to now."
A lot of Wilson's success can also be attributed to Utah's improved offensive line play -- which allowed the two teams to combine for 797 yards of offense in a 35-28 game.
"The offensive line has been night and day compared to last year," Whittingham said. "The main reason is Dan Finn has done a great job coaching them, they've worked their tails off in the offseason, and we've been able to have some continuity in the spring without any injuries. We had 17 guys in spring camp without any days missed, and I can't ever remember that being the case."
Kenneth Scott
caught five of Wilson's tosses for 97 yards and a touchdown. The influence of new co-offensive coordinator Dennis Erickson is evident, Whittingham said.
"He's adjusted the tempo of the offense, he's simplified what we're doing, and he's added some elements that have been good additions -- mainly utilizing the running backs in the throw game a bit more and simplifying the run game. There's not a whole lot of variation from one team to another team that runs the spread, but just those subtle changes can make a big difference."
Karl Williams
led all players in rushing, gaining 108 yards and scoring three times on 19 carries.
Kelvin York
had 79 yards on 13 carries. Wilson's "White" team topped the "Red" squad because of some good defensive pressure as well.
Tame Fangupo
, Greg Reese,
Moses Folauhola
and Moana Ofahengaue all posted sacks in the victory.
Reginald Porter
also had the lone pick of the day. Uaea Masina of the Red team led all players with seven tackles.
March, 16, 2012
3/16/12
9:00
AM ET
It's no secret that success is often tied to coaching continuity. For example, see Ducks, Oregon.
According to Pete Roussel of CoachingSearch.com, Oregon is the only team in the country that
has not had any coaching turnover since 2009
.
Writes Roussel:
Tomorrow, former Georgetown assistant Luke Thompson officially joins Rich Ellerson's staff at Army, which means Chip Kelly's staff at Oregon will be the only staff in the country that has remained completely intact since start of the 2009 season. All nine full-time assistant coaches that began the 2009 season with Kelly remain on the staff in coaching positions.

Think about that. There are over 120 major college football programs and only one will have the same nine coaches for four consecutive seasons.
It's an interesting breakdown. A few other Pac-12 teams are mentioned in the article. Stanford is listed as having the same offensive coordinator since 2010. Roussel refers to David Shaw as "technically" the offensive coordinator, though I think Pep Hamilton and his 97 percent red zone efficiency last year might take exception to that.
San Diego State is also listed as one of the 17 teams with no coaching turnover, though offensive line coach
Dan Finn left the Aztecs last month
to return to Utah -- where he was a former graduate assistant.
Still, it's an impressive note about Oregon and a credit to Kelly and his staff, which has gone 34-6 and 25-2 in the conference during that span.
February, 23, 2012
2/23/12
10:00
AM ET
Pac-12 spring preview: South Division
Spring practice is almost here. Here's a snapshot at what to expect from the Pac-12 South in the coming weeks.

ARIZONA
Spring practice starts
: March 4
Spring game
: April 14
What to watch
:
Hello, my name is ... Like the other two teams in the South Division with new head coaches (Arizona State and UCLA) much of Arizona's first few weeks will be Rich Rodriguez evaluating his personnel and getting to know what he has to work with. Likewise, the players are going to have to figure out what this new coaching staff is about. Everything from how they do pre-practice stretches to how they call the cadence is going to change.
New scheme and a new scheme: A spread option on offense and a 3-3-5 on defense. That's a lot of new material to digest on both sides of the ball. Until Rodriguez can recruit the players he likes into his scheme, he's going to have to make it work with the players he has. Fortunately on the defensive side of the ball, Arizona has good depth in the secondary with Cortez Johnson, Marquis Flowers, Shaquille Richardson, Jourdon Grandon and Tra'Mayne Bondurant. The Wildcats should also get a boost with the return of injured players Jake Fischer (LB), Jonathan McKnight (CB) and Adam Hall (S).
Perfect fit? Former starter Matt Scott, who was beaten out by Nick Folesin 2009, is expected to reprise his starting role under Rodriguez. He redshirted the 2011 season and -- magically -- Foles never got hurt last year despite taking 23 sacks and countless hits. Scott is considered the more versatile quarterback and should fit nicely into the new run-based spread attack.

ARIZONA STATE
Spring practice starts
: March 13
Spring game
: April 21
What to watch
:
QB competition: We know what kind of offense new coach Todd Graham is going to run; now it's a matter of figuring out who is going to run it. Graham has his choice of three players -- Mike Bercovici, Taylor Kelly or Michael Eubank -- to replace NFL-bound Brock Osweiler. Graham said earlier this month that there are no favorites heading into the competition and each one brings his own skill set to the table. Eubank has the size (6-foot-5, 235 pounds), Bercovici (6-1, 205) is a mechanic and Kelly (6-1, 202) is a little bit of everything.
Get the locker room: By the end of the 2011 season, ASU's locker room wasn't just divided, it was completely splintered. Graham's task -- and that of his new coaching staff -- is to pick up the pieces, mend internal fences and find some chemistry on both sides of the ball. Linebacker Brandon Magee, long considered a great locker room leader, should help get the Sun Devils back on track as he returns from a season-ending Achilles injury.
Hands competition: The Sun Devils lose three of their top four wide receivers from last season -- Gerell Robinson, Aaron Pflugrad and Mike Willie. Jamal Miles returns after finishing second on the team last season with 60 catches and six touchdowns. Rashad Ross figures to be the No. 2 guy, but establishing depth in that corps -- especially if Graham wants to be up-tempo -- is key.

COLORADO
Spring practice starts
: March 10
Spring game
: April 14
What to watch:
Momentum, maybe? For as rough as 2011 was for the Buffs, they ended the year on a high note, winning two-of-three down the stretch -- including a 17-14 win over Utah in the season finale. But there is also the possibility that things might get worse before they get better. With just four returning starters on offense, spring in Boulder will likely be more about teaching and less about refining.
Where to start (offense)? Well, quarterback might be a good place. In the court of public opinion, Connor Wood, a transfer from Texas, seems to be the favorite. Nick Hirschman appeared in five games last season, mostly in mop-up time when the game was already out of hand. It's also possible a starter could be named by the end of spring ball. Finding offensive weapons to surround the new quarterback will also be a challenge. Wide receiver Paul Richardson caught 39 balls last season, and running back Tony Jones showed a flare for catching the ball out of the backfield. He'll likely step in as the new workhorse back for the departed Rodney Stewart.
Where to start (defense)? Last in this. Last in that. Last in almost every team statistic the Pac-12 has to offer. But there are some intriguing youngsters on the roster. Cornerback Greg Henderson was all-conference honorable mention as a freshman with a team-high nine passes broken up. Jered Bell also returns from injury after blowing out a knee last preseason. If healthy, he's expected to be a big contributor in the secondary. Linebacker Jon Majorreturns as the team's leading tackler, and if Doug Rippy is fully recovered from his knee injury, he'll look to build on what was a pretty good season last year before getting hurt.

UCLA
Spring practice starts
: April 3
Spring game
: May 5
What to watch
:
QB up for grabs: Like the majority of the conference, UCLA enters spring with a quarterback competition. New offensive coordinator Noel Mazzone said he doesn't care how much experience (or lack thereof) a player has -- if he can play, he wins the job. So don't be surprised if Brett Hundley passes Kevin Prince and Richard Brehautas the new man leading the Bruins. Fans have been clamoring for a change. Hundley might be it.
Attitude adjustment: One of the first things new head coach Jim Mora did was slam the team for its tradition of going "over the wall," a time-honored senior ditch day, saying if they want to jump the wall, they should just keep on going. How's that for sending a message? UCLA has earned a reputation for being soft and underachieving despite good talent. Attitude and toughness is needed -- and so far, Mora appears to be hammering that point home.
Speaking of toughness ... The defense has to get tougher. No two ways about it. It was weak against the run last season, allowing more than 190 yards per game on the ground; couldn't get to the quarterback; and couldn't get off the field almost 50 percent of the time on third down. It's time for potential all-conference players such as defensive end Datone Jones to start living up to the hype and the defense as a whole to stop getting pushed up and down the field. At 6-5, 275 pounds, Jones has the physical makeup to be a major force in the conference and catapult himself into the elite class of collegiate defensive players.

USC
Spring practice starts
: March 6
Spring game
: April 14
What to watch
:
Ignore the hype: Few teams ended last season hotter than USC and returning quarterback Matt Barkley. The Heisman talk has already started, the way-too-early rankings already have the Trojans as national championship contenders, and the public perception is that the offense is unstoppable. Nice to hear, but hype is a double-edged sword. Head coach Lane Kiffin has a knack for deflecting hype. This season will be his toughest test to date.
Insurance? The Trojans are loaded on both sides of the ball with returning players. But after the starting 22, things start to get dicey. Developing depth and keeping the starters healthy is a top priority -- particularly on the offensive and defensive lines and at running back, where experience is thin outside of the starters. The entire back seven returns on defense -- headlined by hard-hitting safety T.J. McDonald. Stopping the pass has been a major priority for Kiffin, and if this group stays healthy it should see the pass-efficiency numbers improve even more.
Other options: Along those same lines, wide receivers Robert Woods and Marqise Lee make up the most feared receiving duo in the conference -- maybe the country. But who are the Nos. 3 and 4 receivers behind them? George Farmer? Victor Blackwell? De'Von Flournoy? Don't overlook the tight end duo of Xavier Grimble and Randall Telfer, which should rival Stanford's Zach Ertz and Levine Toilolo as the best tight end tandem in the conference.

UTAH
Spring practice starts
: March 20
Spring game
: April 21
What to watch
:
Youthful approach: Head coach Kyle Whittingham turned some heads by naming former Utah quarterback Brian Johnson as his offensive coordinator. Johnson, who recently turned 25, said he's not looking to make wholesale changes to the offense, though he wants to put his stamp on it and continue to build around running back John White IV, who had a breakout season in his first year of major college football. Having quarterback Jordan Wynn back healthy should also help as the team transitions to Johnson running the offense.
Fixing the line: Who is going to protect Wynn (if he does indeed win back the starting job) and make holes for White? That's a major concern heading into spring as the Utes have to replace a pair of all-conference linemen in Tony Bergstrom and John Cullen. The Utes should be set at the interior but have to adjust to a new position coach, with Tim Davis leaving for Florida after just one season and Dan Finn -- a former Utah graduate assistant who was brought on to help Davis -- taking over the whole line following a one-year stint at San Diego State.
Work the experience: The defensive line should be one of the best in the conference, especially with the return of Star Lotulelei, who won the Morris Trophy last season as the conference's best defensive lineman. With the Kruger brothers returning to the line -- Joe at defensive end and Dave at tackle -- Derrick Shelby is the lone starter who has to be replaced. There's also some pretty good depth in the secondary that was tops in the conference last season in pass-efficiency defense.
February, 8, 2012
2/08/12
1:00
PM ET
Utah coach Kyle Whittingham put a lot of faith in his former quarterback-turned-quarterbacks coach Brian Johnson by
naming the 24-year-old Utah's next offensive coordinator
last week. One conversation with Johnson and it's clear he's energized and excited about the opportunity that many assistants wait decades for.
You're now the youngest coordinator in major college football. Is there some pressure that goes with that?
Brian Johnson
: I think with any job there is pressure with how competitive everything is. But I think we're just more excited to put together an offense that can help win a conference championship.
[+] Enlarge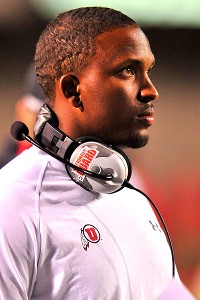 Boyd Ivey/Icon SMIFormer Utah quarterback Brian Johnson now takes over as the Utes' offensive coordinator.
Being so close in age to many of the players, is it tough sometimes to make the distinction between buddy and coach?
BJ
: Absolutely not. There are about four or five guys on the team I played with who are still here. I think, for the most part, this is my third year and I haven't had to deal with it my first two years. That distinction is there. We have a great group of kids so that hasn't been an issue.
On the flip side, you're going to be overseeing coaches 10, 15, 20 years your senior who have been at it a lot longer than you. Is that going to be awkward?
BJ
: Not at all. In this building, we have consummate professionals. Guys understand the task at hand and we understand what it takes to be successful offensively. We will work together and get this thing going in the right direction.
Any wholesale changes to the offensive philosophy or approach?
BJ
: Not wholesale. I think the baseline of what we've done here the last seven years, that's remained intact. We'll continue to tweak stuff here and there. Dan Finn is on board to coach the offensive line along with Tim Davis. Those guys have coached a lot of ball. I'm excited to be getting their ideas on paper and getting their input on the scheme.
What are the immediate holes, fixes that need to be addressed on the offensive side of the ball?
BJ
: I think the biggest concern is losing two all-conference tackles in
Tony Bergstrom
and
John Cullen
. Those guys have played a lot of football and were really good leaders for us. But that's the nature of the business in college football. There is a lot of turnover and you have to be able to replace those guys. Finding two tackles who can come in and provide immediate help for us will be important.
If Jordan Wynn is healthy, is he your quarterback? Or is there an open competition?
BJ
: I think the experience that Jordan provides will help us tremendously in our offensive production. Everything we do here, it's always competition. That will never change as long as Coach Whittingham is the coach here.
So ... is Jordan your quarterback?
BJ
: I think he goes in taking the reps with the ones and he's started a lot of football games and won a lot of football games. So yeah, he is.
How is his health?
BJ
: He's back to throwing. He'll be full-go for spring ball. He's had some bad luck with injuries, but hopefully we won't ever have to go through that again.
A nice breakout season for John White IV. What are you expecting from him next season?
BJ
: We expect him to continue what he started this season. He's obviously very explosive and dynamic with the ball in his hands. I think we have to build the offense around him. He's extremely talented. We have to find ways to get him the ball in space and get the ball in his hands as much as possible.
So you're approach is run first?
BJ
: I think in football you have to be. You have to establish the run in order to be balanced. From there, you build it all. We have to establish that physical presence at the line of scrimmage and you have to be creative and find ways to get our playmakers the ball and let them give us the best chance to win.
At this pace, you'll probably be up for an NFL head-coaching job in the next two years. Any aspirations of being a coach in the pro game?
BJ
: I think that's why you get in this profession. I've learned from some great coaches. I've been fortunate to be in this program for eight years and I've seen some great coaches come through here. Coach Whittingham has been almost a father-like figure to me for the last eight years and I strive to be like him as a coach. That's my ultimate goal. If I can do that, that would be OK with me.
Finish this sentence. If I can accomplish -- blank -- I will be happy with Utah's offense.
BJ
: A conference championship. That's why we play this game, to win the Pac-12 South and get a chance to play in the championship game and play for the Rose Bowl. That's the starting point. That's why we're all in this profession. That's why we're all in this business is to be the best at it. That's what we're working towards.