December, 5, 2012
12/05/12
8:35
PM ET
California has hired Louisiana Tech coach Sonny Dykes, an offensive specialist, to replace Jeff Tedford as the
Bears head football coach
.
Why is the 43-year-old with a 22-15 record coaching in Ruston, La., a good hire in Berkeley?
For one, offense.
Louisiana Tech's offense ranked No. 1 in the nation in scoring this season with 51.5 points per game. And it wasn't just about passing. Most intriguing is the solid balance, as the Bulldogs rushed for 227.2 yards per game, which ranked 18th in the nation. They also ranked 18th in the nation in passing efficiency while yielding just eight sacks.
[+] Enlarge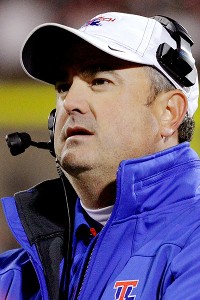 AP Photo/Seth PerlmanSonny Dykes went 22-15 in three seasons as coach of Louisiana Tech.
Dykes, who replaced recently fired Tennessee coach Derek Dooley at Louisiana Tech, is the former offensive coordinator at Texas Tech -- co-coordinator with now-West Virginia head coach Dana Holgorsen -- and Arizona, where he was largely responsible for the development of former Wildcats QB Nick Foles, now with the Philadelphia Eages. He learned offense from Hal Mumme and Mike Leach and is the son of former Texas Tech coach Spike Dykes, so he's grown up around the business.
In 2006, the year before he arrived at Arizona, the Wildcats ranked 115th in the nation in total offense and 105th in scoring offense. In 2008, the Wildcats ranked 16th in scoring and 33rd in total offense.
Dykes was the 2011 WAC coach of the year and led the Bulldogs to a 9-3 finish this season, which included road wins over Illinois and Virginia. The Bulldogs also almost knocked off Texas A&M before losing 59-57.
Dykes is known as a good recruiter with a good eye for talent. He also is socially smooth, so he should be able to negotiate those demands at Berkeley, which isn't the typical environment for a coach who expects football to be first at all moments.
Any questions? Well, defense. The Bulldogs were horrible at it this year. They were much better a year ago. The first big question will be who Dykes hires as his defensive coordinator.
Still, Cal appears to have grabbed a rising star, a molder of quarterbacks, one who knows the West Coast but also has knowledge of other areas, including Texas and the Southeast.
He steps into a good situation. Cal has a newly remodeled stadium and upgraded facilities that are the match of any Pac-12 team. It has a good Bay Area recruiting base, and a brand name that allows for a national reach.
Dykes needs to know, however, that Bears fans, despite being pretty darn bright, have become demanding. Fans started to grumble about Tedford not when he posted his first losing season in 2010 but in 2008 and 2009 when he won 17 games. Seven or eight wins a season won't create much enthusiasm. (And Dykes won't have the services of standout receiver
Keenan Allen
, who
announced Wednesday that he will enter the NFL draft
).
Of course, if Dykes leads the Bears to their first Rose Bowl since 1959, they will immediately build a statue of him outside of Memorial Stadium.
April, 30, 2012
4/30/12
7:00
PM ET
It was a meeting of minds that had never really met. Still, Jim Mora knew that he wanted Noel Mazzone running his offense.
Mora, who has spent virtually his entire career in the NFL, was looking for someone with deep college roots. But he also wanted someone who could give him a mental sparring match.
"In watching his offense, I watched it like a defensive coach would watch it, because I'm a defensive-minded coach," said Mora. "I'm watching his plays and wondering 'How am I going to defend that?' And I thought, I don't know. When it posed those problems to me initially, I thought that's the guy."
[+] Enlarge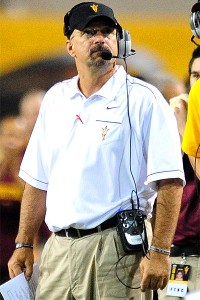 Matt Kartozian/US PresswireJim Mora selected Noel Mazzone (above) to run his offense at UCLA.
And Mazzone jumped at the chance -- even though he only knew Mora by reputation.
"It was sort of the four degrees of Jim Mora separation," Mazzone said. "That's how coaching is anyway. There is always a little bit of a tie because you know a guy who knows a guy who worked with that guy. I didn't even really know him. A good friend of his was someone I worked with at the Jets."
Mora, who had been in broadcasting since being fired as head coach of the Seattle Seahawks, had spent a lot of time watching college football. And he kept a close eye on what was happening at Arizona State, where Mazzone had served as offensive coordinator to Dennis Erickson.
"I love his personality," Mora said. "I love his energy. I love his experience. I know he's great with quarterbacks. Now I'm watching his offense and I don't know how I'm going to stop it. With all of the experience I have -- going against [Bill] Belichick and [Mike] Martz and Bill Walsh. Man, I thought, this guy is special."
And that's how Mora and Mazzone came together. And both feel it's going to be a mutually beneficial relationship.
"Well, I haven't missed on a third-and-short to keep the defense off the field yet," Mazzone said. "So we'll see what happens the first time that happens."
Mazzone's up-tempo spread offense comes from years of picking and grabbing what other offensive minds have done for more than three decades. His first influences were Jack Elway, Joe Gibbs and Don Coryell. Then he became friends with Mike Leach and Dana Holgorsen and spent time with Mark Richt. Through the years, he's molded his own philosophy and approach to the game from watching others.
"There's not a lot of earth-shattering, unique, new ideas out there because a lot of this stuff was being done in the '30s," Mazzone said. "But an old coach once told me, it's not the plays, it's the presentation. That's how I think of offense. It's not the plays, but how do you present it. How do you present your team to the defense. I've just taken from my past experiences and built something."
And the results have been undeniable. He completely revamped a struggling Arizona State offense into one of the better attacks in the country in just a couple of years. Now Mora is hoping he'll do the same with the Bruins, a team that's been in the bottom half of the national offensive rankings the past few years.
"I watched a lot of college football these last two years," Mora said. "I knew Noel briefly and we'd competed against each other when he was at the Jets. We had common friends. And I always enjoyed his personality and approach. I think it's going to work out great."
April, 17, 2012
4/17/12
9:00
AM ET
By
ESPN.com staff
| ESPN.com
Which college football programs develop the best, pro-ready quarterbacks?
That's Brock Huard's
question here
.

To answer it, he enlisted the help of former Oregon coach Mike Bellotti, ESPN Recruiting's Tom Luginbill and a former NFL passer
Jesse Palmer
.
This isn't about productive college offenses, it's about producing NFL quarterbacks. Writes Huard, "This search for 'QB U' is more about projection than it is about collegiate production. Mike Gundy, Gus Malzahn, Dana Holgorsen and Chip Kelly may be at the front of the line when it comes to innovation and quarterback execution at the collegiate level, but the top five schools that follow incubate a passer in a very demanding way on and off the field, at the line of scrimmage and have a recent track record of success that differentiates them from the pack."
Three Pac-12 teams make Huard's top-five.
USC is No. 1, of course. Here's what Huard had to say about the Trojans:
Surrounded by top-flight skill and talent, the country's No. 2 media market, ideal weather conditions to train year-round, an $85 million football facility, a staff littered with NFL know-how and experience, and an offensive-system that centers on the QB position, USC sits atop our list.

Carson Palmer, Matt Leinart, Matt Cassel and Mark Sanchez have made healthy paychecks in the NFL, and Matt Barkley would have been added to that list had he decided to turn pro this offseason.

Lane Kiffin may have burned bridges in Oakland and Knoxville, but his résumé of college quarterbacks developed over the last 10 seasons is second to none, and don't minimize what he did in his one year with Jonathan Crompton (Washington Redskins) at Tennessee.

Kiffin would be the John Calipari of college football if he had to live within the one-and-done parameters. His recruiting message, like Calipari's, is very clear: If you want to compete for national titles while never losing sight of the ultimate goal of the NFL, then USC is the place for you.
Alabama was No. 2 and Stanford was No. 3. Here are his comments on the Cardinal:
The resources for a young passer are manifold on the Farm: NFL pedigree and experience on staff (Shaw's nine years and offensive coordinator Pep Hamilton's seven), cutting-edge training and conditioning facilities, ideal weather and climate, and a strong supporting cast that includes one of the best crop of young offensive linemen in the country.

Andrew Luck, of course, was a game-changer as well. He set the bar so incredibly high for managing formations, shifts, audibles, line-of-scrimmage mechanics and everything else he tackled at the position that Jim Harbaugh told me two years ago in a production meeting that Luck challenged him schematically "to do more, because of what he was able to absorb and handle."

The Cardinal have changed expectations for their program with back-to-back BCS bowl game appearances, and Shaw & Co. are doing less recruiting and more selecting of the top-tier, well-rounded student-athletes (including three four-star QB recruits in the last five classes, with another blue-chip already signed for 2013).
Missouri is No. 4 and Washington is No. 5. Here are his comments on the Huskies:
Steve Sarkisian can coach quarterbacks -- just ask Sanchez, Jake Locker and now Keith Price. Alongside Carroll and Kiffin at USC, Sarkisian molded Heisman Trophy winners and consecutive first-round picks. At Washington, Locker became the eighth pick in the NFL draft a year ago, and Price shattered every significant team passing record in 2011, including throwing 33 touchdowns in his first year as a starter.

The success helped the Huskies land two Elite 11 QBs (Jeff Lindquist and Cyler Miles) in their latest recruiting class, a feat that led Pete Carroll to call Sarkisian on signing day to ask how he landed such a haul.

The Huskies have a ways to go up front to compete for more than Rose Bowls any time soon; however, when it comes to enticing the best young QB prospects in the land, UW's tape and development speak for themselves.
September, 8, 2011
9/08/11
11:00
AM ET
Here are two images from last year's Alamo Bowl, in which Oklahoma State trounced Arizona 36-10.
Image No. 1: Cowboys All-American receiver
Justin Blackmon
deciding not just to score a 71-yard touchdown against blown coverage but taking a really, really long route to the end zone in order to get some good showboating time.
What it communicates: A bush-league play, not a great moment for a great player.
Image No. 2: Wildcats 220-pound safety Adam Hall blowing up Blackmon away from the ball a few plays later.
What it communicates: A cheap shot, but one taken for an obvious reason.
[+] Enlarge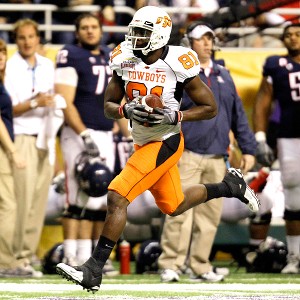 AP Photo/Eric GayJustin Blackmon caught nine passes for 117 yards and two touchdowns last season against Arizona.
What does it all mean for Arizona's visit to No. 9 Oklahoma State on Thursday night? Maybe nothing. The Cowboys are a top-10 team, while the Wildcats are rebuilding and injury riddled, the latest being
the doubtful status
of All-Pac-10 receiver
Juron Criner
.
But it does hint that both teams might have some extra salt for this one. Don't be surprised if things get a bit chippy out there.
Yes, the Wildcats remember the Alamo.
"He disrespected us," safety Robert Golden said of Blackmon. "[Hall] got payback a little bit. But it's really going to be payback when we step on the field Thursday and compete."
While the final score suggests Cowboys dominance, it was more about Wildcats horribleness. The last of five consecutive defeats to end the season, Arizona lost the turnover battle 4-0 and made major gaffes on offense, defense and special teams. The Wildcats had six possessions in Cowboys territory in the first half but scored only one touchdown. They outgained Oklahoma State 370-312 and had 25 first downs to 17 but couldn't score. Quarterback
Nick Foles
, who tossed three interceptions, including one returned 62 yards for a touchdown, turned in perhaps the worst performance of his career.
"We made some horrific mistakes against a top-10 team that you can't make and win, no matter how motivated and ready you are," Arizona coach Mike Stoops said.
Stoops mentioned top-10 teams, which leads into an unhappy factoid for the Wildcats, courtesy of the
Tucson Citizen
: In his tenure at Arizona, Stoops is 0-7 on the road against top-10 teams, and none of those defeats came by fewer than 18 points. The Wildcats have been outscored 291-119 in those games. Not good.
Further, the odds don't look great this time. While Oklahoma State lost former offensive coordinator Dana Holgorsen to West Virginia, and free safety Johnny Thomas was declared ineligible this week, the Cowboys welcome back a lot of talent and are among the favorites in a top-heavy Big 12. Meanwhile, the Wildcats are missing a lot of key pieces, and not just due to graduation. Hall, for one, is out with a knee injury, as are two other defensive starters, LB Jake Fischer and CB Jonathan McKnight.
And Criner's apparent absence is a big blow for the passing game. Last week, he caught six passes for 151 yards.
The Wildcats have five new starters on their offensive line, but the defense will be particularly tested on the road against a skilled, veteran offense led by Blackmon and QB
Brandon Weeden
. Being down two starters in the secondary isn't a good thing against an offense with nine starters back. Last week, Northern Arizona was fairly successful throwing the ball against the Wildcats, most particularly picking on McKnight's replacement, Shaquille Richardson.
"Shaquille didn't have one of his better days, but I know what he can do," Stoops said.
While the conventional wisdom is stacked against the Wildcats -- a team with a lot of questions on the road against a ranked team -- they should be plenty motivated. An upset victory would get the season off to a good start, particularly important during a brutal early schedule that includes three top-10 teams, and it would help remove the bad aftertaste of last year's terrible finish.
And, of course, there's just a little bit of bad feelings from the Alamo Bowl, which the Wildcats certainly remember.
Said Golden, "We usually say we're going on business trips. But we're taking this trip as a street fight."
December, 5, 2010
12/05/10
11:34
PM ET
Oklahoma State Cowboys (10-2) vs. Arizona Wildcats (7-5)
Dec. 29, 9:15 p.m. ET (ESPN)

Oklahoma State take by Big 12 blogger David Ubben
: Although the Cowboys' defense made big improvements late in the season, there's no question: Oklahoma State got here with offense. Under new coordinator Dana Holgorsen, the Cowboys have a Biletnikoff Award finalist in receiver
Justin Blackmon
and a pair of All-Big 12 first-teamers in quarterback
Brandon Weeden
and running back
Kendall Hunter
. All three have been tough to stop every time they've taken the field this season.
Oklahoma State's season came down to one game against rival Oklahoma, but a loss to the Sooners kept the Cowboys out of the Big 12 Championship. The bright side: The Cowboys beat out Nebraska and Missouri in the bowl pecking order.
The Cowboys' already historic season -- Mike Gundy's team won 10 regular season games for the first time -- has a great chance to finish on a high note against Arizona. And hey, if the Cowboys can't beat one Stoops, they've got a chance at another in San Antonio. Bob Stoops has bested the Cowboys every year since 2002, but his brother, Mike Stoops, coaches the Wildcats.
---

Arizona take by Pac-10 blogger Ted Miller
: Arizona played two seasons in 2010. In the first one, they rolled to a 7-1 record, high national ranking and looked like a Pac-10 contender. In the second one, they lost their final four games.
Most of that was a quirk of the schedule. The final four games were at Stanford, USC, at Oregon and Arizona State. Still, the Wildcats wanted to take another step in the building of a program. They fell short of that goal because they weren't consistent on either side of the ball.
The Wildcats jumped out of the gate quickly and recorded what seemed at the time a marquee victory over Iowa on Sept. 18. That win included a clutch offensive drive led by quarterback
Nick Foles
and a dominating effort by the defense. But the Wildcats seemed to be lacking that same fire three weeks later in a home loss to Oregon State.
The Wildcats then reeled off three consecutive wins, including two with
Matt Scott
at quarterback after Foles injured his knee. But that surge proved illusory when the schedule toughened up.
The running game -- the inability to consistently run the ball and stop the run -- has been a problem for Arizona this year, particularly late in the season. It's what prevented the Wildcats from taking the next step.
November, 29, 2010
11/29/10
6:24
PM ET
By
ESPN.com staff
| ESPN.com
Stanford offensive coordinator Greg Roman has been chosen one of five finalists for the 2010 Broyles Award, which is given annually to a top assistant coach.
The list of finalists:
Dick Bumpas, TCU, defensive Coordinator/defensive line coach
Paul Chryst, Wisconsin, offensive Coordinator/quarterbacks
Dana Holgorsen, Oklahoma State, offensive coordinator
Gus Malzahn, Auburn, offensive coordinator, quarterbacks
Greg Roman, Stanford, offensive coordinator
The 2010 Broyles Award winner will be announced Dec. 6 at 11:30 a.m. at the Peabody Hotel in Little Rock, Ark. The Broyles Award is presented by The Rotary Club of Little Rock. The winner of the 2009 Broyles Award was Kirby Smart, University of Alabama.