Pac-12:

Daniel Blackledge
August, 27, 2010
8/27/10
3:00
PM ET
By
ESPN.com staff
| ESPN.com
Washington State has won just one Pac-10 game over the past two seasons -- three overall -- and the Cougars are a consensus pick by media pundits to finish last in the conference in 2010.
That has many believing third-year coach Paul Wulff is on the hot seat, even though it's been widely acknowledged that he was handed a monumental rebuilding job in 2008 when he returned to his alma mater from Eastern Washington.
The expectations outside the program aren't just low: Many tweak the Cougars as among the worst BCS programs in the nation.
[+] Enlarge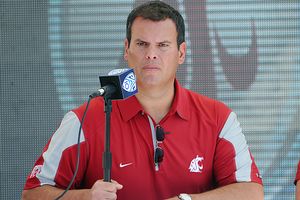 Chris Williams/Icon SMICoach Paul Wulff identified running back as a prime area of competition on his football team.
It shouldn't be surprising that, in Pullman, the view is quite different. Wulff sees a strong offseason, improved recruiting and a more experienced depth chart. He sees potential.
What does he keep saying? "We're going to surprise some people."
The Cougars face a tough opener at Oklahoma State on Sept. 4, so it seemed like a good time to check in and see how the rebuilding is going on the Palouse.
The pundits have you guys pegged at 10th in the conference: How do you deal with that negative outlook when you address your team?
Paul Wulff
: A lot of that is based on what happened in past years. It's a new year. We're a new team and we've changed a lot. The players know we've worked hard and we know we are getting better. The people predicting don't know what's happening in the offseason. But it is what it is. We probably deserve to be picked there. I don't know if that's a surprise. It doesn't mean that's where we're going to end up. We sure don't think so. We'll keep working hard. And we believe we will be able to put ourselves in position to surprise a lot of people and win a lot of ballgames and take that step to a bowl game.
I know we've talked about this before and I know you are tired of the topic but there's a general perception that you are on the proverbial coaching hot seat: What's your feeling on that perception?
PW
: My feeling again is that's a natural thing for people on the outside that don't understand the situation to think when you have a major rebuilding job. It's never pretty. You go back to Mack Brown, who was 1-10 his first two years at North Carolina. There are a lot of examples: Randy Edsall and Connecticut. We [Eastern Washington] actually beat them as a I-AA school in 2001. We went back there and beat them. We've had to build something here, and like John Wooden says 'good things take time.' We're trying to build something special for the long haul. We're not trying to bring in a bunch of transfers and JC kids to try to win a few games one year. I'm not here to do that. I'm here to build a program that can compete for the Pac-10 title and be in the Rose Bowl and win one and put ourselves in position for a national title. Those programs in those situations didn't get there in one night. It's a five- to six-year building process. You've got to climb a ladder. I care about this university because it is my school. I came here to do that. If I have to take the bullets, as [former WSU basketball coach] Dick Bennett told me I would, I'm just going to have to do that. He was a guy who knew the situation. So I'm doing it and I'll continue to do it. But it's going to turn and when we turn we're going to be an awfully good football team.
On the football side of things: What is better about QB Jeff Tuel in Year 2 after he was forced into action as a true freshman?
PW
: His comfort level with the offense and comfort level with some of the players who he's had the offseason to work with. There's a little better continuity there. He's making better decisions, he stronger. Things are happening at a quicker pace for him in his own brain. Obviously that helps our offense. We think highly of Jeff, but he's still got to prove lot of things in ballgames on a consistent basis. But there's no question in practice we see flashes of some really great things.
Where are some prime areas of competition on your team that have yet to be resolved?
PW
: Running back is definitely one. We feel like a lot of guys are battling in there. We're hoping two or three really emerge come game day. Because we've got a lot of guys, no one has gotten a tremendous amount of reps. We're hoping that kind of sorts itself out in the first few games. At wide receiver, we're still battling through there, getting a lot of guys time, trying to see who's going to make the plays when the games are live. But we like the young nucleus we have. We think we have a couple special ones that are going to great players here the next four years.
The comeback of James Montgomery is pretty cool: How is he doing?
PW
: He's doing great. I think it's got be one of the best stories in the country to do what he's done. He didn't just battle compartment syndrome. He battled a knee surgery that was a pretty extensive one. To do both and to come back and to perform where he is right now is impressive. He's not 100 percent, not in shape and as crisp, as sharp, as he's going to be. We're hoping by the time he gets to Game 3 or Game 4, he'll have caught back up with all that. But where he is today, he's a very good player. He's going to play and be our starter in the opening game and were hoping he progresses from there.
Who are your playmakers in the passing game?
PW
: I think
Jared Karstetter
will be back -- there's no question we can rely on him. We're taking a hard look at Marquess Wilson, a true freshman. He's as dynamic a true freshman receiver as I've been around. Even coach [Mike] Levenseller, who's been here for 19 years, thinks Marquess is a special talent. I think Isaiah Barton and
Gino Simone
, our slot receivers, will make a difference, along with
Jeffrey Solomon
and
Daniel Blackledge
. Those guys will be good players for us. I'm excited to see how they will perform for us.
What have you seen out of your offensive line this spring? How close are they to breaking through as a quality unit?
PW
: They're close. Coach [Steve Morton] has done a great job melding those guys together. We're getting better, no question. I'm excited. I think we have some raw talent. It's a relatively young unit -- we really have two seniors who will be contributors on a consistent basis. We have 15 others who are younger. If we can stay healthy there, we're going to surprise a lot of people with our production on the offensive front.
Let's look at defense: How are things stacking up at linebacker?
PW
: The thing that's hurting us is two players who aren't playing this fall, who we have high hopes for, and that's Louis Bland, who we're going to redshirt, and Andre Barrington, a redshirt freshman for us, who is academically ineligible this fall. But I do like Alex Hoffman and Myron Beck, those guys have done well. Mike Ledgerwood, Hallston Higgins,
Arthur Burns
and CJ Mizell -- he's come along. We feel like we've got some makings there. It's a young unit from an experience standpoint, but I like our speed there. If we can stay healthy, it will be a big improvement from where we've been.
And the defensive line: Has tackle Brandon Rankin continued to impress?
PW
: He has. He's a good player. He has a chance to show a lot of people what he's all about this fall. He's already doing things in practice that make it pretty obvious. We need him to have a big year. I think he's going to do extremely well. Bernard Wolfgramm is back and it's the first time he's healthy for us. Those two at defensive tackle are probably as athletic at pass rushing as we've had here in years. They will be quality pass-rushing D-tackles that you don't get a lot. They are not just pluggers, they're fairly active guys. I'm very encouraged about those two guys.
You guys are pretty salty on the defensive line. There's four pretty good players.
PW
: I think our front four is right up there right now with most people in the Pac-10. We got two fifth-year seniors and a fourth-year junior in Brandon Rankin and a second-year kid, an excellent player, in end Travis Long. It's our most experienced group on our football team. It's probably the best unit we have right now. It goes back to having fifth- and fourth-year players in your program. When you have that consistently throughout, you have a chance to be pretty salty. Right now, if those guys can stay healthy, they give us the most experienced group on our football team.
Finally, the secondary: It sounds like there's some depth back there.
PW
: It's been good -- good, healthy competition. It's a young, young group, but there's some really good football players. We've kind of been hit a little bit over the last couple of days with the injury bug. LeAndre Daniels is going to battle a neck issue that we're still working through. We don't know that he'll be healthy at safety. Nolan Washington has been a little nicked up with his hip at cornerback. If those guys can come back, I'm not sure, but I like our talent there. It's a young and green group but we have some kids who can run for the first time in a while. We need to stay relatively healthy because we're youthful back there. I like the group. Our team speed on defense is far and away faster than we've been. I think people are going to notice that pretty quickly.
What is your expectation for this team: What would be a successful season?
PW
: I don't want to put any limitations on them. These guys have trained so hard since the end of last season. They've done everything right to get better. We finally got the culture changed to what we expect. So when you work that hard, I refuse to put a limitation on what they are capable of doing. Right now we truly are trying to take it just one game at a time. But we're going to break this thing up into four segments. We've got 12 games, with three games in each quarter. We're going to take it one quarter at a time. We're going to block it like that, and move our way up the chain. I think this team is capable of surprising a lot of football teams, a lot of people out there. I really believe people are going to see a much improved team from what you saw last year. How many wins that's going to equate to, I'm really not sure. It just depends on a few breaks here and there and staying healthy at the right spots.
July, 21, 2010
7/21/10
9:00
AM ET
By
ESPN.com staff
| ESPN.com
The 2007 recruiting class members are either seniors or redshirt juniors this fall, so they should be the backbones of most Pac-10 team's starting lineups.
Therefore, it seems like a reasonable moment to look back and review some recruiting hits and misses. (And, yes, we did this last summer with the 2006 class, which you can
review here
-- Ducks fans should get a kick out of it).
As for the 2007 rankings, USC ranked
No. 1 in the nation
, according to ESPN.com's Scouts Inc. Oregon, at No. 23, was the only other Pac-10 team in the Scouts Inc., top-25.
Scout.com
ranked USC No. 2 in the nation, Oregon ninth, and California 12th. The rest of the Pac-10 went, in order, Washington (29th in nation), UCLA (36th), Arizona State (38), Oregon State (40), Stanford (43), Arizona (49) and Washington State (54).
Here's an overview.
Arizona
Class
: 17
ESPNU top 150 players
: 2 (DE
Apaiata Tuihalamaka
, TE
Rob Gronkowski
)
How many are expected to start in 2010
: Four (RB
Nic Grigsby
, CB Trevin Wade, WR
William Wright
, K Alex Zendejas)
Misses
: Tuihalamaka, QB
Bryson Beirne
,
Verdict
: Obviously, the biggest catch of this class, Gronkowski, is gone. Otherwise, a lot of these guys qualify for the "where are they now?" file.
Arizona State
Class
: 24
ESPNU top 150 players
: 0.
How many are expected to start in 2010
: Five (C Garth Gerhart, WR
Kerry Taylor
, CB Omar Bolden, DE James Brooks, OG Matt Hustad)
Misses
: OL
Po'u Palelei
, LB
Oliver Aaron
Verdict
: This is a decent class, particularly when you factor in the contribution of the since-departed JC signees, such as LB
Morris Wooten
and DE
Luis Vasquez
. And there are several non-starters who will contribute this year.
California
Class
: 27
ESPNU top 150 players
: 0
How many are expected to start in 2010
: 10 (OT Matt Summers-Gavin, P Bryan Anger, LB D.J. Holt, WR
Alex Lagemann
, OT Mitchell Schwartz, S Sean Cattouse, S
Chris Conte
, OG Justin Cheadle, DE Cameron Jordan, RB
Shane Vereen
).
Misses
: QB
Brock Mansion
, CB
D.J. Campbell
Verdict
: Obviously, ESPN.com's Scouts Inc., missed with its evaluation of this solid recruiting class, particularly when you consider RB Jahvid Best, WR
Nyan Boateng
and LB Devin Bishop were significant contributors before their tenures were done. Jordan and Vereen obviously were well underrated. And there were 21 running backs better than Best?
Oregon
Class
: 29
ESPNU top 150 players
: 1 (DE
Kenny Rowe
)
How many are expected to start in 2010
: 10 (Rowe, WR
D.J. Davis
, LB Casey Matthews, CB Talmadge Jackson, OG Carson York, TE
David Paulson
, OG Mark Asper, WR
Jeff Maehl
, S Eddie Pleasant, DE
Terrell Turner
).
Misses
: DT
Myles Wade
, S
Malachi Lewis
Verdict
: When you toss in DE Will Tukuafu, WR
Aaron Pflugrad
(a starter who transferred to Arizona State) and WR Terence Scott, this is a good, if not great, class. Three or four of these guys should be All-Conference players.
Oregon State
Class
: 35
ESPNU top 150 players
: 0
How many are expected to start in 2010
: Eight (HB
Joe Halahuni
, S Cameron Collins, WR
Darrell Catchings
, CB Brandon Hardin, FB
Will Darkins
, DE Taylor Henry, LB Keith Pankey, WR
James Rodgers
)
Misses
: CB
David Ross
, RB
Reggie Dunn
Verdict
: We don't have the time to go back and retrace the maneuvers that are part of managing a 35-man recruiting class (each class can only include a maximum of 25 members, but there are lots of ways to fudge numbers). Obviously, there are the Beavers typical crew of so-called diamonds in the rough -- hello, James Rodgers -- but here's a guess that coach Mike Riley winces over some of these names. Certainly not a lot of production from the six JC guys.
Stanford
Class
: 19
ESPNU top 150 players
: 0.
How many are expected to start in 2010
: Six (P David Green, CB Corey Gatewood, LB/FB
Owen Marecic
, TE Coby Fleenor, DE Thomas Keiser, DE Matt Masifilo)
Misses
: QB
L. D. Crow
, S
Sean Wiser
Verdict
: An interesting class considering that six of the eight lowest rated players are on the Cardinal's preseason two-deep depth chart, including three starters. In terms of skill positions -- see the two QBs -- this class doesn't measure up.
UCLA
Class
: 11
ESPNU top 150 players
: 2 (QB
Chris Forcier
, RB
Raymond Carter
)
How many are expected to start in 2010
: Five (LB Akeem Ayers, LB Glenn Love, LB Steve Sloan, DT
Nate Chandler
, OT Mike Harris)
Misses
: Forcier, Carter
Verdict
: This is a very small but highly productive class collected by former coach Karl Dorrell -- note that it includes DT Brian Price, who bolted early for the NFL. The only busts were the two highest rated players, Forcier and Carter, and JC LB Mike Schmitt. The other eight members are either on the two-deep or, in Price's case, already in the NFL.
USC
Class
: 20
ESPNU top 150 players
: 10 (RB
Joe McKnight
, LB
Chris Galippo
, RB
Marc Tyler
, S
Marshall Jones
, DE
Everson Griffen
, QB
Aaron Corp
, WR
Ronald Johnson
, OT
Martin Coleman
, DT
DaJohn Harris
, C
Kris O'Dowd
)
How many are expected to start in 2010
: Four (LB Chris Galippo, WR Ronald Johnson, C Kristofer O'Dowd, LB Malcolm Smith)
Misses
: S
Marshall Jones
, OT
Martin Coleman
Verdict
: Obviously, this class, ranked No. 1 in the nation, was overrated, even when you factor in that McKnight, Griffen and Damian Williams already are in the NFL, and NT Christian Tupou would be a second-year starter if he didn't blow out his knee this spring. Lots of guys who never contributed or left the program.
Washington
Class
: 27
ESPNU top 150 players
: 0
How many are expected to start in 2010
: Eight (WR
Devin Aguilar
, LB Alvin Logan, LB Cort Dennison, SS Nate Williams, LB Mason Foster, CB Quinton Richardson, DE Kalani Aldrich, K Erik Folk)
Misses
: DE
Emeka Iweka
, DT
Nick Wood
Verdict
: You read the names of the seven highest-rated players in this class and you have one reaction: Terrible. But then you see six defensive starters among the lower rated guys. Still, the Huskies defense is a huge question mark. How it performs this year will tell you how this class should be rated.
Washington State
Class
: 26
ESPNU top 150 players
: 0
How many are expected to start in 2010
: Five (CB Aire Justin, WR
Daniel Blackledge
, C Andrew Roxas, OG B.J. Guerra, SS Chima Nwachukwu)
Misses
: WR
Deon Ford
Verdict
: Not much should be expected from Bill Doba's final recruiting class, and this one doesn't deliver much sizzle. A couple of solid hits, though, including a couple of departed JC transfers.
May, 7, 2010
5/07/10
6:00
AM ET
By
ESPN.com staff
| ESPN.com

Washington State
2009 overall record
: 1-11
2009 conference record
: 0-9 (10th)
Returning starters
Offense: 8, Defense: 6, punter/kicker: 2
Top returners
: QB
Jeff Tuel
, WR
Jared Karstetter
, DE Travis Long, LB Alex Hoffman-Ellis, P Reid Forrest
Key losses
: C Kenny Alfred, RB
Dwight Tardy
, FS Xavier Hicks, LB Andy Mattingly
2009 statistical leaders (*returning starter)
Rushing
: Tardy (417)
Passing
: Tuel* (789)
Receiving
: Karstetter* (540)
Tackles
: Alex Hoffman-Ellis* (84)
Sacks
: Travis Long*, Toby Turpin, Casey Hamlett*, Anthony Laurenzi* (2)
Interceptions
: Xavier Hicks (3)
Spring Answers
1.
Solid at QB
: Both sophomore Tuel and junior
Marshall Lobbestael
played well this spring. Both are more skilled, more mature and better versed in the offense than when they were prematurely forced into action the previous two seasons. Tuel is the heavy frontrunner to start, but it's always nice to have two quarterbacks with starting experience.
2.
Offensive line improvement
: A big area of concern the past two seasons, the Cougars added a pair of JC recruits midyear and the additions greatly enhanced the competition and depth up front. Also, the addition of offensive line coach Steve Morton and his 35 years of experience, which includes five Morris Trophy winners, already has made a big impact. The line lost one starter from last season (center Kenny Alfred) but the return of four starters, along with the JC additions and return of Andrew Roxas, who missed 2009 due to illness, could make this one of the most improved units in the conference.
3.
There's some depth
: Everyone around the program insists this is by far the best spring for coach Paul Wulff since he took over a beleaguered program two years ago. Part of that success is legitimate competition for starting spots and playing time. Players who redshirted the past two seasons, in particular, made an impact during the 15 practices
Fall questions
1.
Confidence?
The Cougars have won just three games over the past two seasons -- just one Pac-10 game. Many of their defeats have been blowouts. While the talent looks better heading into 2010, the Cougars have to believe they can compete -- and win -- in the Pac-10. That belief will drive players to work out hard during the summer. That belief will keep games close into the fourth quarter. That belief might even help them steal a few games. But that belief has to be real, which means it will have to block out all the talk about another dreary 10th-place finish.
2.
Will the D-line step up?
Sophomore end Travis Long should take the next step. JC transfer Brandon Rankin lived up to his considerable hype at tackle. Senior end Kevin Kooyman is back from injury and had a good spring. That's the good news. The bad news is three of the top four or five tackles are either gone -- or close to going -- before their time. Toby Turpin was kicked out of school over an undisclosed academic incident, while tackles Bernard Wolfgramm and Josh Luapo are struggling to remain academically eligible (coaches are more hopeful about Wolfgramm getting back on track). That means youngsters such as Justin Clayton, Dan Spitz, Jordan Pu'u Robinson and Anthony Laurenzi will need to be ready -- and be better than they were in 2009.
3.
Receiver depth?
The Cougars went through spring with just four scholarship receivers (
Jeffrey Solomon
, Jared Karstetter,
Gino Simone
and
Daniel Blackledge
). The incoming recruiting class features five receivers. JC recruit Isiah Barton is probably the most ready, but at least a couple of freshmen will need to earn spots in the rotation.
March, 22, 2010
3/22/10
7:28
PM ET
By
ESPN.com staff
| ESPN.com
Will have lots more from my visit to Washington State, which starts spring practices Thursday, but here are some notes from a conversation with coach Paul Wulff.
The Cougars are much healthier this spring than last: 24 players missed offseason workouts last year. This year, just four will sit out spring practices: running back James Montgomery (knee, calf), defensive tackle Josh Luapo (knee), linebacker Louis Bland (knee) and cornerback Anthony Houston (knee).
As for Montgomery, he had knee surgery in addition to his scary episode with "acute compartment syndrome" with his calf. Wulff said he won't be cleared to start full-speed running until June. As for the depth at running back Wulff listed Marcus Richmond, Chantz Staden, Logwone Mitz, Carl Winston and Leon Brooks, a walk-on who's made a positive impression.
Wulff said there's no hope for receiver Johnny Forzani returning to the program: "He's going to try to play in the CFL." The Cougars have four receivers back who caught at least 20 passes: Jared Karstetter, Gino Simone, Jeffrey Solomon and Daniel Blackledge. Wulff said he expects JC transfer Isiah Barton and perhaps a couple of the four incoming freshmen receivers to contribute, most particularly Marquess Wilson. "Most everybody in the Pac-10 was trying to go on him," Wulff said. "He's a big-time, big-time player."
Offensive lineman Brian Danaher, a 12-game starter over the past three seasons, won't be back because of recurrent concussions.
Starting defensive tackle Toby Turpin's status is questionable due to an academic dispute, which Wulff said should be resolved -- positively or negatively -- within the next week or two. Turpin will be allowed to practice until his case is resolved.
Wulff, perhaps surprisingly, said he believes the offensive line will be the strength off the offense. Andrew Roxas, who missed all of last season due to illness, will step in to fill the void at center due to the departure of stalwart Kenny Alfred. B.J. Guerra, Zack Williams and Steven Ayers will compete at guard. At tackle, two JC transfers will be in the mix this spring -- David Gonzales and Wade Jacobson -- along with Micah Hannam, Tyson Pencer and Alex Reitnouer. Wulff also said the he thinks incoming true freshman John Fullington might be ready to immediately contribute. "I think he was one of the best [high school] offensive linemen in the country," he said.
Tight end Zach Tatman was granted a sixth year of eligibility, which means the Cougs will have three experienced tight ends with Skylar Stormo and Andrei Lintz.
Redshirt freshman Sekope Kaufusi will see time as a hybrid outside linebacker-defensive end. Wulff said he's been impressed by redshirt freshman end Jordan Pu'u Robinson during the off-season.
Touted JC transfer Brandon Rankin -- he was offered a scholarship by Alabama -- will play both end and tackle.
Defensive tackle Bernard Wolfgramm continues to struggle with back problems, but Wulff said he was "moving around and participating in drills better since his back surgery. So that's promising." Still, it's likely his action will be limited this spring.
Depth at defensive tackle is a question, but sophomore Dan Spitz, who started five games at tackle and end last year, redshirt freshman Justin Clayton and sophomore Anthony Laurenzi are promising prospects.
Wulff said the defense will be much faster at linebacker. When he's healthy in the fall, Bland will move to middle linebacker. Mike Ledgerwood also is a top candidate in the middle, along with redshirt freshman Darren Markle. Alex Hoffman-Ellis will move from middle to weakside linebacker. Arthur Burns will move from running back to "Will" linebacker. Myron Beck and Andre Barrington will man the strongside. Incoming recruit C.J. Mizell also could be in the mix.
The secondary, hit hard by injuries a year ago, should be much improved with LeAndre Daniels, Tyree Toomer, Chima Nwachukwu, Jay Matthews and redshirt freshman Anthony Carpenter, Casey Locker -- Jake's cousin -- and Jamal Atofau competing at safety and Daniel Simmons, Aire Justin, Terrance Hayward and promising redshirt freshman Nolan Washington at corner.
September, 16, 2009
9/16/09
5:53
PM ET
By
ESPN.com staff
| ESPN.com

Posted by ESPN.com's Ted Miller
Another blow for Washington State.
Receiver
Jeshua Anderson
has quit football in order to concentrate on track full-time.
Anderson, who caught four passes for 66 yards in the first two games, is the two-time NCAA 400-meter hurdles champion. The 6-foot-2, 192-pound junior struggled with a hamstring injury early in the season. He was listed as the Cougars No. 2 X receiver behind
Daniel Blackledge
on this week's depth chart.
In 2008, he had 33 receptions for 305 yards and two touchdowns, starting the final 11 games.
July, 22, 2008
7/22/08
7:51
PM ET
By
ESPN.com staff
| ESPN.com
Posted by ESPN.com's Ted Miller
In January of 2008, the Seattle Times published a series, "Victory and Ruins," about Washington's 2000 Rose Bowl team, portraying it as a lawless group of renegades. The Times summarized the series:

The 2000 Huskies, winners of the Rose Bowl, stand as the UW's last great team. But an unprecedented look behind the scenes reveals an unsettling level of criminal conduct that was often excused or overlooked. Mistakes made then still haunt a program trying to rebuild.

The story had a national impact and inspired a wide-range of reactions, including my own.

This week, writer and ardent Huskies fan Derek Johnson published on his blog responses from a long list of players on the 2000 team. You probably wouldn't be surprised that most are angry (and a few include adult language).

If you followed the Times' series, it makes for an interesting read.