February, 11, 2011
2/11/11
9:00
AM ET
Colorado is new to the Pac-12 but old to the Big 12, so it makes sense to check in with Big 12 blogger David Ubben to get his take on the state of the Buffaloes as they welcome new coach Jon Embree.
Just who are these Buffaloes? What are their strengths and weaknesses and how will they fit into the Pac-12, specifically the Pac-12 South?
We went looking for insights and Ubben obliged.
Ted Miller
: Well, David you -- and the Big 12 -- have to say goodbye to Colorado, with the Buffaloes looking to their future out West in the Pac-12. First of all, give Pac-12 fans a CliffsNotes description of the state of the program. Things haven't gone so well in Boulder lately. Why?
David Ubben
: Colorado is certainly in rebuilding mode as they kick off a new start under coach Jon Embree after firing Dan Hawkins in the middle of the 2010 season. They bring back two stars in quarterback
Tyler Hansen
and running back
Rodney Stewart
. But fitting those guys into Embree's new system and greatly improving from their 5-7 record seems like asking a lot.
Hawkins came to Boulder promising big things but never delivered. As for why it didn't go well? Any number of reasons. One that angered fans is Hawkins' tendency to play less talented players who knew the system well over more talented players that maybe didn't have as solid of a grasp of what they wanted to do on the field. Embree has said he'll do essentially the opposite, so I guess that's a start in the eyes of fans.
TM
: OK, let's look forward then. Tell Pac-12 folks about Embree, his new staff and the talent the Buffaloes have returning. What are strengths and what are question marks heading into the 2011 season?
DU
: He's stocked his coaching staff with quite a few Buffaloes, but most of the names would be more recognizable as players. The biggest name is his offensive coordinator, former Buffs great
Eric Bieniemy
, who spent the past few years coaching
Adrian Peterson
as the running backs coach at the
Minnesota Vikings
. They also swiped Bobby Kennedy, a Boulder native, from Texas to coach receivers.
Last year, they ran the ball pretty well, and Stewart is back. He's a small, shifty back that seems way, way underrated. He rushed for more than 1,300 yards last year, and the only Big 12 backs who had more were
Daniel Thomas
and
Kendall Hunter
, who should be drafted this year. They lose tackle Nate Solder, another first-round pick, but Ryan Miller is back, and he's an all-conference level guard.
The big question for them next season will be if their defense can stop the pass -- which my sources tell me, is pretty important in the Pac-12. Maybe not as important as in the Big 12, but still necessary for big success. Both corners from last year, Jalil Brown and Jimmy Smith, should be drafted. They weren't great at stopping the pass last year (9th in the Big 12) so it's hard to see them being better at it next year.
TM
: OK. Good stuff. Let's wind it up. How would you have projected them in the Big 12 next fall? And do you have any feeling for how they might do in the new Pac-12 South?
DU
: They definitely looked like a team in the bottom third of the Big 12 next year, and it seems like it'll be tough for them to finish in the top half of the Pac-12 South in 2011.
Right now, it's just about being competitive and maybe stealing a game or two that people didn't think they'd win. If that happens enough, a bowl game isn't out of the question. We don't have any idea what to expect out of an Embree-coached team, and that could be a good or a bad thing. We won't know for sure until next year, but if Embree can bottle up whatever Colorado had inside of them the way they played down the stretch last season after Hawkins was fired, it could be a real surprise 2011 for the Buffs.
November, 11, 2010
11/11/10
4:55
PM ET
Oregon's
LaMichael James
and Oregon State's
Jacquizz Rodgers
are among the 10 semifinalists for the Doak Walker Award, given annually to the nation's best running back.
The semifinalists are (in alphabetical order):
John Clay
(Jr.) Wisconsin
Kendall Hunter
(Sr.) Oklahoma State
Mark Ingram
(Jr.) Alabama
LaMichael James (So.) Oregon

DeMarco Murray
(Sr.) Oklahoma
Bilal Powell
(Sr.) Louisville
Jacquizz Rodgers (Jr.) Oregon State

Vai Taua
(Sr.) Nevada
Daniel Thomas
(Sr.) Kansas State
Ed Wesley
(So.) TCU
The 175 members of the Doak Walker Award National Selection Committee will cast their votes to determine the 2010 finalists. On Nov. 22, three finalists will be named live on ESPNU, and a second vote by the Doak Walker Award National Selection Committee will determine the recipient. The 2010 Doak Walker Award recipient will be announced live on The Home Depot College Football Awards on Dec. 9 on ESPN.
The Award is named after three-time SMU All-America running back and 1948 Heisman Trophy winner Doak Walker.
September, 9, 2010
9/09/10
10:15
AM ET
Ten issues to consider heading into the second week of games.
1.
UCLA's run defense needs to bounce back
: UCLA surrendered 313 yards rushing at Kansas State, including 234 yards on 28 carries to
Daniel Thomas
. Thomas is a quality back, but that's pretty freaking porous. While Stanford visits the Rose Bowl on Saturday without Toby Gerhart, the Cardinal offensive line is more talented than the Kansas State crew. If the Bruins front seven doesn't buck up, Stanford will use a its new backfield-by-committee to run over them. While
Andrew Luck
is the star, Jim Harbaugh would be perfectly content to run it 40 times. And, of course, if the Bruins can't stop the run, their obsession with it will provide plenty of big downfield opportunities for Luck.
2.
Jake Locker and the Washington offense need to play better at home
: Washington scored just 17 points and got shut out in the second half at BYU. Twice in the second half, drives deep in Cougars territory ended after failed fourth-down conversion attempts. Locker's numbers weren't bad, but no player shoulders more responsibility for his team's success as he does. The fifth-year senior who spent much of the summer being touted as a Heisman Trophy candidate when pundits weren't talking about his NFL prospects. Syracuse won't be a push-over on defense -- 10 starters are back from 2009. But Washington plays better in Husky Stadium, and the guess here is Locker and his supporting cast on offense will be far sharper.
[+] Enlarge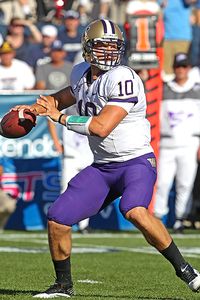 AP Photo/George FreyExpect Jake Locker and the Washington offense to be more sharp against Syracuse than it was against BYU.
3.
Does Oregon QB Darron Thomas start fast or get rattled
? Thomas' first career road start will be in Tennessee's Neyland Stadium, which means there will be 105,000 or so orange-clad fans riding his case. There's no way to know how a young man will react to that. He might come out smooth and poised and lead a dominant offensive effort by distributing the ball to all of his weapons. Or he might make an early mistake or two and get rattled and down on himself. Just as Autzen Stadium gives the Ducks a big advantage, so does Neyland do the same for the Volunteers.
4.
Did USC's defense just have a bad day at Hawaii
? It's possible that USC just had a bad night at Hawaii, that the poor tackling and flat effort weren't indicative of the capabilities of a seemingly talented crew. It's possible that Monte Kiffin and Ed Orgeron will correct mental and physical mistakes, make a few personnel decisions, and USC will show Virginia that it's back to its stingy ways. But there's also enough available evidence now -- see terrible performances vs. Oregon and Stanford in 2009 -- to support the notion that the Trojans' defense has lost its swagger and isn't actually as talented as its recruiting rankings suggest. Virginia shouldn't be able to keep up with USC on Saturday. But if the same defense from Hawaii shows up, the Cavaliers will do just that.
5.
Cal's Kevin Riley completes 60 percent of his passes
: Riley owns a career 54 percent completion rate. Accuracy has long been his bugaboo. Of course, he also hasn't benefited from great receivers during his tenure. Last weekend, he completed 70 percent -- 14 of 20 -- of his throws, though it's worth noting that UC Davis is an FCS team. What was most notable, however, were the impressive performances by his receivers, particularly true freshman
Keenan Allen
. There was a reasonable theory in the preseason that Riley would breakthrough as a senior, because that's when the light goes on for many QBs. It will be a lot easier with a dangerous group of playmakers at receiver, guys who can go and get the ball -- even when it's not perfectly thrown -- and boost a completion percentage. Colorado is strong at cornerback, so it will offer a good test as to whether Riley and his receivers are truly in sync and ready for Pac-10 play.
6.
Washington State buries Montana State from the get-go
: It's fairly simple. Washington State needs to go out and whip Montana State. It needs to start quickly, establish dominance and allow its fans to feel good about the program. The Bobcats are a quality FCS team, but the Cougars should have restocked their talent enough in year three with coach Paul Wulff to take them to the woodshed. Jumping to a big lead will boost the confidence in the locker room. Struggling and playing a tight game into the fourth quarter won't. Losing? Let's not even go there.
7.
Arizona's rebuilt defense posts another dominant performance
: The Wildcats defense was surprisingly stout at Toledo, a team that piled up big numbers on offense in 2009. Things should be even easier on Saturday against The Citadel in front of the home crowd. Still, another game of experience is another game of experience, no matter the quality of the opponent, and smoothing out any wrinkles will be valuable leading into the Sept. 18 visit from Iowa. Arizona needs to jump on The Citadel hard and then get its starters to the bench early in the third quarter.
8.
Arizona State QB Steven Threet is cool, efficient vs. Northern Arizona
: Threet played well in the opener vs. Portland State, and the Sun Devils offense as a whole looks substantially more skilled than the anemic unit from 2009. Threet and his mates need to duplicate that performance in another "preseason" game vs. an FCS program. The idea is to be as confident as possible before heading to Wisconsin on Sept. 18. It also would be nice to get all the starters on the bench as soon as possible so they will be rested and healthy.
9.
Andrew Luck vs. Rahim Moore
: If UCLA's run defense proves stout, that means Stanford will have to throw. And that means a showdown between these two All-American talents. Luck has uncanny downfield accuracy. That's one of the big reasons NFL scouts love him. Moore led the nation with 10 interceptions a year ago, so his ball skills qualify as uncanny, too. Will Luck be able to beat Moore and the Bruins over the top? Or will Moore bait Luck into an ill-advised throw that could be a game-changer?
10.
Will Tennessee be able to run against Oregon
? If the Vols can't run vs. Oregon, the Ducks are going to deliver a butt-kicking. No way Matt Sims, a junior JC transfer, will be able to pass them to victory. But Tennessee rolled up 332 yards rushing in its opener -- albeit vs. Tennessee-Martin -- and its got a strong stable of running backs, topped by
Tauren Poole
, and a big, talented, if inexperienced, offensive line. The Ducks defense is as fast as they come, but it also is undersized. If the Vols power-running game is consistently effective, then Oregon will be in for a highly competitive test.
September, 6, 2010
9/06/10
5:44
PM ET
Just imagine if we could answer definitively: Which came first, the chicken or the egg?
Well, we've got great news. We will get to answer college football's version on Saturday: Are SEC defenses really good or is it just that SEC offenses stink?
Oregon's visit to Tennessee on Saturday will provide a final answer. If the Ducks roll up 400-plus yards and 35-plus points, we will know that Pac-10 fans were always right: SEC defenses only look good because
they don't face Pac-10 offenses
. And if the Volunteers hold the Ducks to 22 points and 337 yards, as they did versus SEC offenses last season, we'll know that SEC defenses really are that good.
The debate will be over. Done. Forever.
We throw up this rhetorical smokescreen with the hopes that our friends from the SEC won't read past "Forever" before their heads explode. Because this column is about Pac-10 defenses, and we want to keep it in the family.
For goodness sake, folks, what the heck happened last week? Can someone get off a block? Or make a tackle?
Oregon and Arizona State fans can probably go back to their Labor Day barbecues. Arizona and California: You looked good on defense in Week 1, so you might be OK. Washington? Your defense wasn't the problem at BYU. Stanford? Jury's out.
But looking at the statistical rankings after Week 1 and seeing USC at 106th in the nation in total defense after giving up 588 yards --
588 yards!
-- against a WAC team is jarring.
And it's not just that ugly number: Did you see the game? It wasn't about a couple of long plays. It was about bad tackling. It was about getting blocked. It was about looking tired, uninterested and perhaps even loafing.
But, obviously, it wasn't just the Trojans.
Just about every defense starts with this concept: First, we stop the run. It's the fundamental football play. A guy with the ball runs one way and the other guys try to stop him. Run defense, more than anything else, is a test of manhood. It's hand-to-hand combat in the trenches. We can talk about speed and finesse and misdirection in many running games, but it's still mostly about blocking and tackling.
So the fact that three Pac-10 teams find themselves among lightweight squads such as Western Kentucky, Arkansas State and New Mexico at the bottom of the statistical rankings for run defense is, well, sort of embarrassing, don't you think?
Oregon State gave up 278 yards on the ground to TCU and ranks 96th. Washington State yielded 291 yards and ranks 103rd. And UCLA is 106th after surrendering an eye-popping 313 yards on the ground to Kansas State.
Sure, TCU is one of the best teams in the nation. And, sure, Oklahoma State running back
Kendall Hunter
and Kansas State's
Daniel Thomas
, are A-list runners.
Still: There's a guy getting his 100 yards and then there's a guy leaving a footprint our your collective forehead.
USC and these other three teams won't accomplish much this season if they don't step up on defense, particularly their beleaguered front-sevens that weren't widely viewed as weaknesses during the preseason.
The Pac-10 is loaded at quarterback and running back. There's a lot of experience on many offensive lines. And there appears to be plenty of star-quality and depth at receiver.
But the reason Oregon is now a stronger conference favorite than it was just a couple of weeks ago is defense. The Ducks look like they have the fastest, deepest unit in the conference. And it seems based on these albeit very early returns that some of the Ducks top competition -- USC and Oregon State, in particular -- won't be able to stop them.
Of course, saying that, the Ducks defense needs to prove itself by shutting down a Tennessee offense that rushed for 332 yards against Tennessee-Martin. The Ducks don't want to join the ˇ
Ole
! defensive trend.
If they don't shut down the Vols, and it becomes a high-scoring, bar-burner in Neyland Stadium, then no one will know what to think. And that's no good.
September, 4, 2010
9/04/10
7:07
PM ET
Not hard to see where things went wrong for UCLA: The Bruins defense couldn't stop
Daniel Thomas
.


The Kansas State running back rolled up 234 yards on 28 carries with two touchdowns in a
31-22 win
.
When your running back is averaging 8.4 yards per carry, you can get away with passing for only 67 yards.
The good news is the offensive line held up fairly well -- see 193 yards rushing. The bad news, other than the run defense, is QB
Kevin Prince
completing just 9 of 26 passes with two picks. Of course, that's what happens when a QB sits out most of fall camp with a back problem.
It's not unreasonable to believe Prince will shake off the rust and play better in the weeks ahead. The problem for UCLA is things don't get any easier. Next week, the Bruins play host to Stanford. Then it's Houston and Texas on consecutive weekends.
In other words, UCLA needs to find some answers quickly if it doesn't want to live up to its predicted eighth-place finish in the Pac-10.
September, 1, 2010
9/01/10
1:53
PM ET
UCLA coach Rick Neuheisel understands the media and more than most coaches he's willing to help.
For example: Say you wanted an update Tuesday on the status of his quarterback
Kevin Prince
, who's missed nearly all of preseason camp with a small but bothersome tear in his back muscle. Neuheisel provided a eyewitness, play-by-play to reporters during the weekly Pac-10 coaches teleconference.
[+] Enlarge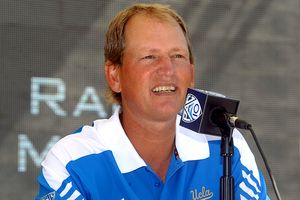 Kirby Lee/Image of Sport/US PresswireRick Neuheisel thinks his unproven offensive line will be able to handle Kansas State.
"I'm standing right here watching him practice," said Neuheisel, with the typical practice chatter clearly audible through the phone line.
"He's going to throw this ball. I'll tell you after this throw... Oh, it's perfectly thrown. It's outstanding! I think he's going to be fine."
The verdict: Prince is "rusty but healthy." He will start at Kansas State on Saturday. Probably.
Neuheisel is all about optimism. His catch-phrase upon getting hired to rebuild the Bruins in 2008 was "relentless optimism." That optimism has been tested, however, by an 11-14 record his first two years and a fairly
stunning array of injuries
.
The current challenge to Neuheisel's power of positive thinking isn't just about getting Prince to the opener in one piece. His offensive line is in pieces.
All five starters from last year were projected to return this season, including 13 of 14 players on the 2009 depth chart. Yet guard Eddie Williams is the only returning starter who will be in the lineup at Kansas State, and even he missed half of the 2009 season with a fractured ankle.
Talented left tackle Xavier Su'a-Filo, who won a starting job as a true freshman, opted to go on a two-year Mormon mission. Then the chief candidate to replace him, Nik Abele, was forced to retire because of neck problems. Center Kai Maiava fractured his ankle during preseason camp. Guard Jeff Baca is academically ineligible. Right tackle Mike Harris is suspended for the Kansas State game. Toss in guard Stanley Hasiak's academic ineligibility, and Jake Dean ending his career a year early, and you have a lot of attrition from what might have been a greatly improved line.
This probably won't surprise you a bit, but Neuheisel is undaunted: "They're terrific," he said of his new lineup.
He even spots for reporters a potential feel-good angle with his makeshift line.
"It's kind of a neat story -- hopefully it will be one that's told for years and years after because of the success they have," Neuheisel said. "We have five seniors who've gotten here in kind of a round-about sort of way. Each has their own unique road they traveled to get here."
Those five are: right guard Williams, a junior college transfer; left tackle Sean Sheller, a fifth-year senior who spent much of his injury-riddled career on the defensive line; left guard Darius Savage, who started seven games in 2008 but fell out of favor last year; center Ryan Taylor, a JC transfer who started two games at guard and one at center in 2009; and right tackle Micah Kia, who started seven games in 2008 but missed last fall with a knee injury.
Despite the questions on offense, the Bruins visit to Kansas State probably comes down to something else: How a rebuilt front seven on defense handles Wildcats running back
Daniel Thomas
, who rushed for 1,290 yards last year. Thomas will be running behind a veteran line. Combine that with a new and unproven quarterback, and you can expect the Wildcats to try to challenge the Bruins with a physical, run-first attack.
In last year's game, the Bruins dispatched K-State fairly easily, 23-9. But this will be Year Two of coach Bill Snyder's return to where he produced perhaps the greatest rebuilding jobs in college football history, which explains why his name is on the stadium: "Bill Snyder Family Stadium." The Wildcats should be a much more finely tuned team, despite just 11 returning starters.
"He's a team builder, no question about it," Neuheisel said.
By the way, the Wildcats have won 20 home openers in a row.
Of course, Neuheisel is optimistic that his quarterback will be healthy and sharp, his offensive line and defensive front-seven will be stout and that winning streak is about to end.