September, 7, 2012
9/07/12
12:00
PM ET
Are there any upset specials on the menu in Week 2? Your Pac-12 bloggers can think of a couple.
Ted Miller
: Wisconsin whipped Oregon State 35-0 last year. No way the Beavers can notch an upset against Wisky, right? A 35-plus point swing? Please.
Believe it. For one, we expect the Beavers to be much better than they were last year. And this Badgers team seems potentially much worse.
[+] Enlarge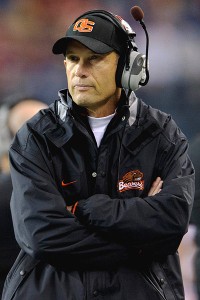 Steven Bisig/US PresswireOregon State coach Mike Riley welcomes back 17 starters.
Beavers better: QB
Sean Mannion
is no longer a redshirt freshman snagging a job away from a returning starter who was popular in the locker room.
Wisky worse: New Badgers QB
Danny O'Brien
, a Maryland transfer, is solid, but he's no
Russell Wilson
. Wilson made the Badgers last year, giving them a potent, efficient passing attack to complement a physical running game.
Beavers better: While things are chippy in Corvallis after consecutive losing seasons, the Beavers and coach Mike Riley mostly had a newsless offseason, only losing secondary coach Keith Heyward to Washington. They have stability.
Wisky worse: The Badgers have six new coaches, and among their losses was offensive coordinator Paul Chryst.
Beavers better: Oregon State welcomes back 17 starters.
Wisky worse: The Badgers welcome back only 11 starters.
Beavers better: Those seven freshmen or sophomore starters for Oregon State from a year ago will be far more seasoned.
Wisky worse: The Badgers, no matter how they say they won't, will have to difficult time mustering a focused respect for Oregon State, based on how easy things were a year ago.
Beavers better: They are playing at home, not in front of 80,000 hostile fans in Camp Randall Stadium.
Wisky worse: While it's not good that Oregon State's opener against Nicholls State was postponed, the Beavers got to stay home and watch the Badgers struggle in a 26-21 win over Northern Iowa. That game film, which Badgers coach Bret Bielema really, really didn't want Oregon State to see, surely boosted the Beavers confidence.
I think Oregon State is going to be better on both lines of scrimmage. I think Mannion's maturity as a passer will make it easier for the Beavers to establish an adequate running game. And I don't think the Badgers offensive line, replacing three starters, will be as good this fall.
Last year, the Beavers were outrushed 208 yards to 23. I think that number will be far closer this go-around.
Finally, there's this: Nobody on the Wisconsin defense can keep up with receiver
Markus Wheaton
. We know this because nobody on the Badger defense could keep up with
De'Anthony Thomas
in the Rose Bowl, and Wheaton is faster than Thomas.
No, this game is not 50-50. Or even 60-40. If the Beavers do win, it will be an upset, and just about everyone will be surprised.
Our point here is merely to prepare you to not be
that surprised.
Kevin Gemmell
: Wow. That was pretty compelling. Can't refute any of that, only to say that the last product we saw from Oregon State was the last product they had on the field in 2011. And it wasn't great. I too believe Oregon State will be much better this year, but if I were picking an upset in Week 2, I'd go with a team I've already seen in action (a lesson learned from my Washington State debacle last week).
[+] Enlarge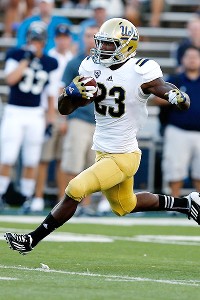 Scott Halleran/Getty ImagesUCLA running back Johnathan Franklin ran for 214 yards in the opener against Rice.
Just so we're clear, I'm on record with
a prediction that Nebraska beats UCLA
. I was asked in my
chat on Wednesday
to assign a percentage to UCLA's chance of winning. And I went with 49 percent.
Were the Bruins outstanding in Week 1? No. But they won on the road with a rookie quarterback (never easy) and for the most part they were pretty good considering all of the youth they put out there. And that youth was evident, especially in the first half when the defense yielded 24 points and 282 yards.
Ah, but here's a little not-so-secret secret, Jim Mora can coach. Consider the second half -- a couple of tweaks to what Rice was doing on offense and the Bruins surrendered just 76 yards in the final 30 minutes -- only crossing into the UCLA half once. I asked Mora to explain the defensive difference between halves and his answer was satisfactory. UCLA didn't do a lot of full tackling in the fall camp, so they were a little rusty. Makes sense.
UCLA can't win this game on athleticism alone. Because Nebraska can match them speed-for-speed and player-for-player. In fact, when you look at the rosters side-by-side, it's probably a draw in terms of who has the better athletes. So UCLA will have to take advantage of the wealth of coaching knowledge it has on the sidelines and exploit the mismatches it does have.
For example, UCLA's offensive line is young and probably inferior to Nebraska's defensive front. So expect a lot of quick passes from second-time-starter
Brett Hundley
. No reason to make those guys pass block for three seconds, because they probably won't be able to. Nebraska will pressure Hundley far more than Rice did.
Also,
Joseph Fauria
is a mismatch for any linebacker or safety in the country. I wouldn't be shocked to see the Bruins ride that guy to the tune of nine or 10 catches. And we'll find out whether
Johnathan Franklin
is as good as his three-touchdown, 214-yard rushing performance against Rice suggests.
Defensively, they need an answer for
Taylor Martinez
. I'm not going to pretend to have it. But I will say
Datone Jones
might finally be maturing into the player we all thought he could be and a little pressure -- especially against a team on the road -- can go a long way.
This is going to be a competitive game, and much like your Oregon State scenario, no one should be shocked if the Bruins walk away from this game 2-0.
September, 6, 2012
9/06/12
12:00
PM ET
Almost exactly year ago, Oregon State was suffering total program misery.
First, it opened with a home loss to FCS foe Sacramento State. Then, it got drubbed 35-zip at Wisconsin.
[+] Enlarge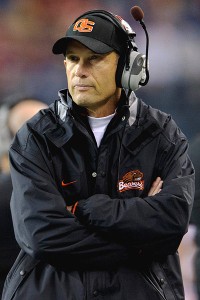 Steven Bisig/US PresswireIs Oregon State coach Mike Riley on the hot seat?
Amid those two dispiriting defeats -- the Beavers would start a shocking 0-4 -- Oregon State made a surprising change at quarterback, benching returning starter
Ryan Katz
in favor of redshirt freshman
Sean Mannion
.
Sure, Katz had gone 5-7 as first-year starter, but he'd flashed a huge arm and plenty of promise. Yet a leak that started dripping while an injured Katz sat out 2011 spring practices became a torrent by the end of fall camp. Katz couldn't afford a slow start, and that's what he had. And he lost his job. From the outside, it seemed to happen very quickly, and it surprised even the writers who covered the team every day.
The end result was locker room upheaval, an embarrassing 3-9 finish and Katz transferring to San Diego State, where he is now the starter. Oh, and there are now grumbles that coach Mike Riley, two years ago probably the most secure coach in the conference, is now on the hot seat.
Hot seat talk or not, things feel far more stable now.
"Those are difficult times," Riley recalled this week. "With the young men here, that's not easy. We've managed to avoid those kinds of issues right now."
What's the same compared to last year is a Week 2 game with No. 13 Wisconsin on Saturday. What's different is this year's FCS opener, Nicholls State, cancelled its visit last weekend due to hurricane concerns in the Gulf Coast. There's no QB controversy for the Beavers, as this is solidly Mannion's offense. And the Badgers are making the long trip to Corvallis.


"It's as big a nonconference game as Oregon State has ever hosted," Riley said.

There are two ways to look at last year's game: 1. The Beavers got whipped, as they were outgained 397 yards to 284 and outrushed 208 yards to 23; 2. The Beavers shot themselves in the foot with stupid penalties and special teams mistakes.

Of course, it was a combination. But Oregon State held up physically better than the final tally suggests. Some might recall that Wisconsin's first touchdown came after Johnny Hekker produced the only backwards punt most football fans have ever seen. Or will ever see.


Said Riley at the time, "Just bad football."
This matchup seems far more manageable for the Beavers. While the Badgers have imported another ACC QB, this year's
Russell Wilson
is former Maryland QB
Danny O'Brien
, only 11 starters are back from last fall's 11-3 team that lost to Oregon in the Rose Bowl. Further, coach Bret Bielema lost not only his highly respected offensive coordinator, Paul Chryst, now the head coach at Pittsburgh, but also five other coaches.
Last weekend, the Badgers barely escaped with a 26-21 win over Northern Iowa. While they still look like the favorite in the Big Ten Leader's Division, they presently don't look like a top-10 team.
While it's probably a negative that Oregon State didn't get its first game jitters out last weekend, it does have some advantage in having seen Wisconsin play and having the Badgers not get to do the same.
Riley has said over and over the Beavers, in order to get back to where they were in the conference pecking order, need to run the ball and stop the run better. The Badgers and Heisman Trophy candidate
Montee Ball
will present an immediate and challenging measuring stick on potential improvement going both ways.
"We'll see a lot about who we are." Riley said.
The Beavers are in a far better place than they were a year ago. But have they improved enough that they can turn a blowout defeat into a "We're back!" upset?