January, 26, 2011
1/26/11
4:59
PM ET
By
ESPN.com staff
| ESPN.com
UCLA was due for some good news, and it just got some: Left tackle Sean Sheller has been granted a sixth year of eligibility by the NCAA, the school announced Wednesday.

Sheller, who started 11 games at offensive left tackle in 2010, missed the entire 2006 season due to a knee injury and the 2008 season due to knee and ankle injuries.

Sheller's return is a major boost to a Bruins offensive line that is much better off than it looked on paper a few weeks ago, when it appeared to be losing four starters from 2010. The Bruins now have two returning starters from this season's offensive line (tackles Sheller and Mike Harris) plus two returning starters from the 2009 season: center Kai Maiava, who missed 2010 due to a fractured ankle, and guard Jeff Baca, who missed the year due to eligibility issues.

Baca likely steps in at one guard spot, while sophomore Chris Ward is the favorite to man the other. Eddie Williams and Darius Savage were the starting guards in 2010.

In total, the Bruins now have eight starters returning on offense as well as just about all the 2010 depth at the skill positions. So new offensive coordinator Mike Johnson will have plenty of experience to work with.

That's the good news. The bad news is the unit ranked last in the Pac-10 in total offense (316.7 yards per game) and ninth in scoring (20.2).
September, 1, 2010
9/01/10
1:53
PM ET
UCLA coach Rick Neuheisel understands the media and more than most coaches he's willing to help.
For example: Say you wanted an update Tuesday on the status of his quarterback
Kevin Prince
, who's missed nearly all of preseason camp with a small but bothersome tear in his back muscle. Neuheisel provided a eyewitness, play-by-play to reporters during the weekly Pac-10 coaches teleconference.
[+] Enlarge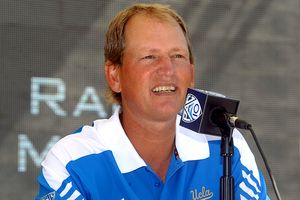 Kirby Lee/Image of Sport/US PresswireRick Neuheisel thinks his unproven offensive line will be able to handle Kansas State.
"I'm standing right here watching him practice," said Neuheisel, with the typical practice chatter clearly audible through the phone line.
"He's going to throw this ball. I'll tell you after this throw... Oh, it's perfectly thrown. It's outstanding! I think he's going to be fine."
The verdict: Prince is "rusty but healthy." He will start at Kansas State on Saturday. Probably.
Neuheisel is all about optimism. His catch-phrase upon getting hired to rebuild the Bruins in 2008 was "relentless optimism." That optimism has been tested, however, by an 11-14 record his first two years and a fairly
stunning array of injuries
.
The current challenge to Neuheisel's power of positive thinking isn't just about getting Prince to the opener in one piece. His offensive line is in pieces.
All five starters from last year were projected to return this season, including 13 of 14 players on the 2009 depth chart. Yet guard Eddie Williams is the only returning starter who will be in the lineup at Kansas State, and even he missed half of the 2009 season with a fractured ankle.
Talented left tackle Xavier Su'a-Filo, who won a starting job as a true freshman, opted to go on a two-year Mormon mission. Then the chief candidate to replace him, Nik Abele, was forced to retire because of neck problems. Center Kai Maiava fractured his ankle during preseason camp. Guard Jeff Baca is academically ineligible. Right tackle Mike Harris is suspended for the Kansas State game. Toss in guard Stanley Hasiak's academic ineligibility, and Jake Dean ending his career a year early, and you have a lot of attrition from what might have been a greatly improved line.
This probably won't surprise you a bit, but Neuheisel is undaunted: "They're terrific," he said of his new lineup.
He even spots for reporters a potential feel-good angle with his makeshift line.
"It's kind of a neat story -- hopefully it will be one that's told for years and years after because of the success they have," Neuheisel said. "We have five seniors who've gotten here in kind of a round-about sort of way. Each has their own unique road they traveled to get here."
Those five are: right guard Williams, a junior college transfer; left tackle Sean Sheller, a fifth-year senior who spent much of his injury-riddled career on the defensive line; left guard Darius Savage, who started seven games in 2008 but fell out of favor last year; center Ryan Taylor, a JC transfer who started two games at guard and one at center in 2009; and right tackle Micah Kia, who started seven games in 2008 but missed last fall with a knee injury.
Despite the questions on offense, the Bruins visit to Kansas State probably comes down to something else: How a rebuilt front seven on defense handles Wildcats running back
Daniel Thomas
, who rushed for 1,290 yards last year. Thomas will be running behind a veteran line. Combine that with a new and unproven quarterback, and you can expect the Wildcats to try to challenge the Bruins with a physical, run-first attack.
In last year's game, the Bruins dispatched K-State fairly easily, 23-9. But this will be Year Two of coach Bill Snyder's return to where he produced perhaps the greatest rebuilding jobs in college football history, which explains why his name is on the stadium: "Bill Snyder Family Stadium." The Wildcats should be a much more finely tuned team, despite just 11 returning starters.
"He's a team builder, no question about it," Neuheisel said.
By the way, the Wildcats have won 20 home openers in a row.
Of course, Neuheisel is optimistic that his quarterback will be healthy and sharp, his offensive line and defensive front-seven will be stout and that winning streak is about to end.
August, 23, 2010
8/23/10
10:57
AM ET
If you look at UCLA's offensive line depth chart from 2009, your first though is this: 13 of 14 guys, including all five starters, will be back for 2010.
Sounds great, eh? Sure, the Bruins' line has struggled in recent years, but those struggling young guys now will become salty veterans. And there will be depth.
Insert sigh from UCLA fans, players and coaches here. Things have certainly changed since the Bruins won the EagleBank Bowl.
The Bruins lost another lineman -- perhaps their best one -- early in Saturday's scrimmage when center Kia Maiava
went down with a fractured left ankle
. The junior almost certainly is done for the season.
The hit list on the line in addition to Maiava goes like this:
Talented tackle Xavier Su'a-filo opted to go on a two-year Mormon mission after starting as a true freshman.
The leading candidate to replace Su'a-filo, Nik Abele, was forced to retire because of neck problems.
Right tackle Mike Harris is suspended for the opener at Kansas State because of a violation of team rules.
Left guard Jeff Baca has been ruled academically ineligible, pending an appeal with the NCAA, and even if he wins his appeal he's nursing a stress fracture in his right leg.
Right guard Eddie Williams has missed practices due to a concussion, though he should be ready to play by the season opener.
Barring any more issues, the starting line probably will look like this at Kansas State on Sept. 4: Sean Sheller and Micah Kia at the tackles, Williams and Darius Savage at the guards and Ryan Taylor at center.
Understand: That's not a woeful lineup. Sheller, who's battled injuries and position changes, is the only one with no starting experience. Taylor replaced Maiava in the EagleBank Bowl last year, and Kia started 15 games before missing 2009 with a knee injury. And Harris will return after the opener.
Still, there isn't too much remaining margin for error if anyone else -- knock on wood -- pulls up lame.
August, 20, 2010
8/20/10
3:30
PM ET
UCLA's Norm Chow is widely regarded as one of the best offensive coordinators of all-time. Despite that pedigree, things haven't exactly rolled on offense his first two seasons in Westwood.
Injury issues as well as a lack of inherited talent have slowed the Bruins' development. The biggest problem: The lack of a dependable running game due to poor line play. An experiment with Nevada's pistol offense, which was intended to bolster the running game,
appears to have been cut short
as preseason camp has gone on.
Recruiting under third-year coach Rick Neuheisel has picked up substantially, though mostly in terms of collecting skill players. It hasn't helped that the yield of elite offensive linemen on the West Coast over the past two years has been surprisingly low.
[+] Enlarge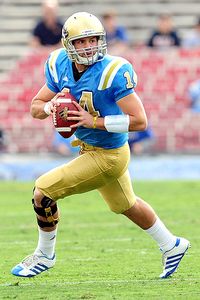 Gary A. Vasquez/US PresswireKevin Prince's health remains something the Bruins are keeping an eye on.
Still, the Bruins expect to take a step forward in 2010. The biggest issue in preseason camp so far: Getting starting quarterback
Kevin Prince
healthy. He's missed nine practices with a strained oblique and probably won't participate in the scrimmage Saturday.
So where do things stand with the Bruins' work-in-progress offense? We checked in with Chow.
So where is QB Kevin Prince with his strained oblique and when does that become a concern with the opening game approaching?
Norm Chow
: He is right there. If we err, we're going to err on the side of caution. He's ready to go. He's had a great summer. He's been to all the meetings. He stayed with it mentally. He's going to be fine.
In general, where do things stand with the pistol offense? Are you seeing improvement since spring?
NC
: We sure have. We obviously haven't adopted it totally. But the parts that we do, we like. Hopefully it will allow us to run the ball better.
How much option do you anticipate using?
NC
: Quarterback option? Not too much, if any.
You guys have taken some hits on the offensive line. What have you seen from that unit this spring? What are they doing well and what are they struggling with?
NC
: We're actually real pleased with our offensive of line. Our two guards [Darius Savage and Eddie Williams] both played last year, started some last year. Our center [Kai Maiava] is back from last year. Our right tackle is actually a sixth-year player [Micah Kia] who was hurt last year, who started before. Our starting left tackle at the present time has been a guy who it kind of took a while to figure out college and college football but is doing a nice job. And that's Sean Sheller. We have four seniors and a junior on the offensive line. They bring us leadership. They bring us maturity. We feel real good about it. The concern of it is, as it always is in a college program, is when you get someone hurt. We have some adequate backups, but they need to continue to develop just in case.
Explain the "F" position to me. You've got a lot of different body types at that spot on the depth chart.
NC
: It's an old H-back deal. It's nothing new; no new revelation. It's the old H-back that a lot of people have used. It's a guy who can catch, who can block, who can run a little bit. We're blessed that we've got some talented people who can handle that:
Morrell Presley
,
Christian Ramirez
, Anthony Barr -- a young freshman who just came in -- they are very talented guys. We feel like we've got that position pretty well covered
Seems like you've got plenty of potential playmakers. Who's impressed you so far in camp?
NC
: Our receivers are older and wiser. This is
Taylor Embree
and
Nelson Rosario
's third year playing and starting for us.
Ricky Marvray
and
Randall Carroll
have had tremendous camps. Then we have a transfer from Colorado who has to fight through some injury stuff, Josh Smith, who was a nice player at Colorado. So we have five that we think are good receivers. We just have to see how the game develops. Obviously if we are able to run the ball, it opens up the passing game and allow these guys to show their stuff.
Are the touted freshman, Jordan James and Malcolm Jones, going to break into the rotation at tailback, or are Derrick Coleman and Johnathan Franklin still ahead?
NC
: We don't have to make that decision today. We have three weeks before we play a ballgame. Jordan James got cut short with a little hamstring pull. Malcolm Jones has had a terrific fall. He's certainly challenging the other two, but the other two have played well as well. So it's a nice situation to have. With injuries, and so forth we'll probably need them all. I'm sure Malcolm will have a real hand in the rotation we come up with.
Overall, how close do you feel your guys are to breaking through?
NC
: I don't know. If I did know that, I probably wouldn't be coaching. I'll tell you what we have done: Our young guys have worked real hard. We've had a good summer. We lost the weight we needed to. We got stronger. We're excited about it. We'll just have to wait and see. We temper our enthusiasm because we play a really difficult schedule. I've heard it's the third toughest in the NCAA. But we're going to meet that challenge. We're excited about that challenge. We'll see what happens.
August, 10, 2010
8/10/10
4:50
PM ET
By
ESPN.com staff
| ESPN.com
UCLA's chief worry is its offensive line,
so this is not good news
: Starting left guard Jeff Baca has been ruled academically ineligible pending an appeal with the NCAA.
Nor is this
: Junior defensive end Datone Jones, the only returning starter on the defensive line, broke his foot during Tuesday's practice and will be out at least a month.
Jones, who had 11 tackles for a loss last season, was a standout during spring practices. Coach Rick Neuheisel told reporters that junior Nate Chandler will move from tackle to end. Chandler only converted from the offensive to the defensive line during spring practices.
Things might be even more challenging for the offensive line, a unit that has suffered four hits since it struggled through the 2009 season.
First, talented Xavier Su'a-Filo, who started at left tackle as a true freshman, opted to go on a Mormon mission. Then the chief candidate to replace him, Nik Abele, was forced to retire because of neck problems. On Monday, it was announced that starting right tackle Mike Harris would be suspended for the opener at Kansas State because of a violation of team rules.
Senior Darius Savage is listed as Baca's backup on the depth chart. He's started eight games over the past two seasons.
March, 30, 2010
3/30/10
11:44
AM ET
By
ESPN.com staff
| ESPN.com
UCLA starts spring practices Thursday, and third-year coach Rick Neuheisel said the getting-to-know-you period is over for him and his team.
It's time, to use his phrase, to "let the fur fly."
"Three springs into our term here, expectations are higher, not only externally but also internally," Neuheisel said. "The intensity needs to go up compared to springs before."
Some notes:
Neuheisel said sophomore Kevin Prince starts spring as a solid No. 1 at quarterback. Said Neuheisel, "We have a starter in Kevin Prince and he deserves to be named that. He had a very, very solid freshman season. But I don't want to water down Richard Brehaut's hopes of earning his spot in this lineup."
Neuheisel said Prince needs to become more accurate, while Brehaut, also a sophomore, needs to refine his knowledge of the offense.
Three seniors will miss spring practices due to injuries: offensive guard Darius Savage (back), offensive tackle Micah Kia (knee) and defensive end Reginald Stokes (knee).
Junior strong safety Tony Dye might be limited during practices due to a lingering toe problem. Offensive guard Eddie Williams is coming back from a foot injury, so he also might see only limited action, though he has been cleared for contact.
Two transfers are expected to immediately jump into the mix: sophomore tight end Joseph Fauria (Notre Dame) and junior receiver/return man Josh Smith (Colorado).
The only true freshman participating in spring practices from the 2010 recruiting class is offensive guard Wade Yardall. He's listed third on the left side of the line behind Jeff Baca and Stan Hasiak. True freshman linebacker Jared Koster is a grayshirt who joined the team in January.
Xavier Su'a-Filo, who started at left tackle as a true freshman, has gone on a two-year Mormon mission. Redshirt freshman Nik Abele is listed No. 1 at his spot, ahead of sophomore Brett Downey.
Four players have switched positions: sophomore Morrell Presley (receiver to tight end), junior Nate Chandler (tight end to defensive tackle, where he's listed as a starter), junior Glenn Love (safety to weakside linebacker) and senior Christian Ramirez (running back to defensive back).
February, 2, 2009
2/02/09
7:24
PM ET
By
ESPN.com staff
| ESPN.com
Posted by ESPN.com's Ted Miller
Wanted to go back and look at the 2006 recruiting classes and see which players were overrated and which were underrated.
Why 2006?
Two reasons: 1. It allows enough time for the player to break through while still being on the roster heading into 2009; 2. It's as far back as the ESPNU Scouts Inc., ratings go back.
Also, sometimes "overrated" doesn't translate to "actually pretty mediocre to bad." It can mean that the touted player didn't qualify academically or transferred.
This is about recruiting, so the "overrated" is about how a player bolstered recruiting rankings but then didn't contribute to the team.
And, of course, overrated today doesn't mean overrated tomorrow.
This is in the order of finish in the 2006 conference recruiting rankings (note how things have changed for Stanford this season).
The number in parentheses is the player's rating on a scale of 100 to 40.
1. USC
Over
S Antwine Perez (91): He was rated the nation's No. 3 safety right behind Taylor Mays. Transfered to Maryland, where he started two games and had 24 tackles after sitting out a year.
Under
FB Stanley Havili (71): One of Pete Carroll's favorite players, he's been a key contributor on offense.
2. UCLA
Over
C Andy Keane (79): Rated the nation's No. 1 center, he's bounced between offensive and defensive lines and hasn't contributed.
Under
OG Darius Savage (69): Sure, he's still figuring some things out, but he started seven games last year and he's got good upside.
3. California
Over
RB James Montgomery (77): He likely would have been No. 2 behind Jahvid Best last year but he opted to transfer to Washington State, where he likely will start this fall.
Under
DL Tyson Alualu & LB Mike Mohamed (both 40): Neither was a hot recruit but both started last year and received All-Pac-10 recognition -- Alualu as second-team.
4. Arizona
Over
RB Derke Robinson (78): Had academic issues, left the program.
Under
C Colin Baxter (40): He's made 23 starts at guard and center.
5. Washington
Over
S/RB Leilyon Myers (77): Failed to qualify academically, headed to junior college.
Under
WR D'Andre Goodwin (40): Huskies leading receiver in 2008, catching 60 passes for 692 yards.
6. Arizona State
Over
DE Jermaine Williams (80): Nation's No. 14 DE failed to qualify academically.
Under
WR Kyle Williams: (70): Tied for team lead with four touchdown receptions. His 17 yards per punt return led the conference.
7. Oregon State
Over
TE Joe Halahuni (77): No. 3 on depth chart in 2008 and caught only one pass -- though it went for a touchdown.
Under
TE Howard Croom (40): Starting tight end, he caught six passes for 37 yards.
8. Oregon
Over
QB Cody Kempt (77): Completed 6 of 26 passes with two interceptions before transferring to Montana State.
OL C.E. Kaiser (40): Started 10 games last year and will be one of the leaders on the line in 2009.
9. Washington State
Over
WR Anthony Houston (78): Didn't catch a pass last year after being suspended from the team.
Under
LB Andy Mattingly (40): Didn't have a great 2008 season for a variety of reasons but he was the Cougars second-leading tackler in 2007, leading the team in tackles for a loss and sacks.
10. Stanford
Over
QB Alex Loukas (74): Saw only spot playing time last year -- used mostly as a runner -- and he appears to be the odd man out in the quarterback competition between returning starter Tavita Pritchard and touted redshirt freshman Andrew Luck.
Under
S Austin Yancy (40): A hamstring injury killed his 2008 season, but he started 12 games in 2007.
August, 23, 2008
8/23/08
12:11
PM ET
By
ESPN.com staff
| ESPN.com
Posted by ESPN.com's Ted Miller
One week and it begins...