June, 30, 2011
6/30/11
6:48
PM ET
No Pac-12 offensive line is going to scare you heading into 2011. Even Arizona State, which welcomes back its entire 2010 depth chart, doesn't look like a dominant unit.
So there is no Washington in 2000, California in 2004, USC in 2005 or Stanford in 2010. Just about every team has at least some concerns up front.
So how to things stack up? Read on.
Great shape
[+] Enlarge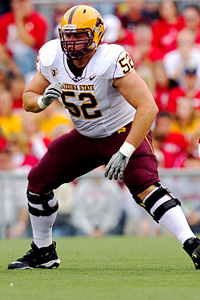 Jeff Hanisch/US PRESSWIREArizona State center Garth Gerhart anchors the top returning line in the Pac-12.
Arizona State
: 11 of 12 from the 2010 two-deep are back, including center Garth Gerhart and tackle Evan Finkenberg. The Sun Devils line was not dominating in 2010, so this unit is not a sure-thing. But it's reasonable to project a solid unit becoming a very good one in 2011.
Good shape
Colorado
: Sure, tackle Nate Solder is gone, and center Mike Iltis decided to give up football, but three quality starters are back and several others have experience. Ryan Miller and Ethan Adkins might be the best guard tandem in the Pac-12.
Stanford
: The Cardinal lost three starters, but the two coming back are first-team All-Pac-10 guys from 2010 and All-American candidates this fall: tackle Jonathan Martin and guard David DeCastro. The new guys played well this spring. It's possible this line will again be very good, but three new starters is three new starters.
Utah
: The Utes welcome back three starters, including both tackles, from a line that was solid in 2010. Tony Bergstrom and John Cullen will be one of the better tackle combinations in the conference, and Tevita Stevens, who played guard last year, provides experience at center.
California
: The Bears were uncharacteristically mediocre last year, but they probably weren't as bad as some think, seeing that they didn't have a passing threat to keep defenses honest after QB
Kevin Riley
got hurt. Three starters are back -- tackle Mitchell Schwartz was second-team All-Pac-10 last year -- and a number of other players have experience.
Oregon
: While the Ducks officially lost three starters, tackle Darrion Weems started enough games in 2010 to count as a returning starter. Tackle Mark Asper and guard Carson York are solid, but there are questions after that. The line struggled this spring -- perhaps the D-line is just good? -- and former walkon Ramsen Golpashin was able to hold onto a starting spot. It's nice when a walk-on does well but it does cast the scholarship players in a questionable light.
Washington
: Three starters are back and there's optimism the Huskies struggling line is ready to take a step forward. The run blocking was much better over the second half of the season. Still, none of the three returning starters even earned honorable mention All-Pac-10 honors in 2010.
Oregon State
: Four starters are back but that might not be good news considering how mediocre-to-bad the line play was in 2010. Still, the Beavers have, traditionally, found a way to get it done up front. Perhaps 2010 was just a blip.
We'll see
UCLA
: If healthy, the Bruins could be solid on the O-line, but that's a big if. The unit struggled during spring practices due to injuries, which exposed a lack of depth. It's uncertain when tackle Jeff Baca will be back from a broken ankle and he may be the Bruins best lineman. Center Kai Maiava and guard/tackle Sean Sheller are expected to be OK in the fall, but will they stay that way?
Washington State
: The Cougars welcome back three starters and should be better in 2011 due to young players getting experience last fall. But you have to wait-and-see with a unit that gave up 51 sacks a year ago.
USC
: The Trojans lost three starters from a line that mostly underachieved in 2010. They have two good starters back -- tackle Matt Kalil and guard Khaled Holmes -- but things are wide-open after that. And the struggles this spring, due in large part to injuries, revealed a worrisome lack of depth.
Arizona
: There was plenty of optimism in Tucson that the Wildcats will be fine on the O-line, that losing five starters from a unit that underachieved isn't that big of a deal. But replacing five starters means a team has no idea what things will look like when the lights come on for real. So we'll see.
June, 7, 2011
6/07/11
4:00
PM ET
By
ESPN.com staff
| ESPN.com
It all starts up front, coaches will tell you.
So perhaps offensive line experience is a better way to evaluate a team than just looking at returning skill players who grab the headlines. The Wall Street Journal
said as much before the 2009 season
.
Of course, there's no perfect formula, and more than a few folks have noted it's as much about
quality as quantity
when evaluating a line. It's notable that the the WSJ touted Texas before the 2009 season due to 91 starts coming back on its O-line. The Longhorns went on to play for the national title. Only the team they lost to, Alabama, was supposed to be in trouble due to just 50 career starts.
And Oregon fans might note that a certain Rose Bowl team did OK even though it had just 20 career starts on its line.
Phil Steele has compiled a complete list of the numbers of career starters for
every FBS team's offensive line
. Here's how the Pac-12 stacks up (number to the left is national ranking).
Number of returning starts on the offensive line
No. 17 Colorado, 97
No. 22 Oregon State, 91
No. 30 California, 85
No. 32 Arizona State, 84
No. 37 UCLA, 80
No. 53 Washington State, 71
No. 62 Washington, 65
No. 65 Utah, 63
No. 83 Oregon, 56
No. 89 Stanford, 50
No. 111 USC, 27
No. 120 Arizona, 1
What to make of these numbers, other than you see why USC and Arizona both have big questions on their lines?
Well, I'd probably take what Stanford has coming back on its line -- first-team All-Pac-10 linemen Jonathan Martin and David DeCastro -- over what Oregon State, California, UCLA, Washington State and Washington welcome back. Pretty sure their coaches would, too.
Still, this is firm grounds upon which to project better line play this fall from Oregon State, California and Arizona State.
You also may see a repeat of 2009 for the Ducks. Sure, they lack experience up front. But Mark Asper, Carson York and Darrion Weems are a pretty solid returning core, not to mention that Steve Greatwood is one of the best line coaches on the West Coast.
And Colorado's experience up front -- though losing tackle Nate Solder can't be just written off -- combined with a very good running back in
Rodney Stewart
, might give some pause before relegating the Buffaloes to also-ran status this fall.
May, 18, 2011
5/18/11
10:00
AM ET
By
ESPN.com staff
| ESPN.com
Every team has hope heading into the offseason. And every team has concerns.
Ergo, we're going to run through the conference and look at the chief matters -- on the up and downside -- for each Pac-12 team.
Next up:
Oregon
Biggest reason for hope
: Two Heisman Trophy candidates.

LaMichael James
is the nation's best running back, considering he was the top running back in the 2010 Heisman Trophy vote and won the Doak Walker Award as the nation's best running back.
Darron Thomas
was second-team All-Pac-10 in 2010, and you might recall that the first-year starter earned that honor ahead of quite a few touted QBs and behind one who's pretty darn good: Stanford's
Andrew Luck
, the Heisman Trophy runner-up. When a team is this good at RB and QB, it gives your offense a lot of room for error. Further, James might be better off that the Ducks are deep at running back. Instead of getting beating up -- James seemed to slow a bit at season's end -- he'll share carries with talented backups
Kenjon Barner
and
Lache Seastrunk
. Thomas should take a step forward in his second year running the Ducks' offense, both as a runner and passer. Experience matters for a QB, even one who made it seem mostly unimportant the previous season.
Biggest reason for concern
: Is it the O-line or the receivers?
Technically, the Ducks lost three starters on the offensive line, though the number is really two because of left tackle Darrion Weems' significant experience. They also lost their top two wideouts. The line got mostly pushed around this spring by the Ducks' rebuilding (reloading might be more accurate) front seven. Center and one guard spot probably still remain open for competition. There might even be some reshuffling. Meanwhile, the passing game didn't consistently click, particularly with receiver
Josh Huff
on the sidelines for most of the spring. In any event, Huff,
Lavasier Tuinei
and
Justin Hoffman
are not an A-list troika. Youngsters
Nick Cole
and
Will Murphy
flashed promise, but they are hardly certainties. Good depth at tight end will help, and the incoming crew of freshman receivers is impressive. One or two may -- read: probably -- will immediately battle for playing time.
October, 5, 2009
10/05/09
5:49
PM ET
By
ESPN.com staff
| ESPN.com

Posted by ESPN.com's Ted Miller
A few weeks ago, some Oregon fans were clamoring for a quarterback change. Now, they may get it when they no longer want it.
Ducks quarterback
Jeremiah Masoli
, who's been masterful over his last six quarters,
didn't practice
Monday due to a knee injury he suffered in the second quarter against Washington State and may not be ready for the visit to UCLA on Saturday.
Oregon coach Chip Kelly said Masoli is "day-to-day," which is his standard answer for any injured player. The nature of Masoli's injury also is unclear. The Eugene Register-Guard reported that Masoli was "moving around with a stiff limp and had an ice wrap at one point" on Monday.
If Masoli can't play at UCLA, junior
Nate Costa
would start.
Costa was slated to be the starter in 2008 before he suffered a major knee injury during the preseason that required season-ending surgery -- the third such knee injury he's suffered.
Costa played well after replacing Masoli against the Cougars. He completed 7 of 9 passes for 80 yards and ran for 26 yards and a touchdown. For the year, he's 11 of 16 for 115 yards with 38 yards rushing.
Kelly said he believes Costa has put his injury history behind him.
"He's over it," Kelly said. "He's taken some hits in the two games he's played. He's scrambled around the pocket and done a nice job. If we have to go with Nate, I've got all the confidence in the world in him."
The Ducks No. 3 quarterback is sophomore
Darron Thomas
. Thomas saw some quality action last year as a true freshman, most notably while leading a late comeback against Boise State, but the goal is to redshirt him.
Losing Masoli would be a big hit. After a slow start -- a really slow start -- he's completed 35 of 43 passes -- 81.4 percent -- for 369 yards with four TDs and no interceptions over the past six quarters. He's also rushed for 73 yards and a score during that span.
Masoli isn't the only wounded Duck. Right tackle C.E. Kaiser suffered a shin injury against the Cougars and also is questionable for this weekend. If he can't play, Darrion Weems or Nick Cody would replace him -- both of whom are in a regular rotation on the offensive line.
Running back Kenjon Barner (shoulder) and receiver
Jamere Holland
(knee) also didn't practice Monday, according to the Regiser-Guard, while safety T.J. Ward (ankle) did conditioning drills. Ward hasn't played since the Boise State game but could be ready for UCLA.
August, 19, 2009
8/19/09
4:01
PM ET
By
ESPN.com staff
| ESPN.com
Posted by ESPN.com's Ted Miller
EUGENE, Ore. -- Chip Kelly has to be himself, so he's going to figure out a way to change the job of head Oregon football coach so it fits him, not the other way around.
Administrative tasks bogging him down? He'll spend all summer carefully planning out every detail of the Ducks -- and his -- schedule so that won't be an issue during the season.
"Our schedule is set until after the bowl game, whatever bowl game we go to," he said. "I could tell you what time our meeting is on Oct. 26... I can tell you what day we start spring practice. Our spring game is on May 1. We've got the whole year planned out."
A jones to continue directly coaching players not getting satisfied? Kelly created the "tazer" position, a hybrid running back-receiver, which he now coaches just like any other position coach. Kelly has daily meetings with his tazers, Ed Dickson -- formerly known as one of the nation's best tight ends -- and LaMichael James and Kenjon Barner, who once were backup running backs.
A football practice with a million things going on still missing something? Hey, let's play music during practice, from James Brown to Pearl Jam to Eric Clapton to the new stuff that the kids like.
(Kelly's eclectic tastes get a tip of the cap from the Pac-10 blog. He even likes the Dropkick Murphys, whose version of "I'm Shipping Up To Boston" is the best part of the movie, "The Departed.")
"As long as the songs don't have any profanity," he notes.
In the old days, head coaches climbed towers to lord over practices. Most head coaches these days linger on the periphery, giving only occasional pieces of sage advice or offering bits of intimidation as motivation.
Kelly starts coaching at the first whistle and doesn't stop until the last.
He barks: "Finish!" "Aggressive!" "Where are you supposed to be?"
Five quarterbacks throw the ball into the air at the same time during a drill. One ball hits the ground. Kelly knows exactly who and what went wrong.
At any moment, he could be explaining nuances to a player who catches his eye or debriefing with an assistant.
"That's the fun part. You have to coach the way you know how. Some guys are great at being CEOs," he said. "I want to stay involved."
He's also willing to do some things that seem strange but may soon be better described as "innovative." Quarterbacks wear helmet cams, so coaches can look through their eyes. Stand-ins for defensive linemen strap onto their shoulders what look like large black fans in order to obscure the vision of the quarterback.
If there was any question that Kelly might wait to put his imprint on a program that thrived for 14 years under Mike Bellotti, well, the answer is no. These Ducks are now Kelly-green.
While former backup quarterback Justin Roper's decision to transfer shouldn't be termed "a good thing," it's clear watching practices that Kelly has three capable quarterbacks who perfectly fit into his spread-option system: Jeremiah Masoli, Nate Costa and Darron Thomas. All three are good runners and passers. If Roper had remained with Oregon and had been needed for whatever reason, his skill set -- he's not much of a runner -- would have required some tweaks to the game plan. Said Kelly, "That's what we're looking for -- a quarterback who can really run. Those guys are ideal for what we're looking for. I feel better about our quarterback depth this year than I did last year ... I wouldn't hesitate to play any of those three guys."
Oregon is tall at receiver. At any given time it could split out wide Dickson (6-foot-5), Dion Jordan (6-foot-7), Rory Cavaille (6-foot-3), Lavasier Tuinei (6-foot-5) or Tyrece Gaines (6-foot-3). "That's kind of by design in recruiting," Kelly said.
A flu bug has run through the Ducks. Kelly said that around 15 to 20 players have missed practices -- almost always two days -- including four on Wednesday.
New defensive line coach Jerry Azzinaro isn't a huge guy but my initial impression is you'd want him on your side in a bar fight. "Our defensive line is playing great right now. They really have caused some problems in camp," Kelly said. "I think [Azzinaro] is as good as any D-line coach in the country. I think it's showing."
The Ducks seem close to set on the offensive line with Jordan Holmes at center, Bo Thran at left tackle and C.E. Kaiser opposite him on the right side. Mark Asper is the right guard and Carson York leads at left guard. Kelly said he felt confident with Nick Cody and Darrion Weems in terms of depth.