September, 30, 2010
9/30/10
6:58
PM ET
By
ESPN.com staff
| ESPN.com
Ah, now the Pac-10 schedule starts in earnest.
You can
follow me on Twitter
.
To the notes.
Quinn from Issaquah, Wash., writes:
Following last weeks embarrassment against Nebraska, do you feel that
Jake Locker
has enough moxie to bounce back and pull of the upset this weekend against an overrated USC team? The Huskies defense has holes left and right, but nonetheless this team as an entire unit is the toughest challenge thus far for the Trojans. USC allowed over 300 yards to both the worst team in the pac 10 (a pitiful WSU squad) and the worst team in the big 10 (bush league Minnesota). With the bye week to prepare and perhaps some added motivation/insight from Sark, this seems as opportune a time as they will have to beat a ranked team. Seattle keeps waiting for this program to take the next step
.
Ted Miller:
Yes, Locker has the moxie. And, yes, at USC would be a great time for him to turn in a big-time performance and hush his critics.
Now, I'm not so sure that USC is "overrated," particularly at 18th in the nation. There certainly aren't 17 teams in the nation that would be favored vs. the Trojans, nor would most AP voters put money where there ballots are on the teams they keep ranking ahead of the Trojans.
Folks: It might be a mistake to write the Trojans off yet. Of course, if the Huskies go into the Coliseum and pull the upset, well, then it might be time.
The bye week after the Nebraska disaster certainly should help Washington. For one, there's extra game planning. Second, they get back two starters who missed the Nebraska game: WR
James Johnson
and MLB Cort Dennison.
I'd rate the Huskies chances as decent, though I still favor the Trojans, who shouldn't be lacking motivation after last year's upset loss in Seattle.
As for the program taking the next step: Keep in mind you're only in year two with Steve Sarkisian, who already has taken recruiting a major step forward. And in 2008, the Huskies went 0-12.
The end of the 2009 season perhaps gave Huskies fans too much optimism, something that the upbeat Sarkisian did little to keep in check. The expectations for a ranked team competing in the top-half of the Pac-10 that developed might have been premature. We've got plenty of season to play, and the Huskies still might surge, but the early returns are they don't have the talent on either line to play with the elite on a weekly basis.
Mark from Sacramento writes
: I know the pac-10 season in just starting, but at what point (number of losses) does Tedford start looking at playing the younger QB's to get them experience instead of senior Riley? Tedford has only recruited one good QB (A. Rodgers), so the so-called QB guru needs to step it up.
Ted Miller
: Jeff Tedford is going to play the QB he thinks will give him the best chance to win this season. Clearly, he thinks that's
Kevin Riley
. He's not going to bench Riley --
whose numbers, by the way, really aren't bad
-- and start looking ahead to 2011 anytime soon.
Now, if the losses start to pile up, and Riley isn't doing well, then Tedford might turn to
Beau Sweeney
to see if he could give the Bears a spark. But I'd rate the odds of that happening as small.
And, keep in mind Tedford the QB guru may have only had major success with Aaron Rodgers at Cal, but his QB pedigree is pretty darn strong from his years at Oregon and Fresno State.
John from Corvalis via Tokyo writes
: I have respect for the Arizona St. defense. I am not even going to negatively comment on you picking the Beavers to lose to Arizona St. at Reser (a place where the Beavers have played fairly well recently). Arizona St. could win, I think it will be a good game. Yet I really feel like you have overrated them to say that their defense is as talented as Boise State's and TCU's. Boise St. shutdown the Ducks offense last year and returned nearly the whole team. TCU I believe has led the Nation in Defense two years running. Like I said, Arizona State has a good defense, but they had more blown coverage vs. Oregon than the Beavers had against Boise St. and I think
Kellen Moore
is a better passer than
Darron Thomas
(although ASU was selling out against UofO's run game for obvious reasons). Please explain this huge compliment that you have paid them.
Ted Miller
: Last year, playing a Pac-10 schedule as well as a game at Georgia, Arizona State ranked 13th in the nation and Boise State 14th
in total defense
. TCU, of course, was No. 1, but it lost its two best players -- end Jerry Hughes and LB Daryl Washington.
At present, Boise State is is third in total defense, TCU 12th. The Sun Devils are
way down at 49th
.
But! ASU has played Wisconsin and Oregon, which are presently ranked Nos. 3 and 13 in the nation in total offense, averaging 560 yards and 484 yards per game.
Oregon had 405 yards vs. ASU; Wisconsin 440 (but just 20 points).
Boise State held Oregon State to 237 yards and TCU held the Beavers to 255. But Louisville also held the Beavers to just 319 yards in Reser Stadium. Kentucky had 466 yards against that defense at Louisville. SMU had 361 yards vs. TCU. The Mustangs only had 420 vs. Washington State.
Are you drowning in numbers already?
My point is: Based on who Arizona State, Boise State and TCU have played, the numbers are comparable, though our sample size -- one quarter of the season -- is too small to make ultimate judgments.
So let's then lean on this then: Boise State and TCU play good team defense. More players from Arizona State, however, are going to get drafted by NFL teams.
And I think you'll get a good look at how good the Sun Devils defense is on Saturday.
Paul from Carpinteria, Calif, writes
: After watching UCLA dominate the Longhorns last Saturday one thing was extremely clear. Akeem Ayers may the best defensive player in football and this guy has to be double or triple teamed on every down. Is it just me or is this guy a freak of an athlete who is going to be a top 10 pick next year.
Ted Miller
: It is just you. Ayers is a pansy.
Kidding! Akeem, please. Kidding!
Paul, not sure if he requires a double- or triple-team every play but he's a leading candidate for Pac-10 Defensive Player of the Year. As for his NFL prospects, he's moved up from
18th to 11th on Mel Kiper's "Big Board
."
Jonathan from Pullman, Wash., writes
: As a student at Washington State University, I would just like to say this: PLEASE STOP GIVING US SO MUCH RESPECT!!! We are an utterly despicable, joke of a football team. Have you even seen us play? We have been the Bad News Bears for what is now the third consecutive year. So please stop saying we will be competitive in games, because we won't. UCLA will man handle us just like every other opponent we face.
Ted Miller
: This is the first time I've been told to stop respecting a team so much.
OK, Mr. Sunshine, sounds like a guy needs a long night at "The Coug."
Spencer from Salt Lake City writes
: You've got a feel for the hate between BYU/Utah now that the Utes are headed your way.
Check this out, this is great. You'll love it
.
Ted Miller
: Not bad. Not sure our friends from BYU will like it much, but I guess that's the point.
Of course, now you've got to find someone to hate in the Pac-12. Any suggestions, folks?
Steve from Portland writes
: You say in your article :"Just ask Oklahoma State, which the Ducks manhandled in the 2008 Holiday Bowl" .....this actually confirms my assumption that you are a MORON!!! First, Oklahoma State was "Man-handling" Oregon the entire first 1/2 until Dez Bryant went out with Injury ....and they narrowly escaped winning that game. The Ducks are a JOKE and have yet to win any big game against a seriously Physical team (and no I don't consider USC as a physical team). The Ducks have had arguably 2 truly tough tests in the last decade....Boise State and Ohio State and they failed miserably in both of them because they were playing good Defenses!! The only GOOD defense that Peter Carroll's USC came up against while he was there ...was TEXAS ...and well ...you know what happened in that National Championship .....The Pac 10 has always been weak in Defense up until the last couple years with Standford looking like a REAL Football team . My guess is the DUCKS get Whooped the the Cardinal .....other than the cardinal ...most of the PAC-10 is a joke ...and want a be conference.
Ted Miller
: You had me at MORON, Steve!
Here is the
box score from the 2008 Holiday Bowl
. The key number is 565.
And here are Mike Gundy's
comments
.
And here is the
box score USC's only game against a good defense
, Texas, in the 2005 national title game: The key number is 574 (other than the final score, of course).
Jo
e from Roseburg, Ore., writes
: Could you announce that we are having a black-out at Autzen for this weekends game, and that all the fans attending should try and wear some black duck apparel. Try and spread the word.
Ted Miller
: No, I can't do that.
Now, if you went for a
Lightning Yellow
-out, I'd be all for that.
September, 3, 2010
9/03/10
11:00
AM ET
Pressure? Pressure is your first career start at quarterback -- your first meaningful action, in fact -- coming against the nation's No. 6 team, one that's known for forcing quarterbacks to their backs, where they can look up at the lights and wonder if it's worth it to get up. And that pressure twists even tighter when it's not just a road game against that powerful foe, but it's also inside the palatial Cowboys Stadium, a$1.3 billion, look-at-me showcase of excess from Jerry Jones.
That's what Oregon State quarterback
Ryan Katz
will face on Saturday when his 24th-ranked Beavers try to take down a TCU team with 27 seniors -- tied for most in the nation -- including a fifth-year quarterback,
Andy Dalton
, who's triumph in 29 career games means his next victory will push him past the legendary Slingin' Sammy Baugh on the Horned Frogs list.
[+] Enlarge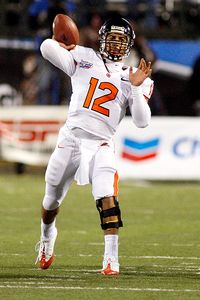 Ric Tapia/Icon SMIOregon State's Ryan Katz will make his first career start against TCU.
Katz spent his first game week answering redundant questions about whether he was excited or nervous -- nervous or excited -- about making his first start (answers: yes to excited, no to the other). While he clearly seems ready to be done with the hype portion of preparation, he diplomatically insists "it wasn't that bad."
"I'm just going to play it cool and stay focused," Katz said.
We shall see. The biggest difference between these two teams, who are similar in that they are consistently successful without ever signing nationally-touted recruiting classes, is quarterback. Dalton has thrown more than 1,000 career passes and could become a Heisman Trophy candidate. Katz at this point is all projection, though his powerful arm has elicited more than a few "yowzas" during practices.
The good news for Katz is he won't be facing end Jerry Hughes and linebacker Daryl Washington, 2009 All-Americans who were picked in the first two rounds of NFL draft. Dalton and the offense have often had their way during preseason practices, so perhaps the Horned Frogs defense will take a step back this fall.
"Well, a little bit of it has to do with our offense -- they've really got things going with a senior quarterback," TCU coach Gary Patterson said.
Patterson's most obvious strategy is to gang up on Oregon State running back
Jacquizz Rodgers
and then blitz Katz relentlessly, daring the sophomore to maintain his poise and find an open guy. It would be fair to say that the Beavers -- aware of the obvious -- have thrown every blitz package they can think of at their offense in order to get them ready.
"We've got to stay poised to pick up the right guy and then physically do the job so our quarterback can function," coach Mike Riley said. "But there is no way we can play this game without some balance."
Which means Rodgers gets -- or creates -- space to run. Recall that he did that with great fanfare versus USC in 2008, gaining 186 yards against what is widely considered the best defense of the past decade.
But the other Rodgers -- receiver
James Rodgers
-- has a secret: Katz seems comfortable with pressure and is capable of punishing a blitzing defense.
"Now, he can throw the deep ball," James Rodgers said. "Whenever we do pressure periods, he gets rid of the ball fast. I think his confidence has really gotten high. It will be pick your poison. You want to stop the run and load up the box, we have a lot of guys at receiver who can make plays. And vice versa if you want to double-up on the receivers. We have a running back who can make plays."
Katz is surprisingly breezy when talking about what he might face.
"The quickest way to get a defense to stop blitzing is to convert some big plays," he said. "There are some really big spaces there when a defense blitzes. There are going to be a lot of open throws downfield, I think."
Those are the basic Xs and Os. But other numbers stack up against the Beavers. For one, TCU regularly takes foes from the marquee conferences to the woodshed. It's 13-3 in its past 16 games against BCS conference teams. Moreover, Oregon State rarely posts Septembers to remember. It won 28 games from 2006-2008, but it started all three seasons 2-3. In 2009, the Beavers went 8-5 after a 2-2 start.
The slow starts have long been a source of "what might have been?" in Corvallis. To cure the ailment, Riley increased the intensity during spring practices and fall camp. There was a lot more full-contact work (though star players, such as the Rodgers brothers and defensive tackle Stephen Paea often took the scrimmages off). Further, other than Katz, this is a veteran team. It shouldn't need a few games to find itself.
All the talk is at an end, though. Katz said he expects to feel some butterflies when he first takes the field and early in the game. And he knows that TCU's vaunted defense is eyeballing him with all sorts of bad intentions.
"We just need to weather the storm and get past those first few plays," he said. "It's Cowboys Stadium, but after that first play, it just becomes football."
And it seems the Beavers coaches and players feel pretty confident that Katz will be just fine handling the football part of the evening.
PAC-12 SCOREBOARD
Monday, 12/22
Saturday, 12/20
Tuesday, 12/23
Wednesday, 12/24
Friday, 12/26
Saturday, 12/27
Monday, 12/29
Tuesday, 12/30
Wednesday, 12/31
Thursday, 1/1
Friday, 1/2
Saturday, 1/3
Sunday, 1/4
Monday, 1/12
Tweets from https://twitter.com/ESPNCFB/lists/pac12