March, 22, 2011
3/22/11
4:00
PM ET
Arizona starts spring practice today, which means it can stop licking the wounds of a five-game losing streak to end 2010 and start looking forward to 2011.
[+] Enlarge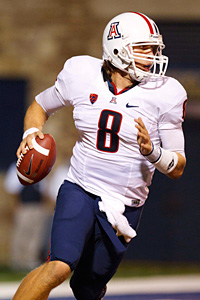 Rick Osentoski/US PresswireArizona enters the upcoming season with lofty expectations, thanks in part to returning quarterback Nick Foles.
But if taking a step forward toward 2011 is the carrot, a lingering backwards glance to 2010 is the stick. The Wildcats should be plenty motivated.
"The kids know we are close, but we need to do some things better to take that next step," coach Mike Stoops said. "We've gotten to this point. We need to go further."
On the one hand, the losing streak happened against a brutal schedule: Stanford, USC, Oregon, Arizona State and Oklahoma State combined for a 49-15 record. But the Wildcats aspire to being a team that wins those sorts of games.
"We just need to be stronger in some ways, stronger against stronger teams," Stoops said.
The Wildcats have intriguing talent coming back -- with quarterback
Nick Foles
and perhaps the Pac-12's best group of receivers leading the way -- but they also have two glaring holes: offensive line and defensive end. All the 2010 starters at those positions are gone.
Here are some notes:
Out of spring
: Just two starters will not participate in full-contact work: defensive tackle Justin Washington and cornerback Shaquille Richardson. Both had shoulder surgery. Receiver Bug Wright was given the boot for repeated team rules violations.
Offensive line questions
? All five starters are gone on the offensive line. Sophomore Mickey Baucus and redshirt freshman Fabbians Ebbelle are the front-runners at the tackles. Kyle Quinn, who started the Alamo Bowl for Colin Baxter, is the leader at center, though mid-year transfer Addison Bachman could make a challenge. Sophomores Chris Putton, Trace Biskin and Eric Bender-Ramsay are in the mix at the guards. Redshirt freshmen Trent Spurgeon and Carter Lees and junior Shane Zink also are in the mix. With a new offensive line coach -- Robert Anae -- there could be plenty of mixing and matching.
End of the line
? Senior Muhammed Usman and redshirt freshman Dan Pettinato will be with the first unit to start spring, but defensive end might be an even bigger question than offensive line. The Wildcats are deep at tackle -- Washington, Sione Tuihalamaka, Willie Mobley,
Chris Merrill
, Dominique Austin, Jowyn Ward, Aiulua Fanene, etc. -- so it's possible things might be fluid on the defensive line. One of the more athletic tackles might move outside to become a big, strongside end. And junior college transfer Lamar de Rego arrives in the fall.
Good to receive
: The Wildcats welcome back potential preseason All-American receiver
Juron Criner
, but the big news is the overflow of enthusiasm for Texas transfer
Dan Buckner
, who will give the Wildcats a second speedy, 6-foot-4 target on the outside. Said Stoops, "I think he gives us the two best outside receivers maybe in the country. Having [Buckner] and Criner on opposite sides is going to create problems for people." When you toss in Dave Roberts,
David Douglas
and
Richard Morrison
on the inside, you have a deep crew that Stoops called "the best receiving group we've ever had, without question." Oh, and don't forget:
Terrence Miller
,
Garic Wharton
,
Austin Hill
and
Tyler Slavin
. Lots of competition for touches here.
Backed by seven
: The Wildcats welcome back all three starting linebackers and a talented secondary. Sophomore Marquis Flowers and junior Adam Hall figure to offer an upgrade in the secondary -- both saw plenty of action in 2010. Robert Golden, Trevin Wade, Shaquille Richardson and Jonathan McKnight provide talent and experience at cornerback. And Stoops thinks Wade, who suffered through a notable slump last fall, is going to bounce back: "Trevin has had a much better out-of-season already. I think he learned a great deal from some of his mistakes a year ago as well as his preparation. I look for him to come back strong." He added, "This is the most athletic back-seven we've had. Best group of corners we've had."
Not special
: The Wildcats didn't get much from their kicker Alex Zendejas and punter Keenyn Crier last season. Zendejas is back, but he needs to step up. Said Stoops: "Zendejas needs to become a much better player... we need more out of him." Junior college transfer Jaimie Salazar arrives in the fall. Junior college transfer punter Kyle Dugandzic was signed to start, so he needs to come through.
Redshirt or backup for Scott
: Stoops wants to redshirt backup quarterback
Matt Scott
, which means he could return for a redshirt senior season in 2012. But that might not be doable. Said Stoops, "In a perfect world, we'd love to redshirt him. But we've got to keep him ready to play if things slide or something happens to Nick." Junior
Bryson Beirne
would make things easier on his coaches with an inspired effort this spring.
This is Foles' team
: Foles has been a good quarterback for two years. If he becomes an All-Conference or even All-American quarterback as a senior, the Wildcats could climb to the top of the Pac-12 South Division. Stoops expects a lot out of Foles. "Nick has to have total control of this team and this offense," he said. "He's a premier starter who will become, hopefully, a first-round NFL draft pick. He needs to assert himself in every way possible as a leader."
February, 8, 2011
2/08/11
12:20
PM ET
By
ESPN.com staff
| ESPN.com
If any school knows about the pratfalls of dealing with agents -- and would-be agents -- it's USC. So it makes sense that the school is holding an "Agent Awareness, Education and Eligibility Summit" Tuesday at the Galen Center.
The purpose of the summit is "to better understand the challenges that universities, student-athletes and coaches face when dealing with agents and in hopes of exploring ways to improve a situation that has been newsworthy both on its campus and nationally," according to a news release on the event.
Among those making presentations at the invitation-only event will be representatives of the NCAA, Pac-10, SEC, NFL and NFL Players Association, as well as athletic directors from every Pac-10 school and several prominent agents. USC's participants will include president C.L. Max Nikias, athletic director Pat Haden, vice president for athletic compliance Dave Roberts and senior associate athletic director Mark Jackson.
"Obviously, the issue of college student-athletes dealing with agents is a hot-button topic," Haden said in a statement. "We at USC know that firsthand. We decided to organize this summit so that all of us at USC can pick the brains of our peers throughout the Pac-10 and also hear from those on the firing lines at the NCAA and Pac-10, at the NFL and within the agent community. Our goal is to gain valuable input in this area as we move forward here at USC, and also to provide a constructive dialogue and exchange of ideas between all of the participants."
If I were Haden, I'd take all the NCAA folks
here for dinner
. And pick up the tab.
You know, just from the goodness of his heart.