December, 20, 2013
12/20/13
4:05
PM ET
You can't say Utah coach Kyle Whittingham is afraid of change. You can't say he's not desperately trying to fix his ailing offense. And you can't say that the unexpected hiring of former Wyoming head coach Dave Christensen on Friday to run the Utes offense in 2014 isn't a bold move with a potentially substantial payoff.
Christensen has a great reputation for offensive innovation -- just review what he did at Missouri in 2007 with QB Chase Daniel.
Still, it is fair to wonder if a revolving door at offensive coordinator is a good thing for the Utes' short-term prospects, particularly with growing pressure on Whittingham to reverse a two-year bowl-less slide.
[+] Enlarge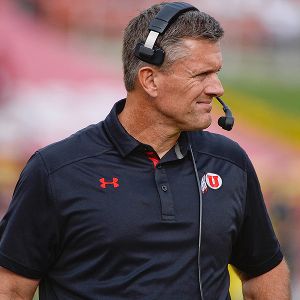 Robert Hanashiro/USA TODAY SportsKyle Whittingham has had a revolving door at offensive coordinator.
Revolving door? Christensen is Utah's sixth offensive coordinator in… six years:
• Andy Ludwig -- 2009
• Aaron Roderick and Dave Schramm -- 2010
• Norm Chow -- 2011
• Brian Johnson -- 2012
• Dennis Erickson (Johnson remained co-coordinator in name only) -- 2013
• And now Christensen -- 2014
Here's an interesting dynamic: At least as of now, Roderick, Johnson and Erickson will remain on staff, working under Christensen. Erickson will coach running backs, Johnson quarterbacks. There was a void on the offensive staff because tight ends coach Jay Hill was hired as Weber State's head coach. Christensen will coach tight ends. Roderick was receivers coach and passing game coordinator last year. The release from Utah on Christensen's hiring doesn't note any change to his status.
The Pac-12 blog's oft-stated position on why the Utes offense has struggled the past few years, other than a higher quality of opposing defenses in the Pac-12 compared to the Mountain Weast, was the lack of continuity at quarterback. Unless Christensen has a cure for what ails the health of the promising
Travis Wilson
, that will be the overriding issue in 2014.
Whittingham also probably will need to smooth over some roughed-up egos.
It would seem this move is a surprise to Erickson, who refused to comment to the Salt Lake Tribune, per Twitter, but had said he wanted to return as coordinator. The feeling when Erickson, 66, was hired last winter to play lead with demoted co-coordinator Brian Johnson was he would mentor Johnson, an inexperienced but undeniably promising coach, not to mention a former Utes football great. The seeming ideal scenario there was Erickson retiring after a few years and Johnson regaining his old spot with a new bag of tricks and far more seasoning. That scenario has been clouded by the hiring of Christensen.
It will be interesting to see if this offensive staff doesn't undergo a few more changes before next season.
Christensen was only fired at Wyoming on Dec. 1. He went 27-34 overall in five seasons coaching the Cowboys and 16-23 in the Mountain West. He was Mountain West Conference Coach of the Year in 2011, but he went 9-15 the past two seasons.
Before Wyoming, he served 17 years as an assistant for Gary Pinkel at Toledo (1992-2000) and Missouri (2001-08), and he's a no-huddle, spread specialist, the scheme the Utes have been tinkering with with varied results for several seasons.
"As one of the pioneers of the spread offense, Dave Christensen is an innovative coach and was the architect of one of the top offenses in the country during his time at Missouri," Whittingham said in a statement from the school. "We feel fortunate he was available and interested in joining our program, and he will be a great fit with our staff. We want an explosive offense and that's been a trademark of Dave's throughout his career as an offensive coordinator."
Whittingham and Christensen worked together at Idaho State in 1989-90. Christensen played offensive line at Washington from 1980-82 before getting his degree in 1985 at Western Washington.
This is a good hire in many ways. Erickson wasn't the long-term answer, and Christensen's availability and willingness to come to Salt Lake probably was too alluring to pass up for Whittingham. Yet six coordinators in six years is pretty extreme turnover. While there are reasonable explanations for each change, it's impossible to not at least raise an eyebrow.
Of course, the way to lower that skeptical eyebrow is the same for Whittingham/Christensen as it is in all things in big-time college football.
Produce results. Win.
March, 12, 2012
3/12/12
1:30
PM ET
On Oct. 1, Utah went into the halftime locker room trailing Washington 10-7, kicking itself for a pair of red-zone turnovers.
Quarterback
Jordan Wynn
walked into the locker room with two thoughts. First of all, he felt like he was throwing like his old self for the first time all season with a surgically-repaired right shoulder. Second, there was something wrong with his other, non-throwing shoulder.
Wynn couldn't play in the second half, and the Utes
got rolled 31-14
in front of a stunned crowd at Rice-Eccles Stadium. Shortly thereafter, it was announced that Wynn's season was done and he would again undergo shoulder surgery.
[+] Enlarge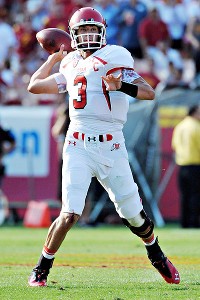 Kirby Lee/US PresswireShould quarterback Jordan Wynn stay healthy for all of the 2012 season, the Utes could be a force to reckon with in the Pac-12.
"I think I was pretty close [to 100 percent], but looking back on it, with the injury I had and surgery I had, it takes time," Wynn said. "I was just starting to feel like I was getting back to my old ways, especially the first half of the Washington game. That might have been one of the better halves of my career."
And when Wynn went down, many saw the Utes' season as doomed. Instead, with Nebraska-Omaha transfer
Jon Hays
managing a run-first offense that leaned heavily on a tough defense, the Utes nearly stole the South Division crown in their first year of Pac-12 play.
It's fair to ask what might have happened if Wynn had stayed healthy and continued to recover his form from late 2009 and most of 2010. Note that from Oct. 31, 2009 to Oct. 30, 2010, Wynn was 12-2 as a starter, including a dynamic performance in a 2009 Poinsettia Bowl win against California as a true freshman.
Many expect USC to run away with the Pac-12 South Division. Heck, many see the Trojans playing for the 2012 national title.
But what about Utah? Recall that the Utes, in the waning moments of the fourth quarter, lined up for a 41-yard field goal to tie the Trojans in the Coliseum last September (it was blocked and returned for a TD). Sure, USC hadn't really found the mojo at that point that would propel it into the top-five by season's end, but neither had Wynn or the Utes.
If you want to know a game that could have huge Pac-12 and national title implications in 2012 that not many folks are talking about, look no further than USC's visit to Salt Lake City on Oct. 4 — a Thursday night matchup on ESPN.
"It will definitely be interesting," Wynn said. "It was a tough game last year. We came one or two plays short of stealing that thing away."
Of course, there's a lot to do between now and then. The prime objective for Wynn: Stay healthy. And No. 2 is to find a comfort level with his fourth offensive coordinator (Dave Schramm, Aaron Roderick, Norm Chow and now
Brian Johnson
). Johnson, who just turned 25, is the youngest coordinator in FBS football.
"It's definitely a different dynamic from him to coach Chow [who will turn 66 in May]," Wynn said. "He understands first hand what it's like to be a 21- or 22-year-old in college, and kind of what goes on. It's good for off-the-field stuff. He's easy to relate to."
There's been plenty of speculation about what the switch from Chow to Johnson will mean. Johnson ran a spread-option when he was the Utes QB from 2005-2008, which Chow changed to a pro-style attack during his one-year tenure before becoming Hawaii's coach. While Wynn expects some tweaks — here's a guess that Johnson got the job partly because his suggestions of tweaks intrigued head coach Kyle Whittingham — he doesn't expect dramatic changes.
Read: Him running an option.
"I don't think it's going to be too much different," Wynn said. "He's tweaking stuff here and there, but we're going to keep somewhat of a pro-style system. ... I'm not really known as a runner. To this point, there really aren't any designed runs for me in the offense. I would imagine there probably won't be. But we'll see."
Wynn said both shoulders "feel great." He said he's been working out since December and throwing at 100 percent since January. He also said the frustrations of the past two years have helped him grow.
And, yeah, he's looked around. He sees the pieces coming back on both sides of the ball. This is a talented team with plenty of experience. The idea that his health is the critical cornerstone is not something he embraces or says himself, but he's aware that more than a few folks already are putting it atop their analysis of the Utes in 2012.
"If people want to say it lies on me, that's fine, he said. "If you look at any great college team, they usually have great quarterback play."
It's fair to say that speculating on potential endgames in 2012 for the Utes gets far more optimistic if Wynn starts all 12 games.
March, 10, 2011
3/10/11
12:04
PM ET
By
ESPN.com staff
| ESPN.com
Only Oregon and Washington
didn't experience any staff turnover
this offseason, so we're running through the staff changes for the other 10 Pac-12 teams.
Next up is Utah, which brought in a big name to run its offense
Team in parenthesis is where the departing coach ended up.
Out

Dave Schramm, co-offensive coordinator/tight ends (now running backs coach)
Aaron Roderick, co-offensive coordinator (now receivers coach)
In

Norm Chow, offensive coordinator/tight ends
Out

Blake Miller, Offensive line (Memphis)
In

Tim Davis, offensive line
Out

Aaron Alford, running backs (now Director of High School Relations)
In

Schramm, running backs
Out

John Pease, defensive line (retired)
In

Chad Kauha'aha'a, defensive line
Reaction
: Obviously, the big news is Chow. He's one of the all-time greats, but he's coming off an unsuccessful tenure at UCLA. It's interesting that he's not coaching quarterbacks, which continues to be Brian Johnson's post. That will allow Chow to play a more supervisory role, which might be a good thing as he gets a feel for his personnel and transitions the Utes from a spread to a more West Coast attack. Johnson, who turned 24 in February and is the Pac-12's youngest full-time assistant, has a great opportunity to learn from Chow and put his career in the fast lane. An obvious question is how Schramm and Roderick handle what functions as a demotion. You'd suspect that head coach Kyle Whittingham is pretty confident both will be good soldiers, because it falls on him if they are disgruntled. Davis, a former line coach at USC, was a Ute offensive tackle from 1978-80 and a Utah offensive line coach from 1990-96. Kauha'aha'a was Utah State's defensive line coach for the past two seasons. He's a former second-team All-WAC player for the Utes in 1996. Whittingham was the defensive coordinator during Kauha'aha'a's last three years at Utah.
February, 4, 2011
2/04/11
10:32
AM ET
Norm Chow: Utah tight ends coach.
Sorry. Just wanted to type that.
Here's how Utah coach Kyle Whittingham has reshuffled his staff after hiring Chow away from UCLA, per a press release:
[O]ffensive coordinator Norm Chow will also coach the tight ends, while Dave Schramm takes over at running back -- a position he managed during his first four years at Utah (2005-08). Aaron Alford, a Ute assistant since 2007 and the running backs coach for the last two seasons, moves into an administrative role as the director of high school relations. The rest of Utah's offensive staff has Aaron Roderick beginning his seventh year with the receivers, Brian Johnson coaching the quarterbacks for the second year, and Tim Davis taking over the offensive line.
[+] Enlarge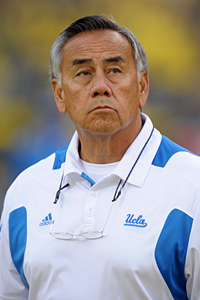 Kirby Lee/Image of Sport - US PresswireNew Utah offensive coordinator Norm Chow will bring a lot of experience to the staff.
Utah also announced that Chad Kauha'aha'a will take over as defensive line coach. He replaces John Pease, who retired after the season. Kauha'aha'a was Utah State's defensive line coach for the past two seasons. He's a former second-team all WAC player for the Utes in 1996. Whittingham was the defensive coordinator during Kauha'aha'a's last three years at Utah.
But back to the offensive shakeup. Here's how Whittingham explained it:
"We took our time re-positioning the offensive staff and made sure that we got everybody into the roles we felt were best for the program. Aaron Alford did a nice job with our running backs, and the cornerbacks before that, but as the director of high school relations, he will fill a critical role for us in our move to the Pac-12."
It seems like Whittingham tried to limit the shock to his staff's system as best he could, seeing that Schramm and Roderick shared the coordinating duties last year and are functionally getting a demotion because of the arrival of Chow.
Most interesting: Chow is not coaching quarterbacks. That's been his specialty since his BYU days in the 1970s. That decision feels like tip of the cap to Brian Johnson, as well as a way to allow Chow to serve in a more supervisory role. A graduate assistant can put tight ends through drills. Coaching quarterbacks is far more involved.
Further, Chow turns 65 in May. It seems unlikely he'll be Utah's offensive coordinator for the next decade, though you never know. You'd think the rest of the offensive staff, even if they are grumpy at present about the changes, could absorb plenty of knowledge from Chow over the next few years that will benefit them down the road.
While Chow's tenure at UCLA wasn't successful, he's still on a short list of the best offensive minds in college football history. You'd also think he'll be plenty motivated to wash the bad taste out of his mouth over how things went in Westwood.
And who isn't excited about UCLA's visit on Nov. 12?
January, 23, 2011
1/23/11
11:40
AM ET
And so the uncomfortable Norm Chow-UCLA-Rick Neuheisel tango ends. Chow is off to Utah after reaching a "
mutual agreement on the terms of their separation
with the school," and the Bruins' offense moves on with Mike Johnson as offensive coordinator in what appears to be a make-or-break season for Neuheisel.
Neuheisel's staff vacancies aren't all filled, however, which is why he and former Miami coach Randy Shannon are going to chat about a
vacancy at defensive coordinator
.
Chow and his new team will play host to their new Pac-12 South rivals on Nov. 12 in a game primed for media folk -- who me? -- who like to stir things up.
Everyone put a good face on this weekend. Neuheisel and Chow expressed their admiration for each other as well as disappointment that their pairing failed to create even mediocre offenses.
"We're disappointed it didn't turn out the way we hoped it would, but it wasn't because of a lack of effort or a lack of teamwork," Chow told Ramona Shelburne of
ESPN Los Angeles
. "Rick and I are friends. I feel like we worked very, very well together and it's just unfortunate that the results didn't show that.
"I told Rick, when all this settles down, the four of us [Chow and his wife, Diane, and Neuheisel and his wife, Susan] should all go out to dinner. "
For Utah,
it looks like a big win
. It gets an
offensive coaching legend
who knows the Pac-12 and really knows the Bruins' personnel, which will help in the head-to-head meeting.
But Utes fans shouldn't do a celebratory back flip just yet. You may want to wait for results. Start with this from the Salt Lake Tribune:
Terms of [Chow's] contract and salary with the Utes are unknown, as is the fate of current Utah co-coordinators Dave Schramm and Aaron Roderick.

Chow will be the fourth coach to serve as Utah's offensive coordinator under [head coach Kyle] Whittingham, who just completed his sixth year as the Utes' head coach.
Two Utes assistants will either get dumped, demoted or leave on their own (
both are highly thought of
). Or, if Schramm and Roderick stay, how will the offensive staff mesh? The lack of offensive continuity also is notable.
Further, Chow, 64, has now completed his third uncomfortable exit, starting with USC in 2005 and the Tennessee Titans before he arrived at UCLA. His three years at UCLA were not successful. He is one of the all-time greats, without question, but he hasn't been his all-time great self for a while.
As for UCLA, this probably feels like old news because
it was reported here weeks ago
. Still, there is a notable takeaway. While the headlines were about Chow leaving and the "
chemistry issues
" that caused it, the more important change going forward is Neuheisel taking over as his own quarterbacks coach.
Think about that for a moment. The best way to illustrate Neuheisel's frustration with the offense (Chow) the past two seasons is by playing highlights of him constantly berating his quarterbacks after they trudged off the field. Neuheisel has said this offseason that he recognizes he needs to change that -- yelling at struggling QBs typically is a recipe for disaster -- but now he'll have to hold up a mirror when he wants to hand out blame.
Chow and Neuheisel clearly had different ideas about the position. Now there's one less person at whom to point the finger.
The chief reason UCLA is 15-22 in three seasons under Neuheisel is poor QB play (poor offensive line play is a close second, which is a horrible combination to have). Neuheisel will be coaching two guys --
Kevin Prince
and
Richard Brehaut
-- with starting experience (Prince might not be 100 percent this spring after knee surgery). A third option is true freshman Brett Hundley, an elite recruit who is already enrolled and who is the future of the program.
That means Neuheisel, as head coach and QBs coach, faces a huge question this spring and preseason that might ultimately decide his fate: Who's his QB? Does he go with experience, which should be more reliable if less talented, or does he go with youthful upside that might be infuriatingly inconsistent when his job status is almost entirely about the present?
Neuheisel likely needs seven or eight wins to coach into his fifth season. The single-biggest factor in whether the Bruins get there is likely QB play.
And that will be on Neuheisel.