July, 20, 2012
7/20/12
4:30
PM ET
Punters are often overlooked, at least until they mess up badly and shank one. But punters play a major role in field position, which often proves crucial in a tight game.
So how do things stack up at punter in the Pac-12?
By the way, if you want to review previous position reviews,
go here
.
Great shape
Oregon
:
Jackson Rice
was a finalist for the Ray Guy Award. The Ducks were No. 1 in the nation in net punting last year. Really not much else to say.
[+] Enlarge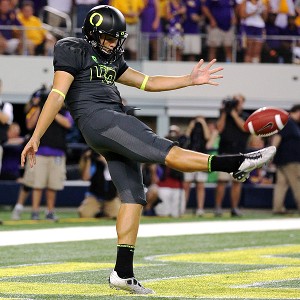 Matthew Emmons/US PresswireAs a Ray Guy finalist last season, Jackson Rice had Oregon tops in the NCAA in net punting.
Arizona
:
Kyle Dugandzic
led the Pac-12 with an average of 46 yards per punt.
Utah
:
Sean Sellwood
was fourth in the Pac-12 with an average of 45 yards per boot. And the Utes were 12th in the nation in net punting.
UCLA
: UCLA's
Jeff Locke
averaged 44.3 yards per punt, which ranked fifth in the conference. The Bruins were 22nd in the nation in net punting. Locke is also good on kickoffs.
Good shape
Colorado
:
Darragh O'Neill
was solid last year with a 42.6-yard average, but he's being challenged by
Zach Grossnickle
.
Arizona State:
While
Josh Hubner
only averaged 41.3 yards per punt, the Sun Devils were fifth in the conference in opponent punt returns.
USC:
Kyle Negrete
averaged a modest 40.1 yards per punt in 2011. The Trojans were 43rd in the nation in net punting.
We'll see
Stanford
:
Daniel Zychlinski
was Stanford's starting punter for the first 10 games in 2010 before
David Green
took over. He averaged 41.7 yards in 2010.
Washington State
: JC transfer Mike Bowlin will take care of punting and kickoffs. He looked good this spring.
Oregon State:
Australian
Tim McMullen
was No. 1 on the post-spring depth chart. Hopefully he is as colorful as the departed Johnny Hekker.
Keith Kostol
is another possibility.
Washington
: The Huskies are counting on touted incoming freshman
Korey Durkee
to replace
Kiel Rasp
.
California
: The Bears are only replacing Bryan Anger, perhaps the best punter in school history. On the post-spring depth chart, incoming freshman
Cole Leininger
was the only punter listed.
February, 24, 2012
2/24/12
2:25
PM ET
On Thursday, Stanford head coach David Shaw said he would name his new special teams coach on Monday. Apparently, the news couldn't wait.

Shaw annouced Friday that Pete Alamar, a Pac-12 veteran of Cal and Arizona, would be Stanford's new special teams coordinator.
"Pete came highly recommended by people who I respect in the coaching profession," Shaw said in a statement. "He is one of those rare coaches who can coach not only scheme, but also the technique of snapping, punting and kicking."
Alamar replaces Brian Polian, who left Stanford last month to join Kevin Sumlin's staff at Texas A&M.
Alamar was the special teams coach at Cal from 2003-09. He was on staff at Arizona in 1993 and again from 1995-99. He spent the past two years coordinating special teams and coaching the tight ends at Fresno State. He has also worked as a running backs coach, on the offensive line and was the offensive coordinator at Eastern Michigan from 2000-02.
Stanford was neither bad nor great at special teams last year. Within the Pac-12, the Cardinal ranked 10th in punting, fourth in kickoff coverage, third in punt returns, fifth in field goals and seventh in PAT kicking.
There are some holes on the special teams units to fill. Punter
David Green
is gone, as is long-snapper
Andrew Fowler
. Kicker
Jordan Williamson
was second-team All-Pac-12 as a freshman.
Ty Montgomery
emerged as a solid kick returner and
Drew Terrell
, who was All-Pac-12 honorable mention, will likely continue punt return duties.
The hiring leaves Shaw with one vacancy on the staff. He said yesterday that he expects to name an inside linebackers coach sometime next week. He added that the new coach would not serve as co-defensive coordinator, as was the case with former coach Jason Tarver, who left earlier this month to be the defensive coordinator for the Oakland Raiders. Derek Mason will have full defensive coordinator responsibilities next season.
The Cardinal open the first of two spring football sessions on Monday.
October, 6, 2011
10/06/11
5:01
PM ET
PALO ALTO, Calif. -- The loneliest number on the Stanford football team is 38. That would be David Green, the punter.
He's the guy who hopes to get in, but usually doesn't.

The guy who watches from the sidelines as the Andrew Luck-led offense converts third down after third down.

The guy who watches his team go 99 yards and score a touchdown.

The guy whose 41.6 yards-per-punt average would rank him in the top 40 nationally, but he doesn't have enough kicks to even qualify for the national rankings.
"Yeah, I guess you could say I've got a pretty easy job," Green joked.
[+] Enlarge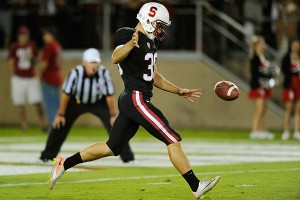 Bob Stanton/Icon SMIStanford's David Green has only had to punt 10 times through four games this season.
Easy, but lonely. Green's services have only been requested 10 times in four games -- and four of those came in the season opener against San Jose State. Outside of that game, things have been relatively quiet for the fifth-year senior from Mission Viejo, Calif.
So what does he do on the sidelines? Think of witty updates for his 850 Facebook friends?
"I enjoy the game," he said. "I joke with my friends and enjoy watching us score. But you also have to stay locked in and be ready to go at a moment's notice. Mental focus is the No. 1 priority. On third down, me and [long-snapper Andrew] Fowler will go stand by coach. Then they'll convert a third down. And we'll say, 'That was easy.'"
Green ranks second to last in the Pac-12 in punt attempts. For perspective, four punters in the Pac-12 have at least 20 punts this season. That means Green either plays for a team with a really good offense, or an offense that turns the ball over a lot.
It ain't the latter.
"The goal of every offensive coach is to have an under-used punter and a kicker that kicks a lot of PATs," said Stanford head coach David Shaw. "David's great. He understands that and knows when he gets out there he has a vital role in establishing or re-establishing field position. I think he's getting just the right amount of work."
But that's how it's been for Green. In high school, he estimates he only punted about 12 times in his whole career because Mission Viejo would score 40-plus points per game. Still, he entered Stanford as the No. 1-rated kicker in the country by Scout.com.
"I'm pretty used to it," said the lefty. "But it's really cool. We have a great team. When you're coming off a win, who cares if you only punted twice? It's fun to have good numbers and you want to be on the charts. But at the end of the day, if you only punt twice and win by 40-something, that's fun."
And of course, no practice would be complete without the requisite jabbing from coaches and teammates.
"I give all of those guys a hard time," Shaw said. "I ask them 'What did you even do today? Why do we even give you pads?'"
Green laughs it off.
"It just comes with the territory," he said. "Guys make fun of you. But we do have a very good job. We don't get hit. We don't have sore muscles after practice. We're not in meetings three hours a day. It's a trade-off, but a very good trade-off."
And then, no smiles, no laughing. Green has to flip the switch and potentially dig his team out of a tough situation.
"Those guys exist in a different world than everybody else on the football team," Shaw said. "We have to jab them every once in a while to make sure they are mentally sharp. They know when it's time to come in, they have the most specific job on the field and it's got to be perfect every time … that's the way it is for them. Nothing, nothing, nothing and then it's fourth-and-4 on our own 20-yard line and there's a minute and a half and we're up by four. You need to boom this ball out there. Those guys have to exist in that world where there is nothing to do and then BOOM, pressure."
Yet during his weekly sit-down with the media, Shaw couldn't resist taking a friendly shot at the punter when asked if they have any fake punts in the works for Green.
"Have you seen him
run
," Shaw asked. "Even worse, have you seen him
throw
? Oh my gosh."
Green is running out of time and opportunities to check another achievement off his list -- making a tackle.
"I have zero," he said. "Not one in my college career. I think I'd love get one. Don't get me wrong, I'm not afraid of it, but the opportunity hasn't come yet. I'm not afraid to get hit."
But if presented with that opportunity, could he make the play?
"I have faith in my teammates," said linebacker and special-teams tackler extraordinaire A.J. Tarpley. "If it comes down to it, I'll trust him to make the tackle. But hopefully the rest of the punt team will bring him down before he has to … but if the game is on the line, I say he makes the tackle."
At this rate, he might never get the chance.
January, 14, 2011
1/14/11
11:00
AM ET
Who distinguished themselves during the bowl season? Here's our All-Bowl Team.
Offense
[+] Enlarge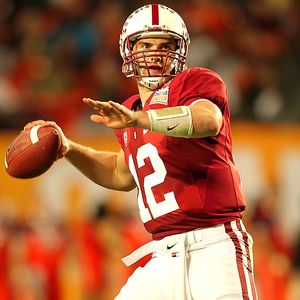 Mike Ehrmann/Getty ImagesAndrew Luck's performance helped key Stanford's blowout win against Virginia Tech.
QB Andrew Luck, Stanford
: Luck completed 18 of 23 passes for 289 yards and four touchdowns in the Cardinal's 40-12 win over Virginia Tech in the Discover Orange Bowl. He also rushed for 15 yards and was sacked just once.
RB Chris Polk, Washington
: Polk rushed for 177 yards on 34 carries with a touchdown in the Huskies win over Nebraska in the Bridgepoint Education Holiday Bowl.
RB Jeremy Stewart, Stanford
: Sophomore
Stepfan Taylor
actually rushed for more yards, but Stewart, a senior who's battled injuries throughout his career, had 99 yards on just five carries, including a 60-yard touchdown against Virginia Tech.
WR Jeff Maehl, Oregon
: Maehl caught nine passes for 133 yards with a long reception of 81 yards in the Tostitos BCS National Championship Game.
WR David Douglas, Arizona
: Douglas caught six passes for 91 yards in the Valero Alamo Bowl.
TE Coby Fleener, Stanford
: Fleenor had a career night in the Orange Bowl, catching six passes for 173 yards and three touchdowns.
OL Jonathan Martin, Stanford
: Stanford rushed for 247 yards and allowed just one sack. Martin will be an All-American candidate in 2011.
OL Chase Beeler, Stanford
: Beeler, the consensus All-American center, is the brains behind the bullies, leading one of the nation's best lines.
OL David DeCastro, Stanford
: The first-team All-Pac-10 performer had a number of key blocks against the Hokies.
OL Senio Kelemete, Washington
: Kelemete has a chance at All-Conference honors as a senior.
OL Cody Habben, Washington
: The Huskies rushed for 268 yards and allowed no sacks versus Nebraska. A nice way for the senior right tackle to go out.
Defense
LB Mason Foster, Washington
: Foster had a game-high 12 tackles, including two sacks in the Huskies win over Nebraska.
LB Shayne Skov, Stanford
: Skov had a game-high 12 tackles, with three sacks and another tackle for a loss against the Hokies. He also broke up a pass.
LB Casey Matthews, Oregon
: Matthews had six tackles, split a tackle for a loss and, most important, forced the late fumble from
Cameron Newton
that set up the Ducks touchdown that tied the count 19-19 late against Auburn.
LB Victor Aiyewa, Washington
: Aiyewa had three tackles for a loss and two forced fumbles in the Holiday Bowl.
DT Alameda Ta'amu, Washington
: Ta'amu dominated inside, recording a sack and recovering a fumble against the Cornhuskers.
DE Hau'oli Jamora, Washington
: The true freshman had three tackles for a loss and a sack versus Nebraska.
DE Kenny Rowe, Oregon
: Rowe was second on the Ducks with nine tackles, four of which came for a loss. He also had a sack and a forced fumble.
CB Cliff Harris, Oregon
: Harris had three tackles, two pass breakups and an interception. A second interception was not upheld by replay officials.
CB Richard Sherman, Stanford
: Sherman had just one tackle against Virginia Tech. It appears that the Hokies, who completed just 16 of 31 passes, decided not to throw his way.
S Delano Howell, Stanford
: Howell had an interception, a sack and four tackles in the Orange Bowl.
S Nate Felner, Washington
: Felner had four tackles and an interception in the Huskies win over Nebraska.
Special teams
K Rob Beard, Oregon
: There wasn't a lot of great kicking this bowl season in the Pac-10, but Beard connected on a 26-yard field goal against Auburn and scored a 2-point play on an option pitch.
P David Green, Stanford
: Green didn't punt much in the Orange Bowl, but he did average 46 yards when he did (three times).
KR Travis Cobb, Arizona
: Cobb returned five kickoffs for 179 yards, with a long of 64 yards.
August, 11, 2010
8/11/10
4:12
PM ET
By
ESPN.com staff
| ESPN.com
The Pac-10: A conference of punters.
You have both the first- and second-team All-Pac-10 punters back, two on the seven-man Ray Guy Award watch list and three that ranked among the nation's top 21 in punting last year.
Oh, and every team welcomes back their punter from 2009.
Any of the six teams in "Great shape" here could produce an All-Pac-10 punter.
Great shape
California: Bryan Anger, first-team All-Pac-10 in 2009, might be the nation's most talented punter. Though he ranked fourth in the conference with a 42.3-yard average, he led the conference with 24 punts downed inside the 20 with only four touchbacks, which means he's got great touch.
Arizona State: Trevor Hankins led the Pac-10 with a 44.2-yard average. His 18 punts of 50 or more yards tied for most in the conference.
UCLA: Jeff Locke, who's on the Ray Guy watch list, earned second-team All-Pac-10 honors in 2009. His 43.6-yard average ranked second in the conference.
Washington State: Reid Forrest punted 86 times in 2009 -- 16 more boots than anyone else in the league -- and averaged a stout 43.2-yards per punt.
Oregon: As a true freshman, Jackson Rice, despite an unimpressive 40.5-yard average, downed the second-highest percentage of punts inside an opponent's 20-yard line in the conference (37.7).
Oregon State: Johnny Hekker, one of seven punters on the Ray Guy watch list after being a semifinalist in 2009, doesn't have a huge foot but he did down 19 of his 51 punts inside his opponent's 20-yard line, which means he did so at a higher rate than Anger.
Good shape
Arizona: Keenyn Crier was first-team All-Pac-10 as redshirt freshman in 2007 and honorable mention pick in 2008, but he fell off a bit last year.
Stanford: David Green doesn't have a big foot -- only two punts went for more than 50 yards -- but he dropped nearly half (15) of his 33 punts inside an opponent's 20.
Washington: Will Mahan is a solid if unspectacular punter.
We'll see
USC: A touted JC transfer, Jacob Harfman ranked last in the Pac-10 last year with a 39.8-yard average. Only nine of his 48 punts pinned a foe inside its 20-yard line.
July, 21, 2010
7/21/10
9:00
AM ET
By
ESPN.com staff
| ESPN.com
The 2007 recruiting class members are either seniors or redshirt juniors this fall, so they should be the backbones of most Pac-10 team's starting lineups.
Therefore, it seems like a reasonable moment to look back and review some recruiting hits and misses. (And, yes, we did this last summer with the 2006 class, which you can
review here
-- Ducks fans should get a kick out of it).
As for the 2007 rankings, USC ranked
No. 1 in the nation
, according to ESPN.com's Scouts Inc. Oregon, at No. 23, was the only other Pac-10 team in the Scouts Inc., top-25.
Scout.com
ranked USC No. 2 in the nation, Oregon ninth, and California 12th. The rest of the Pac-10 went, in order, Washington (29th in nation), UCLA (36th), Arizona State (38), Oregon State (40), Stanford (43), Arizona (49) and Washington State (54).
Here's an overview.
Arizona
Class
: 17
ESPNU top 150 players
: 2 (DE
Apaiata Tuihalamaka
, TE
Rob Gronkowski
)
How many are expected to start in 2010
: Four (RB
Nic Grigsby
, CB Trevin Wade, WR
William Wright
, K Alex Zendejas)
Misses
: Tuihalamaka, QB
Bryson Beirne
,
Verdict
: Obviously, the biggest catch of this class, Gronkowski, is gone. Otherwise, a lot of these guys qualify for the "where are they now?" file.
Arizona State
Class
: 24
ESPNU top 150 players
: 0.
How many are expected to start in 2010
: Five (C Garth Gerhart, WR
Kerry Taylor
, CB Omar Bolden, DE James Brooks, OG Matt Hustad)
Misses
: OL
Po'u Palelei
, LB
Oliver Aaron
Verdict
: This is a decent class, particularly when you factor in the contribution of the since-departed JC signees, such as LB
Morris Wooten
and DE
Luis Vasquez
. And there are several non-starters who will contribute this year.
California
Class
: 27
ESPNU top 150 players
: 0
How many are expected to start in 2010
: 10 (OT Matt Summers-Gavin, P Bryan Anger, LB D.J. Holt, WR
Alex Lagemann
, OT Mitchell Schwartz, S Sean Cattouse, S
Chris Conte
, OG Justin Cheadle, DE Cameron Jordan, RB
Shane Vereen
).
Misses
: QB
Brock Mansion
, CB
D.J. Campbell
Verdict
: Obviously, ESPN.com's Scouts Inc., missed with its evaluation of this solid recruiting class, particularly when you consider RB Jahvid Best, WR
Nyan Boateng
and LB Devin Bishop were significant contributors before their tenures were done. Jordan and Vereen obviously were well underrated. And there were 21 running backs better than Best?
Oregon
Class
: 29
ESPNU top 150 players
: 1 (DE
Kenny Rowe
)
How many are expected to start in 2010
: 10 (Rowe, WR
D.J. Davis
, LB Casey Matthews, CB Talmadge Jackson, OG Carson York, TE
David Paulson
, OG Mark Asper, WR
Jeff Maehl
, S Eddie Pleasant, DE
Terrell Turner
).
Misses
: DT
Myles Wade
, S
Malachi Lewis
Verdict
: When you toss in DE Will Tukuafu, WR
Aaron Pflugrad
(a starter who transferred to Arizona State) and WR Terence Scott, this is a good, if not great, class. Three or four of these guys should be All-Conference players.
Oregon State
Class
: 35
ESPNU top 150 players
: 0
How many are expected to start in 2010
: Eight (HB
Joe Halahuni
, S Cameron Collins, WR
Darrell Catchings
, CB Brandon Hardin, FB
Will Darkins
, DE Taylor Henry, LB Keith Pankey, WR
James Rodgers
)
Misses
: CB
David Ross
, RB
Reggie Dunn
Verdict
: We don't have the time to go back and retrace the maneuvers that are part of managing a 35-man recruiting class (each class can only include a maximum of 25 members, but there are lots of ways to fudge numbers). Obviously, there are the Beavers typical crew of so-called diamonds in the rough -- hello, James Rodgers -- but here's a guess that coach Mike Riley winces over some of these names. Certainly not a lot of production from the six JC guys.
Stanford
Class
: 19
ESPNU top 150 players
: 0.
How many are expected to start in 2010
: Six (P David Green, CB Corey Gatewood, LB/FB
Owen Marecic
, TE Coby Fleenor, DE Thomas Keiser, DE Matt Masifilo)
Misses
: QB
L. D. Crow
, S
Sean Wiser
Verdict
: An interesting class considering that six of the eight lowest rated players are on the Cardinal's preseason two-deep depth chart, including three starters. In terms of skill positions -- see the two QBs -- this class doesn't measure up.
UCLA
Class
: 11
ESPNU top 150 players
: 2 (QB
Chris Forcier
, RB
Raymond Carter
)
How many are expected to start in 2010
: Five (LB Akeem Ayers, LB Glenn Love, LB Steve Sloan, DT
Nate Chandler
, OT Mike Harris)
Misses
: Forcier, Carter
Verdict
: This is a very small but highly productive class collected by former coach Karl Dorrell -- note that it includes DT Brian Price, who bolted early for the NFL. The only busts were the two highest rated players, Forcier and Carter, and JC LB Mike Schmitt. The other eight members are either on the two-deep or, in Price's case, already in the NFL.
USC
Class
: 20
ESPNU top 150 players
: 10 (RB
Joe McKnight
, LB
Chris Galippo
, RB
Marc Tyler
, S
Marshall Jones
, DE
Everson Griffen
, QB
Aaron Corp
, WR
Ronald Johnson
, OT
Martin Coleman
, DT
DaJohn Harris
, C
Kris O'Dowd
)
How many are expected to start in 2010
: Four (LB Chris Galippo, WR Ronald Johnson, C Kristofer O'Dowd, LB Malcolm Smith)
Misses
: S
Marshall Jones
, OT
Martin Coleman
Verdict
: Obviously, this class, ranked No. 1 in the nation, was overrated, even when you factor in that McKnight, Griffen and Damian Williams already are in the NFL, and NT Christian Tupou would be a second-year starter if he didn't blow out his knee this spring. Lots of guys who never contributed or left the program.
Washington
Class
: 27
ESPNU top 150 players
: 0
How many are expected to start in 2010
: Eight (WR
Devin Aguilar
, LB Alvin Logan, LB Cort Dennison, SS Nate Williams, LB Mason Foster, CB Quinton Richardson, DE Kalani Aldrich, K Erik Folk)
Misses
: DE
Emeka Iweka
, DT
Nick Wood
Verdict
: You read the names of the seven highest-rated players in this class and you have one reaction: Terrible. But then you see six defensive starters among the lower rated guys. Still, the Huskies defense is a huge question mark. How it performs this year will tell you how this class should be rated.
Washington State
Class
: 26
ESPNU top 150 players
: 0
How many are expected to start in 2010
: Five (CB Aire Justin, WR
Daniel Blackledge
, C Andrew Roxas, OG B.J. Guerra, SS Chima Nwachukwu)
Misses
: WR
Deon Ford
Verdict
: Not much should be expected from Bill Doba's final recruiting class, and this one doesn't deliver much sizzle. A couple of solid hits, though, including a couple of departed JC transfers.
January, 12, 2010
1/12/10
11:27
AM ET
By
ESPN.com staff
| ESPN.com
The Pac-10 bowl season didn't go well, but that doesn't mean you don't make an all-bowl team.
You may notice a lot of USC and UCLA players. You might remember that the LA schools posted the conference's only two wins.
OFFENSE
QB Matt Barkley, USC
: Barkley completed 27 of 37 throws for 350 yards with two touchdowns against Boston College in the Emerald Bowl. He also had two interceptions.
RB Toby Gerhart, Stanford
: Against an Oklahoma defense ganging up on him, he rushed for 133 yards and two touchdowns on 32 carries in a Sun Bowl loss.
RB Stanley Havili, USC
: He only rushed for 2 yards, but he also he caught six passes for 83 yards with two touchdowns.
WR Damian Williams, USC
: He caught 12 passes for a season-high 189 yards.
WR Damola Adeniji, Oregon State
: He caught seven passes for 102 yards and a touchdown in the Beavers' Las Vegas Bowl loss to BYU.
TE Anthony Miller, California
: He led Cal with five receptions for 55 yards in the Poinsettia Bowl loss to Utah.
OL Chris Marinelli, Stanford
: The offense was without its starting quarterback, but Gerhart gained 133 yards and the Sooners only had one sack.
OL Mike Tepper, California
: Cal's pass protection wasn't great against Utah, but running back
Shane Vereen
finished with 122 yards rushing and two touchdowns.
OL Charles Brown, USC
: The Trojans didn't run terribly well vs. Boston College, but they only yielded one sack and gave Barkley plenty of time to throw.
OL Jake Dean, UCLA
: He was thrust into the starting lineup after starting center after Kai Maiava was ruled academically ineligible, and the Bruins yielded only one sack vs. Temple.
OL Chase Beeler, Stanford
: See Marinelli.
K Kai Forbath, UCLA
: He kicked field goals of 40 and 42 yards.
DEFENSE
DE Kenny Rowe, Oregon
: He set a Rose Bowl and Oregon bowl record with three sacks in a losing effort against Ohio State.
DT Jurrell Casey, USC
: Casey had five tackles, a sack and a 22-yard return of a fumble.
DT Brian Price, UCLA
: Price started slowly vs. Temple but he dominated the second half and finished with five tackles, with one coming for a loss.
DE Tyson Alualu, California
: Alualu had five tackles, with 1.5 coming for a loss.
LB Akeem Ayers, UCLA
: Ayers led the Bruins with nine tackles, two for a loss, and his leaping interception at the Temple 2-yard line, which he returned for a TD, was the play of the Pac-10 bowl season.
LB Kyle Bosworth, UCLA
: He finished with seven tackles and 1.5 sacks.
LB Eddie Young, California
: Young had seven tackles and returned an interception 31 yards for a TD.
CB Shareece Wright, USC
: In his first game back after academic ineligibility, Wright grabbed a key interception.
CB Alterraun Verner, UCLA:
Verner had seven tackles, two for a loss, and a pass breakup.
S Rahim Moore, UCLA
: Moore had four tackles and an interception.
S Taylor Mays, USC
: Mays had five tackles for a Trojans defense that shut down Boston College in the second half.
P David Green, Stanford
: He averaged 44 yards on six punts, three of which were downed inside the Sooners' 20-yard line.
March, 17, 2009
3/17/09
1:30
PM ET
By
ESPN.com staff
| ESPN.com
Posted by ESPN.com's Ted Miller
Every Pac-10 team will be young somewhere... so what are the green units?
Arizona -- OT: Both starting tackles are gone, including potential NFL first-round pick Eben Britton. The four tackles on this spring two-deep roster have combined for only five starts, all by right tackle Adam Grant.
Arizona State -- QB: Combined starts of the five candidates to replace Rudy Carpenter at quarterback? Zero.
California -- TE: When Cameron Morrah, the Bears second-leading receiver in 2008, unexpectedly bolted a year early for the NFL draft, he left behind four combined receptions for backups Tad Smith, Anthony Miller and touted redshirt freshman Spencer Ladner.
Oregon -- DT: Both starting defensive tackles are gone and this unofficial depth chart shows 14 combine tackles for seven potential replacements.
Oregon State -- DE: Sackmasters Victor Butler and Slade Norris and their 41.5 combined sacks over the past two seasons are gone. Sophomore Kevin Frahm and senior Ben Terry, who split two sacks between themselves in 2008, are in.
Stanford -- K: Kicker Aaron Zagory is gone and either Travis Golia or David Green will take over, though neither has kicked a college field goal.
UCLA -- P: After four years of huge boots, punter Aaron Perez is gone. Redshirt freshmen Jeff Locke and Danny Rees will compete to replace him.
USC -- LB: All three starting linebackers, including All-Americans and future first-round draft choices Rey Maualuga and Brian Cushing, are gone. Chris Galippo, Malcolm Smith and Michael Morgan aren't exactly chopped liver, though.
Washington -- K-P: The Huskies need to replace both specialists with players who have no college experience.
Washington State -- TE: Devin Frischknecht and Ben Woodard, the top two guys on the 2008 depth chart, are gone and the expected replacement, JC transfer Peter Tuitupou, unexpectedly opted to go on a two-year church mission.
July, 21, 2008
7/21/08
7:17
PM ET
By
ESPN.com staff
| ESPN.com
Posted by ESPN.com's Ted Miller
Punters are perennially underrated.
Coaches will go on and on about field position and how it's often the critical element in close games. Well, a good punter -- much like a turnover, only without possession -- can in one play change the field position battle.
Seven Pac-10 teams welcome back experienced punters, and a couple of others appear to have talented youngsters with big legs ready to step in.
Oregon State and, perhaps USC, could be the only two teams fretting the position.
On the top end, Arizona (P Keenyn Crier and K Jason Bondzio), UCLA (P Aaron Perez and K Kai Forbath, Oregon (P Josh Syria and K Matt Evensen) and Washington (P Jared Ballman and K Ryan Perkins) likely feel pretty darn secure with their returning specialists.
Keenyn Crier, So, Arizona: Named first-team All-Pac-10 as a freshman after averaging 43.7 yards per boot.
Aaron Perez, Sr., UCLA: 35 punts downed inside 20-yard line makes him an NFL prospect.
Josh Syria, Sr., Oregon: Solid last season but looked even better during the spring.
Jared Ballman, Sr., Washington: He's got a big leg and figures to be more consistent after averaging 40.9 yards per punt in 2007.
Reid Forrest, So., Washington State: Some ugly punting moments for Cougars last year, but Forrest ended up with a respectable 40-yard average.
Thomas Weber, So., Arizona State: Weber likes punting, but his coaches would prefer if someone else would beat out the nation's best kicker.
Greg Woidneck, Sr., USC: He's ranked at the bottom of the Pac-10 two consecutive seasons.
Bryan Anger, RFr., California: He showcased a huge, if inconsistent, foot during spring practices.
David Green, RFr., Stanford: Green, a touted prep All-American recruit in 2006, is a better punter than kicker but he could end up doing both this fall.
Kyle Harper, RFr., Oregon State: Get the feeling things are pretty unsettled here for the Beavers.


July, 21, 2008
7/21/08
12:46
PM ET
By
ESPN.com staff
| ESPN.com
Posted by ESPN.com's Ted Miller
Kickers? The Pac-10's got kickers, even with the departure of 2006 Groza Award winner Alexis Serna of Oregon State.
That's because 2007 Groza Award winner Thomas Weber will again be splitting the uprights for Arizona State.
Only three schools are looking for new kickers: Oregon State, Stanford and Washington State. And the returning kickers ranged from solid to, well, Weber.
Thomas Weber, So., Arizona State: In 2007, he was the nation's best kicker. He might not connect on 24 of 25 field goals again, but he's got a big, accurate leg. And he's been clutch.
Kai Forbath, So., UCLA: Just about any other year, connecting on 25 of 30 field goals with a long of 54 would be good enough for First-Team All-Pac-10. In 2007, all it got was an honorable mention.
Jason Bondzio, Sr., Arizona: This is depth -- the No. 3 kicker hit 21 of 26 in 2007.
David Buehler, Sr., USC: Trying. To. Resist. 80s movie. Reference. 16 of 19 last year. Anyone? Anyone?
Matt Evensen, Sr., Oregon: Good on 16 of 20 in 2007 and looked good this spring.
Ryan Perkins, Jr., Washington: Add toughness to his resume (15 of 20) -- he's struggled with injuries.
Jordan Kay, Sr., California: Coaches would like him be as consistent on field goals (65 percent) as extra points (100 percent).
Justin Kahut, So, Oregon State: He looked so good this spring, some wondered if he might be better than Serna.
David Green, RFr., Stanford: Former big-time recruit expected to win the job.
Wade Penner, So, Washington State: Kicker has been uneven, at best, for the Cougars in recent years. Penner showed promise during the spring.