April, 4, 2014
Apr 4
11:00
AM ET
STANFORD, Calif. -- With linebackers
Shayne Skov
and
Trent Murphy
off to the NFL and defensive coordinator Derek Mason and inside linebackers coach David Kotulski off to Vanderbilt, change is inevitable for the
Stanford
defense.
For some, that's code for "worse."
[+] Enlarge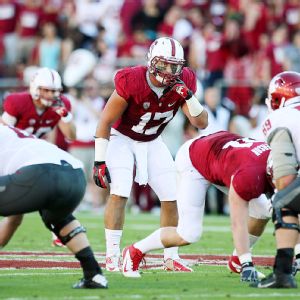 Tony Medina/Getty ImagesA.J. Tarpley, who was the 2009 Minnesota Gatorade Player of the Year, has been a key cog in the Cardinal's defense for the past three seasons.
Not for fifth-year senior inside linebacker
A.J. Tarpley
.
"Great players leave. We're not going to lower our goals," he said. "We're not going to say, 'OK, we're not going to be as good as last year.' I want this linebacking corps to be better than last year.
"I do feel that our linebacking corps has gotten better every year since I got here, so why not? Why can't we be be better than we were last year?"
Tarpley wasn't looking for a literal answer, but if he were, the fact that Skov was one of the nation's best inside linebackers and that Murphy led the nation in sacks would be on the list. Those aren't guys who simply get replaced without some level of drop off.
That isn't lost on Tarpley, either. He, perhaps better than anyone, understands just how valuable Skov and Murphy were to the Stanford defense. The part that isn't understood as well beyond the Stanford locker room is how Tarpley's role has been nearly as vital to the Cardinal's success over the past three seasons.
"We see it all the time and we've just marveled at how solid he is, how efficient he is," new defensive coordinator Lance Anderson said. "I think playing next to Skov is a reason he's been a little overshadowed, and then with Trent Murphy and Chase Thomas on the outside the last few years I think it's easy to get overshadowed."
Over the past three seasons, Tarpley is the Cardinal's leading tackler (216). If he replicates his 2013 total (93), he'll finish his career in the top 10 on the school all-time tackles list. Currently, only two other players who began their career in 1990 or later are part of the group: Skov (2009-13) and Chris Draft (1994-97).
Tarpley's near-immediate production came as no surprise to Stanford coach David Shaw, who said the former Minnesota Gatorade Player of the Year made a strong impression during his true freshman season during the team's scrimmages on Fridays.
"He just seemed to make every play," Shaw said. "Tackle after tackle after tackle, and if the ball was thrown anywhere around him he either picked it off or deflected it."
Both Shaw and Anderson credited Tarpley's instincts as a major factor in his success, which, coupled with good quickness, makes up for what wouldn't be described as elite athleticism. Anderson has Tarpley down for 4.75 seconds in his most recent 40-yard-dash.
"There's a lot of people that think I study tremendous amounts of film and know what plays the offense is going to run, but that's not the case," Tarpley said. "I believe I'm a pretty good athlete. I base everything off my quickness and just read plays to make things happen."
And if film study isn't the root of his ability to read defenses, what is? That's simple: video games -- the Madden franchise, in particular.
Tarpley is a firm believer that playing Madden -- a game in which he claims he's unbeatable -- has helped develop his understanding of the way angles, routes and coverages work.
"Looking at the plays in Madden you see passing concepts, you see zone coverages and how those work out ... where this guy is and who he's replacing and how things can occur," he said. "I really do think going through the plays on both offense and defense -- what beats what? -- I think that's helped me as a player. When I'm out there on the field, it's almost a [subconscious] decision in my mind how something should develop."
That understanding has allowed Stanford to regularly use him to cover receivers in single coverage with good results. Tarpley is the program's only player to record an interception in each of the past three seasons.
"He is one of the best coverage linebackers I've been around," Anderson said. "He has such good patience and a good feel for routes and what people are going to try and run. That is one thing that stands out. I don't know if I've been around anyone like him like that."
Tarpley's focus is on finishing his Stanford career strong, but he made it clear the NFL is also in his sights.
"I've always been doubted my whole career. No one's ever said how great I was going to be so I've always had that mentality with a chip on my shoulder," he said. "I'm going to dream about [playing in the NFL] every day until I can earn a spot there."
And if that doesn't work out, there's always the Madden pro leagues to fall back on ... or his Stanford degree.
January, 24, 2014
Jan 24
5:20
PM ET
Stanford coach David Shaw's decision to
promote Lance Anderson to defensive coordinator
should come as a surprise to exactly no one.
If there is anything Shaw has shown in his previous hires, it's that he likes to promote from within and strives to have continuity within the program. Choosing Anderson to replace Derek Mason, who left last week to
become the head coach at Vanderbilt
, fits the mold established with his initial coordinator hires of Pep Hamilton and Mason and last year's promotion of Mike Bloomgren.
The only coordinator hire that came from outside the program in Shaw's tenure was when he named current Raiders defensive coordinator Jason Tarver the co-coordinator with Mason in 2011. Tarver was at Stanford for just that season, in which Mason still served as the play caller.
Shaw and Anderson are the only coaches who remain from Jim Harbaugh's initial staff at Stanford in 2007. Both made the jump with Harbaugh from the University of San Diego.
In all likelihood, this move was at least a year in the making. Anderson reportedly turned down the chance to become the defensive coordinator at South Florida a year ago under Willie Taggart, another former Harbaugh staff member, to remain at Stanford. It was clear then that Mason would land a head-coaching gig sooner rather than later, which makes it reasonable to assume Shaw and Anderson discussed the possibility that he'd be the eventual replacement.
That's roughly how it played out when Bloomgren was elevated from offensive line coach/run game coordinator when Hamilton took the offensive coordinator job with the Colts. In fact, Shaw and Bloomgren discussed the potential for that to eventually happen before he hired him in 2011.
With Anderson's promotion official, Stanford still has three spots to fill on its staff.
In addition to Mason, Shaw needs to replace Mike Sanford, who left to become Boise State's offensive coordinator, and inside linebackers coach David Kotulski, who will serve as Mason's defensive coordinator at Vanderbilt.
Tavita Pritchard shifted from running backs coach to quarterbacks coach immediately after Sanford left, which means the Cardinal is currently without coaches for its running backs, inside linebackers, defensive backs and does not have an official recruiting coordinator.
May, 31, 2012
5/31/12
12:00
PM ET
Stanford middle linebacker
Jarek Lancaster
led the Cardinal in tackles last year and is one of six returning starters to the front seven. Here are his thoughts on the loss of co-defensive coordinator Jason Tarver, Stanford's defense and why he opted to shave his shoulder-length hair.
How different is the defense going to be with just one coordinator running the show?
Jarek Lancaster
: It's not going to be that different. Coach [Derek] Mason and Tarver were really good at picking each other's brains. But I think coach Mason still talks a bunch with coach Tarver (now defensive coordinator for the Oakland Raiders) so I think he's going to keep a lot of the stuff from last year. It shouldn't be that different -- or at least drastically different.
With coach Tarver leaving, you lose not only a co-defensive coordinator, but your position coach. How has it been working with a more veteran coach like [David] Kotulski?
[+] Enlarge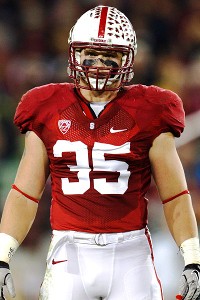 Jason O. Watson/US PRESSWIRELinebacker Jarek Lancaster thinks Stanford has "one of the greatest front sevens in the nation."
JL
: There is definitely more knowledge. He has so much wisdom to impart on us. You could just see from the first day, he was fixing stances and it's nice to be under his wing and learning because he's been in the game for so long.
Let's talk about the inside linebackers. You, A.J. Tarpley, Shayne Skov, James Vaughters. Is there enough defensive reps to go around?
JL
: I think so. I think there will be plenty. If you're good enough to play, they are going to find ways to get you on the field. There might not be as many reps as we'd all like, but that doesn't mean we won't get a lot of work each game.
You are in a much different position now than where you were at this time last year when you were a backup. Now you're a proven commodity. Are you feeling the pressure behind you?
JL
: We always say iron hardens iron. Spring ball was amazing in terms of competition. We made great gains as inside backers. You could see young guys like James Vaughters and A.J. Tarpley and
Joe Hemschoot
getting so much better over this four-week period. Anytime you can have that competition and look over your shoulder, it helps you elevate your game.
There is so much talk about how Stanford will drop off with Andrew Luck leaving. Has that permeated to the defense? Do you hear the chatter and do you even care?
JL
: Yeah, we hear it. Naturally, you are going to hear the talk and the chatter. But if that means we have to be on the field a little more, that means we'll have better stats. It doesn't affect our play at all.
You guys have so much coming back in the front seven. Many have projected you to be the best front seven in the conference. Do you think you are?
JL
: I feel like we have one of the greatest front sevens in the nation. We have two pass rushers that are unbelievable. If you watch film, you see
Chase Thomas
and
Trent Murphy
on the quarterback every time. Then you've got the stout
Terrence Stephens
in the middle that is wrecking shop with Benny Gardner and
Josh Mauro
. Then you have our inside backers that last year got a ton of experience, which helps us this year. If Shayne had stayed healthy, we wouldn't have that experience. We're ready to go.
In terms of expectations for the defense, is there more pressure on you this year because of all of the changes on offense?
JL
: There's a long time to go till the season and we can definitely get better. But if we're going to be a successful team this year, we're going to need to handle the pressure. We expect it. Anytime you come out and you're a successful unit and you have a ton of returning starters, of course there is going to be added pressure. If you've shown you can play at that high level, it's expected that you do it all the time. We're excited for it.
Last question. What's up with Stanford guys dumping the hair? First Ben Gardner goes and dumps the mullet before the Fiesta Bowl and then you shave yours? What's the deal?
JL
: I think it was having a new position coach coming in. I wanted a fresh start. It was symbolic. But on the flip side, Benny G is growing the mullet back so it should be pretty sweet come season.
[Ryan] Hewitt
still has the great, flowing blond locks.
March, 1, 2012
3/01/12
4:25
PM ET
Stanford head coach David Shaw rounded out his staff by naming David Kotulski his new inside linebackers coach.
Kotulski spent the past six seasons as the defensive coordinator and linebackers coach at Lehigh University of the Patriot League. He replaces Jason Tarver, who left last month to be the defensive coordinator for the Oakland Raiders.
"David Kotulski is a veteran in 3-4 defense and has a very positive history with both [defensive coordinator] Derek Mason and [OLB coach] Lance Anderson," Shaw said in a statement. "He has demonstrated through the years that he is an outstanding teacher, great motivator and a very good recruiter -- especially in the Northeast. Our entire staff will benefit from his experience and expertise."
During his 31-year career, Kotulski has worked at Holy Cross, Utah State, Bucknell, Saint Mary's and Utah. It was at Bucknell that he crossed paths with Mason and Anderson, and again with Anderson at Utah State. He started his career in 1978 at Utah.
Kotulski, 59, isn't a big name on the West Coast, and he doesn't have the NFL coaching pedigree that Tarver had -- which included 10 years with the San Francisco 49ers. But he seems to know the 3-4 scheme and how to create pressure, and that's what Stanford's defense is all about. Last year, Lehigh's defense ranked in the top three in six defensive categories, including first in pass efficiency defense, sacks and third-down defense.
As noted earlier in the week
, the Cardinal have two budding stars at inside linebackers in
Jarek Lancaster
and
A.J. Tarpley
-- who flourished under Tarver's tutelage. Both have shown good ball instincts and Lancaster's open-field tackling was spectacular toward the end of the season. The Cardinal also hope to have
Shayne Skov
back and healthy after a season-ending knee injury last year. He still has to serve some sort of punishment -- likely a suspension -- stemming from his DUI arrest last month and his rehab will keep him from participating in spring drills. But if he's back at 100 percent, he'll be one of the top inside linebackers in the country.
Worth noting also in Shaw's released statement is the recruiting factor. Stanford is one of the few true national recruiters and having a known presence in the Northeast can't hurt.
You can see the full release with Kotulski's complete bio
here
.