February, 22, 2015
Feb 22
7:45
PM ET
Linebackers and defensive linemen worked out on Day 3 of the NFL combine's on-field drills on Sunday, which means several of the Pac-12's most high-profile prospects were on display.
Six of the conference's seven first-team linebackers/defensive linemen worked out -- with rising junior Scooby Wright III the lone exception -- including potential top-10 picks
Leonard Williams
(USC) and Danny Shelton (Washington). While the more big-name guys performed about as expected, it was a trio of lesser-known players -- Oregon State's Obum Gwacham, UCLA's Owamagbe Odighizuwa and Washington State's Xavier Cooper -- that might have improved their stock the most.
Here's how all 17 players fared:
Defensive linemen
DE Henry Anderson, Stanford
40-yard dash:
5.03 seconds (27 of 43)

Bench press:
n/a
Vertical jump:
30 inches (t-26 of 39)
Broad jump:
111 inches (t-16 of 39)
3-cone drill:
7.20 seconds (5 of 36)
20-yard shuttle:
4.19 seconds (t-2 of 35)
#Stanford's DL Henry Anderson short shuttle equal to line backers 4.19 & no one even mentions one of the best DL's in Pac 12 #NFLCombine

— Drew Boylhart (@DrewBoylhart) February 22, 2015
DT Arik Armstead, Oregon
40-yard dash:
5.10 seconds (32 of 43)

Bench press:
24 reps (t-22 of 36)
Vertical jump:
34 inches (t-8 of 39)
Broad jump:
117 inches (t-8 of 39)
3-cone drill:
7.57 seconds (t-20 of 36)
20-yard shuttle:
4.53 seconds (t-17 of 35)
"This is a big, powerful dude with so much upside." - Mike Mayock on @WinTheDay's Arik Armstead #IfMayockHadTwitter

— NFL Network (@nflnetwork) February 22, 2015
DT Xavier Cooper, Washington State
40-yard dash:
4.86 seconds (14 of 43)

Bench press:
29 reps (t-9 of 36)
Vertical jump:
29 inches (t-32 of 39)
Broad jump:
110 inches (t-18 of 39)
3-cone drill:
7.23 seconds (6 of 36)
20-yard shuttle:
4.37 seconds (8 of 35)
WSU DT Xavier Cooper's 7.23 3-cone, 4.37 short shuttle even crazier than his 4.86 40. 6-3, 293, putting up better numbers than some RBs, WRs

— Doug Kyed (@DougKyedNESN) February 22, 2015
DE Obum Gwacham, Oregon State
40-yard dash:
4.72 seconds (3 of 43)

Bench press:
22 reps (t-28 of 36)
Vertical jump:
36 inches (6 of 39)
Broad jump:
121 inches (t-2 of 39)
3-cone drill:
n/a
20-yard shuttle:
n/a
Obum Gwacham of Oregon State runs 4.77/1.68. He'll force scouts back to tape with his numbers here.

— Dan Kadar (@MockingTheDraft) February 22, 2015
DE Marcus Hardison, Arizona State
Bench press:
27 reps (t-13 of 36)
DT Ellis McCarthy, UCLA
40-yard dash:
5.21 seconds (39 of 43)

Bench press:
24 reps (t-22 of 36)
Vertical jump:
32 inches (t-18 of 39)
Broad jump:
109 inches (t-20 of 39)
3-cone drill:
8.16 seconds (34 of 36)
20-yard shuttle:
5.07 seconds (35 of 35)
UCLA NT Ellis McCarthy, at 6'4 5/8" 338 lbs., unofficially ran a 5.23 and 1.82 split. At his size, I'll take it. Powerful upper body.

— Dion Caputi (@nfldraftupdate) February 22, 2015
DE Owamagbe Odighizuwa, UCLA
40-yard dash:
4.62 seconds (2 of 43)

Bench press:
25 reps (t-18 of 36)
Vertical jump:
39 inches (1 of 39)
Broad jump:
127 inches (1 of 39)
3-cone drill:
7.36 seconds (12 of 36)
20-yard shuttle:
4.19 seconds (t-2 of 35)
60-yard shuttle:
11.75 seconds (3 of 9)
NFL comparison for @UCLAAthletics Owamagbe Odighizuwa. #NFLCombine pic.twitter.com/i9PppzIAko

— NFL Network (@nflnetwork) February 22, 2015
DE Nate Orchard, Utah
40-yard dash:
4.80 seconds (t-8 of 43)

Bench press:
n/a
Vertical jump:
31.5 inches (20 of 39)
Broad jump:
115 inches (11 of 39)
3-cone drill:
7.28 seconds (8 of 36)
20-yard shuttle:
4.43 seconds (11 of 35)
60-yard shuttle:
12.06 seconds (6 of 9)
Utah's Nate Orchard with a nice 4.84u in the 40. He stood out at the Senior Bowl. Also had 18.5 sacks in 2014. Yow. #NFLCombine

— Jay Adams (@FalconsJAdams) February 22, 2015
NT David Parry, Stanford
40-yard dash:
5.38 seconds (41 of 43)

Bench press:
34 reps (t-2 of 36)
Vertical jump:
29 inches (t-32 of 39)
Broad jump:
103 inches (t-31 of 39)
3-cone drill:
n/a
20-yard shuttle:
n/a
NT Danny Shelton, Washington
40-yard dash:
5.64 seconds (43 of 43)

Bench press:
34 reps (t-2 of 36)
Vertical jump:
30.5 inches (25 of 39)
Broad jump:
95 inches (39 of 39)
3-cone drill:
7.99 seconds (32 of 36)
20-yard shuttle:
4.65 seconds (t-25 of 35)
Danny Shelton ... 7-11 broad jump. Looks more a 7-11 Big Gulp. #NFLCombine pic.twitter.com/TOzcqJ9e67

— CollegeFootball 24/7 (@NFL_CFB) February 22, 2015
DE Leonard Williams, USC
40-yard dash:
4.97 seconds (t-21 of 43)

Bench press:
n/a
Vertical jump:
29.5 inches (t-29 of 39)
Broad jump:
106 inches (t-23 of 39)
3-cone drill:
7.59 seconds (22 of 36)
20-yard shuttle:
4.53 seconds (t-17 of 35)
Leonard Williams can play all off the defensive line, much like J.J. Watt. pic.twitter.com/PgMExRgPmO

— ESPN CollegeFootball (@ESPNCFB) February 22, 2015
Linebackers:
ILB Eric Kendricks, UCLA
40-yard dash:
4.61 seconds (t-9 of 34)

Bench press:
19 reps (t-24 of 33)
Vertical jump:
38 inches (t-5 of 33)
Broad jump:
124 inches (t-6 of 33)
Eric Kendricks runs a 4.66 40. Pretty fast for him, I'd say. Measurables were never going to floor anyone.

— Ryan Kartje (@Ryan_Kartje) February 22, 2015
OLB Hau'oli Kikaha, Washington
Hau'oli Kikaha informed teams he wouldn't run 40. Was sick last week and lost days of prep. Wanted to do on-field drills, test at pro day.

— Ross Jones (@RossJonesFOX) February 22, 2015
ILB Hayes Pullard, USC
40-yard dash:
4.78 inches (t-22 of 34)

Bench press:
19 reps (t-24 of 33)
Vertical jump:
31 inches (29 of 33)
Broad jump:
110 inches (t-29 of 33)
#USC's Hayes Pullard (@FightOn10) looking extremely quick in linebacker drills at the #NFLCombine

— Michael Lev (@MichaelJLev) February 22, 2015
OLB J.R. Tavai, USC
40-yard dash:
4.91 seconds (29 of 34)

Bench press:
20 reps (t-20 of 33)
Vertical jump:
30.5 inches (30 of 33)
Broad jump:
112 inches (t-24 of 33)
OLB Shaq Thompson, Washington
40-yard dash:
4.64 seconds (t-11 of 34)

Bench press:
n/a
Vertical jump:
33.5 inches (t-20 of 33)
Broad jump:
117 inches (t-20 of 33)
Never did I say I was going running back drills to put that out there

— Shaq Thompson (@ShaqThompson_7) February 22, 2015
OLB Tony Washington, Oregon
40-yard dash:
4.99 seconds (33 of 34)

Bench press:
17 reps (31 of 33)
Vertical jump:
32.5 inches (t-23 of 33)
Broad jump:
110 inches (t-29 of 33)
September, 25, 2014
9/25/14
5:45
PM ET
Stanford is allowing a nation-best 4.3 points per game. The Cardinal defense is the only unit in the country to have not surrendered a touchdown drive of 75 yards or longer. Heck, it's only given up one touchdown in 12 quarters of football.
Washington offensive coordinator
Jonathan Smith
has been watching film of Stanford's sturdy crew all week, and from his perspective,
the viewing sessions have been "depressing."
Wait, what the heck is going on here?
Stalwarts Trent Murphy, Shayne Skov, Ed Reynolds, Ben Gardner, and Josh Mauro have all left for the NFL. Defensive coordinator Derek Mason filled the head coaching opening at Vanderbilt.
[+] Enlarge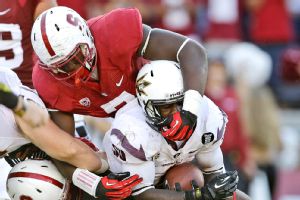 AP Photo/Marcio Jose SanchezStanford's defensive line battled injuries last season, but Aziz Shittu and the unit are healthy and dominating this season.
Wasn't this team supposed to suffer a defensive a dropoff? On the surface, two and two don't seem to add up.
Two major road tests at Washington and Notre Dame loom for Stanford, but early indications suggest the defense is successfully weathering the significant loss of star power. And an answer as to how Stanford is defying expectations is becoming evident: The team is actually healthy along the defensive front this time around.
Decimated in 2013
Coach David Shaw understands the fundamental importance of a sturdy line within the 3-4 defensive scheme.
"My dad (Willie Shaw) always used to tell me, 'if you give me a choice between a great cornerback and a great defensive lineman, I'll take the great defensive lineman,'" he said. "Because a great defensive lineman can make an average corner look great."
At this point last season, the decimation of Stanford's defensive line was well underway, so there was a severe shortage of those desired game-changers on the Farm.
End
Henry Anderson
had suffered a significant knee injury which would sideline him until November, tackle
David Parry
was straining through a lower abdominal issue that had him nowhere near full capacity, and
Ikenna Nwafor
-- Parry's backup at tackle -- was about to succumb to a foot injury that would force his medical retirement.
The misery didn't end there. Just a week later against Washington, stalwart defensive end Ben Gardner began battling searing pain in his arm. He fought through the issue for three weeks, but eventually saw his college career end when he tore his pectoral muscle while trying to corral Oregon State quarterback
Sean Mannion
with that arm.
Outside of Josh Mauro, the Cardinal didn't have a defensive lineman in the regular rotation that was playing at close to 100 percent last season. Shaw's staff reacted by converting outside linebacker
Blake Lueders
and tight end
Luke Kaumatule
to the line, but Lueders was still significantly underweight for his new position, and Kaumatule didn't yet know the playbook.
The leaks in the dam were apparent. In a particularly brutal two-week stretch, players labored in the second half versus Washington and then scuffled to find any real footing in first half of the team's loss at Utah, during which the Utes easily racked up over six yards per carry. Stanford eventually patched up the leakiest of its defensive problems, but players and coaches both admit that was a smoke-and-mirrors solution that placed tremendous pressure on the team's linebackers and secondary.
An offseason of rest pays dividends
The Stanford defense is built on a fully healthy foundation now. Parry is finally at 100 percent and somersaulting his way to backfield tackles in WWE-wrestler style, and Anderson has considerable bounce back in his step after spending the offseason shedding about eight pounds and regaining his original explosiveness. Gardner and Mauro are gone, but Lueders has had a chance to put on the 20 pounds of extra strength needed for the defensive end position, and
Aziz Shittu
and Kaumatule have both earned spots in the line's rotation.
All of these developments have allowed Stanford to assuage the losses of Murphy and Skov on the second level.
"Henry Anderson and David Parry are playing at the best levels of their career," Shaw said. "You see all those tackles for loss, and then you see the linebackers making a lot of plays as a result."
Stanford is averaging a sack on 12.5 percent of opponents' passing attempts. That's the best figure in the Pac-12, and it's more than three points higher than the one Stanford's sack-happy 2012 team, the national leader in tackles for loss, posted.
"You see David Parry getting whammed and getting double-teamed because [the opponent] has to account for him," Shaw said. "Then Henry's up in the quarterback's face pushing the pocket."
Washington makes a case
This Saturday's showdown at Washington presents an intriguing matchup. Though Stanford leads the Pac-12 in the aforementioned sack rate, the Huskies lead the nation in total sacks. They have registered 19 in four games. Behind six-foot-two, 339-pound wrecking ball
Danny Shelton
, Washington will try to make a claim that it features the best front seven in the Pac-12.
Stanford offensive lineman Josh Garnett, whose father played for the Huskies, thinks that working against his own team's finally healthy unit has prepared the Cardinal well for this trip to Seattle.
"Our guys are definitely healthy now," Garnett said. "And if we can run our plays on those guys [in practice], we can run our plays against anybody. You see their pass-rush moves, and then you see them stoning people in the run game on the next play, and it's very impressive."
So keep an eye on the battle up front this Saturday. If Stanford proves that it can pack up and travel with the same eye-popping pass-rush fury and run-stopping proficiency it's shown early in this season, the raging battle in the Pac-12 North will have become that much more fascinating.
July, 8, 2014
7/08/14
2:30
PM ET
Cinnamon. It should be on tables in restaurants along with salt and pepper. Anytime someone says, "Ooh, this is so good -- what's in this?" the answer invariably comes back, "cinnamon." Cinnamon. Again and again.
February, 25, 2014
2/25/14
1:00
PM ET
STANFORD, Calif. -- As Stanford players jogged off the practice field Monday evening, nothing stood out in particular. Significant only because it marked the first spring practice of the year, and it had the look and feel of just another day on the Farm.
Maybe temperatures don't always hover around 70 degrees until just past sunset in late February, but there was no fanfare or anything ceremonious about the day.
In that respect, nothing has changed over the past five years.
[+] Enlarge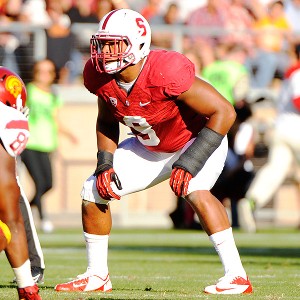 AP Photo/Rob HoltJames Vaughters spurned the SEC to join a Stanford team that, at the time of his commitment, was just beginning its upswing.
"It was a good start. The tempo I thought was outstanding for a first day, which is always what you're looking for when you lose so many seniors," coach David Shaw said. "It wasn't perfect, of course, but it was fast and that's what we were looking for Day 1."
As the only program to play in BCS bowls the past four seasons, there is no denying Stanford's place in the current hierarchy of college football. Any list of the nation's elite must include the Cardinal or it would be incomplete.
In that respect, everything has changed.
Former coach Jim Harbaugh recruited with an offer for a world-class education and the chance to turn things around. When Stanford signed outgoing fifth-year seniors such as
Shayne Skov
,
Trent Murphy
,
Ben Gardner
and
Ryan Hewitt
in 2009, it did so following a 5-7 season.
That group leaves Stanford not knowing what it's like to be a part of a losing team.
Only the 13 fifth-year seniors on the spring roster were on the 2010 team, Harbaugh's last season, and only defensive end Blake Leuders saw action that season. They're the last group that bought into a program that had yet to play in a major bowl game and, as a byproduct of that, the first not to miss one.
Senior outside linebacker
James Vaughters
is in a different boat. He spurned several SEC offers and left his home state of Georgia to sign with Stanford following its Orange Bowl victory to cap the 2010 season.
"They showed me they were just as committed to winning as the schools that were recruiting me from the South," Vaughters said.
He got what he signed up for.
"If you see success, it's a challenge to sustain it," Vaughters said. "It's a matter of finding a formula that works. When you have so many guys that started for so many years, we just have to find our way to be successful."
One could worry about a sense of entitlement creeping into a program with as much success as the Cardinal has experienced over the past four years, but both Vaughters and Shaw didn't seem to think that it would be a problem.
Shaw pointed to senior running back
Ricky Seale
as an example.
"[Last year] he would just be on the sidelines on his toes," Shaw said. "So now we have the anxiety and that energy because they all want a chance to play. I think we're in a great spot because we're going to get their best because they all want to get on the field."
Senior receiver
Ty Montgomery
(knee) and senior nose tackle
David Parry
(midsection) will both miss the first session of two spring sessions with minor injuries.
Backup quarterback
Ryan Burns
will miss the first session to due a disciplinary reason, according to Shaw.
Shaw has still not hired a defensive backs coach, but he said it "should be solved in the next week or so." For the time being, graduate assistant Marc Mattioli will coach defensive backs.
February, 12, 2014
2/12/14
5:30
PM ET
Get this. Stanford's Lance Anderson actually
wanted
to be a defensive coordinator in the Pac-12. Crazy, right? Biletnikoff winners to lose sleep over; Doak Walker finalists dashing and gashing for 20 yards a pop; and All-American offensive linemen that must be displaced. Oh, the humanity.
"There are some pretty good quarterbacks, too," says Anderson.
Oh yeah, the quarterbacks.
[+] Enlarge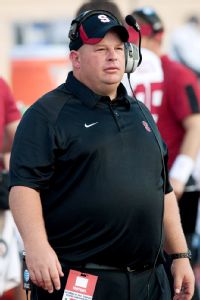 Peyton Williams/Getty ImagesLance Anderson, who has been on Stanford's staff since 2007, will have to replace some big names on the Cardinal's 2014 defense.
Anderson has his wish. With the departure of Derek Mason,
who was named the head coach of Vanderbilt last month
, Anderson takes over one of the most respected defensive outfits in all of college football. The Cardinal have led the conference in scoring defense and been ranked in the top 15 nationally in three of the last four years. They live by the mantra #partyinthebackfield and have put the brakes on some of the nation's top offenses.
Now it's Anderson's turn to add his own flavor to the scheme -- however minor it might be.
"Every year we tweak a little bit no matter what," said Anderson, who first came to Stanford in 2007 with Jim Harbaugh. "We go back and watch film and do all of our self-scouting and analysis. We try to find places where we can get better and improve and that's naturally going to lead to tweaking. I think every coordinator has a different feel and some stuff you might like a little better than the other guy.
"We've been in a system for a few years now and I think the kids are really comfortable with that. They like it. And I think the systems we're in on both sides of the ball suit our personnel really well. Vic Fangio came in in 2010, installed the system at that point and we've kept it pretty similar ever since."
That includes transitions from Fangio to the co-defensive coordinator team of Jason Tarver and Mason to just Mason and now to Anderson, who will continue to work with the outside linebackers after coaching the defensive tackles his first two seasons on The Farm.
Equally known as a top-flight recruiter, Anderson must now help the Cardinal transition to life without some of their marquee players. Gone next year are linebackers
Shayne Skov
and
Trent Murphy
, defensive end
Ben Gardner
and safety
Ed Reynolds
. All were major contributors in one form or another to Stanford's appearances in four straight BCS bowl games.
Despite those losses, Anderson is confident the Cardinal have the depth -- both in and out of the locker room -- to stay atop the defensive standings.
"I look at guys like
A.J. Tarpley
and
Jordan Richards
who have played a lot of football and they really stand out," Anderson said. "Both guys display some natural leadership and they are well-respected by their teammates.
Henry Anderson
and
David Parry
are a couple of other guys who are really looked up to among the defensive players. I think we'll be OK."
Interestingly enough, the Pac-12 has seen the defensive coordinators from the top five scoring defenses
move on after the 2013 season
. Mason went to Vanderbilt, Nick Aliotti retired at Oregon, Justin Wilcox moved to USC with Steve Sarkisian, Lou Spanos returned to the NFL and Clancy Pendergast was not retained with the Trojans after Sarkisian came in. Three of those were replaced internally, with Anderson, Don Pellum (Oregon) and Jeff Ulbrich (UCLA) all being promoted. Pete Kwiatkowski joins Chris Petersen in Washington by way of Boise State and Wilcox followed Sark. So despite the transitions, the continuity among coaching staffs remains relatively unscathed.
However, that combination of coordinator shuffling, along with some A-list offensive players returning in 2014, makes for an interesting setup. The Pac-12 is known for its offensive diversity, and when you factor in the possibility of nine teams returning their starting quarterback, the dice seem loaded to the offensive side of the ball.
"There is a lot of offensive talent in this league and it doesn't look like that's going to slow down," Anderson said. "The quarterbacks all have experience. It's not going to be easy.
"We know that every week we are going to be tested. All we can do is try to go out and learn the techniques and the fundamentals and get the physical and mental mastery of the position. Once we get that in spring ball and the preseason, it's just matter of going out and applying what we've learned during the season. Every week is going to be different. All we can do is prepare the best we can, master the position and try to apply it on Saturdays in the fall."
March, 15, 2013
3/15/13
6:00
PM ET
Looks like the gang has started up
a bracket challenge
. Count me in.
As always,
follow the Pac-12 blog on Twitter.
To the notes!
Lucas in Tempe, Ariz., writes
: Kevin, I noticed today that in your replacing impact players
in the north poll
you included two players from one team? This is partly my Coug bias bristling at the fact that there was no Coug on the list (
Travis Long
) but honestly two players from one team? Where's the logic!?
Kevin Gemmell
: The polls are limited to five spots -- so that hamstrings us a bit and someone was going to get left out. Ted and I usually discuss all the polls and poll options before they publish and we picked the five "biggest names" from the North Division. I stipulated this
in the South post
-- that these players didn't necessarily represent our choices for the "
Biggest Shoes
" series. I should have stipulated that in the North post as well.
No doubt, Long was a special player for Washington State,
as Ted notes here
. And
I talked with Travis
several times throughout the year and enjoyed each conversation. I actually shared an airport shuttle ride with his dad once, which was random, but he seemed like a great guy too in those five minutes from the airport to long-term parking.
But given Washington State's record and the fact that they allowed 33.7 points per game (10th in the conference) he was ruled out. As were players from Cal. That left us with 1) a unanimous All-America tight end; 2) a top-10 draft pick; 3) the league leader in interceptions; 4) Stanford's all-time leading rusher; 5) a lockdown corner who could also go in the first round. Which one would you replace for Long?
---
Barton in Palo Alto writes
: Can you please stop saying that Stanford defense is losing 3 starters?
Terrence Stephens
did not play at all in the last 3 games at all, and Parry has played in all games for the past 2 seasons. Stanford returns 9 of 11 starters, as I think one usually considers who started at the end of the year as the starter (regardless of the reason). Speaking of which, if you know what the housing rule that Stephens violated was, it would be nice to know. I hope that it was just a mistake on his part, and I really hope Stanford acted as soon as they knew (which seems to be the indication, but is not clear either b/c of how secretive they've been).
Kevin Gemmell
: Of Stanford's 14 games last year, they started 10 of them in their base 3-4. The other four they started with a nickelback and the nose tackle was off the field. Stephens started seven of those 10. As you note, Parry started the other three because of Stephens' violations. You can get into semantics if you want -- but we both know Stephens would have started those final three games. He wasn't beaten out for the job. So I feel comfortable saying Stanford is losing three starters.
Kyle Murphy
started the conference championship game at tight end. I wouldn't call him the starting tight end in 2013 just because he "started" a game at the end of the season.
I've heard rumors about the violations from people I trust -- but nothing I'd publish without firm confirmation from David Shaw. And even then, I'm not sure it's really anybody's business. No laws were broken. No DUI or assault.
As for how Stanford reacted -- they sat an extremely talented defensive lineman for the season finale, the conference championship game and the Rose Bowl. I'd say they acted appropriately and Stephens paid the price.
With all that said, I'm going to miss covering Stephens. Great personality, great quote and a very under-appreciated football player to those who don't follow the league closely.
---
James in Corvallis, Ore., writes
: Hey Kevin, why is it that the pac 12 isn't represented very well in the NFL at wide receiver? It seems like a pass heavy conference would draw more talent at the position than other conferences. When you look at NFL rosters you see a lot of quarterbacks that played in the pac, but not a lot of the receivers they were throwing to. What's the deal?
Kevin Gemmell
: I actually don't follow the NFL as closely as I used to -- especially during the college football season since my Sundays are spent on those bowl projections you all love so much. So I didn't have any idea what the number was.
So last night I went through every NFL roster and found that there are 27 Pac-12 wide receivers (by my count) in the league. I didn't go through every single NFL wide receiver and start marking conferences (though I did learn there is a California University of Pennsylvania). But it's interesting that more than half of the NFL teams (18) have at least one Pac-12 receiver on the roster, seven have two or more and the Cincinnati Bengals and Tennessee Titans share the lead with three each.
Note: I'm not counting Carolina's
Steve Smith
since he played at Utah well before they joined the league.
Doing some quick math in my head -- you figure the average NFL career is about three years. Each year there are anywhere from five to eight receivers from the league that land on active rosters. So, at any one time, there are approximately 25-30 in the league, give or take. So I guess that number seems about right.
I found
this story from 2011
and 28 was the high then. The Pac-12 has since added four wide receivers since the last draft cycle. When you factor in the amount of guys who actually make the league, 27 doesn't seem like all that bad of a number. I might be totally off on this, but it's the best answer I can give on short notice.
---
Kenny in Portland writes
: Kevin, Curious on your thoughts about
Brandin Cooks
as a Heisman dark horse? Personally, I don't think we'll see anyone other than a QB or RB win it unless they have an out of this world season, but I also don't think it's any less likely for a WR to win than a LB (
Anthony Barr
) or DT (
Will Sutton
). Accidental omission on your part or do you not believe him to be up there?
Kevin Gemmell
: I've been a big Brandin Cooks
fan for a while
. And no doubt, he has the potential to be a special player. But there are some things I need to see from him this year before I elevate him into elite wide receiver status. First, he obviously benefited from
Markus Wheaton
playing opposite him. Wheaton drew most of the safety help over the top which allowed more one-on-one opportunities for Cooks. This year, he's going to be the target of all those double-teams and bracket coverages.
Next, who is going to be throwing him the football? The wide receiver position goes hand-in-hand with the success of the quarterback. And until Oregon State picks one, that's going to be a sticking point.
And for Cooks to truly emerge as a Heisman dark horse, he first has to prove that he's the best wide receiver in the conference. No easy task with the reigning Biletnikoff winner catching passes in the South Division. Then, he has to prove he's the best player in the conference. Again, not easy with guys like
Marcus Mariota
,
De'Anthony Thomas
,
Brett Hundley
,
Marqise Lee
and
Ka'Deem Carey
lurking.
Then, he has to prove he's the best player in the country. So no, Cooks wasn't an accidental omission. And given his position, coupled with all of the players he'll have to leapfrog within the conference and nationally, it seems like a stretch.
---
Eric in Sammamish, Wash., writes
: What are the chances this is the year UW beats the University of Nike Ducks? The Huskies should have a breakout year with so much talent coming back and the offensive line getting
Erik Kohler
and
Colin Tanigawa
, plus they will playing them at home in the new Husky Stadium, where the fans should be fully primed to deafen those clowns in the neon clad uniforms.
Kevin Gemmell
: For those of you in need of a translator, allow me.
Eric is writing in code. Here is the actual translation:
It's the offseason. I'm annoyed that my team has lost nine straight times to Oregon. There has been too much solidarity of late on the Pac-12 blog with the readers banding together to fight off SEC fans. We once again need to turn against each other. And I'm going to stir the pot.
Eric, don't make me pull out the Ed Rooney youtube clip again.
However, what you say is true -- though calling them clowns really only makes your team look worse for having lost to said clowns. Folks have always pointed to 2013 as the potential breakout year for Washington. The offensive line should be better, they have a stud running back, good wide receivers, an elite tight end (presumably) and a much-improved defense. Is that enough to beat Oregon? The truth is, I don't know. A lot can happen between now and Oct. 12.
How long will
Austin Seferian-Jenkins
be suspended? I doubt it will be half a season, but you never know. The week before, Washington travels to Stanford. What will their mood be after that game? Will they be riding high as spoilers? Or get thrashed like they did in their last trip to The Farm? Is
Keith Price
going to return to his 2011 form?
Right now -- based on what we know on March 15 -- I'd be an Oregon lean, simply because of history and trends. But the Ducks have their own set of questions that need answering. We need to see how the defense comes together with two new middle linebackers and how the team comes together under a new head coach.
I will say I do think this might be Washington's best chance in a while. But chances don't equal wins.
Speaking of neon uniforms: Anyone get a look at Notre Dame's hoops unis last night? Looks like the team took
a guacamole bath
before taking the court.
March, 1, 2013
3/01/13
5:30
PM ET
In case you hadn't heard, my first Pac-12 mailbag
from a couple of weeks ago
was nominated for the Oscar for best supporting mailbag in a Pac-12-centric blog. I was the only nominee, but somehow I lost out. Hollywood can be so political.
Anyway, from here on out, Ted and I will be alternating mailbags on Fridays. And then when the season starts -- you'll get two mailbags a week. That's assuming the Mayans weren't off by a few months and I don't get that part as Channing Tatum's body double in Magic Mike 2: Hot Bloggers, Hot Bods. (Fingers crossed).
As always,
follow the Pac-12 blog here on Twitter
.
To the notes!
Ben in Phoenix writes
: No De'Anthony Thomas?
Kevin Gemmell
: Nope, 'fraid not. I can tell you there were about five or six times I said to Ted, "I can't believe we're leaving DAT off this list." Not because he's not one of the best players in the league, but because of the criteria we use to make the league. As I explained
in the Blogger Debat
e, my criteria starts with postseason honors -- All-American, All-Conference, etc. Then I look at the numbers and then go with my gut to sort out what's left. And what was left was an amazing player who just didn't have the honors or numbers that some others did.
A lot of great players were left off the list. Won't rehash all of them, but you know who they are. One thing we can all agree on is that the list isn't perfect. The final product isn't exactly how I'd like it if I were doing it alone. And it's not how Ted would like it if he were doing it alone. But the majority of folks think we were in the ballpark (almost three out of four folks gave us either an 'A' or 'B' in the Tuesday poll). And when you're talking about a list that is wildly objective, that's not too bad.
Count on the acronyms -- DAT & ASJ -- being positioned favorably on the preseason top 25.
Brian in Denver writes:
I know Stanford's got a lot of solid defensive players coming back, including much of the ferocious front seven that keyed the P12 championship and Rose Bowl run. But I'm a little nervous about the departure of Terrence Stephens. That dude was a singular mass of man clogging the middle of the line, and his absence was noticeable the last few games of the year. Who replaces Stephens, and will the drop-off be significant?
Kevin Gemmell
: David Parry started the final three games when Stephens was out for committing secondary NCAA violations regarding his housing. Parry was very good in both UCLA games and the Rose Bowl. In the season finale against UCLA, he had a team high five solo tackles, a sack and he batted down a pass. He's a former walk-on who played his way into a scholarship. You have to love those guys because they never stop trying to prove themselves.
Stephens was very underrated for what he did on and off the field. He didn't have the gaudy numbers of a Will Sutton or the attention of a Star Lotulelei. He just went out every week and took on the double teams and let the linebackers mop up. Occasionally he'd get his name printed, but not often. Here's a great quote from Stephens from a story I did about the Stanford defense
back in September.
I'm a nose tackle. That's a thankless job. You won't make many plays. Won't get a lot of recognition, but you're doing your job. And my job is to demand two, maybe three people at a time and let my linebackers and ends and secondary roar. That's my job. I have to be that concrete rock in the middle of the defense to let everyone else do their job. That's the mindset we all have. We celebrate as a team when Chase Thomas gets a sack and Trent Murphy gets a sack and when Ed Reynolds gets a pick, we are all part of it. We all made it happen in some way.
I haven't talked with Parry, but I know Stephens will be missed on the all-interview team. He's the kind of guy where you just put the recorder down, ask a question and let him go. Good guy. Good leader. But from what I saw from Parry, I'm thinking Stanford will be just fine across the line.
Speaking of Chase Thomas...
Chace in Mountain View, Calif., writes
: Hello Kevin, am I the only one who was surprised at Chase Thomas's poor numbers at the combine? A 4.91 40 is abysmal for an outside linebacker in today's NFL, and while his 3 cone and shuttle times were not as bad they were still below average and put him in the bottom 5 in both of all linebackers at the combine. Same with his vertical and long jumps. I watched him for years at Stanford, and always thought of him as a very fast and athletic linebacker... was I really that far off?
Kevin Gemmell
: Honestly, I'm not totally shocked. Thomas isn't a "measurables" kind of guy. He's one of those guys who -- as the cliche goes -- plays faster than he looks. He's got great linebacker instincts and a nose for the ball. He's a playmaker -- that's the bottom line. He's never been a pure-power rusher, but he has a knack for shedding blocks and disrupting plays in the backfield.
He is also extremely sound in his technique. Thomas and Murphy were as good as any OLB duo at setting edges and either making plays at the point of attack or forcing plays back into the middle of the field.
And I don't think anyone who watched his jump-ball interception in the Arizona game is worried about his vertical.
He might never be an All-Pro, but he should have a very productive career.
Mr. Huskie in Seattle writes:
You guys seem to make a big deal out of your top 25. What's the big deal? It's a list. Why do you care what we think? Insecurity? How about doing some real stories where you actually talk to people.
Kevin Gemmell
: I'm not insecure. At least my therapist doesn't think so. Does he? No, he doesn't. I don't even have a therapist. Should I get one? Do I need one? I don't even know now...
We make a big deal out of it because it's fun. We like the blog to be a little interactive, so that's why we involve the readers. We have fun with it and -- for the most part -- it seems like the readers do too. That's all.
It's fun because I called Ted on Tuesday to talk about our posting schedule for the week -- and he's still trying to change my mind about Matt Barkley. It's fun because the second I got off the phone with Kyle Whittingham on Wednesday, I immediately had to text Ted to tell him that Whittingham agreed with my choice of Reggie Dunn.
Neither of us went to a Pac-12 school, so we don't have a stake in the outcome. But you guys do. And yes, it promotes debate and discussion on a topic that usually takes a backseat to NCAA basketball in February.
Do we "care what you think?" About us personally, nah, not so much. Hopefully folks find Ted and I to be informative and witty. At least, the former. By the way, if it's so unimportant, why take the time to write? I can only assume you are a Washington fan. So you're probably hating on us right now for the lack of purple on the top 25 list. That's OK. But as you posed in your question, what's the big deal?
Since you're looking for "real stories," I thought I'd help you out. Here's a sampling of what we've done since the first Top 25 post ran on Jan. 22.
Team reviews for:
Some other pieces of note:
And that was just the last days of January.
I don't really have the time to dig into all of the February stuff. But here's a sampling.
Are those "real" enough for you?
Yes, Ted and I can be playful and self-deprecating. But we do it because it's fun. Don't ever mistake that for insecurity or a lack of confidence. There is more than 35 years of experience between us -- and we're very good at what we do. We are 100 percent confident in everything that we publish. That's why we put our names on it.
Speaking of which, "Mr. Huskie," (shouldn't it be Husky?) any reason you didn't use your real name? Insecurity, perhaps?
December, 21, 2012
12/21/12
2:20
PM ET
Stanford will be without starting defensive tackle
Terrence Stephens
for the Rose Bowl Game presented by Vizio because of a secondary violation of NCAA rules regarding his rental of off-campus housing, the school announced Friday.
Stephens missed the regular season finale and the Pac-12 championship game -- both victories over UCLA -- for what the school had previously characterized an unspecified "personal problem."
While Stephens doesn't make much of a statistical impact, he's a huge part of the defense. The 6-foot-2, 305-pounder anchors the Stanford line and is often called upon to handle double and triple teams that allows his teammates to make plays. He has 10 tackles on the season with a pair of sacks and he's also forced a fumble.
Stanford faces Wisconsin in the Rose Bowl on Jan. 1 at 5 p.m. ET on ESPN.
David Parry
stepped in for Stephens and in the first game against UCLA, he had five solo tackles, a sack and he knocked down a pass. He posted one tackle in the Pac-12 championship game.