December, 24, 2013
12/24/13
5:30
PM ET
T'was the night before Christmas and the Pac-12 blog crew;
Was still smarting and miffed at the fall of Wazzu.

Dressed in an opulent red and green sweater;
Ted furiously hoped that the Beavs would do better.
The Trojans exploded and won one for 'O;'
Only to learn
Dion Bailey
would go.
Utes, Bears and Buffs are home for the bowls;
Leaving their fans little reason to troll.
Two teams from the desert are still yet to play;
With RichRod and Graham hoping things go their way.
One last run for Price in his prime;
Plus he gets to Fight Hunger at the same time.
The Alamo will be Mack Brown's last stand;
Even if the year didn't go as the Ducks planned.
Barr's last game will be played in The Sun;
We're also wondering: Is
Brett Hundley
done?
Last but not least is the Tree vs. Sparty;
In the backfield the Cardinal hope they will party.
So enjoy Christmas Eve with your best pint of ale;
Sit back and relax to this bag of mail.
(I know, it's not as good as Chongo's).
Dylan in Boston writes
: Hi Kevin, In all the reporting/speculation about Justin Wilcox following Sarkisian to Troy, it seems like everybody's overlooking the fact that the Trojans already have an A-list coordinator in Clancy Pendergast. Am I the only one confused by this? In the years Pendergast was at Cal, he did more with less than Wilcox has had at Washington (at the least the talent was comparable), particularly against my Ducks. Has Wilcox really shown enough for people to assume that he has the advantage over Pendergast?
Kevin Gemmell
: Has he shown enough? I think so. I think Wilcox is an outstanding coordinator and defensive-minded coach. But you're right, you can't overlook the job that Pendergast did at USC this year.
The move to an odd front was a fantastic one for the Trojans. Say this for Lane Kiffin, he recognized that the Trojans needed a scheme that was going to be able to account for all of the edge speed in the league and he adjusted accordingly by bringing in Pendergast. Obviously, things didn't work out so well on the offensive side of the ball for Kiffin. But let's give the credit where credit is due.
The numbers for both coaches suggest major improvements since their arrival. First, Washington:
In the two seasons since Wilcox arrived, the Huskies have improved in scoring defense each year. They were giving up 35.9 points per game in 2011, followed by 24.2 in 2012 and 23.4 in 2011. They have also improved turnover margin and rushing yards allowed each of the last two years.
For USC, in one season under Pendergast, the Trojans cut their points allowed by more than a field goal, made huge strides in rush defense (167 yards allowed in 2012 compared to 120.3 in 2013) and were on the plus side of turnover margin after going minus-2 in 2012 and minus-1 in 2011 (they were plus-6 this year).
So the morale of the story is this: If you're a Washington fan, you want Wilcox to stay in Washington. If you're a USC fan, you're going to be happy either way.
Peter in NorCal writes
: One thing that Sark going to SC won't hurt: The Stanford-USC rivalry. It seems like David and Steve get along about as well as Jim and Pete did. Fair statement? What are your observations about the two of them (both generally, and specifically the snippiness that ensued after the Stanford/Washington game this year).
Kevin Gemmell
: It's funny that you bring that up. Every year Ted and I go to the Pac-12 spring meetings in Arizona. Basically, it's Ted and I sitting outside of meeting rooms, waiting for the coaches to emerge, and then grabbing them for interviews. Then we sit outside, watch the coaches eat lunch, and then grab them again for more interviews.
One thing Ted and I were commenting on this year was how well all of the Pac-12 coaches get along. The Big 12 coaches meeting was going on at the same time and there was little to no interaction between those guys. But the Pac-12 coaches were all sitting together and chatting each other up after meetings.
Now, we're not in the meetings with the coaches, so I can't speak to how they interact. But from what I've seen, Sarkisian and David Shaw got along just fine.
Of course, that was last May and a lot has happened since then, including the aforementioned post-game war of words.
We don't need to rehash all of the details, but I know Shaw objected to having his assistant and his players called out by name. And whether you agree with him retaliating with a Tuesday tirade is your personal business. Sark was ticked and probably broke a couple of unwritten rules. It happens. Shaw kept the story alive an extra couple of days by using the coaches' teleconference and his Tuesday roundtable as a pulpit to respond.
Neither coach "won" the public relations battle. And I don't think either cares. But it certainly spices things up for when the Cardinal and Trojans meet again. That -- and the fact that it's come down to the last play three of the last four meetings.
Curt in Las Vegas writes
: Hey Kevin, Chip Kelly left the
Oregon Ducks
firmly entrenched with quality players. In 2013 going 10 and 2 and playing in the Alamo bowl to us Duck fans is a letdown! Do you think Mark Helfrich is planted at Oregon with the year he had?
Kevin Gemmell:
Did Chip Kelly hurt
Marcus Mariota
's knee? I think we can all agree that things took a turn for the worst for Oregon when he started coming up gimpy.
I think Helfrich is a very good coach who encountered a lot of the Year 1 obstacles every coach faces. But because it's Oregon, a perennial top-5 program, those obstacles are magnified. When you've sat in a coordinator's chair for so long and then make the jump, there is some transition and self-evaluation that is required. Ted and I took a lot of guff
for picking Stanford to win the conference
over Oregon for this very reason.
The Alamo Bowl is a letdown, sure. A 10-2 team playing in the deepest conference in college football deserves a shot at a BCS bowl game. But as the players have said, they need only look at themselves for where they are at.
Helfrich is going to be just fine, and Oregon is going to be just fine. He has a chance to get an 11th win -- something Kelly didn't do in his first year. And win a bowl game. Also something Kelly didn't accomplish. We have to see how the new College Football Playoff pans out, but I don't see any reason why a Helfrich-led Oregon won't be in the hunt annually.
Scott in London, England writes
: Hi Kevin, I've read twice in the blog today about you mentioning how scary Arizona can be next year and it got me thinking. I know we have a lot of great transfers and recruits coming in, but I'm a bit unsure as to who exactly are supposed to be immediate impact players and how many returning starters there wil be, etc.I was wondering if you and Ted plan on doing a run down of next year's potential for each Pac team that consolidates all this into one easy blog post per team:* Transfers/JuCos and why they are good/meh* Recruits and why they are good/meh* Returners and why they are good/meh* Coaching changes and why they are good/meh (assistants too)* Schedule goods and bads* Will there be an El Nino, etc...I would say I'm an above-avg fan but I really don't have the Google-Fu skills or time to compile all this and I think every Pac fan would appreciate it a series like that.Maybe you guys already do that during the offseason or preseason, but I think it could also be good after bowl season.You can think of it as your first chance to be the, "We told you so" guys. Thanks for reading, always enjoy your stuff. Keep up the good work.
Kevin Gemmell:
I can assure you there will be plenty of time in the offseason for all sorts of schedule analysis, roster breakdowns etc. etc. Ted and I are happy to fill the void during the offseason, as we do every year.
Just a heads up on Arizona. Among some of the key players who will be coming off the scout team are
Cayleb Jones
,
Davonte' Neal
and
Connor Brewer
. They will all be eligible in 2014 after transferring.
Jones is a wide receiver who is transferring from Texas, and he's reunited with Brewer, a former Longhorns quarterback. Neal, from Scottsdale, is a transfer receiver from Notre Dame who made a push to become eligible in 2013, but the NCAA denied his hardship waiver. You put him in with
Austin Hill
, who should be fully recovered from his knee injury and should be high on the Belitnikoff watchlist, along with
David Richards
,
Nate Phillips
and
Samajie Grant
and you have a receiver corps that is as good as any in the conference -- probably the country.
Quarterback will be an issue and
Anu Solomon
is one to watch. I had this in Lunch Links today. It's a good read from Anthony Gimino
breaking down Arizona's QB prospects for next year
.
Essentially, the Wildcats have a bunch of really exciting skill players that will make the South that much more exciting. They do lose three seniors on the defensive line, so guys like
Luca Bruno
,
Calvin Allen
and
Jack Banda
will have to step up.
But Arizona does indeed have some scary potential next year.
Mike in Maple Valley, Wash. writes
: Your definition of "Coug" was pretty spot on. You said it has been an effective term since 2005. The origin may actually go back to the 1975 Apple Cup. To "Coug it" is a ceremonial act hand down from one generation to another.
Kevin Gemmell
: First off, Maple Valley sounds like the most delicious place on earth.
Second, that was a phrase pulled straight from the Urban Dictionary, and the submission was entered in 2005, so unfortunately I can't take credit for it. I didn't put the link in though because Urban Dictionary has a lot of non-blog-friendly expressions and sayings. You're free to Google it yourself.
I called no joy in writing that piece. But I do think Washington State is moving in the right direction under Mike Leach. Speaking of that column ...
Andy in Fort Collins Colo. writes
: You're Washington State take
was so one-sided and arrogant
. How about giving the Rams a little credit instead of making excuses. (And Merry Christmas).
Kevin Gemmell
: Ah, thanks Andy. Merry Christmas to you.
It was a Washington State-centric story because I'm the Pac-12 reporter and I cover the Pac-12 and Washington State is a Pac-12 team and it appeared on the Pac-12 blog. See the trend?
Did you email all of the beat writers in Pullman and Spokane and the surrounding areas and chastise them for their coverage? The folks at
CougCenter
do a heck of a job. And their stuff was a bit one-sided.
I don't think it's arrogant to say the Pac-12 is a better conference. I've covered both, so I feel like I'm qualified to weigh in on this. In the 12 games the two conferences have played so far, the Pac-12 has gone 11-1 and outscored the Mountain West, on average, 38.5 to 20.
Arizona should beat UNLV. And it did. Colorado should beat Colorado State. And it did. Oregon State and USC should beat Hawaii. And they did. Oregon State should beat San Diego State. And it did. UCLA should beat Nevada. And it did. Stanford should beat San Jose State. And it did. USC and Utah should beat Utah State. And they did. USC should beat Fresno State and Washington should beat Boise State. And they did.
For what it's worth, I did include in the piece that Colorado State deserved the win for not quitting. And anything is possible (especially in Albuquerque, it seems) when you have two weeks to prepare.
That goes for tonight's matchup between Oregon State and Boise State. The Broncos certainly aren't the same team they were a month ago. And I'm not totally sure which Oregon State team we're going to get. If it's the explosive
Sean Mannion
-to-
Brandin Cooks
connection, the Beavs should be fine. If it's not, then Boise State certainly could win.
Such is the nature of bowl season.
Merry Christmas from the Pac-12 blog.
September, 25, 2013
9/25/13
12:00
PM ET
Is Arizona ready? After rolling through a Downy-soft nonconference schedule the competition level gets raised dramatically as the Wildcats head north to Seattle to face No. 16 Washington. Did the sacrificial trio of Northern Arizona, UNLV and Texas-San Antonio do enough to prepare the Tucson crew for the rigors of the Pac-12?
"Heck, I think we were ready to play a league game the first week," Arizona coach Rich Rodriguez said. "Our schedule is what it was. Those teams, even though we were favored to win them all, you still have to go out there and play well and win them. I think San Antonio is going to win games. I think UNLV is going to win games. I think Northern Arizona is going to win league games at their level. We try to prepare for the first game no matter who we're playing and I thought we were ready then.
"But tough environment against good players and a good coaching staff, it will be a challenge."
[+] Enlarge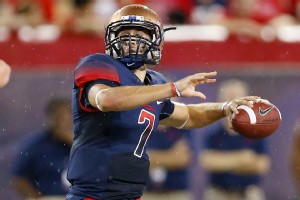 Christian Petersen/Getty ImagesArizona's passing offense has gotten off to a slow start in 2013 behind new starting quarterback B.J. Denker.
One of the biggest questions surrounding the Wildcats was whether they would be improved on defense. With the entire starting cast back, they are allowing an average of just 8.7 points per game, though the aforementioned trio is hardly considered a suitable measuring stick for what Arizona will face in Pac-12 competition.
And the Huskies should prove to be suitable competition. Through their first three games, which included wins over then-No. 19 Boise State and a road win against Illinois in Chicago, Washington is averaging almost 43 points per game and more than 625 yards of total offense.
"Our season started during week one," quarterback
B.J. Denker
said. "There are no pretend games in football, you only get 12. Yes, this is Pac-12 play and we understand this is a bigger deal and this is going to be the best team we will have played. We can only play who is put on the schedule, I don't think the normal fan appreciates that if they are I-AA (FCS) or you are a lower-tier Division I football team, this game is rough. You can't just go out on the field and expect a victory because somebody will come and smack you in the mouth."
The pressure is on Denker to revitalize a passing attack that flourished last year under
Matt Scott
, but has been a work in progress the first three weeks. The Wildcats average only 108 yards per game in the air -- a surprisingly low number for a Rodriguez-coached team. Denker is completing just 56.4 percent of his throws with two touchdowns and no interceptions. Part of that is a new quarterback getting to know new wide receivers. Another part is 151 carries through three games.
"I don't think the chemistry was the issue," Denker said. "Most of the reason the numbers weren't so good was because we were running the ball so well. It's not like I don't know what our receivers are going to do. It's just being young and not really having to throw the ball every down. We have been working on that since the season started and during this bye week. I feel like it is getting better and as the season progresses, you will see that on the field."
Rodriguez said improvement in the passing game was his top priority during the bye week. And he seems pleased with the progress.
"It's gotten better, I have to judge it in practice," he said. "We really struggled beginning of August; it was a combo of new receivers with a new quarterback. We've gotten a whole lot better the last three weeks, particularly in practice. We know we have to throw the ball. Everyone is going to put everybody in the box to try to stop the run game. We've worked harder on that than anything else we've done offensively."
The wide receiving corps could also get a boost with the return of
David Richards
, who has been nursing a foot injury. Rodriguez said he's been practicing this week and a decision on whether he'll play will be made either Wednesday or Thursday.
The sidebar to this game is the running backs: Arizona's
Ka'Deem Carey
and Washington's
Bishop Sankey
. Sankey has one extra game on Carey, who sat out the season opener for disciplinary reasons but is averaging 149.5 yards per game since his return. Sankey averages 148.6. Both have four rushing touchdowns and average 6.9 yards per carry.
While some postseason honors might hinge on who plays better, that's not even on Rodriguez's radar.
"I don't think the players of the coaches on either side look at individual matchups like that," he said. "We know Sankey has been a huge part of their success and Ka'Deem has been a huge part of ours. That's going to be the case for the rest of the season. We look at the overall picture."
August, 21, 2013
8/21/13
10:30
AM ET
We conclude our day-by-day snapshots of each Pac-12 team heading into the 2013 season in reverse alphabetical order with the
Arizona Wildcats
.
Arizona
Coach
: Rich Rodriguez (83-53, 8-5 at Arizona)
[+] Enlarge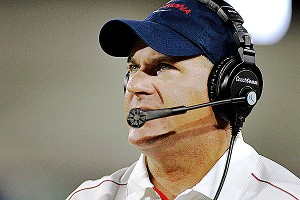 AP Photo/John MillerLast season Rich Rodriguez's offense scored 38 points per game, but his defense gave up 35.
2012 record
: 8-5 (4-5 Pac-12 South)
Key losses
: QB Matt Scott, WR Dan Buckner, C Kyle Quinn, DL Dominique Austin, OL Trace Biskin.
Key returnees
: RB
Ka'Deem Carey
, RB
Daniel Jenkins
, LB
Jake Fischer
, LB
Marquis Flowers
, WR
Terrence Miller
, OL
Fabbians Ebbele
, OL
Mickey Baucus
, OL
Chris Putton
.
Newcomer to watch
: The Wildcats have put an emphasis on building defensive depth, so look for linebacker Scooby Wright to contribute immediately. The all-state performer out of Cardinal Newman (Windsor, Calif.) has impressed so far in camp.
Biggest games in 2013
: With UCLA, USC and ASU getting the bulk of the hype in the Pac-12 South, the Wildcats will have to pull off some upsets if they want to be in contention. That makes all three (at USC Oct. 10, vs. UCLA Nov. 9, at ASU Nov. 30) critical. Of course, the ASU game is the biggest of all.
Biggest question mark
: Next week is game week, and the Wildcats are still in quarterback limbo. It was thought that
B.J. Denker
and
Jesse Scroggins
would be the front-runners, but neither has pulled away and
Javelle Allen
, Anu Solomon and
Nick Isham
have all kept pace. They've all shared close to equal reps in camp, so at least there is continuity with the receivers seeing all of the QBs (Denker is the only lefty). The fact that the Wildcats have a fairly easy nonconference schedule bodes well. Rodriguez has already said it's possible he could start three different quarterbacks the first three weeks before Arizona opens league play on the road at Washington on Sept. 28. There are a few more practices coming up before the Wildcats get into "game week" mode, so every rep will count.
Forecast
: It hasn't been the greatest offseason for the Wildcats. The opening of
the new facility
and a couple of awesome! videos (
Part I
and
Part II
) were overshadowed by Carey's
off-field indiscretions
, the loss of wide receiver
Austin Hill
to
injury
and the
departure
of receiver Tyler Slavin. Once thought to be their strongest position group, the Wildcats now find themselves struggling with some wide receiver depth.
Terrence Miller
,
Garic Wharton
and
Johnny Jackson
make up a solid starting three, and
David Richards
, though hampered by injuries, is a solid 3B. And Jenkins can be a do-it-all guy, but it's still an area of concern.
Matt Scott was obviously a huge part of the offense. And he and Carey complemented each other nicely. It will be interesting to see if Carey continues his outstanding pace with a new quarterback. The belief is that there will be just as much passing as last season, and given Arizona's scheme, it's unlikely Carey will be seeing many eight- and nine-man boxes.
The offensive line should also be solid. Quinn was an underappreciated center and he'll be missed, but Ebbele, Baucus and Putton (who will be plugged in as needed) make up a strong troika.
Defensively, the question is if this group, which returns virtually every starter from last year, got better. Fischer and Flowers are legit playmakers, and you'd think a second year in the 3-3-5 will help. As explosive as the Wildcats were offensively, the defense gave up more than 35 points a game -- ranking 102nd nationally. Fortunately, the offense averaged better than 38 points per game.
Arizona is an extremely intriguing team. If Rodriguez can make the quarterback spot plug-and-play, and Scott's production can be mostly replicated, that will take a lot of pressure off Carey, who could be in for another big season. And, if the defense is improved, the offense won't have to feel like it has to win every game.
But those are two big ifs.
June, 5, 2013
6/05/13
1:00
PM ET
What the heck is a three-headed monster in the Pac-12? It's about returning production: Elite combinations of quarterback, running back and receiver in the conference.
The only "pure" three-headed monsters in the Pac-12 this fall are Arizona State and Washington, in that the Sun Devils and Huskies welcome back their quarterback, leading rusher and leading receiver.
Yet, even they aren't without issues. The Sun Devils probably wish they had an elite receiver leading their passing offense instead of tight end
Chris Coyle
. The Huskies are hoping the
Keith Price
in 2013 is not the Price of 2012, but of 2011.
Further, some teams are close: Oregon State has two quarterbacks coming back with extensive starting experience, leading rusher
Storm Woods
and an 1,000-yard receiver in
Brandin Cooks
.
Two teams, California and Washington State, don't welcome back their leader at any of the three positions
Ranking these isn't easy. The challenge is priority and value. What if a team is, say, outstanding at running back and receiver, but inexperienced at quarterback? How does that measure up with a team that is merely good, but also experienced at all three positions?
Further, four teams are difficult to rate because of uncertainty at at least one position: Arizona, California and USC at quarterback, and UCLA at running back.
So here's how we see things stacking up -- and, yes, we did some projecting at some positions. And, yes, you should feel free to be outraged by our lunkheaded bias against your team, which obviously should be ranked much higher.

1. Oregon

QB
Marcus Mariota
, RB
De'Anthony Thomas
, WR
Josh Huff
The skinny
: If you give extra weight to quarterback, the Ducks prevail. Moreover, Thomas and Huff are explosive playmakers who seem poised to step into the limelight and put up big numbers this fall. And there's also tight end
Colt Lyerla
.

2. Arizona State

QB
Taylor Kelly
, RB
Marion Grice
, TE/H-back Chris Coyle
The skinny
: Kelly is a good start and there's depth at running back behind Grice with the capable
D.J. Foster
. Both Grice and Foster are good receivers, so they can be lumped in with Coyle. This offense will be outstanding if an incoming receiver can step in and stretch the field.

3. Oregon State

QB
Sean Mannion
/
Cody Vaz
, RB Storm Woods, WR Brandin Cooks
The skinny
: We can make an exception for the Beavers indecision at quarterback, because we know both guys well. Woods and Cooks are a strong running back-receiver combo who will give whoever wins the quarterback job plenty to work with.

4. UCLA

QB
Brett Hundley
, RB
Jordon James
, WR
Shaq Evans
The skinny
: Hundley carries the Bruins here. There is uncertainty at running back, and Evans averaged just 62.9 yards receiving last season with just three TDs. But Hundley is an All-American candidate.

5. Washington

QB Keith Price, RB
Bishop Sankey
, WR
Kasen Williams
The skinny
: If Price returns to form, this troika would move up a couple of notches. Williams gets seconded by tight end
Austin Seferian-Jenkins
.

6. Stanford

QB
Kevin Hogan
, RB
Tyler Gaffney
, WR
Ty Montgomery
The skinny
: Hogan was the guy in the cockpit during the Cardinal's late-season charge. Gaffney is a proven guy, despite taking a year off. And Montgomery has shown flashes of being a first-option wide-out.

7. USC

QB
Max Wittek
/
Cody Kessler
, RB
Silas Redd
, WR
Marqise Lee
The Skinny
: Whoever wins the starting quarterback job should be at least solid. Redd should hit the 1,000-yard mark. And Lee is the best guy at his position in the country. But will his numbers go down this fall without Matt Barkley?

8. Utah

QB
Travis Wilson
, RB
Kelvin York
, WR
Dres Anderson
The skinny
: Plenty of experience here, and the depth is solid behind York and Anderson. And don't forget underrated tight end
Jake Murphy
. The key element is Wilson taking a strong step forward after being thrown to the wolves as a true freshman starter.

9. Arizona

QB
Jesse Scroggins
, RB
Ka'Deem Carey
, WR
David Richards
The skinny
: Carey carries this one because the Wildcats are uncertain at quarterback -- it as easily could be
B.J. Denker
or true freshman
Anu Solomon
up there. Even with that fluidness at quarterback, this ranking would be much higher if leading receiver
Austin Hill
didn't blow out his knee this spring.

10. California

QB
Zach Kline
, RB
Brendan Bigelow
, WR
Chris Harper
The skinny
: Yes, we are projecting Kline wins the quarterback competition. There is great potential here, and Harper isn't the only talented young receiver who could lead the Bears. But Bigelow, as explosive as he is, needs to prove he can stay healthy and become an every-down back.

11. Washington State

QB
Connor Halliday
, RB
Teondray Caldwell
, WR
Gabe Marks
The skinny
: Halliday has yet to completely win over coach Mike Leach, as much of Leach's post-spring commentary was on how well redshirt freshman quarterback
Austin Apodaca
played. Caldwell is a quick scat back, but the Cougs had essentially zero running game last season. Marks might be poised for a breakout, and the Cougs are solid at receiver overall.

12. Colorado

QB
Connor Wood
, RB
Christian Powell
, WR
Paul Richardson
The skinny
: This is a better-than-you-think troika, because Richardson is among the most talented receivers in the conference. But he's coming back from a knee injury that killed his 2012 season. Powell, a 235 pounder, rushed for a respectable 691 yards last season. The linchpin is Wood: Is he ready to lead this offense? The bottom line is the Buffs can't rank higher because they were last in the Pac-12 in total and scoring offense last season.
May, 8, 2013
5/08/13
11:30
AM ET
ARIZONA WILDCATS
2012 record
: 8-5
2012 conference record
: 4-5 (fourth in South Division)
Returning starters
: Offense: 6; defense: 11; kicker/punter: 0
Top returners

RB
Ka'Deem Carey
, WR
David Richards
, LB
Jake Fischer
, LB
Marquis Flowers
, WR
Terrence Miller
, OL
Fabbians Ebbele
, OL
Mickey Baucus
.
Key losses
QB Matt Scott, WR
Dan Buckner
, C Kyle Quinn, DL
Dominique Austin
, OL
Trace Biskin
.
2012 statistical leaders (*returners)
Rushing
: Ka'Deem Carey* (1,929 yards)
Passing
: Matt Scott (3,620 yards)
Receiving
:
Austin Hill
* (1,364, suffered ACL tear in spring, out indefinitely)
Tackles
: Jake Fischer* (119)
Sacks
: Marquis Flowers* (5.5)
Interceptions
: Marquis Flowers* and
Jonathan McKnight
* (3)
Spring answers
1. Plenty of weapons:
Yes, Austin Hill's injury is brutal. Yes, it's a big blow to the Wildcats. Is it a game-changer? Maybe, maybe not. It's not like the Cats are strapped for receiving options.
Johnny Jackson
, David Richards,
Tyler Slavin
and
Garic Wharton
still make up an awfully formidable receiving corps. If a couple emerge, Arizona will be OK. If they all do, the Wildcats might not miss a beat.
2. The whole defense returns:
Great -- except that the defense struggled last season. Having a ton of starters back is a good thing -- but only if they get better. A second year in the 3-3-5 should naturally lend itself to less thinking and more playing. And it's not just the starting 11. There are 20 defensive players who notched at least one start last season -- so there is depth to go with the experience.
3. O-line rising:
It's no easy task replacing center Kyle Quinn. But the good thing about Arizona's line is that its members are versatile and can play multiple positions. Mickey Baucus (LT) and Fabbians Ebbele (RT) started every game last year and
Chris Putton
started multiple games at both guard spots and can also play center. The five isn't set -- but there is room and depth to mix and match.
Fall questions
1. QB roulette?
Unlike with some other Pac-12 teams with quarterback competitions, Arizona coach Rich Rodriguez doesn't want to name his starter and then stand by his man. He could name a different starter the next day. And then a different one the day after that. Rodriguez said he could have three different quarterbacks start the first three weeks of the season. Many feel
B.J. Denker
had the strongest spring with
Jesse Scroggins
slowed by injury. Stay tuned.
2. Ready to lead?
Did Matt Scott make Ka'Deem Carey look good? Or did Carey make Scott look good? Most think it was a bit of both. With Scott gone and Carey now a national name, the target will be squarely on the chest of last season's national leader in rushing. Carey isn't going to surprise anyone. Can he duplicate 2012's production with the increased attention and a new quarterback at the helm?
3. Injuries stink:
That's not so much a fall question as a statement on the olfactory unpleasantness of injuries. The Wildcats had as many as 20 injuries this spring, meaning a lot of players who might not start in the fall got to start in the spring. That's great for depth, but it leaves a lot of holes and a lot of questions still be to be answered when the bulk of those injured players return in the fall.
May, 6, 2013
5/06/13
12:00
PM ET
Optimism is an important part of the sporting experience. From fans to coaches to players, the vast majority espouse great hopes in advance of every season, even when bad things happen that seem to poleax those hopes.
A player or coach is never going to say, "We're doomed," when a star player gets hurt. It's "Next man in." As it should be. No one likes a whiner.
And woe to the sportswriter who, armed with a laptop, acts as the killjoy.
Take Arizona. It already was searching for a replacement for highly productive quarterback Matt Scott when, on the last week of spring practices, star receiver
Austin Hill
went down with a knee injury.
No worries, said fellow receiver
David Richards
.
"We have a lot of other weapons," Richards said. "I don't think we'll really lose a step. I don't think it will hurt us that bad even though he was a great receiver."
Richards added he plans to step up his game and help fill the void. That's good because he's now the Wildcats leading returning wide receiver after catching 29 passes for 298 yards with three TDs last year.
That, of course, is long way from the 81 passes for 1,364 yards with 11 scores Hill contributed as a sophomore. But we are not here to party poop. We are here to offer hope.
Hill's injury and the departure of second-leading receiver
Dan Buckner
leave a void without a doubt. Whoever wins the quarterback job won't have an obvious go-to option. On the positive side, he also won't be fixated on one guy, as, say, USC was last year with
Marqise Lee
.
The Wildcats have solid experience coming back at receiver. Richards is the leader of four wide outs who caught at least 19 passes last year, a crew that includes Tyler Slavin,
Johnny Jackson
and
Garic Wharton
. The imposing
Terrence Miller
also returns after receiving a medical hardship year from the NCAA. The 6-foot-4, 234 pounder had 13 receptions in the first four games before he got hurt.
Finally, there's a trio of promising redshirt freshmen -- Trey Griffey,
Clive Georges
and
Jarrell Bennett
-- who hinted this spring they are ready to help.
Let's just say there are plenty of teams in the country and even the Pac-12 that would trade their receivers for Arizona's, including rival Arizona State, which is essentially crossing its fingers over incoming players being ready to take over leading roles.
Hill's injury was a hit, but it didn't change the preeminent questions for the Wildcats: Quarterback and defense. Arizona has no idea who will be behind center, while the defensive question hangs on how much better 11 returning starters and some redshirt freshmen and newcomers can be compared to the overmatched group from 2012.
Richards, following the lead of his coaches, didn't reveal much about the QB competition, though
B.J. Denker
seemed to have the best spring, with USC transfer Jesse Scroggins sitting out and touted true freshman Anu Solomon arriving this summer.
"All the quarterbacks pretty much had a good spring," Richards said. "I think it will be a good camp with them all competing. The person that works the hardest and proves he wants to be the leader of this team will be the quarterback."
That same could be said of who will become that QB's top target.
February, 22, 2013
2/22/13
9:00
AM ET
Here are some keys and storylines to watch this spring in the South Division. Yesterday Ted looked at
the North Division.
ARIZONA WILDCATS

Start date:
March 3
Spring game:
April 13
What to watch:
New battery: The Wildcats are looking to replace a top-notch quarterback-center combo in Matt Scott and Kyle Quinn. The rock-solid duo helped produce one of the top offenses in the league. Jesse Scroggins and B.J. Denker are among those in the mix to run the offense and several returning offensive linemen are versatile enough to move around. Chris Putton and redshirt freshman Beau Boyster could be in the mix at center.
Many happy return(er)s: Arizona returns a big chunk of its offensive production -- including running back Ka'Deem Carey and receiver Austin Hill. Both should be on all sorts of preseason teams and awards watch lists. But behind the big names, there's also David Richards, Johnny Jackson, Tyler Slavin and Garic Wharton back in the mix.
No learning curve: Last spring, the talk was about Rich Rodriguez calling out his team for its lack of physical conditioning. The fact that the majority of the team understands what is expected -- and they don't need to spend the whole spring learning new systems, should be a huge help. Consider that the Wildcats return their entire defense from a group that was, at times, shaky, but will certainly benefit from another full season of playing in the 3-3-5 scheme.
ARIZONA STATE SUN DEVILS

Start date
: March 19
Spring game:
April 13
What to watch:
Plugging the middle: One of the few losses to ASU's roster is middle linebacker Brandon Magee -- a leader on and off the field and an all-around heck of a player. Carlos Mendoza looks to be a good fit -- though he's likely to miss spring while continuing to recover from a shoulder injury suffered against Illinois. Folks might remember his two interceptions before going down for the year.
Catching on: Unlike last spring, the Sun Devils have their quarterback. And he's a good one. Now, they need to find folks he can throw to. JC transfers De'Marieya Nelson (H-back, 6-3, 230) and Jaelen Strong (WR, 6-4, 205) are both big bodies who could step in and contribute immediately.
Wait and see: The kicker here is a lot of these players who are expected to compete won't arrive until the fall. So in the meantime, a lot of the younger players and redshirts will get a ton of reps in the system. And speaking of kicker, don't underestimate how much of an impact Josh Hubner made at punter. Iowan Matt Haack, who arrives in the fall, is a rugby-style kicker who can kick with either foot. That's just cool.
COLORADO BUFFALOES

Start date:
March 7
Spring game
: April 13
What to watch:
Meet your QB: Whomever it will be. There are five on the roster and a sixth coming in. Safe to say, quarterback play was extremely inconsistent last season for the Buffs. With an entirely new coaching staff coming in and installing the pistol, this could be one of the more interesting and wide-open position battles in the league.
Curious defense: One needs only to review Colorado's national rankings last year to realize they struggled. As one Buffs insider mentioned to me, they were ranked No. 1 in a lot of categories. Unfortunately, that "1" was followed by two more numbers. Only three defensive ends have playing experience. However a secondary that lacked experience in 2012 has a lot more looking into 2013.
Receiver options: The Buffs welcome back Paul Richardson, who missed all of last season with a knee injury. Colorado's premier offensive playmaker will be a nice veteran presence to whomever wins the quarterback job. Grayshirt Jeff Thomas also is back. An improved passing attack should help give the quarterback some confidence and open up the running game.
UCLA BRUINS

Start date:
April 2
Spring game
: April 27
What to watch:
Life after Franklin: The Bruins say goodbye to the best statistical back in school history -- leaving a huge void in the backfield. Johnathan Franklin was a great presence for young quarterback Brett Hundley, but now someone has to step up to fill that role, either solo or along with a committee. Look for Jordon James, Steven Manfro and Damien Thigpen to all get looks.
New No. 1: The Y-receiver, aka hybrid tight end, was filled wonderfully by Joseph Fauria -- Hundley's favorite red zone target. Darius Bell and Ian Taubler both had looks last year, but Fauria too will be tough to replace. Shaq Evans, Devin Fuller, Jordan Payton and Devin Lucien round out a pretty good receiving corps.
Secondary solutions: The Bruins must replace two corners and a safety -- Sheldon Price, Aaron Hester, Andrew Abbott -- and there isn't a ton of starting experience. Randall Goforth has five starts, but veterans such as Brandon Sermons and Anthony Jefferson have more special-teams experience than actual secondary play. Keep an eye on the secondary too when the Bruins start fall camp to see if any freshmen jump into the mix immediately.
USC TROJANS

Start date
: TBD
Spring game
: April 13
New defensive scheme: The Trojans will move to a 5-2 defensive scheme under Clancy Pendergast, and the spring drills will be the first opportunity to see the defense in action. The Trojans will have an experienced front seven, but four new starters are expected in the secondary.
Replacing Barkley: Max Wittek got the first extended audition in the battle to take over for Matt Barkley, but he didn't do enough in two late-season starts to claim the job. Cody Kessler and freshman spring enrollee Max Browne also will be looking to take the reins at one of the glamour positions in college football.
Lane Kiffin on the hot seat: The Trojans are coming off a disappointing season, and the fans are howling in protest, but so far his boss Pat Haden has maintained full support for his coach. Now is the time for Kiffin to show why that support is warranted. -- Garry Paskwietz, WeAreSC
UTAH UTES

Start date
: March 19
Spring game:
April 20
What to watch:
Erickson impact: The biggest question was what sort of role Dennis Erickson would play in the offense once he arrived. We'll know sooner than later. He already has talked about putting an identity on the Utah offense. That starts in spring when routines are established and expectations are set. And with Erickson on board to give the offense a push, the expectations will be much higher.
Wilson maturing: That leads us to the presumptive starting quarterback -- Travis Wilson -- who jumped in midseason after Jordan Wynn got hurt and Jon Hays struggled to produce. Wilson went from OK to pretty good in just a few weeks. A nice jump considering his experience level. With an entire offseason knowing he'll be the starter -- and with Erickson and Brian Johnson molding him -- it will be interesting to see what progress he makes this spring.
D-line makeover: The Utes lose some talent on the defensive line -- specifically All-American defensive tackle Star Lotulelei. Look for DE/LB Trevor Reilly to spend more time with his hand down. Tenny Palepoi, LT Tuipulotu and JC transfer Sese Ianu could all see time in the mix at defensive tackle.
November, 24, 2012
11/24/12
1:49
AM ET
It was a tough night for Arizona quarterback
Matt Scott
. And the
Arizona State Sun Devils
made him pay for each and every mistake.


ASU intercepted Scott three times and forced a fumble from the signal-caller. All four turnovers were converted into touchdowns as the visiting Sun Devils erased a 10-point fourth-quarter deficit to top the rival Wildcats
41-34
in the Territorial Cup.
Marion Grice
rushed for 156 yards and three touchdowns to lead a Sun Devils attack that stalled at times -- but used the momentum of the turnovers to outdistance the Wildcats.
They also blocked a punt in the fourth quarter deep in Arizona territory that
Cameron Marshall
turned into a touchdown on the next play. The fourth turnover -- an interception from
Robert Nelson
-- was returned 66 yards to the Arizona 2-yard line late in the fourth.
Michael Eubank
took a quarterback sneak in from a yard out to give the Sun Devils (7-5, 5-4 Pac-12) a 41-27 advantage with less than three minutes left in the game.
No. 24 Arizona (7-5, 4-5), however, didn't go away quietly -- not surprising since the last three meetings between the schools have come down to the final play. It took just 57 seconds for the Wildcats to get a quick score -- a 17-yard pass from Scott to
David Richards
with 1 minute, 54 seconds to play.
But Arizona failed to recover the onside kick and Sun Devils were able to run out the clock.
Arizona running back
Ka'Deem Carey
, the nation's leading rusher, carried 25 times for 172 yards and a score. He did, however, miss a few series with an undisclosed upper-body injury -- but did return later in the game.
Though Scott finished with three touchdowns, the three interceptions and the fumble were killers. ASU quarterback
Taylor Kelly
was far more protective of the ball, completing 16 of 29 throws for 191 yards with no touchdowns -- but also no interceptions.
The victory moves Arizona State in front of the Wildcats in the final Pac-12 South standings and likely means a higher-profile bowl game for ASU.
August, 2, 2012
8/02/12
11:00
AM ET
Arizona might go to a bowl game.
Or
the Wildcats might not.
Or
they might win two games.
Or
more.
Or
less.
Or
,
or
,
or
.
Arizona's latest depth chart has 24"ors" on it.
Dan Buckner
at wide receiver, or
David Richards
.
Derrick Rainey
at cornerback, or
Jonathan McKnight
.
John Bonano
place-kicking, or
Jake Smith
.
Or ...
"I didn't help you with a lot of the 'ors,'" head coach Rich Rodriguez said in a news conference Wednesday. "It wasn't just a coach kind of deal, we really don't know for sure in a lot of positions. I think 15 practices in spring told us a little bit ... really, I think we'll get a better idea at the end of camp and at the end of the next 30 days. But I really won't know until we play a couple of games. There are a lot of 'ors.' I want our guys to compete for their jobs. If they've played in the past, that's good and that experience should help them. But we're starting all over again. A clean slate. Everyone has to earn their spots."
[+] Enlarge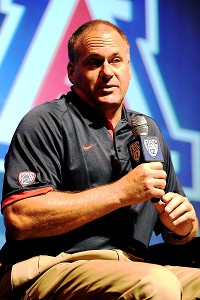 Jayne Kamin-Oncea/US Presswire"Everyone has to earn their spots," coach Rich Rodriguez said in explaining Arizona's uncertain depth chart.
Wildcats players reported Wednesday and will start practice today. And if the depth chart is any indication, Rodriguez has a lot of decisions to make over the next month.
Here are some more highlights from his news conference:
On the linebacking corps: "For us, that's certainly our thinnest position and it's an area of concern. There are probably some guys we're going to have to push to get ready [sooner] than they may be ready for or we may be ready for. In particular some freshmen. It's wide open. Jake Fischer is the only guy right now that we know has a lot of experience and we feel pretty comfortable with him at linebacker. Outside of Jake, it's kind of a wide-open deal. We have concerns, but what we have is what we have. Hopefully these freshmen will grow up in a hurry and coach [Jeff] Casteel will get them ready to play."

Rodriguez said staying healthy in camp is going to be crucial because the Wildcats aren't a particularly deep team yet. That's going to affect how they practice: "Where we're at right now with our depth -- or lack of it in some spots -- it's going to be critical. We've talked as coaches, you have to practice physically sometimes. You have to hit at times. We need to get tougher and more physical. Yet we don't want to beat ourselves up and have a lesser team come Sept. 1. How do you balance that? We will have some physical times and physical practices. But they won't be all day, every day. The message to our team will be when we have those moments when we go live, we need to really get after that and develop the mentality we want from a toughness standpoint. Because they will be few and far between. When we do it's got to be really, really intense and we have to make the most of it ... it's concerning and it limits you a little bit."

Offensive lineman Jack Baucus might have to retire because of injury.

Rodriguez said some of his coaching staff knew some players on Penn State's roster and that "a handful" reached out and talked with Arizona, but he said they are not actively pursuing anyone.

On how receptive his players have been to changing in coaching staffs: "I think they've been really receptive. I think our guys are hungry. At least I hope. When you're not going to a bowl game and you're sitting there at the bottom of the league, I think our guys were a little bit embarrassed and certainly they weren't happy because I met with all the guys in December. But how upset were they and how angry were they? I hope they are very angry and you use that anger and channel that in a positive [direction] with a chip on their shoulder to prove themselves ... I want them to be really mad. There was some of that and I think our players have a lot of pride. But we should be more upset and channel that in the right way."

Rodriguez called some of the NCAA's non-contact rules "silly," saying that two hours a week in the month of June would be beneficial -- especially for a new coaching staff trying to learn about their players: " It's really silly. It makes no sense. I think our guys -- college athletes in particular -- are better off with more guidance and more eyes."

The players will undergo a physical evaluation after the first practice. You'll recall that back in March, Rodriguez said his team was "weak, really weak." He'll see how much the summer conditioning has paid off: "The first practice will tell me a lot. Guys that struggle tells us they didn't do a whole lot this summer. We'll have a conditioning test at the end of the first practice. Those that worked out and are in shape shouldn't have any problems passing it. Those who didn't will have a big problem."