June, 30, 2011
6/30/11
11:57
AM ET
While there is no on-the-record clarity on the situation, it's fair to say that Arizona's All-Pac-10 receiver
Juron Criner
's season is at-risk due to an "
undisclosed personal issue
," which a source told the Pac-12 blog was a "non-injury, medical issue."
[+] Enlarge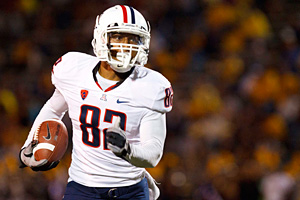 Rick Osentoski/US PresswireJuron Criner is the best player among a deep group of receivers at Arizona.
Arizona is not commenting because of student privacy guidelines. A source inside the football office texted the Pac-12 blog that his hope was Criner "will be ready for the season."
Criner, a second-team All-American, led the Wildcats with 82 receptions for 1,233 yards and 11 touchdowns last season. Arizona starts fall camp Aug. 3.
What does this mean for the Wildcats? Well, nothing yet. This is obviously a serious situation, but the endgame won't reveal itself until Criner's status is made official.
But it does force us to speculate what the Wildcats offense might be without Criner. The short answer is "probably OK."
While no team wants to lose an All-American, the Wildcats have one of the deepest and experienced crews of receivers in the conference and the nation. Sure, the 6-foot-4, 210-pound Criner was the headliner, a guy who could tax a defense in a variety of ways and who always seemed to be the go-to guy when the screws tightened.
But, as we noted with our review of
Pac-12 receiving corps
, the Wildcats should be better than OK, even without Criner. To quote ourselves:
"
David Douglas
,
David Roberts
,
Terrence Miller
and
Richard Morrison
-- each caught between 19 and 52 passes a season ago. Oh, and there's also Texas transfer
Dan Buckner
,
Austin Hill
,
Garic Wharton
and
Tyler Slavin
. There's size, speed, depth and experience."
What this does mean is that Buckner needs to live up to the high expectations we've been hearing for months, and at least one of the speedy youngsters needs to step up as a deep threat.
Still, the Wildcats and quarterback
Nick Foles
will be able to line up in a four- and even five-receiver set without resorting to a scrub as the last option.
Criner made the Wildcats receivers looking like a great unit. But even -- potentially -- without him, they should be very good.
More on the Criner situation
here
. And
here
.
Of course, Wildcats fans already might be thinking about "what-might-have-been" before the 2011 season begins. Criner is potentially the third projected starter lost since the end of last season. Safety Adam Hall and linebacker Jake Fischer suffered knee injuries this spring, as did backup running back
Greg Nwoko
and backup defensive tackle Willie Mobley.
May, 16, 2011
5/16/11
10:00
AM ET
By
ESPN.com staff
| ESPN.com
Every team has hope heading into the offseason. And every team has concerns.
Ergo, we're going to run through the conference and look at the chief matters -- on the up and downside -- for each Pac-12 team.
First up: Arizona

Biggest reason for hope
: The Wildcats passing game will be potent.
Three-year starter at quarterback who's thrown for more than 5,000 yards and 39 touchdowns (
Nick Foles
)? Check. All-American candidate at receiver (
Juron Criner
). Check. A 6-foot-4, 220-pound transfer who was good enough to catch 45 passes as a sophomore on a team that played for the national title (
Dan Buckner
). Check. Three other receivers with at least 29 receptions in 2010 (
David Douglas
,
David Roberts
and
Terrence Miller
)? Check. A converted QB who surged late in the season catching the ball (
Richard Morrison
)? Check. Intriguing, athletic young players (
Austin Hill
,
Tyler Slavin
and
Garic Wharton
). Check. An offensive coordinator with a Texas Tech-Mike Leach background (Seth Littrell). Check. A backup QB (
Matt Scott
) who has proven himself capable as a starter? Check. Arizona led the Pac-10 with an average of 307.7 yards passing last year. Don't be surprised if that already high number goes up.
Biggest reason for concern
: There are five new starters on the offensive line.
Another reason the Wildcats might pass a bunch in 2011 is because a young line might not be able to push anyone around. The Wildcats are replacing all five starters from 2010, and only center Kyle Quinn has ever started a game. And he's only started one -- last year's Alamo Bowl -- because Colin Baxter had a knee injury. Further, these guys were on the bench while last year's starters often struggled: The Wildcats gave up 32 sacks, ranking eighth in the Pac-10, and also ranked eighth in rushing. If the Wildcats have to throw the ball 45 to 50 times a game, Foles is probably going to take some hits. That's why Scott is a valuable security blanket. Things went OK for the line in spring practices, but the unit will be the biggest concern heading into the season.
April, 18, 2011
4/18/11
5:00
PM ET
TUCSON, Ariz. --
Nick Foles
and Seth Littrell almost sound sympathetic. The Arizona quarterback and offensive coordinator realize that it's not easy for a secondary to match up with one
Juron Criner
. So it figures to be even more taxing to matchup with two.
[+] Enlarge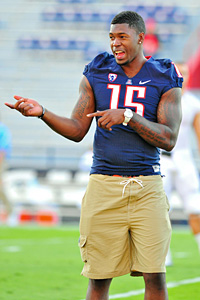 Chris Morrison/US PresswireArizona has high expectations for receiver Dan Buckner, a transfer from the Texas Longhorns who sat out last season.
Criner, the Pac-10's best receiver in 2010, is 6-foot-4, 210 pounds. Texas transfer
Dan Buckner
is 6-4, 220. He caught 45 passes for 442 yards and four touchdowns in 2009 and ranked as the Longhorns' No. 3 receiver as a true sophomore.
Gifted with size and speed, both will present matchup problems. Secondaries that would prefer to double-cover Criner might find that Buckner has the ability to punish them for taking that approach.
"He's a hard matchup, I would think, for a lot of corners," Littrell said. "He's definitely a deep threat. If people want to play tight coverage on him, he's a matchup problem. If people want to matchup with Juron and try to bracket Juron, you're going to leave someone one-on-one. So pick your poison. If a team wants [to double Criner], I'm fine with that."
Then, when you toss in the Wildcats' other receivers --
David Douglas
,
David Roberts
and
Richard Morrison
-- well, suffice it to say that more than a few defensive coordinators will be stressed in advance of facing the Wildcats' passing attack.
"We've got a great receiving corps. We don't have just one guy. We have several guys," Foles said. "If I were teams, I'd still try to bracket [Criner]. They probably will try to make us beat them elsewhere. But [bracketing Criner] is going to be tough to do with the receivers we have."
Buckner is the wild card. Though his performance fell off over the final half of the 2009 season, keep in mind that he was good enough to be a contributor to a team that played for the national title. He's not your typical transfer who arrives with only message-board fanfare and then turns out to be one of those "looks like Tarzan, plays like Jane" sorts.
Of course, there's a backstory. Buckner is in Tucson -- he sat out last season due to NCAA transfer rules -- because he got into trouble at Texas. He was arrested in College Station, Texas in January of 2010 on charges of criminal trespassing and resisting arrest. The
Arizona Daily Star
, citing police reports, said Buckner "was visiting a female acquaintance in College Station, Texas, when a dispute broke out. Officers arrived on the scene, but couldn't get him to leave."
"I got into some trouble and made some bad decisions like a lot of people do. I needed a change. I needed to get out of there," Buckner said. "I think it was a blessing in disguise. I feel like it humbled me. I've seen things in life that I may not have seen."
Buckner, described as "goofy" by Foles, doesn't seem like a bad seed. He's bright, outgoing and quick with a joke.
Still, Foles said meshing Buckner into what was already one of the nation's best receiving groups is still a work in progress.
"We're still working to get on the same page," Foles said.
When asked about complementing Criner, Buckner is quick to take on the role of No. 2: "Juron is getting me open," he said.
As for the transition from Texas and the Big 12 to Arizona and the Pac-12, Buckner, a native of Allen, Texas, seems to feel right at home.
"I like the West Coast," he said. "It's sunny and pretty and there are palm trees. It's a change, and at that point in my life I just needed a change."
April, 15, 2011
4/15/11
7:14
PM ET
By
ESPN.com staff
| ESPN.com
Happy Friday.
Follow me on Twitter
.
To the many who asked: I have no idea when the NCAA will rule on USC's appeal. On Saturday, it will be 12 weeks since USC met with the appeals mmittee. I thought it might happen this week. If it doesn't happen next week, the term "absurd" will start to apply.
The notes.
Chris from Seattle writes
: You've been calling Arizona's group of receivers "the best in the conference." I'd like to submit that, it's far less clear than you are painting it. The way I see it, UW is equally as deep at receiver. Kearse and Aguilar are two returning seniors who merit pre-season all-conference mention and Kearse is potentially a first teamer and all-american. From there,
James Johnson
(stellar freshman year who is returning to form),
Kevin Davis
(really turning it on this spring),
DiAndre Campbell
(great hands and big plays this spring), and
Cody Bruns
(another returning senior) are all in the mix for the third spot. But, let's not forget that Kasen Williams (the Parade All-America player of the year - if you have forgotten) will be showing up in the fall. I'd say that group would go toe-to-toe with UA's group any day! Sure, UA has a better QB at the moment, but if we're talking about talent at the receiver position, I think you haven't done your homework and I'd appreciate it if you stop matter-of-factly stating they are the best in the conference. In your UA spring review, you said, "the conference's deepest, most talented crew of receivers." I call BULL! Prove me wrong!
Ted Miller
: OK, I'll prove you wrong, you, you, Bull Caller!
Washington has good receivers, but the Huskies don't match up with the Wildcats.
So let's do our homework!
You note
Jermaine Kearse
(63 receptions, second-team All-Pac-10) and
Devin Aguilar
. Aguilar caught 28 passes last season. Every one else you mention is a "maybe." Why do I type that?
Here are the official stats
. Johnson caught one pass last year. Bruns? Seven.
And, really, Kearse has plenty of room to improve -- see dropped passes, see struggles versus physical cornerbacks.
Down in Tucson, you have the best receiver in the Pac-12:
Juron Criner
(82 receptions, first-team All-Pac-10).
Then you have
David Douglas
(
52 receptions
),
David Roberts
(45),
Terrence Miller
(29) and
Richard Morrison
(19). Oh, and you also have Texas transfer
Dan Buckner
, who caught 44 passes for 445 yards and four touchdowns in 2009 for the Longhorns.
I'd even counter that Arizona's "maybes" are every bit the match of Washington's: redshirt freshmen
Tyler Slavin
,
Austin Hill
, and speedster
Garic Wharton
.
---
JJ from McCall, Idaho writes
: Looking at
returning running backs
, it's amazing to see USC in 10th position. What happened to all those 5 star recruits?
Ted Miller
: USC isn't exactly hurting at running back. In fact, off the top of my head, I'd rate the Trojans fourth in the Pac-12 at the position behind Oregon, Washington and Stanford.
First, let's recall the Trojans averaged 190 yards rushing per game in 2010. That ranked third in the conference.
Second,
Marc Tyler
, who rushed for 913 yards and averaged 5.3 yards per carry, is back. Yes, he's injury prone, but not so injury prone that he didn't nearly crack the 1,000-yard mark in 2010.
And there is plenty of young talent, starting with
Dillon Baxter
and
D.J. Morgan
. Further, the Pac-12 blog has always thought that if
Curtis McNeal
, academically ineligible in 2010, got touches, he'd make plays.
---
Matt from Salt Lake City writes
: With the
Utah Utes
bringing in a new O and with [quarterback
Jordan Wynn
] out of the spring how far behind is Wynn and do you think he can get the new O going and be ready for the fall?
Ted Miller
: No matter how much of a "glass half-full guy" you are, it's not ideal for Wynn to be sitting out spring practices after undergoing shoulder surgery. A full spring practice with new offensive coordinator Norm Chow and pro style offense would have been valuable.
But there are a couple of things that work in Wynn and Utah's favor here. For one, Wynn is only a few weeks from full-go throwing again, so he'll have a full summer to work with his receivers and backs and get a general feel for the playbook.
Second, Wynn told me he played a
pro style offense in high school
, so this shouldn't be an overwhelming transformation. He actually called it a "better fit" than the Utes old spread-option. Third, Chow was most taken with Wynn's intelligence, noting that Wynn seems to be
picking things up quickly in meetings and film sessions
. Said Chow, "Just sitting in meetings with him, it's extremely obvious he's very bright. To me the key element for a quarterback is you've got to be smart. He gets it all."
Further, Wynn is a one-and-a-half-year starter. He's a veteran who knows game speed. That should help him digest things during fall camp.
Again, not ideal. But far from a cause for panic.
If Utah fans are looking for something to worry about -- and what fan isn't? -- backup quarterback might be a good place to release a harrumph or two. It doesn't seem like either Tyler Shreve or
Griff Robles
have
figured things out
.
---
Thomas from San Francisco writes
: Cal fans are a bit up in arms about a quote from Jeff Tedford in your
latest article
, and I was hoping for some clarification. Specifically, this quote: "I have it back in focus now, not to worry about the external things," he said. "That one year [2009] we went [8-5] and it felt like we went [5-8], it felt like people were real irritable about that. I was irritable, too. About their reaction to [8-5]. Now, I'm just back to focusing on what it takes to get us back on the upward trend again." You bracketed "2009" and "8-5" which means he didn't actually say those terms, but you interpreted him to be referring to 2009 and 8-5. Is it possible he was referring to going 8-4 in 2005? Or something else? It is concerning because it sounds like Tedford is happy with 8-5, which he should not be (especially because there were a handful of blowout losses in those 5 losses, which you note in the story). Is there any way you can post the full Q&A? Or at least enough to get the context of what he was saying? Or simply why you interpreted him to be referring to 2009/8-5?
Ted Miller
: You are an observant reader. Oh, you Cal fans!
What Tedford said was a little confusing to me at the time also. The recording is gone, but, to paraphrase, he said "a couple of years ago" in the context of this quote but said "8-3" as the record, as well as the 3-8 reverse. Obviously, there is no 8-3 season, though he could have been referring to finishing the 2005 regular season 8-3 and then winning the Las Vegas Bowl over BYU.
So I did make an assumption based on a couple of things: He said "couple of years ago," which suggested two to me. And I remembered very little carping after the 2005 season, seeing that was the first season after Aaron Rodgers (Joe Ayoob!), though Bears fans feel free to correct me.
Either way, to me, the gist is the same: In the past, he allowed fan reaction to irritate him after an eight-win season. He's now trying to ignore fan reaction after a five-win season because he's got plenty of other things to think -- and get irritated -- about.
I've never had the feeling that Tedford would be happy with 8-5. I do think that he was a bit surprised how quickly Cal fans became bored with winning seasons.
---
Todd from Mission Viejo, Calif., writes
: Regarding the Pac-12 media deal, should I be worried about the Pac-12 signing a long-term deal (say 15 years)? Yes, it would provide stability, but if the college sports media market continues to grow, could the media rights become undervalued for the final part of its contract. Would it not be better to sign a medium length media deal, then renegotiate to reflect the new value of the media property?
Ted Miller
: Larry "Let's make a deal!" Scott is seeking a 10-year deal worth $220 million, according to multiple reports, including the
Wall Street Journal
, which I think got the number from the myriad
great articles
Jon Wilner has been doing on the behind-the-scenes machinations.
If there is a downside to a 10-year, $220 million deal, I don't know what it is. Other than it's not a 10-year $230 million deal, with the extra $10 million going to the Pac-12 blog, which of course would buy a yacht and throw a righteous party for you loyal readers.
Miriam from Stanford, Calif., writes
: In addition to reading the stories on the blog, I often go to your lunch links to find interesting news items about Stanford and other teams. I know that you don't always include a link for every team every day, but I've noticed a lot of times when you seem to have a story for every team except Stanford (see 4/6/11, 4/12/11). Is it really that much harder to find news stories about Stanford than about the other teams in the conference? Or is it just my selection bias coming into play, only noticing when my team is the one missing?
Ted Miller
: Yes, it is that much harder to find stories on Stanford football, and it annoys me, too. I even groused about this to Wyndam Makowsky of The Stanford Daily, noting that the Daily's enlightened policy of covering all of Stanford's 14,524 sports teams vexed me when, really, people only care about football.
Some teams get so much local coverage, it's often difficult to figure out which articles to post and which to exclude. That's not the case with Stanford, in large part because Bay Area newspapers have significantly rolled back their staff numbers.
Every weekday morning I go through a series of websites -- newspapers, responsible fan blogs, even the official website -- that offer Stanford coverage. If you don't see a Stanford link at lunch, it's because I couldn't find a story.
Same thing goes for every Pac-12 team.
---
Daniel from Eugene, Ore., writes
: You probably already know this is out there, but I thought it'd be nice if you could post this. Really a
quality podcast all about the Ducks
.
Ted Miller
: Wow, you put the bad boys of podcasting, Ty and Dan of "
Solid Verbal
," on the same wavelength with The One They Call "Rob Moseley" and you've got the makings of an epic Guy Ritchie
shoot-em-up
.
April, 14, 2011
4/14/11
6:42
PM ET
By
ESPN.com staff
| ESPN.com
TUCSON, Ariz. -- It was just a short, shells -- shorts and shoulder pads -- practice Thursday at Arizona, but even then there was plenty of "wow" in the downfield passing game.
No team in the Pac-12 can offer up two quarterbacks as good as
Nick Foles
and
Matt Scott
. No team in the Pac-12 can match the Wildcats depth and talent at receiver.

That's the good news. Questions, though, remain, starting with five new starters on the offensive line.
"We're going to have to throw to set up the run, I don't think there's any question about that," coach Mike Stoops said.
As for folks questioning the line, Stoops understands and has no problem with it. He hopes it bothers them.
"They'll hear about it," Stoops said. "I think that will serve as motivation."
On defense, the Wildcats must replace defensive ends Brooks Reed, Ricky Elmore and D'Aundre Reed. And it's not good that talented safety Adam Hall is standing on the sidelines with a surgically repaired ACL.
Some notes from Arizona practice -- two days before Saturday's spring game -- after chats with Stoops, offensive coordinator Seth Littrell and defensive coordinator Tim Kish.
The plan remains to redshirt Scott, if possible. He's certainly not going to enter a game late in the fourth quarter to take a knee. But if Foles gets hurt, Scott would be the guy. He'd probably start for a majority of teams in the Pac-12.
At running back, Daniel Jenkins has had "one of the best springs of any of our young players," Stoops said. He looks like Keola Antolin's backup. Both Stoops and Littrell, however, expect incoming freshmen Ka'Deem Cary and Jared Baker to perhaps push into the mix.
Receiver? Well, there's Juron Criner -- an All-American candidate -- David Douglas, Texas transfer Dan Buckner, David Roberts, Richard Morrison, Tyler Slavin, Austin Hill, Terrence Miller and speedster Garic Wharton. Suffice it to say, the Wildcats will be able to spread the field in 2011.
As it stands now, the starting offensive line goes line this: LT Mickey Baucus, LG Chris Putton, C Kyle Quinn, RG Trace Biskin, RT Fabbians Ebbele. Only Quinn has started a game -- the Alamo Bowl last December -- and both tackles are redshirt freshmen. On the plus side, if you want to look ahead, no lineman on the two-deep is a senior. Four are freshmen, two are sophomores and four are juniors.
H-back Taimi Tutogi hinted at great things last preseason but was ultimately disappointing. There's a feeling that he could break through in 2011. While he's not an elite blocker by any stretch, the 260 pounder isn't easy to deal with when he has the ball in space.
On defense, the ends are C.J. Parrish and Mohammed Usman. Both are listed at 245 pounds, which means the Wildcats will be much smaller at end compared to a year ago. On the depth chart, redshirt freshman Dan Pettinato and converted tackle Dominique Austin are listed, but JC transfer Lamar De Rego is likely to immediately jump into the mix.
Kish called Parrish "a pleasant surprise...We didn't think he'd pick it up as quick as he did and be as effective as he is."
Inside at defensive tackle, there's solid depth. Justin Washington, who's sitting out with a shoulder injury, and Sione Tuihalamaka are the starters and Willie Mobley and Kirifi Taula are the backups. Aiulua Fanene is a fifth option.
Stoops said the Wildcats "are much better inside," and Kish made an interesting point about last fall. Because Reed and Elmore were so good at pinching down from the outside against the pass, while the tackles were limited and not getting much inside push, the Wildcats often created passing lanes for opposing quarterbacks. Passing lanes and running lanes, which some of you Wildcats fans might remember quarterbacks scrambling through, such as Arizona State's Brock Osweiler.
The good news is all three starting linebackers are back. The bad news is a lack of depth, particularly after R.J. Young -- the fourth LB -- and Trevor Erno quit. Presently, walkon Bilal Muhammed -- "He's damn good," said Kish -- is the backup at two spots and undersized though athletic Kyle Benson is No. 2 behind Jake Fisher on the outside. Both Kish and Stoops expect help from incoming freshmen Rob Hankins, Dominique Petties and Hank Hobson.
The good news in the secondary is the renewed focus of cornerback Trevin Wade, who had a poor junior year after earning accolades as a sophomore. Stoops and Kish don't hold back when talking about Wade's struggles in 2010, but both see a different player this spring: "He took a lot for granted (last year)," Stoops said. "He has a different attitude, a different level of effort (this spring)."
Along with Wade at corner, there's Jonathan McKnight, brother of former USC RB Joe McKnight and perhaps the best pure cover corner, and Shaquille Richardson, who's sitting out with a shoulder injury.
Robert Golden has moved back to safety from cornerback -- he's started extensively at both spots -- after Hall went down, where he's beside free safety Marquis Flowers. Redshirt freshamn Jourdan Grandon is making a bid to be the nickel, though there's clearly competition for backup roles. Neither Mark Watley nor Josh Robbins has made a decisive push for playing time. And there's some hope that Hall could make a fast recovery and be back by October.
January, 21, 2011
1/21/11
8:00
AM ET
USC will meet with the NCAA Infractions Appeals Committee on Saturday, and if the Appeals Committee is fair and reasonable it will significantly reduce sanctions imposed on the football program when a ruling is made public in four to six weeks.
[+] Enlarge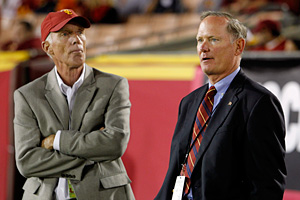 AP Photo/Alex GallardoUSC's athletic director Pat Haden, right, and associate AD J.K. McKay will meet with the NCAA Infractions Appeals Committee on Saturday.
Of course, seeing that the NCAA Committee on Infractions was unfair and unreasonable when it clobbered USC in June, Trojans fans would be well-advised to not hold their breath.
It doesn't appear new athletic director Pat Haden is. While he turned down an opportunity to talk to the Pac-10 blog this week -- I know; why would anybody do that? -- he's repeatedly told people he's not optimistic because
he's realistic
.
Why? Because, in 2008, the NCAA changed its bylaws to make it incredibly difficult to win an appeal. From the
NCAA website
:
An appeal is not a new hearing or a second chance to argue the case. The Infractions Appeals Committee does not consider evidence that was not presented to the Committee on Infractions. The Infractions Appeals Committee will reverse or modify a ruling of the Committee on Infractions only if one of the following standards is proven:

The ruling by the Committee on Infractions was clearly contrary to the evidence.

The individual or school did not actually break NCAA rules.

There was a procedural error that caused the Committee on Infractions to find a violation of NCAA rules.

The penalty was excessive and is an abuse of discretion.
Contrary to evidence? While there's
scant evidence
that supports the notion that former USC running backs coach Todd McNair knew what
Reggie Bush
, his parents and a couple of would-be agents were up to, that scant evidence, nonetheless, became the club with which the NCAA bludgeoned USC, imposing a two-year bowl ban and a loss of 30 scholarships over three years, penalties that were worse than even the most
egregious pay-for-play cases
in recent years. It would be a massive repudiation of the Infractions Committee to reverse course on said evidence, and it appears USC isn't even going to venture in that direction.
NCAA rules? They were absolutely broken. Bush and his parents took all kinds of extra benefits that were not allowed by NCAA rules.
Procedural errors? That appears to have
happened multiple times
, but mostly with the treatment of McNair, whose case the NCAA separated from USC's. Don't expect USC to venture in that direction, either.
Penalty was excessive and is an abuse of discretion? Bingo.
"Our primary contention is given what we were found to have done, these are the harshest penalties ever handed out," USC's associate athletic director J.K. McKay told the
LA Daily News
.
That is the case that Haden, McKay, new USC President Max Nikias, David Roberts -- the school's vice president for athletic compliance -- and a university lawyer are expected to make in a brief presentation.
The reason Haden is not optimistic is that only one appeal out of the past 11 has been successful since the Appeals Committee bylaws were changed. The odds are not good, at least based on recent cases.
Haden also has told reporters he doesn't believe recent controversies involving preseason
agent cases
centered on North Carolina and other schools, the
Auburn and QB
Cam Newton
imbroglio and the
oddly ruled
Ohio State case will have any affect on USC's appeal. He said it was like comparing "
apples and oranges
."
With all due respect to Haden, I'm not sure that's correct, particularly with the Trojans going with the "harshest penalties ever handed out" defense. Members of the Appeals Committee will be well-aware of the current climate as USC pleads its case. There's a lot of sordidness out there that makes using USC as a benchmark for serious violations dubious and problematic.
The Trojans are going to ask that the scholarship penalties be reduced from 30 to 15 -- so five per season over three years -- and the bowl ban be reduced to one year, which means the Trojans would be eligible for a bowl game in 2011.
Again, not likely. But not impossible. And there could be a middle ground, where the Appeals Committee splits the difference.
What it will take for USC to get its sanctions reduced is simple: A fair and reasonable assessment.
November, 22, 2010
11/22/10
5:05
PM ET
By
ESPN.com staff
| ESPN.com
A year ago yesterday, Oregon and Arizona played an epic, double-overtime game that included a premature charging of the field by the 'Zona Zoo that was thwarted by one of the best individual performances of the 2009 season.
Suffice it to say, Arizona fans won't charge the field at Autzen Stadium on Friday until the clock reads zero and they have notched a shocking upset, and there will not be six touchdowns from
Jeremiah Masoli
(three passing, three running).
[+] Enlarge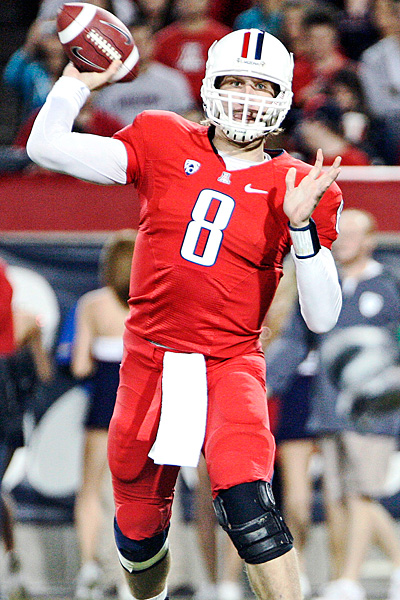 AP Photo/Wily LowIt won't be a walk in the park for Oregon up against Arizona quarterback Nick Foles and the nation's No. 10 passing offense.
In fact, the general feeling is this one won't be anything like that one in that it won't be close -- see the top-ranked Ducks as nearly a three-touchdown favorite.
Hmm. Really? Anyone else think this one might be highly competitive?
The Ducks shouldn't take the Wildcats for granted, that's for sure, and exhibit A is the razor-fine margin that earned the Ducks a 44-41 win last year that knocked Arizona out of the Rose Bowl.
Sure, Arizona is coming off back-to-back conference defeats to teams the Ducks handled fairly easily -- Stanford and USC -- but the Wildcats had a bye week in which to get rested and refocused. Oregon did also, of course, but it's generally considered a substantial benefit to have extra time to get ready for Oregon's spread-option offense, particularly its up-tempo pace.
Moreover, they had that extra time after watching California's defense hold the Ducks to season-lows in points and yards. The Wildcats have the talent and speed on defense to incorporate many of the elements that the Bears used so successfully, starting with defensive ends Brooks Reed and Ricky Elmore, who can bring edge pressure and prevent Oregon from getting to the perimeter.
Arizona ranks 14th in the nation in run defense, 12th in scoring defense and 15th in sacks. While Stanford and USC mostly had their way with the Wildcats, those two offenses are more downhill, pro-style attacks. The Arizona defense might be better suited for the Ducks lateral movement and zone blocking.
Further, quarterback
Nick Foles
and the nation's No. 10 passing offense might be able to keep up with the Ducks scoring pace, though Oregon ranks fifth in the nation in passing efficiency defense.
Foles isn't the sort who will be rattled by crowd noise. He and many of his best weapons -- receivers
Juron Criner
,
David Roberts
and Bug Wright -- have been playing hurt. The bye should have helped that. And, oh by the way, it appears that backup
Matt Scott
, who was so good when Foles sat out with a dislocated knee cap, also should be ready to return from a wrist injury. The athletic Scott could see action in specific packages, giving the Ducks defense a different look.
The stakes are huge for Oregon. It's unbeaten and two wins away from playing for its first national title. While the Ducks have been poised all year -- including the tight win at Cal -- it's not impossible to think that a few miscues could get them to tighten up.
Keep in mind that the biggest reason it never
really
felt like Cal was going to upset Oregon was the Bears' horrible offense. If the Ducks give Foles and company opportunities in the fourth quarter, they could take advantage.
Arizona is under little pressure. It's bowl eligible but out of the Rose Bowl race. A win would be good for the program. It would give the Wildcats a nice bounce in the national rankings. But it won't likely bolster their bowl position to a large degree. In fact, knocking the Ducks out of the national title game actually might send Arizona to a lower-rung bowl -- if Oregon and Stanford both earn BCS bowl berths the Wildcats would end up in the Alamo Bowl if they beat rival Arizona State at home on Dec. 2.
The overriding point is: Arizona has a chance. And not just because everybody has a chance in college football.
The Wildcats have a chance against the nation's No. 1 team in Autzen Stadium because they are a good and rested team with enough speed to keep up with the Ducks.
September, 22, 2010
9/22/10
2:30
PM ET
By
ESPN.com staff
| ESPN.com
You know, there's like a boatload of gangs at this school. This one gang kept wanting me to join because I'm pretty good with a bow staff.
March, 2, 2010
3/02/10
9:00
AM ET
By
ESPN.com staff
| ESPN.com
The second of a 10-part series that looks at where Pac-10 teams are strongest and weakest as they begin spring practices.

Arizona
.
Strong
: Offensive skill positions.
Why it's a strength
: The Wildcats welcome back just about all their top skill guys -- their top-two quarterbacks (
Nick Foles
and
Matt Scott
), top three rushers (
Nic Grigsby
,
Keola Antolin
and
Greg Nwoko
) and five of their top six receivers (
Juron Criner
,
Delashaun Dean
, Bug Wright,
David Douglas
and
David Roberts
). The only loss is 2009's leading receiver
Terrell Turner
. Even the early departure of TE
Rob Gronkowski
is eased by the fact that he didn't play in a single game last year.
Weak
: Up the middle defense.
Why it's a weakness
: It's a weakness because the Wildcats must replace both defensive tackles, all three linebackers and free safety Cam Nelson. Moreover, they head into spring without a lot of obvious answers at those position, seeing that the defense's top four tacklers and five of the top six are all gone. Lolomana Mikaele was listed as the backup at both DTs positions at the end of last year, but he finished with just 12 tackles. Two junior college transfers, linebackers Derek Earls and Paul Vassallo, are expected to earn starting positions. Toss in new co-coordinators -- though Tim Kish was promoted from linebackers coach -- and there are a lot of questions on this side of the ball.