March, 29, 2012
3/29/12
1:00
PM ET
USC-Oregon, Oregon-USC. Ducks-Trojans. Kiffin-Kelly! Barkley-Black Mamba!
Golly, doesn't anybody else have a chance in this Pac-12 conference? Should we just call off the regular season and have the Ducks and Trojans settle things in a 13-game series?
(That actually might be fascinating to watch. Think about all the interesting weekly coaching adjustments).
Well, that's not happening.
So then the question before us is a radical one. It might very well split up the space-time continuum and send us spinning into a
massive black hole
: Which team
possibly
might shock the world? Which team could break up this apparently preordained marriage at the top of the conference, one reportedly written in gold leaf onto the granite facade of Mount Rushmore?
[+] Enlarge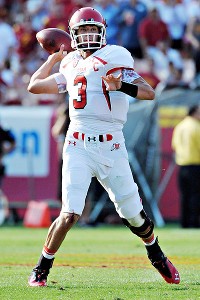 Kirby Lee/US PresswireJordan Wynn and the Utes have a favorable schedule this season.
It's a dangerous question, I know. Not the sort of one entertained by the meek. But if you are brave, read on.
Hey, you in the gray shirt, you're not brave! Better stop reading.
We warned you.
Kevin Gemmell
: The general consensus is that Oregon and USC will meet for the Pac-12 title. But which team could put a wrinkle in that plan?
Whenever you are dealing with a
could
question, you always have to stipulate with
ifs
. X
could
happen
if
Y and Z fall into place. The team that strikes me as having the fewest
ifs
is Utah.
My first thought was to go wayyyyy out there and tinker with the idea of Oregon State being the team to shock the Pac-12. The Beavers could be the surprise team
if
they get the running game in order, and
if
the offensive line holds up, and
if
Sean Mannion
continues to mature, and
if
all of that experience from last season pays off. But that's just too many
ifs,
and way too far to reach.
Utah, however, has a lot of pieces in place already to be the surprise team this season. First, its schedule helps, because the Utes don't have dates with Oregon or Stanford. Their first three games are in-state, and the fourth is at ASU, which will likely still be adjusting to life under a new head coach. That's potentially 4-0 out of the gate.
Then they get an extra week to prepare for the big showdown -- at home -- with USC. That game will be high-noon in the Pac-12 South, and Rice-Eccles will be jumping. If the Utes can somehow get over that hump, they have four more winnable games before traveling to Washington, which could be a hiccup. That notion alone, however, is one major
if
. USC also has extra time to prepare, because it's a Thursday game.
Another reason to be encouraged is that all reports are that quarterback
Jordan Wynn
is healthy. He's chock full of experience, and has shown he can be an elite quarterback when he gets his rhythm. The only reason to think the running game will take a step backwards is that Utah has to replace two stud offensive tackles in
Tony Bergstrom
and
John Cullen
. But
John White IV
has shown to be a very capable -- if not special -- running back. He shouldn't have any trouble adapting.
Also, unlike a lot of other teams with new coordinators, the transition to Brian Johnson should be silky, since he's a veteran of the system and has worked with Wynn since Day 1.
The Utes have one of the top -- if not the best -- defense in the conference. With plenty of returning starters and the most feared defensive lineman in the Pac-12, they should be able to win a game or two on defense alone.
Given the way their schedule is laid out -- combined with returning talent on both sides of the ball and an outstanding coaching staff -- it's not outside the realm of possibility that the Utes could emerge from the South.
Ted Miller
: One word: Plastics.
[+] Enlarge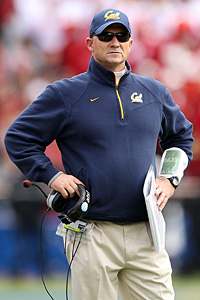 Ezra Shaw/Getty ImagesJeff Tedford and California could be on the cusp of a return to prominence in the Pac-12.
No, wait. That's something else. Our word is "schedule."
Now we have four words: California Freaking Golden Bears! You're back. Welcome. You remember where everything is, right, up here in the national rankings? No, coach Tedford, you don't have to sleep on that twin mattress in your office. You have the view suite down the hall. Yes, it has been a while. Yes, breakfast is included. Eggs Benedict? Well, your wife did tell us about your cholesterol. You want us to stick it? Well, then, Eggs Benedict it is!
The Bears have the schedule to upset the Trojans-Ducks destination wedding. And the talent, by the way.
Schedule? Cal plays host to Oregon, Stanford and Washington, the likely three top teams in the North Division. Plays host, by the way, at an awesomely cool renovated Memorial Stadium that will put the Strawberry back in the Canyon. The Bears went 30-9 in Memorial Stadium between 2005-2010 before playing their home games in AT&T Park in 2011, including 7-0 marks in 2006 and 2008.
Every team is better at home. Cal fans would tell you their team is better-er at home. Sure, it's had its share of mega face-plants in front of the home fans -- Oregon State in 2007 (altogether now "ouch"), USC in 2009, and that three-game home losing streak to end 2010 with a whimper. But there is no doubt it will be better to play the Ducks, Huskies and Cardinal at home, particularly with the Ducks and Cardinal breaking in new quarteracks.
And Cal isn't breaking in a new quarterback. What if, just maybe,
Zach Maynard
plays the entire season like he did the final four games of the 2011 regular season? And what if offensive coordinator Jim Michalczik works his magic with the line his second year back in Berkeley? And what if all that young talent --
Mustafa Jalil
,
Stefan McClure
,
Todd Barr
,
Viliami Moala
,
Brennan Scarlett
,
David Wilkerson
,
Chris McCain
,
Michael Coley
,
Avery Sebastian
,
Cecil Whiteside
, etc. -- breaks through on defense?
We'll probably get a pretty good measure of the Bears early on. They will take a 2-0 record to Ohio State on Sept. 15. That is a winnable game, but it will require the Bears to go East and show some fire. You might recall that they didn't exactly do that in recent years at Tennessee and Maryland.
Then they visit USC. Jeff Tedford is 1-9 against USC, losing those nine by a combined count of 291-144. The Bears can afford to lose at USC, though a poor showing might cause the team to question itself and make it seem like these are the "same ole Bears." That, however, is not a divisional game. The larger issue is holding serve at home, which would give Cal an advantage in the event of a tie atop the North.
As Kevin noted above, we have a surfeit of "ifs" for both scenarios. It just feels as though Oregon and USC are that far ahead of everyone else.
But you do know that you never know until you do know.
February, 15, 2012
2/15/12
7:00
PM ET
We're looking at the top individual performances in the Pac-12 in 2011.
Up next
: Wilkerson wrecks.
Who & against whom
: Coming off an injury that sidelined him for most of the 2010 season, Cal linebacker
David Wilkerson
had a monster game in the Bears'
34-10 win
over Utah.
The numbers
: Wilkerson logged six tackles in the game that was dominated by Cal's defense. Of those six, 3. 5 were tackles for a loss and 2.5 were sacks. He also had a QB hit for good measure.
A closer look
: The Utes came into the Bay Area hoping to win their first conference game, but were denied by a motivated Cal defense that was also looking for its first conference win and had dropped its previous three games. Wilkerson picked up his first solo sack of the game on Utah's second offensive possession when he got to Utah quarterback
Jon Hays
on third down for minus-9 yards. He continued to get penetration before picking up a pair of assisted sacks in a three-play span inside the Cal red zone in the fourth quarter. Wilkerson, however, wasn't exactly a one-man wrecking crew. There were plenty of Cal defensive highlights in the game — including interceptions from
Stefan McClure
,
Mychal Kendricks
and a 32-yard pick-six from
Josh Hill
.
August, 10, 2011
8/10/11
11:00
AM ET
Every season true freshman make an impact and underclassmen become stars. Who might those guys be in the Pac-12 in 2011?
(Note: With "underclassmen to watch," we mostly stayed away from guys who made a significant impact in 2010, such as Arizona State defensive end Junior Onyeali, Colorado receiver
Paul Richardson
or California receiver
Keenan Allen
).
Underclassmen to watch
[+] Enlarge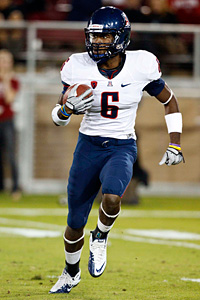 Jason O. Watson/US PresswireArizona cornerback Jonathan McKnight has a bright future.
Jonathan McKnight, CB, So, Arizona
: McKnight, younger brother of former USC running back Joe McKnight, might already be the best cover guy in an already good secondary.
Davon Coleman, DE, So, Arizona State
: The junior college transfer -- a late signing for the 2011 recruiting class -- might already be the Sun Devils' No. 3 defensive end, and ASU needs him to step up after returning starter James Brooks quit the team.
David Wilkerson, OLB, RFr., California
: While fellow outside linebacker Cecil Whiteside might be more heralded, Wilkerson was listed as a starter on on the post-spring depth chart.
Parker Orms, CB, So., Colorado
: Orms was the starting nickel back in 2010 before he blew out his knee on the third play of the season-opener against Colorado State. He's now No. 1 at cornerback -- the Buffs more worrisome position -- despite sitting out spring practices.
Scott Crichton, DE, RFr., Oregon State
: The Beavers have major questions at defensive end -- a traditionally strong position for their defense. While he didn't come from nowhere, it was a bit of a surprise to see Crichton atop the depth chart after spring practices.
Dietrich Riley, So, SS, UCLA
: By the end of the season Riley and Tony Dye might be widely viewed as the best safety combo in the conference. Heck, they might already be.
Dres Anderson, RFr, WR, Utah
: Anderson already looks like the Utes' No. 2 option after junior
DeVonte Christopher
.
Josh Shirley, RFr., LB, Washington
: Shirley was such a force as a pass-rusher this past spring, they created a position for him: "Rush" linebacker.
Rickey Galvin, RFr, RB, Washington State
: Galvin broke his arm at Oklahoma State on the first play of his college career, which ended his debut season. He's speedy and shifty and the Cougars really need him to provide a running threat to help out quarterback
Jeff Tuel
.
Impact freshmen
Hank Hobson, LB, Arizona
: The Wildcats have major depth issues at linebacker. Hobson looks like the most ready-made guy in the incoming class. He might not start, but he's a good bet to be the No. 4 guy behind the starting three.
Stefan McClure, CB, California
: While many Cal fans are more eager to see 325-pound nose tackle Viliami Moala, the Bears have depth issues at cornerback, and McClure is almost certain to be in the mix.
Colt Lyerla, TE, Oregon
: While Oregon needs help at receiver, and at least one one of the incoming guys is almost certain to climb into a prime spot in the rotation, we don't know who that will be. We feel pretty good projecting Lyerla as the Ducks' No. 2 tight end behind
David Paulson
.
James Vaughters, ILB, Stanford
: The word most often used to describe Vaughters? "Beast." Stanford is solid at linebacker, but this guy is going to play, and and might well end up suggesting a second-coming of Vontaze Burfict by season's end.
George Farmer, WR, USC
: There might be somebody who doesn't believe Farmer is a budding star but I have yet to speak with him. Even USC super-soph
Robert Woods
talks about Farmer's freakish skills.
Austin Seferian-Jenkins, TE, Washington
: Seferian-Jenkins showed this past spring that he's ready for prime time. He's likely to be the Huskies' starting tight end. A runner-up for the Huskies, by the way, is receiver Kasen Williams, but he will join a deep, veteran crew of receivers.
August, 17, 2010
8/17/10
6:33
PM ET
By
ESPN.com staff
| ESPN.com
The ink dries on the national letters of intent and the recruiting class rankings are handed out, then the real business begins: Which true freshmen are ready to play right now?
Here's an early list for every Pac-10 team.
A caveat: This is hardly a scientific survey, evaluations are still in their early stages and I've only personally seen a handful of these guys play. These names are here because of news reports and comments from coaches and other observers (sports information directors also chipped in).
Further, some schools will start or play a lot of freshmen -- USC and UCLA for example -- while that doesn't appear likely for other schools (Oregon State may only use freshmen on special teams).
So here we go.
Arizona

CB
Shaquille Richardson
, S
Marquis Flowers
Note:
Frosh will bolster the Wildcats secondary. Richardson was kicked off UCLA's team for being one of three freshmen who allegedly tried to steal a purse. Coach Mike Stoops told the Arizona Daily Star that Richardson is "as good a corner as I've coached at this young stage."
Arizona State

RB
Deantre Lewis
, WR
Kyle Middlebrooks
Note
: Lewis turned in a good scrimmage over the weekend for an offense that needs playmakers. Middlebrooks should at least get into the rotation and may return punts.
California
WR
Keenan Allen
, WR
Kaelin Clay
, WR
Tevin Carter
, LB
David Wilkerson
Note
: Receiver is a need position for the Bears -- not all of the passing game struggles can be hung on QB
Kevin Riley
. All three likely will be in the rotation, with Allen a candidate to start. Wilkerson is pushing for time at OLB.
Oregon
DT
Ricky Heimuli
, K
Alejandro Maldonado
Note
: The 320-pound Heimuli offers a big body in the middle of the D-line. Maldonado is in the thick of the race to start at kicker. (The two touted frosh RBs could get into the mix, but No. 3 is deeper than we want to go).
Oregon State

WR
Kevin Cummings
, LB
Michael Doctor
Notes
: No true freshman has cracked the Beavers two-deep and both of these guys are grayshirts. Cummings could get into the rotation at flanker behind
James Rodgers
. Both are expected to play special teams.
Stanford
CB
Barry Browning
, S
Devon Carrington
Note
: Browning is the highest true freshman on the depth chart at present, though he's not with the first-team, according to Jim Harbaugh. He and Carrington could provide help in a questionable secondary.
UCLA

SS
Dietrich Riley
, F
Anthony Barr
, OG
Chris Ward
, DT
Cassius Marsh
, DE
Owa Odighizuwa
Notes
: This list, by the way, could have been much longer. The Bruins signed a strong recruiting class last February and a lot of those guys will play this fall. Riley, Barr and Ward are in the mix to start.
USC

WR
Robert Woods
, RB
Dillon Baxter
, WR
Markeith Ambles
, CB
Nickell Robey
Notes
: Woods may end up starting, and Baxter has been a spectacular playmaker since he showed up during spring drills, though he's suspended for the opener. Robey is the leading candidate to be the nickelback.
Washington
RB
Jesse Callier
, S
Sean Parker
, DE
Hau'oli Jamora
, TE
Michael Hartvigson
Note
: It doesn't appear at this point that any of these four will start, but they each are expected to play. Callier steps to the fore with
Deontae Cooper
out with a knee injury. Jamora and Hartvigson provide depth at need positions.
Washington State

WR Marquiss Wilson, WR
Kristoff Williams
, OT
John Fullington
, LB
C.J. Mizell
, DT
Kalafitoni Pole
Notes
: All five of these guys will play. Fullington has seen some action with the first-team. Mizell might be the Cougars fastest LB.