February, 5, 2013
2/05/13
1:00
PM ET
Washington State has never ranked highly in the recruiting rankings, even when it ended up with three consecutive top-10 national rankings from 2001-03. But coach Mike Leach might have done one of the nation's best recruiting jobs with a simple text message this winter: "Why don't you come to Key West we'll have a lot more fun."
That was Leach's text to the man who would shortly become the Cougars' new receivers coach, David Yost,
per a story from CBSSports.com's Dennis Dodd
.
For those of you wondering who that is, Yost is only one of the nation's best offensive minds, the longtime offensive coordinator at Missouri under Gary Pinkel. He was known for his creativity, his ability to develop quarterbacks, his recruiting ability and his funky hair.
[+] Enlarge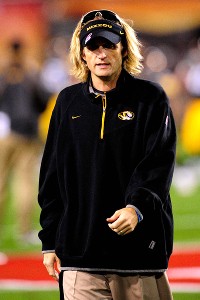 Matt Kartozian/USA TODAY SportsNew receivers coach David Yost resurfaced with the Cougars after taking a year off from coaching.
What makes Yost's story interesting -- and made him available to Washington State -- was that he bailed out on the grind at Missouri this year, citing burnout. Yep, he just upped and quit.
"I'd just gotten tired," Yost told Dodd. "I didn't want to do it anymore."
Some Coug fans might be worried that Yost is going to Pullman to coast, to take it easy, to work 40 hours a week. Don't bet on that. The problem at Missouri was he'd taken on too much: assistant head coach, recruiting coordinator, quarterbacks coach and offensive coordinator.
If you're an obsessive worker, it's hard to back off or ask for less responsibility. For one, every coach is supposed to be driving hard for that next big gig, that prestige job.
Lots of folks talk about walking away, trying to spend more time with their families. For Yost, however, it was more than talk. He was willing to make a massive change in the trajectory of his life. From the story:
When her husband made the decision wife Carrie was all in for a change, said they could live on a budget. She promised to get a job if it came to that to support a family that had grown with three kids -- Kennedy, Keaton and Kamden. Friends and acquaintances were caught somewhere between wonder and praise for the coach's decision.

The consensus Yost got was, "I was impressed you were able to step away instead of kind of grinding through it."
Now he takes on less with a refreshed outlook.
After generating as much buzz as any hiring in 2012, Leach's first season in Pullman was a major disappointment. It was particularly surprising how poorly the Cougars' offense played, considering it had two experienced, capable quarterbacks and a good crew of receivers.
While Yost's responsibility is only receivers -- reducing responsibilities was the whole point after all -- he surely will inject some energy and new ideas into the offensive preparation. He also is known as a players' coach. He should have a lighter touch than Leach. This seems like a good pair -- a little of the ol' yin and yang of offensive innovators.
It's not unreasonable to project that Yost will boost his new team as much as any five-star player who signs on Wednesday.
January, 17, 2013
1/17/13
9:00
AM ET
Fun chat yesterday -- might have been one of the best ever. And I actually mean it this time. You can
check out the full chat here
or simply enjoy the
De'Anthony Thomas
-esque highlights.
Marty (Manhattan, KS): Hey ducks....Hahahahaha. That is all.
Kevin Gemmell (2:01 PM): 35-17. That is all.
Jeremy (Honolulu): I asked this questions last week but now it seems a little more relevant... Who do you see replacing Helfrich as OC now that Chip has, ehem, left for the NFL? #WTD
Kevin Gemmell (2:06 PM): Not sure yet. Depends if they want to stay in house. Gary Campbell might get a shot? Steve Greatwood has some previous experience as the run game coordinator. Let's get the HC in place first and then we can worry about coordinators.
Anthony(Las Vegas) [via mobile]: Will the Pac12 be setting up a grief counseling hotline for us Oregon fans?
Kevin Gemmell (2:08 PM): Yes. That would be
Ted's mailbag
.
Robert (New York): How much improvement can we expect from Cougars with Yost hiring among other things?
Kevin Gemmell (2:12 PM): I like the move because it just brings a different set of eyes and a fresh take on the offense. Obviously, there are a lot of the same philosophies and beliefs -- but kudos to Mike Leach for making the move and bringing in a fresh perspective.
Freaky Kikki (Tempe): How many losses will it take for USC to start looking for new head coaches next season?
Kevin Gemmell (2:16 PM): I think if there is another seven or eight win season -- coupled with more off-the-field embarrassments (deflated balls, number switching, lying about the coaches poll, jogging away from press conferences when asked about injuries) then he could be gone. If he gets 8-9 and there are zero off-field distractions or issues, he could buy more time.
jeff berez (florida): Hello Kevin, Do you agree with Coach Shaws statement after the Rose Bowl victory that Stanford still doesn't get the respect it deserves? It seems they were a bit low in the final rankings considering they won 8 in a row including victories over 4 straight ranked teams! I feel the Cardinal have a legitimate shot at playing for the BCS Championship game. If they hadn't gagged the game against the Huskies they most likely would have played Notre Dame in a rematch! That would have been a great story.
Kevin Gemmell (2:23 PM): I think Shaw uses the lack-of-respect tactic to keep his players hungry. There is nothing better than an us-vs.-the-world mentality and it obviously works. I don't underestimate Stanford -- but I do think they have some offensive holes that need to be worked out.
CougarBrian (Nendels Inn): There was a lot of hype for WSU's first game this season vs. BYU, and we know how that turned out. With a down Auburn as the Cougs' opener in 2013, do you think expectations will be tempered, or will hype be high due to the Apple Cup win and a lesser(ish) opponent?
Kevin Gemmell (2:25 PM): I think they'll probably be a bit more tempered. 2012 was a reality check that things are going to take a little more time than we all initially thought. Can you believe there were folks out there actually predicting a big win for WSU against BYU (gulp).
Mike (Brussels): Do you think Pep Hamilton will leave Stanford?
Kevin Gemmell (2:27 PM): Not sure. He seems to be making himself available to the market, which is interesting. But I still have trouble believing he would leave for a lateral job as an OC somewhere else. If he gets a head coaching opportunity, he'd take it.
Larry Scott (undisclosed location): Who will be the next coach I lose to the NFL?
Kevin Gemmell (2:43 PM): Interesting question -- Mora or Shaw seem to be the most obvious choices right now. But both seem awfully content. Going to be a couple of years at least until we see another one go to the NFL. Just my guess.
robert (Puyallup, WA): is ASJ the best tight end in the conference now?
Kevin Gemmell (2:43 PM): Conference, yes. Country, yes.
Chip Kelly (Philadelphia): How are the Philly fans going to treat me?
Kevin Gemmell (2:49 PM): Dude, they booed Santa Clause...
Matt (Tucson): Arizona has a ___% chance of successfully replacing matt Scott next season
Kevin Gemmell (2:52 PM): 30. I don't think people appreciate how good Scott was this year. And Carey and Hill both benefited from that.
Nate (Tacoma, WA) [via mobile]: Will the PAC-12 finally join the rest of the leagues in an eight game conference schedule?
Kevin Gemmell (2:58 PM): I hope not. Ted is for the eight-game schedule. I'm still on the fence, but tend to lean more toward the nine-game schedule. I like that winning your conference really means something. Stanford earned its conference title this year.
January, 14, 2013
1/14/13
2:30
PM ET
Ma. I know what you did. Your only son. Your middle child.
January, 10, 2013
1/10/13
2:30
PM ET
Gunter glieben glauchen globen.