February, 15, 2012
2/15/12
4:00
PM ET
It was about this time last year that people started predicting that Stanford quarterback
Andrew Luck
would hoist the Heisman Trophy. How'd that work out, by the way? Still, it's not too soon to start looking at some odds.
Odds maker Danny Sheridan --
as originally reported with Alabama flavor by Izzy Gould of al.com
-- released his 2012 Heisman odds Tuesday and his list includes three Pac-12 candidates in total and one obvious front-runner.
At first glance, Barkley is the obvious choice. He has a very good offensive line protecting him -- including the nation's top center in
Khaled Holmes
(just once, I'd love to see a center get Heisman love). The running game will come together, but until it does, you might see Barkley pass a little more. And why not? With his receivers he should put up crazy good numbers. A little surprised not to see
Robert Woods
on this list.
Thomas is going to do what Thomas does -- run really, really fast and score a lot of touchdowns. His chances might be hampered a bit by splitting carries with
Kenjon Barner
(by the way, shouldn't he be on this list also?). But with the amount of plays Oregon runs per game, that shouldn't be too much of a concern. Because Thomas is a speed guy, he's also going to have to get over the national stigma that he can't run between tackles.
LaMichael James
had the same label, but was quite good this past season at going up the middle.
Price is the wild card of this bunch. Last year, he spent the season with a lot of nagging injuries
that forced him to be a better pocket passer
. But when healthy -- as we saw in the Alamo Bowl with his three rushing touchdowns -- he can be just as explosive with his legs. Next season he should be a true dual threat and a player that should warrant serious consideration.
Other players picked by Sheridan include:
But as we've seen in recent years, there is always an out-of-nowhere candidate that was off the radar. Just looking at this awfully impressive lineup, however, it seems like it's going to be tough for an unknown to wiggle his way in.
December, 7, 2011
12/07/11
2:30
PM ET
By
ESPN.com staff
| ESPN.com
First principles, Clarice. Simplicity. Read Marcus Aurelius. Of each particular thing ask: what is it in itself? What is its nature? What does he do, this man you seek?
December, 6, 2011
12/06/11
2:30
PM ET
By
ESPN.com staff
| ESPN.com
Most men, even in this comparatively free country, through mere ignorance and mistake, are so occupied with the factitious cares and superfluously coarse labours of life that its finer fruits cannot be plucked by them.
October, 24, 2011
10/24/11
1:15
PM ET
Taking stock of the eighth week of games in the Pac-12.
Team of the week
: Arizona. The Wildcats ended a 10-game losing streak to FBS foes with a bang, thumping UCLA 48-12 on ESPN last Thursday. Little has gone right for the Wildcats this season, including the termination of coach Mike Stoops, but an outstanding performance on both sides of the ball in interim coach Tim Kish's debut merits a tip of the cap.
Best game
: No game was closer than two touchdowns, but USC's 31-17 whipping of Notre Dame speaks well for the conference. The Trojans dominated the action on both sides of the ball, and perhaps sent a message to Stanford and Oregon that both have more than a one-game season ahead.
[+] Enlarge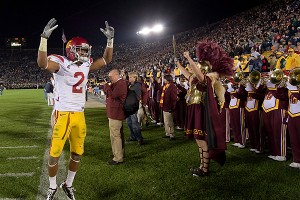 Matt Cashore/US PresswireReceiver Robert Woods and USC had much to celebrate after beating Notre Dame.
Biggest play
: No question here. Trailing just 17-10, Notre Dame faced a third-and-goal on the USC 1-yard line, with the home fans certain a tie game was at hand. But Irish quarterback
Dayne Crist
-- who was in because starter
Tommy Rees
hurt his knee -- fumbled the snap. Trojans safety Jawanza Starling scooped up the rolling ball and went 80 yards for a touchdown the other way. That, my friends, is a game-changing moment.
Offensive standout
: Forget the skill guys this week -- Stanford's offensive line takes this one. The Cardinal dominated the line of scrimmage against Washington, opening holes for a school-record 446 yards rushing and yielding no sacks. The Cardinal have surrendered just two sacks this season -- fewest in the nation -- and rank 17th in rushing offense with 219 yards per game.
Defensive standout
: Oregon linebacker Josh Kaddu had 10 tackles -- all solo -- three for a loss, and two sacks in the 45-2 win at Colorado. He was the best player on a defense that pitched a shutout.
Special-teams standout
: Darragh O'Neill. Colorado's punter was the lone bright spot for the Buffaloes in the loss to Oregon. He punted 12 times for a 43.2 average, with a net of 40.3. He set school records with six punts downed inside the 20 and four inside the 10 (two of those inside the 5), as Oregon's average starting field position after his kicks was its own 23. Four of the kicks traveled 50-plus yards.
Smiley face
: USC's and Stanford's impressive wins against quality foes sets up a marquee national game on Saturday in the Coliseum with ESPN's "College GameDay" on hand. After a slow start to the season, the Pac-12 is now on the national map, with the Cardinal solidly in the national championship hunt and the conference potentially in position to land two BCS bowl berths.
Frowny face
: Utah and Colorado are now 0-8 in Pac-12 play. They combined for 409 yards and 12 points in blowout losses Saturday. Recall how, in the past, the Pac-10 had to defend its defensive performances by pointing out its defenses had to play Pac-10 offenses? Well, here you go. The old Pac-10 can play defense. It just needed some new blood -- teams lacking offensive playmakers -- to prove it.
Thought of the week
: The Pac-12's bottom and muddled middle need to rally -- big -- if the conference is going to fill its bowl slots, particularly if the conference produces two BCS bowl teams. USC is ineligible and Colorado already is guaranteed a losing season. That leaves 10 teams. The conference has bowl contracts with seven games, which would increase to eight spots with two BCS bowl teams. While four teams -- Stanford, Oregon, Washington and Arizona State -- are already bowl-eligible or are nearly certain to get there, six teams have between two and four wins. How many teams get off the carpet? Or does the conference have five to seven losing teams?
Questions for the week
: Will there be a monumental upset this season? While it's possible to reduce the season to a small handful of games centered around Oregon's visit to Stanford on Nov. 12, most years one of the conference's topflight teams falls to a mediocre one -- recall how USC used to do that. It didn't happen last season, as Oregon and Stanford rolled, with just the Ducks' win against the Cardinal in Autzen Stadium between them. Will that be the case again? Or will the Cardinal or Ducks -- or Sun Devils -- get clipped by a team they don't see coming?
October, 23, 2011
10/23/11
1:25
AM ET
SOUTH BEND, Ind. — They tailgated all day and they waved blue towels and they bounced up and down to seemingly every possible sports pump-up song imaginable. They enjoyed the bright lights and marveled at the shiny new helmets and saw Saturday's matchup build into more than just another game on their schedule.
And though it wasn't exactly clear what Notre Dame fans could have expected when looking back at a USC squad that ran through the home team and slowed its ground game to a halt, it was certainly more than this:
A
31-17 loss
to the arch-rival, its ninth defeat in the past 10 meetings. A turnover-plagued performance that brought to mind the adventures of the season's first two weeks. And, most of all, the harsh reality that the BCS-bowl dreams that began before the season are all but officially over just seven games into 2011.
"I think from a player's standpoint, maybe we didn't stay true to who we were," fifth-year safety and captain Harrison Smith said. "Maybe we did buy into the hype, and we can't do that again. We didn't play with poise and there were penalties that you just can't have if you wanna win."
The five penalties will sting but not as much as the three turnovers, particularly after consecutive games without any. An early and surprising 17-0 deficit gave the Irish no margin for error in attemping their comeback, one made easier by — who would have thunk it? — special teams.
George Atkinson's 96-yard kick return for a touchdown brought the Irish to life in the second quarter, and they managed to tack on a field goal before the break to somehow make a seven-point game out of a half that saw them outgained by nearly a 2-to-1 margin.
[+] Enlarge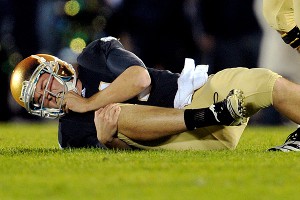 Matt Cashore/US PRESSWIRETommy Rees hyperextended his knee during a painful evening for the Irish.
Tommy Rees
went down with a hyperextended right knee midway through the third quarter and
Dayne Crist
stepped in — and this looked like redemption for the California kid against USC, first hitting
Cierre Wood
for 4 yards, then hitting
Tyler Eifert
two plays later on a crucial fourth down, the ball moving and Notre Dame closing in on the Trojans after being outplayed for a majority of the game before that point.
Three plays later, third-and-goal at the 1, Crist fumbled the snap. Eighty yards later and Jawanza Starling was in the end zone with the ball and a 14-point Trojans lead, one that looked so big yet so familiar given Crist's last third-and-goal-from-the-1 play this season, even if he wasn't to blame for the opening-drive gaffe against South Florida in Week 1.
"Losing stinks. For me, it's hard for me to put a stink-meter on losing. They all stink," coach Brian Kelly said. "You know what I'm disappointed in? This is the first time that I've leaned on my guys pretty hard in the locker room. I was not happy. Because we're better than that. We're better than that. And, to turn the ball over in the ridiculous fashion that we have, I just, just makes me crazy. In terms of, I just don't understand how something so easy can come out the way it does.
"So I told our guys, 'Listen, every time we try to take a step forward, we seem to wanna take one step back.' I'm not gonna tolerate it. It's not gonna be pretty this week in practice. If we gotta go back and tackle every day, we'll tackle every day, because they know how I feel about the way we played."
The hypothetical playoffs that Notre Dame talked about so much have come to an unceremonious end, and now comes the more challenging part, re-focusing on the next-best-thing with plenty of season remaining, five games to prove to all that this is not a lost cause after its record fell to 4-3 with a return of similar frustration.
Perhaps the normal 3:30 p.m. start next week against Navy will spark what had become a familiarity with this team in its previous four games, moving the ball efficiently while eliminating the bad mistakes.
For now, rebounding from this letdown and controlling emotions is the next step, one Notre Dame received a hard lesson in Saturday night from its rival out West.
"You're trying to get at something that I think is real, and we talked about this," Kelly said when asked if his players could have been too excited going into Saturday. "We had some guys that didn't play with poise that need to play with poise. Championship football teams play with competitive greatness, which means when the stakes are high and the stage is great, they raise their game.
"Today, in that same situation, some of our players didn't raise their level of play. That to me is poise, and we're still building that. That's a hard thing to dig at. But we're still building that."
October, 22, 2011
10/22/11
10:19
PM ET
SOUTH BEND, Ind. — Just when it looked like things were going Notre Dame's way, an injury and a return case of the yips proved devastating for the Irish.
Seven plays after
Tommy Rees
went down with an apparent right leg injury,
Dayne Crist
fumbled a snap at the USC 1-yard line, resulting in an 80-yard touchdown the other way courtesy of Jawanza Starling.


In the blink of an eye, a potentially tied game swung to 24-10 USC, and the Irish now find themselves in an uphill battle as the fourth quarter gets underway.
The good news? What looked at first like a potentially bad injury to Rees proved to be nothing, as the sophomore was back in on the Irish's next drive. Still, the end of that drive has to be heartbreaking for Crist, who completed 4 of 5 passes before his fumble and had Notre Dame moving.
Right now, 15 minutes stand between the Irish and any hope of a BCS bowl bid being crushed.
September, 25, 2010
9/25/10
5:21
PM ET
Maybe the Stanford defense is for real?
The Cardinal turned in a workmanlike first-half performance at Notre Dame and lead 16-6.
The big news?
Andrew Luck
threw his first interception -- off a tipped pass from his own player -- though he also tossed his 11th TD.
The other big news? Stanford's defense continues to play well. It sacked quarterback
Dayne Crist
three times -- and hit him four other times -- while holding the Irish to just 23 yards rushing.