August, 19, 2014
Aug 19
7:00
PM ET
DANVILLE, Calif. -- As he stood outside a movie theater in an affluent East Bay Area suburb on Sunday, Landrin Kelly fought back tears.
He's used to it now. Ten years have not completely quelled the pain he was left with following the murder of his son, Terrance, just days before he was set to begin a promising college football career at Oregon. No amount of time will.
A couple hundred others also gathered at the theater to see an early screening of "When The Game Stands Tall," a movie that chronicles the story of Terrance's death and the ensuing impact it had on the famed football program at Concord's De La Salle High. Based on
the book by author Neil Hayes
, the movie is set to hit theaters nationwide on Friday.
[+] Enlarge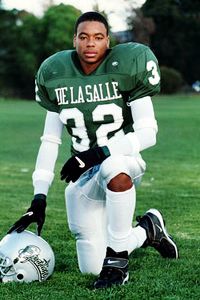 Courtesy of the Terrance Kelly Youth FoundationTerrence Kelly was killed in August of 2004, just days before leaving for the University of Oregon.
For Landrin, the emotions were bittersweet.
"I've been to a lot of events [that remember Terrance]," he said. "The exciting part is that the story is being told of my son."
Violence is a harsh reality in the crime-riddled city of Richmond, just north of Oakland, where the Kelly family called home. It was a main factor in the decision to send Terrance to De La Salle, a private Catholic school 25 miles to the east. Known nationally as a football power, De La Salle provided a safe haven for Kelly and the opportunity to play for legendary coach Bob Ladouceur.
"We wanted to get him out of Richmond," Landrin said.
During his four years at De La Salle, Kelly blossomed into a good student, a team leader and one of the best football prospects in the country. A running back and linebacker for the Spartans, Scout.com ranked Kelly as the No. 16 safety in the country -- one spot ahead of current
Washington Redskins
and two-time Pro Bowler
Dashon Goldson
.
Ask those around the De La Salle community how good Kelly was, and they'll tell you -- like his high school teammates Maurice Jones-Drew and T.J. Ward -- there was little doubt he was destined for a career in the NFL.
Oregon was the first school to offer Kelly a scholarship, but the entire Pac-10 followed suit. He ultimately committed to the Ducks -- over UCLA and Cal -- based largely on the relationship he developed with defensive coordinator Nick Aliotti, whose brother, Joe, was on Ladouceur's staff.
In his personal statement
, as part of his admissions application at Oregon, Kelly reflected on what life was like growing up in Richmond and his plans for the future:
Many people imagine the life of a teenager as being carefree and simple, but that in not the case in the city I live in. While growing up in Richmond, California there has been a lot of distractions. For example, the murder rate of young African Americans in the city is very high, drugs are rampant in the community, not very many of the youth in the community understand the importance of an education, much less if they live or die. Many youth place more importance on being in a gang than an education. A large number of the youth don't even graduate from high school. They either dropout, go to jail, or unfortunately get murdered. Something as simple as sitting down doing your homework can be a challenge. While trying to study I have often had to contend with hearing gunshots, ambulance or police cars racing up and down the streets. The library is just a shelter for the homeless and a baby-sitter for young children waiting until their parents get off work.

Through all of this I have established high expectations and standards for myself. I am determined not to end up like many of my peers. I have a strong sense of purpose and direction for my life. I am motivated to strive to be the best person I can be, with the understanding that a solid education can lead to self-improvement as well as, social and economic empowerment.
De La Salle teammates Cameron Colvin, Jackie Bates and Willie Glasper also signed with Oregon, in no small part because of Kelly. Ward eventually walked on the following year.
[+] Enlarge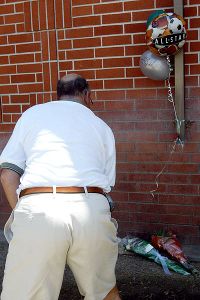 Jeff Chiu/AP PhotoBrother Christopher Brady, principal at De La Salle High School, adjusts a makeshift memorial for Terrance Kelly in this 2004 photo.
"T.K. was the guy that held them all together," said Ladouceur, who is portrayed brilliantly in the movie by Jim Caviezel. "When that happened to him, it took a real motivation out of their lives. They were like the four musketeers and for them to all of a sudden have to go up there minus one, was really, really hard."
The impact Kelly's death had at Oregon was nearly as substantial as it was at home.
"[Aliotti] didn't believe it when I called him and told him somebody killed my baby," Landrin Kelly said. "He didn't believe it. I had to say, 'No, for real Nick.' I was crying. I had to give the phone to my wife because I was so heart broken."
After Terrance's passing, the bond between his family and the Oregon program continued to strengthen. At his funeral in Richmond, part of which is depicted during an emotional scene in the film, Aliotti delivered the eulogy and he went on to keep a picture of Terrance on his desk until his recent retirement.
In 2007, in what would have been Kelly's senior year, Oregon invited Landrin, and his grandson, on to the field to take part in the Senior Day ceremony. He proudly showed off a No. 32 jersey that day and continues to make at least one trip to Eugene a year to watch the Ducks.
In memory of his son, Landrin, along with the help of several others, operates the
Terrance Kelly Youth Foundation
. The foundation exists to provide community outreach for children between the ages of 5 and 17, and aims to inspire kids to become responsible and productive adults in the community. The non-profit organization provides several programs and scholarships for youth in Richmond.
Darren Pratcher was 15-years-old when he shot Kelly four times as sat in his car outside a house in Richmond, waiting to pick up his stepbrother to give him a ride home. The killing came in retaliation for a perceived slight during a pick-up basketball game, which is also depicted in the film.
Pratcher was prosecuted as an adult, and after five days of deliberations in October 2006, a jury convicted him of first-degree murder and weapon enhancements. He was later sentenced to 50 years to life in prison.
April, 18, 2014
Apr 18
12:00
PM ET
A week ago, the official trailer for
When the Game Stands Tall
, a movie inspired by Bay Area football powerhouse De La Salle High
was released
.
It stars Jim Caviezel as legendary coach Bob Ladouceur, who guided the Concord, Calif., school to a famed 151-game winning streak from 1992 to 2004. The movie is based on the book of the same name written by Neil Hayes, who had unrestricted access to the team in 2002 -- the senior year of future UCLA and NFL star
Maurice Jones-Drew
.
[+] Enlarge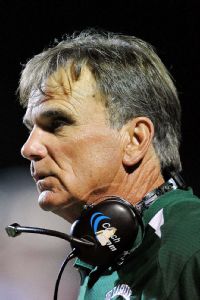 Steve Mitchell/USA TODAY Sports Bob Ladouceur coached De La Salle High to a 151-game winning streak from 1992 to 2004.
I grew up 20 minutes from De La Salle and have followed the program since elementary school, so it was an especially intriguing trailer for me, but the storyline should have mass appeal for Pac-12 fans, especially those at Oregon.
What jumped out quickly from the trailer was that the movie does not depict the year in which Hayes, then a
Contra Costa Times
sports columnist, spent with the team. Instead, it will focus heavily on the circumstances around the 2004 death of linebacker/running back Terrance Kelly, who was
shot two days before he was set to leave to begin his college career
-- along with De La Salle teammates Cameron Colvin, Jackie Bates and Willie Glasper -- at Oregon.
"It starts with the championship game in 2003 with T.K. and those guys as seniors," said Hayes, who served as an official consultant on the movie. "Then it goes into the offseason, [Ladouceur's] heart attack, T.K.'s death -- it was crushing for the community -- and then goes into the 2004 season."
For more worthwhile reading about Kelly's lasting impact, go
here
,
here
and
here
. His final game was the last of De La Salle's streak.
The Spartans opened the next season with
a 39-20 loss
to Washington state power Bellevue at CenturyLink Field. I was a sophomore at Washington State at the time, had read Hayes' book, and so had several of my friends. For them -- some from Hawaii, some from the Seattle area -- De La Salle was some sort of mythical creature, and at their urging we made the Pullman-to-Seattle road trip to see the game.
Nearly 300 miles to see a high school football game. As college students. That's the kind of allure De La Salle had.
Seven players currently on Pac-12 rosters attended De La Salle: Cal's
Michael Barton
and
Austin Harper
(freshman year only); Oregon State's
Tyler Anderson
,
Terron Ward
and
Dylan Wynn
; Stanford's
Austin Hooper
; and USC's
Michael Hutchings
. Three more will join the conference for fall camp:
Sumner Houston
(Oregon State),
Kevin Griffin
(Washington State) and
Dasmond Tautalatasi
(Arizona State).
As with any inspired-by-real-life movie, there are some creative liberties that don't follow reality.
For example, the movie will feature a game between De La Salle and Southern California's Long Beach Poly, the supposed No. 1 and No. 2 teams in the country, which
actually took place in 2001
. Jones-Drew, then sans the Jones, had a game people still talk about, and, of course,
re-live on YouTube
.
"It's done for dramatic purposes and there are some new characters ... not every character comes from De La Salles," Hayes said. "But those liberties that were taken were done so with pure motives."
The football scenes were orchestrated by stunt coordinator Allan Graf, a starter on the offensive line for the 1972 USC national championship team that finished 12-0. Graf is a fixture in the industry and has been a stunt coordinator on several other football films including
Friday Night Lights, Any Given Sunday, Gridiron Gang, The Replacements, The Waterboy, Jerry Maguire
and
The Program
.
"This was some of his best work," said Hayes, in terms of how realistic the football scenes are.
At one point during filming, Ladouceur and longtime defensive coordinator Terry Eidson, portrayed by Michael Chiklis, traveled to Louisiana, where the movie was shot.
"You have all these movie stars there, but when those guys got there, they were the celebs," Hayes said.
Ladouceur retired following the 2012 season after 34 seasons with a career record of 399-25-3, but remains on staff as an assistant to Justin Alumbaugh, a UCLA graduate. Before deciding to remain on staff as an assistant, Ladouceur drew interest from 49ers coach Jim Harbaugh
to serve in a consulting role
.
USC coach Steve Sarkisian and LSU coach Les Miles have cameos in the movie, which includes some shots at Isidore Newman School, which produced
Peyton Manning
and
Eli Manning
.