February, 10, 2012
2/10/12
3:45
PM ET
It wasn't random that Jim Mora, a NFL coaching lifer, ended up in college football. It was his specific plan. When his ill-fated, one-year tenure as the Seattle Seahawks head coach ended, he almost immediately started eyeballing the college game.
There was, however, no rush to jump at the first new coaching opportunity. He almost immediately was hired for broadcast gigs with the NFL Network and Fox. And the Seahawks were on the hook for the final three years of his contract -- a cool $12 million. So he studied the college game from afar and waited for an appealing opportunity.
"I felt like [college football] would be a good fit for my personality and what I was trying to get out of my career," he said. "I feel like I've got a lot to give kids this age... What's happened in the NFL, to a certain extent, because of the money involved, because of free agency, is there is a little less trust at times between players and coaches. That was bothersome to me. These guys are anxious to use you as a source of wisdom. And that is appealing to me."
[+] Enlarge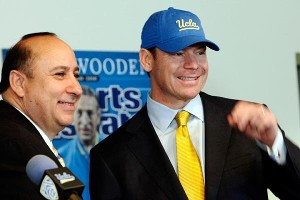 Nick Ut/AP PhotoJim Mora says the college game is different than the NFL because "these guys are anxious to use you as a source of wisdom. And that is appealing to me."
Mora went full-throttle after the UCLA job. He wasn't the first choice. Or even the second. And his hiring was initially greeted with skepticism. But the momentum is on a decided uptick.
First, he hired an
impressive staff
, tapping coaches with significant NFL and Pac-12 experience, as well as coaches known for being outstanding recruiters.
NFL experience? How about 90 years and five Super Bowl rings? Pac-12 experience? Five of the nine have either played or coached in the conference. Ace recruiters? Adrian Klemm and Demetrice Martin, hired away from SMU and Washington, respectively, are widely considered two of the best in the business.
And then Mora and his staff transformed what might have been the worst recruiting class in the conference when he was hired into one of the best. ESPN Recruiting ranked Mora's first-ever class ranked 19th in the nation.
"Everybody seems happy now and we haven't even won a game," said Mora, perhaps a bit surprised by how quickly recruiting can enliven a fanbase.
The NFL experience was a boon in recruiting. It gave Mora and his staff credibility. When asked how he overcame questions about UCLA's recent run of mediocrity, Mora just waved away the issue.
"I didn't worry about the past," he said. "It's irrelevant to me what any team has been in the past. It's what they are going to be in the future. We talked about future. We're not going to wait to win. You have a chance to get in on the ground floor of something that we believe can be special. If you're a competitor and you like challenges, this is for you."
Now the focus turns to spring practices and the football part of football. Mora said he'll watch film over the next few weeks to get an idea of his personnel. Heading his to-do list: He has to figure out who his quarterback is going to be, with incumbent starter
Kevin Prince
trying to fight off what figures to be a strong challenge from redshirt freshman
Brett Hundley
.
Richard Brehaut
might not be a factor because he plans to play baseball.
As far as new schemes, offensive coordinator Noel Mazzone is a spread guy and defensive coordinator Lou Spanos is a 3-4 guy, but Mora resists any attempt to pin him down on schemes. A defensive specialist, he's been successful with both 4-3 and 3-4 looks, and he said he expects the offense to be "multiple."
"We're going to do what our players do best," he said. "There is no name for what we do. We're not pistol. We're not West Coast. We're not spread. We're not wishbone. We're not this, we're not that. We're just going to be a good, fundamentally sound football that takes advantage of the skill sets our players present to us."
The college game is very different than the NFL. There's recruiting. There are limits on practice time. There are boosters to deal with and academic demands for players.
Still, Mora is well aware that the ultimate measure in Pac-12 football is just like the NFL: You've got to win.
February, 3, 2012
2/03/12
9:00
AM ET
By
ESPN.com staff
| ESPN.com
Interesting story here
from Mitch Sherman about coaches hiring assistants known as much for their recruiting as their coaching acumen -- and the tension that sometimes creates.
And, obviously, this includes analysis of the California-Washington-Tosh Lupoi situation:
The changes paid off for the Huskies, who signed the No. 23 class nationally, headlined by safety Shaq Thompson of Sacramento, Calif., a former Cal commit ranked 16th in the ESPNU 150. Washington also got a late pledge from cornerback Brandon Beaver of Compton, Calif., considered a Cal lean before Lupoi's departure.

[Washington coach Steve] Sarkisian said Wednesday at his press conference to unveil the signees that he prioritized the hiring of excellent recruiters.

"We want to pound our chest on how much football we know," Sarkisian said, "but if the players can't execute it, then that part is a bit irrelevant. You have to have the players in place to do it. So we went out and tried to identify some guys that, I think, were not just good football coaches, but were good recruiters. I think in the end, it did have a direct impact on what we were doing."
So was Lupoi the top recruiter in the Pac-12 this year? Well, he was one of them. But the prize for
Pac-12 recruiter of the year
went to Stanford's Mike Bloomgren.
It's a tough call in the Pac-12 because there are so many deserving coaches, but Bloomgren and Stanford closed big. Literally. Stanford landed ESPNU 150 offensive tackles Kyle Murphy (San Clemente, Calif./San Clemente) and Andrus Peat (Scottsdale, Ariz./Corona Del Sol) on signing day to give the Cardinal the nation's top O-line class. A nod also goes to former Stanford coach Brian Polian (now with Texas A&M), who started the recruiting, but it was Bloomgren who closed the deal. He fought off USC and Nebraska for Peat, and the Trojans again for Murphy.
Conference coaches getting honorable mention include: Adrian Klemm, UCLA; Tosh Lopoi, Washington; Demetrice Martin, UCLA; Ed Orgeron, USC.
January, 12, 2012
1/12/12
11:55
AM ET
By
ESPN.com staff
| ESPN.com
It appears that Washington will hire Keith Heyward away from Oregon State to coach the Huskies secondary,
according to a report from the Seattle Times
.
Heyward would replace cornerbacks coach Demetrice Martin, who left for UCLA.
The latest from the Times and ESPN recruiting
West Coast guru Greg Biggins
:
Strong indications tonight that this is a done deal and Heyward will be the next coach to join the UW defensive coaching staff.
According to USA Today, Heyward was the lowest-paid assistant on the OSU staff at $105,000 in 2011.
Every UW assistant last year made at least $124,000, so Heyward is surely getting a raise and likely a multi-year deal, to come to Washington.
Biggins called the hiring of Heyward "a big-time move'' and also called Heyward an "excellent coach & recruiter'' on his Twitter page.
It's unclear if Heyward is being hired to coach the entire secondary or just cornerbacks or safeties. UW will have one assistant coaching spot remaining to fill.
December, 27, 2011
12/27/11
9:10
AM ET
By
ESPN.com staff
| ESPN.com
Know how a new coach wins over a skeptical fan base? He does this —
flip an A-list recruit his way
.

That's what new UCLA coach Jim Mora did with
Ishmael Adams
(Westlake Village, Calif./Oaks Christian). The four-star, 5-foot-10, 180-pound cornerback picked the Bruins over longtime leader California, as well as Arizona State and Notre Dame.
Adams told ESPN Recruiting's Greg Biggins, "After the coaching change, I didn't think much about UCLA, but I really like Coach Mora a lot and I like Demetrice Martin a lot as well. He's a good coach, and I know he'll make me better."
Before Christmas, the Bruins also signed JC offensive lineman
Alexandru Ceachir
(Santa Monica JC, Calif.). He had been committed to Utah. Ceachir
seemed taken by new Bruins line coach
Adrian Klemm.
In fact, if you read through Biggins'
West Coast recruiting blog
, it seems Mora's hires are making progress with a number of recruits, including ones committed elsewhere.
If Mora's first class includes a number of recruiting coups, that should alleviate some of the concerns Bruins fans had about hiring a coach with an almost exclusively NFL background.
The Bruins have
22 commitments
, and Adams is the second with a four-star rating.
December, 16, 2011
12/16/11
4:05
PM ET
By
ESPN.com staff
| ESPN.com
Some links of interest from LA.
First, USC defensive end Nick Perry has
opted to enter the NFL draft
, joining offensive tackle Matt Kalil as Trojans who are bypassing their senior seasons.
Neither was a surprise. And odds are that quarterback Matt Barkley and safety T.J. McDonald will join them. But who knows? Every year someone opts to stay who was expected to go.
The deadline to declare is Jan. 15; the deadline to pull out of the draft once declared is Jan. 18.
On the other side of town, the news is good at UCLA: ESPN.com West Coast recruiting expert Greg Biggins reports that Jim Mora's new staff hires are
striking a positive note in recruiting
.

Mora hired three coaches -- Adrian Klemm (from SMU), Steve Broussard (Arizona State) and Demetrice Martin (Washington) -- who rank among the nation's best recruiters. That is something the Bruins have lacked in recent years.
Former coach Rick Neuheisel was actually the Bruins' best recruiter the last four years, but the head coach can only do so much of the leg work and there was a sizeable drop after him and the rest of the staff. Former coach Karl Dorrell had Jon Embree and Eric Bieniemy, both of whom were excellent recruiters, but there has always been the feeling that UCLA went after players it thought it could get the easiest, rather than working to land the top, blue chip athletes. It's always important to know who you can and can not get, but it's also good to have some grinders on the staff who will outwork everyone else and won't take no for an answer.
Biggins doesn't just write this as an opinion, by the way. He talked to a number of recruits, including some committed to other Pac-12 schools, who are now looking at the Bruins.