February, 7, 2014
Feb 7
12:30
PM ET
There are many things that can derail a college football team. Poor to middling talent. Poor to middling coaching. Complacency. Inexperience. A lack of focus. Poor conditioning. A couple of bad apples in the locker room.
And knuckleheaded behavior.
[+] Enlarge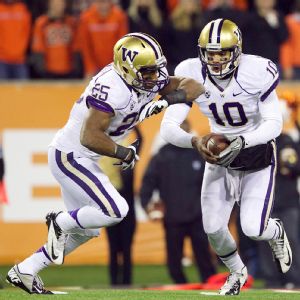 Jaime Valdez/USA TODAY SportsLeadership would be needed from Cyler Miles (10) next season, but that is now in question.
That, of course, comes in many varieties, but a couple of Washington players
allegedly have tried to win
the "College Football Knuckleheads of the Year Award" before we're much more than a month into 2014.
According to police reports, two Huskies -- likely 2014 starters, in fact -- apparently were unhappy the Denver Broncos went rear end over tea-kettle in the Super Bowl against the Seattle Seahawks. So they, allegedly, beat up a Seattle Seahawks fan.
Yes, players from Seattle's major college football team allegedly beat up someone because he was a fan of Seattle's NFL team.
Further, the two players being investigated in connection to the incident are Washington quarterback
Cyler Miles
and wide receiver
Damore'ea Stringfellow
. We know this because both have been suspended indefinitely by new coach Chris Petersen. Neither player has been arrested or charged, at this point.
Let us first welcome Petersen back from his UW honeymoon, which ended upon his getting the phone call about this one.
Now before we delve too deeply into the meaning here, both for the team and in the bigger, societal picture, it's important to acknowledge that the story is incomplete. We have not heard Miles' and Stringfellow's side of things. Every time we engage the early reports of an incident such as this it's imperative we use two words to give us pause:
Duke lacrosse
.
That said, there's only one way this becomes a substantial issue for the Huskies in 2014: If Miles and Stringfellow are kicked off the team.
Washington is going to start the 2014 season 4-0 --
see the schedule here
-- whether these two play or not. The only potential early pratfall is a visit from Illinois, a team the Huskies beat by 10 on the road last year and that finished 1-7 in Big Ten play.
So Petersen could suspend both for a third of the season, look tough on discipline, and then get his guys back in time for the rugged Pac-12 slate. He also could suspend them for three games and then play them against Georgia State, a glorified FCS team, in order to help them shake the rust off. Or, perhaps,
Jeff Lindquist
plays so well that Miles doesn't get his job back.
In any event, Husky fans probably don't need to panic yet about the prospects for 2014, though it now becomes more critical for talented receiver
Kasen Williams
to hasten a healthy return from
a major leg injury
.
Beyond practical matters, however, this story also combines two awful things, which makes it particularly notable: 1. Athletes behaving badly; 2. Fans behaving badly.
We start with the sense of entitlement many college athletes have -- "I can do whatever I want because I'm a star football player" -- and then move on to the irrationality of the most buffoonish fans -- "Those who root against my team should be punched in the face."
Sportswriters know all about this. We cover the entitled athletes and are constantly excoriated by the buffoonish fans, who will fill our inboxes with profane and garbled tirades because we didn't pick their team to win. Don't feel sorry for us, though. Without either, it would be more difficult to pay our bills.
From the
Seattle Times
:
According to a police report, a man told police he was assaulted around 8:30 p.m. Sunday on the 2300 block of NE 55th Street after the Seahawks' Super Bowl victory over the Denver Broncos. The man said two suspects jumped out of a car and asked the man if he was a Seahawks fan. According to the police report, the man said "something like yeah of course, are you Broncos fans?"

The suspects then "came at" the man and "started punching (him) in the face," according to the report. The man and a friend identified the two suspects by looking at the UW football roster online.
Again, if true, this is worse for Miles, who, yes, hails from just outside of Denver. He's supposed to take the keys to the offense and be a leader, replacing
Keith Price
as the Huskies quarterback. Price was rock-solid as a person and leader, just like the guy before him (Jake Locker) and the guy before him (Isaiah Stanback).
Miles would have a ways to go before anyone refers to him as "rock solid." He's got talent and has already hinted that he can be an A-list quarterback with limited play stepping in for an injured Price. But how many good quarterbacks have this sort of thing on their resume?
This figures to be the first test of Petersen as a disciplinarian. It will be interesting to see how he handles it.
As for this fall, it's way premature to start downgrading Washington's stock, which potentially was headed for a preseason ranking. But it's fair to say it won't regain a "buy" rating until this incident is resolved.
January, 16, 2013
1/16/13
2:30
PM ET
I am an American, Chicago born -- Chicago, that somber city -- and go at things as I have taught myself, free-style, and will make the record in my own way: first to knock, first admitted; sometimes an innocent knock, sometimes a not so innocent.
February, 22, 2012
2/22/12
2:30
PM ET
By
ESPN.com staff
| ESPN.com
Success at sports is the province of the almost empty head.
May, 1, 2011
5/01/11
12:10
PM ET
The Pac-12 provided 37 players to the NFL draft over the weekend, one fewer than the SEC, which led all conferences.
If the six combined picks from Colorado and Utah are taken away from the conference, the old Pac-10 provided NFL teams 3.1 draft picks per team, also just behind the SEC at 3.17.
Here's where the Pac-12 players went:
First round
No. 8
Jake Locker
, QB, Washington: Tennessee
No. 9
Tyron Smith
., OT, USC: Dallas
No. 17
Nate Solder
, OT, Colorado: New England
No. 24
Cameron Jordan
, DE, California: New Orleans
No. 27
Jimmy Smith
, CB, Colorado: Baltimore
Second round

7.
Akeem Ayers
, LB, UCLA: Tennessee
10.
Brooks Reed
, DE, Arizona: Houston
13.
Rahim Moore
, FS, UCLA: Denver
21.
Stephen Paea
, DT, Oregon State: Chicago
24.
Shane Vereen
, RB, California: New England
Third round

13.
Jurrell Casey
, DT, USC: Tennessee
20.
Mason Foster
, LB, Washington: Tampa Bay
25.
Shareece Wright
, CB, USC: San Diego
29.
Christopher Conte
, S, California: Chicago
33.
Sione Fua
, DT, Stanford: Carolina
Fourth round

5.
Jordan Cameron
, TE, USC: Cleveland
19.
Casey Matthews
, LB, Oregon: Philadelphia
21.
Jalil Brown
, CB, Colorado: Kansas City
27.
Owen Marecic
, FB, Stanford: Cleveland
Fifth round

8.
Brandon Burton
, CB, Utah: Minnesota
9.
Gabe Miller
, DE, Oregon State: Kansas City
14.
Jacquizz Rodgers
, RB, Oregon State: Atlanta
23.
Richard Sherman
, CB, Stanford: Seattle
Sixth round

2.
Ryan Whalen
, WR, Stanford: Cincinnati
14.
Caleb Schlauderaff
, OG, Utah: Green Bay
17.
Ronald Johnson
, WR, USC: San Francisco
19.
David Carter
, DT, UCLA: Arizona
22.
Allen Bradford
, RB, USC: Tampa Bay
24.
Mike Mohamed
, LB, California: Denver
32. Ricky Elmore, DE, Arizona: Green Bay
38. Zach Williams, C, Washington State: Carolina
Seventh round

12.
D'Aundre Reed
, DE, Arizona: Minnesota
24.
Scotty McKnight
, WR, Colorado:
New York Jets
30.
Lawrence Guy
, DT, Arizona State: Green Bay
37.
Stanley Havili
, FB, USC: Philadelphia
38.
David Ausberry
, WR, USC: Oakland
39.
Malcolm Smith
, LB, USC: Seattle
By Pac-12 school:

Arizona (3)
Arizona State (1)
California (4)
Colorado (4)
Oregon (1)
Oregon State (3)
Stanford (4)
UCLA (3)
USC (9)
Utah (2)
Washington (2)
Washington State (1)
The final tally by automatic qualifying conferences
:
SEC... 38
Pac-12... 37
Big Ten... 36
ACC... 35
Big East 22
Big 12...19
Nebraska was a big swing to the Big Ten from the Big 12 with seven picks. With Colorado and Nebraska, the Big 12 provided 30 selections.
This was the tally through three rounds
:
SEC: 20
ACC: 19
Pac-12: 15
Big Ten: 13
Big 12: 9
Big East: 4
April, 30, 2011
4/30/11
12:12
PM ET
By
ESPN.com staff
| ESPN.com
Here's where things stand for the Pac-12 through three rounds of the NFL draft.
First round
No. 8
Jake Locker
, QB, Washington: Tennessee
No. 9
Tyron Smith
., OT, USC: Dallas
No. 17
Nate Solder
, OT, Colorado: New England
No. 24
Cameron Jordan
, DE, California: New Orleans
No. 27
Jimmy Smith
, CB, Colorado: Baltimore
Second round
7.
Akeem Ayers
, LB, UCLA: Tennessee
10.
Brooks Reed
, DE, Arizona: Houston
13.
Rahim Moore
, FS, UCLA: Denver
21.
Stephen Paea
, DT, Oregon State: Chicago
24.
Shane Vereen
, RB, California: New England
Third round
13.
Jurrell Casey
, DT, USC: Tennessee
20.
Mason Foster
, LB, Washington: Tampa Bay
25.
Shareece Wright
, CB, USC: San Diego
29.
Christopher Conte
, S, California: Chicago
33.
Sione Fua
, DT, Stanforrd: Carolina
Through three rounds by conference (with Nebraska in the Big Ten and Colorado and Utah in the Pac-12):
SEC: 20
ACC: 19
Pac-12: 15
Big Ten: 13
Big 12: 9
Big East: 4
Note: The old Pac-10 has 13 without two first-round picks from Colorado. Big Ten has 12 without Nebraska. Big 12 has 12 if Colorado and Nebraska are included.
March, 28, 2011
3/28/11
9:54
PM ET
SALT LAKE CITY -- You can't watch one practice and thereby know a team. But that won't stop me from making a handful of quick observations on the Utes.
It was a good practice to watch: full-pads, lots of hitting. Day turned out beautiful after morning snow but practice was still indoors.
It seemed like there were more nice moments running the ball than passing the ball, but that should be expected with a pair of inexperienced backups trying to learn coordinator Norm Chow's West Coast offense. One observer noted that the play-action looks particularly needed work.
If I were forced to guess, I'd say true freshman quarterback Tyler Shreve is at least even with sophomore Griff Robles in their competition to back up Jordan Wynn.
One of my early thoughts was, "Utah passes the eye test. It looks like a Pac-12 team." Then I looked up at banners celebrating a pair of unbeaten seasons capped by BCS bowl wins. But of course Utah passes the eye test.
Defensive tackle Star Lotulelei was listed at 330 pounds on the November depth chart. He now carries 310 pounds on his 6-foot-4 frames. He's a load and moves well. My guess is more than a few interior Pac-12 offensive linemen are going to wish he stayed in the Mountain West Conference.
Been hearing some good things about redshirt freshman tight end Jake Murphy, but the last name didn't register much until it was pointed out to me that the tall man standing near me was his father, Dale Murphy. If you grew up in Atlanta during the '80s, it didn't get much bigger than Murphy, the two-time National League MVP for the Braves. His other son, Shawn, is now playing for the Denver Broncos. It was a bit surreal having a casual conversation with a childhood hero. Really nice guy; just like his longstanding reputation.
February, 10, 2011
2/10/11
11:16
AM ET
By
ESPN.com staff
| ESPN.com
We live in an age in which some people become famous specifically because they lack talent and self-awareness. They get rich because the public enjoys gawking at their idiocy, incivility and stunning self-absorption.
And for the objectified, fame is the singular goal, no matter what is sacrificed to obtain it.
Not naming any names, but I'm sure a few just popped into your head.
Then you have former Arizona State and Denver Broncos quarterback Jake Plummer, a once-controversial athlete who walked away from fame and fortune -- and stayed away -- to build the life he wanted with his family in Idaho.
If you read just one thing today, you should read the
Pac-12 blog
. But if you want to read two,
this is your best shot
: A great "where are they now" profile of Plummer from Sports Illustrated.
Loved this quote from Plummer when he spoke at Pat Tillman's memorial:
"I was in the store the other day and I saw PEOPLE magazine, and it had the cover of the 50 most beautiful people in the world, or America, and there was a picture of Pat," Plummer said. "It was kind of ironic because I really looked and said, What is beauty? Is beauty a pretty face, a nice smile, flowing hair, nice skin? Not to me, it's not. To me beauty is living life to higher standards, stronger morals and ethics and believing in them, whether people tell you you're right or wrong. Beauty is not wasting a day. Beauty is noticing life's little intricacies and taking time out of your busy day to really enjoy those little intricacies. Beauty is being real, being genuine, being pure with no facade—what you see is what you get. Beauty is expanding your mind, always seeking knowledge, not being content, always going after something and challenging yourself."
The profile is titled, "What was he thinking?" Plummer provides a full and nuanced answer.
The fantasy of a young man is to become a famous athlete or movie star. The fantasy of an older man is to do what Plummer is doing: Living life on his own terms in complete contentment.
January, 4, 2011
1/04/11
10:11
AM ET
By
ESPN.com staff
| ESPN.com
Is it possible that the best news for Stanford this week won't be the 40-12 win over Virginia Tech in the Discover Orange Bowl?
This from the well-sourced Michael Rosenberg is interesting:
Harbaugh unlikely to go to Michigan
:
Harbaugh plans to decide this week whether he wants to take a job in the NFL. If he stays in college coaching, he has decided he will stay at Stanford, where he has built a potential powerhouse. It would take an extreme change of heart for Harbaugh to end up in Ann Arbor, according to the person, who did not want to be identified because Rich Rodriguez is still U-M's coach.

The San Francisco 49ers are making a strong push to hire Harbaugh. New Denver Broncos executive John Elway attended the Orange Bowl on Monday — as an honorary captain for Stanford, his alma mater — and ESPN has reported Elway would like Harbaugh to coach his team. But Harbaugh also could stay at Stanford — a possibility that seemed remote just a few days ago.
Of course, as you all saw, Harbaugh
said nothing of note after the game
on what his next move is, though he was often entertaining while doing so.
So it's Stanford vs. the NFL.
While many folks -- me included -- have long thought that the ultra-competitive Harbaugh would only be satisfied by testing himself on the highest level, the available jobs might not be the perfect landing he envisioned, particularly the San Francisco 49ers, which have notoriously bad ownership.
The odds aren't great that Harbaugh returns. But it's not ridiculous to feel they are better today than last week. So Stanford fans: There is hope.
As for the football part of football, this quote from Virginia Tech running back Darren Evans
sums things up
:
"I thought coming into the game that we would be the more physical team, because that's just the way that we play," Evans said. "But they showed us up. The whole game, from start to finish, they were in our tails. It's a tough one to swallow. It's kind of like an arm wrestling match. You face up with somebody, and either you're going to bring their arm down, or they're going to bring yours down. They definitely brought it to us."
Some links:
April, 27, 2010
4/27/10
11:52
AM ET
By
ESPN.com staff
| ESPN.com
Three former California players have signed free agent contracts with the Dallas Cowboys: receiver
Verran Tucker
and offensive linemen Chet Teofilo and Mike Tepper.
Linebacker Devin Bishop signed with Denver. The Pac-10 blog previously reported -- incorrectly -- that he'd signed with Dallas.
Meanwhile, former Bears safety Brett Johnson signed a free agent contract with Buffalo, while safety Marcus Ezeff will get a tryout next week with the New York Jets, according to a release from the school.
Cal had three players selected in the NFL Draft: defensive lineman Tyson Alualu (Jacksonville Jaguars, 10th overall) and tailback
Jahvid Best
(Detroit Lions, 30th overall) were both chosen in the first round last Thursday. Cornerback Syd'Quan Thompson (Denver Broncos, 225th overall) was picked up in the seventh round Saturday.
April, 23, 2010
4/23/10
9:58
AM ET
By
ESPN.com staff
| ESPN.com
Here's a prediction: California defensive end Tyson Alualu is going to surprise some folks and end up a top-10 NFL draft pick.
Little late on that one, eh
?
Alualu was the first Pac-10 player drafted Thursday night -- which was projected by no one -- going 10th overall to the Jacksonville Jaguars, while Bears teammate Jahvid Best was the only other conference player selected on Day 1. Best went to the Detroit Lions with the 30th pick.
Round 2 begins today at 6 p.m. ET. Expect the second round to
include a number of Pac-10 players
, including those who slipped during recent weeks, such as USC safety Taylor Mays and UCLA defensive tackle Brian Price.
Alualu is the highest Cal selection since Andre Carter was taken seventh overall by San Francisco in 2001. He is the Bears' ninth top-10 pick in the draft's history. And his selection was rated the "
biggest reach
" of the first day by Todd McShay.
Wrote McShay, "Jacksonville used the 10th overall pick to take California DT
Tyson Alualu
, who we feel is a good player but is only the No. 35 overall on our board. Top-10 money is pretty rich for a player like Alualu, especially when pass-rushers like Derrick Morgan and
Jason Pierre-Paul
would have offered much more value at that point."
Another notable pick is the Seattle Seahawks' selection of safety Earl Thomas at No. 14. That means former USC coach Pete Carroll wanted a safety but didn't want Mays.
Ouch.
Got to admit: I thought at least one team would jump on Mays just because of his athleticism, much like it took only one team to make Tim Tebow a No. 1 pick (Denver).
Another observation: Former Oklahoma quarterback Sam Bradford going No. 1 overall is a good thing for college football. It shows players who want to come back for their senior season that even a major injury won't automatically ruin your draft prospects.
Of course, Mays right now is probably questioning his decision to return, considering he likely would have been a top-15 pick in 2009.
August, 17, 2009
8/17/09
11:00
AM ET
By
ESPN.com staff
| ESPN.com
Posted by ESPN.com's Ted Miller
Jeremy Bates only turns 33 on Aug. 27 but he's already driving a Lamborghini.
A "Lamborghini" being a reasonable metaphor for a USC offense that welcomes back nine starters from a crew that averaged 38 points and 455 yards per game in 2008.
That said, Bates' job, to beat this automotive analogy to death, is to replace the transmission, because the old one, Mark Sanchez, is presently competing to be the New York Jets' starting quarterback.
| | |
| --- | --- |
| | |
| | Jeff Golden/Getty Images |
| | Jeremy Bates is making the transition from the NFL to coaching at the college level. |
Bates was hired as USC's quarterback coach and offensive play-caller when Steve Sarkisian became Washington's head coach (actually, Bates replaced Carl Smith, who only was with the Trojans for two weeks before bolting back to the NFL).
What made Bates, son of longtime NFL assistant Jim Bates, look like a savvy hire was his work with Jake Cutler as the Denver Broncos' quarterbacks coach.
Now he's charged with transforming Aaron Corp or Matt Barkley -- both? -- into the next great USC quarterback.
He's new to the college game and there's a lot on his plate, but Bates stopped by for a chat.
Sure you've been asked this a bunch: You're an NFL lifer, what's the biggest difference between coaching in the NFL and college?
Jeremy Bates: The biggest difference is the kids' passion for the game. Every kid that we're coaching just loves the game. They're hungry. They're only playing for one reason -- they love the game of football. It's fun. It's been a great experience. The college kids get better every day.
How about recruiting -- has that grind been an adjustment?
JB: Yeah, it's the first time I went off on the road in the offseason. In the past, I've always used that month to study opponents. But this year I went out recruiting and it was a good experience. The No. 1 impression I've had is how advanced these high school football programs are becoming. It was neat to go out and meet coaches and see how these teams have grown offensively. You've got guys in four wides and doing audibles and all that. It's neat to see where the game of football is going and it all starts in high school. They're doing a great job making sure the game is just going to get better in the future.
January, 19, 2009
1/19/09
7:49
PM ET
By
ESPN.com staff
| ESPN.com
Posted by ESPN.com's Ted Miller
ESPN's Chris Mortensen is reporting that USC has hired Jeremy Bates, the Denver Broncos' offensive coordinator under Mike Shanahan, to run the Trojans' offense next fall.
Here's more on the hire.
That would strongly suggest Carl Smith, who USC coach Pete Carroll recently hired as his quarterbacks coach with play-calling responsibilities, is headed to Cleveland.
Carroll previously promoted assistant John Morton to offensive coordinator, though his duties were understood from the beginning not to include play calling.
USC's offensive coordinator in 2008, Steve Sarkisian, is the new head coach for Washington.
PAC-12 SCOREBOARD
Saturday, 12/20
Monday, 12/22
Tuesday, 12/23
Wednesday, 12/24
Friday, 12/26
Saturday, 12/27
Monday, 12/29
Tuesday, 12/30
Wednesday, 12/31
Thursday, 1/1
Friday, 1/2
Saturday, 1/3
Sunday, 1/4
Monday, 1/12
Tweets from https://twitter.com/ESPNCFB/lists/pac12