July, 9, 2014
Jul 9
12:00
PM ET
We're continuing our preseason position reviews. Please, hold your applause until we are finished.
Here's how we do this. We provide three evaluative categories: "Great shape," "Good shape" and "We'll see."
Hint: You'd prefer your team to be in "Great shape."
"We'll see" doesn't mean you're going to stink at said position. It means just what it says -- we'll see, because there's no way at present to know.
You can review last year's rankings here
.
Up next: Linebacker. Teams in each category are listed in alphabetical order.
GREAT SHAPE
Oregon
: The Ducks are in great shape with inside linebackers
Derrick Malone
and
Rodney Hardrick
returning next to outside linebacker
Tony Washington
. The only departure they'll have to account for is Boseko Lokombo, and that spot appears destined for
Tyson Coleman
once he's completely healthy following a knee injury that sidelined him for the Alamo Bowl. Sophomore
Torrodney Prevot
is one of several talented young players to keep an eye on when the Ducks empty their bench during blowouts.
Oregon State:
The Beavers are deep at linebacker with
D.J. Alexander
,
Jabral Johnson
and
Michael Doctor
projected to start in their 4-3 scheme.
Rommel Mageo
was a starter down the stretch last season and should see plenty of playing time, as will
Caleb Saulo
and
Darrell Songy
.
USC:
Only outside linebacker Devon Kennard is gone from a a solid group that should have a rather seamless transition playing in new defensive coordinator Justin Wilcox's 3-4 defense.
Hayes Pullard
and
Anthony Sarao
figure to start inside, with
Jabari Ruffin
or
Quinton Powell
playing outside opposite
J.R. Tavai
.
Washington:
The Huskies weren't fully stocked during the spring, but figure to have one of the best groups in the conference with
John Timu
playing between
Shaq Thompson
and
Travis Feeney
.
Cory Littleton
can be listed at defensive end or outside linebacker -- UW calls him a rush end -- and is coming off a productive sophomore season.
GOOD SHAPE
Colorado:
Addison Gillam
led the Pac-12 in tackles per game last year (8.9) and will likely start between sophomore
Kenneth Olugbode
and senior
Woodson Greer
. The Buffaloes have depth, too, with
Brady Daigh
, a reliable backup for Gillam, and outside linebacker
Deaysean Rippy
, who sat out last season after transferring from Pittsburgh. Rippy was listed as an alternative starter to Greer on Colorado's post spring depth chart.
Stanford:
There might not be a more difficult task in the conference than replacing outside linebacker Trent Murphy and inside linebacker Shayne Skov, both of whom drew All-American accolades in multiple season. Inside linebacker
A.J. Tarpley
, already a three-year starter, is one of the conference's unheralded players and outside linebacker
James Vaughters
is poised for a breakout senior season. Kevin Andersen has seen a lot of playing time over the past two years at outside linebacker, but the other inside spot needs to be ironed out.
UCLA:
Like Stanford, the Bruins have a tough task in replacing Anthony Barr and Jordan Zumwalt, but have two talented returners in
Eric Kendricks
and
Myles Jack
. UCLA could very well end up one of the best groups in the conference pending the development of
Kenny Orjioke
,
Deon Hollins
,
Isaako Savaiinaea
and
Zach Whitley
.
Utah:
Junior
Jason Whittingham
is a potential first-team all-conference type player and the Utes are high on
Jared Norris
, who started seven games last year. The group looked even better when Miami-transfer
Gionni Paul
was projected to contribute, but the start to his season is expected to be delayed by a broken bone in his foot.
Uaea Masina
, after contributing on special teams last year, will likely see a lot of playing time.

Washington State:
Darryl Monroe
and
Cyrus Coen
return as starters and
Tana Pritchard
, who saw his role grow as the season went along, will be leaned on heavily. The final spot up for grabs is the 'buck,' which looks like it will come down to
Kache Palacio
, a slight favorite who started at the end of the season, and
Ivan McLennan
.
Chester Su'a
could also make some noise after missing last season with an injury.
WE'LL SEE
Arizona:
The Wildcats need to replace three-year starter Marquis Flowers and two-year starter Jake Fischer.
Scooby Wright
started 12 games as a true freshman last season and gives the Wildcats a good piece to start with, but we'll take a wait-and-see approach once the other pieces are in place. The good news is that Arizona has recruited well at linebacker.
Arizona State:
Salamo Fiso
returns, but having to replace three of the four starters from a year ago leaves more questions than answers. Early-enrollee
D.J. Calhoun
drew rave reviews during spring practice, but will have to beat out redshirt junior
Antonio Longino
for a starting job.
Eriquel Florence
(devil), and
Laiu Moeakiola
/
Marcus Washington
(spur) were also listed as starters at the end of spring practice.
Cal:
Jalen Jefferson
,
Michael Barton
and
Hardy Nickerson
are all back, but after last season's defensive woes it's hard to go in with much optimism. The situation at linebacker is clearly better than it was last year, but that's not inspiring enough not to erase speculation.
OTHER POSITION REVIEWS:
May, 2, 2014
May 2
7:30
AM ET
Three things we learned this spring
Raising the (next) Barr: All indications are that Kenny Orjioke probably has the inside track at outside linebacker to replace the departed Anthony Barr. Aaron Wallace (dealing with grade issues) and Deon Hollins are still very much in the mix. Several members of the staff said they were pleased with what they saw from Orjioke -- though it's worth noting he didn't play in the spring game for reasons not revealed.
Welcome back, Owa: After missing last season with a hip injury, defensive end Owamagbe Odighizuwa (aka the scourge of spellcheck), returned with a very strong spring session that included a pair of sacks in the spring game. His return bolsters a pass rush that has to replace Barr and Cassius Marsh.
Back depth: The staff has been very pleased with the progress of running back Jordon James. But they feel equally solid about Paul Perkins, Steven Manfro and redshirt freshman Craig Lee. Combined with the scrambling ability of quarterback Brett Hundley, the Bruins should build upon last year's average of 196.6 yards per game.
Three questions for the fall
Line-up: While the coaching staff feels pretty good about its offensive line, finding the right replacement for Xavier Su'a-Filo is still paramount. They think they might have it in graduate transfer Malcolm Bunche from Miami. But a couple of starting spots should still be up for grabs when the Bruins return for fall camp.
Backup plan: A lot rests on the legs and arm of Hundley – a Heisman trophy candidate and presumptive top 10 pick in 2015. Whether it's Jerry Neuheisel or Asiantii Woulard backing him up remains to be seen. Neither were particularly sharp in the spring game, with Neuheisel throwing two interceptions and Woulard completing just 4 of 13 passes.
More D-to-O coming? We know about Myles Jack and the impact he made on offense for the Bruins last season. He didn't get any carries in the spring, though Jim Mora said they'll likely have some packages for him. Will we see others? Eddie Vanderdoes? Ishmael Adams? Not that they'll give it away in the spring, but it will be fun to watch this fall to see how many defensive players see offensive time.
Way-too-early prediction
: The Bruins will win the Pac-12 South for the third time in four years. With Hundley at the helm and an experienced defense, the Bruins not only have the fewest question marks among their Southern brethren, but they have plenty of talent to match on both sides of the ball. Staying healthy will be key, as will gaining some early momentum with critical conference games against ASU, Utah and Oregon in the first half of the season.
April, 28, 2014
Apr 28
9:00
AM ET
Here's a quick look at some of the highlights of the three spring games in the Pac-12 this past weekend.
California

Quarterback
Jared Goff
completed 14 of 23 passes for 170 yards and a touchdown as the Bears wrapped their spring session in front of approximately 2,500 fans at Memorial Stadium.
Daniel Lasco
and
Jeffrey Coprich
each made 1-yard touchdown runs and Goff connected with
Kenny Lawler
on an 8-yard touchdown strike. Lawler finished with four catches for 30 yards and the score.
Bryce Treggs
had two catches for 47 yards.
Goff said the Bears are looking to move beyond last season's horrific 1-11 showing, in which they failed to beat an FBS team.
"We're done with last year," Goff said. "We're done with everything that had to do with last year. We're a brand new team now and we're ready to go. …
"We're two or three deep at every [wide receiver] position that I think honestly have NFL potential. I'm just so fortunate to have that receiving corps out there willing to make plays. They all want the ball and they all want to make plays. It's really, really lucky for me."
Austin Hinder
, who is competing with
Kyle Boehm
to be Goff's backup, was 6-of-12 for 46 yards and interception. Boehm was 1-of-2 for three yards.
You can see the full stats
here
.
UCLA

Offensive coordinator Noel Mazzone guided his Blue team to a 28-0 victory over defensive coordinator Jeff Ulbrich's White team behind two rushing touchdowns from
Jordon James
at the StubHub Center in Carson, Calif.
Paul Perkins
and
Steven Manfro
also scored rushing touchdowns.
Quarterback
Brett Hundley
only played in one offensive series and was 4-of-5 for 30 yards.
Jerry Neuheisel
completed 14 of 22 passes for 180 yards, but threw interceptions to
Ishmael Adams
and
Adarius Pickett
.
Asiantii Woulard
was 4-of-13 for 42 yards and
Mike Fafaul
was 7-of-16 for 116 yards.
"I like the way they competed," head coach Jim Mora
told the Pac-12 Network
. "I like the fact that nobody got seriously injured. I'm sure there's some nicks. I thought they came out and competed well. I thought we protected the ball fairly well. It's good to be in a game environment. It will help us going down the road."
Three defensive players each recorded two sacks -- linemen
Owamagbe Odighizuwa
and
Zach Vinci
and linebacker
Deon Hollins
.
You can see the full stats
here
.
Washington State

Quarterback
Connor Halliday
completed 25 of 41 passes for 326 yards and three touchdowns and the Crimson team topped the Gray squad 23-19 in front of 6,233 fans at Joe Albi Stadium in Spokane, Wash.
Vince Mayle
caught six balls for 92 yards and a touchdown to lead the Crimson group, while freshman
Calvin Green
led all players with eight catches for 101 yards.
"Spring went well," Halliday
told the Pac-12 Network
. "Spring games are always a little frustrating. We've got the team split in half and we have some O-linemen that haven't played together and the receivers are split in half. We had a real good spring before today. Today was a little sloppy here and there. But it went well."
DaQuawn Brown
hauled in two of the five interceptions. Redshirt freshman
Jamal Morrow
rushed for 44 yards on five carries and
Gerard Wicks
added two scores on the ground.
Drew Loftus
had a pair of touchdown receptions.
You can see the full stats
here
.
April, 2, 2014
Apr 2
5:30
PM ET
One of the ways a football team transitions from a group of wishful maybes to a sense of near-ontological certainty is when its collection of spring practice questions becomes mostly an array of appealing potential options.
So we have
UCLA
as it transitions from an underachieving program (1999-2011) to a good one (2012-2013) to one that has the makings of a national contender in 2014.
[+] Enlarge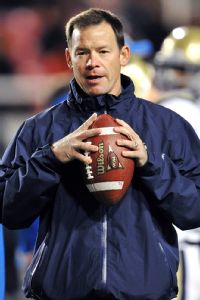 Gene Sweeney Jr/Getty ImagesWith few questions to answer this spring, Jim Mora has the makings of a special 2014 season with UCLA.
While the Bruins have questions on their depth chart, there isn't any particular area of vexing concern. The five positions where starters need to be replaced seem likely to be filled by promising athletes with playing experience. If those more veteran players don't rise to the fore during spring practices, that mostly speaks to the program's strong recruiting under Jim Mora.
Further, it's reasonable to project that those 20 or so freshmen and sophomores who saw significant playing time last year will physically and mentally mature into their primes.
There simply aren't any worrisome voids on this team.
As in:
There are, of course, important questions.
Is defensive end
Owamagbe Odighizuwa
fully healthy? He told reporters Tuesday that he is. So then is the former A-list recruit ready to break through as a senior?
What does LB/RB
Myles Jack
do for an encore after one of the best true freshman seasons in recent memory?
And speaking of what's next, is it reasonable to project Hundley taking a strong step forward as a third-year starter? Of course, that's why the program has already launched a Heisman Trophy campaign.
A lot of variables beyond personnel go into a special season -- a Rose Bowl-, College Football Playoff-type season. A team needs a great offseason. It needs positive chemistry and leadership. It needs to avoid injuries. It needs to stay hungry. It needs laser-like focus every week.
Returning starters do not guarantee anything. National champion Florida State only had 11 of them last year.
But on paper, UCLA appears to be the most likely candidate to break the five-year Stanford-Oregon Pac-12 hegemony atop the Pac-12. The Bruins might even be a team that catches the notice of the CFP selection committee in December.
March, 31, 2014
Mar 31
5:30
PM ET
UCLA opens spring football on Tuesday with high hopes and a good chance to be ranked in the preseason top 10. This is the third spring for UCLA coach Jim Mora, who has led the Bruins to a 19-8 mark in two seasons. He took a couple of minutes to chat with the Pac-12 blog before spring kicks off.
This is your third spring. What have you learned during those first two, and are you going to be doing anything different this time around?
[+] Enlarge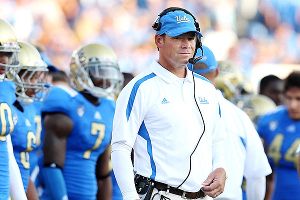 Stephen Dunn/Getty ImagesJim Mora believes spring is a great time to go hard and be physical.
Jim Mora:
Nope. Pretty much the same thing. It's a great time to develop your younger players and start to get a feel for what your team is going to look like in the fall and start to develop that bond you need to have success. We won't change anything. We go hard in the spring. It's physical. It's demanding. I think it's a great time to get physical work in.
After the 2012 season, you closed with the back-to-back losses to Stanford and the bowl loss. Last year you closed with a win over USC and a bowl win. Do you buy into the idea of offseason momentum?
JM
: No. To me, that first year, everyone says, "Oh, you lost three games in a row." But those were three pretty different games. It wasn't like we lost our last three regular season games. We lost our last regular season game, we lost in the Pac-12 championship game and we lost our bowl. It's not like we had this huge slump or something. Every season is a new season. You have to develop the identity of your team. You have to commit to a certain work ethic, and our guys have done that. To me, spring ball signifies the start of a new season.
As a coach, what position battle are you most interested in?
JM
: Outside linebacker, the guy who is going to replace
Anthony Barr
. I think that will be a good battle with
Kenny Orjioke
and
Aaron Wallace
and
Deon Hollins
. I'm excited to see how our defense adapts. We've got a new defensive coordinator. And as a staff we've learned a little bit more about our players and how to play in this conference and how to play college football with what teams are doing. We're going to have to adapt a little bit, but it's going to be fun to see.
With defensive coordinator Lou Spanos heading back to the NFL and Jeff Ulbrich being promoted from within, what kind of impact, if any, will that have on the defense?
JM
: Not a lot. Just like every year, you tweak some things. It's not going to impact it a lot. We've certainly made some changes. But we're going to make changes next year, too. You continue to adapt. You try to grow. You try to add things that will make you better. You try to improve upon things you didn't do well and you try to cut the fat so you're not teaching things you're not going to use throughout the year.
Was that a tough adjustment coming to the college game from the NFL? Every year in college there is going to be a lot of turnover and each season is a different team and a different personality.
JM
: It's interesting because it's very different than the NFL. You're right, there is more turnover. But at the same time, there is a little more certainty as well because unlike the NFL, where there is free agency so you're adding guys, and there's a draft where you're adding guys who should be ready to play right away, in college you know there is going to be a natural attrition and you have a pretty good idea of who you can count on and who still needs to develop going into a season. Hopefully some of the freshmen develop, but you can't always count on that. In some ways, as strange as it seems, it might be a little bit easier because you know what your team makeup is going to be a year in advance.
[+] Enlarge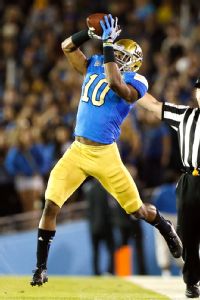 Ric Tapia/Icon SMIRising junior corner Fabian Moreau has earned positive reviews from Jim Mora.
Heading into spring, who is a player we haven't heard of yet, but you think we're going to hear his name a lot in 2014?
JM
: I don't know if you've heard his name a lot. Hopefully you don't hear it a lot because he's a cornerback and when you hear a cornerback's name a lot, that means he's making a lot of tackles because the ball is getting caught on him or he's giving up touchdowns. But I think we have a really fine player in
Fabian Moreau
. Defensive backs are where I've worked most of my career and I think this guy has some real special traits. I think he has a chance to be a great player.
You're big on leadership, as all coaches are. And you like to see players naturally develop into team leaders. Who are you eyeballing this year?
JM
: That's a great question. That's the point of most uncertainty for me is -- who is going to assert themselves on the team. Four of our six team captains return, which is a real positive because they were voted captains by their teammates. You've got
Brett Hundley
. You've got
Eric Kendricks
,
Jake Brendel
our starting center and Ryan Hoffmeister, a linebacker and special teams guy.
Xavier [Su'a-Filo]
and Anthony [Barr] leaving, those are huge voids. It will be fun to see who steps up. Guys like Fabian, even though
Myles Jack
is only a sophomore, I think he's got some leadership qualities to him. I don't want to point too many guys out because there are a whole lot of guys on our team who are capable of stepping into that role.
March, 26, 2014
Mar 26
9:00
AM ET
Starters in, starters out. That's college football. Players' eligibility expires and they leave for the rest of their lives, which might include the NFL or not. And they leave behind shoes of various sizes that need to be filled.
In alphabetical order, we will survey each Pac-12 team's most notable void. Today we look at UCLA.

Biggest shoes
: OLB
Anthony Barr
A two-time All-Pac-12 first-team selection, Barr was one of the most feared linebackers in the nation. He totaled 65 tackles last season, but did most of his damage in the backfield, where he tallied 20 tackles for a loss and 10 sacks. He also forced five fumbles (recovering four of them). He ranked second in the league in tackles for a loss and third in sacks.
Stepping in
:
Kenny Orjioke
(maybe)
The junior-to-be has a ton of upside and potential. He's built like Barr (6-foot-4, 240 pounds) and possesses similar natural athleticism that made Barr such a productive edge rusher. Orjioke produced 11 stops last year, including two tackles for a loss and a pair of sacks. But he's not the only one in the mix.
Aaron Wallace
and
Deon Hollins
should also get looks. Wallace appeared in 13 games last year and had five tackles, while Hollins appeared in 11 with seven stops and a tackle for a loss. UCLA's linebacker corps is solid, despite the departure of Barr and
Jordan Zumwalt
.
Myles Jack
is a gifted playmaker and
Eric Kendricks
has been one of the most productive linebackers in the league the last couple of years. Those two will occupy plenty of attention, leaving Barr's replacement room to work on the edge.
Previous big shoes