May, 29, 2014
May 29
7:00
PM ET
College football is not only about being good. It's about scheduling.
So let's look at how the Pac-12 schedules stack up, starting with the South Division (*-denotes FCS team; toughest nonconference game bolded):
You can review the North Division here
.

ARIZONA
Nonconference slate
: Aug. 30 -- UNLV (7-6);
Sept. 6 -- at UTSA (7-5)
; Sept. 13 -- Nevada (4-8)
Pac-12 misses
: Oregon State, Stanford
Road games (5)
: at UTSA, at Oregon, at Washington State, at UCLA, at Utah
Bye weeks
: Sept. 27 (before Thursday game at Oregon); Oct. 18 (before game at Washington State)
Skinny
: The Wildcats are in a dead-heat with Colorado for the most favorable schedule in the Pac-12. The nonconference slate is soft, though a trip to UTSA might be tricky, as most road games are. The conference misses are favorable, as Stanford is a top-10 team and the Beavers are a likely bowl team. The Wildcats play five conference home games; USC and Arizona State play four. As for the byes, Oregon and Washington State share them so that boon is neutralized. If the Wildcats can go 3-0 in the nonconference slate and split their conference road games, they have a good shot at eight or even nine wins.

ARIZONA STATE
Nonconference slate
: Aug, 28 -- Weber State (2-10)*; Sept. 28 -- at New Mexico (3-9);
Nov. 8 -- Notre Dame (9-4)
Pac-12 misses
: California, Oregon
Road games (6)
: at New Mexico, at Colorado, at USC, at Washington, at Oregon State, at Arizona
Bye weeks
: Sept. 20 (before Thursday game vs. UCLA); Oct. 11 (before visit from Stanford)
Skinny
: The visit from Notre Dame, which the Sun Devils had to
fight to retain as the Fighting Irish tried to opt out
, gives the nonconference slate some grit. You'd think ASU would be hungry for revenge after it turned in a curiously flat performance against the Irish last season in AT&T Stadium in Arlington, Texas. The trip to New Mexico is a bit odd. Each of the road conference foes will be seeking revenge after getting blistered in Tempe last season. Missing Cal, at least based on last season, is the worst miss for a South team, but that is balanced by missing Oregon, probably the best miss. UCLA is also off before that critical matchup, but the Sun Devils' bye before facing Stanford could provide an advantage -- as well as extra rest and recovery after a tough game at USC. The Sun Devils played the
nation's toughest schedule in 2013
, and this one might be only a slight step back.

COLORADO
Nonconference slate
:
Aug. 30 -- Colorado State (8-6), game in Denver;
Sept. 6 -- at Massachusetts (1-11); Sept. 20 -- Hawaii (1-11)
Pac-12 misses
: Stanford, Washington State
Road games (5)
: at UMass, at California, at USC, at Arizona, at Oregon
Bye weeks
: Oct. 11 (before visit to USC); Nov. 15 (before visit to Oregon)
Skinny
: The question is whether Colorado can claw its way to six wins from this schedule. It's not completely unreasonable to be optimistic. The opener against a rising Colorado State program is critical, as a win there likely secures a 3-0 record in nonconference games. Missing Stanford is good, particularly for a young team trying to regain its footing. The trip to UMass can't be completely overlooked because the Buffaloes have been so awful on the road the past few years. Will byes before road trips to USC and Oregon potentially alter the outcome of those games? We're guessing no. Still, this is a favorable slate, upon which the Buffaloes should take another step forward in their rebuilding.

UCLA
Nonconference slate
: Aug. 30 -- at Virginia (2-10); Sept. 6 -- Memphis (3-9);
Sept. 13 -- Texas (8-5), at Arlington, Texas
Pac-12 misses
: Oregon State, Washington State
Road games (6)
: at Virginia, at Texas, at Arizona State, at California, at Colorado, at Washington
Bye weeks
: Sept. 20 (before Thursday game at Arizona State); Nov. 15 (before USC)
Skinny
: UCLA is a favorite in the Pac-12 South and a national title contender, and if it gets to the College Football Playoff playing against this schedule, it will have earned its spot in spades. While Virginia has been struggling, it is an ACC team playing at home. Texas will be looking to make a statement in its home state in Charlie Strong's first season. Therefore, the nonconference schedule should be considered above average in degree of difficulty. The Pac-12 misses are not ideal. UCLA and Stanford are the only two conference teams to miss two teams that have almost no shot for a preseason ranking. The good news is, though there are six road games, only four come in Pac-12 play. The Bruins and Sun Devils both have a bye before their big matchup. The bye before facing USC is slightly countered by the Trojans playing at home against California on Thursday, Nov. 13.

USC
Nonconference slate
: Aug. 30 -- Fresno State (11-2); Sept. 13 -- at Boston College (7-6);
Nov. 29 -- Notre Dame (9-4)
Pac-12 misses
: Washington, Oregon
Road games (6)
: at Stanford, at Boston College, at Arizona, at Utah, at Washington State, at UCLA
Bye weeks
: Sept. 20 (before Oregon State); Nov. 8 (before Thursday game at California)
Skinny
: As usual, USC has a tough schedule, but the Pac-12 rotation of misses does provide a boost. The nonconference schedule is rugged, perhaps the Pac-12's toughest, with three solid-to-good teams that played in bowl games a season ago, though the opener against Fresno State won't be as worrisome with QB
Derek Carr
in the NFL. Having Notre Dame in L.A. also helps. The misses are very advantageous. Oregon is a good miss because it's a top-five team, but Washington also is ideal because it would have invited the storyline of "Steve Sarkisian versus his old team," which would have been a potential distraction. Six road games, including five in the Pac-12, is a burden. At Stanford in week two is a big early matchup, and the Trojans upset the Cardinal a season ago. The bye before Oregon State comes after consecutive road games, including a trip east to Boston, so it is of some benefit. In terms of the South outlook for the top contenders, the Trojans have an easier schedule, at least from a preseason perspective, than UCLA and Arizona State.

UTAH
Nonconference slate
: Aug. 28 -- Idaho State (7-6)*; Sept. 6 -- Fresno State (11-2);
Sept. 20 -- at Michigan (7-6)
Pac-12 misses
: California, Washington
Road games (6)
: at Michigan, at UCLA, at Oregon State, at Arizona State, at Stanford, at Colorado
Bye weeks
: Sept. 13 (before visit to Michigan); Oct. 11 (before visit to Oregon State)
Skinny
: Utah had the two best misses -- Oregon and Stanford -- its first two years in the Pac-12, but that's in the past. Of course, the Utes beat Stanford last season, so who knows. As it is, this is one of the three of four toughest slates in the conference. Fresno State is no slouch, and a trip to Michigan is never easy. Missing Washington is pretty good, but missing Cal is not. There are six total road games, including five in conference play, one more than 2013. The bye week before Michigan is ideal, but the bye week before Oregon State is matched by the Beavers. After seeing this slate, some BYU fans might be sympathetic why the Utes are taking a break from the rivalry series. The challenge is whether their are six wins here to get the Utes back to the postseason. Other than the opener with Idaho State, no week is a gimme.
December, 21, 2013
12/21/13
7:48
PM ET
The
USC Trojans
defeated the
Fresno State Bulldogs
45-20 in the Royal Purple Las Vegas Bowl.
It was over when:
Buck Allen
crossed the goal line on a 1-yard run with 4:44 left to put USC up 45-20. The Trojans had taken a 35-6 lead at halftime before Fresno State made a brief run to close the gap, but Allen provided the finishing touch with his second touchdown of the day.


Game ball:
Cody Kessler
. The USC quarterback set a career high, and a Las Vegas Bowl record, with four touchdown passes, and he had those in the first half alone. Kessler ended the day by completing 22 of 31 passes for 344 yards, along with one interception that was returned for a touchdown. Kessler also earned hometown bragging rights with longtime friend and fellow Bakersfield native
Derek Carr
from Fresno State.
Key stat:
Marqise Lee
with seven catches for 118 yards and two touchdowns. Those are the type of numbers that were routine for Lee in his 2012 Biletnikoff Award-winning year, but a pair of injuries in 2013 curtailed his performance. If that was his final game in a USC uniform, as it is widely expected he will declare for the NFL draft, it was a fitting ending for one of the best playmakers in school history.
Key stat 2:
Fresno State came in averaging a nation-leading 409 passing yards per game. USC held the Bulldogs to 217.
Unsung hero:
Dion Bailey
. The Trojans' slot defender in their nickel package was all over the field posing problems for Carr. He had a pair of key tackles for loss and got in passing lanes to help thwart the short passing game of the Bulldogs.
What it means for Fresno State:
It means the Bulldogs won't reach their goal of a program-record 12 wins but that doesn't take away from what was accomplished this year. Not only did they tie the record for most wins, but also they captured the first-ever MWC title game and had one of the top passing offenses in the country, led by a likely first-round draft choice in Carr. And, to top it off, they won't have to wait long to get a shot at revenge, as they face the Trojans in the 2014 season opener.
What it means for USC:
The goal for these players and coaches was to reach 10 wins in what was a season of adversity and change. It also was a resounding performance from those who wondered about the sense of motivation for the team, especially after last year's effort in the Sun Bowl. Clay Helton hands off the Trojans on a good note, and now the Steve Sarkisian era begins.
To watch the trophy presentation of the Royal Purple Las Vegas Bowl,
click here
.
December, 20, 2013
12/20/13
5:30
PM ET
Cody Kessler
promises this year will be different.
For those with last year's Sun Bowl debacle still fresh in their heads, there might be some cause for concern as USC heads into Saturday's Royal Purple Las Vegas Bowl against Fresno State. Motivation, or lack thereof, doomed the Trojans in the 21-7 loss to Georgia Tech. It served as the final "haha" (in the voice of Nelson Muntz) moment for those whose cup was bubbling over with USC schadenfreude in 2012.
Not again, pledges the USC quarterback. Different team. Different chemistry. Different motivation.
[+] Enlarge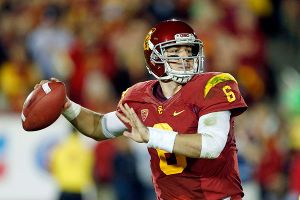 Charles Baus/CSMCody Kessler and the Trojans are on their third head coach this season, but they still have a chance for a 10-win season.
"Obviously last year wasn't the season that we wanted," said Kessler, who only appeared in one game last year and attempted two passes. "It was difficult to see where we finished compared to where we started. A lot of guys weren't into that game. But this season speaks for itself. Getting us to 10 wins puts us in an elite group. We have a chance to finish things off right -- especially for our seniors. These guys have been through everything. Sanctions. Coaching changes. We owe it to them to give it everything we've got to get a win."
Consider Kessler during the first five games, when Lane Kiffin was still the head coach. He was completing 63 percent of his throws, averaging just 166.4 yards per game and had six touchdowns to four interceptions. His raw QBR was 39.9 and his adjusted QBR was 48.9.
Since Kiffin was relieved of his duties and Clay Helton has stepped in to run the team and the offense, there have been significant improvements. He's completing 65 percent of his throws, his yards are up (223.8), his mistakes are down (10 touchdowns to two interceptions) and he's a more efficient quarterback with a raw QBR of 61.8 and an adjusted rating of 70.3.
Part of it has been Helton. Part of it has been the fact that he's got more experience. And part of it was just a change of scenery.
"We've had three head coaches in one season," he says with a gotta-laugh-at-it-attitude. "That's crazy. Coach Helton and I are very close. I'm closer to him than anyone else because he's my position coach. I spend every day with him. We have that connection. I know what he's thinking before he ever calls it.
"But a lot also comes from experience. Playing in tough games like Notre Dame and Oregon State really helped me move forward and feel comfortable. It was hard at first switching between starts because it's tough to establish yourself as a leader. But once I got the job, things started to work out."
He's hopeful things will work out one more time with his friend
Derek Carr
on the other side of the field. Both from Bakersfield, Calif., Kessler and Carr used to train together, so they are friends and familiar with each other's résumés. With 48 touchdowns to just seven interceptions and more than 4,800 yards passing this season, Carr's résumé is a little more polished. But that's not something that concerns Kessler.
"He's a great guy and a great quarterback, but I don't watch a ton of offensive film," he said. "During the game I'll be watching because it's back and forth. If they score, I know we have to go out and score. I know Derek and I know they are capable of putting up a lot of points. Everyone in the country knows that. So we have to eliminate turnovers and finish in the end zone. You can't settle for field goals against these guys."
Of course, another major distraction that they've tried to make a non-distraction has been the presence of new head coach Steve Sarkisian. He replaces popular interim coach Ed Orgeron, who promptly left the program when he wasn't promoted officially to head coach. So far, Kessler said he and his teammates have been fans of Sark's hands-off approach.
"He's been talking to us in team meetings, but we came so far with these coaches and he's letting them finish it out," Kessler said. "He's watching and talking, but his main focus is us getting the 10th win and letting these guys finish it because there was so much time and effort on their part and they deserve it.
"I think he sees how far we've come as a family with these coaches and Sark respects that. I think that says a lot about him. Out of respect for those guys, he wants them to coach us to hopefully what will be that 10th win."
December, 20, 2013
12/20/13
11:00
AM ET
After correctly predicting a Stanford victory in the Pac-12 title game against Arizona State, Kevin took a one-game lead over Ted, as he stands at 75-17 and Ted is 74-18.
Nine bowl games to rule the season!
GILDAN NEW MEXICO BOWL


Kevin Gemmell:
It has been a long drought for the Cougars -- more than a decade -- since they've been to a bowl game. Don't think they'll let this opportunity pass them by. Washington State should win, because it's the better football team, has a more dangerous offense, a more physical defense and the Cougars are far more battle-tested. They've won high-scoring games and low-scoring games. Plus the Pac-12 has dominated the Mountain West this year. A lot of times the Pac-12 team playing in the New Mexico Bowl feel slighted. That shouldn't be the case. I also like what I've seen out of
Connor Halliday
the last four games. He has done a much better job taking care of the ball, throwing for 10 touchdowns and four interceptions. In the first eight games he had 18 touchdowns and 17 picks.
Washington State 41, Colorado State 28
.
Ted Miller:
There should be no question about focus and motivation for the Cougars. They've gone 6-6 against an infinitely tougher schedule than the one the Rams faced in going 7-6. And Colorado State ranks 100th in the nation in pass efficiency defense. That's not a good place to struggle when playing a Mike Leach team. The Cougs should roll and create momentum for a promising 2014 season.
Washington State 45, Colorado State 20
.
ROYAL PURPLE LAS VEGAS BOWL


Kevin Gemmell:
This is a scary game for the Trojans, no doubt. As noted in the New Mexico Bowl post above, the Pac-12 has been dominant over the Mountain West. But Fresno State's motivation is to show that it isn't just another Mountain West team. The Bulldogs are the Mountain West champs. Obviously,
Derek Carr
and
Davante Adams
are a significant threat. But the Trojans had the top pass defense in the conference. They've yielded only 18 touchdowns through the air, and quarterbacks are completing just 57.3 percent of their throws against the USC secondary, which has 16 picks. Plus, I doubt Fresno State has seen a pass rush like USC's.
USC 31, Fresno State 28
.
Ted Miller:
USC is on its third head coach this season, with Steve Sarkisian waiting in the wings to become No. 4, and former offensive coordinator Clay Helton, the second interim coach, replaced the incredibly popular Ed Orgeron. The Trojans clearly were unhappy that Coach O is no longer around. Fresno State is very good on offense, with Carr particularly adept at getting rid of the ball quickly. Further, the Trojans' offensive line will be without two starters, including first-team All-Pac-12 center
Marcus Martin
. Finally, I can't get the dismal 2012 Sun Bowl out of my head.
Fresno State 35, USC 28
.
December, 19, 2013
12/19/13
9:00
AM ET
The Pac-12 plays nine bowl games and every game is important, but here are five players upon whom the spotlight will shine just a bit brighter this bowl season.
USC DT Leonard Williams
Royal Purple Las Vegas Bowl vs. Fresno State on Dec. 21
The skinny
: Williams, an ESPN.com first-team All-American as a true sophomore, will lead the Trojans defense against QB
Derek Carr
and a high-flying Fresno State offense that wants to prove it can score on anyone. The Bulldogs ranked No. 1 in the nation in passing yards and No. 5 in scoring, but it's perhaps most impressive they've yielded just 11 sacks, which is ninth-fewest in the nation. Williams will head into the 2014 season as a preseason All-American no matter what. But he can show folks why and make a resounding statement for himself if he can get to or at least consistently harass Carr in the pocket.
[+] Enlarge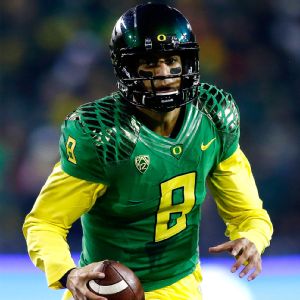 Jonathan Ferrey/Getty ImagesA healthy Marcus Mariota would boost Oregons chances against Texas.
Oregon QB Marcus Mariota
Valero Alamo Bowl vs. Texas on Dec. 30
The skinny
: This is pretty simple: Will Mariota be 100 percent against the Longhorns? If so, will he return to his midseason form, when he was the nation's best player and the leading Heisman Trophy candidate? That means using his legs to stress the Longhorns, both with designed running plays in the read option and scrambling on passing plays. If Mariota is back to his old self, he will put himself firmly in the 2014 Heisman race. And the Ducks should roll.
Arizona RB Ka'Deem Carey
AdvoCare V100 Bowl vs. Boston College on Dec. 31
The skinny
: Another simple one: Carey, the nation's No. 2 rusher, versus
Andre Williams
, the nation's No. 1 rusher and winner of a Doak Walker Award that should have gone to Carey if the award were truly about the nation's best running back (hush, Washington fans). Both offenses rely heavily on their workhorse running backs. Both teams have middling run defenses. The guy who leads the winning effort is probably going to be the guy with the best rushing numbers.
UCLA offensive line
Hyundai Sun Bowl vs. Virginia Tech on Dec. 31
The skinny
: The Hokies are almost always good on defense because coordinator Bud Foster is one of the nation's best defensive minds. This year's unit is A-list, giving up just 17.4 points per game, which ranks eighth in the nation. The Hokies are fourth in the nation in total defense, yielding a meager 4.34 yards per play, and eighth in run defense. The Hokies also have 37 sacks, which ranks fifth in the nation. The Bruins' young offensive line -- three freshmen starters! -- yielded 34 sacks, which ranked 107th in the nation. This will be a tough matchup for UCLA.
Stanford QB Kevin Hogan
Rose Bowl Game Presented by VIZIO vs. Michigan State on Jan. 1.
The skinny
: Hogan has been hot and cold this season but mostly solid. He played well in the Pac-12 championship game victory at Arizona State but threw two interceptions in November games against USC and Notre Dame. The Spartans might offer up the best defense he's seen all year, perhaps the nation's best overall unit, in fact. Most notable: Michigan State owns the nation's best run defense, yielding 80.8 yards per game and 2.7 yards per rush. While the Cardinal probably will challenge the Spartans with perhaps the nation's best offensive line and RB
Tyler Gaffney
, it's difficult to believe the going will be easy. Hogan will need to turn in an efficient, mistake-free performance in what might be a very low-scoring game. The Spartans also rank second in the nation in pass efficiency defense.
December, 11, 2013
12/11/13
12:00
PM ET
We continue our look at each of the Pac-12's opponents during the bowl season.
Royal Purple Las Vegas Bowl
Las Vegas, Dec. 21, 12:30 PT, ABC
USC (9-4) vs. Fresno State (11-1)

Fresno State Bulldogs
Coach
: Tim DeRuyter (second year)
Record
: 11-1, 7-1 Mountain West
Combined opponents' record
: 62-83 (.427)
Common opponents
: Utah State. Fresno State beat Utah State 24-17 on Dec. 7, USC beat Utah State 17-14 on Sept. 21 (the final USC victory for Lane Kiffin). Fresno State was scheduled to play Colorado, but the game was canceled due to flooding in Boulder.
Leading passer
:
Derek Carr
, 424-605 (70.1 percent) for 4,866 yards with 48 touchdowns and seven interceptions.
Leading rusher
:
Josh Quezada
, 153-787 (5.1 per carry), six touchdowns.
Leading receiver
:
Davante Adams
, 122-1,645, 23 touchdowns.
Leading tackler
:
Karl Mickelsen
, 88.
What to know:
By now we all know that Fresno State was one bad defensive performance away from probably being a BCS buster. It was the
San Jose State Spartans
who did the busting when they knocked off the Bulldogs 62-52 last month.
Whenever a job is open in an AQ conference, DeRuyter's name gets thrown out there. USC, meanwhile, has undergone a bit of a coaching change, if you hadn't heard.
There wasn't a lot of quality competition on Fresno State's schedule, which is one of the reasons it never cracked the top 15. In fact, its only game against a team from an AQ conference was a 52-51 overtime win over Rutgers in the season opener. Then the Bulldogs played FCS Cal Poly and their game against Colorado was canceled.
A victory legitimizes everything they have done this year. A victory for USC means wounds are starting to heal.
Key matchup
: Carr's passing numbers are insane. And while we can argue the quality of the defenses he faced, he still has to throw it and someone still has to catch it. This sets up an intriguing showdown between Carr, his receivers and USC's pass defense, which was No. 1 in the Pac-12 and holds opponents to 214.5 yards per game and quarterbacks to a 57.3 completion percentage. The Trojans have yielded only 18 touchdowns through the air and tied for second in the conference with 16 interceptions.
December, 10, 2013
12/10/13
1:15
PM ET
The hits keep coming for the Pac-12. First, the nation's deepest and most ambitious conference in terms of scheduling gets just one BCS bowl team.
Then it doesn't have a Heisman Trophy finalist
, even with two candidates who are superior to the players who were invited.
[+] Enlarge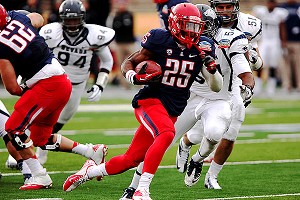 AP Photo/Eric DraperArizona RB Ka'Deem Carey has rushed for more than 100 yards in every game he has played in this season.
Arizona RB
Ka'Deem Carey
is the nation's best running back. He is a better running back than Auburn's
Tre Mason
and Boston College's
Andre Williams
, who are two of the six Heisman finalists.
What that means is that if you had all the college -- or NFL -- coaches pick a running back, the vast majority would choose Carey first. Why? Again, he's better than Mason and Williams.
And, if this is about pure numbers, Carey's numbers are superior to Mason's, who apparently got invited to New York because he posted an undeniably great performance in the SEC title game against Missouri. If that was the selling measure, then the Auburn offensive line should have been sent to New York.
Then there's Oregon QB
Marcus Mariota
, whose Heisman case is hampered by the Ducks losing two of their final four games. Of course, that didn't change the fact that
he's been better than three of the four QB finalists
over the entire season.
None of the four invited QBs --
Jordan Lynch
of Northern Illinois,
Johnny Manziel
of Texas A&M,
AJ McCarron
of Alabama and
Jameis Winston
of Florida State -- has a resume without holes.
Lynch played against weak competition. Manziel lost his final two games of the season and played poorly while doing so. McCarron's candidacy was about career achievement, but he lost to his team's arch-rival to end the season, thereby missing out on his much-celebrated drive for a three-peat.
Winston, the overwhelming favorite as the best player on the best team, obviously had his off-field issue. No charges were filed, but the incident was hardly a shining and blameless moment for Winston.
Who's to blame for nobody from the West Coast heading to NYC? Well, we hate to bring out a hackneyed harrumph but it's obvious: East Coast Bias.
Notice anything about the finalists? Yep, none play in the Mountain or Pacific Time Zones. To get off the Pac-12 train for a bit, consider that Fresno State QB
Derek Carr
, who is probably a better NFL prospect than Manziel, McCarron and Lynch, wasn't invited. He only led the nation in passing and threw 10 more TD passes than anyone else.
This bias isn't about some evil and corrupt dislike of all things West Coast. It's about a limited and flawed radar of evaluation. And, you know, going to bed early.
But East Coast voters aren't the only ones who suffer from bias. Here's a guess that when the regional voting patterns are revealed that Mariota's and Carey's support will only be lukewarm out West. That's because many West Coast voters suffer from a form of college football Stockholm Syndrome, where they are unduly influenced by the dominant and oft-repeated East Coast narrative, even if it runs counter to the conclusions of their own eyes and brains.
Before Oregon lost to Stanford, there was no East Coast Bias to fret. Folks loved Mariota and he led every Heisman poll. But when he lost, he plummeted unlike any other candidate who had an off-game. His consideration died completely when the Ducks also lost at Arizona.
It's a case of out of sight, out of mind, a condition that none of the other finalists back East had to deal with as they were re-evaluated despite shortcomings not unlike Mariota's.
When the odd ending to the season forced Heisman voters to revisit their pecking order, they apparently didn't include players outside their time zones. Bad finishes for Manziel, Lynch and McCarron? Neh.
A bad finish for Mariota? Wait… who's that?
For Carey, it was just a matter of everyone knowing he's the nation's best running back but not caring because he played for a 7-5 Arizona team. Are there really voters in the country who would be willing to step up to a microphone and say, "Mason/Williams are better than Carey"? I hope not.
And, despite a tireless effort from the Wildcats sports information department to point out that Carey's 15 consecutive games with over 100 yards hasn't been accomplished IN A DECADE, voters went all lazy because I'd bet at least 50 percent of them never watched him play all season.
Sour grapes? Absolutely. But sour grapes based entirely on facts and sound logic.
December, 9, 2013
12/09/13
3:08
PM ET
The Pac-12 is favored in eight of its nine bowl games, as Oregon State is the only underdog in its matchup with Boise State in the Sheraton Hawaii Bowl.
That's good news and bad news.
The good news is the conference has an excellent chance to post an impressive bowl record. The bad news is it has a chance to embarrass itself, too. Anything less than 6-3 would be a major disappointment.
[+] Enlarge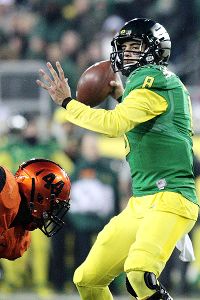 Scott Olmos/USA TODAY SportsMarcus Mariota and the Ducks struggled to the finish line, but they hope to have a strong showing against Texas in the Alamo Bowl.
Of course, the Pac-12 blog has always taken a dim view of judging a conference by its bowl record, despite its annual inevitability. The college football postseason is filled with teams with varied motivation, not to mention coaching turnover -- see Washington and USC, as well as Boise State. Still, a program is responsible for itself.
The biggest reason the Pac-12 should thrive this bowl season is also the biggest negative for the conference: just one BCS bowl team, unlike the SEC, Big Ten, ACC and Big 12, and unlike the previous three seasons. Yep, the deepest Pac-12 perhaps in history ended up being a negative when it came to handing out bowl invitations.
The most aggrieved party is No. 10 Oregon, the only eligible at-large team to be passed over. The Ducks were hoping to be pitted against Alabama in the Allstate Sugar Bowl, but the bowl went with Oklahoma, honoring a relationship with the Big 12 and perhaps thinking the Sooners will travel better than the Ducks.
Not to incur the wide-eyed wrath of Oregon fans, but the Sooners' case probably was stronger on merit, too. The Ducks lost two of their final four games, and they barely slipped by 6-6 Oregon State in the Civil War to conclude the season. Oklahoma is riding a three-game winning streak that was capped by impressive victory over No. 6 Oklahoma State on Saturday. Paired with the Sooners other quality win -- at Notre Dame -- that's more impressive than the Ducks best wins (UCLA and Washington). And the Sooners losses, to Baylor and Texas, are at least comparable to the Ducks' (Stanford and Arizona). According to ESPN Stats & Information, Oregon's and Oklahoma's schedules were pretty equivalent, the Ducks ranking 50th and the Sooners 55th.
Sure, Oregon would be favored against Oklahoma, but the Sugar Bowl folks took the temperature of the respective fan bases and found more smiles in Norman than Eugene.
Finally, to be honest, the way Oregon looked over the final month of the season suggests they'd be better off allowing the Sooners to deal with Alabama and Nick Saban.
As for the conference champions, kudos to Stanford for negotiating the nation's fourth-most difficult schedule with an 11-2 record. In fact, the Cardinal is ranked No. 1 in ESPN Stats & Information "
Championship Drive Rating
," which measures a team's overall merit -- the "difficulty of achieving their W-L or better and how well they control games using in-game win probability; both adjusted for quality of opponent."
Of course, Stanford, which opened as a 3-point favorite against Michigan State in the Rose Bowl Game presented by VIZIO, is where the Pac-12's overall offseason perception will start. It figures to get a tough fight from the defensive-minded Spartans. A Cardinal loss would diminish the Pac-12's national perception as a whole -- as in trickle down from the Big Ten champion being superior to the Pac-12 champ.
Oregon's matchup with Texas in the Valero Alamo Bowl is interesting. If both teams show up with their best game, Oregon wins by two or three touchdowns. But the Ducks over the final four weeks of the season would lose to Texas. The Ducks need to be motivated. They need to know, for one, that the Longhorns figure to be fired up, as they are perhaps playing their last game with Mack Brown as their coach.
The biggest mismatch of the conference's bowl season might be Arizona State against Texas Tech in the National University Holiday Bowl. The Sun Devils have won seven of eight -- the loss coming Saturday in the Pac-12 title game -- and are among the nation's hottest teams. The Red Raiders? They've lost five in a row, the last four being blowouts.
UCLA is in a similar situation in the Hyundai Sun Bowl against Virginia Tech. The Bruins have won four of five, while the Hokies have lost three of five. Virginia Tech's defense will challenge Bruins QB
Brett Hundley
, but the Hokies are horrid on offense.
USC and Washington will be the conference's biggest question marks due to coaching changes. The Trojans face a very good Fresno State team led by QB
Derek Carr
in the Royal Purple Las Vegas Bowl, while the Huskies face a BYU team that ran all over Texas earlier this season in the Fight Hunger Bowl. Under normal circumstances, both matchups would favor the Pac-12. But these aren't normal circumstances.
Oregon State will face a Boise State squad with the same deal in the Hawaii Bowl. While this is a down year for the Broncos, it's hard to bet against Boise State with Chris Petersen in a bowl game. But he's now in Seattle. The Beavers, by the way, really need to win this game, otherwise it's going to be a sour offseason in Corvallis.
Meanwhile, Arizona makes the longest trip to meet Boston College in Shreveport, Louisiana for the AdvoCare V100 Bowl. This is interesting just because you have the top two running backs in the country in Arizona's
Ka'Deem Carey
and Boston College's
Andre Williams
.
Finally, Washington State will be playing in its first bowl game since 2003 in the Gildan New Mexico Bowl against Colorado State. The Cougars have wins over USC, Utah and Arizona. The Rams' best win is over 5-7 Wyoming. Mike Leach and the Cougs should roll.
Again, when you added it all up, 9-0 is not unreasonable and 7-2 is almost pessimistic. But bowl games are funny things, and this has been a funny season.
As we move into a four-team College Football Playoff with a selection committee weighing who's in and who's out, perception might become even more important than it was with the quintessentially subjective BCS.
The Pac-12 seemed like -- at the very least -- the nation's second best conference, no matter the BCS bowl situation. It needs to make good on that during the bowl games.
October, 8, 2013
10/08/13
5:30
PM ET
By
Jungkyu Lee
and
Rob Nelson, ESPN Stats & Info
| ESPN.com
Stephen Lam/Getty ImagesTy Montgomery returning the opening kickoff 99 yards for a score vs Washington Saturday.
Week 6 featured several exciting games.
Georgia
needed overtime and a fumble in the end zone to beat
Tennessee
,
Ohio State
came back from a 10-point second-half deficit to defeat
Northwestern
, and
Jameis Winston
continued his brilliance in his first game against a ranked opponent.
With the help of ESPN's new college football metrics (see explanations
here
), ESPN Stats & Information looks back on Week 6 and ahead to this weekend's matchup between
Oregon
and
Washington
.
We first look at how
Stanford's
special teams were the difference in its three-point win against Washington.
The Cardinal posted a +15.3 special teams EPA (expected points added is the contribution of each unit to team's net points in a game) Saturday, the highest for any team in a game this season.
They returned the opening kickoff for a touchdown and made their only field goal attempt. Additionally,
Ben Rhyne
punted six times for a career-high net average of 42 yards.
As a result, the Huskies' average drive start was their own-23 yardline, almost 15 yards farther than the Cardinal's average drive start. It was Washington's worst starting field position differential of the season.
With a -2 and a -10.2 offensive and defensive EPA, respectively, Stanford would have lost to Washington by about 12 points if the Cardinal had an "average" special teams unit.
Best Individual Performances
Bryce Petty
(97.1 Total QBR) has now posted a Total QBR of at least 90 in each of
Baylor's
first four games. Petty threw for 342 yards in the first half against
West Virginia
, as Baylor scored an FBS-high 56 points before halftime for the second time this season.
AJ McCarron
(97.0 Total QBR) matched his career high with four touchdowns against
Georgia State
, all coming in the first half. McCarron only had one incompletion on 16 passes and led the
Crimson Tide
to touchdowns on all five of the drives that he quarterbacked.
Derek Carr
(97.0 Total QBR) threw for 390 yards in the first half against
Idaho
, the most passing yards in a half by an FBS quarterback during the last two seasons. Carr threw five touchdowns, extending his FBS-leading streak of 25 games with a touchdown pass.
Connor Shaw
(96.2 Total QBR) posted a Total QBR of at least 90 for the first time this season, despite playing with a shoulder injury that knocked him out of the UCF game the previous week. Shaw completed 17-of-20 (85 percent) passes against
Kentucky
, his third-highest completion percentage in 25 career starts.
For a full list of Total QBR leaders for the season and Week 6,
click here
.
Best Team Performances
Offense: Baylor. In a 73-42 rout of West Virginia, the Bears added 40.6 expected points on offense, which means if Baylor had an average offense, it would have actually lost by almost 10 points.
The Bears' output was the most offensive expected points added in a single game against any FBS opponent this season. Baylor now holds the top two offensive EPA performance against an FBS opponent this season.
Defense:
Texas Tech
. The Red Raiders defense added 31.3 expected points on defense in a 38-point victory over
Kansas
. Texas Tech forced four fumbles (three lost), sacked the Jayhawks four times and held them to 3-for-16 on third downs.
Looking ahead to Week 7
Oregon is traveling north to face Washington. In addition to hosting the Ducks, the Huskies will also host College GameDay.
Oregon, primarily known for its offense, has added the most expected points on defense among FBS schools (99.7). Opposing quarterbacks have a Total QBR of 23.3 against the Ducks this season, sixth lowest in the FBS.
Washington quarterback
Keith Price
has a Total QBR of 73.5 this season, up from 40.9 in 2012. Price will look to continue his improvement against an Oregon team that held him to a career-worst 10.1 Total QBR last season.
In the next week, ESPN Stats & Information will be releasing two new team ratings: the Championship Drive Rating and the Football Power Index (FPI). You will find an explanation of these ratings
here
.
The Championship Drive Rating will attempt to answer the question, "which teams deserve to be in the playoff based on what they have accomplished this season?" by focusing more on their résumé than who would win head-to-head.
The Football Power Index looks to answer the question, "if two teams were to meet at a neutral site, who has the advantage?" This metric is based on all facets of the team and adjusting it for the strength of its opponents.
June, 21, 2013
6/21/13
4:00
PM ET
We continue our series taking a closer look at each Pac-12 team's nonconference schedule.
Colorado
Colorado State, Sept. 1 (in Denver)
Coach: Jim McElwain (4-8), second year
2012 record: 4-8, 3-5 Mountain West
Returning starters: nine offense, six defense
Offensive headliner(s): The Rams have a deep running back corps with Chris Nwoke (who led the team in rushing in 2011) and Donnell Alexander (who led the team in 2012) both coming back.
Defensive headliner: Cornerback Shaq Bell is the leader of a young secondary. He was all-league honorable mention last year after posting 66 tackles, a sack, a pick and he recovered three fumbles.
The skinny: The Rams went through a quarterback carousel last year (which should sound familiar to Colorado fans) but appear to be settling on Garrett Grayson, last year's original starter. Last season, McElwain became the first Rams coach to win his debut in 42 years. And it came against the Buffs after they failed to hold a 17-16 fourth-quarter lead in the season opener.
Central Arkansas, Sept. 7
Coach: Clint Conque (98-54), 14th year
2012 record: 9-3, 6-1 Southland
Returning starters: eight offense, nine defense
Offensive headliner: Quarterback Wynrick Smothers put up fantastic numbers last year, earning the league's Offensive Player of the Year honors while completing 64.9 percent of his throws for 3,103 yards with 31 touchdowns to nine interceptions. He also rushed for 449 yards and three touchdowns.
Defensive headliner: Sophomore defensive end Jonathan Woodard earned the league's Freshman of the Year honors last season after posting 11 tackles for a loss and seven sacks in 2012.
The skinny: Conque is the winningest coach in school history. They hung with Ole Miss last year and took Louisiana Tech to overtime the year before that, so they won't be intimidated at the mere thought of playing an FBS team. And the Buffs, though I don't think anyone needs reminding, fell at home to FCS opponent Sacramento State last year.
Fresno State, Sept. 14
Coach: Tim DeRuyter (9-4), second year
2012 record: 9-4, 7-1 Mountain West
Returning starters: seven offense, eight defense
Offensive headliner: Senior quarterback Derek Carr was the 2012 MWC Offensive Player of the Year, setting a new league record with 4,104 passing yards. His 37 touchdowns last year were second all-time in league history and he has the second-highest career touchdown-to-interception ratio (63-16) of all returning FBS quarterbacks with at least 300 completions.
Defensive headliner: Nose guard Tyeler Davison -- a first-team all-league selection last year -- posted 43 stops last year, tops among the Bulldogs D-linemen. He also had seven tackles for a loss with three sacks and he was the only Fresno State defensive lineman to start every game last year.
The skinny: After taking a slice of the MWC title last year, the Bulldogs should be tough again -- though they are moving on without running back Robbie Rouse -- the school's all-time leading rusher. Interestingly enough, Rouse set the school record on a 94-yard touchdown run (his fourth touchdown of the first quarter) in a 69-14 win over Colorado last year.
Thoughts
: Colorado lost two close games to open 2012 -- the first to Colorado State and the next week to Sacramento State -- and that essentially opened the flood gates for a horrific season (save the Washington State shocker). The Rams are one of CU's oldest rivals and just as the Buffs gave McElwain his first career win, Mike MacIntyre getting his first career win against CSU would add nice symmetry to the rivalry. As noted, Central Arkansas is no pushover. But both of those games should fall under the winnable category. They get Fresno State at home and should -- at least -- have a better showing than they did last year. I don't think asking for a 2-1 start is out of the question. But another 0-3 opening would kill any momentum Colorado has heading into the year with its new coaching staff.
You can see the rest of the series
here
.